Hachis Parmentier, pronounced HA-she PAR-man-TAY, is a classic French recipe that is pure cold-weather comfort food. It's perhaps best described as the French version of Shepherd's Pie. It combines seasoned beef with a layer of silky smooth potato puree and is topped with gooey gruyere cheese.
It's also easy to adapt this recipe for vegan diets too! My Vegan Hachis Parmentier recipe replaces the meat base with a savory lentil and mushroom base, and for a low carb option, instead of the mashed potatoes, top with my Cauliflower Mash recipe.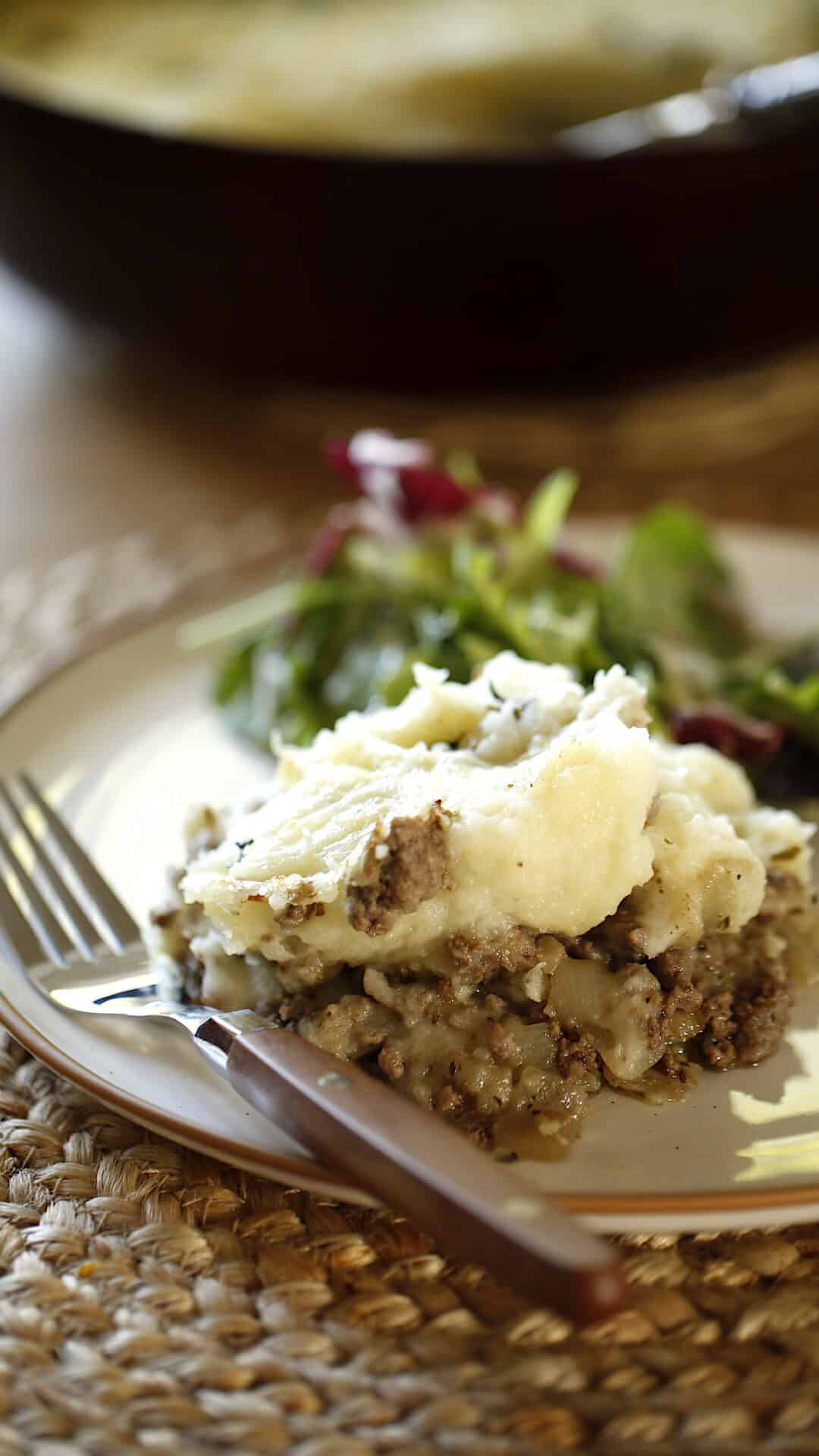 Why You Will Love This:
VERY Kid-Friendly! What kid won't eat mashed potatoes and ground beef?
The recipe makes for great leftovers for a second meal or for lunch the next day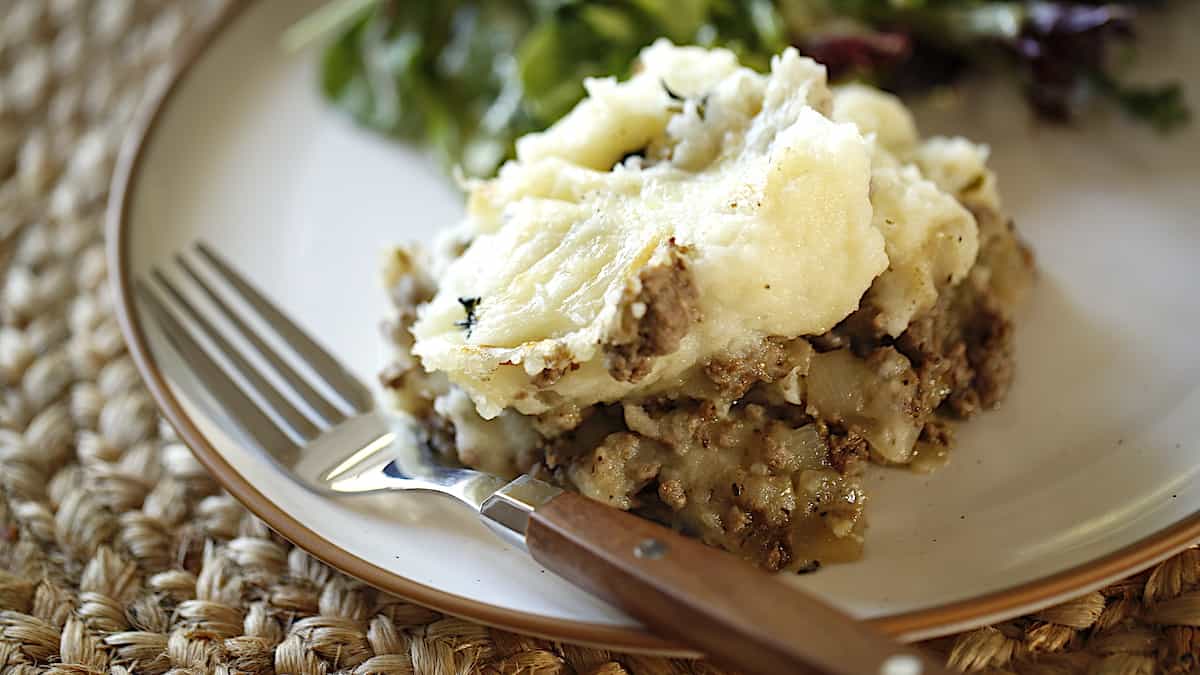 Watch My Video Demo of This Recipe Below!
Menu Ideas
Step#1: Boil the Potatoes
The mashed potatoes are the crowning glory of this dish and leave it to the French to have come up with the perfect method for getting the smoothest, silkiest puree.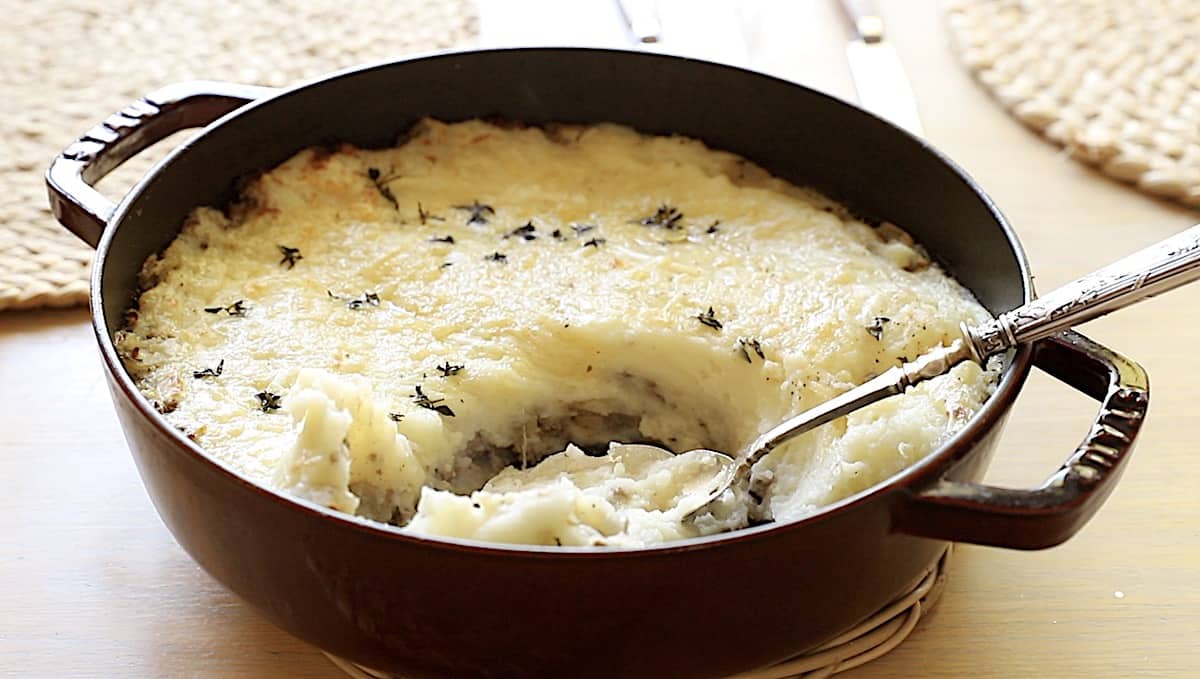 How to Make a Fluffy Mashed Potato
Use russet potatoes. These are starchy potatoes that make for fluffy mashed potatoes
Start the potatoes in cold water and allow them to come up to a boil
Use a ricer! A ricer will mash the potato into light grains of rice-like potato that will create a lump-free, silky smooth potato puree
Step#2: Saute the Onions and Beef
In a large oven-safe casserole or deep skillet, the onions are sauteed with ground beef and seasoned with garlic, herbs de Provence, and fresh thyme.
I also like to add a little Worcestershire sauce and white wine to add a deeper flavor to the meat base.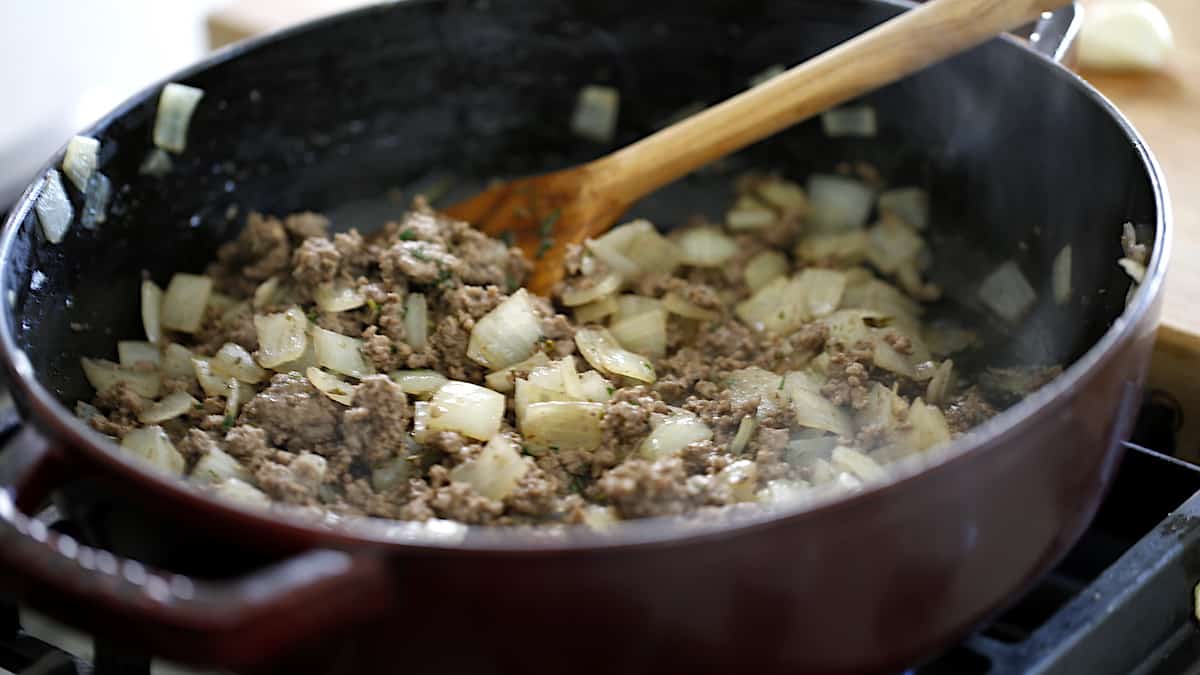 Step#3: Add the Gruyere Cheese
This may not be truly authentic to the French way of making this dish, but it certainly is my favorite way!
Adding the shredded gruyere cheese gives this dish so much flavor and ups the ultimate comfort food factor too!
If you don't have gruyere cheese a combination of mozzarella and parmesan is also great too!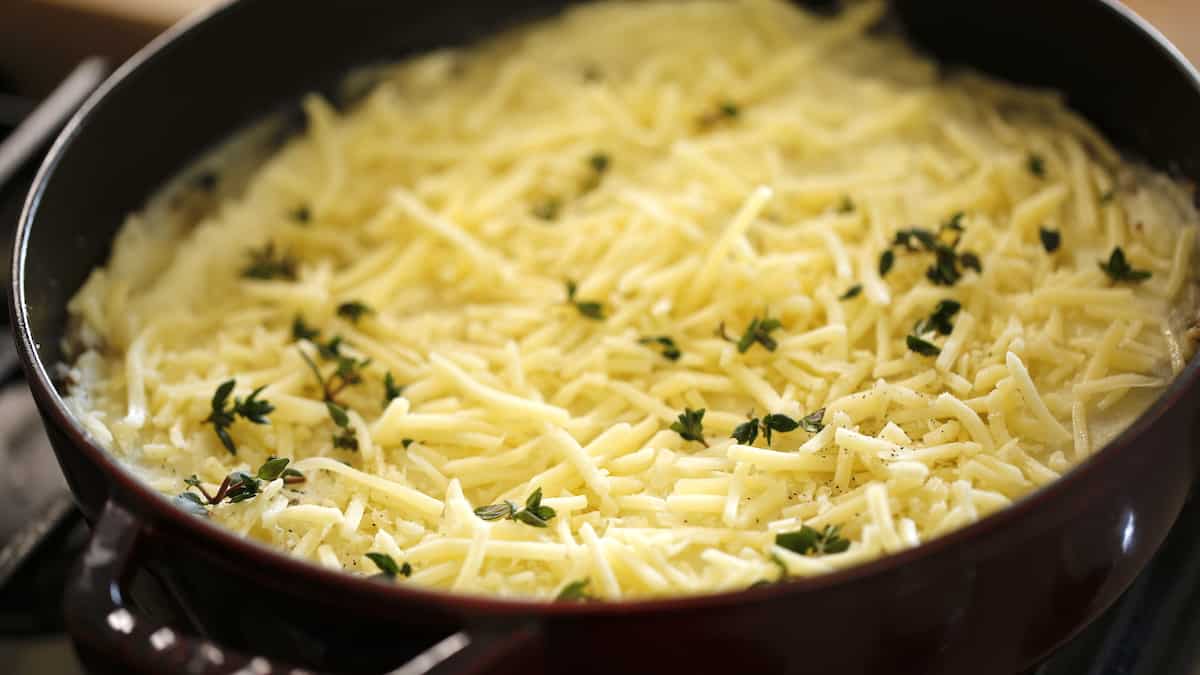 Step#4: Serve with a Toss Salad
The richness of this dish is beautifully complemented with a tossed green salad and a French vinaigrette.
But you could also serve it with some steamed green beans or my Charred Asparagus Salad recipe would be great too.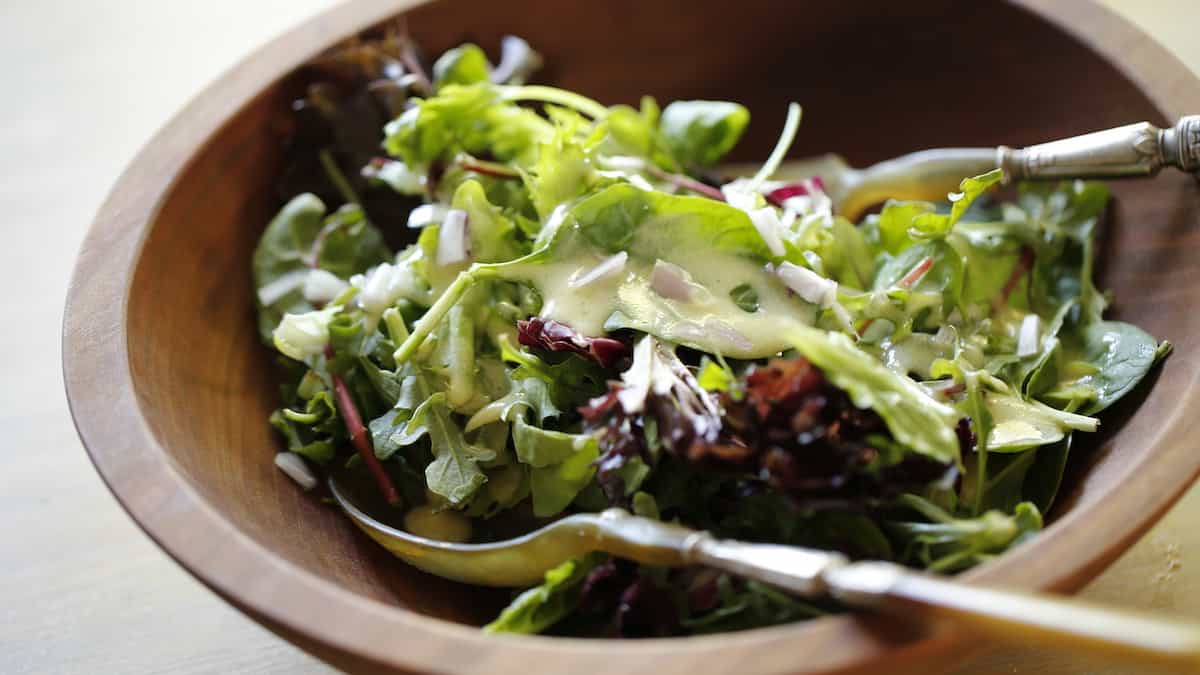 More French Recipes You'll Love
If you enjoyed the Recipe
Please Leave a Rating and a Review Below!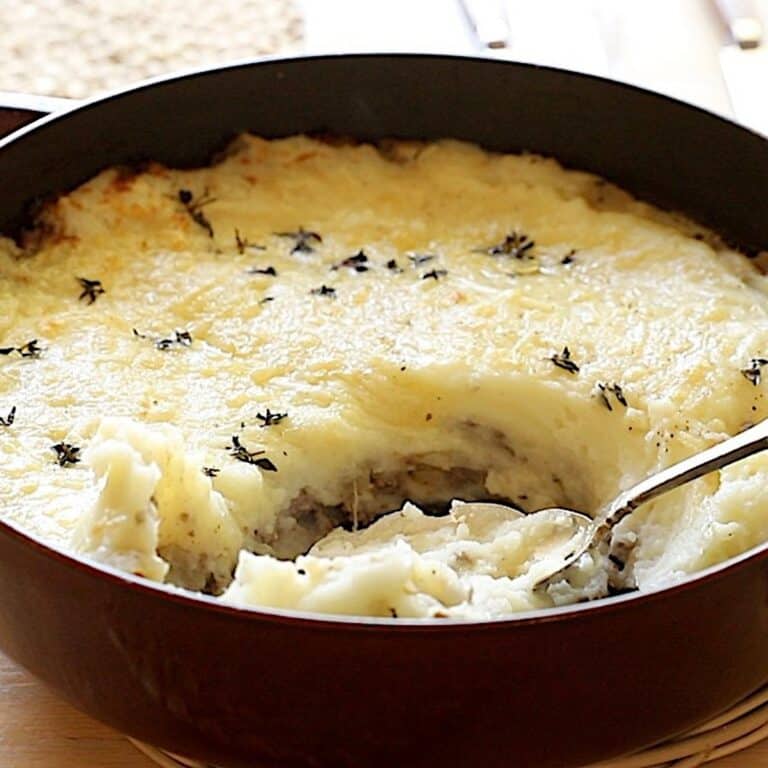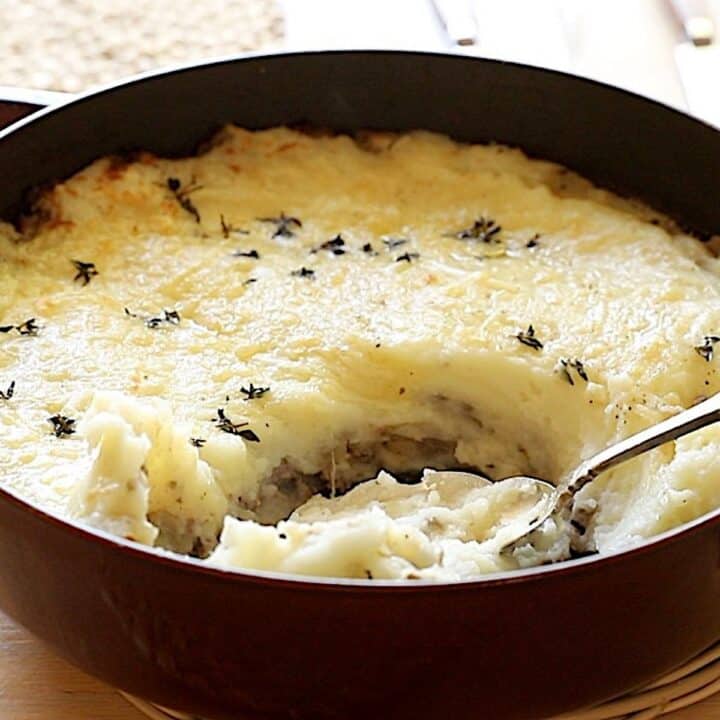 Hachis Parmentier Recipe
Total Time:
1 hour
30 minutes
A classic French recipe with seasoned ground beef, silky smooth potato puree. The ultimate cold-weather comfort food.
Ingredients
FOR THE MEAT BASE:
1 tablespoon (15ml) olive oil
1 ½ cups (225g) yellow onion
1 lb (450g) ground beef
1 tablespoon (15ml) olive oil
½ teaspoon (2.5ml) salt
cracked pepper to taste
1 teaspoon (5ml) Worcestershire sauce
1 ½ teaspoon (7.25ml) Herbs de Provence
¼ cup (60ml) dry white wine (Chardonnay or Sauvignon Blanc)
2 garlic cloves, minced
1 tablespoon (15ml) fresh thyme, chopped
FOR THE MASHED POTATOES:
4 lbs (1800g) of Russet Potatoes
5 tablespoon (75g) Butter
½ cup (120ml) milk
¼ tsp-½ teaspoon (1.25ml-2.5ml) salt (according to taste)
1 cup (130g) Gruyere Cheese, shredded
½ teaspoon (2.5ml) fresh thyme, chopped for garnish
FRENCH VINAIGRETTE:
1 tablespoon (15ml) Dijon Mustard
1 tablespoon (15ml) White Wine Vinegar
6 tablespoon (90ml) Grapeseed oil
pinch of salt and pepper
1 shallot, minced
Instructions
Peel and quarter potatoes and set to boil. Cook until tender.
Meanwhile, heat a large oven-safe casserole over a medium-high flame. Add onions and saute until fragrant. Season with salt and pepper. Add the beef and cook until cooked through.
Season with salt and pepper, Herbs de Provence, Worcestershire Sauce, white wine, garlic, and fresh thyme. Simmer for 2-3 minutes until wine is evaporated and then set aside to cool.
Place butter into a large bowl. Process potatoes through a ricer, whisk puree until the butter has melted. Add milk and salt.
Mix the beef with half of the potatoes, then spread the remaining potatoes on top. Sprinkle with the cheese, add the garnish of thyme and cracked pepper.
Bake at 375F for 20-25 mins. Then place under the broiler for 3 minutes until cheese is bubbly and browned. Serve with a tossed salad.
FOR THE DRESSING:
Whisk together mustard and vinegar. Slowly whisk in oil until combined, add seasoning, and shallot.
Notes
How to Make a Fluffy Mashed Potato
Use russet potatoes. These are starchy potatoes that make for fluffy mashed potatoes
Start the potatoes in cold water and allow them to come up to a boil
Use a ricer! A ricer will mash the potato into light grains of rice-like potato that will create a lump-free, silky smooth potato puree
Nutrition Information:
Yield:

8
Serving Size:

1
Amount Per Serving:
Calories:

294
Total Fat:

18g
Saturated Fat:

2g
Trans Fat:

0g
Unsaturated Fat:

14g
Cholesterol:

13mg
Sodium:

132mg
Carbohydrates:

24g
Fiber:

3g
Sugar:

3g
Protein:

7g