Charred Asparagus Salad Recipe with Thyme Shallot Vinaigrette
This Charred Asparagus Salad Recipe with Thyme Shallot Vinaigrette is one of my favorite warm-weather salad recipes! It goes perfectly with a casual lunch or summer dinner party.
This salad is so easy to make, you can char the asparagus ahead of time, and make the vinaigrette, and it pairs beautifully with my 15-Minute Chicken Dijon or Pan Seared Salmon with Beurre Blanc Sauce. Especially delicious for any spring occasion like Easter or Mother's Day!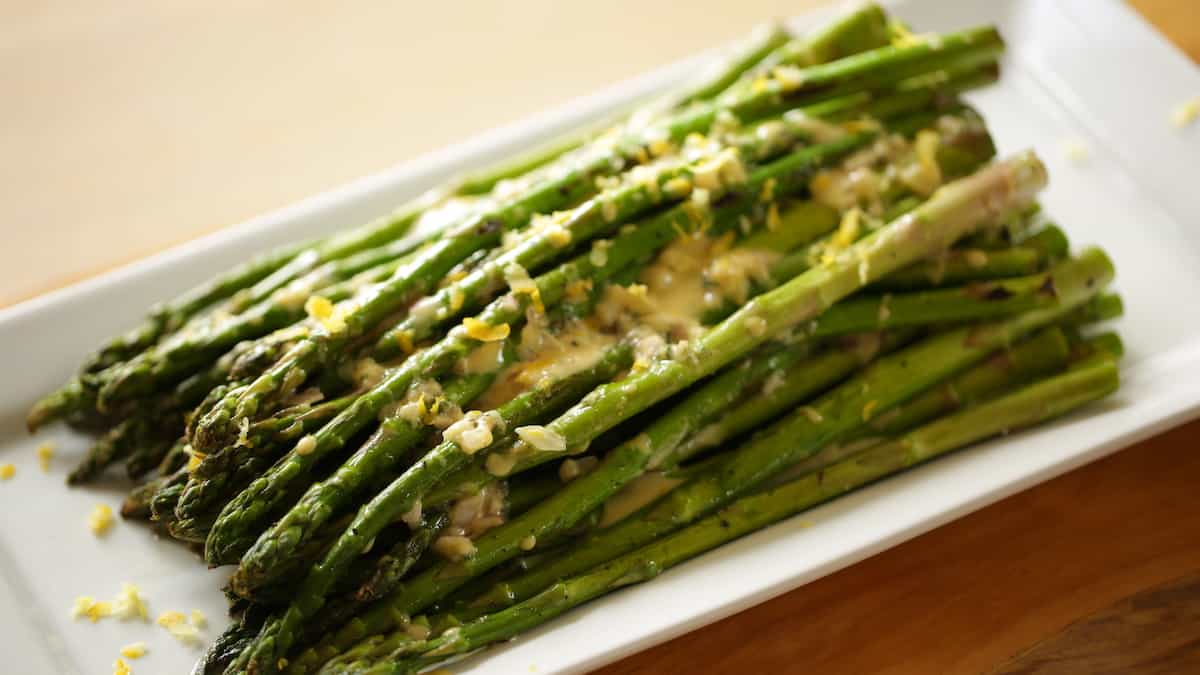 Subscribe for weekly recipes
and new videos!
Recipe Pairing:
Watch How to Make This Recipe Below!
Also featured in this video is my Creamy Cucumber Dill Salad and my Couscous Salad with Dried Fruits, Nuts and Mint
Step 1: Prep the Asparagus
First, trim off the fibrous parts of the spears. Usually, these are the "woody" ends with a lighter, almost white, color to them.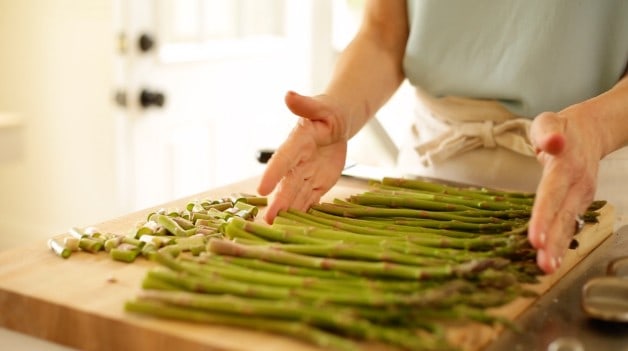 I like to trim them according to the skillet size I am using so they can lay flat in the skillet which helps them char.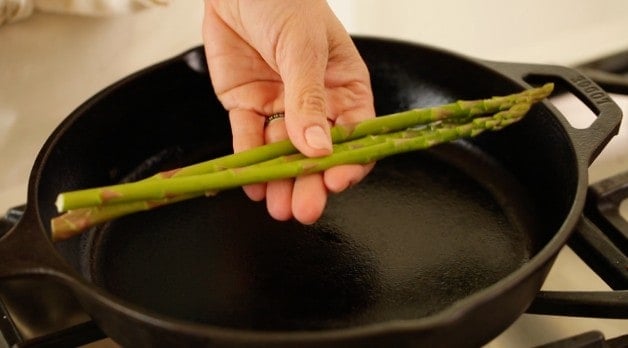 Step 2: Char the Asparagus
Heat your skillet over medium heat until nice and hot and then drizzle with a little olive oil. Lay your asparagus spears flat in the pan in a single layer.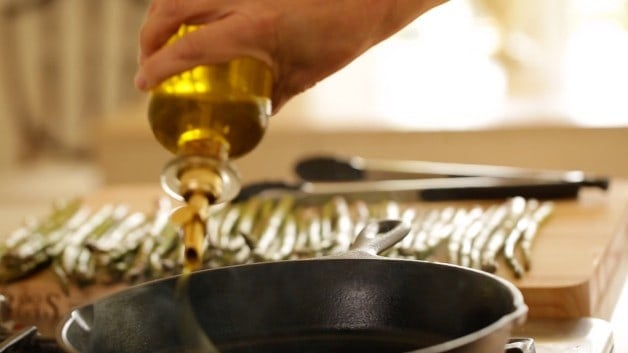 Cooking Tips:
Be careful not to overcook the asparagus, but just cook it long enough to get a nice charred color on the spears. I
f you cook them too long, they will go limp and lose their crunch.
When the asparagus begins to turn golden brown, remove it from the heat.
You can save a little time by doing this the day before since this salad is meant to be served chilled.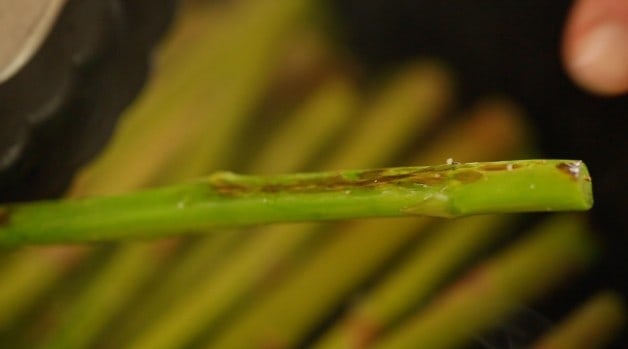 Step 3: Make the Thyme Shallot Vinaigrette
To make the Thyme Shallot Vinaigrette, combine Dijon mustard and white balsamic vinegar in a bowl. Whisk until combined. Then, slowly add a few tablespoons of oil to the bowl, whisking all the while.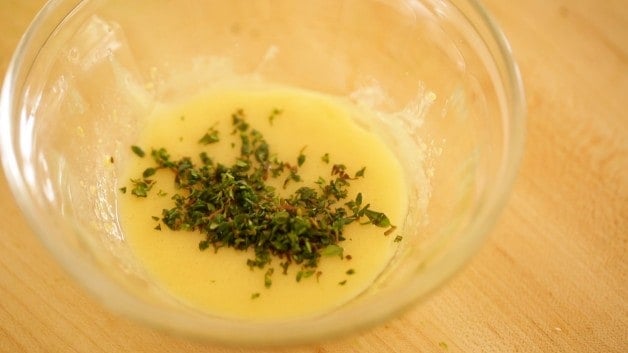 Vinaigrette Tips:
If you like a tangy flavored vinaigrette, you can use less oil.
For a more mellow flavor, continue adding about a tablespoon at a time until you reach the desired taste.
Add the minced thyme and shallots. Whisk well until all ingredients are combined.
Serving Tips:
I like to serve this with the asparagus spears lined up on a serving tray, then drizzle with the vinaigrette.
The long slender nature of the asparagus makes it ideal for serving on a long rectangular platter. I choose white so the colors pop.
If you like, you can also add a little fresh lemon zest on top for an extra flavor.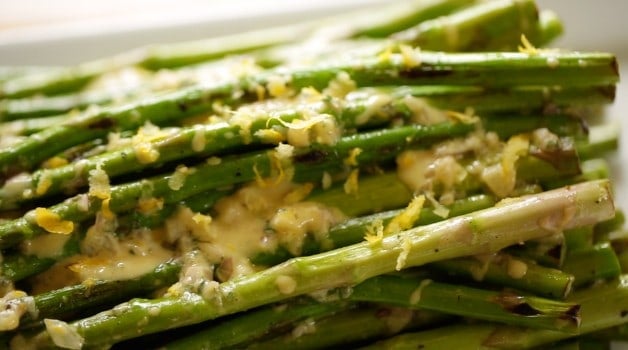 More Great Recipes You'll Enjoy!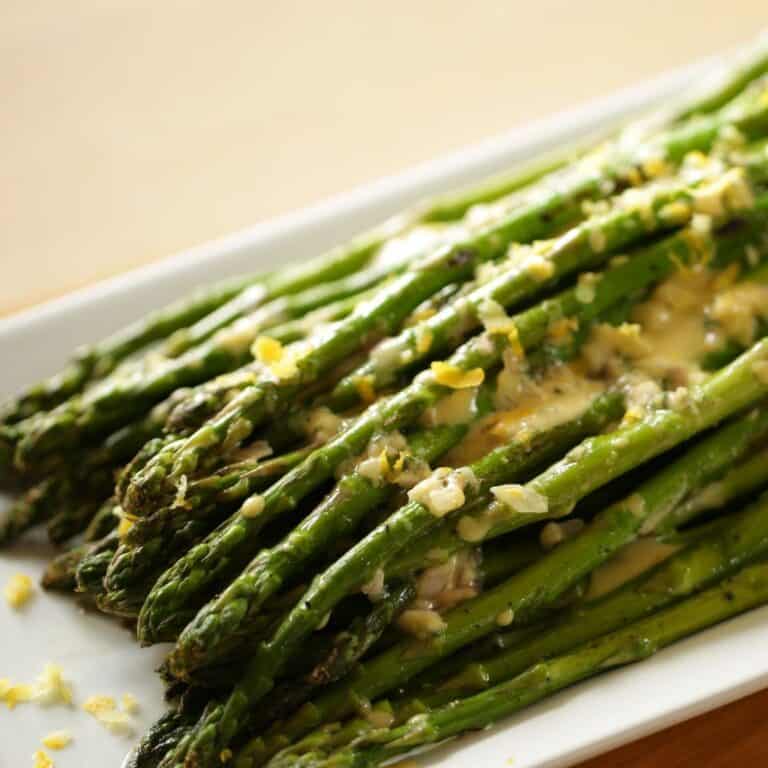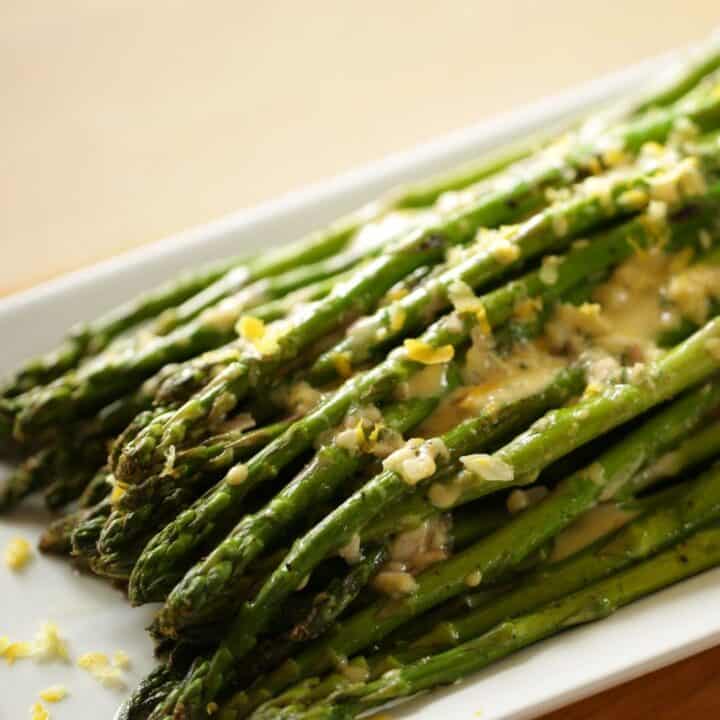 Charred Asparagus Salad with Thyme Shallot Vinaigrette
Charred Asparagus Salad Recipe with Thyme Shallot Vinaigrette is a fantastic springtime salad! It goes perfectly with an Easter lunch or any springtime meal.
Ingredients
2 bunches of thin asparagus
drizzle of olive oil
Salt and Pepper to taste
1 ½ teaspoon (7.5 ml) Dijon Mustard
1 ½ teaspoon (7.5 ml) white balsamic vinaigrette
3-4 tablespoon (45ml-60ml) grapeseed oil
½ teaspoon (2.5 ml) fresh thyme. minced
1 tablespoon (15 ml) shallot, minced
½ teaspoon (2.5 ml) fresh lemon zest for garnish
Instructions
Trim asparagus ends to remove the tough fiber. It's ideal at this point to trim to the size of your cast-iron pan so they lay flat.
Heat a cast-iron pan on high heat. Drizzle olive oil in pan. Add asparagus and allow to cook, in a single layer (you may need to do this in batches) until asparagus begins to char and turn golden brown. Do not overcook. Just cook long enough to char and then remove asparagus and transfer to a plate to cool.
In a small bowl whisk together the mustard and vinegar. Slowly add the grapeseed oil until emulsified and smooth. Add thyme and shallot, stir to combine.
Place asparagus on a long, rectangular plate. Drizzle dressing over spears, garnish with fresh lemon zest.
Recommended Products
As an Amazon Associate and member of other affiliate programs, I earn from qualifying purchases.
Nutrition Information:
Yield:

6
Serving Size:

1
Amount Per Serving:
Calories:

124
Total Fat:

13g
Saturated Fat:

1g
Trans Fat:

0g
Unsaturated Fat:

11g
Cholesterol:

0mg
Sodium:

138mg
Carbohydrates:

2g
Fiber:

0g
Sugar:

1g
Protein:

0g