Couscous Salad with Dried Fruit, Chickpeas and Mint
This easy Couscous Salad with Dried Fruit, Chickpeas and Mint is a great side dish for grilled meats or any summer dinner party. It comes together so quickly and easily and the combination of the dried fruits and nuts, combined with the fresh mint is just delicious!
Pair this salad with my Cinnamon Chicken Recipe for some unexpected flavors at your next gathering.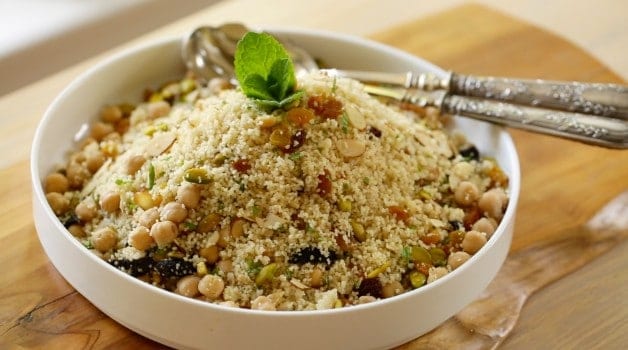 Why You'll Love This:
Couscous cooks up so quickly and easily! It's cooked in just 5 minutes!
It's great served warm, chilled, or at room temperature.
It's also really cost-effective too, which makes it great for feeding a crowd at a potluck.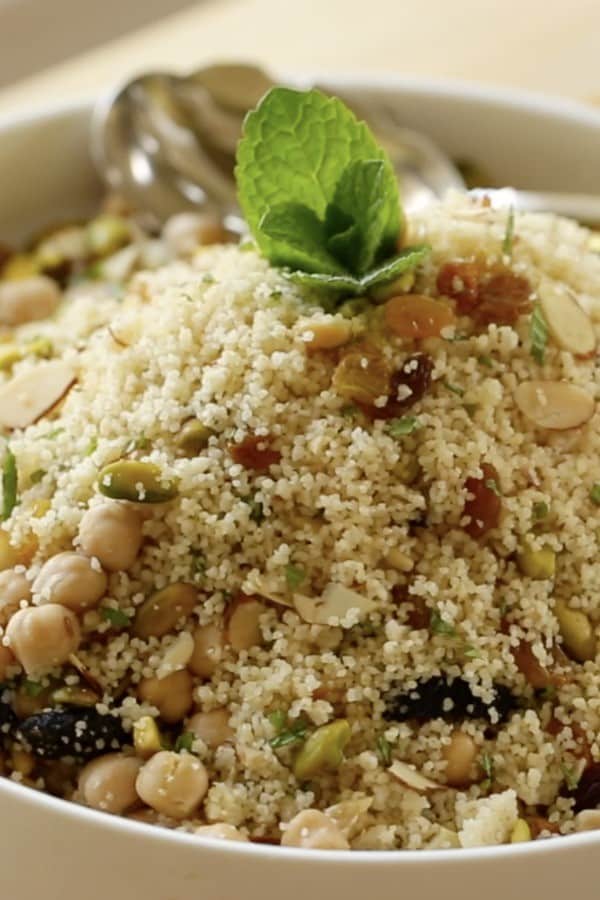 Subscribe for weekly recipes
and new videos!
Watch My Video Demo of this Recipe Below!
Also featured in this video is my recipe for a fantastic Creamy Cucumber Dill Salad and a Charred Asparagus Salad with Vinaigrette
Step 1: Make the CousCous
In a large saucepan, add water, butter, and salt.
As the water begins to boil, pour in the couscous. Then, turn off the flame and cover for five minutes. This is the easiest dish to make because, in five minutes, the couscous is done!
Seriously, what else is done in just 5 minutes?! When the couscous is finished cooking, fluff with a fork and transfer it to a large mixing bowl to cool.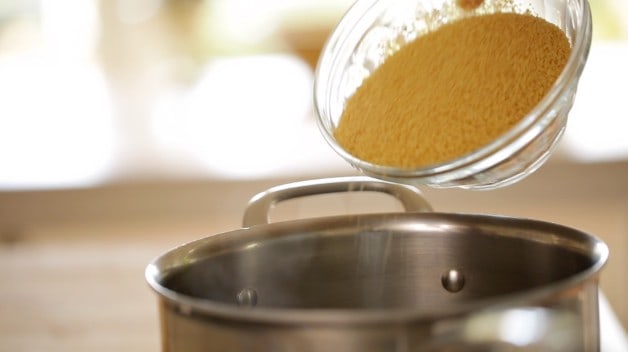 What grain is couscous?
Couscous is tiny pasta rounds made of wheat or barley.
Traditionally, it's served in many North African dishes and has a super light texture.
It's great served with meats like chicken, beef or lamb or as a vegetarian main course.
Step 2: Roast the Nuts
This recipe calls for two types of nuts: almonds and pistachios. I really love the flavors of roasted almonds with the raw pistachios. Roasting the nuts beforehand really brings out the natural flavors of both!
I find if you buy "pre-roasted" nuts they essentially lose the flavor before you use them. You'll get a much more pronounced flavor by roasting raw nuts yourself and it's not hard.
To roast the almonds, spread almonds out onto a large baking sheet in a single layer. Then, roast at 350F (170C) degrees for about 6-8 minutes, just until they are fragrant and golden brown. Remove from the oven and allow to cool.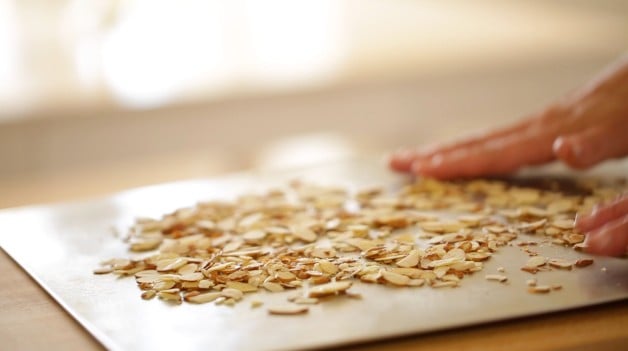 Then, add the pistachios and almonds to the bowl of couscous.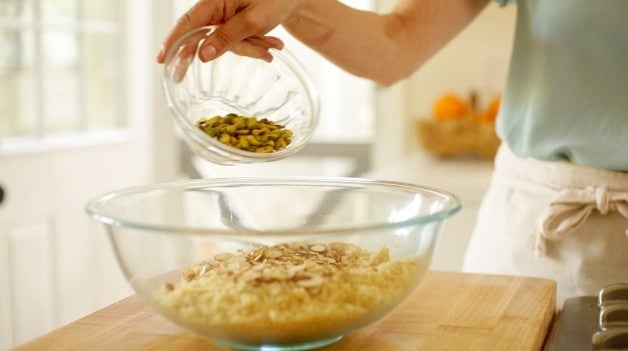 Time-Saving Tips:
For those that live in the States, Trader Joe's sells shelled pistachios by the bag.
Save your fingers from shelling and buy them at Trader Joe's.
You can also find pre-shelled pistachios in bulk at Mediterranean markets as well.
Step 3: Add the Remaining Ingredients
To the bowl of couscous and nuts, add the dried cherries and golden raisins.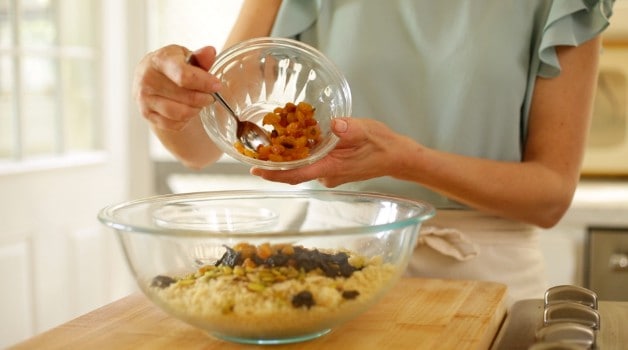 Then, add a can of garbanzo beans that have been drained and rinsed. The garbanzo beans add a little extra protein to the dish along with the nuts which are great if you plan to serve this as a vegetarian entree. Stir until well-combined.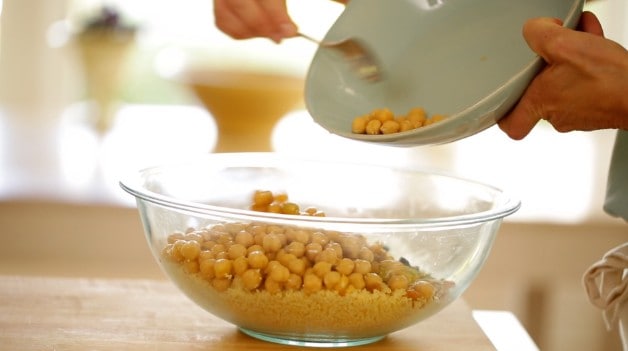 If you aren't serving this right away, cover and refrigerate so the salad stays fresh.
Before you serve, add some chopped mint and stir. If you add the mint too soon and refrigerate it will lose its flavor so best to add moments before serving for the best mint flavor.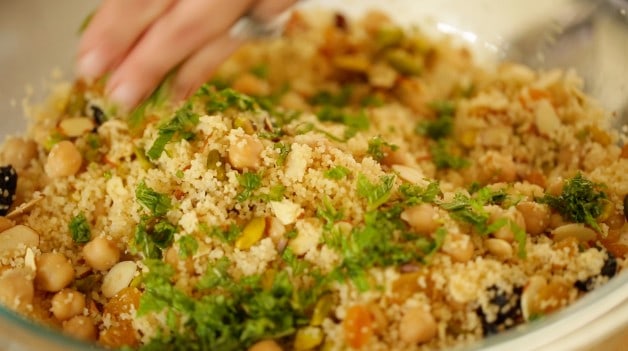 Plating Tips:
I like to serve this salad in a shallow bowl - about a step up from a plate.
That way the couscous mounds up on the platter and looks really pretty.
Then garnish with a sprig of fresh mint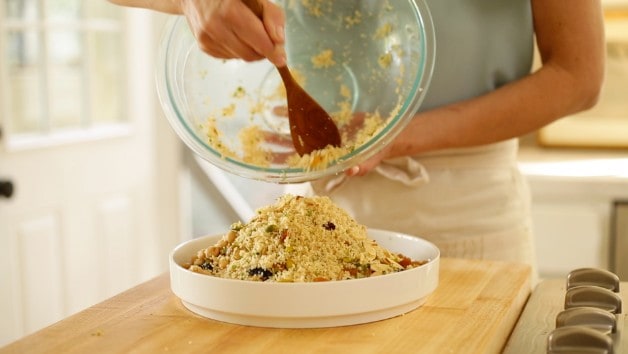 I hope you enjoy this recipe as much as we do! It's certainly a staple at our house in the spring and summer months!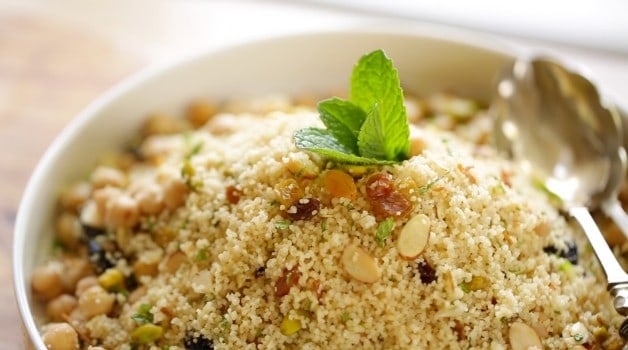 More Great Recipes You'll Enjoy!
If You Enjoyed This Recipe
Please leave a Rating and a Review Below!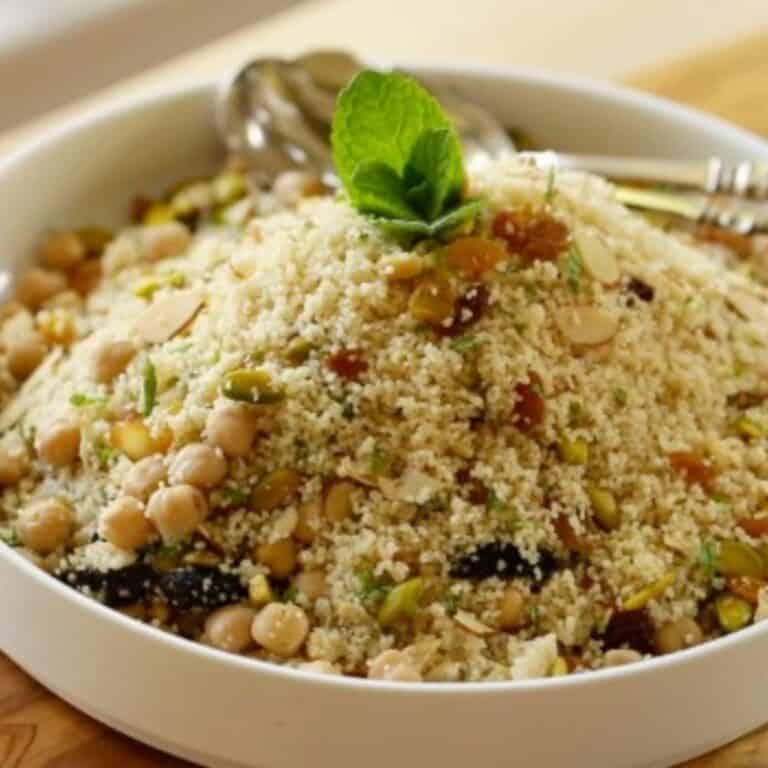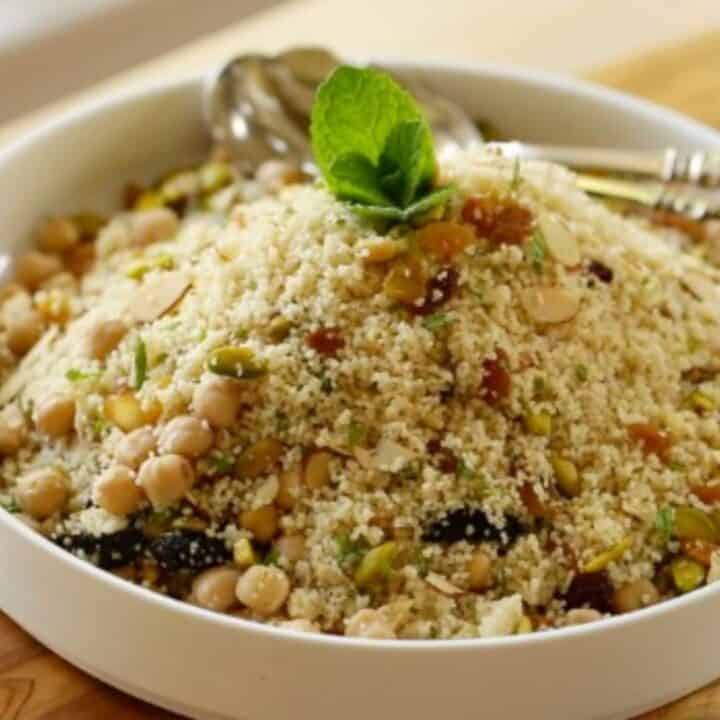 Couscous Salad Recipe with Dried Fruit and Mint
Couscous Salad with Dried Fruit, Chickpeas and Mint is a great accompaniment to a BBQ or any summer meal.
Ingredients
1 ½ cup (350 ml) of water
2 tablespoon (30 g) butter
½ teaspoon (2.5 ml) salt
1 ½ cups (270 g) Couscous
½ cup (75 g) raw sliced almonds
½ cup (75 g) raw pistachios, shelled
⅓ cup (50 g) dried cherries
⅓ cup (50 g) golden raisins
1-15 oz (450g) can garbanzo beans, drained rinsed
½ cup (120 ml) fresh mint, chopped
Instructions
In a large sauce pot bring water, butter and salt to a boil. Then add couscous. Turn off heat and cover for 5 mins. Fluff couscous with a fork and transfer to a large mixing bowl to cool.
Meanwhile, preheat oven to 350F (176C). Place almonds on a baking sheet in a single layer. Bake almonds for 6-8 minutes until roasted and golden brown. Set aside to cool.
To the cooled couscous add roasted almonds, raw pistachios, dried cherries, golden raisins, and garbanzo beans. Toss to combine. Keep refrigerated just until ready to serve. Moments before serving, add fresh mint, toss to combine.
Serve in a shallow bowl so couscous is piled high like a pyramid. Garnish with a sprig of mint.

Nutrition Information:
Yield:

6
Serving Size:

1
Amount Per Serving:
Calories:

725
Total Fat:

14g
Saturated Fat:

1g
Trans Fat:

0g
Unsaturated Fat:

11g
Cholesterol:

0mg
Sodium:

32mg
Carbohydrates:

116g
Fiber:

32g
Sugar:

22g
Protein:

38g