Pistachio Olive Oil Cake Recipe
I don't know why, but for some reason when Easter rolls around, I start craving this Pistachio Olive Oil Cake Recipe. It's one of the easiest cake recipes that guests go nuts for!
They are so much and light and full of pistachio flavor, accented with a little touch of orange coming from the fresh orange zest! They are also really easy to do making them at go-to dessert at our house.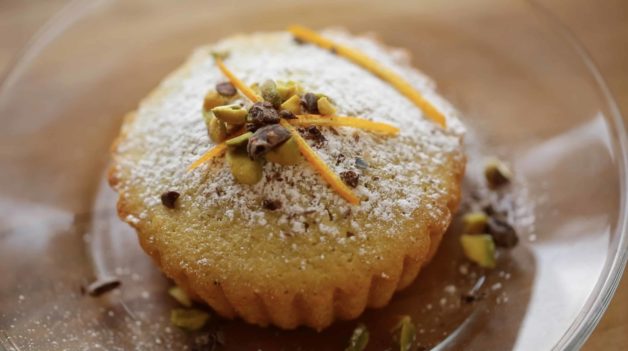 Recipe Pairing Ideas:
Watch My Video Demo of This Recipe Below!
Subscribe for weekly recipes
and new videos!
Subscribe To My YouTube Channel and Never Miss a Recipe!
Pistachio Tips:
I recommend raw pistachios for this, I haven't noticed a big difference in flavor between raw and roasted so save yourself the extra step.
You'll also get a nicer pale green color with the raw
Look for raw, shelled pistachios at your local Mediterranean Market. They are typically cheaper, fresher and you can buy them in bulk!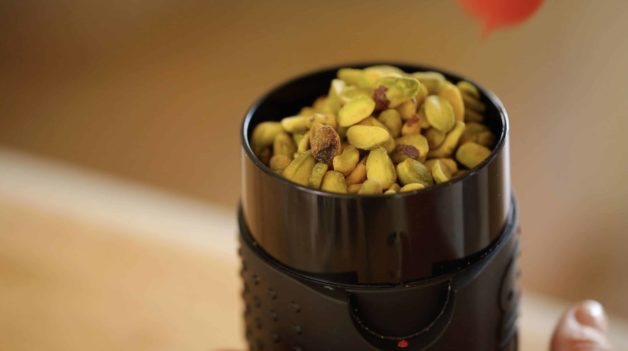 The best way to grind them I find is in a coffee grinder! So easy and they become so fine!
It's worth all this effort to get a beautifully fine pistachio flour. This will create a more delicate and light cake.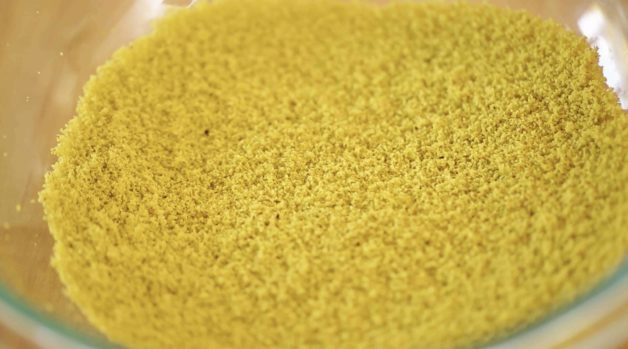 Try Individual Servings:
I also love to bake these cakes in the removable bottom, mini tart tins. I find it creates the most beautiful fluted edge and makes for an elegant presentation for a special occasion like Easter.
I love this model of tart tin because they are 4" and deeper than most mini tart pans and allows for a good-sized cake (this link goes to Amazon where I am an affiliate partner)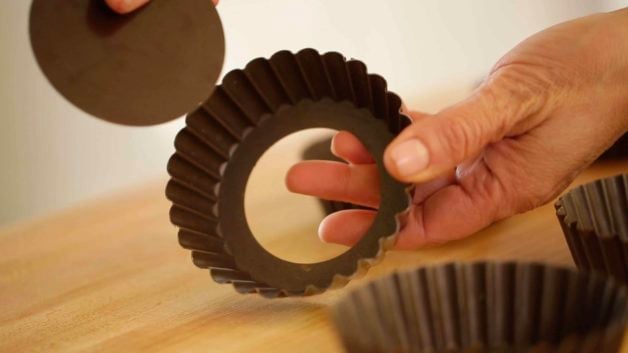 They are also non-stick which is a big plus, but I do spray them with a little baking spray for added insurance! They are also easy to fill with an ice cream scooper.
If you fill them about ¾ of the way full they will rise in the oven and create a little domed effect once baked.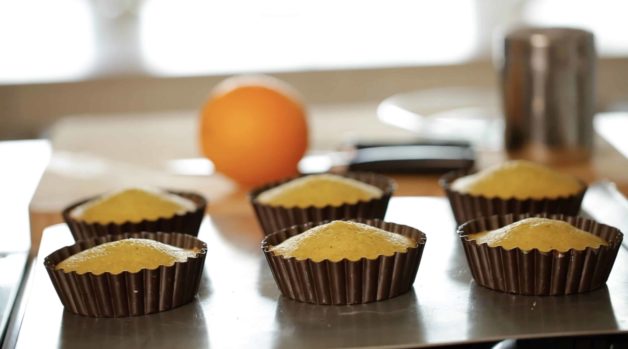 Garnishing Tips:
I find the best combo is powdered sugar, orange zest, raw pistachios, and chopped bittersweet chocolate.
You can peel the orange zest with a potato peeler and then slice the zest into really thin strips to place on top
Then top with the pistachios and chopped bittersweet chocolate (which is really easy to do with just a few chocolate chips)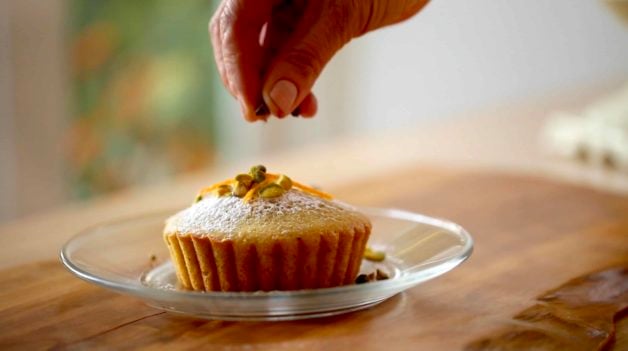 Serve with Ice Cream:
And don't forget the ice cream! This Pistachio Olive Oil Cake Recipe pairs really well with some high-quality vanilla ice cream. Or some pistachio ice cream would be great too!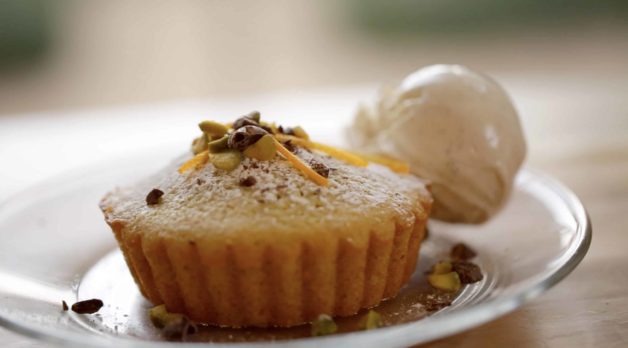 More Easter Desserts!
Please let me know if you make this recipe
by leaving a rating and review below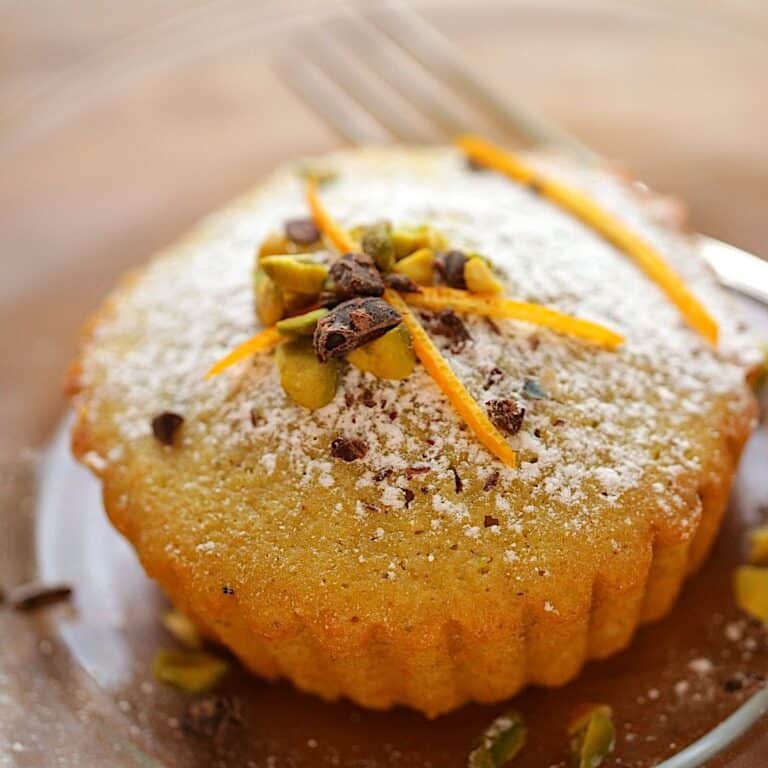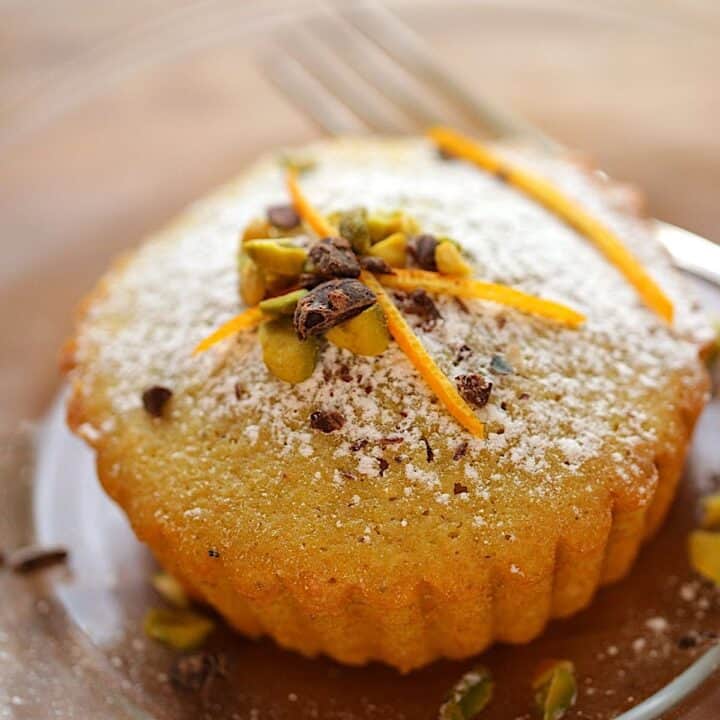 Pistachio Olive Oil Cake Recipe
Total Time:
1 hour
2 minutes
Pistachio Olive Oil Cake a wonderful dessert idea for spring entertaining. It's so easy, moist and fdelicious!
Ingredients
¾ cup (110 g) raw pistachios, shelled
1 cup (120 g) all-purpose flour
1 teaspoon (5 ml) baking powder
½ teaspoon (2.5 ml) salt
2 eggs
½ cup (120 ml) olive oil
½ cup (100 g) sugar
⅓ cup (80 ml) water
1 tablespoon (15 ml) zest of orange
¼ cup (60 ml) fresh orange juice
GARNISH:
Vanilla Ice Cream
Orange Zest, 2 large peels created with a potato peeler, and sliced into thin strips
Dusting of Powdered Sugar
2 tablespoon raw pistachios (shelled), roughly chopped
2 tablespoon (30 ml) Bittersweet chocolate, chopped
Instructions
Preheat oven 350F (175C).
Lightly spray tart tins with baking spray and set aside.
In a coffee grinder, or food processor grind the pistachios until a "flour" forms. Set aside.
Sift the pistachio flour with a fine meshed sieve, over a medium bowl. The large pieces of pistachio that remain can be re-ground into flour and then added to the mix.
Sift the flour, baking powder and salt over the pistachio flour. Whisk all the dry ingredients together until combined and set aside.
In a large bowl, add eggs, olive oil, sugar, water, orange zest and juice. Whisk to combine.
Slowly add the dry ingredients, to the wet ingredients, whisking gently until just combined.
Place tart tins on a baking sheet. Scoop out batter with an ice cream scoop filling each tin ¾ of the way full.
Bake for 15-17 mins until a toothpick comes out clean.
Allow cakes to cool. Keep at room temperature in the tins, covered loosely with foil until ready to serve.
To serve, remove cake from tin, remember to remove the bottom of the tin as well. Dust top of the cake with powdered sugar.
Peel off some orange zest with a potato peeler and slice into very thin strips, like a toothpick. Garnish cakes with 2-3 orange zest strips, a few chopped pistachios and a little chopped bittersweet chocolate. Serve with a scoop of vanilla ice cream. Enjoy!
Nutrition Information:
Yield:

6
Serving Size:

1
Amount Per Serving:
Calories:

663
Total Fat:

34g
Saturated Fat:

7g
Trans Fat:

0g
Unsaturated Fat:

26g
Cholesterol:

72mg
Sodium:

423mg
Carbohydrates:

80g
Fiber:

5g
Sugar:

47g
Protein:

12g