These edible ice cream bowls with strawberry sauce is a simple yet elegant dessert recipe for summer entertaining. You can fill them with all kinds of things and they are always sure to impress!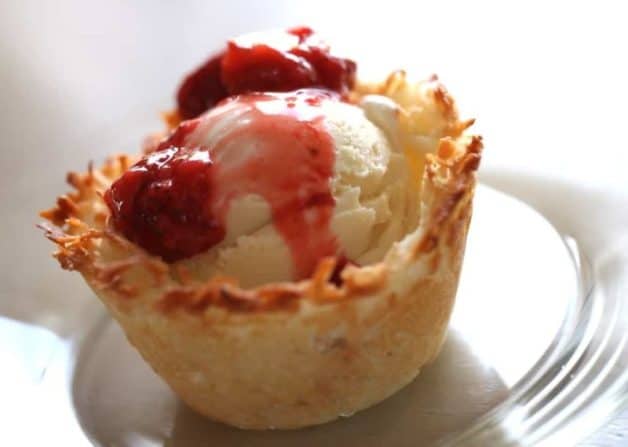 When strawberries are in season this is one of my favorite desserts to make. It's such a simple recipe that uses very minimal ingredients, but delivers such impressive results! For another easy summer, dessert idea try my Grilled Apricot Sundaes or my Homemade Strawberry Shortcakes
WATCH MY VIDEO OF THIS RECIPE BELOW!
How do you make edible ice cream bowls?
Edible ice cream bowls are pretty easy to make and you can fill them with ice cream, fresh fruit or both! They are most often made with chocolate or ice cream cone batter, but I think they are even better when made with shredded coconut.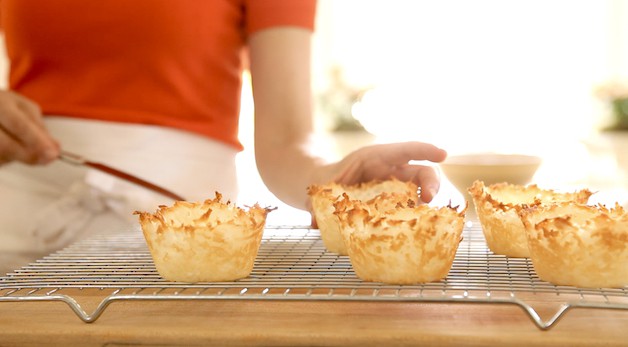 They are lighter and more delicate which gives them a more elegant touch for a dinner party. They also have a really nice chewiness to them too!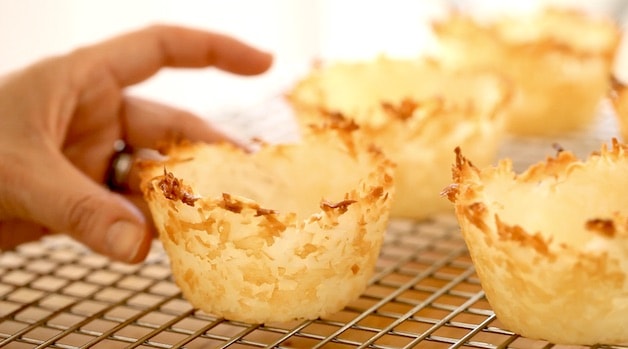 You'll use sweetened shredded coconut and mix with egg whites, almond extract, and flour. The sweetened coconut makes this dessert even easier since you do not need to add sugar to the batter. It's already sweet enough.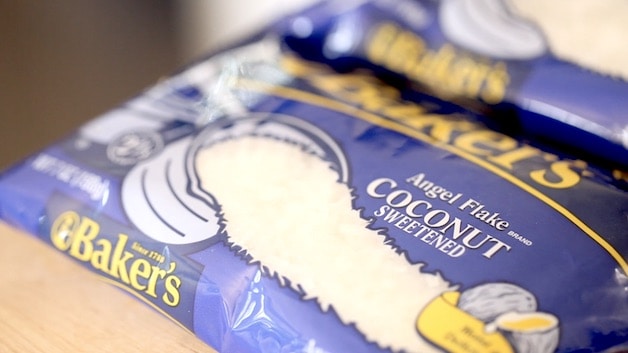 Press this mixture into a jumbo muffin tin. I think the portions work better that way, especially if you want to serve ice cream inside them. The regular-sized muffin tins are a bit too small to hold a full scoop of ice cream along with the strawberry sauce.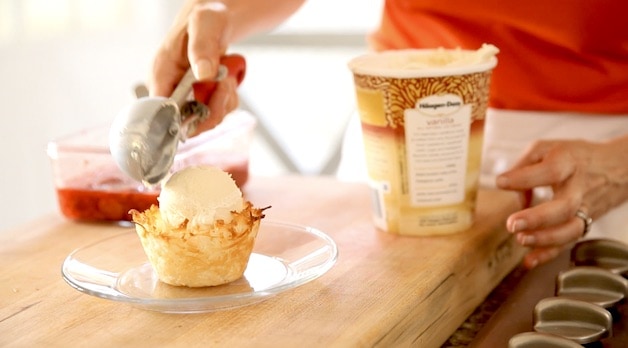 The nice thing about this dessert is that both the ice cream bowls and the sauce can be made ahead of time and then all you have to do is the scoop in the ice cream and serve! Keep the baskets either in their tin until ready to serve, or on a cooling rack, with a sheet of foil placed over them.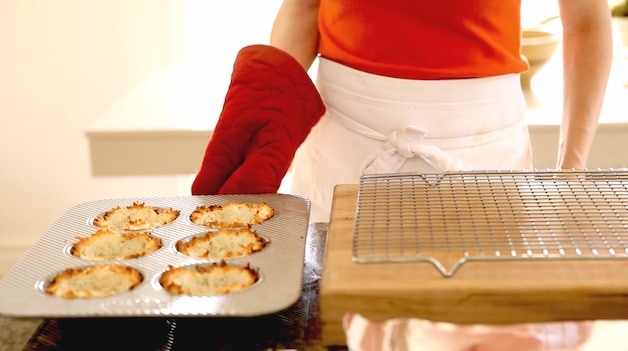 For the strawberry sauce, once it's made. Allow it to cool down and then transfer it to a glass container and keep refrigerated. You can either serve the sauce chilled or slightly warm. I go the warm route, I think there's something nice about the sauce melting the ice cream a bit!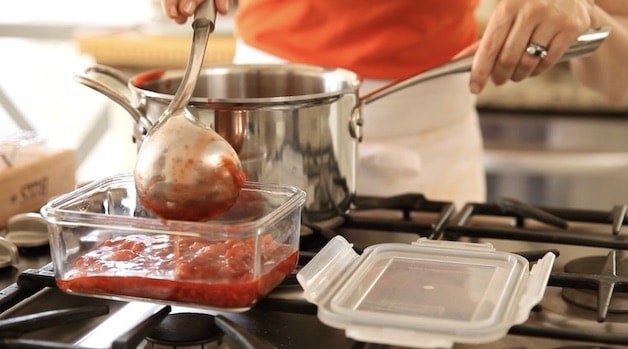 I hope you and your friends and family enjoy this recipe! It makes for a wonderful finish after serving some Sticky Ribs or my Seared Salmon with Buerre Blanc Sauce. Happy Summer!
MORE GREAT SPRING DESSERTS!
Please let me know if you make this recipe
by leaving a rating and review below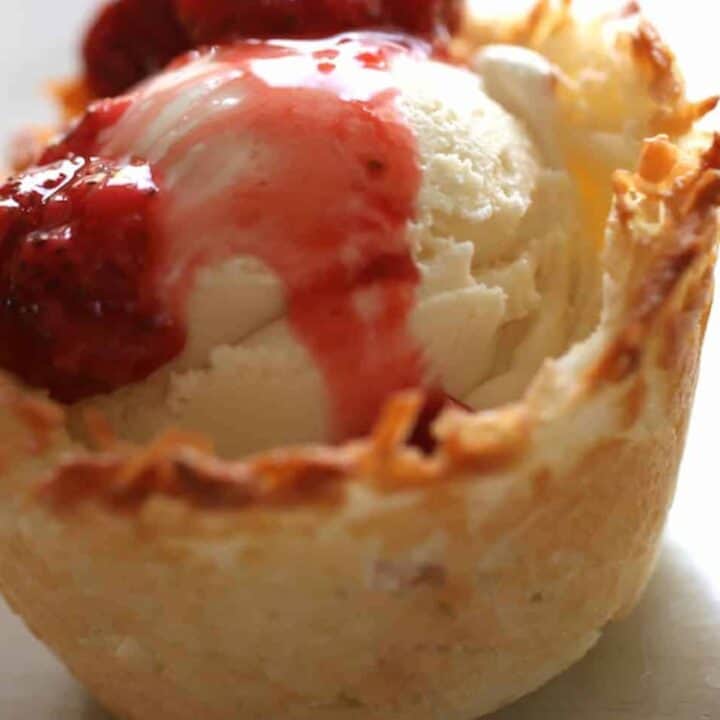 Edible Ice Cream Bowl with Strawberry Sauce
Total Time:
1 hour
30 minutes
This edible Ice Cream Bowl with Strawberry Sauce is a fantastic dessert idea for spring entertaining. Great for Easter or Mother's Day!
Ingredients
For Coconut Baskets:
3 egg whites pinch of salt
14 oz (396 g) sweetened coconut
½ (2.5 ml) teaspoon almond extract
1 tablespoon (7.5 g) All Purpose flour
6 scoops Vanilla Ice Cream
For Strawberry Sauce:
16 oz (452 g) strawberries
zest of 1 lemon
¼ cup (60 ml) fresh lemon juice
¼ (60 ml) cup water
1 tablespoon (12.5 g) sugar
Instructions
For the Ice Cream Bowl:
Add egg whites and salt to an electric mixer, beat until fluffy, and soft peaks form.
Fold in coconut and flour. Press dough into a non-stick muffin tin, on the bottom and up the sides in a thin ¼" layer.
Bake at 350 for 20 mins until sides and tops turn golden brown. Bottoms will remain white. Allow to cool.
For the Strawberry Sauce:
Combine all ingredients in a large saucepan. Heat on medium high heat until it boils, lower to a simmer.
Continue to cook until strawberries break down and become a sauce.
Allow to cool, and keep refrigerated until ready to serve. To serve place 1 bowl on a plate, fill with a scoop of ice cream and top with strawberry sauce.
Notes
Keep the coconut baskets at room temperature loosely covered with foil until ready to serve
Nutrition Information:
Yield:

6
Serving Size:

1
Amount Per Serving:
Calories:

1131
Total Fat:

63g
Saturated Fat:

57g
Trans Fat:

0g
Unsaturated Fat:

6g
Cholesterol:

29mg
Sodium:

669mg
Carbohydrates:

136g
Fiber:

21g
Sugar:

87g
Protein:

13g