Homemade Waffle Cones with Red, White, and Blue "Cheater" Ice Cream is the perfect patriotic dessert recipe! If you are entertaining a crowd this year for Memorial Day or the 4th of July this will be the hit of the party!
You can make everything ahead of time and just set it on a buffet and let everyone build their own cones! Summer fun at its best! For another fun, patriotic dessert idea try my Triple Berry No-Bake Cheesecake or my Brioche French Toast.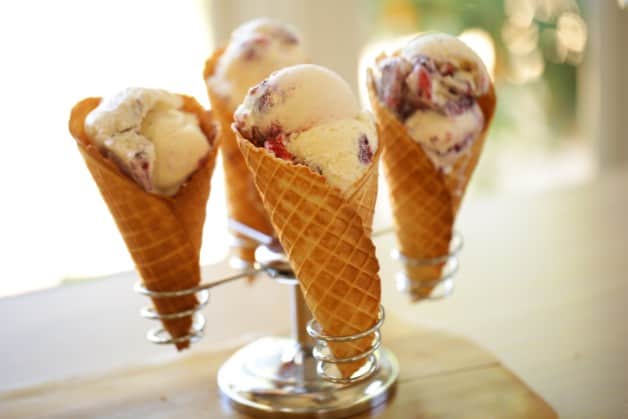 Homemade Waffle Cones
This recipe also includes my waffle cone recipe! They are always a bit hit with any type of homemade ice cream, and they are much easier to make than you might think! The video below will show you how.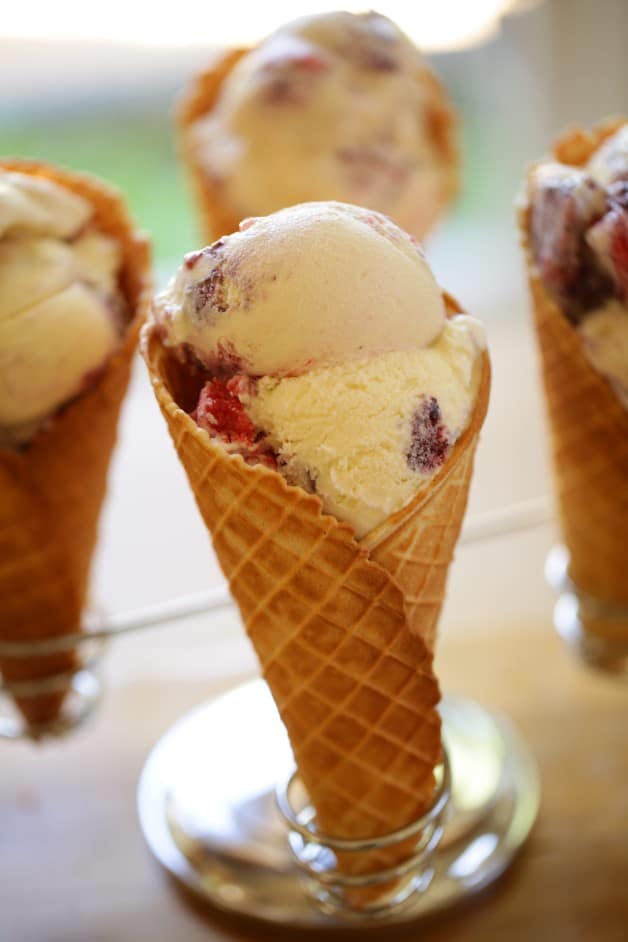 What is "Cheater" Ice Cream
The "cheater" technique involves using store-bought vanilla ice cream and swirling in blackberry and strawberry fruit purees. The result is a patriotic swirl of ice cream deliciousness! Or if you're itching to make your own ice cream from scratch, check out my Mint Chip Ice Cream or Salted Caramel Ice Cream recipes. Both are easy to master!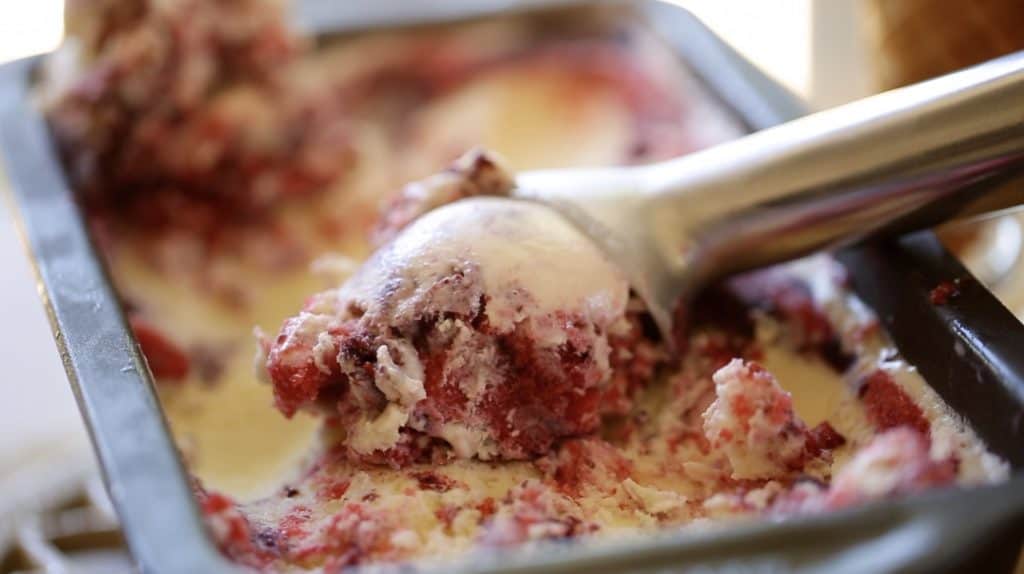 Recipe Pairing Ideas:
How to Make Homemade Waffle Cones
Subscribe to My YOUTUBE CHANNEL and Never Miss a Recipe!
Make-Ahead Tips:
The ice cream is best made the night before to freeze well before serving.
The Waffle Cones are best made the day of, to preserve their crispness.
Step 1: Soften the Ice Cream & Make the Puree
Take your ice cream out of the freezer to allow it to come to room temperature. It will be easier to work with. Don't worry, it refreezes just fine!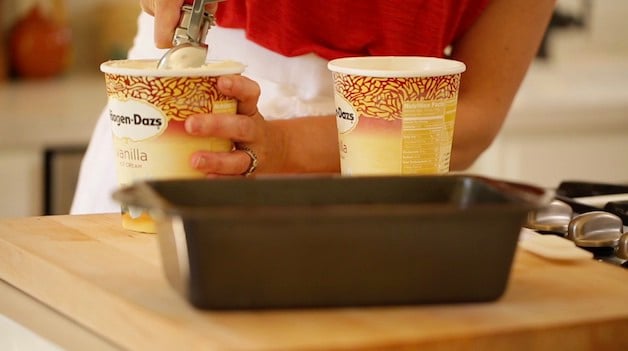 Meanwhile, make the berry puree by adding blackberries, sugar, and water into the blender. Whirl them up and transfer them to a small bowl.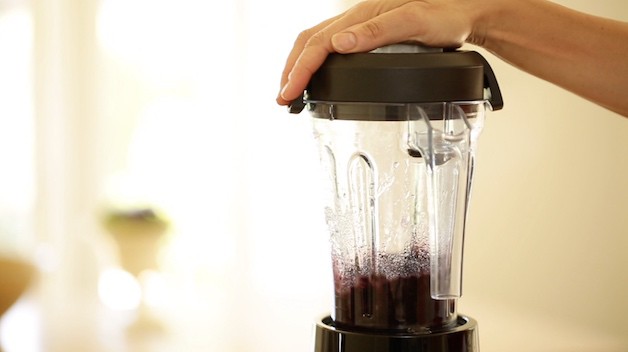 To keep the colors pure, rinse the blender and then repeat the same process with the strawberries.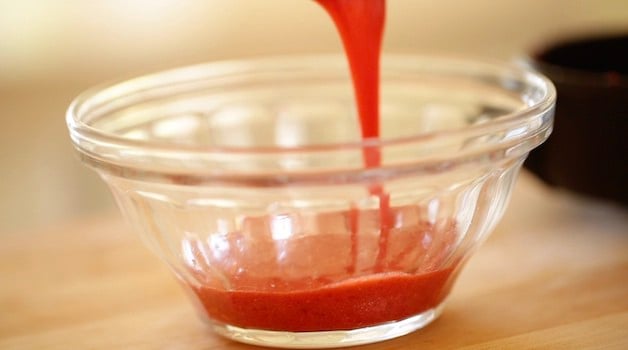 Step 2: Assemble the ice cream
You don't need any fancy ice cream-making tools for this! I find that a loaf pan works perfectly fine for storing the ice cream.
Start by adding a single layer of ice cream scoops at the bottom of your loaf pan, then press the scoops down with a spatula to create an even layer.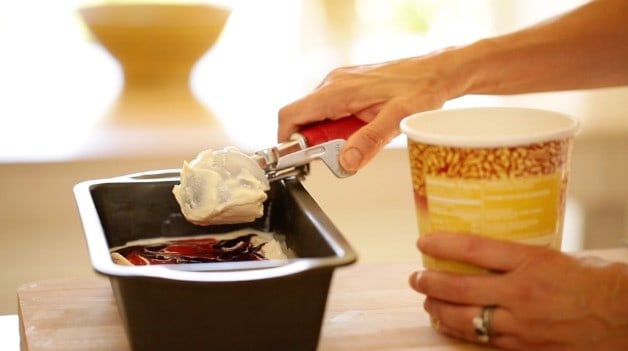 Then, dollop in the blackberry puree and then strawberry puree.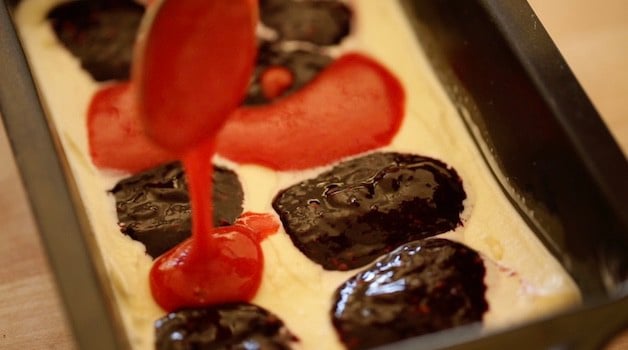 Run a skewer through the ice cream and each of the purees, just enough so the colors are swirled but not "mixed". If you take it too far... or you'll have purple ice cream!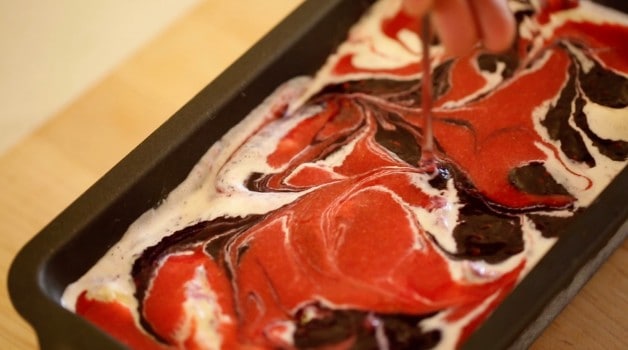 Repeat the process with another layer of ice cream scoops and puree, then swirl again. Then, cover and freeze overnight!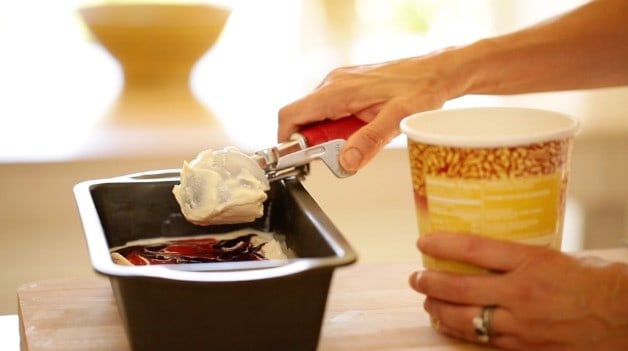 If waffle cones aren't your thing, you can just enjoy the berry-flavored ice cream in little dishes! But if you want to really wow the crowd, go the extra mile and make some homemade waffle cones. It's easier than you may think!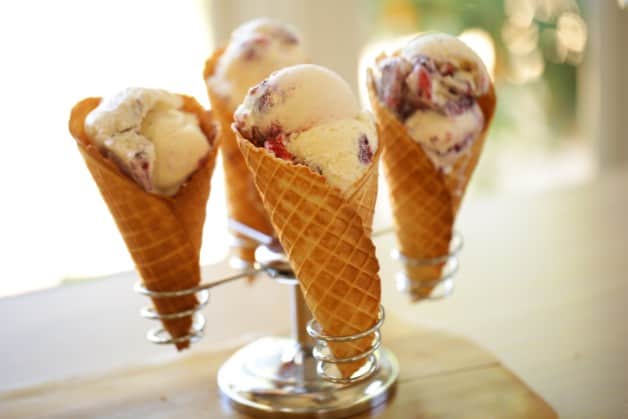 Step 3: Make the Homemade Waffle Cones
To make the cones you'll need a waffle cone maker. They are a fun investment and make really great waffle cones. Or you could skip the cones and serve the ice cream is my Edible Ice Cream Bowls made from coconut. Another fun dessert!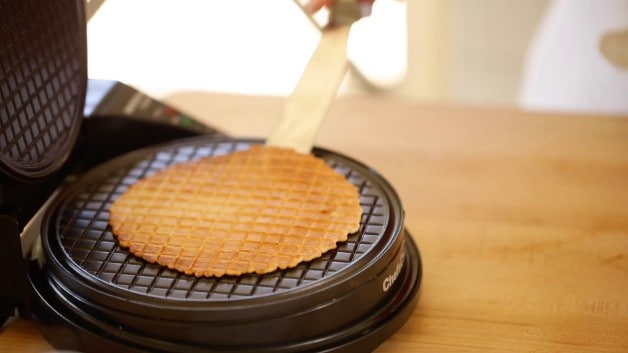 TIP: Although the directions say to set the waffle iron on level 3..I think the better setting for getting nicely browned cones is between ⅚.
Step 4: Prepare the Waffle Cone Batter
To make the waffle cone batter, combine the ingredients in a medium-sized bowl. The mixture will seem really thick but don't worry, the thickness gives the cones enough structure to hold the ice cream. The cones will be crispy once they cool.
When the waffle iron is ready, place a dollop of batter in the center of the iron. Close and press down until the waffle is done. The machine will let you know when it's ready.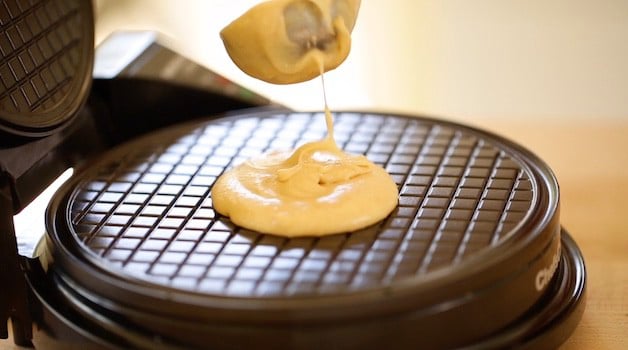 Step 5: Form the Waffle Cones
The waffle cone maker comes with the cone form and all you have to do is take your flat "pancake waffle" out of the iron and roll them up around the cone and presto! It takes a little practice, but it doesn't take long to get the hang of it!
TIP: As soon as the cone is rolled and still warm, pinch the bottom of it to close the gap. This will prevent the ice cream from dripping out the bottom when serving.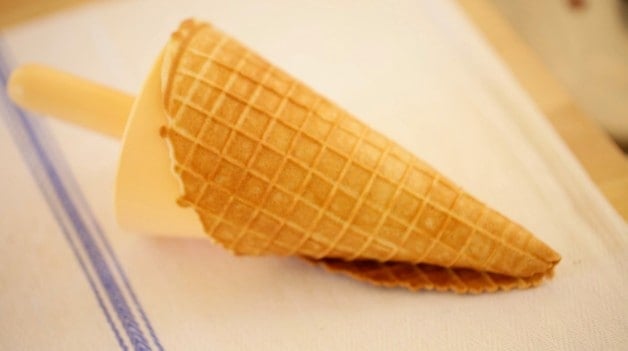 I love these cone holders which makes it easy to keep the cones upright while they cool and it's a nice way to serve them too.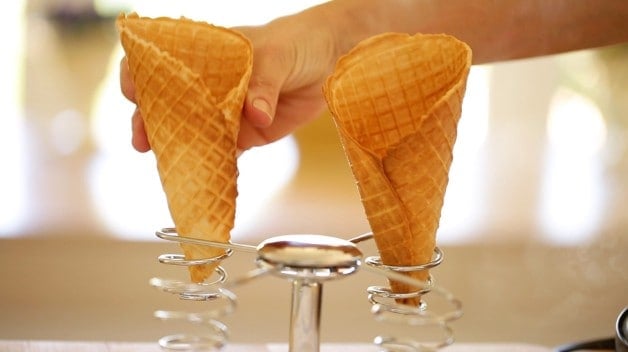 Step 4: Serve
After the waffle cones have cooled and the ice cream is set, serve the cones with the ice cream already scooped in or set everything out and let everyone serve themselves!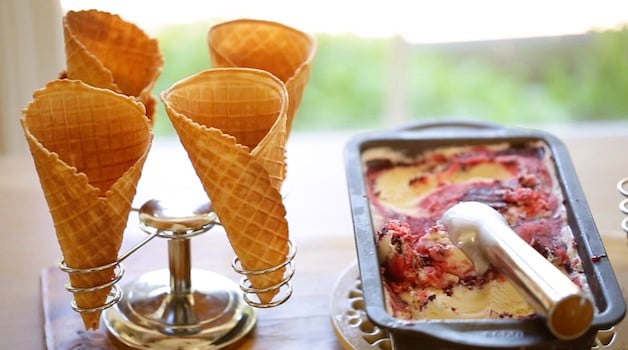 If You Enjoyed This Recipe
Please Leave a Rating and a Review Below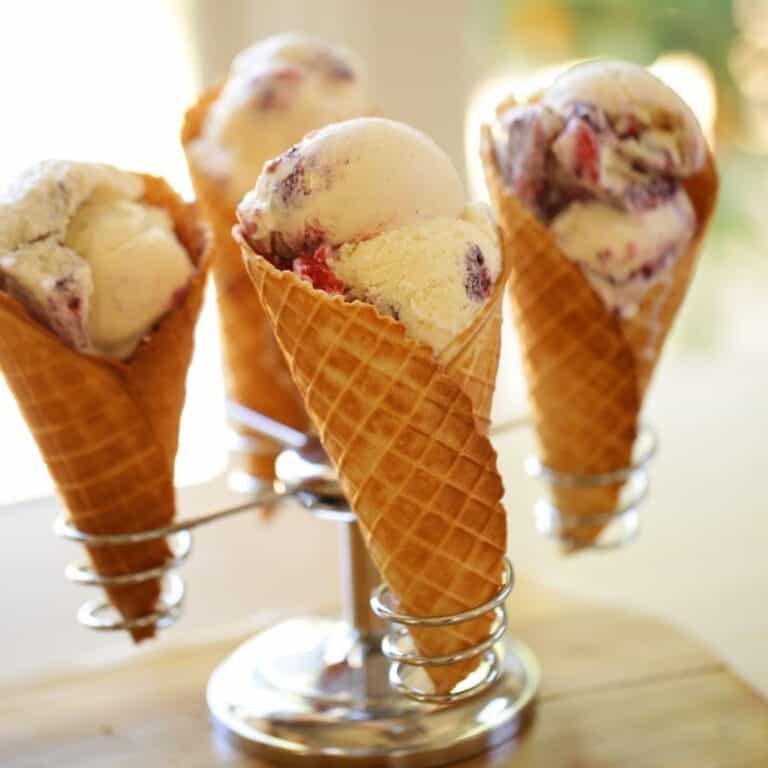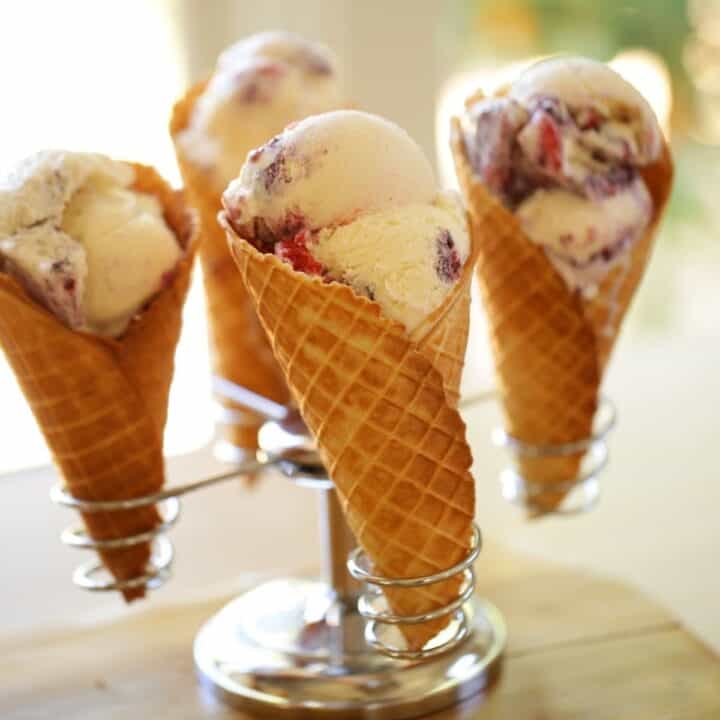 Homemade Waffle Cones with Red, White and Blue Ice Cream
Total Time:
1 day
15 minutes
Homemade Waffle Cones with Red, White and Blue "Cheater" Ice Cream is the perfect 4th of July treat! If you are entertaining a crowd this year this will be the hit of the party!
Ingredients
For the ice cream:
42 ounces (about 1 ½ quarts) of good quality vanilla ice cream
1 cup (150g) fresh blackberries
1 cup (150g) fresh strawberries, quartered
2 tablespoon (25g) sugar
2 tablespoon (30 ml) water
For the cones:
1 whole egg
2 egg whites
¼ teaspoon (1.25ml) teaspoon salt
½ cup (100g) sugar
⅔ cup (70 g) flour
½ teaspoon (2.5ml) cinnamon
2-3 tablespoon (30-45ml) melted butter
Instructions
Place ice cream at room temperature to soften. Meanwhile in a blender combine blackberries, 1 tablespoon (13g) sugar 1 tablespoon (15 ml) water, blend to puree and transfer to a small bowl.
Clean out blender and add strawberries, sugar and white and puree, transfer to a small bowl.
Scoop out softened ice cream in create 1 layer of scoops in the bottom of a loaf pan 9 x 5 (23cm x 13 cm). Smooth out with a spatula to create a flat surface. Add dollops of the blackberries puree, and then dollops of the strawberry puree then swirl gently and minimally with a skewer. Add another layer of ice cream and repeat the process.
Cover with foil and freeze overnight.
To make the waffle cones, combine all ingredients and follow the instructions of your waffle cone maker. If using the Chef Choice model in between setting ⅚ works best! Allow them to cool, and serve immediately!
Place out the cones and ice cream and let everyone serve themselves!
Notes
The Ice Cream is best made the day before so it freezes well and sets. But the homemade waffle cones are best made the day of serving, to remain crisp.
Recommended Products
As an Amazon Associate and member of other affiliate programs, I earn from qualifying purchases.
Nutrition Information:
Yield:

8
Serving Size:

1
Amount Per Serving:
Calories:

237
Total Fat:

11g
Saturated Fat:

7g
Trans Fat:

0g
Unsaturated Fat:

4g
Cholesterol:

53mg
Sodium:

178mg
Carbohydrates:

31g
Fiber:

2g
Sugar:

21g
Protein:

4g