The Best Brioche French Toast Recipe
This crunchy Brioche French Toast is the best French toast recipe! It's an easy recipe that combines a custardy center with crunchy cinnamon sugar topping that is a real crowd-pleaser for the whole family!
It's also the perfect breakfast recipe to serve when a long weekend rolls around and you find yourself with a house filled with house guests. Or is also great for special occasions like Easter Sunday, Mother's Day, or Father's Day.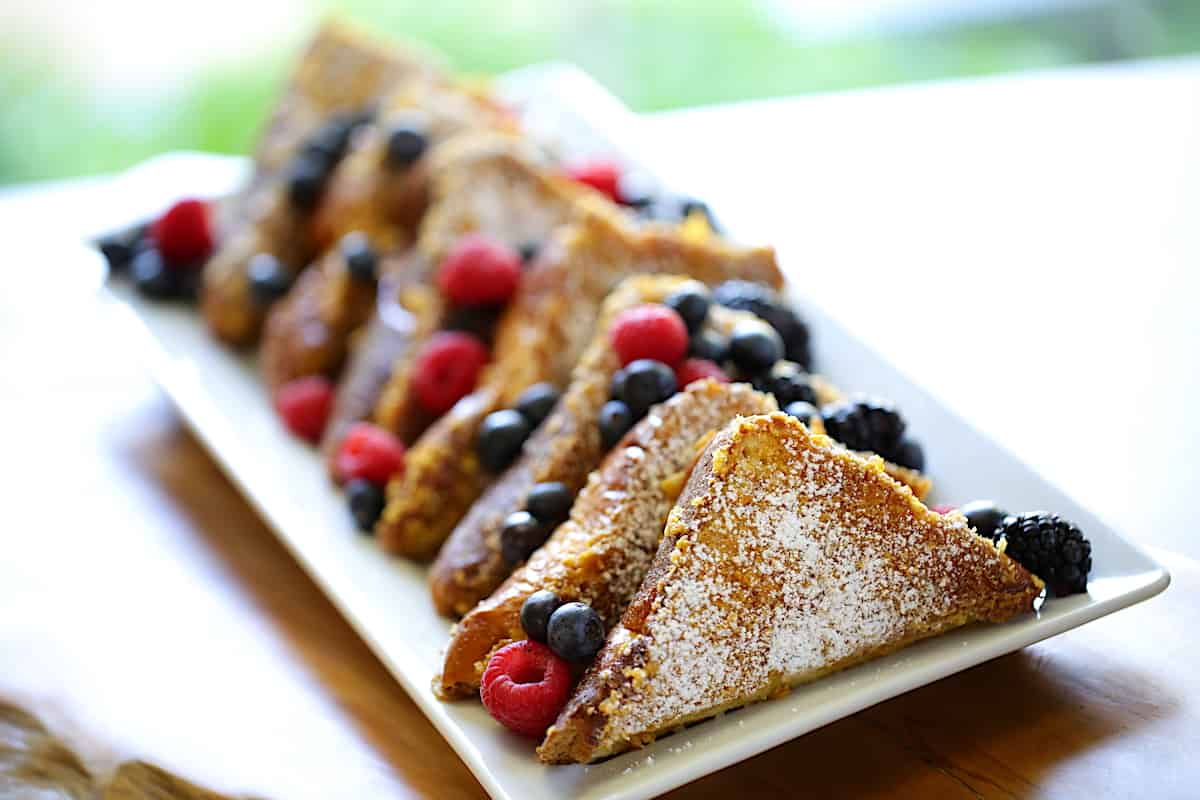 It takes just a few simple ingredients, most of which, except for maybe the brioche, you probably already have on hand! No brioche? Not to worry you can also use any kind of thick bread slices like challah bread or French bread too.
Subscribe for weekly recipes
and new videos!
Recipe Pairing Ideas:
Watch My Video Demo of This Recipe Below!
Subscribe to My YouTube Channel and Never Miss a Recipe!
Brioche Tips:
Typically brioche bread is a breakfast bread served in France and bought at a French bakery or the boulangerie.
But you'll find it's the best bread for the perfect French toast!
You can find it in American grocery stores that typically have an in-store bakery since it's best eaten within a day or two of being baked.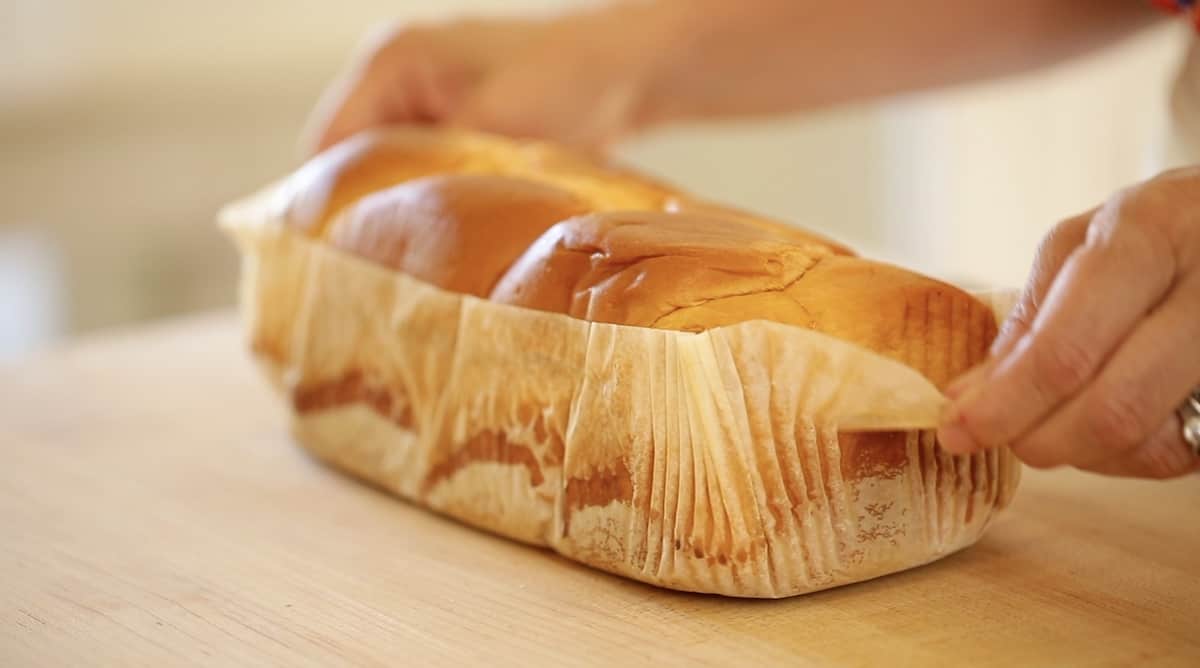 What Type of Brioche is Best?
Brioche comes in a variety of shapes and sizes. For this recipe look for a loaf of brioche bread, as opposed to the brioche rolls, since the loaf is ideal for slicing into thick pieces.
Brioche has the most divine buttery flavor with a light fluffy texture.
It's great smeared with butter and jam all on its own, but once it starts to go stale it's great for French toast!

The Origins of French Toast
The French gave birth to the concept of French toast, or what they would call a "Pain Perdue" as a way to use up stale French baguettes. It's typically served in France as a dessert but we Americans love our sugary breakfasts so it's no surprise it found its way onto the American breakfast table.
Step#1: Make the Custard Batter
The custard mixture is easy to whisk up and involves adding eggs with heavy cream until a thick custard forms. You could use whole milk, but I find the heavy cream makes for a richer, more decadent egg mixture which will lead to a more custardy finish to the French toast.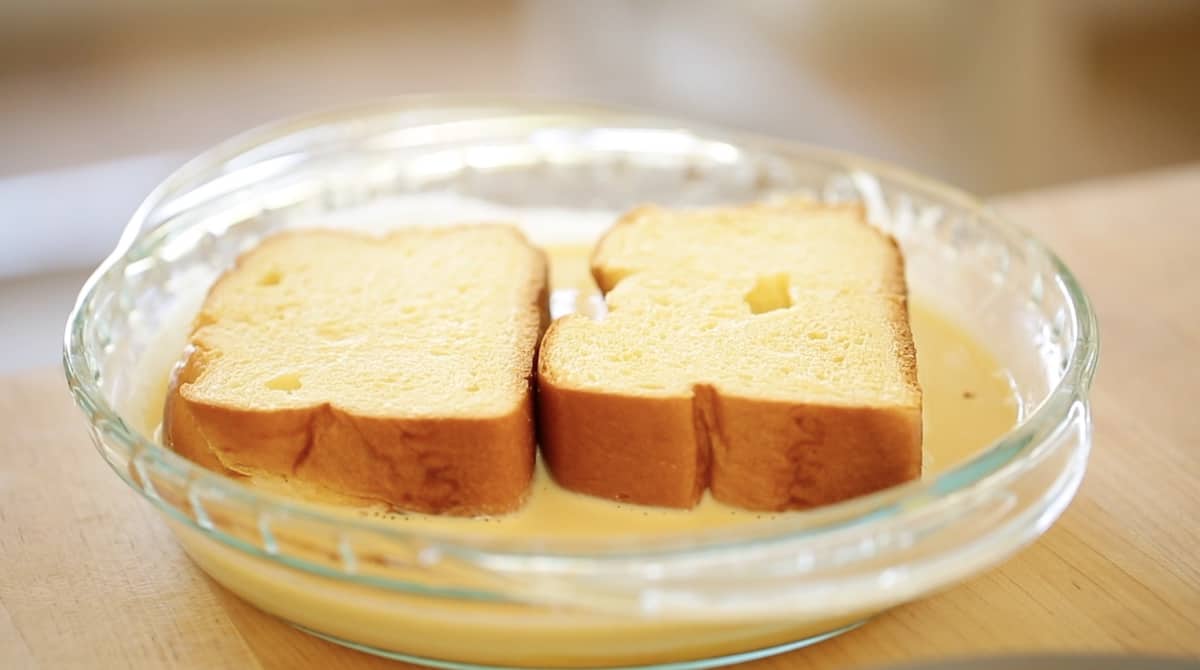 Flavoring the Custard
Your custard can be flavored with vanilla extract and sometimes it's also nice to add a little orange zest too.
Then dip the thick slices of bread into the rich egg custard and allow it to really soak in.
At least 2-3 minutes on each side. This is why it helps to have stale brioche bread otherwise it will get a bit mushy since the texture of the brioche is so light and springy.
Step#2: Create the Cornflake Mixture
The cornflake mixture is best created by placing the cornflakes in a ziplock bag and giving them a whack with a rolling pin. Then transfer them to a pie plate or shallow bowl. This will make it easier to dip the wet bread pieces and encrust them with the cornflakes.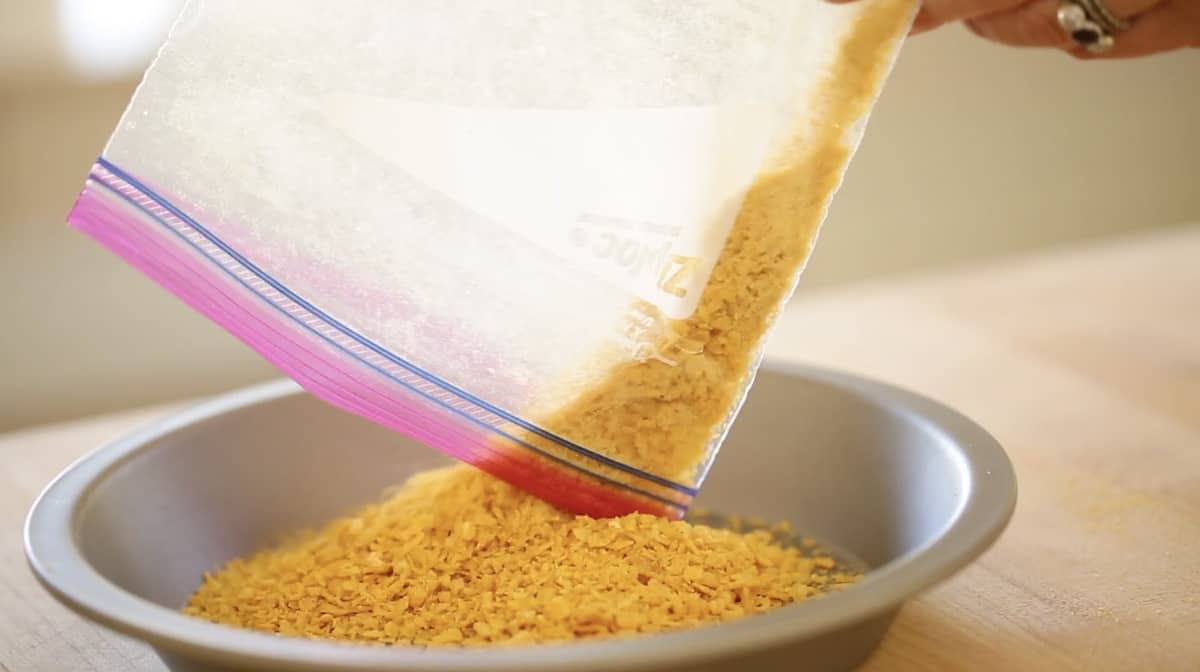 You'll then dredge the soaked brioche slices through this crunchy concoction of crushed corn flakes, cinnamon, and sugar. It will stick easily to the bread if you press it down gently.
If you have any leftover cornflakes you can also put them to good use in my super easy Marigoon Cookie Recipe!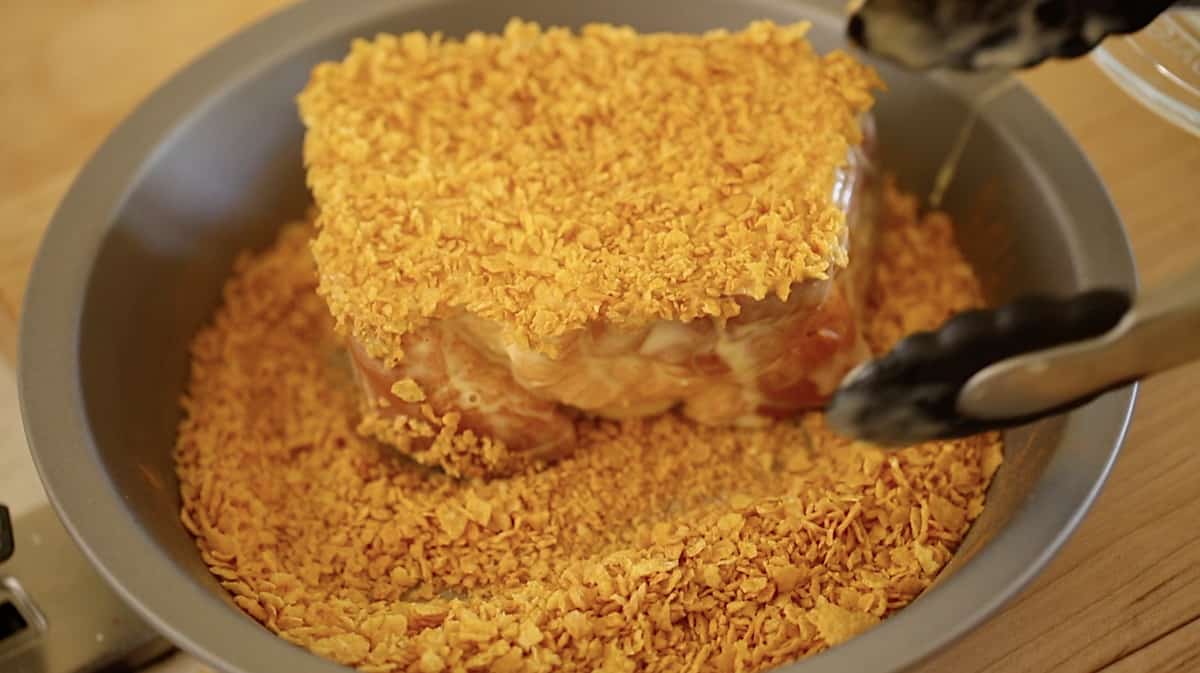 Step#3: Fry the French Toast in a Frying Pan
Fry the French toast in butter in a skillet over medium heat, for a few minutes on each side, until the bread is golden brown. The bread gets crispy and crunchy on the outside, and custardy and soft on the inside. It really takes the concept of French toast to a whole new level!
Keeping the French Toast Warm:
Once fried I like to keep them warm on a cookie sheet in the oven until ready to serve. It will deliver the best results if you fry the toast in batches of two slices per skillet to avoid crowding them.
Keeping them warm in the oven will also cook off any dripping of egg that may not have cooked in the skillet because the slices are so thick.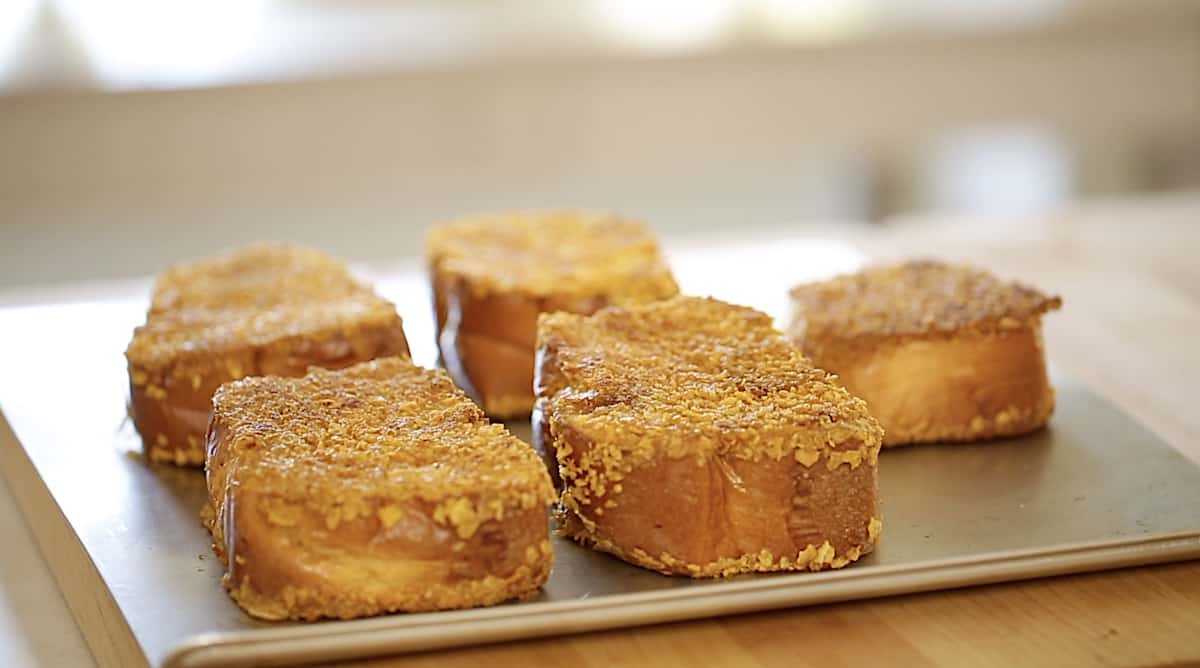 Slice on the Diagonal
Once the toast is ready to serve, dust each one with powdered sugar and then carefully slice on the diagonal with a large chef's knife.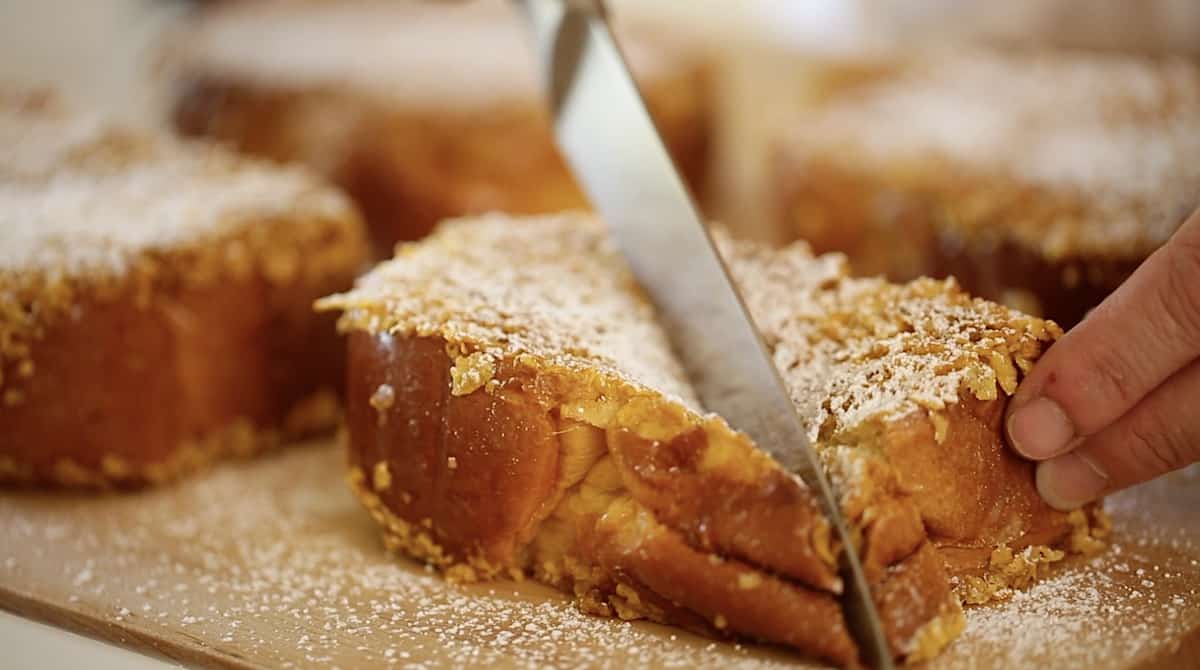 It looks really pretty to arrange them standing up on a rectangular platter, cut side down, and then cover the whole stack with fresh berries.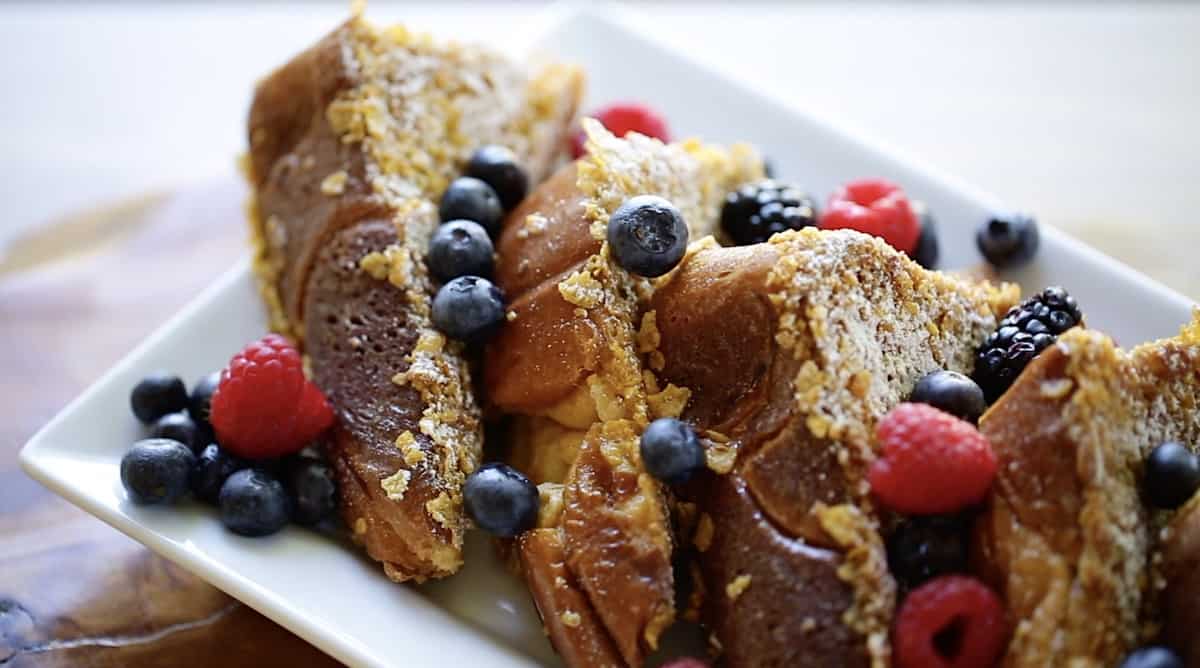 Add the Toppings
You can use fresh berries such as blueberries, raspberries, strawberries, or blackberries.
But of course, my children reach for the warm maple syrup every single time!
So the choice is up to you. But personally, I think the cinnamon sugar, and berries make this dish sweet enough!
You could always serve this as a dessert too, with a big scoop of vanilla ice cream and a drizzle of my Homemade Strawberry Sauce or my Homemade Hot Fudge Sauce.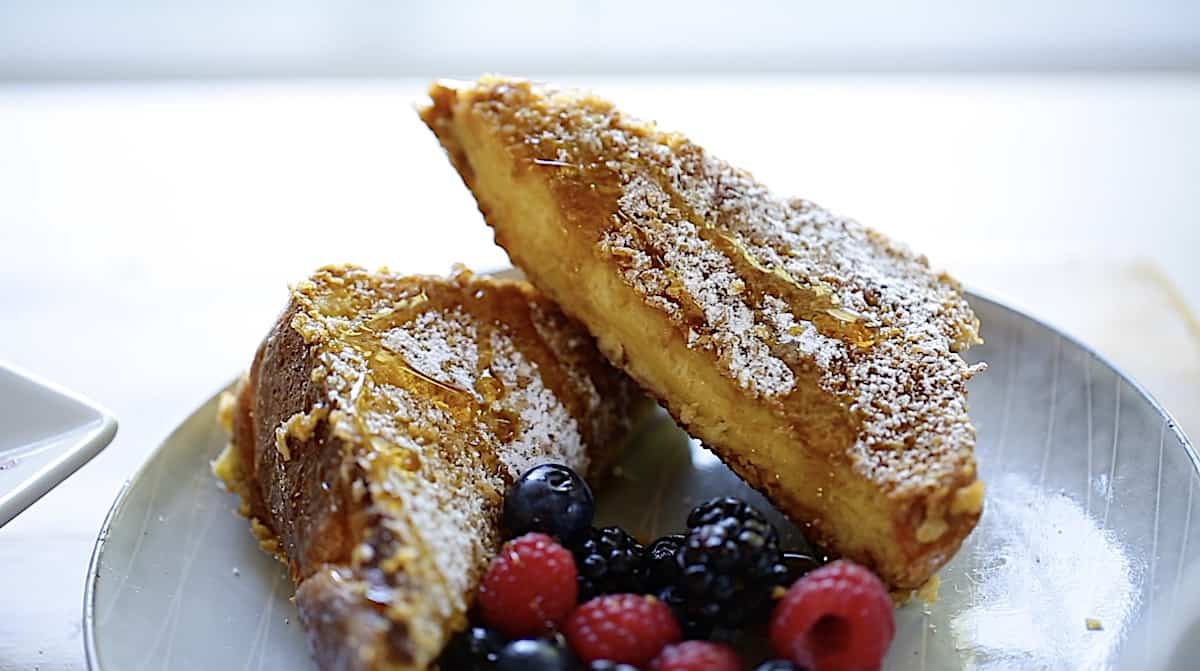 More Easy Breakfast Treats
Please let me know if you make this Recipe
by leaving a rating and review below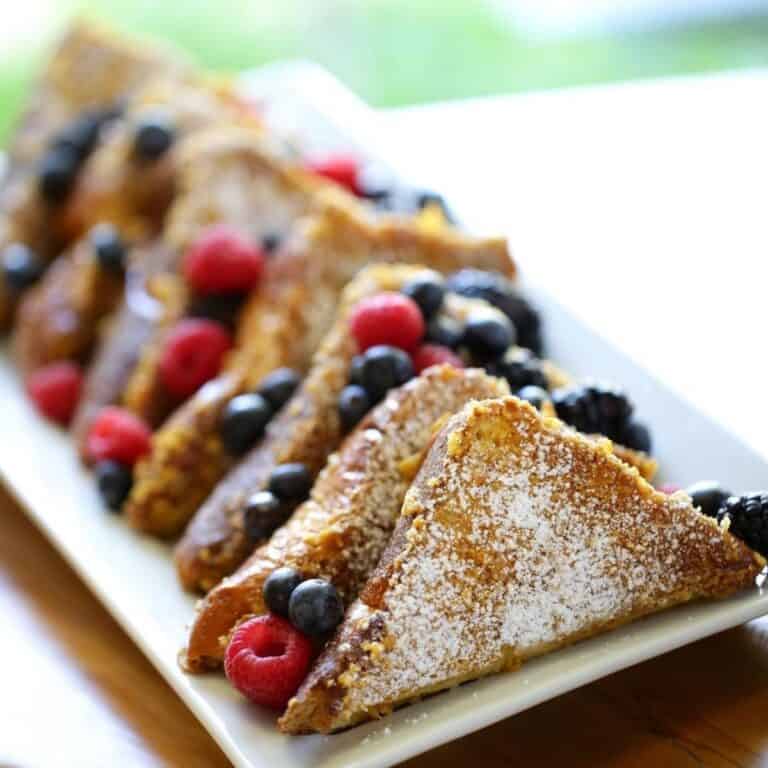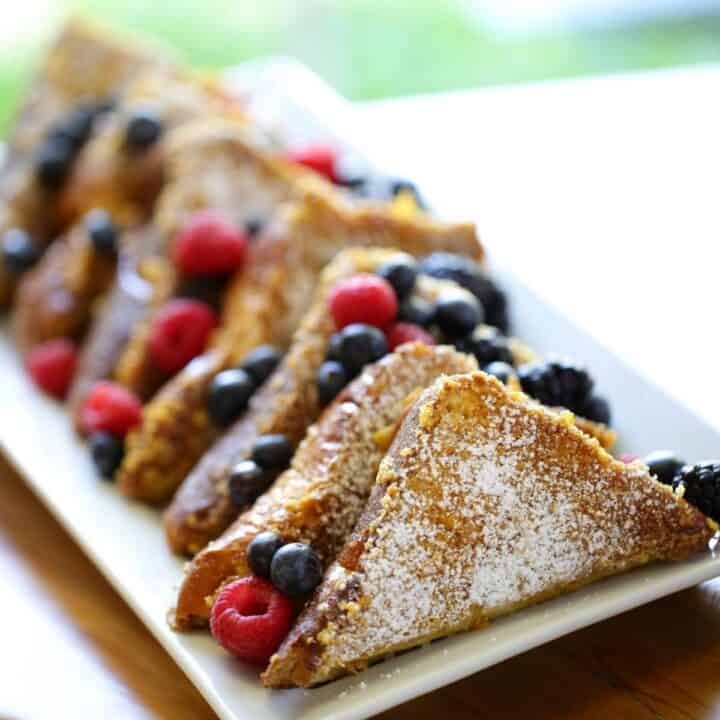 Brioche French Toast Recipe
Crunchy Brioche French Toast Recipe that uses soft brioche bread and crunchy cornflakes flavored with cinnamon sugar for one sensational twist on French toast!
Ingredients
French Toast:
5 slices of thick brioche bread
4 eggs
3 tablespoon (45 ml) heavy cream
2 teaspoon (10 ml) vanilla
Pinch of salt
1 teaspoon (5 ml) cinnamon
1 teaspoon (5 ml) sugar
2 cups (300 g) of cornflakes, crushed into a coarse meal
3 tablespoon (30 g) butter
Garnish:
Powdered sugar
1 cup (150 g) mixed berries (blueberries, raspberries, blackberries)
Instructions
In a shallow bowl or pie plate, mix together the eggs, cream, vanilla, and cinnamon.
Place cornflakes in a resealable plastic bag and crush with a rolling pin until a coarse meal forms, transfer to a shallow bowl or pie plate. Toss in sugar and cinnamon.
Cut bread into thick 1 ½ inch slices and place in egg mixture to soak well on both sides, allowing egg mixture to absorb into bread. Then transfer to the corn flake mixture and coat well on both sides.
Place a pat of butter in a skillet, once sizzling add bread and allow to cook for a few minutes on each side until golden brown. Transfer to a cookie sheet and once all slices have been browned in skillet transfer to a 300F (150F) oven for 5-7 minutes to cook any egg that didn't brown on sides and to crisp up the topping.
Remove slices from cookie sheet, dust with powdered sugar. Cut on the diagonal, arranged on plate and top with fresh berries!
Notes
If you cannot find brioche bread any soft egg bread like challah would also work
If you have corn flakes left over you can make these delicious Marigoon cookies with them!
Nutrition Information:
Yield:

5
Serving Size:

1
Amount Per Serving:
Calories:

524
Total Fat:

23g
Saturated Fat:

13g
Trans Fat:

1g
Unsaturated Fat:

9g
Cholesterol:

273mg
Sodium:

456mg
Carbohydrates:

67g
Fiber:

3g
Sugar:

32g
Protein:

13g