These Christmas Cookies are hands-down the easiest Christmas Cookies Ever! They are called Marigoons and were made by my Italian grandmother in the 1950s.
You'll love them because they whip up in no time, with just 8 ingredients (many of which may be sitting in your pantry already!) Great for holiday cookie platters or gifting!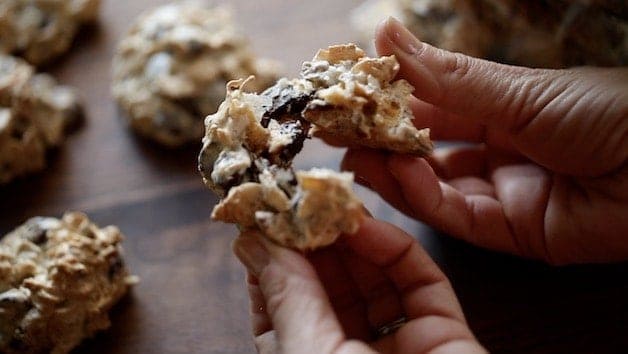 They have this fantastic combination of chewiness and crunch, coming from the cornflakes, decadence coming from the dark chocolate chips, and buttery goodness coming from the pecans. It's hard to imagine a cookie tasting so delicious with so few ingredients!
For more Christmas Cookie ideas for gifting try my Chocolate and Vanilla Cut Sugar Cookie Recipe or my Pecan Bars with Shortbread Crust or my Chocolate Hazelnut Biscotti.
Watch My Video Demo of this cookie recipe below!
Subscribe to My YouTube Channel and Never Miss a Recipe!
STEP 1: Whip Your Egg Whites
You'll start by adding 3 egg whites to an electric mixer. These cookies do not have any flour in them, it's the egg whites that give them their structure. So if you were looking for a Gluten-Free Christmas Cookie recipe, this one could be a great one, just be sure to buy Gluten-Free cornflakes, since not all cornflakes are Gluten-Free.

Then add some salt and vanilla extract to your egg whites and whip until foamy.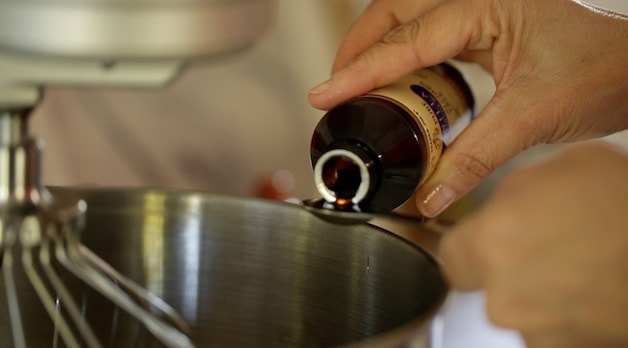 At this stage you'll slowly add your confectioner's sugar, a little bit at a time until your whites are stiff and satiny.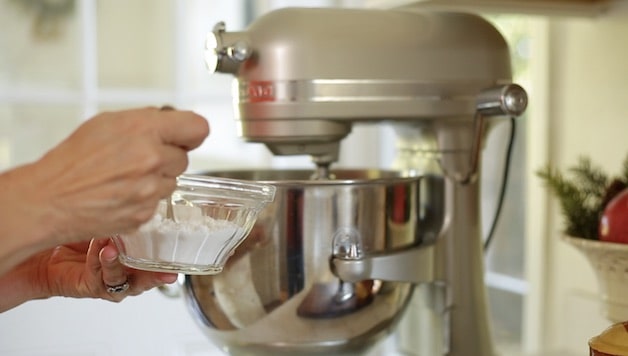 Tip: Once your whites can hold a stiff peak you know they have reached the right stage.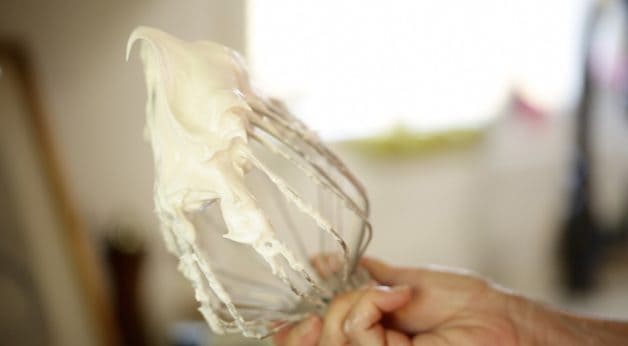 STEP 2: Fold in Your "Mix-Ins"
At this point, you'll fold in the dark chocolate chips, sweetened coconut, chopped pecans, and cornflakes.
Substitution Idea: Concerned about nut allergies?
You could swap the nuts for dried cherries.
That would give you another great texture and the combination of the tart cherries against the dark chocolate would be fantastic!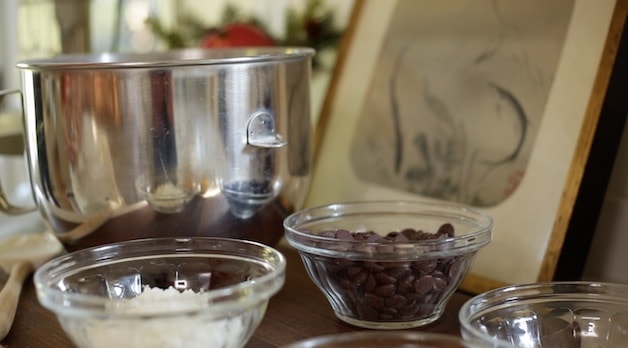 Tip: The dark chocolate chips add a nice counterbalance to the sweetness of the coconuts and egg whites. I love the Nestle Dark chocolate morsels, I think they provide the best chocolate flavor. I also use them in my Oatmeal Chocolate Chip Cookies and they are fantastic!
If you aren't a fan of dark chocolate you can use semi-sweet chocolate chips.
But consider reducing the confectioner's sugar to ½ cup (instead of ¾ cup as the recipe calls for) otherwise the cookies could be too sweet.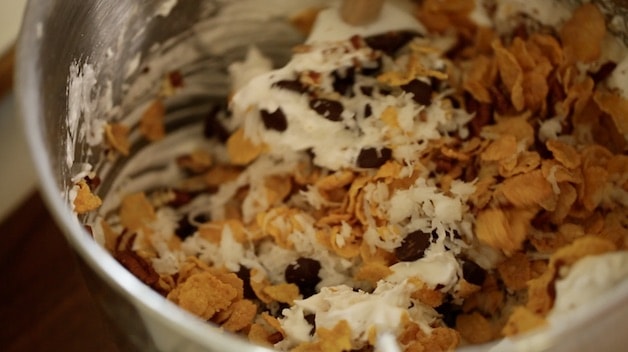 Then mix in all those ingredients until well-coated with the egg whites.
STEP 3: Spoon Out
Spoon out your cookie batter with a 2" ice cream scoop, onto a parchment-lined cookie sheet.
Tip: Egg whites, when baked are very sticky and they don't like grease. It's better for this recipe to use parchment paper instead of greasing your baking tray.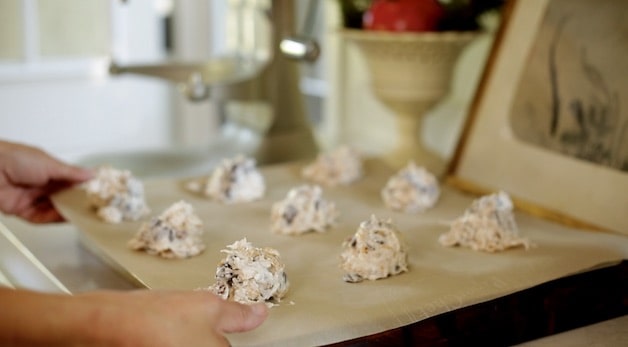 STEP 4: Bake and Cool
Bake your cookies at 350F (200C) for 18 minutes until golden brown. Allow the cookies to cool on a cooling rack until set.
Tip: These cookies are pretty fantastic when served warm since the chocolate chips become gooey which makes for a sensational treat. But they are more fragile when warm. Allow them to cool completely if packaging them up for gifting.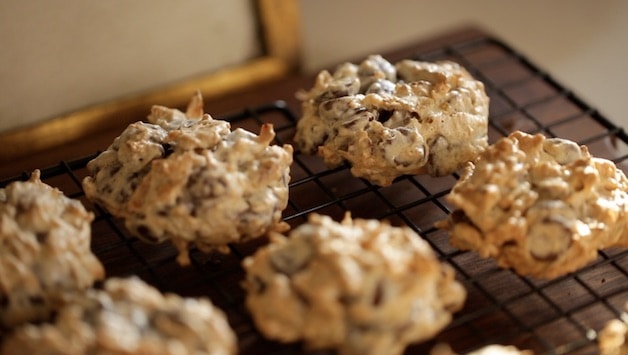 Then you can place them on your holiday cookie platter. I think these cookies go really well with a few Gingerbread Men, some Holiday Shortbread Cookies, and some Chocolate Hazelnut Linzer Cookies. That way you'll have all the Christmas flavors well represented!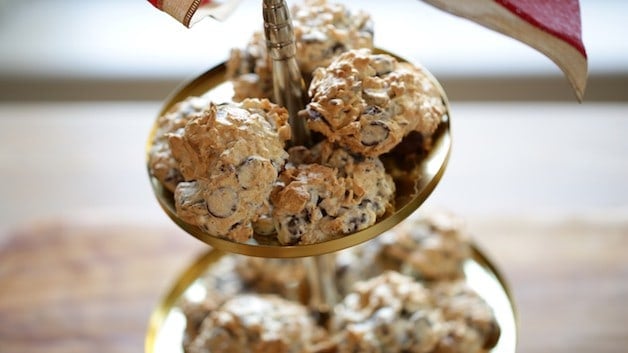 STEP 5: Package Up for Gifting!
You can pack your cookies up in a food-safe plastic bag, and fasten them with a rubber band. Add some faux evergreen and tie with a festive ribbon! (these links go to Amazon where I am compensated on products sold with no additional cost to the consumer)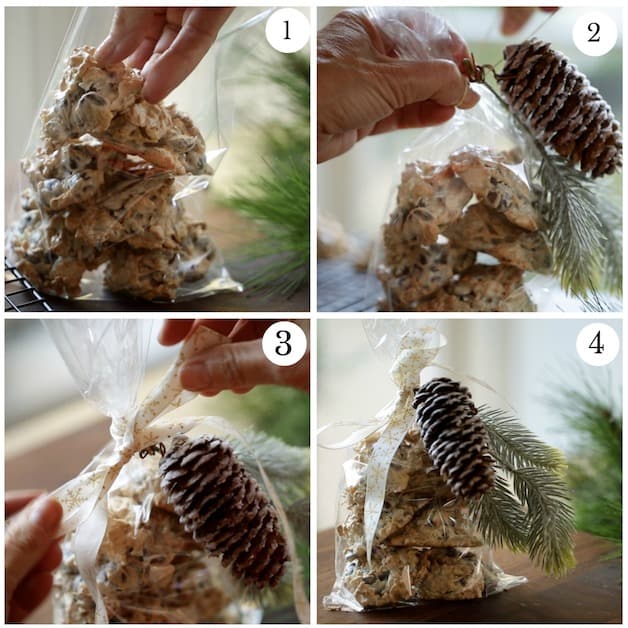 More Holiday Recipes!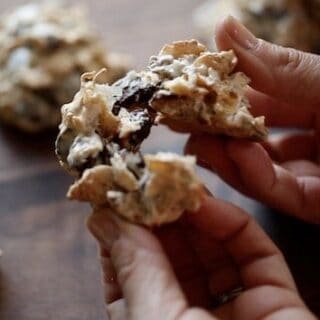 Easiest Christmas Cookie Recipe EVER!
Easiest Christmas Cookie Recipe Ever!  These come together so quickly and easily and you probably cannot eat only one! Great for cookie platters or holiday gifting!
Ingredients
3 egg whites
¼ teaspoon (1.25 ml) salt
½ teaspoon (2.5ml) vanilla extract
¾ cup (75g) confectioners' sugar, sifted
2 cups (475ml) cornflakes
8 oz (230g) package of dark chocolate chips
1 cup (240ml) sweetened coconut flakes
½ cup (75g) chopped pecans or walnuts
Instructions
Preheat oven to 350F (175C). Line a baking sheet with parchment paper and set aside.
Combine the egg whites, salt and vanilla. Beat until stiff peaks form. Slowly add the sugar gradually until stiff and satiny.
Fold in the chocolate chips, cornflakes, sweetened coconut and nuts. Scoop out batter with a 2-inch cookie scoop onto cookie sheet.
Bake 18-20 minutes until set and golden brown. Allow to cool slightly. These are really good served warmed! Or allow to cool completely and package up for gifting!
Notes
Egg whites should be stiff and satiny before folding in the chocolate chips and other mix-ins.
You'll know the whites are ready because they will hold a stiff peak on the tip of your whisk
You can swap the dark chocolate chips for semi-sweet or milk chocolate. But you may then want to reduce the confectioner's sugar to ½ cup so the cookies are not too sweet.
Nutrition Information:
Yield:

24
Serving Size:

1
Amount Per Serving:
Calories:

96
Total Fat:

5g
Saturated Fat:

4g
Trans Fat:

0g
Unsaturated Fat:

2g
Cholesterol:

1mg
Sodium:

20mg
Carbohydrates:

11g
Fiber:

1g
Sugar:

8g
Protein:

1g