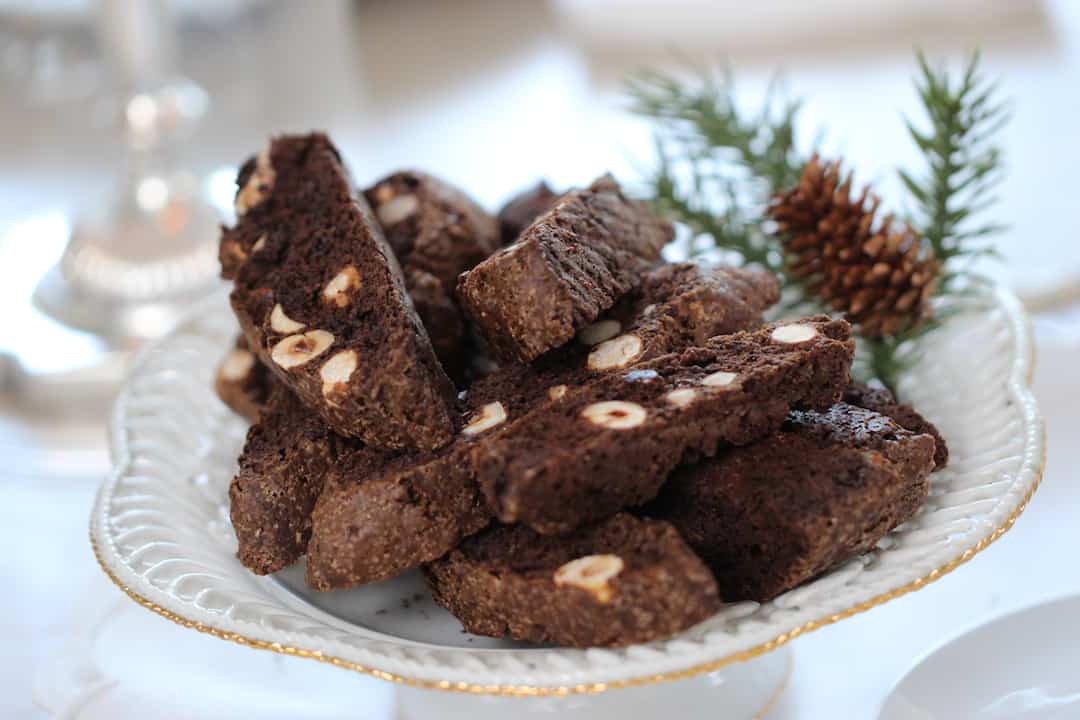 Chocolate Hazelnut Biscotti is a classic cookie I love to make around Christmastime because it's the perfect thing to serve when guests pop in for a cup of coffee.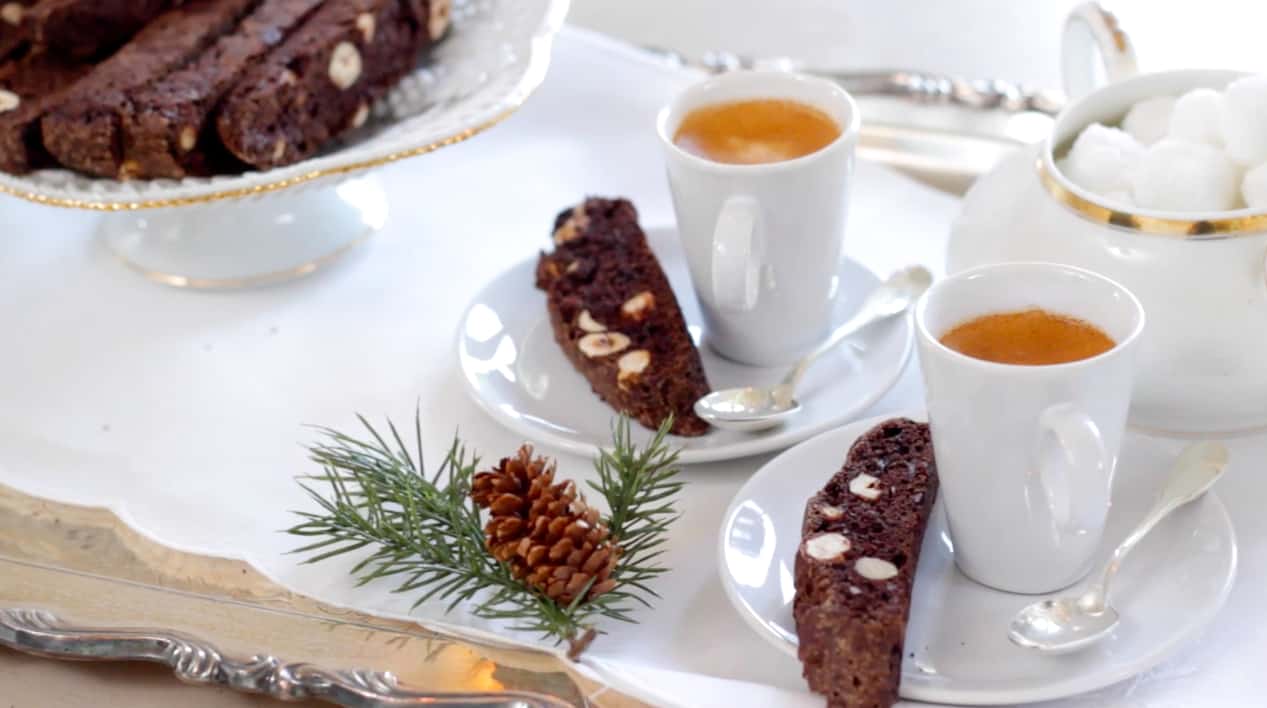 The combination of the rich chocolate mixed with the crunch of the hazelnuts is such a fantastic flavor combination. These also are great for gifting as well.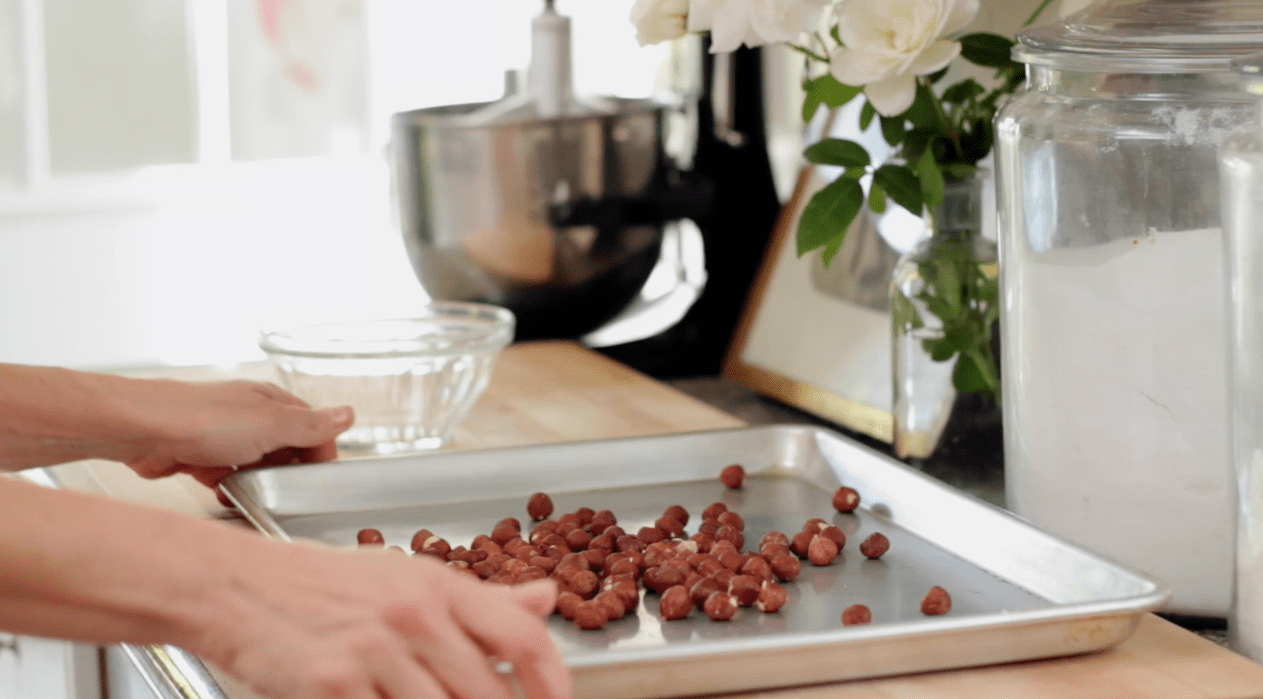 The recipe (which follows below) does involve a few steps, none of it is hard, just a bit time consuming.  But trust me the results are worth it! You'll begin by toasting your hazelnuts.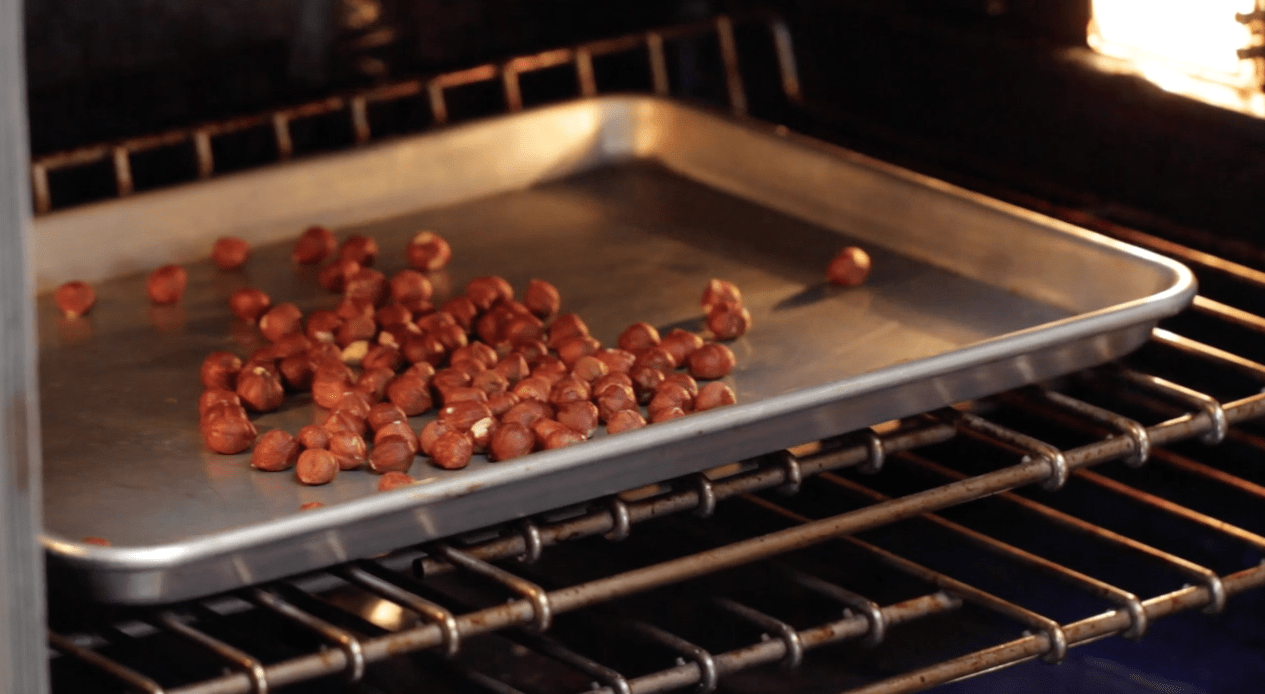 Once toasted transfer to a clean kitchen towel…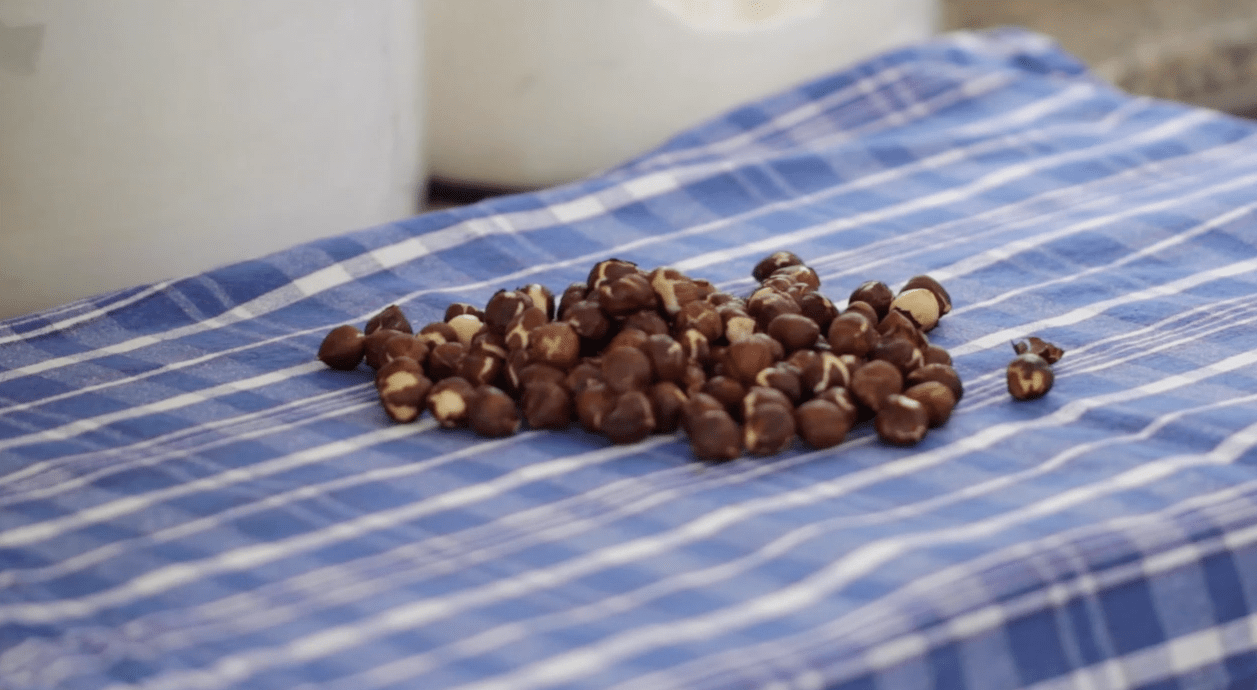 …fold the owel up to allow the warmth of the nuts to "steam" their skins off. (this is the slightly tedious part)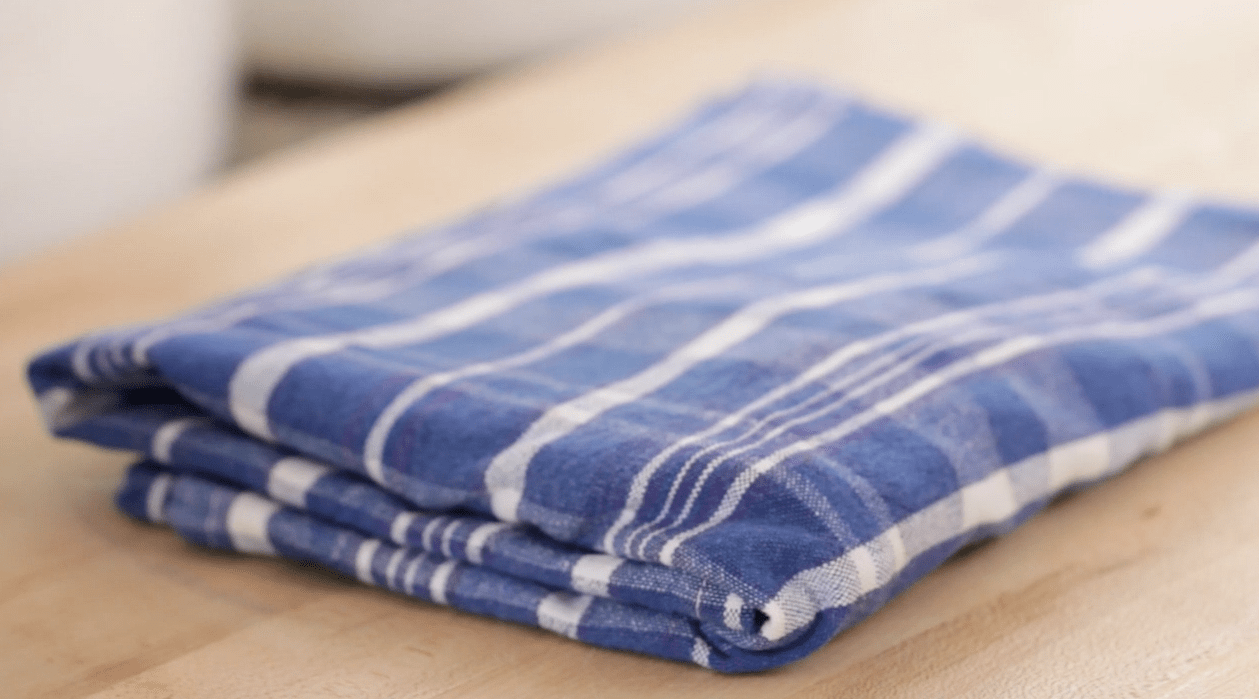 But they do slide right off, and in fact this is a great project for little hands that "need a project" so if you have any kids at home? Ha!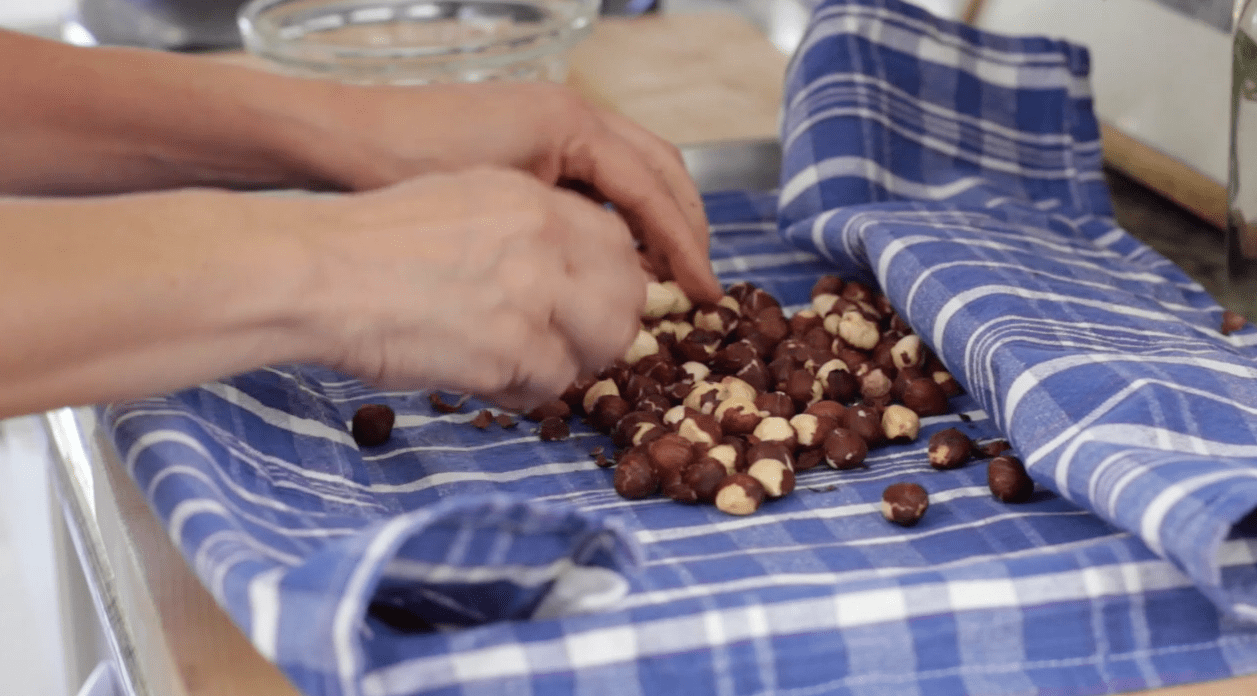 It's OK if a few have a little skin left on here and there, don't make yourself totally crazy trying to remove every little bit.  They should just look like this.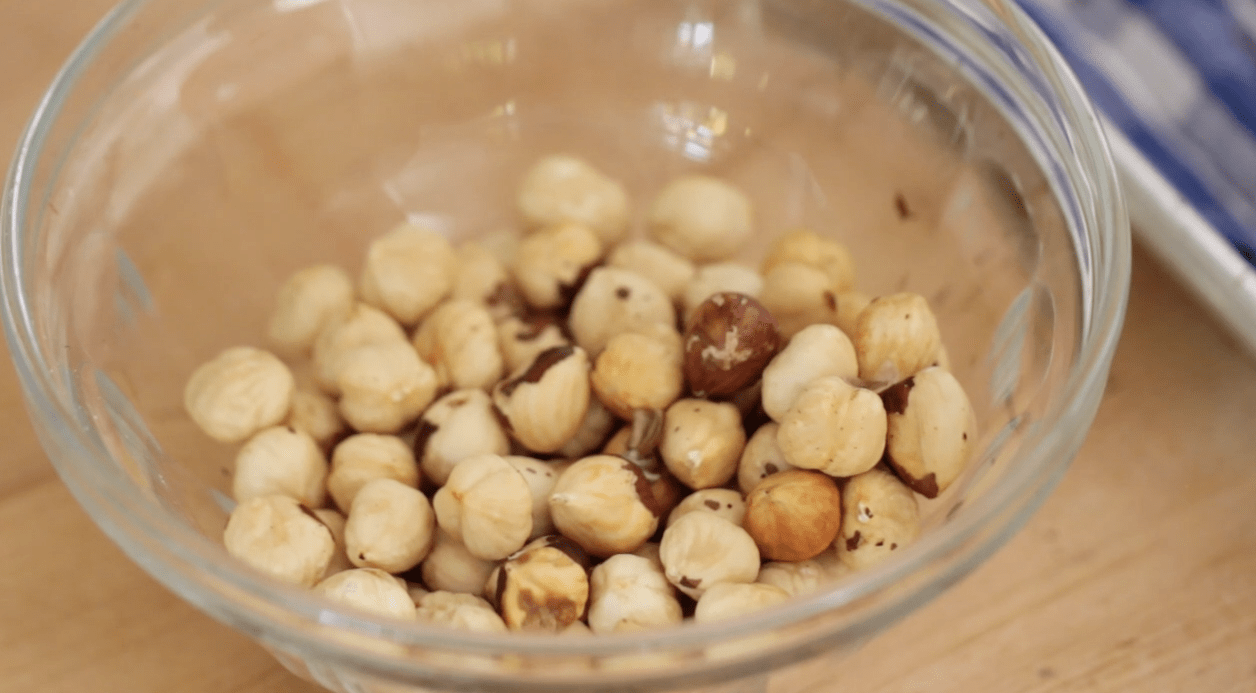 Chop up some good quality chocolate. I really like the Ghiradelli 70% Cacao Bittersweet Chocolate for this. (This link goes to Amazon where I am an affiliate partner)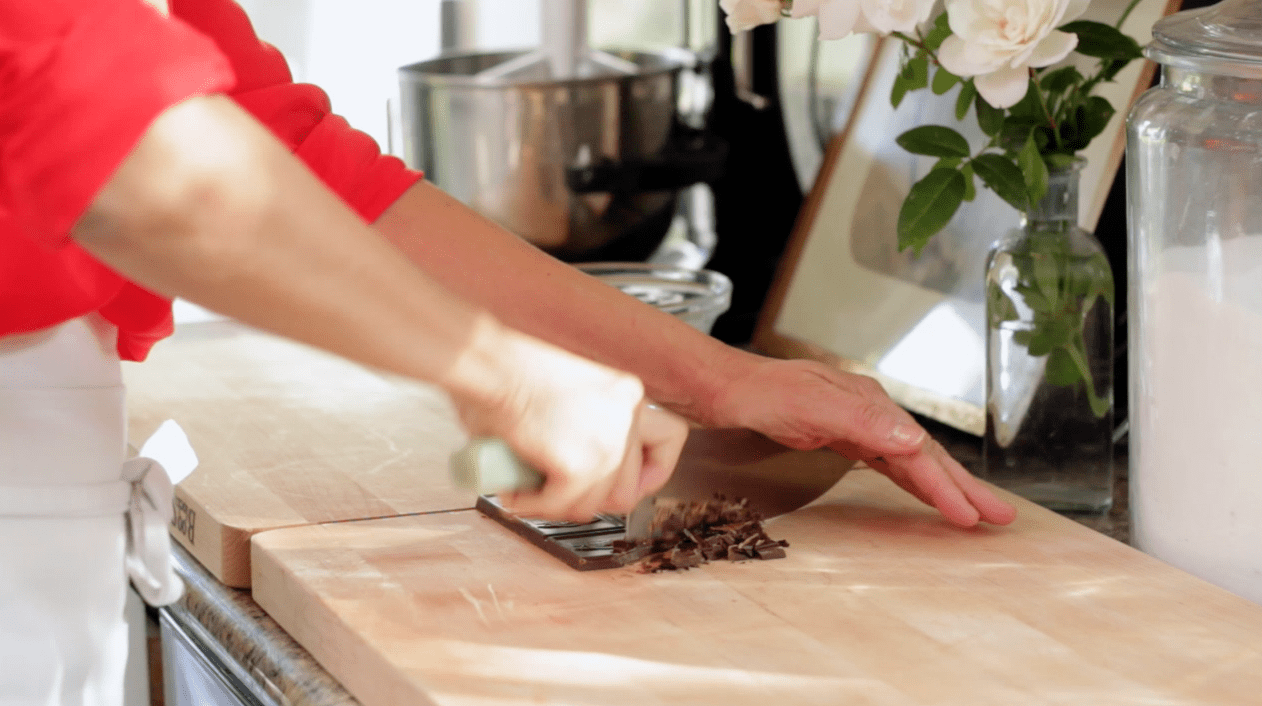 The chocolate will combine with dry and wet ingredients to create a nice dough.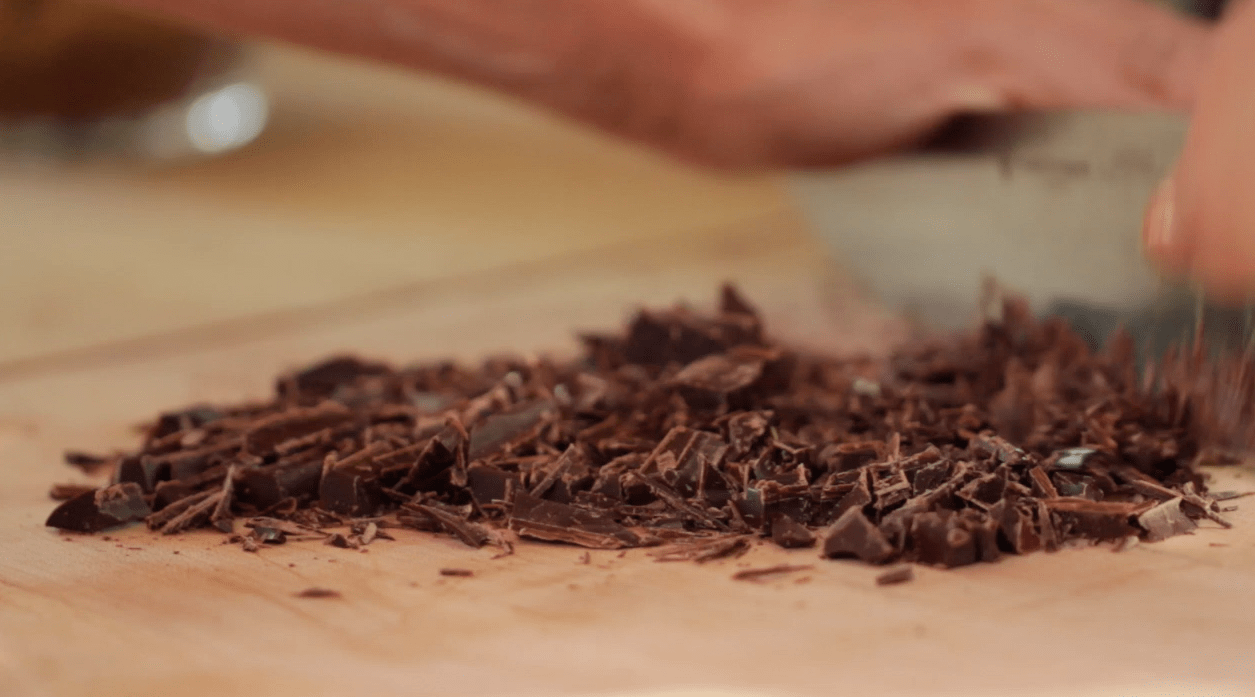 You'll shape the dough into a log and bake it until puffed up and cooked through…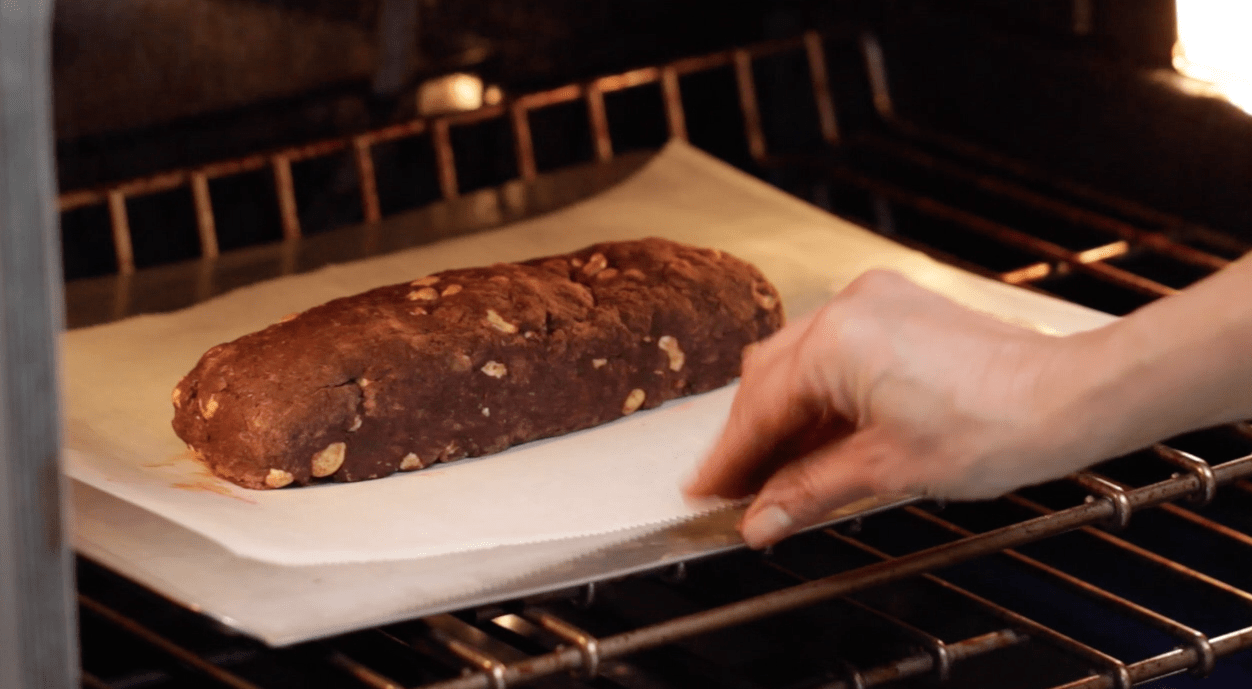 Then you will slice the log into thick 1″ slices…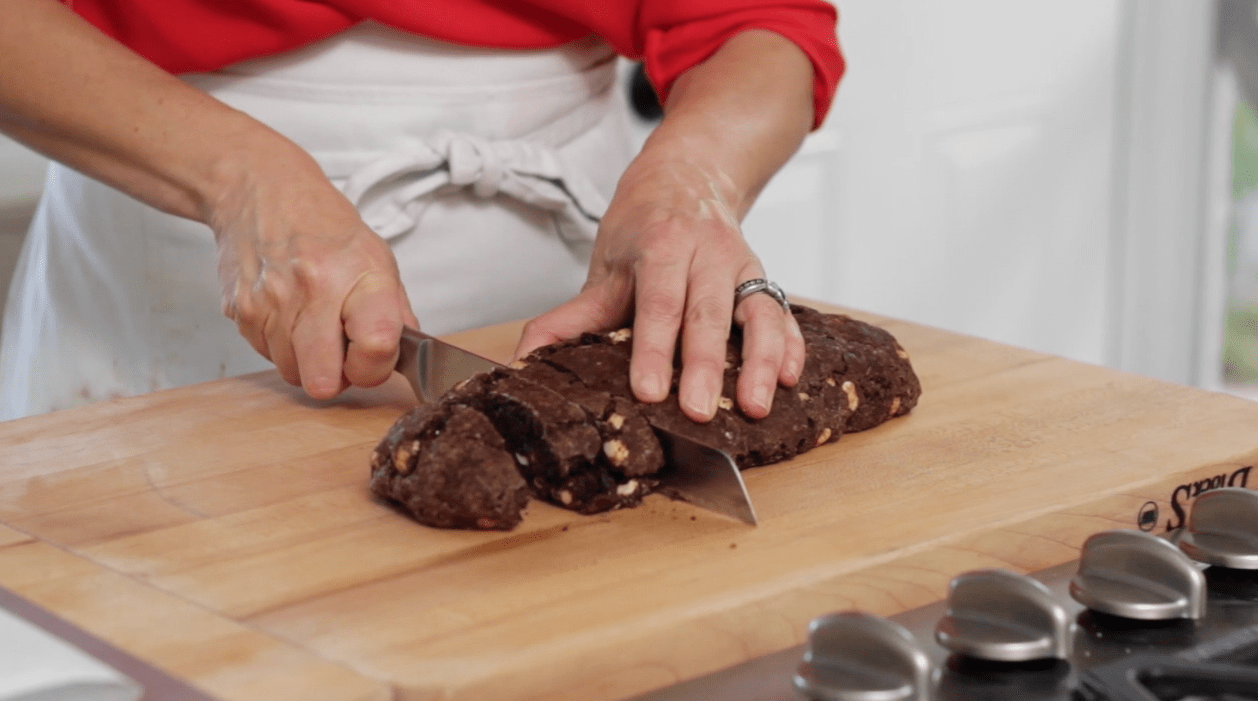 Bake again. This is how the biscotti receives it hard, dry texture.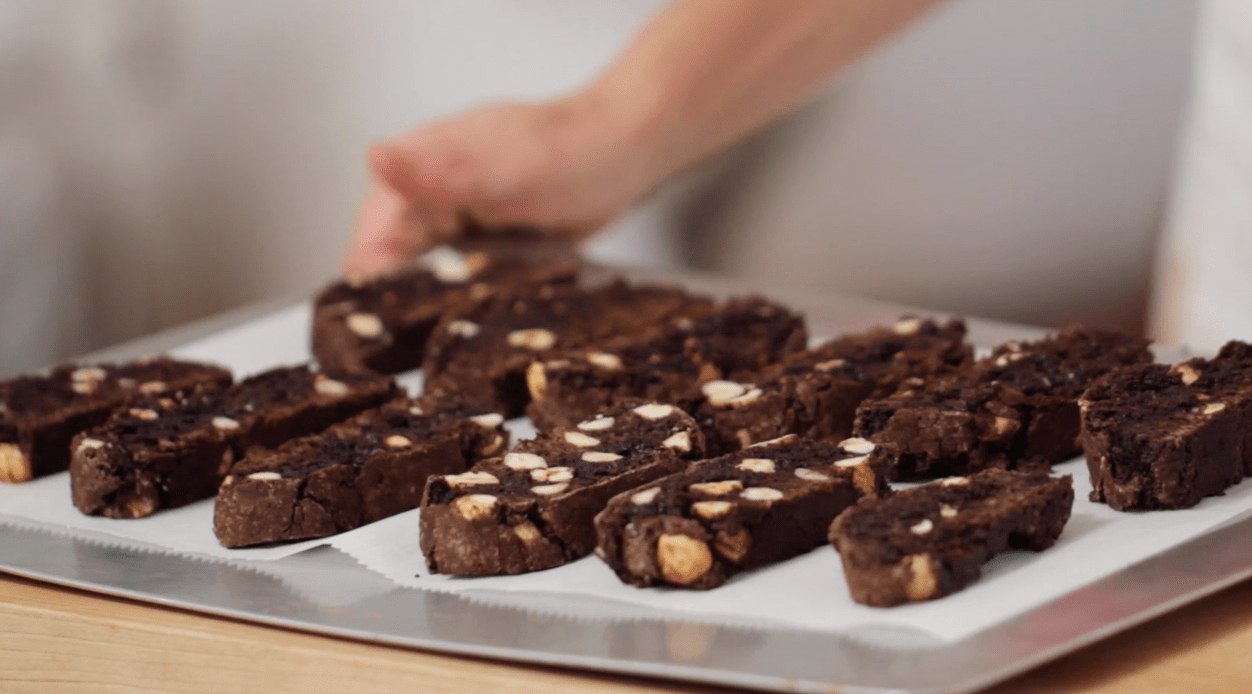 And presto! Beautiful biscotti will be yours!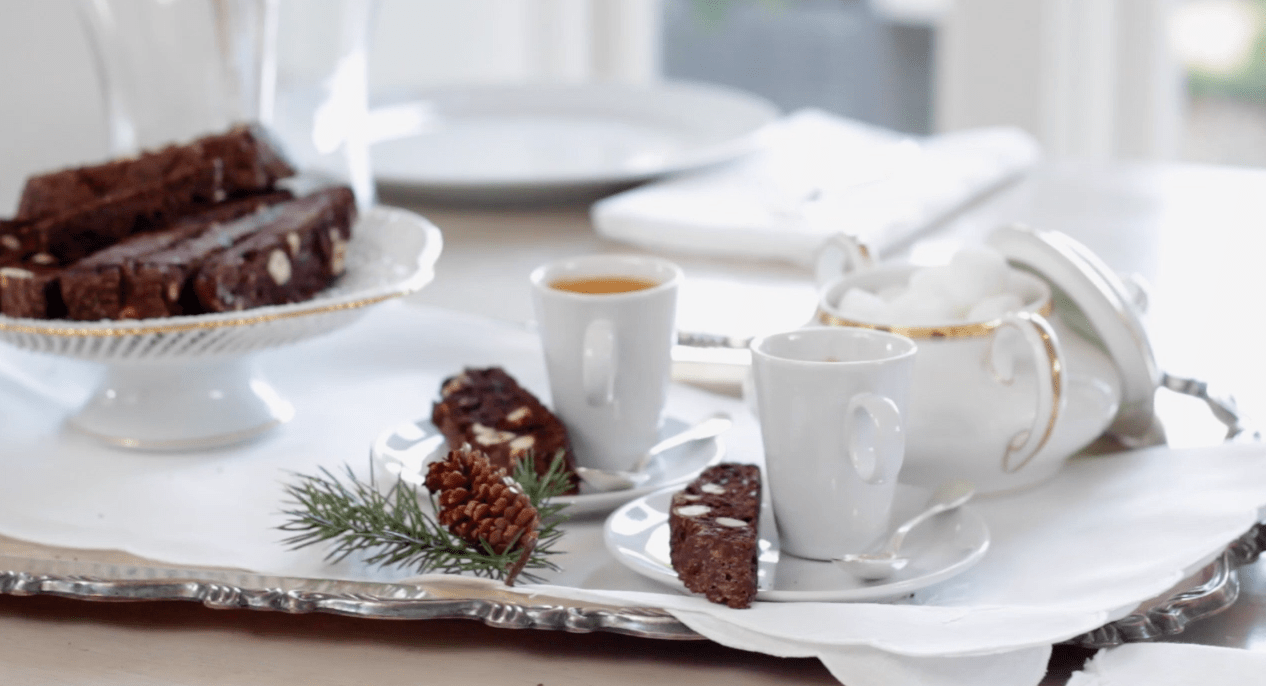 To watch a step-by-step demo of this recipe you can watch my video tutorial below. SUBSCRIBE TO MY YOUTUBE CHANNEL and never miss a recipe (it's free!) and new videos post each Saturday!
Print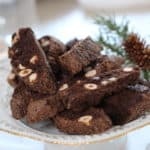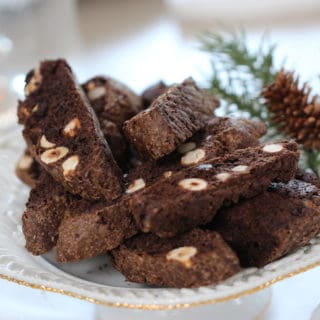 Chocolate Hazelnut Biscotti
---
Author:

Prep Time:

30 mins

Cook Time:

50 mins

Total Time:

1 hour 20 mins

Yield:

12 cookies

Category:

Dessert

Cuisine:

Italian
Ingredients
1 cup (150g) of hazelnuts
3 oz (84g) of bittersweet chocolate
¾ cup (135g) brown sugar
1 ½ cup (180g) flour
¼ cup (30 g) unsweetened cocoa powder
1 tsp (5 ml) baking soda
½ tsp (2.5 ml) salt
2 eggs
1 tsp (5 ml) vanilla
1 tbsp (15 ml) instant coffee granules mixed with 2 tbsp hot water
---
Instructions
Preheat oven to 350F/(176C).
Place hazelnuts on a rimmed lined cookie sheet and bake at 350F/(176C) for 10 mins.
Remove from the oven and pour onto a clean kitchen towel, wrap in towel and "steam" for 10 minutes. This will help to remove the skins. Remove as much skin as you can, and set nuts aside.
Then chop the chocolate into very fine pieces, place in a large bowl, add brown sugar, and mix to combine.
Then in a smaller bowl add the flour, cocoa powder, baking soda, and salt. Whisk to combine.
Add the flour mixture to the sugar and chocolate mixer and mix to combine, add the eggs, vanilla and "mixed coffee". Beat to combine until a dough forms. Add roasted/skinned hazelnuts.
Sprinkle 1 tbsp (15 ml) of cocoa powder on a cutting board and form dough into a log about 9" (23 cm) x 4" (10 cm) .
Transfer to a parchment lined cookie sheet.
Bake at 300F/)148C) for 35-40 minutes.
Remove and allow to cool. Transfer baked log to a cutting board. Slice on the bias into ½" (13 mm) slices. Place bake on to clean parchment paper (you can flip previous sheet over to the other side for this) And bake slices 7 minutes each side to dry cookies out.
Serve with espresso or a hot cup of cocoa!