These pumpkin pie spice biscotti are a fantastic holiday cookie recipe! They are so flavorful, crispy, and delicious, you cannot eat just one! You'll love the spiced cookie base, mixed with tart cranberries and chewy candied ginger.
They are the perfect little nibble to pair with a cup of coffee. Or they also make for a wonderful homemade food gift as well.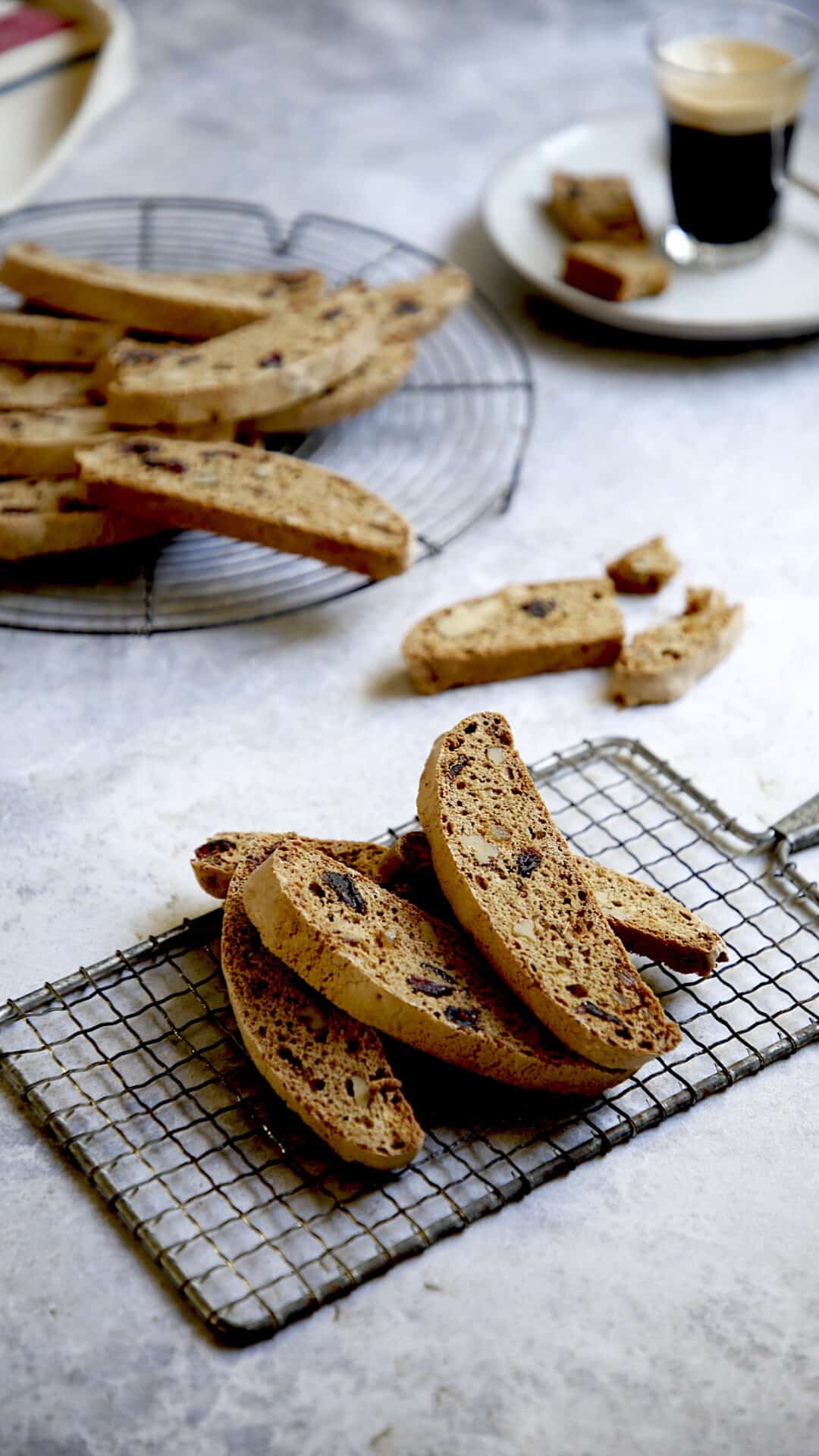 Why You'll Love These:
The pumpkin pie spice adds a wonderful burst of holiday flavors
The cranberries and candied ginger provide an additional chewy texture to these crispy, crunchy cookies.
They make 32-34 cookies, making them great for a crowd or for gifting!
Wrap 4-5 in a treat bag, tie them with ribbon and a pine cone or cinnamon stick and you'll have an easy food gift idea.
You can also place the bag of cookies in a coffee mug for a larger gift too.
See the video below for gift wrapping ideas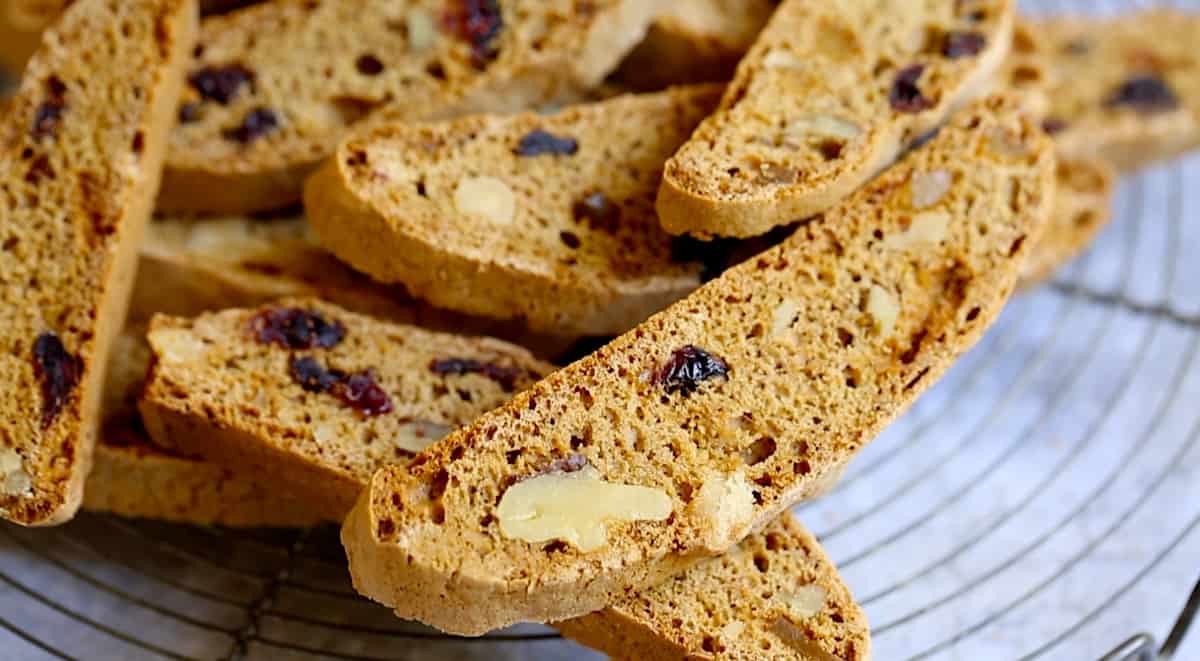 Ingredients:
Eggs The eggs replace the need for butter or oil in this recipe. The eggs make for a crispier cookie too! I find biscotti made with butter or oil creates a softer cookie that is not as hard or crunchy.
White Sugar The white sugar makes these cookies extra crispy. When I tried it with brown sugar I found the cookies to be too moist inside (not crumbly) and too dense.
Vanilla Extract Most biscotti recipes call for some kind of flavored extract. But in this case, the pumpkin pie spice provides a lot of bold flavors. However, if not using the pumpkin pie spice you can try almond or anise extracts
All-Purpose Flour No fancy bread or pastry flour needed
Baking Soda I find the baking soda gives these cookies a crispier texture than baking powder
Salt will heighten the flavors of the vanilla and the pumpkin pie spice
Pumpkin Pie Spice Store-bought pumpkin pie spice is certainly fine for this recipe, but if you really want to up the flavor of these cookies try my Homemade Pumpkin Pie Spice recipe instead. And I bet you even have all the spices you need to make it sitting in your pantry.
Cranberries I love the tartness of the cranberries, but you could also use dried cherries or raisins too.
Candied Ginger To me the candied ginger is the star of the show! When chopped into small pieces you get a little zesty bite of ginger in every 2-3 bites and it's such a wonderful flavor combination against the spice of the cookies.
Walnuts I like the buttery texture of the walnuts but you could also use pecans, or pistachios too.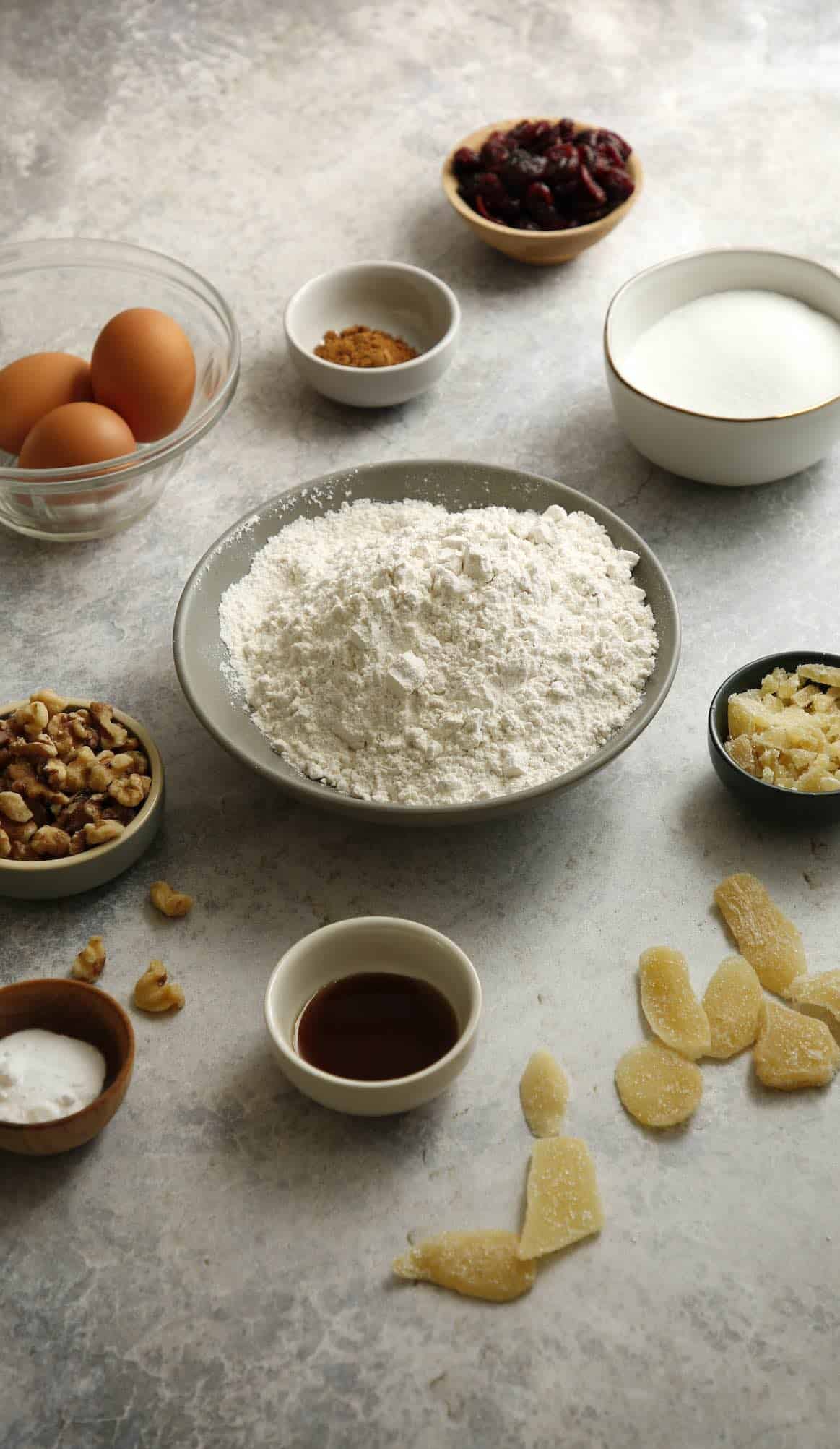 Watch my Video Demo of this Recipe Below!
Mixing the Biscotti Dough:
You'll start by mixing together the wet ingredients, by combining the eggs, sugar, and vanilla. Then add all the mix-ins at this stage too. Allowing the cranberries and ginger to sit in the wet ingredients will soften them up a bit before adding the dry ingredients.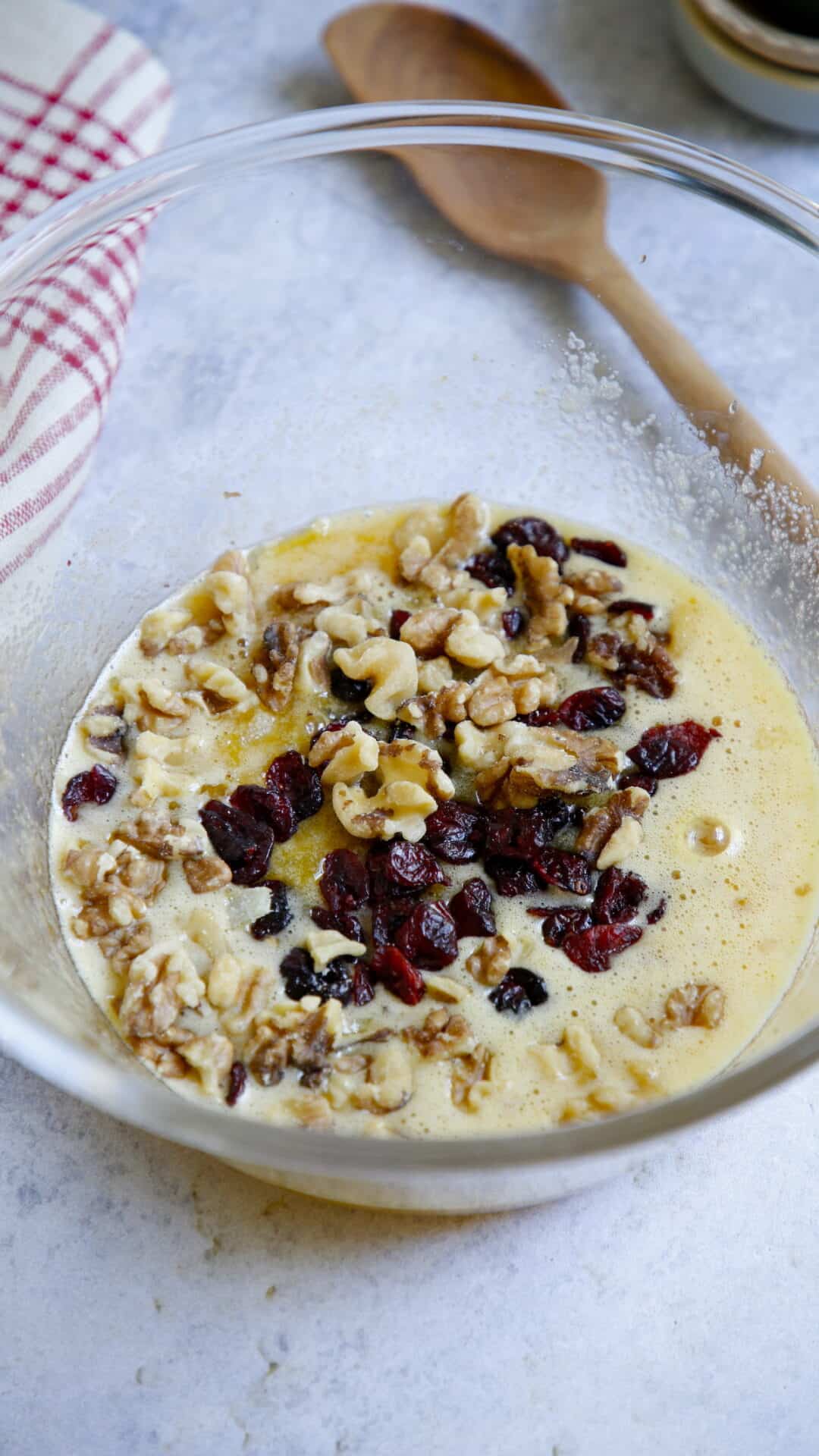 Whisk Up the Dry Ingredients:
There's no need to sift the ingredients, you can quickly whisk them up in a medium-sized bowl, add them to the wet ingredients and stir to combine until you have a wet sticky dough.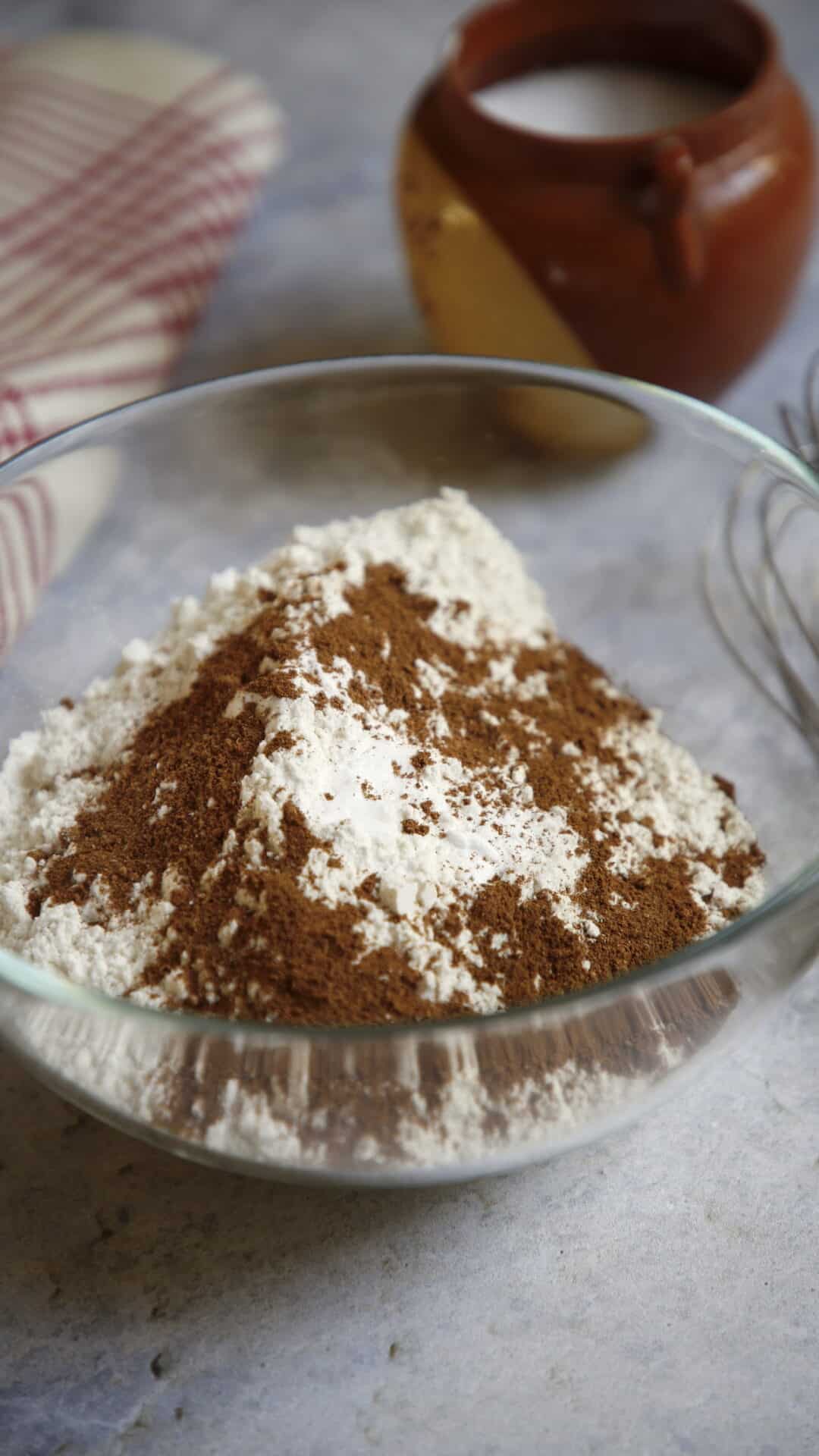 Shaping the Dough:
Once the dough comes together, transfer it out onto a floured work surface, form it into a ball and cut it in half.
Take the 2 halves and turn those into 6" x 3 " logs, then flatten them out
Transfer them to a baking sheet lined with parchment paper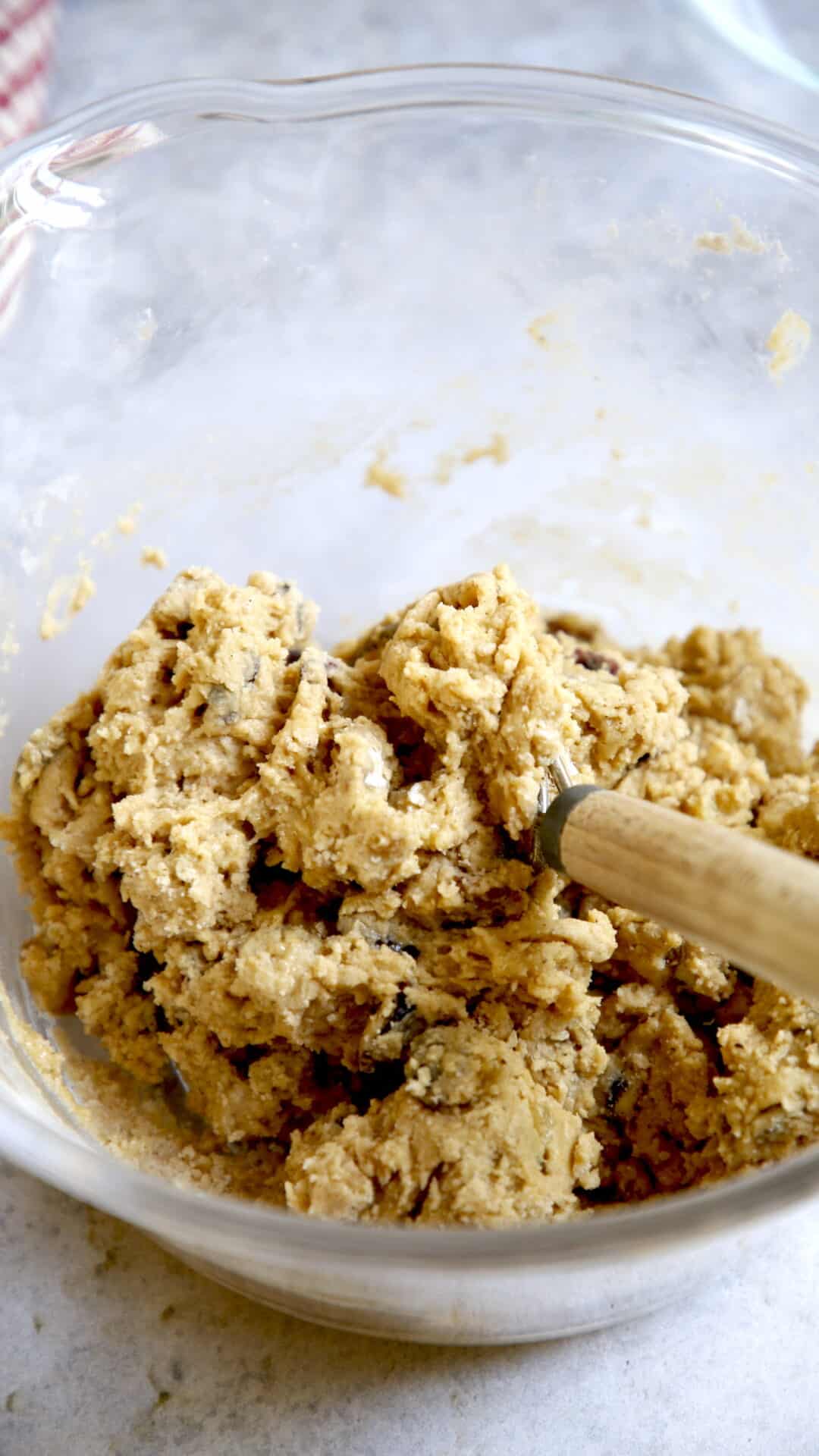 Forming the Dough
Be sure each log is roughly the same size so that they bake at the same rate. Essentially, round rectangles are what you are looking to form. Once baked they will look like small loaves of bread.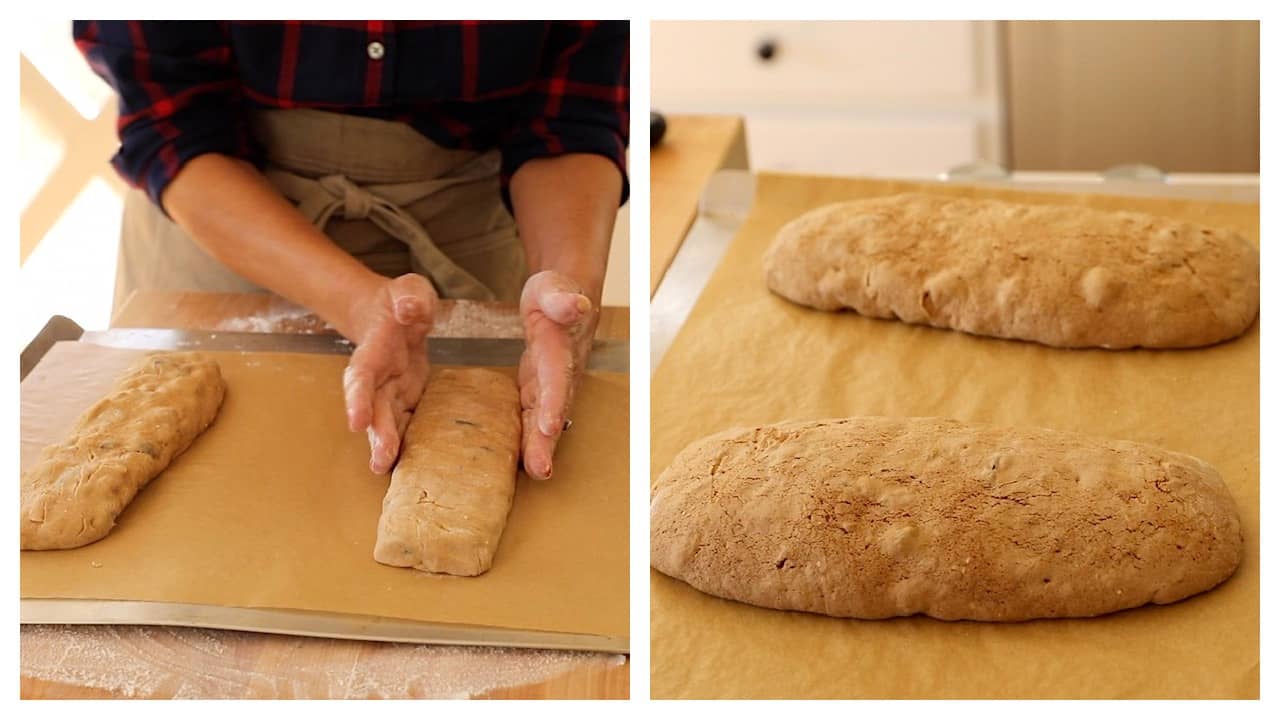 Slicing The Biscotti:
Biscotti actually bakes twice.
Once as the rectangular logs, and the second time, as sliced cookies.
Slice the logs when they are still warm, they will be harder to slice and more crumbly the longer they cool.
You'll notice when you slice the logs the texture will resemble bread. But once you bake the slices they will dry out and become crisp and crunchy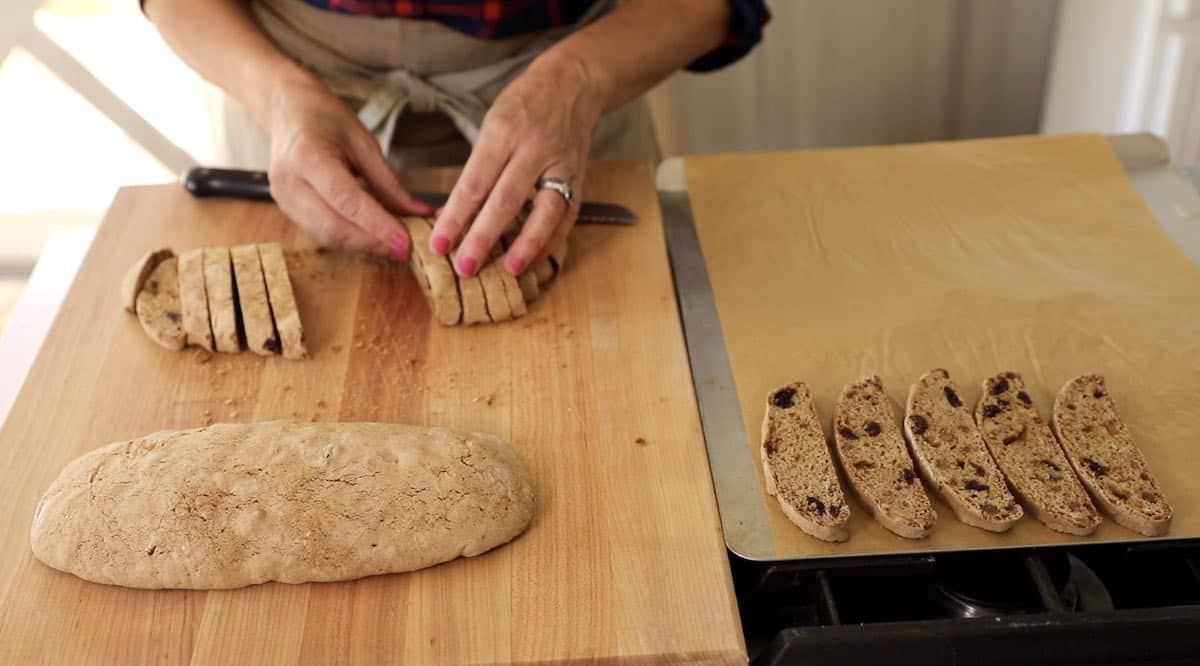 Why Your Biscotti is Too Soft and Not Crispy:
This can happen in the second stage of baking, if you didn't bake the sliced cookies long enough, or flip them over mid-way through.
For very crispy cookies try 10 minutes on each side, 20 minutes total.
They will also crisp up a bit more as they cool.
Why Your Biscotti is Too Hard:
This can happen if your cookies were overbaked
Try putting them in the lower third rack of your oven, and baking for less time, 12 minutes, for a softer cookie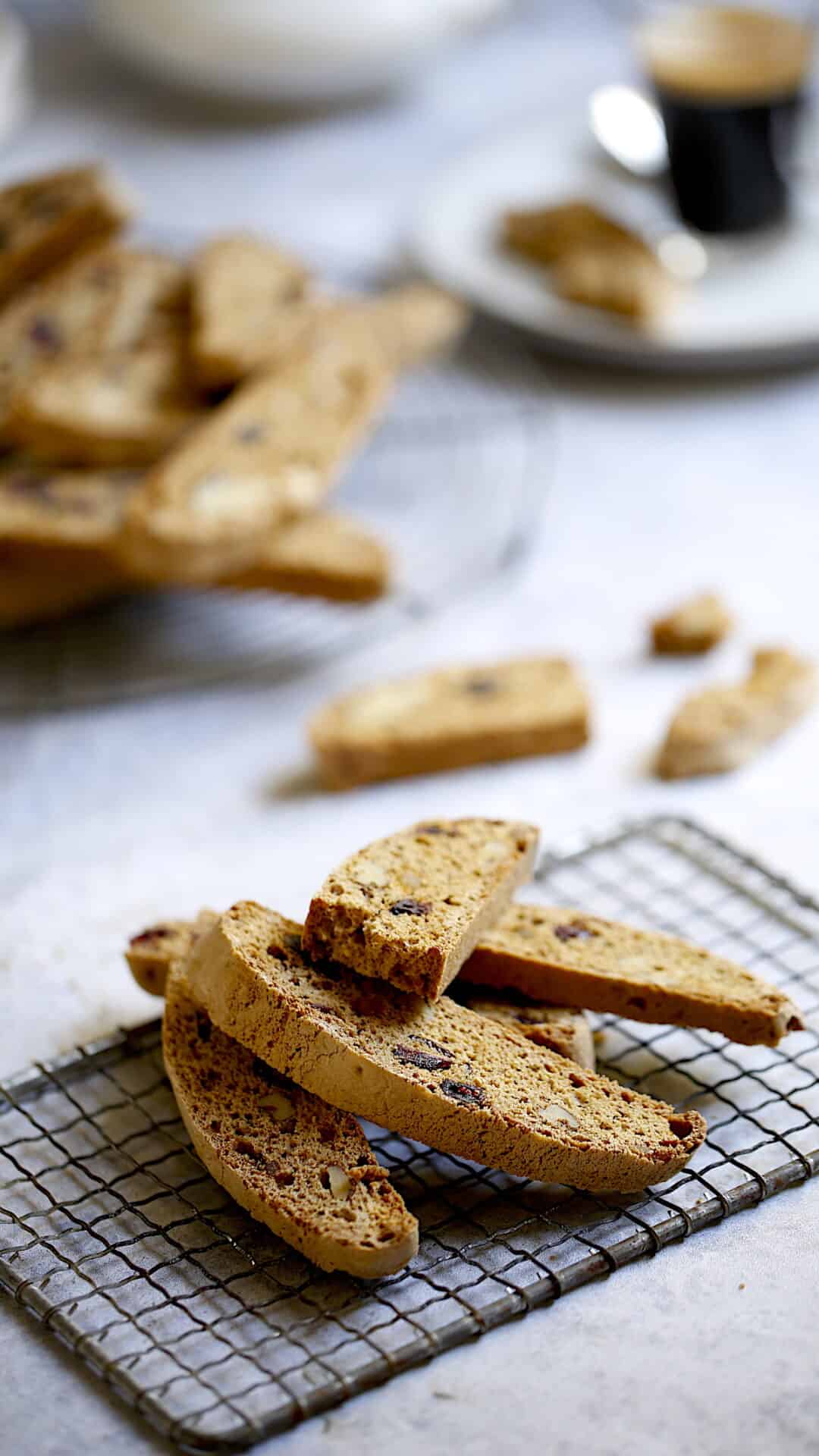 More Great Cookie Recipes!
If You Enjoyed This Recipe,
Please Leave a Rating and A Review Below!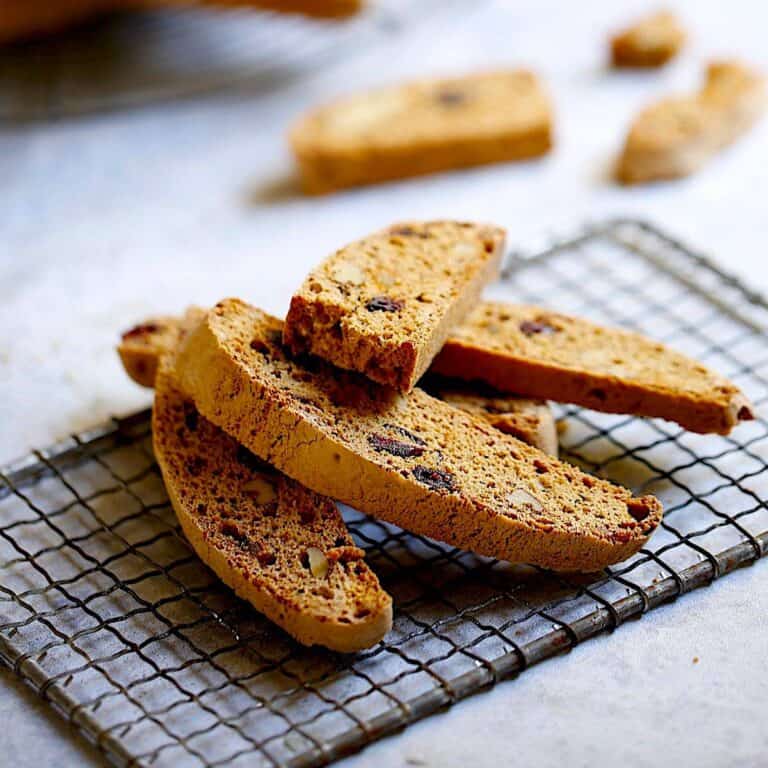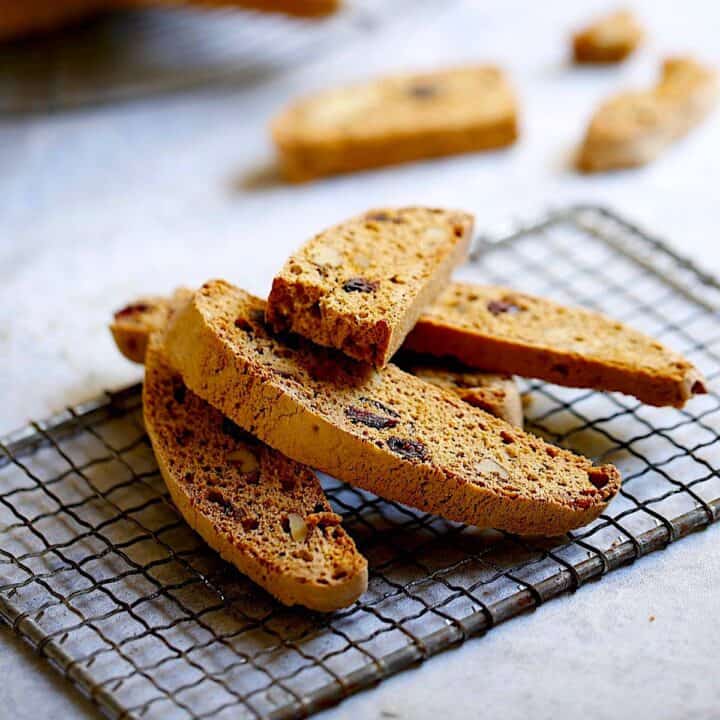 Pumpkin Pie Spice Biscotti
Total Time:
1 hour
25 minutes
These pumpkin pie spice biscotti are so flavorful, crispy, and delicious, you cannot eat just one! They are the perfect little nibble to pair with a cup of coffee. Or they also make a wonderful homemade food gift as well. 
Ingredients
3 eggs
¾ cup (150g) white sugar
2 teaspoon (10ml) vanilla extract
2 ¼ cups (270g) all-purpose flour
1 teaspoon (5ml) baking soda
⅛ teaspoon (large pinch) salt
2 teaspoon (10 ml)pumpkin pie spice
⅓ cup (40g) walnuts
½ cup (75g) dried cranberries
⅓ cup (40g) candied ginger, chopped
Instructions
Preheat oven to 350F (175C). Line a baking sheet with parchment paper and set it aside.
In a large bowl combine the eggs, sugar, and vanilla whisk to combine. Then add the cranberries, walnuts, and ginger, stir to combine, and set aside.
In a smaller bowl, whisk together the flour, baking soda, salt, and pumpkin pie spice. Whisk to combine.
Slowly add the dry ingredients, into the wet ingredients, stirring until a wet dough forms.
Turn the dough out onto a floured surface, roll into a ball, and then slice in half.
Take each half and roll into a ball, and then into 2 logs about 6 inches long by 3 inches wide. Transfer the logs to the baking sheet, and flatten/smooth down into a round rectangle.
Bake at 350F for 40-45 minutes. Allow to cool slightly and then slice into ½" slices on the diagonal. Place the slices on the baking sheet (keeping the parchment paper on) and bake at 350F for another 12-15 minutes flipping the cookies over halfway through the baking time, for even browning.
Allow to cool completely, then package for gifting! Or store in an airtight container at room temperature for up to 3-5 days.
Notes
For crispier cookies bake the second time for up to 20 minutes (10 minutes each side)
Nutrition Information:
Yield:

34
Serving Size:

1
Amount Per Serving:
Calories:

60
Total Fat:

1g
Saturated Fat:

0g
Trans Fat:

0g
Unsaturated Fat:

1g
Cholesterol:

16mg
Sodium:

22mg
Carbohydrates:

10g
Fiber:

0g
Sugar:

2g
Protein:

2g