White Chocolate Chip Cranberry Cookies
These White Chocolate Chip Cranberry Cookies are my new favorite holiday cookie! They are crispy on the outside and chewy on the inside, and the sweetness of the white chocolate is balanced out with the tartness of the cranberries.
You'll also love the nutty caramel flavor coming from the brown butter. Looking for a Chocolate Chip version? Try my Browned Butter Chocolate Chip Cookie recipe.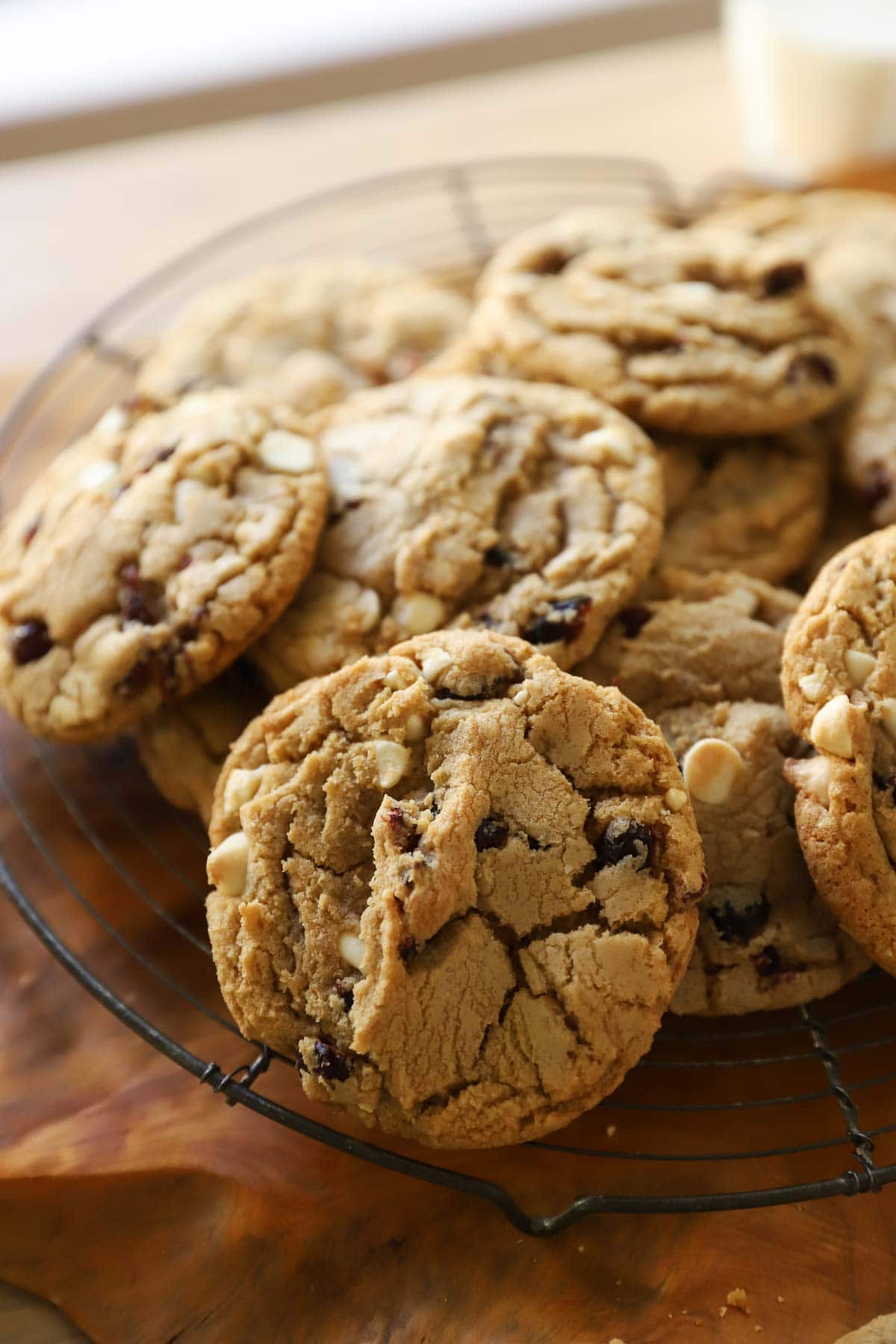 Ingredients:
Butter I use salted Land O' Lakes butter for these cookies for the best flavor. But if unsalted butter is all you have, just add a large pinch of extra salt to the dry ingredients.
White Sugar Will create crisp edges and a nice crumbly exterior.
Brown Sugar Will give you a wonderful chewy interior!
Egg I only use one to keep the cookies chewy.
Vanilla Extract Use pure vanilla extract for the best flavor.
All-Purpose Flour I don't use too much to keep the cookies chewy instead of cakey.
Baking Soda I find also contributes to a chewier cookie than baking powder and helps them brown quicker too.
Salt I use kosher salt for the best flavor.
White Chocolate Chips I have a definite opinion on what brand is best. Hands down the Ghirardelli White Chocolate Chips have the best flavor and texture.
Dried Cranberries I use and love the Ocean Spray Dried Cranberries. They have the best texture and flavor.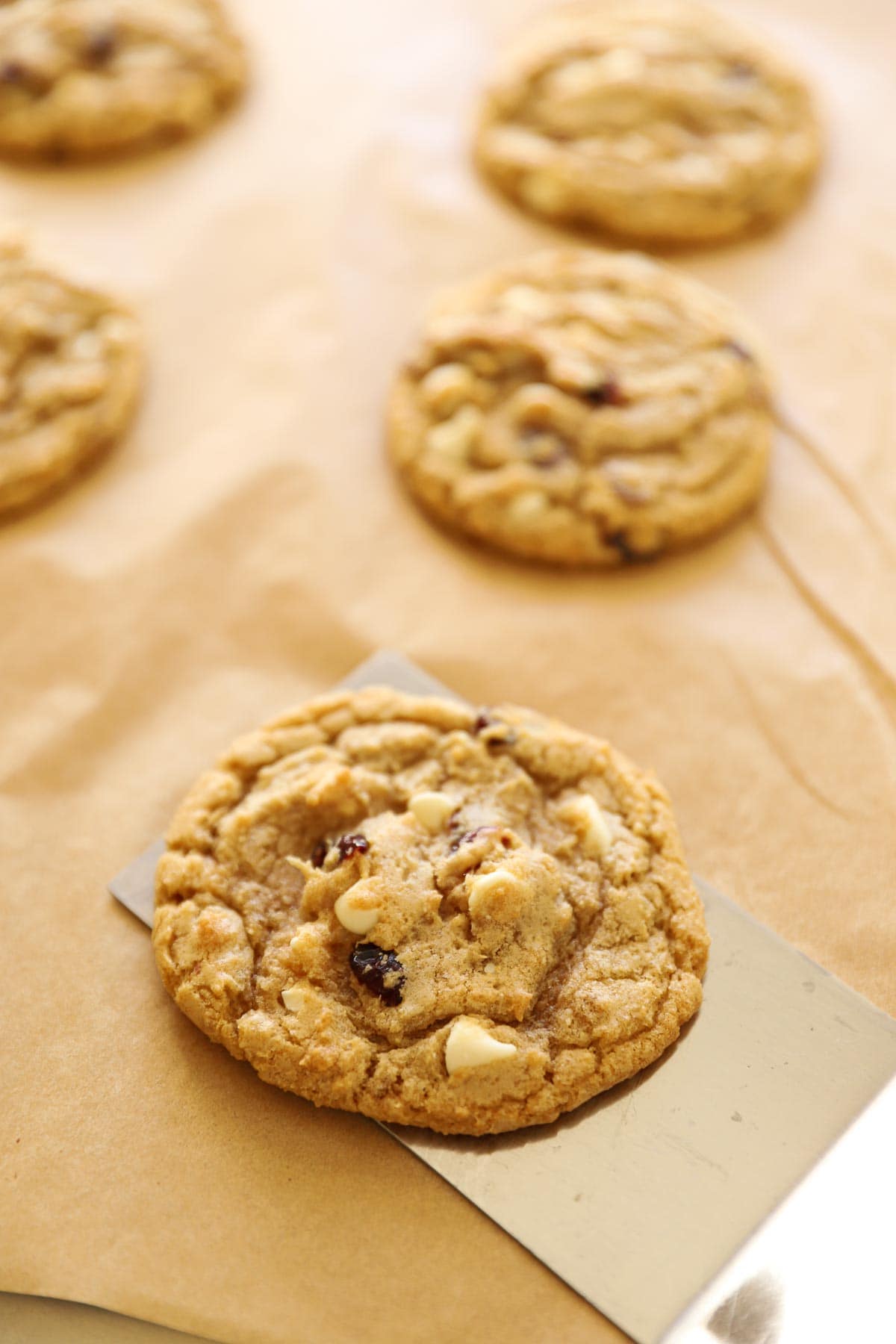 How to Make a Chewy Cookie
The best part about these cookies is the chewy interior and the crispy exterior. Getting a chewy cookie comes down to three key tips.
Tip#1: Use an equal ratio of white sugar to brown sugar. The white sugar will give you a crispy exterior, and the brown sugar a chewy interior.
Tip#2: Don't use too much flour and measure it properly. This cookie doesn't call for a lot of flour which keeps them chewy, and when measuring just spoon in the flour, don't pack it in.
Tip#3: Underbake the cookies slightly (just 12 minutes is all they need) and allow them to "set up" on the warm baking sheet. The residual heat will allow them to continue "baking" outside the oven.
Watch My Video Demo
Step#1: Create the Browned Butter
The browned butter adds so much more flavor to these cookies than if you just used room temperature butter.
There are 3 stages you'll notice while browning butter. First it will get foaming, then continue to whisk until it gets amber in color and then stop once it's a rich brown.
Allow it to cool completely before proceeding with the rest of the recipe. Otherwise, it will melt your white chocolate chips!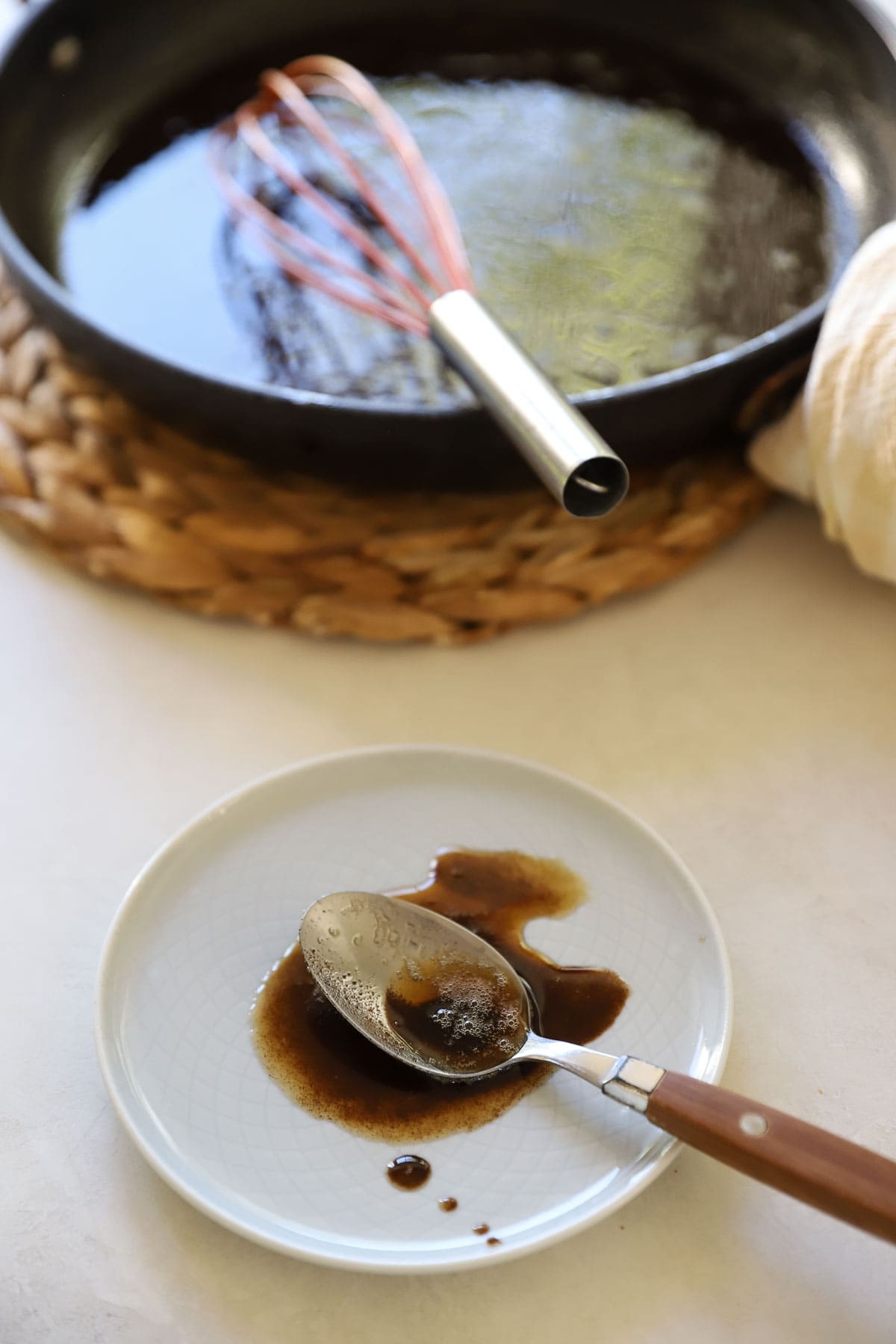 Step#2: Prepare the Cookie Dough
These cookies will spread out so only scoop 6 dough balls per tray.
For a golden brown cookie bottom that won't burn bake them on parchment paper.
Try to bake the cookies right away, and don't refrigerate the dough. The baked cookie will be chewier and have a better texture.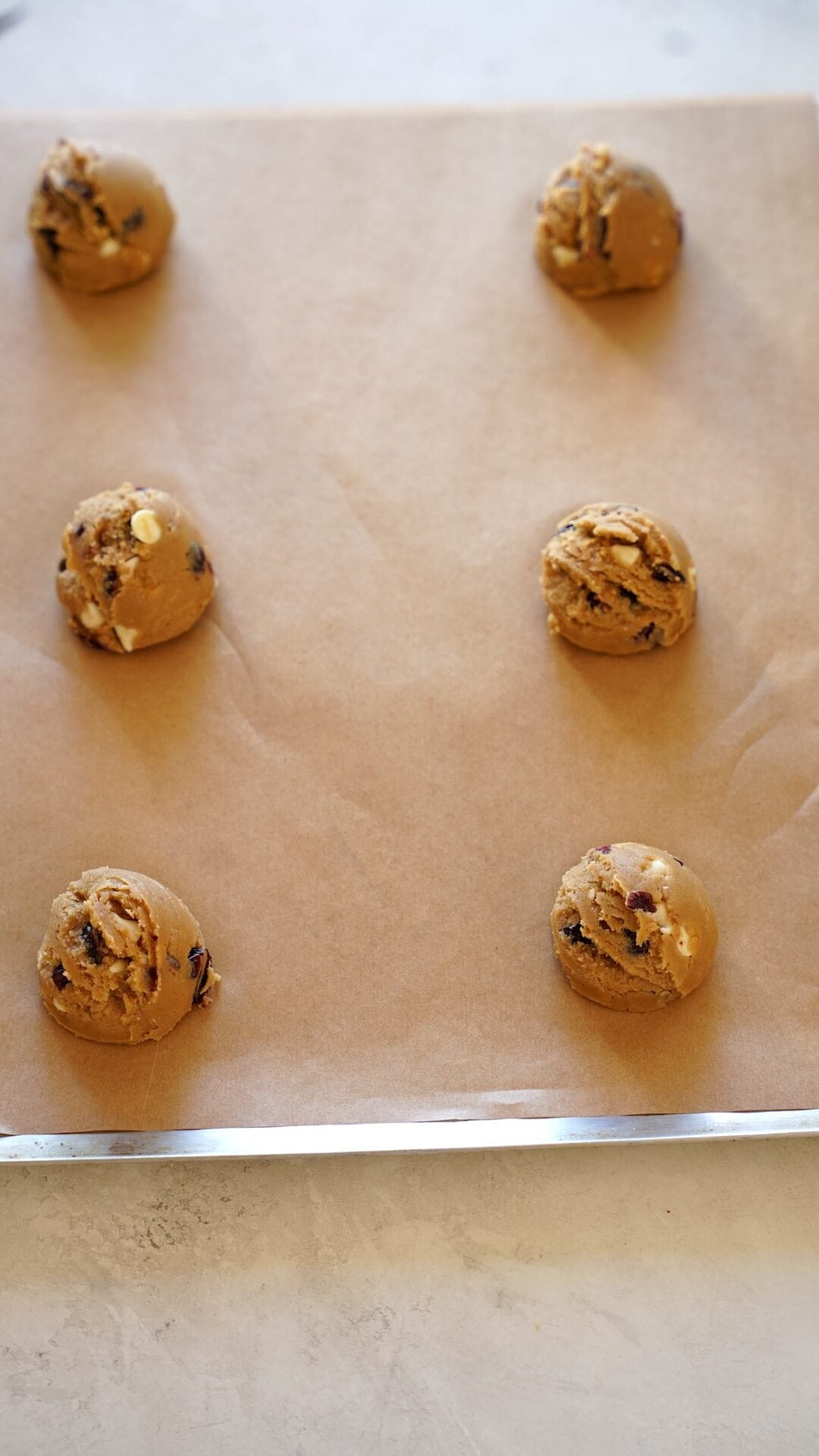 Step#3: Allow to Cool on Tray
To ensure a chewy cookie pull them out at exactly 12 minutes.
Then let the cookies rest on the tray for 5 minutes. The residual heat from the tray will help the cookies set up, while not "overbaking" them.
After the 5-minute mark, you can transfer the baked cookies to a wire rack to cool completely.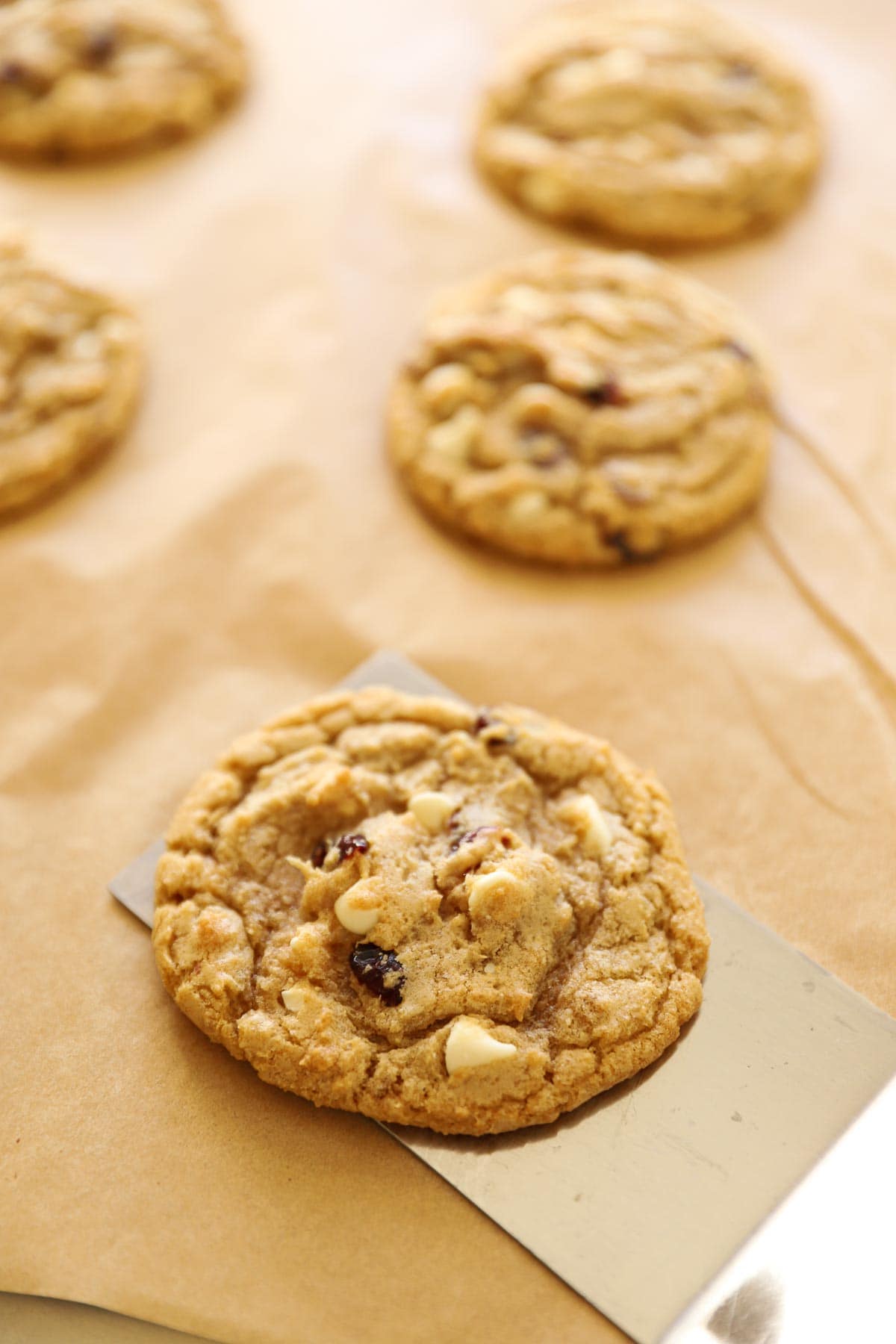 Storage Tips:
These cookies can be kept at room temperature in an airtight container.
These cookies freeze beautifully. Once completely cooled, place them in a resealable plastic bag and freeze for up to 1 month.
Then wrap the cookie in a paper napkin or paper towel and microwave on high for 35-40 seconds and they will taste freshly baked!
Don't forget the milk!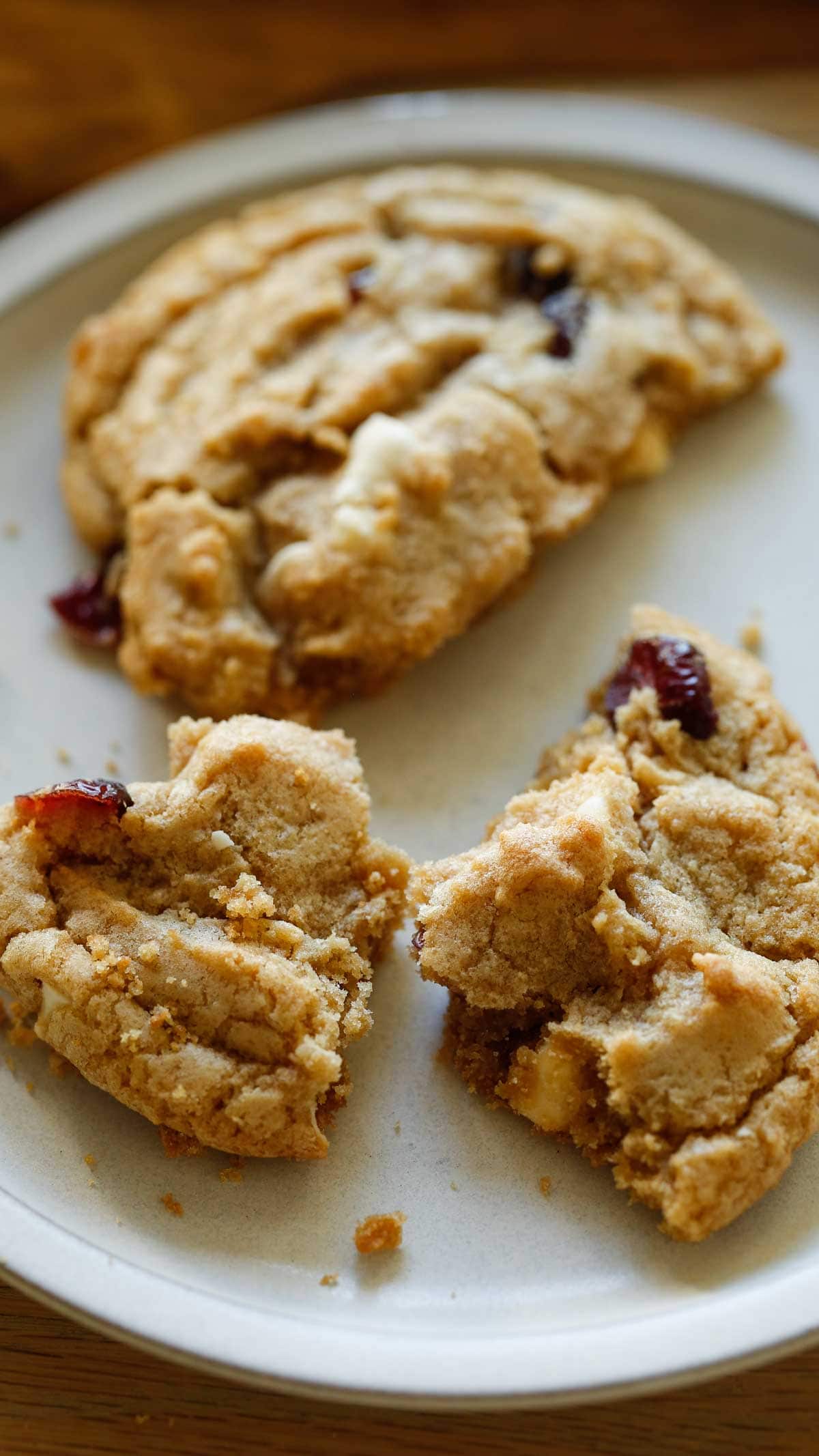 Subscribe for weekly recipes
and new videos!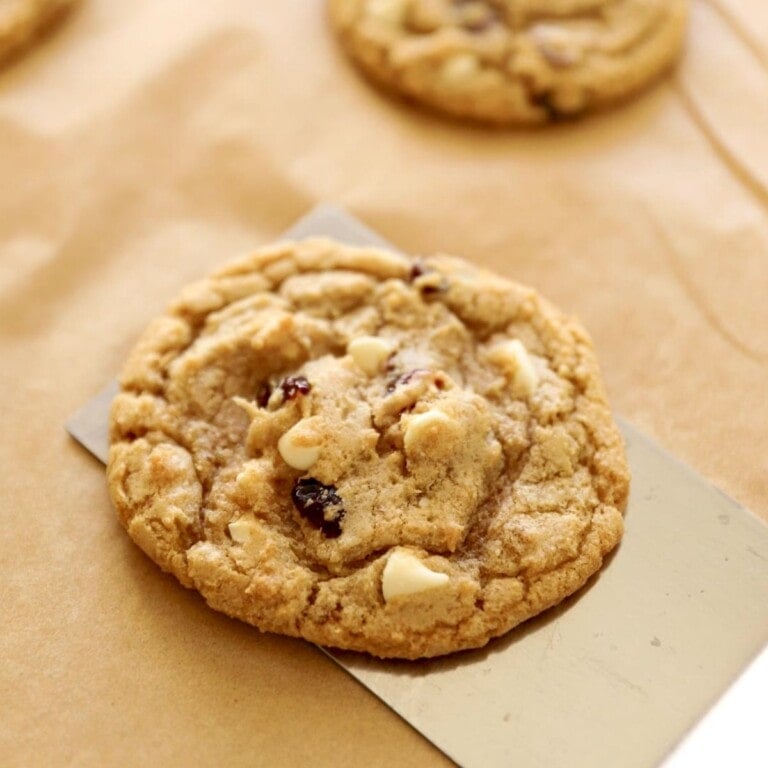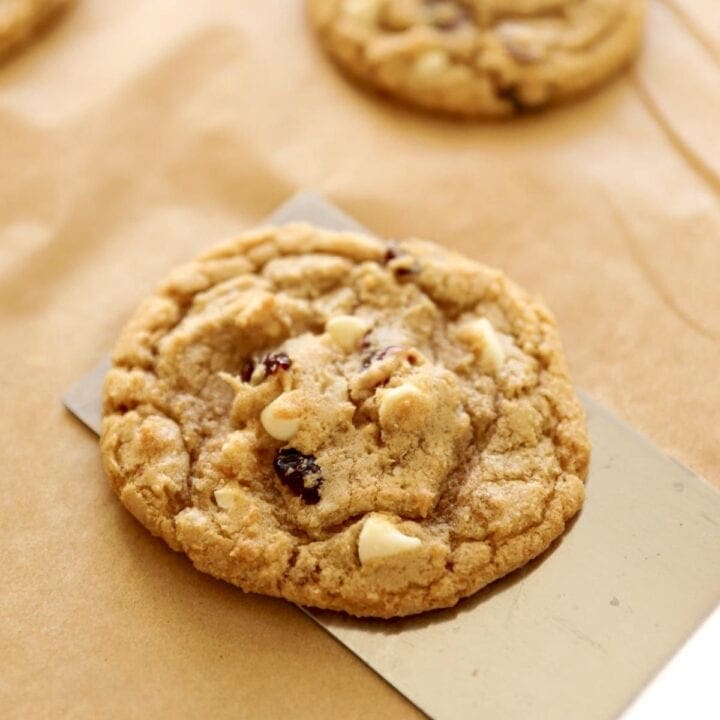 White Chocolate Chip Cranberry Cookies
Yield:
1 dozen 3.5" cookies
These white chocolate cranberry cookies are crispy on the exterior and chewy in the center. Loaded with white chocolate and dried cranberries they make a great holiday cookie!
Ingredients
½ cup (113 g) butter (salted Land O' Lakes is my preference. See note 1)
½ cup (102 g) white sugar
½ cup (82 g) brown sugar
1 teaspoon (5 ml) vanilla extract
1 egg
1 ¼ cups (174 g) all-purpose flour
1 teaspoon (4 g) baking soda
½ teaspoon (3 g) salt
½ cup (68 g) white chocolate
½ cup (70 g) dried cranberries
Instructions
Preheat the oven to 350F (180C) and line a baking sheet with parchment paper and set aside.
In a non-stick skillet melt the butter until foamy, then swirl it around the pan until it starts to turn amber in color, then translucent, then a rich brown like the photo above.
Transfer the brown butter to a heat-safe Pyrex pitcher and allow it to come to room temperature.
In the bowl of an electric mixer combine the sugars and the butter and beat on high until a sandy texture forms.
Then add the egg and beat until a smooth texture forms. Add the vanilla extract.
In a medium-sized bowl whisk together the flour, baking soda, and salt.
Add the dry ingredients, in thirds, until combined, scraping down the sides in between each addition.
Then add the white chocolate chips and the cranberries and beat until combined.
Portion out 6 dough balls with a 2-ounce cookie scoop, leaving room to allow the cookies to spread.
Bake for 12 minutes. Then allow to cool for 5 minutes on the baking tray to set up.
Then transfer to a cooling rack.
Notes
If you can't get Land O' Lakes Salted butter use unsalted butter and add a large pinch of salt to the dry ingredients.
Nutrition Information:
Yield:

12
Serving Size:

1
Amount Per Serving:
Calories:

69
Total Fat:

1g
Saturated Fat:

0g
Trans Fat:

0g
Unsaturated Fat:

0g
Cholesterol:

16mg
Sodium:

7mg
Carbohydrates:

14g
Fiber:

0g
Sugar:

4g
Protein:

2g