Just when I thought I had my go-to chocolate chip cookie recipe, I discovered the Brown Butter Chocolate Chip Cookie! This is one of my new favorite cookie recipes! The brown butter makes them rich and flavorful and creates a fantastic texture too. They are crispy on the outside and soft and chewy on the inside. My kind of cookie!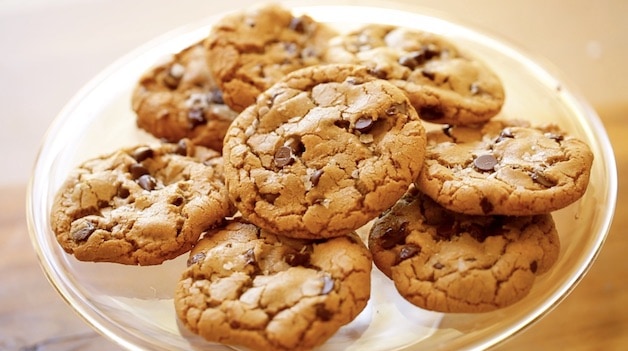 You'll also love the combination of the semi-sweet chocolate and a touch of sea salt!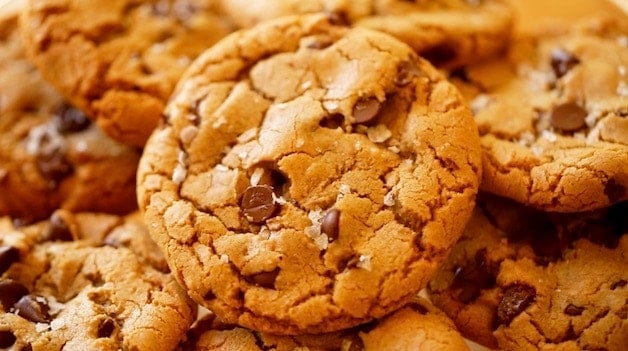 WATCH MY VIDEO TUTORIAL ON THESE
BROWN BUTTER CHOCOLATE CHIP COOKIES BELOW!
New videos post each Saturday!
STEP#1: Brown the Butter
In a large, deep skillet melt the butter. I like to use a skillet because it gives the butter a wider surface area in which to melt and brown. It goes a bit quicker this way than in a sauce pot.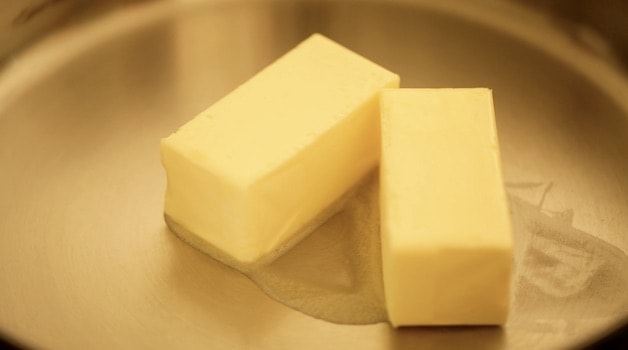 The butter will first melt and then foam. It will look like this.

Then it will begin to turn brown. Swirl it around with a whisk until it's a deep amber color.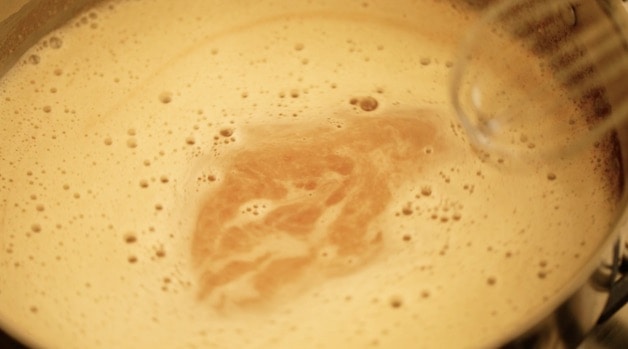 Then transfer it to a heat-safe pitcher to cool. I don't strain it since I find the brown bits left at the bottom just add great flavor to the cookies.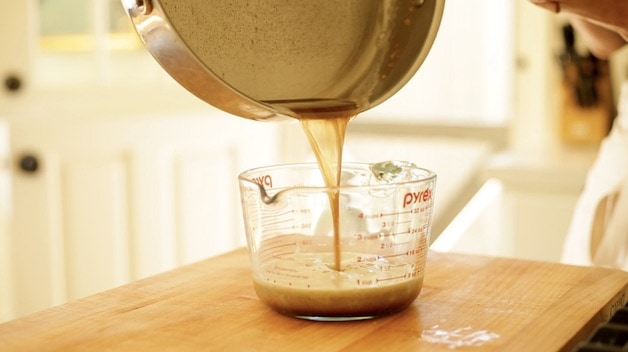 As the butter cools and settles it will look like brown "sludge" but trust me your cookies will be fantastic!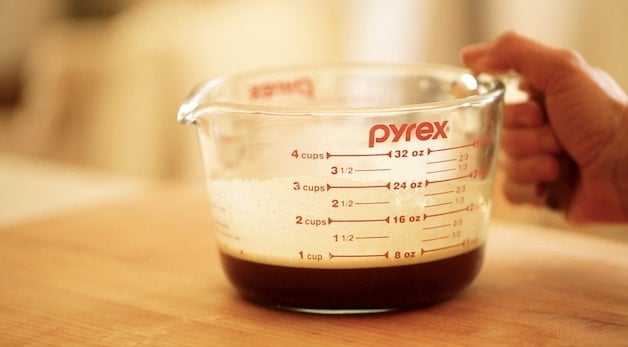 STEP#2: Measure the Dry Ingredients
I don't use a lot of flour in these cookies because I find that's what keeps them nice and chewy! And yes, this is actually baking soda I'm using even though it looks like a can of baking powder.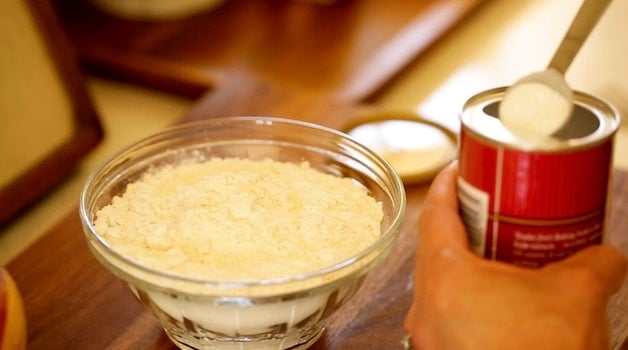 The Trader Joe's brand of baking soda comes in a can and always confuses people when they see it in my videos ha! So just clearing that up ahead of time in case you were wondering the same thing. Ha!
STEP#3: Add the Sugars + Cooled Butter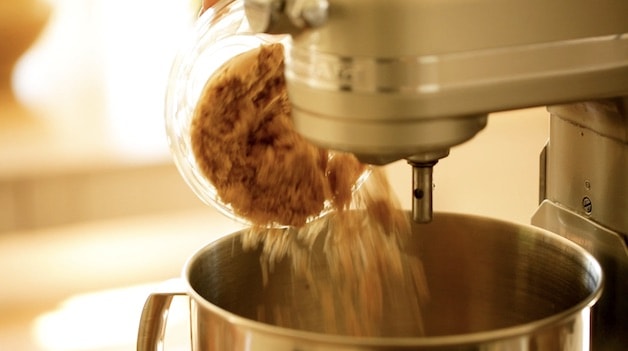 Once your butter is cooled, you'll add brown sugar and white sugar to your mixer. The brown sugar keeps the cookies chewy and flavorful. It also prevents the need for chilling the dough ahead of time since the brown sugar is so dense and contains molasses. I find by using a majority of brown sugar you can just "make and bake" right away!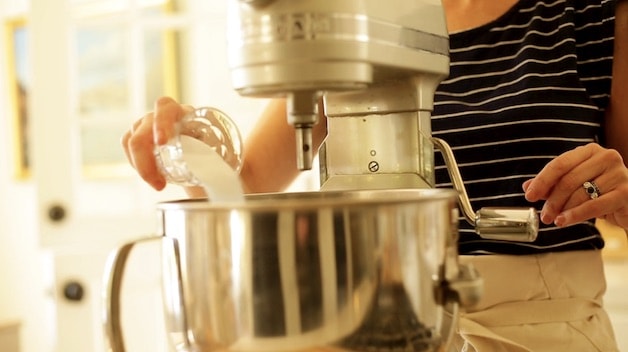 But I do add just a 1/4 cup of white sugar to keep those edges nice and crispy. Then you'll add the brown butter and mix until combined.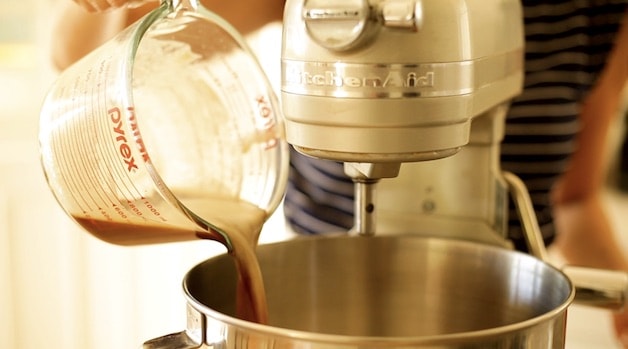 STEP#4: Add the Eggs
OK. let's talk about the eggs. I find the perfect ratio is 1 whole egg, plus 1 egg yolk. I think this gives the cookie the best chewy texture without being too cake-like! Which is what I found to be the case with 2 whole eggs.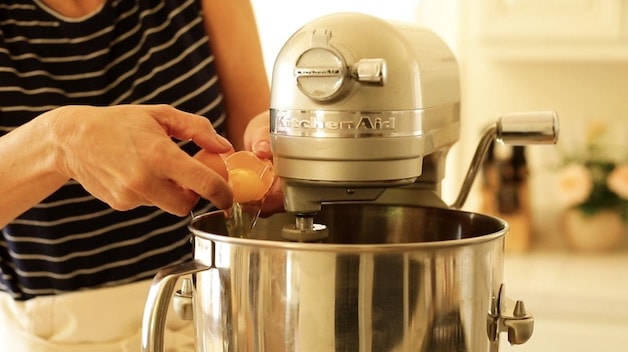 STEP#5: Fold in the Chocolate Chips
When it comes to the chocolate chips, I use either semi-sweet or dark chocolate.
What are the Best Chocolate Chips for Chocolate Chip Cookies?
I know this is personal preference but here's my pick!
Ghirardelli semi-sweet chocolate chips
Ghirardelli dark chocolate chips (these are really fantastic in my Marigoon Cookies too!)
Trader Joe's Chocolate Chips
Nestle Tollhouse Chocolate Chips
Can You Use Chocolate Instead of Chocolate Chips?
You can use chocolate if you don't mind your cookies spreading out. But if you want them to look like mine, I would recommend stick to the chips. Chocolate chips are designed not to melt completely in the oven when baked, thanks to stabilizers.
You'll find if you use chopped chocolate, the chunks will melt, causing your cookies to spread out a lot more. If you go this route then I would recommend refrigerating the dough for an hour to firm up a bit.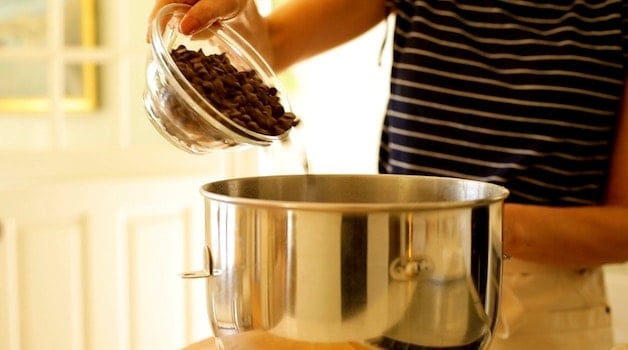 Fold in the chips and then you are ready to scoop out the dough.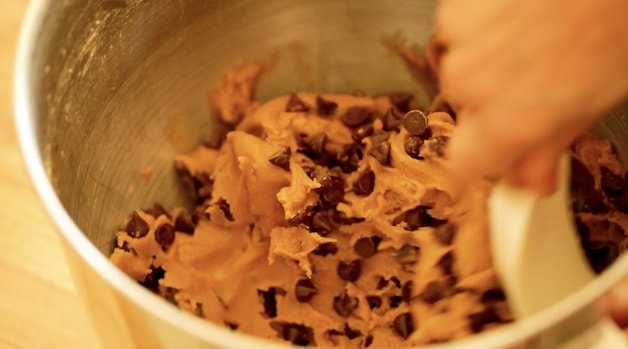 STEP#6: Scoop the Dough
I like to use a 2″ ice cream scoop for these. I think that makes the best sized cookie.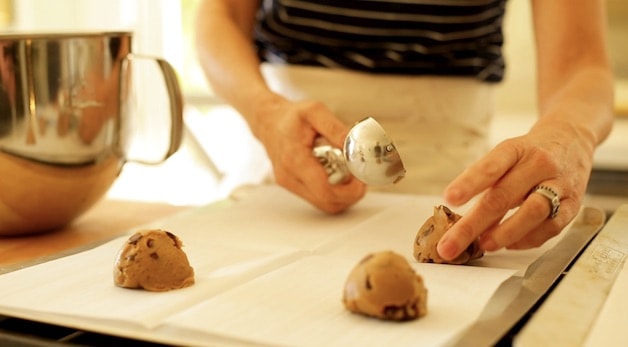 I would also bake them on a parchment lined cookie sheet to avoid over-browning the bottoms.
STEP#7: Bake
Bake your cookies for 15 minutes and do not remove them until you see the cracks form. That's how you will know that they are fully-baked inside.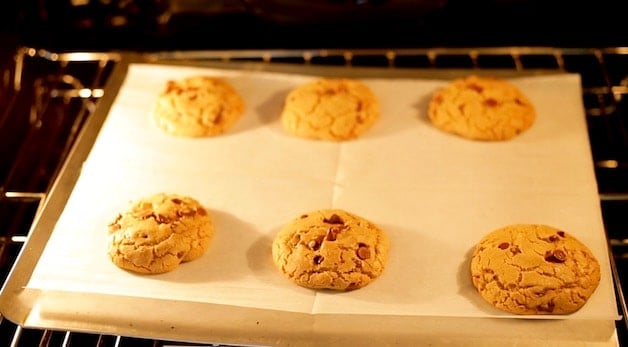 STEP#8: Add Fleur de Sel Sea Salt
The cracks are also handy when it comes time to add the sea salt. Since as they cookie deflates the sea salt gets trapped inside the cracks.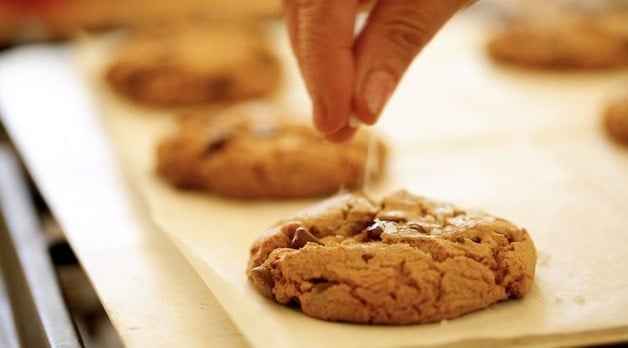 Allow the cookies to cool slightly and they will get all crackly and chewy.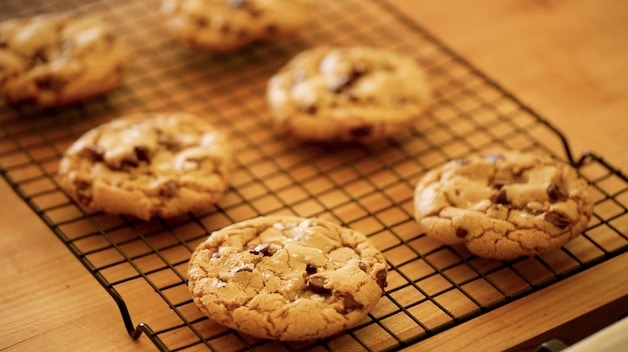 STEP#9: Assemble into Ice Cream Sandwiches
If you'd like to turn these cookies into ice cream sandwiches, be sure the cookies are cooled completely. They will be less fragile that way and won't melt the ice cream.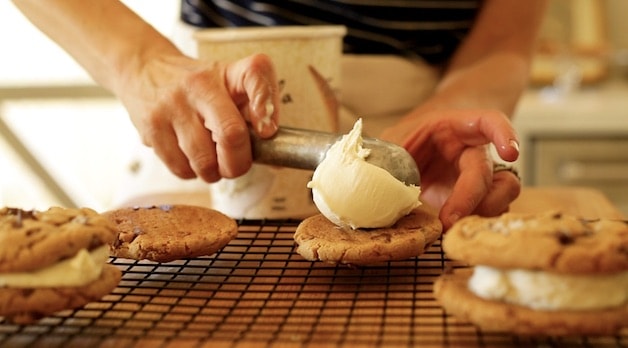 Be sure the ice cream is also very soft which will allow you to gently press the top cookie down and spread the softened ice cream across the bottom cookie, just with the pressure of the press.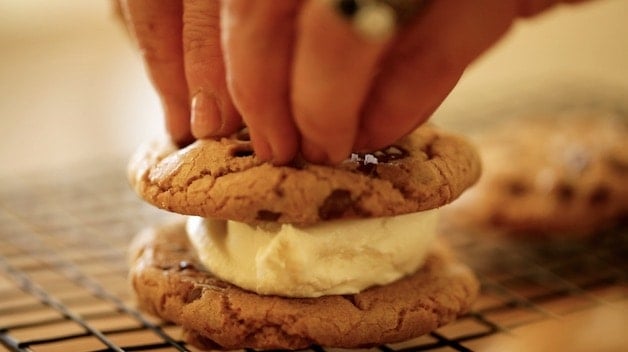 Then place your cookie sandwiches on a parchment lined cookie sheet (so they don't stick) and pop in the freezer until ready to serve!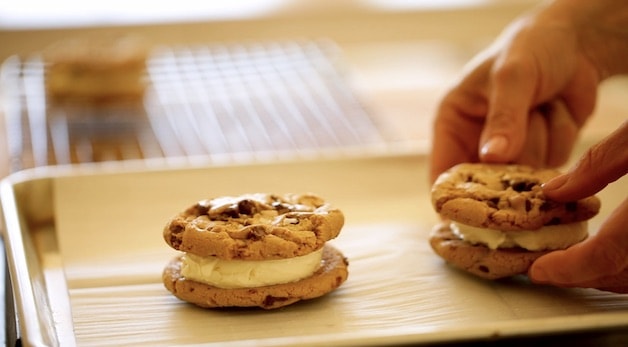 TIP: I love to serve these along with my Ginger Molasses Ice Cream Sandwiches for a great flavor combo! I piled them both on a large cutting board and then cut them in half or quarters so everyone can try each!
PLEASE LET ME KNOW IF YOU MAKE THIS RECIPE
BY LEAVING A RATING AND REVIEW BELOW!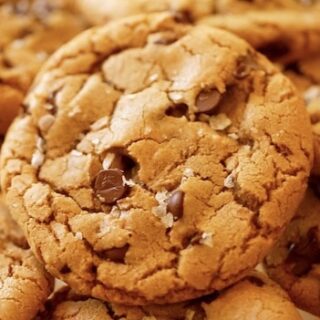 Chewy Brown Butter Chocolate Chip Cookies with Sea Salt
These Brown Butter Chocolate Chip Cookies with Sea Salt are a delicious weeknight treat if you are craving something sweet! Or save them for the weekend and turn them into fantastic ice cream sandwiches!
Ingredients
1 cup (240g) of unsalted butter, browned
1 ¼ cup (225g) brown sugar
¼ cup (50g) white sugar
1 egg
1 egg yolk
3 tsp (15ml) vanilla extract
1 ¾ cup (210g) flour
1 tsp (5ml) baking soda
½ tsp (2.5ml) salt
1 12-oz (340g) bag semi-sweet chocolate chips
1 tsp (5 ml) fleur de sel sea salt flakes
Instructions
Preheat oven to 350F (175C).
Melt butter in a deep skillet, once it starts to foam, whisk it around and it will begin to brown. Remove from heat when it's a nice caramel color. Allow it to cool.
Meanwhile, whisk together the flour, baking soda and salt. Set aside.
Add the sugars to a stand mixer, or to a bowl for use with a hand mixer. Add the brown butter. Beat together until combined. Add the vanilla. Then add the egg and egg yolk, one at a time beating in between each addition until the batter is smooth.
Add the flour mixture in thirds beating in between each addition and scraping down the bowl.
Remove the bowl from the mixer and stir in the chocolate chips with a wooden spoon.
Scoop out batter with a 2" (5cm) ice cream scoop onto baking sheets lined with parchment paper. Placing 6 scoops on the tray to allow from for the cookies to spread.
Bake at 350F (175C) for 15 minutes or until you see that cookies are set and begin to crack. Don't remove them until they begin to crack!
Remove cookies from the oven, sprinkle with a few sea salt flakes while warm and then allow them to cool and deflate, this is how they get chewy. They will become thin and crackly looking.
Serve with a glass of cold milk or sandwich between softened ice cream for the ultimate ice cream sandwich! Keep sandwiches in freezer until ready to serve for an easy summer dessert idea!

Nutrition Information:
Yield:

12
Serving Size:

1
Amount Per Serving:
Calories:

236
Total Fat:

14g
Saturated Fat:

8g
Trans Fat:

0g
Unsaturated Fat:

5g
Cholesterol:

33mg
Sodium:

61mg
Carbohydrates:

31g
Fiber:

2g
Sugar:

27g
Protein:

3g