Oatmeal Chocolate Chip Cookies
These Oatmeal Chocolate Chip cookies are my new favorite cookie recipe! They are crispy on the outside and soft and chewy on the inside! Loaded with dark chocolate chips, walnuts and shredded coconut these cookies will become your new favorite thing!
They are so addictive they are quickly becoming a "fan favorite" with some readers telling me they've even had them for breakfast?! Thanks to the oatmeal that's in them!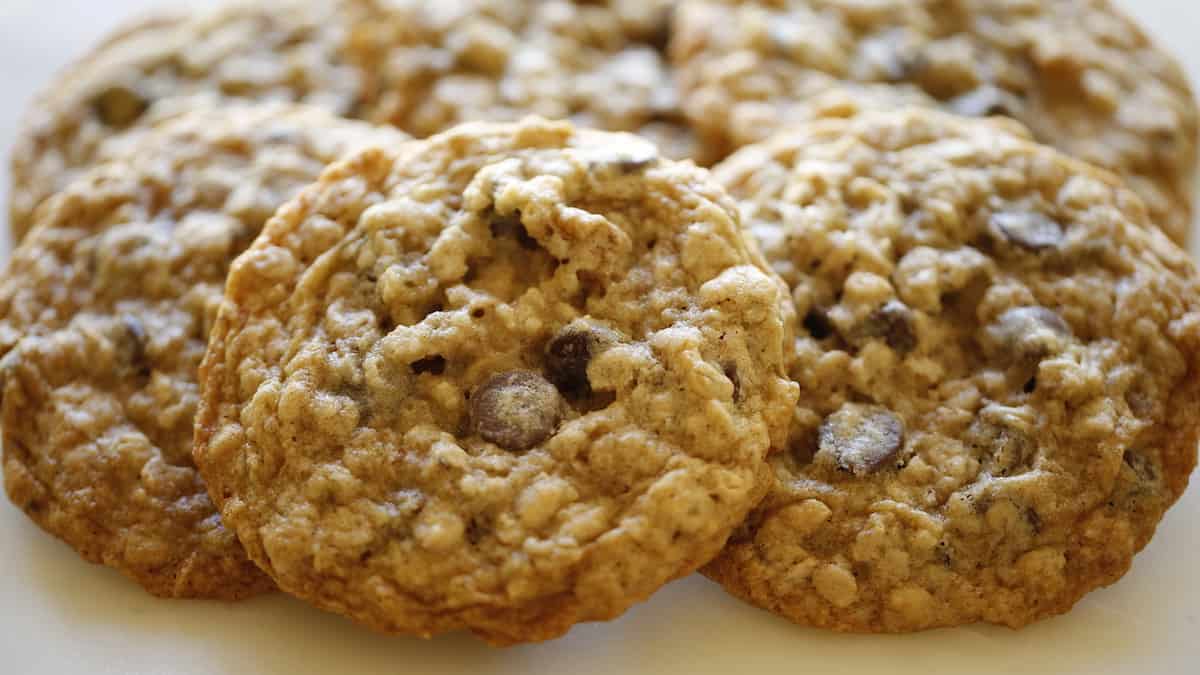 Looking for more cookie recipes? You may also like my Kitchen Sink Cookies, Snickerdoodle Cookies, my Chocolate Hazelnut Linzer Cookies or my Chocolate and Vanilla Sugar Cookie Recipes.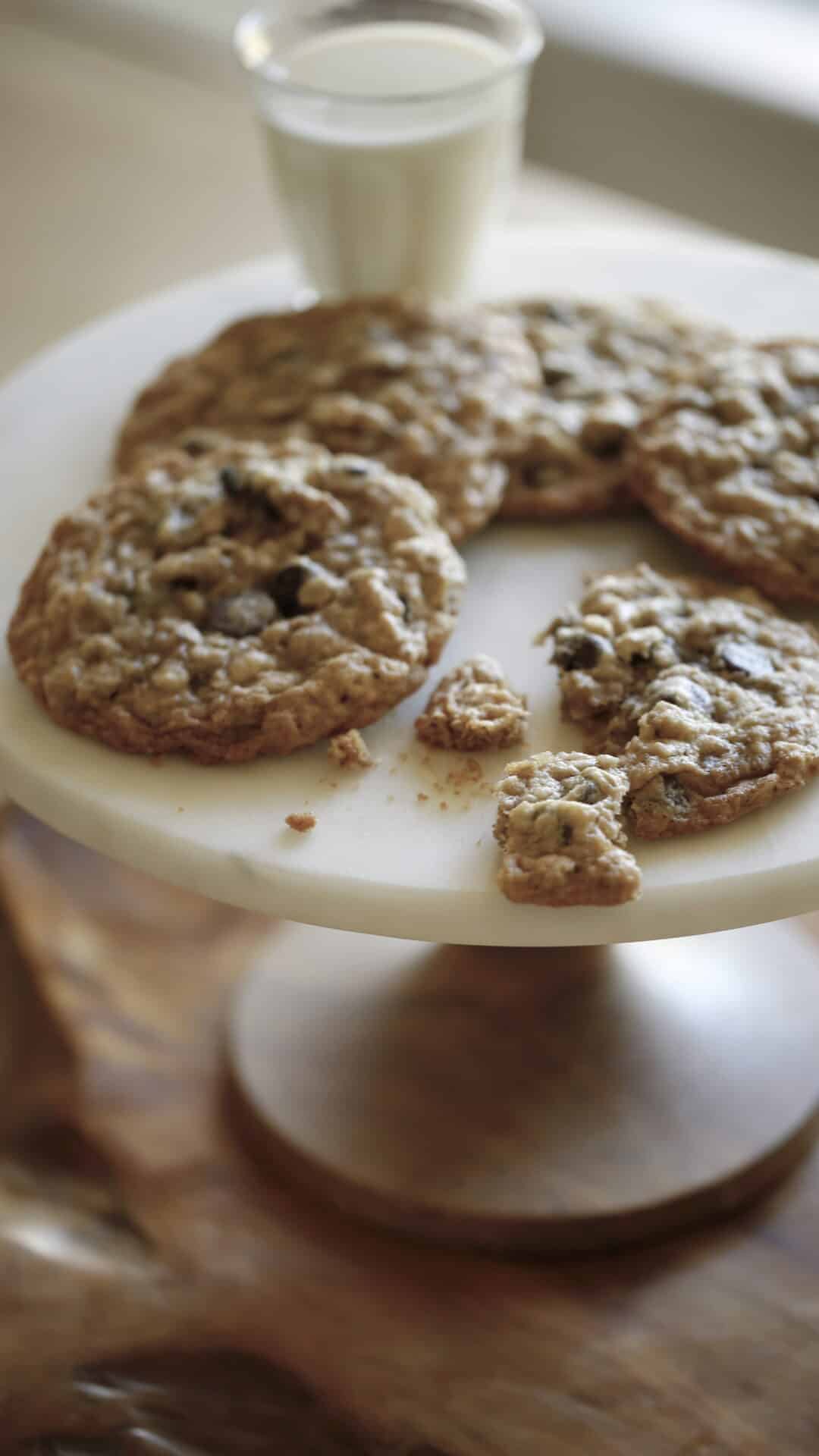 Watch My Video Tutorial of This Recipe Below
The Wet Ingredients:
Personally, I think one of the most important ingredients is butter. If you live in the United States, use salted butter, I prefer Land O Lakes brand because I think it has the best flavor. Even though the recipe calls for salt in the dry ingredients, I still use salted butter, because I find it will give you the best flavor. If you live outside the States, use unsalted because internationally salted butter is pretty salty! (Hello France, I'm looking at you!)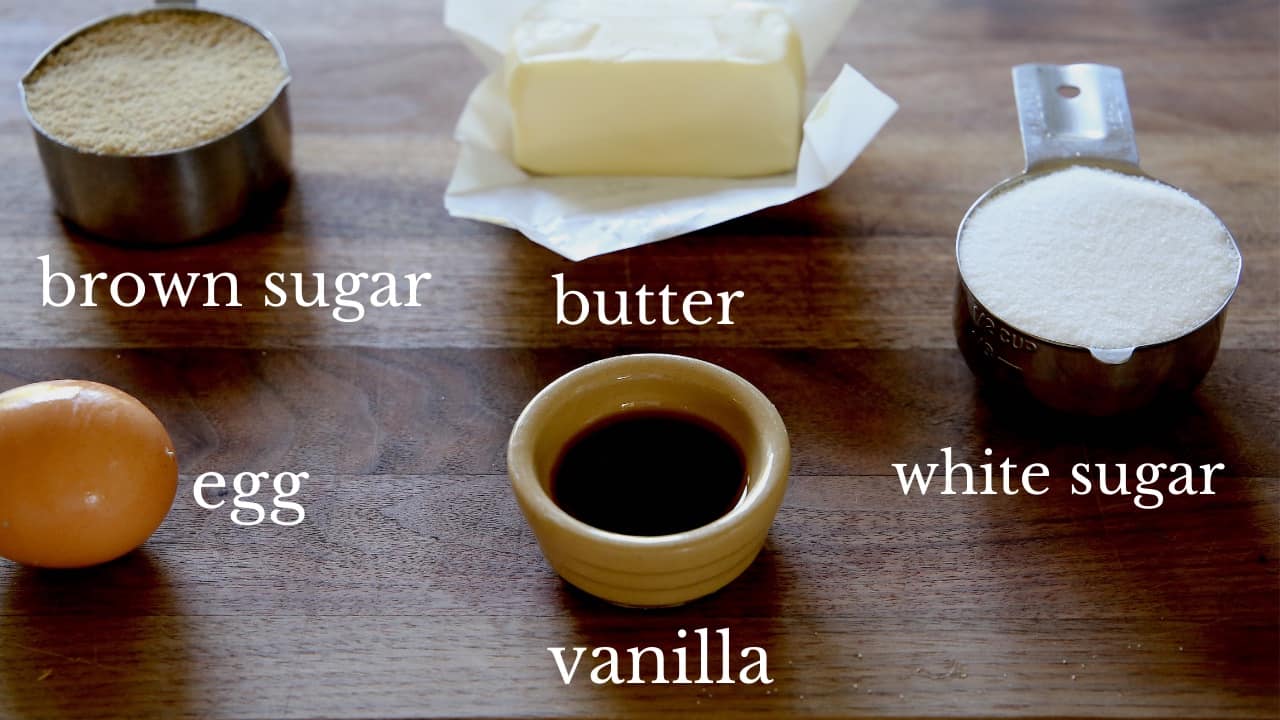 You'll also need two types of sugar to get the best texture. The brown sugar will give you chewiness, while the white sugar will create crispy edges.
The Dry Ingredients:
The two arch-enemies of a soft and chewy oatmeal cookie are, funny enough, Oatmeal and Flour. Too much oatmeal and your cookie will be dense and hard. Too much flour and you'll have a cakey oatmeal cookie. If you want soft and chewy, ¾ cup of each is all you need!

The Mix-Ins:
Dark Chocolate Chips. I prefer Nestle's Dark Chocolate Morsels. They seriously are the best tasting chocolate chip with so much chocolate flavor! Since cookies, in general, can be sweet, I find the relief of a chip that's more chocolatey than sweet is the way to go.
Chopped Walnuts
Unsweetened Shredded Coconut
The Process at-a-Glance:
Making cookies is such an easy process! Which makes them a bit dangerous. But essentially, it's a process of creaming the butter and sugars until you get a nice fluffy texture.
Then add the egg and vanilla extract. Once combined you'll add the dry ingredients and oatmeal. Then mix in the chips and other mix-ins like walnuts and shredded coconut. Scoop out the dough onto a parchment-lined cookie sheet and bake!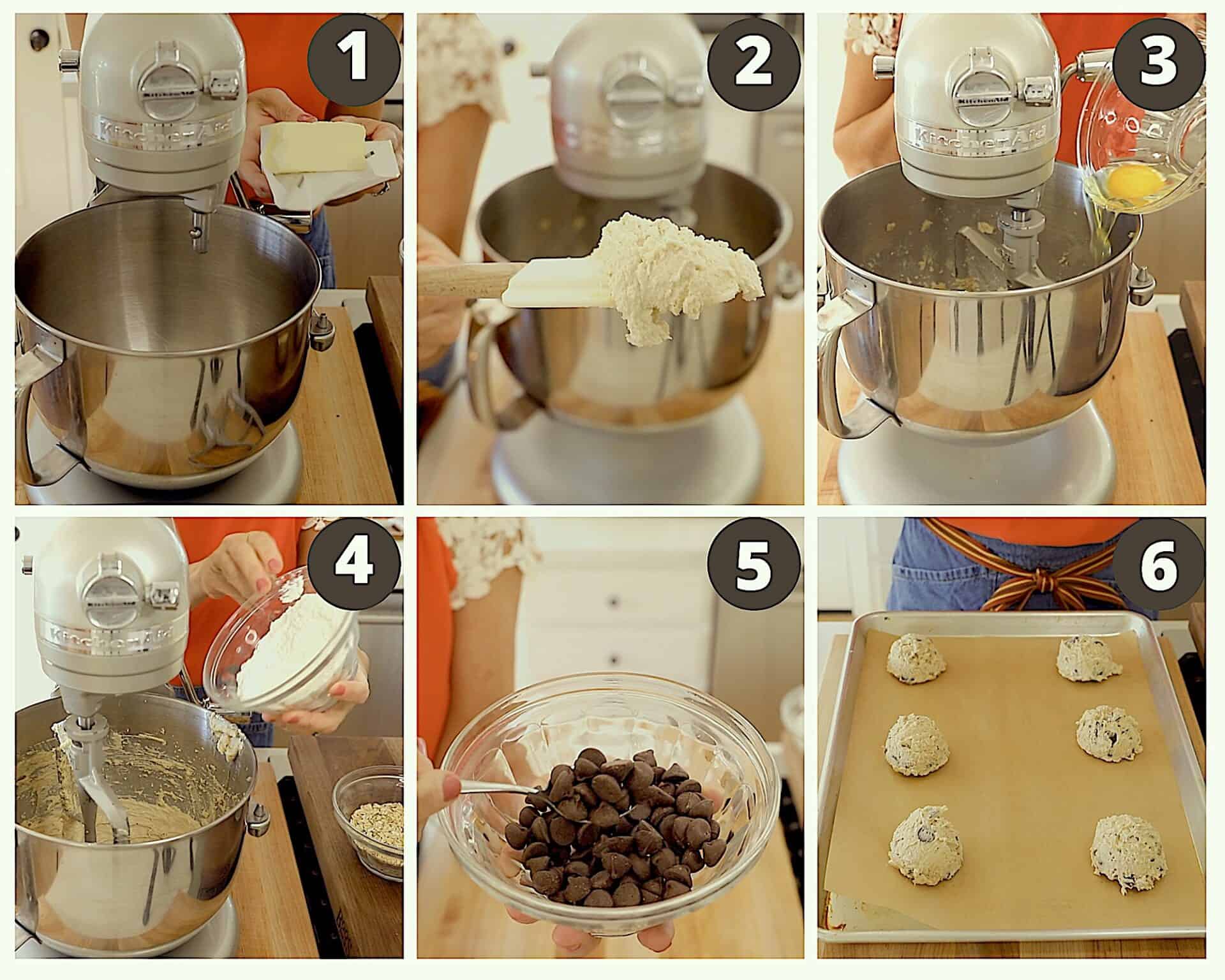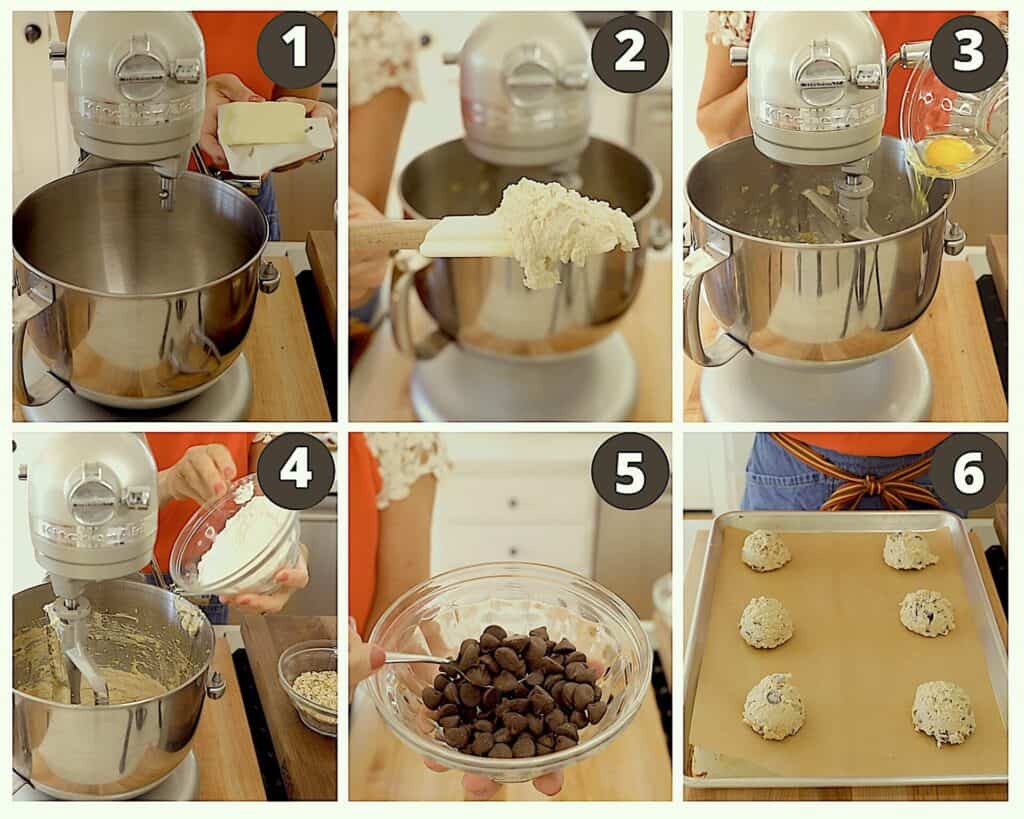 The Secret to a Chewy Oatmeal Cookie
After your cookies have baked for 15 minutes, pull them out when the edges are golden brown and just beginning to set in the center. They shouldn't look wet in the center, but they won't be golden brown in the center either.

Let the Cookies Rest!
OK, here's the big secret! Once you take the cookies out of the oven, allow them to rest on the hot cookie sheet for at least 10 minutes, the centers will set even more from the residual heat.
This technique works even better than leaving them to bake in the oven, where they would become too browned and crumbly.
Cookies are Even Better as They Cool
Allowing a cookie to cool, may seem like torture! But if you can give these cookies just 30 minutes to cool on a cooling rack, you will be rewarded with greatness!
The cookies will become even chewier the more time they are allowed to cool, and the chocolate chips aren't as gooey and messy! But do not despair and a warm chocolate chip can be just as good as a gooey one!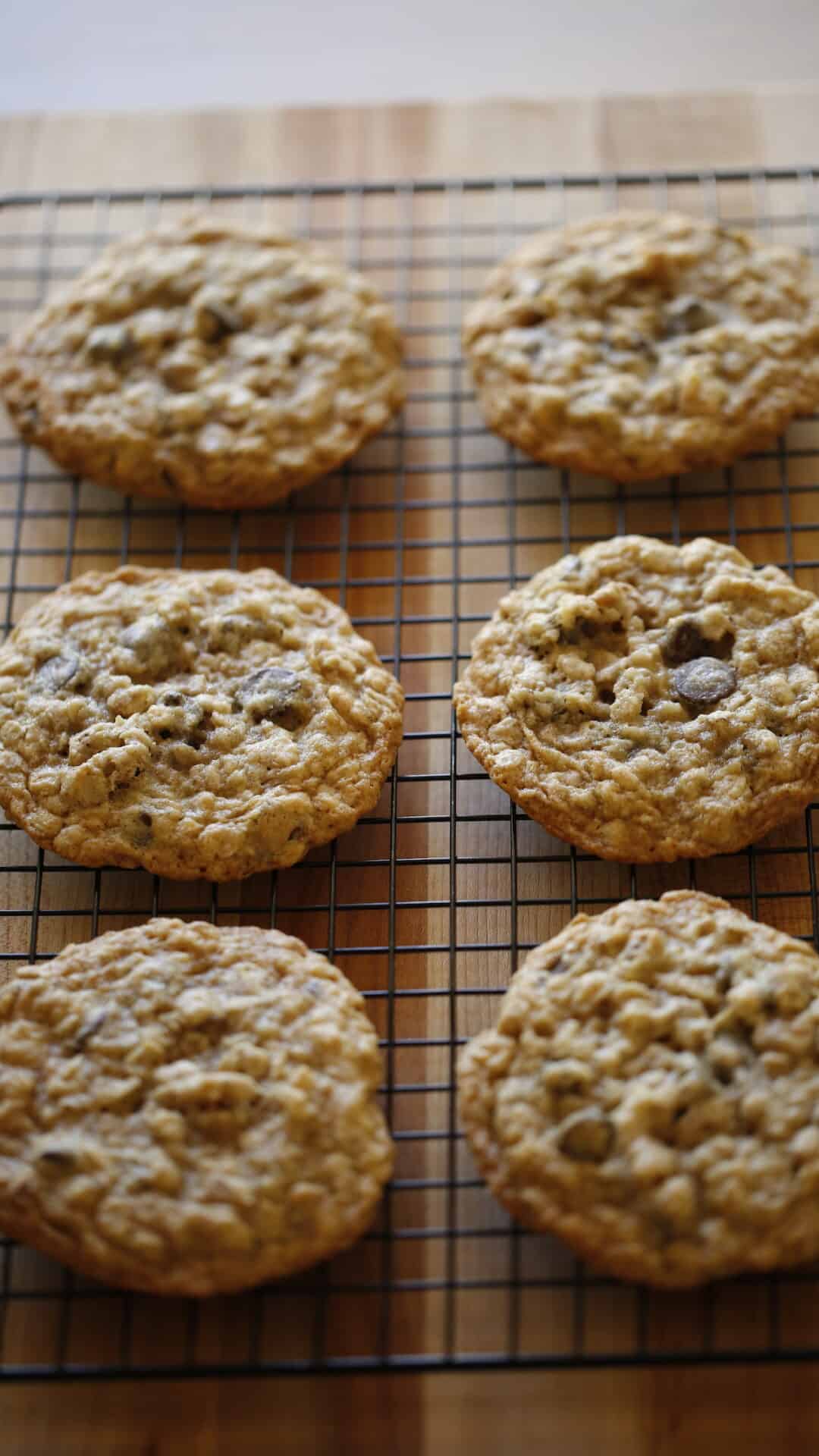 As the cookies cool, you'll also find that the flavor will be even better too! When food is piping hot, it can lose its flavor, cooling will allow the flavor to be even more pronounced leading to a better tasting cookie!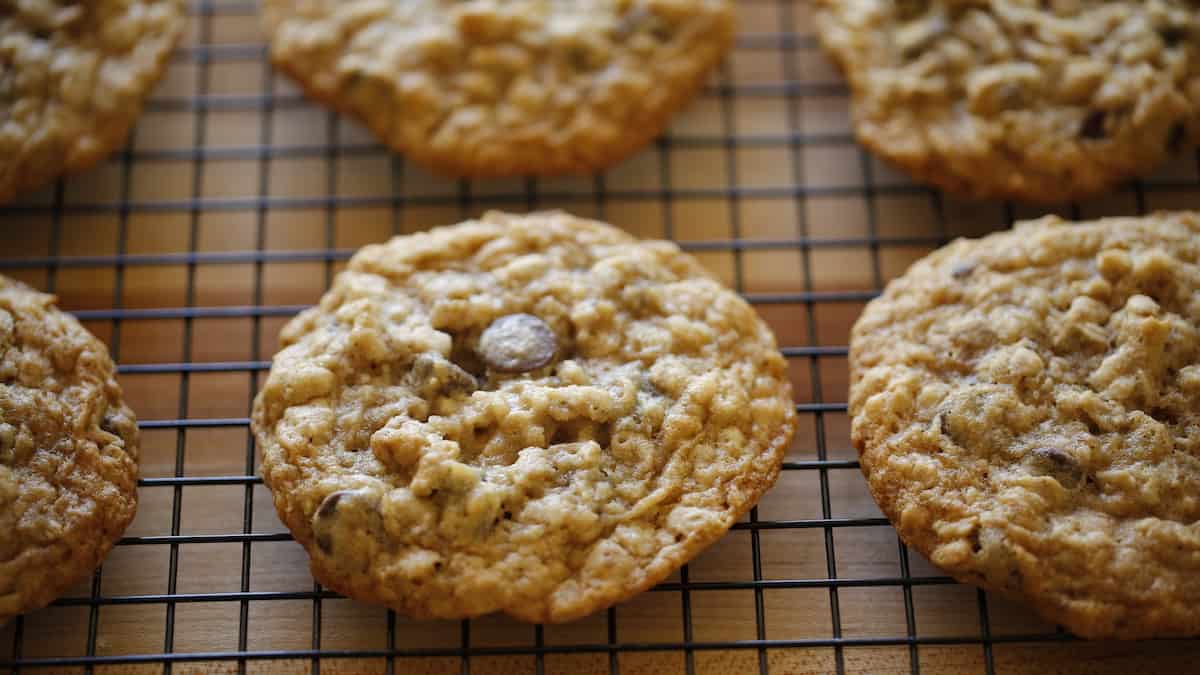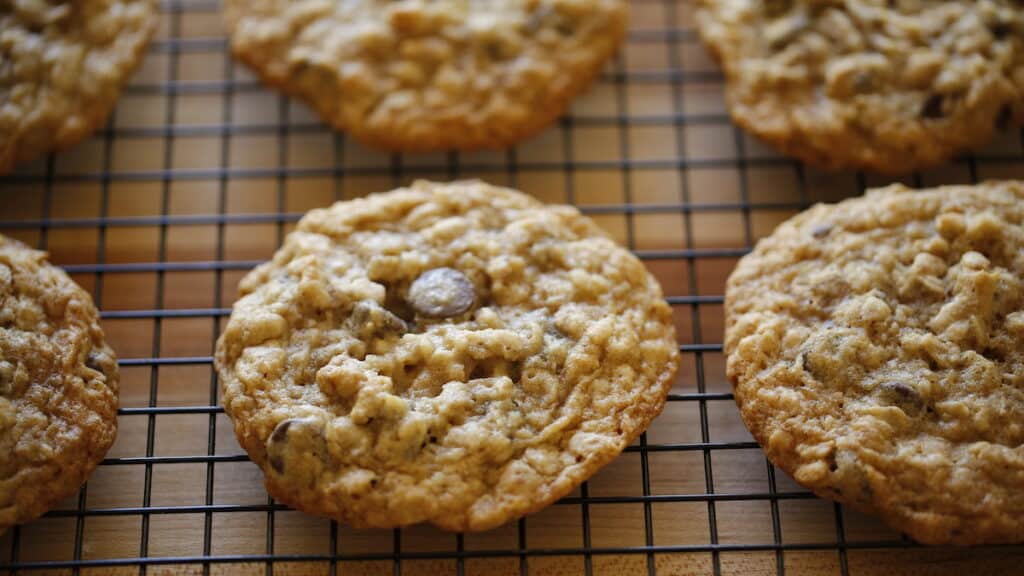 Serve these cookies with a glass of cold milk and sail off into cookie-loving-heaven!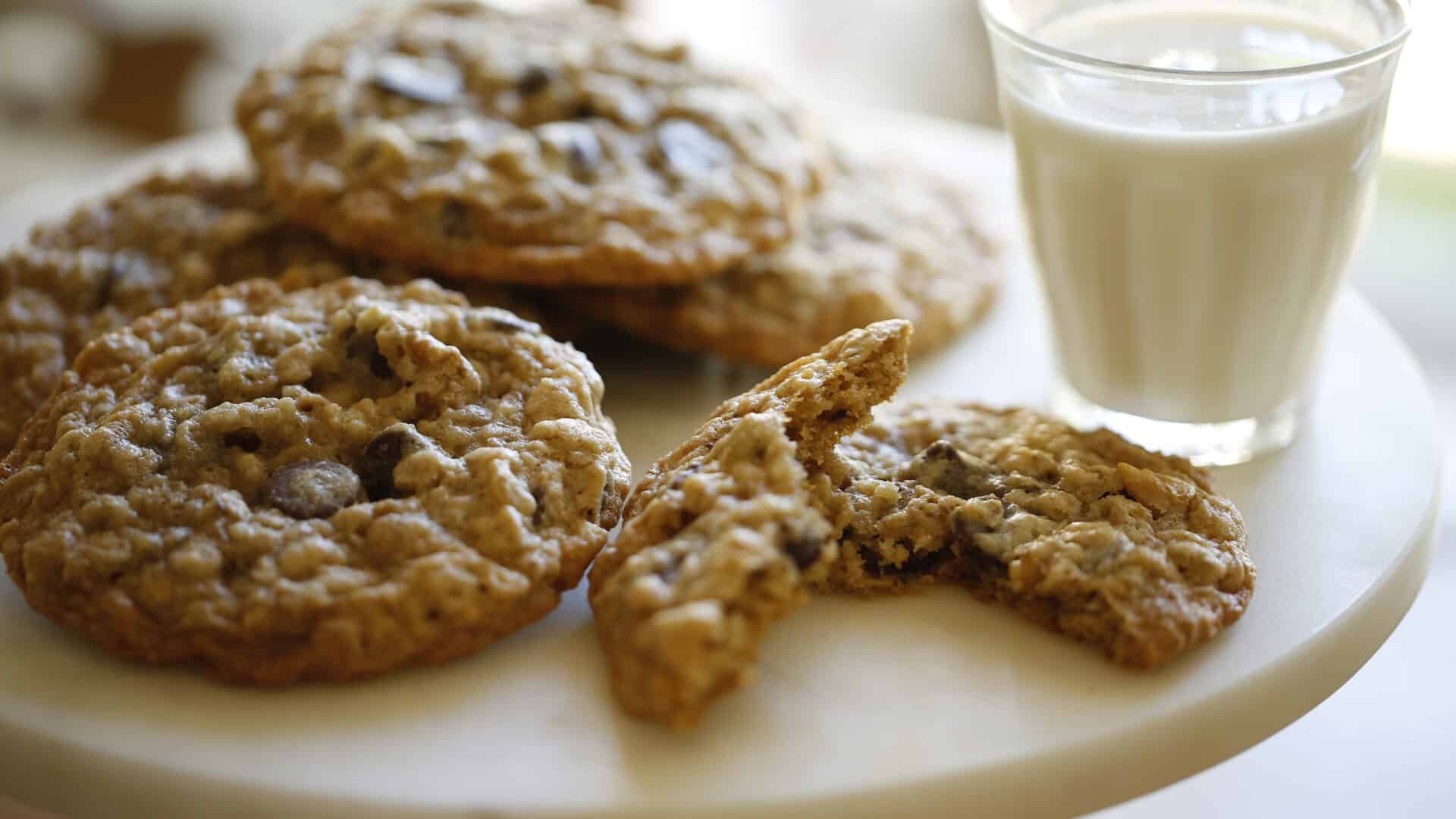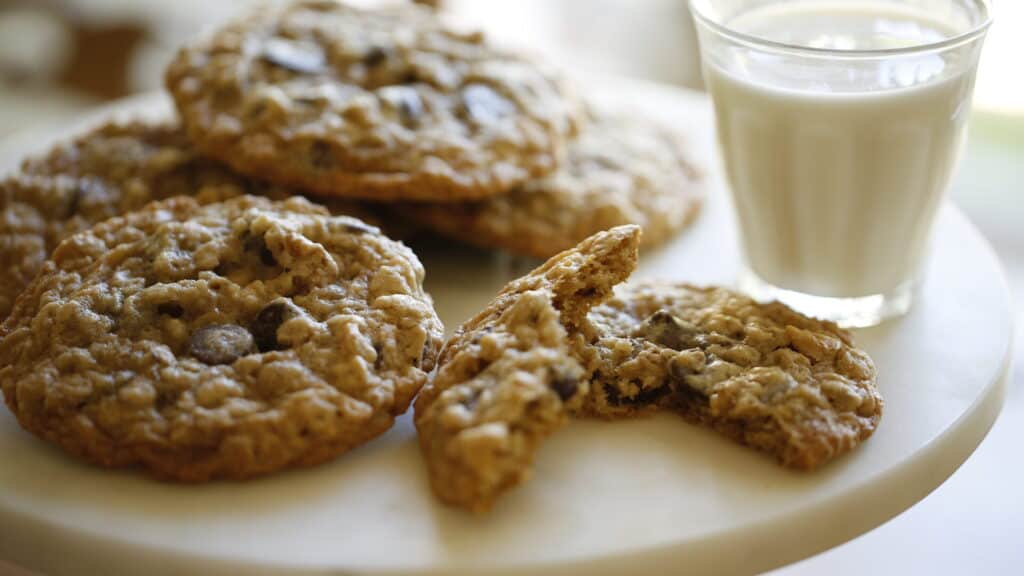 MORE OATMEAL RECIPES
If you enjoyed this cookie recipe
please leave a rating and a review below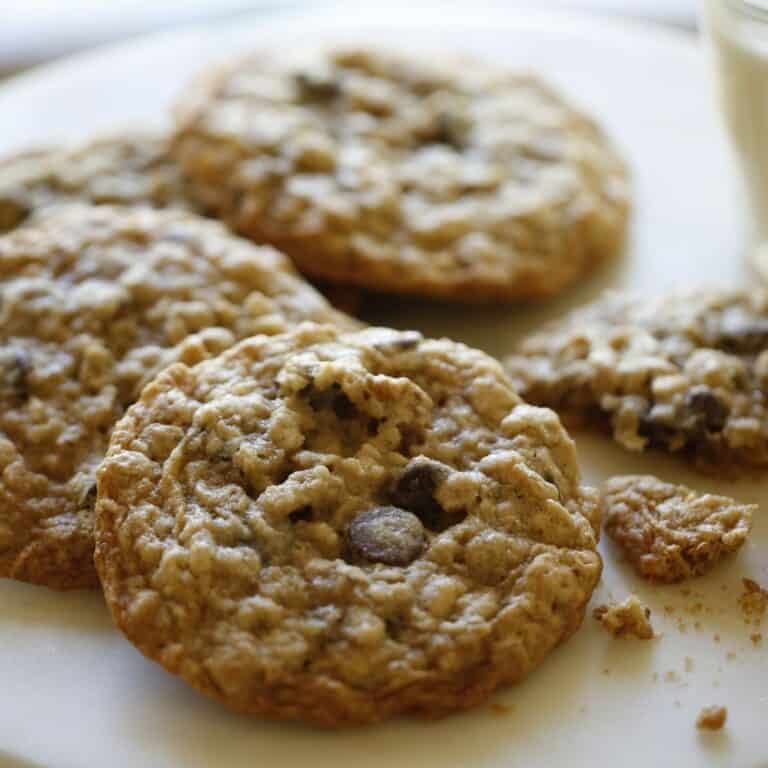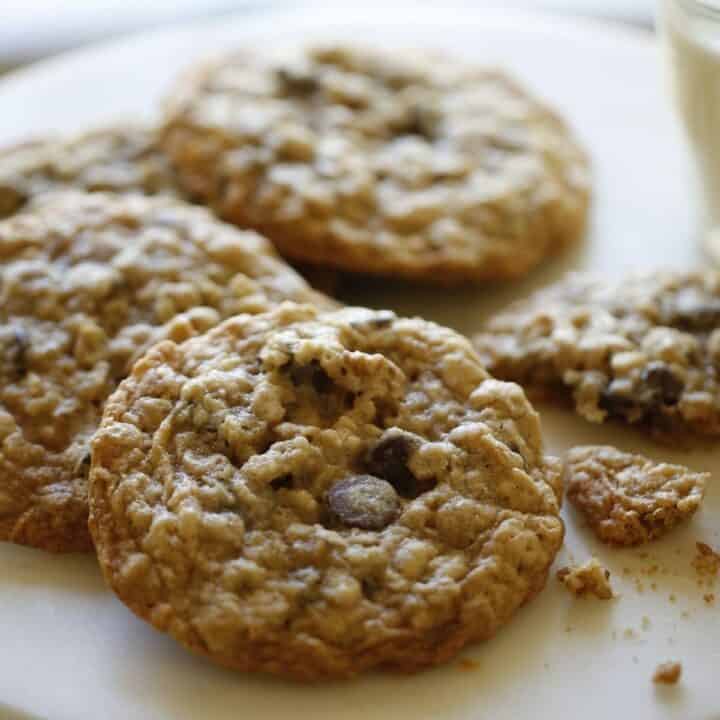 Oatmeal Chocolate Chip Cookies
These Oatmeal Chocolate Chip cookies are crispy on the outside and soft and chewy on the inside! So delicious and EASY!
Ingredients
½ cup (120g) butter, softened
½ cup (100g) white sugar
½ cup (90g) brown sugar
1 egg
1 tablespoon (15ml) vanilla extract
¾ cup (90g) all-purpose flour
½ teaspoon (2.5ml) baking soda
½ teaspoon (2.5ml) salt
¾ cup (45g) Old Fashioned Oatmeal
¾ cup (110g) Dark Chocolate Chips
⅓ cup (50g) walnuts, chopped
⅓ cup (50g) unsweetened shredded coconut
Instructions
Preheat the oven to 350F(176C).
In the bowl of an electric mixer, beat together the butter and sugars until light and
fluffy. About 5 minutes.
Then add the egg and vanilla extract. Beat together.
In a separate, small bowl whisk together the flour, baking soda, and salt. Add the
dry ingredients to the mixer and combine, scraping down the sides as needed. Then add the oatmeal and give it a beat until combined.
Then add the chocolate chips, nuts, and coconut. Beat to combine.
Line a baking sheet with parchment paper. Then scoop out 6 scoops of dough with a standard-sized ice
cream scooper.
Bake on the lower third rack for 15 minutes. Edges of cookies will be golden brown and
centers will be just set. They should not look wet, but "just set". Removing
them at this stage will make them nice and chewy!
Allow the cookies to cool for 10 minutes on the baking tray. The residual heat from the
the tray will continue to set the centers.
Transfer the cookies to a cooling rack and allow to cool for 30 minutes (if you can
stand it!) the flavors will be even better as they cool, and the cookies will
have a beautiful chewy texture!

Notes
If you live in the U.S.A use salted butter. It will give you the best flavor. I think Land O Lakes is the best quality. If you live outside the U.S.A use unsalted. I find salted butter outside the U.S.A is pretty salty!
For the chocolate chips, I prefer Nestle's Dark Chocolate Morsels or semi-sweet. I find they have the most chocolate flavor
Nutrition Information:
Yield:

15
Serving Size:

1
Amount Per Serving:
Calories:

61
Total Fat:

2g
Saturated Fat:

1g
Trans Fat:

0g
Unsaturated Fat:

1g
Cholesterol:

12mg
Sodium:

11mg
Carbohydrates:

10g
Fiber:

1g
Sugar:

3g
Protein:

2g