Snickerdoodle Cookie Recipe
This Snickerdoodle Cookie Recipe is the perfect combination of sweet and chewy, soft and fluffy with just a touch of crispness around the edges. When served slightly warm just out of the oven they are a little piece of heaven!
The Snickerdoodle is a classic cookie recipe that everyone should know how to make! For more classic cookie recipes try my Ultimate Peanut Butter Cookie, Oatmeal Chocolate Chip Recipe or my Kitchen Sink Cookie Recipe.
And for two fantastic cookie bars, try my Butterscotch Brownies or my Pecan Bars with Shortbread Crust.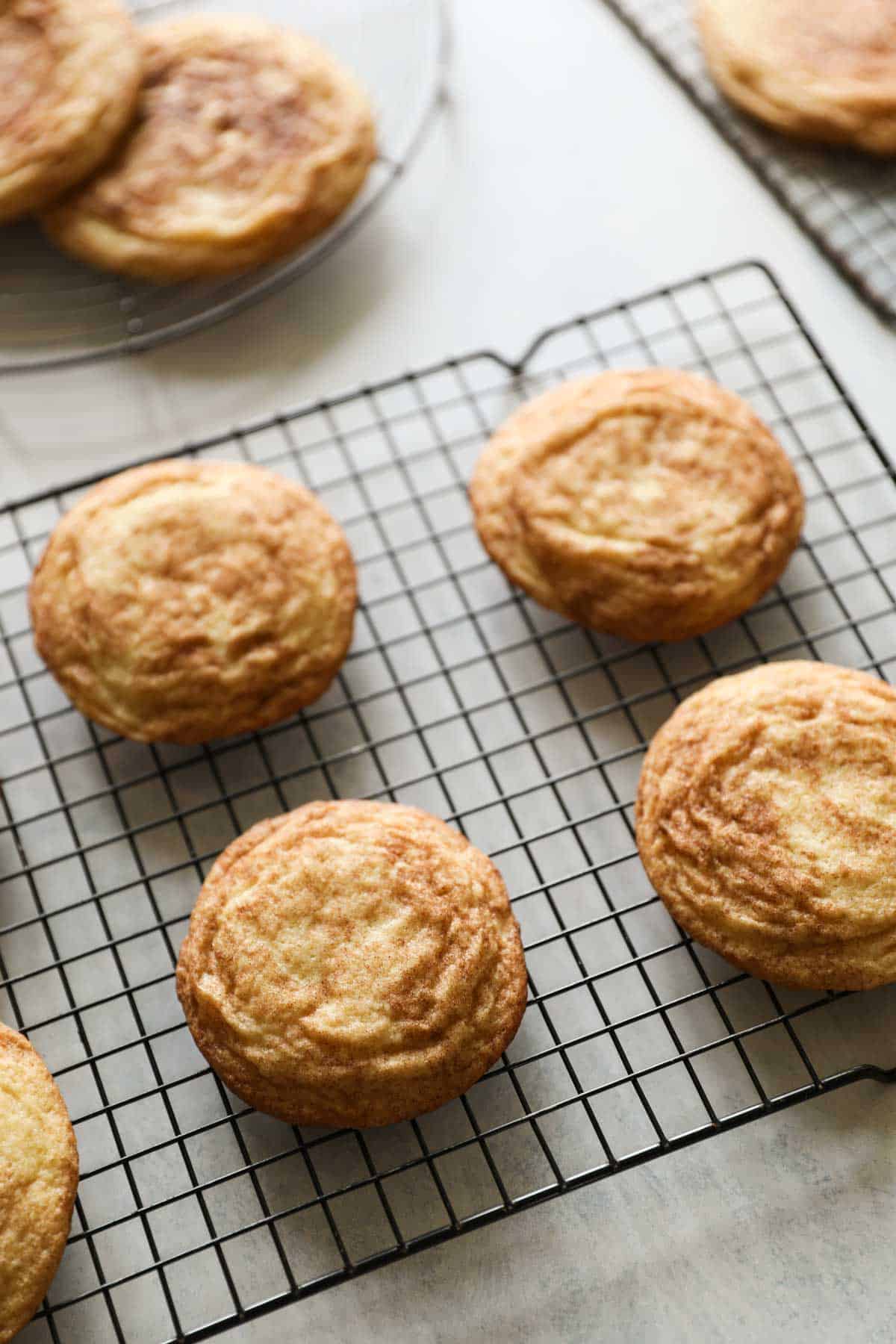 Do You Really Need Cream of Tartar for Snickerdoodles?
In a word yes. The secret ingredient for a chewy Snickerdoodle cookie is cream of tartar, something I've found to be hard to find if you live outside the U.S. But luckily you can buy cream of tartar online
It's what gives it that slightly tangy flavor mixed with the chewy centers.
Without the cream of tartar it will just taste like a vanilla sugar cookie, which are still good! But not the same taste and texture as a Snickerdoodle.
Or try my Snickerdoodle Muffin Recipe that doesn't require Cream of Tartar. Taste just like a Snickerdoodle, but in muffin form!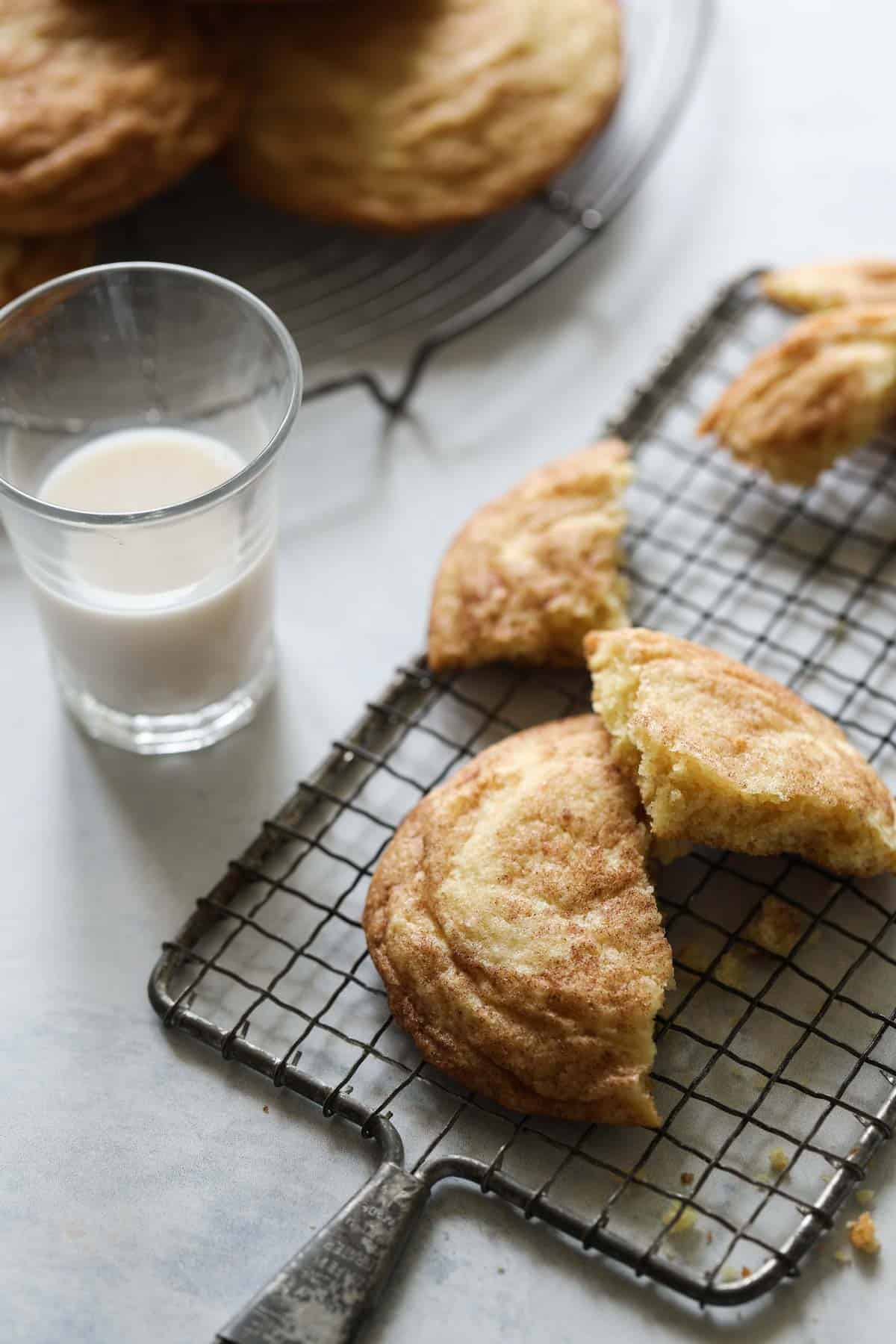 The Ingredients:
Butter These cookies are so buttery and delicious and I find you'll get the best flavor by using Land O' Lakes Salted Butter. It won't taste salty and you do not to adjust the salt in the recipe, it's just a more flavorful butter. It should be softened, but not extra soft! Otherwise the cookies will spread out too much. About an hour on your countertop is all you need.
Sugar The white sugar makes these cookies so light and delicate! You'll need enough for both the cookie dough and the cinnamon sugar.
Eggs I use two eggs, even though in most cookie recipes I use one egg. But I find these cookies tend to be a bit too flat if you use only one egg.
Vanilla Extract Snickerdoodles are known for their buttery, vanilla flavor so be sure to use pure vanilla extract (as opposed to imitation vanilla extract) you'll get the best flavor that way. I really like Trader Joe's Vanilla Extract. A great quality extract at a great price!
All-Purpose Flour I use a little more flour than most snickerdoodle recipes call for, because I don't like these cookies to be too flat and flimsy, it's better if they have a little weight to them, and the flour helps with that.
Baking Soda and Cream of Tartar This is the "Dynamic Duo" when it comes to creating the best tasting Snickerdoodle! You can substitute this combo for 2 teaspoon of baking powder, but I find you get more of a cakey cookie without any tang, and you'll also give up the chewiness!
Salt I use Kosher salt for the best flavor. Table salt can be a bit too salty.
Cinnamon Sugar You'll mix the cinnamon with the sugar to create a mixture for dredging the dough balls through before baking.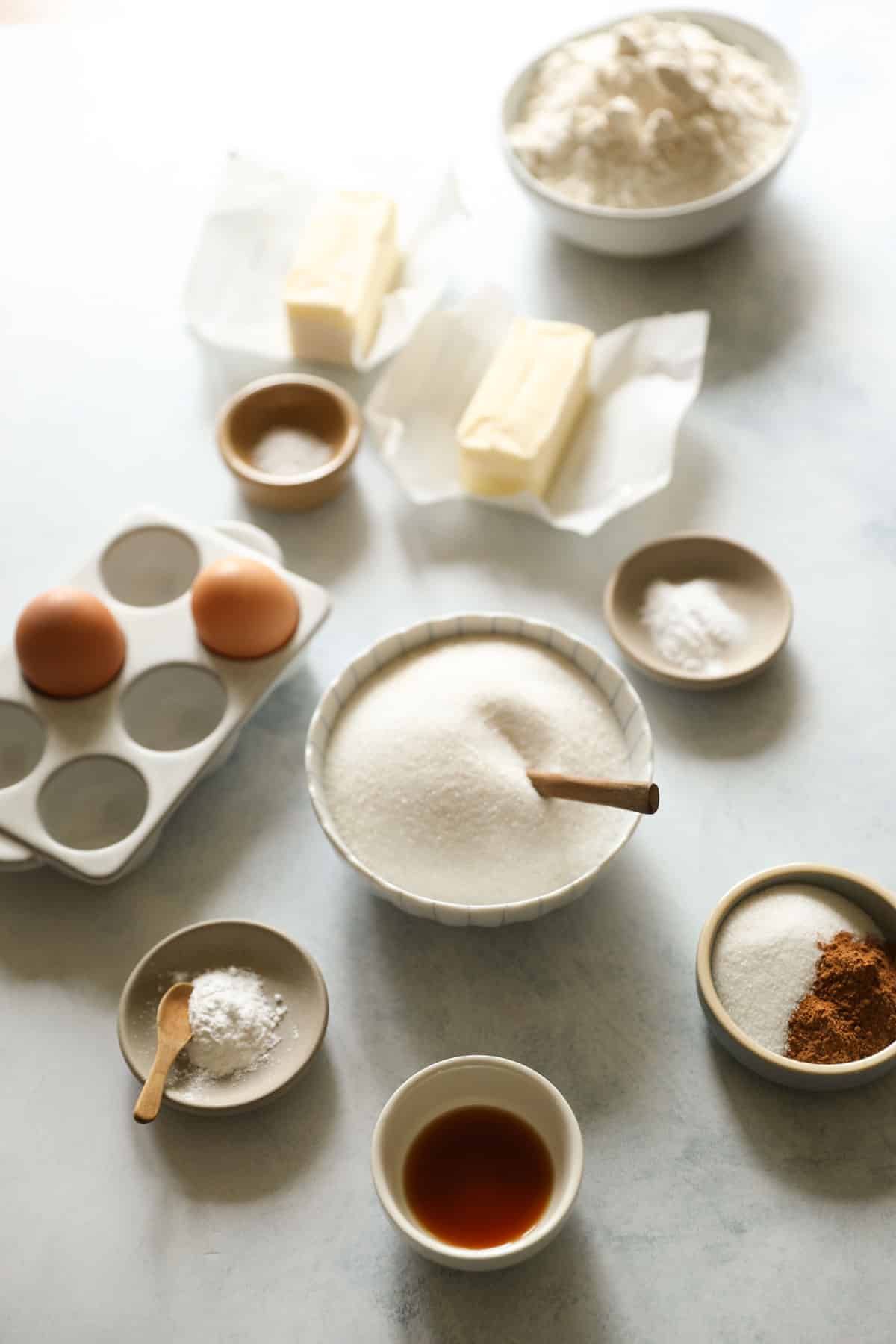 What's The Best-Sized Cookie Scoop?
I get this question quite often in cookie recipes and personally for me, I like a generous sized cookie! Similar to the kind of cookie you may find at a coffee shop. I'll save the dainty Thumbprint Cookies for a Christmas Cookie Tray.
To get a cookie that is about 3 ½-4 inches in size, you want to use a 2" Cookie Scoop. They are also called a "Medium Scoop", 1.4 ounces or 2.8 tablespoon scoop.
Do Not Chill The Dough
One of the things I like best about these cookies is that they spread!
By not chilling the dough, the cookies will spread nicely, but they will also retain a thick center.
If you wanted to freeze the dough you could. I really love the Souper Cuber Cookie Dough Trays for freezing cookie dough. They allow you to bake off just a few at a time. I do this with my Double Chocolate Chunk Cookies so that anytime I'm having a chocolate craving it's easy to just bake off one or two cookies and not get trapped into baking a whole batch!
Allow the frozen cookies to come to room temperature for about 30 minutes before placing them in the oven straight from the freezer. They may also need 2-3 minutes more baking time.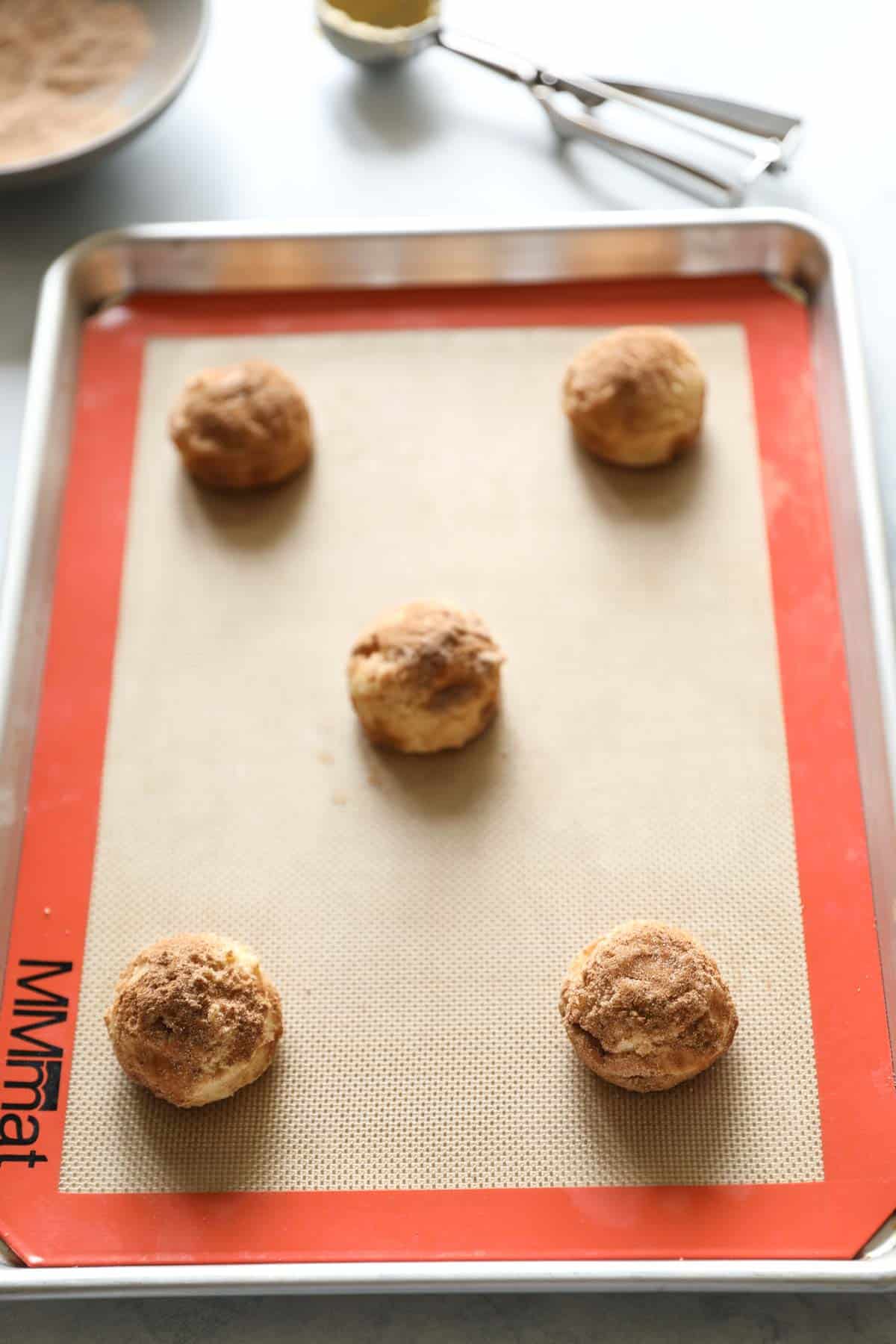 Do Not Press The Cookies Down
After you scoop the cookie, drop it in the cinnamon dredge and gently cover it with the cinnamon sugar.
Resist the urge to then roll it into a ball and flatten it down.
I think you get prettier cookies leaving the dough balls alone and allowing them to spread as they may with soft waves, cracks or ridges baked into them.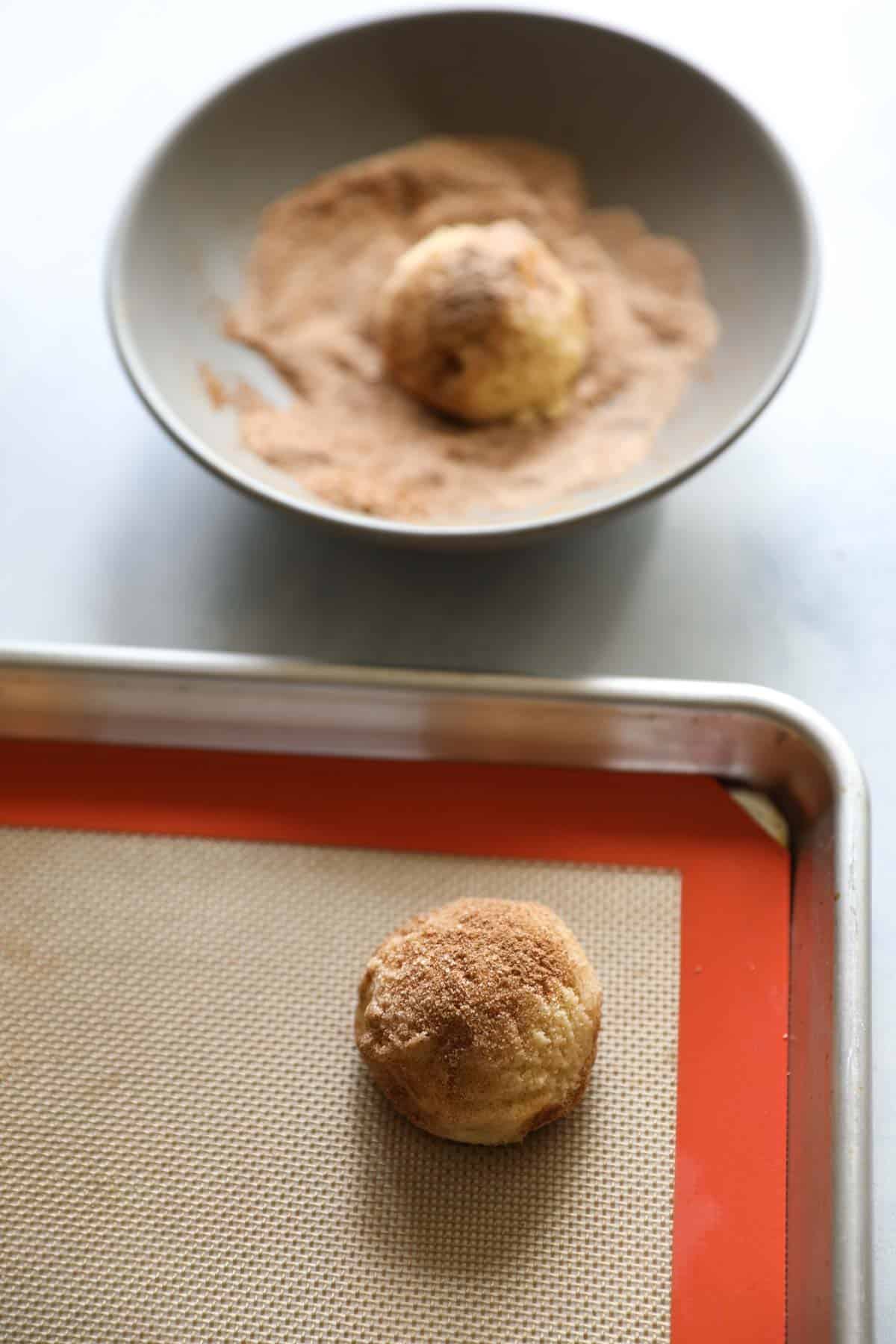 Avoid Over-Baking
If you are using the 2" cookie scoop for this recipe, the cookies should take anywhere from 11-13 minutes in a pre-heated oven at 350F. They are better a little underbaked since that will add to their softness and chewy texture!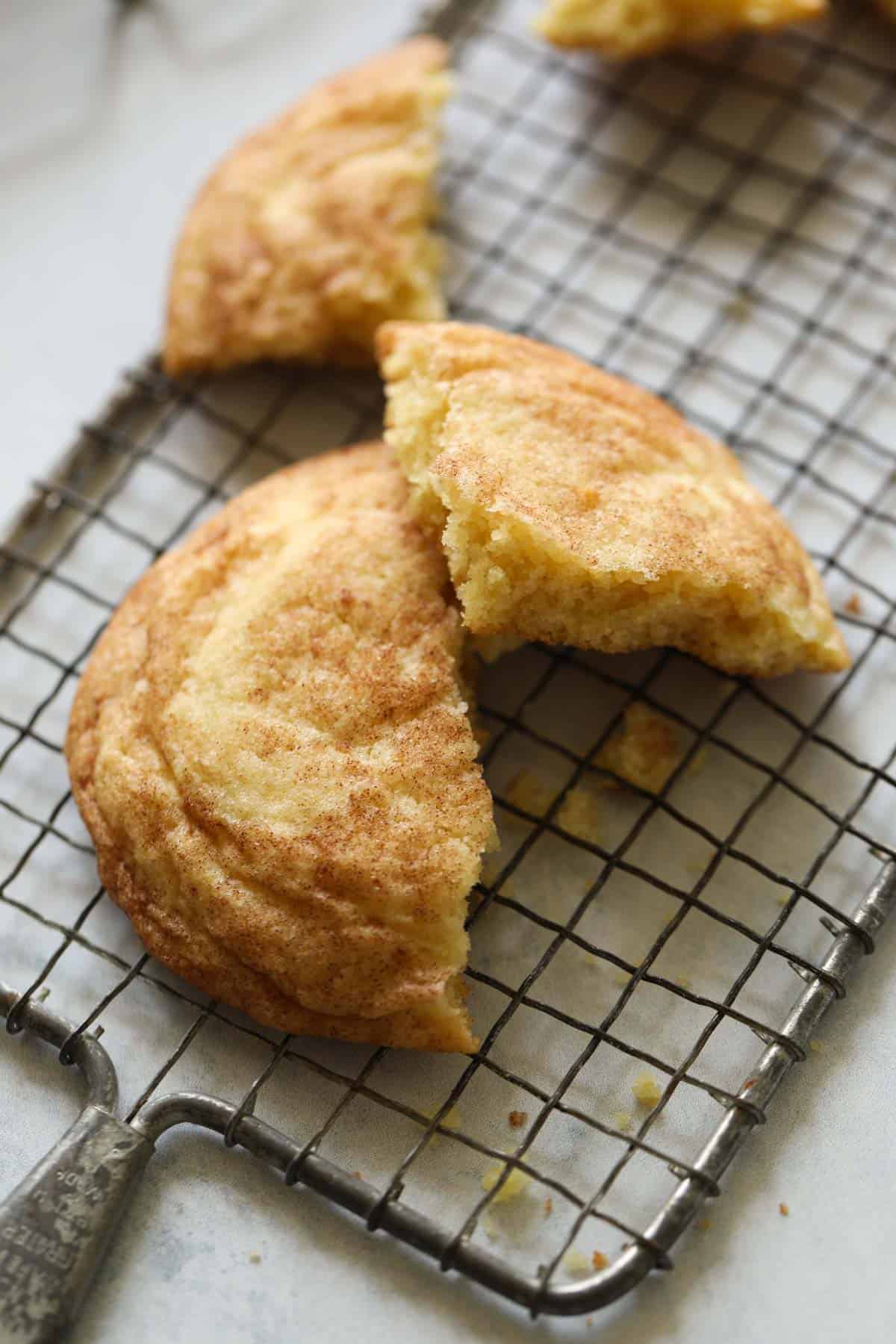 If You Enjoyed This Recipe
Please Leave a Rating and a Review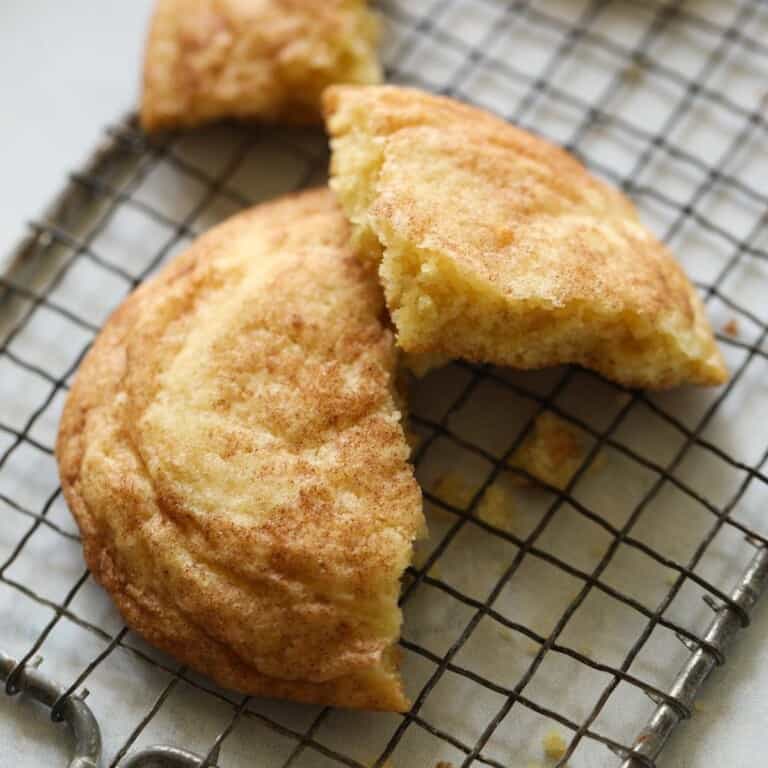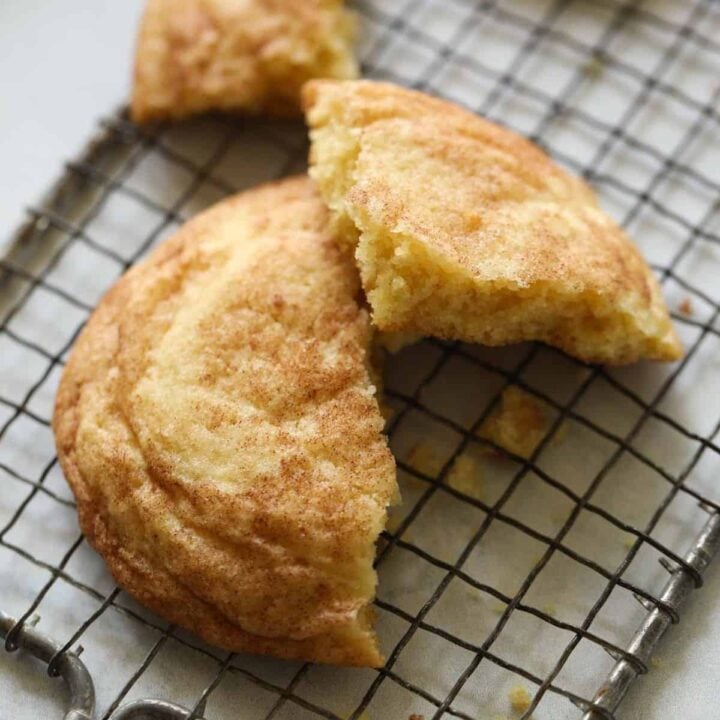 Snickerdoodle Cookies
This Snickerdoodle Cookie Recipe is the perfect combination of buttery cinnamon goodness with just a touch of crispness around the edges. Soft and chewy and so addictive!
Ingredients
COOKIE DOUGH
1 cup (240 g) unsalted butter
1 ¼ cups (250 g) sugar
2 eggs
1 ½ teaspoon (7.5 ml) vanilla
2 ¼ cups (270 g) flour
1 teaspoon (5 ml) baking soda
2 teaspoon (10 ml) cream of tartar
½ teaspoon (2.5 ml) salt
CINNAMON SUGAR GARNISH:
3 tablespoon (37 g) sugar
2 teaspoon (5 ml) cinnamon
Instructions
Preheat oven to 350F (176C) degrees.
Cream together the butter and sugar with an electric mixer until light and fluffy. Then add eggs, one at a time, until well incorporated. Then add vanilla, until combined.
In a separate bowl whisk together the flour, baking soda, cream of tartar and salt. Then add the dry mixture to your butter mixture in thirds until well combined.
Then in a small bowl combine the sugar and cinnamon until combined.
There is no need to refrigerate the dough! It's better if you bake right away, they will spread out nicer that way.
Portion out the dough with a 2" (5 cm) ice cream scooper. Roll in the cinnamon sugar. And place 5 dough balls on a parchment lined cookie sheet to allow room to spread.
Bake for 11-13 minutes. Until tops are cracked and cookies are golden brown around the sides.
Nutrition Information:
Yield:

12
Serving Size:

1
Amount Per Serving:
Calories:

211
Total Fat:

11g
Saturated Fat:

5g
Trans Fat:

0g
Unsaturated Fat:

5g
Cholesterol:

201mg
Sodium:

124mg
Carbohydrates:

22g
Fiber:

1g
Sugar:

19g
Protein:

6g
12