Peanut Butter Cookie Recipe
This Peanut Butter Cookie Recipe is one of my favorite cookie recipes using pantry staples you probably already have sitting in the cupboard and refrigerator. They are crispy on the outside and soft and chewy and full of peanut butter flavor, you'll never buy store-bought cookies again!
They rival my Oatmeal Chocolate Chip Snickerdoodle Cookies and Kitchen Sink Cookie recipes as my favorites. But you can try all 3 recipes and decide which one you like best!
For a fancier cookie recipe try my French Macaron Recipe or my French Madeleines. Both are equally delicious!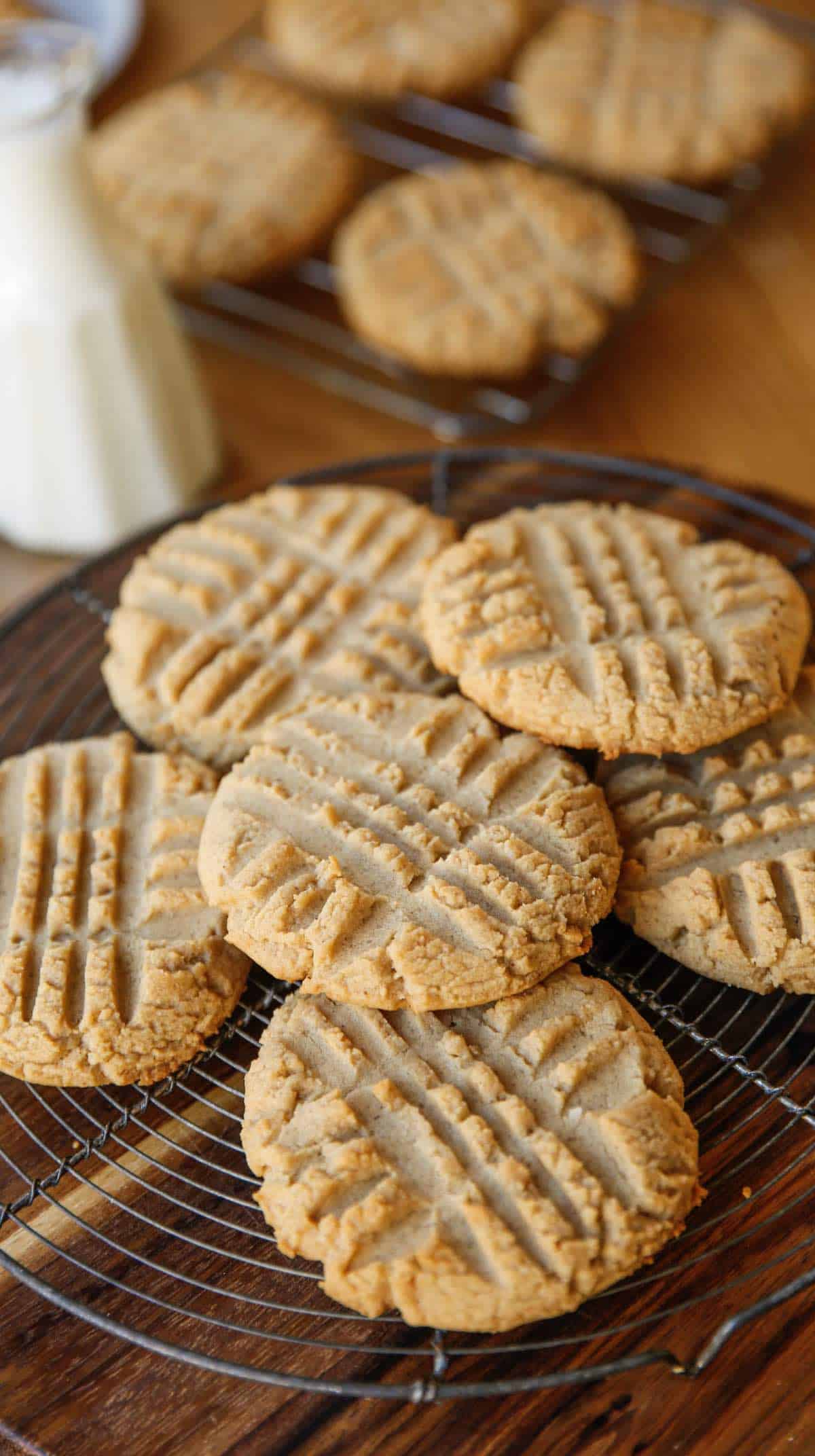 Why You'll Love This Recipe:
The best part is they whip up so quickly and easily, no need to chill the dough either, so as soon as the craving strikes, you'll be quickly rewarded!
They are crispy on the outside and soft and chewy on the inside! Giving you the best of both worlds!
They are not overly sweet and the recipe uses a little extra butter to give them a melt-in-your-mouth texture.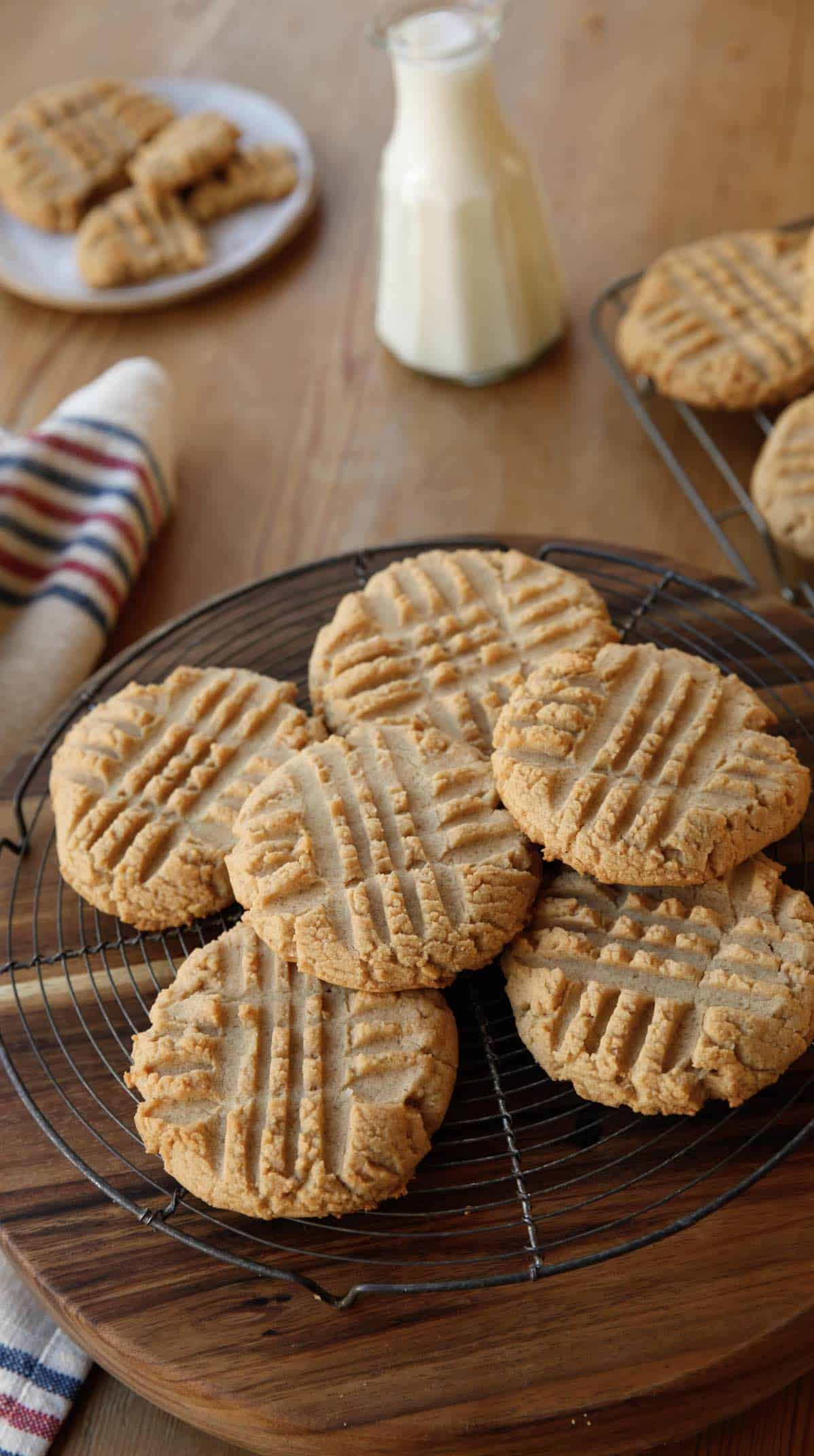 The Ingredients:
The ingredients for peanut butter cookies are so basic you probably have all of them sitting in your fridge and pantry.
Butter If you live in the states use Land O' Lakes Salted Butter. This butter is more flavorful than unsalted and will give your cookies the best buttery flavor. If you live outside the U.S. then use unsalted butter since international salted butter is pretty salty!
Peanut Butter Read the label! Only buy peanut butter has 1 ingredient in it: Peanuts. (No added oils, sugars, or salt.) You'll get the best peanut flavor this way.
White Sugar I use white sugar for the crispy edges around the cookie and the cross-hatch pattern
Brown Sugar I use brown sugar for the chewy interior of the cookie
Egg The egg will add softness and richness to the cookie
Vanilla will sweeten the cookie and add flavor without using more sugar
Flour I use regular all-purpose flour for this recipe
Salt will heighten the flavor of the cookie
Baking Soda will give your cookie a nice chewiness to it. You can swap for baking powder if you have to, but I find the texture of cookies is best with baking soda.
Optional Chopped Raw Peanuts are a nice touch if you like a peanut butter cookie with a little bit of crunch in it. And if you have leftover peanuts you can put them to use in my Peanut Brittle Recipe, a great food gift idea for holiday gifting!

Using Natural Peanut Butter
There can be a huge swing of variables in natural peanut butter. Some have more oil, some are harder to stir, some are creamier, some are thicker etc.
I have tried many options and keep coming back to Trader Joe's Creamy No Salt Peanut Butter as the clear winner for this recipe.
You can use any leftover peanut butter for my decadent Chocolate Peanut Butter Pie or my Easy Peanut Butter Sauce for Ice Cream.
The natural peanut butter will give you a peanut butter cookie with the best peanut butter flavor.
Be sure your butter is also very soft, this will help the peanut butter and its oil, incorporate better.
You can choose creamy for a smoother texture or chunky for a more textured cookie.

Why do you make fork marks on peanut butter cookies?
Peanut butter is a pretty dense ingredient. When you add it to cookie dough the cookies will bake with this density.
Adding the criss-cross pattern or "hash marks" to your cookies allows them to bake evenly.
This will give you a crispy exterior around the edges and a chewy interior where the hash marks are formed. Aside from being functional, it also looks pretty on the cookies as well!
Dip your fork in flour first before making the hash marks, this will prevent your fork from sticking.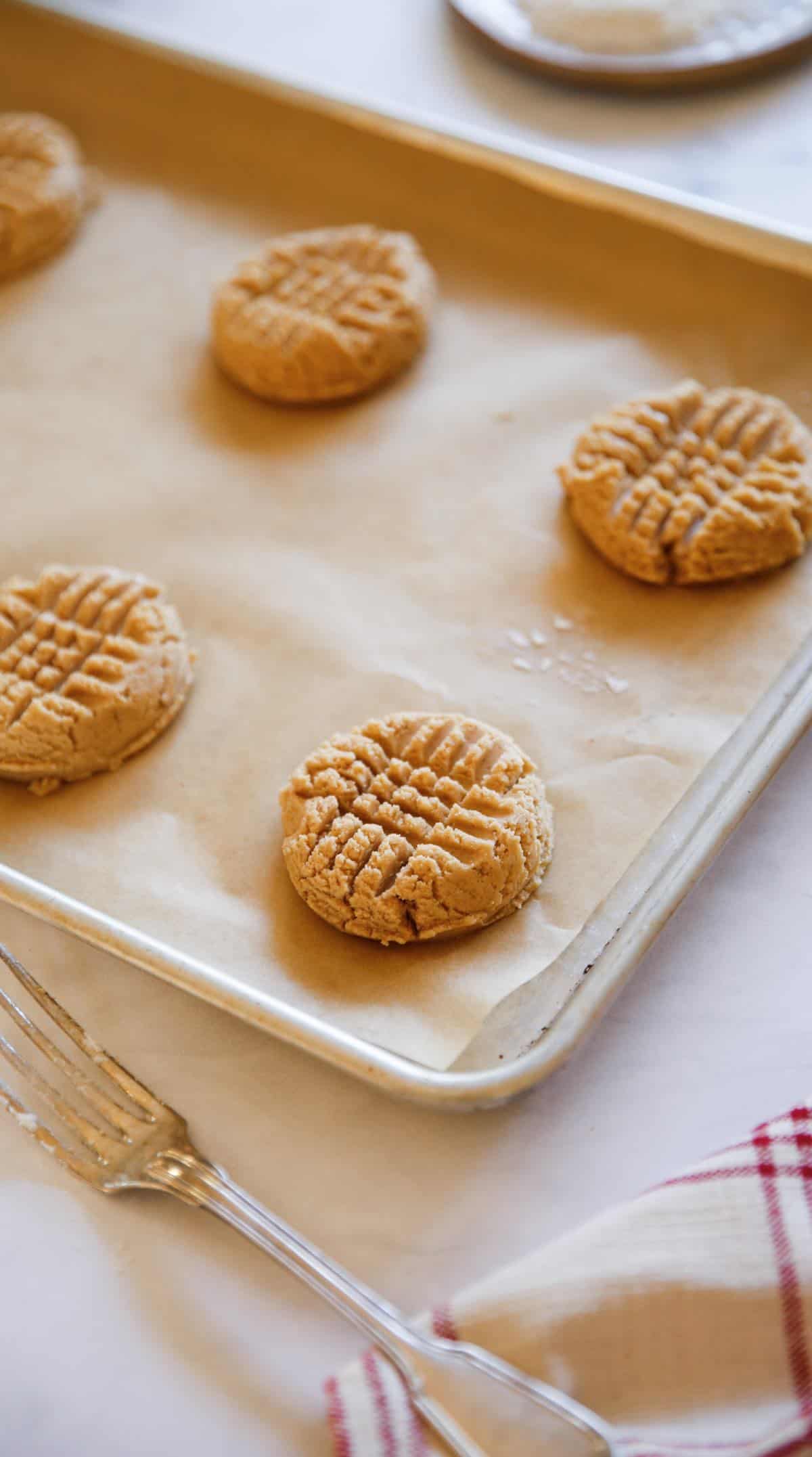 Choosing the Best Fork
This may seem like a strange consideration, but I really love when peanut butter cookies are covered in the cross-hatch pattern, for the simple reason that you get more nooks and crannies in the cookie that way, which provides more crispy parts on top of the cookie.
This is a wonderful contrast to the chewy interior.
I've found regular dinner forks are not quite large enough. Their tines come up too short for a large cookie.
So I've found vintage forks, which tend to be larger and heavier work the best!
Or you can also size your cookie down to a smaller ball to allow your fork to reach across it.

Scooping the Dough With an Ice Cream Scoop
Using a 2-ounce ice cream scoop will create nice rustic edges to your cookie, which again like the cross-hatching, will add more crispiness to the cookie
It's also easier than rolling the dough into a ball by hand
I find a cookie scoop also helps maintain the equal size of each cookie which helps them bake at the same rate and prevent any fights breaking out among the children!
How Long to Bake Peanut Butter Cookies?
If you want a soft peanut butter cookie bake them for 13-minutes, then allow them to cool on their tray to set up even further.
For crispy on the outside and chewy on the inside peanut butter cookie let them bake for about 15 minutes.
Storing The Cookies and Dough
Once baked you can store the cookies in an air-tight container, they are best eaten within 3-5 days
Or you can refrigerate the dough for up to 5 days and bake as needed
Or you can freeze the dough in an airtight, freezer-safe container, for up to a month, and defrost it in the refrigerator overnight before baking.
More Cookie Recipes!
If You Enjoyed This Recipe
Please Leave a rating and review below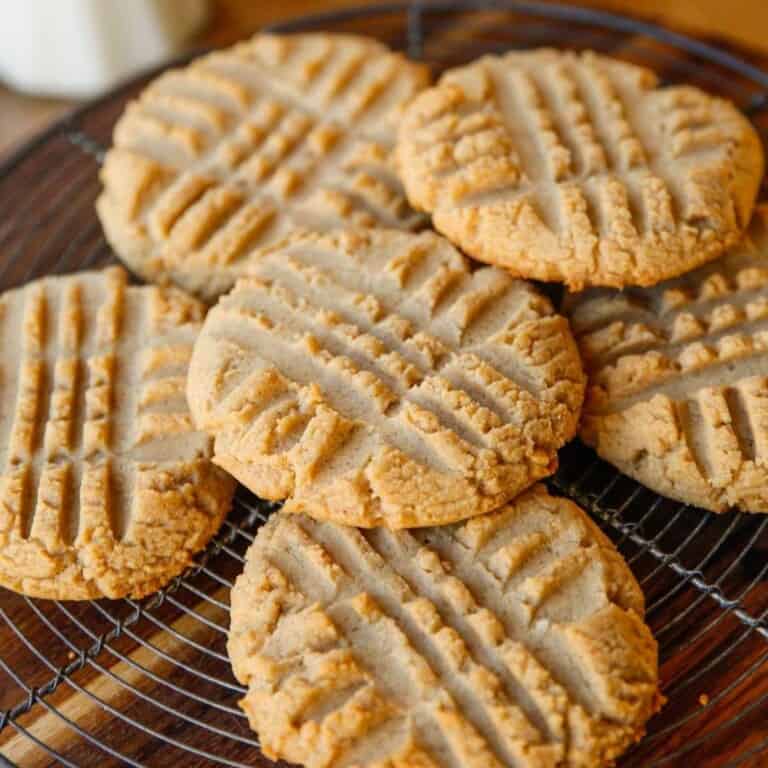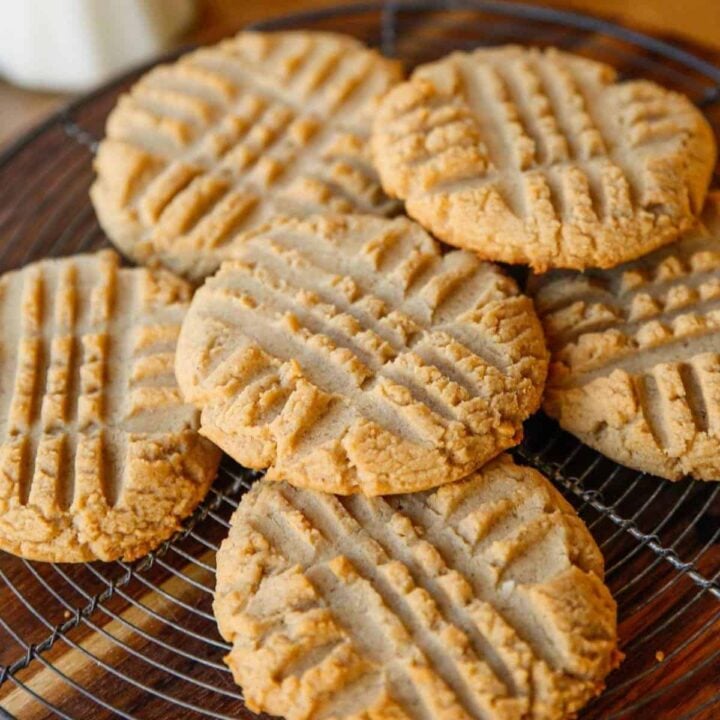 Peanut Butter Cookie Recipe
Learn how to make my Best Peanut Butter Cookie Recipe. So good and easy you'll never buy store-bought again! Video tutorial follows.
Ingredients
¾ cup (180 g) of softened butter
½ cup (85g) light brown sugar
½ cup (100g) white sugar
1 cup (240 ml) of no salt peanut butter (only ingredient should be "peanuts". Trader Joe's Creamy No Salt Peanut Butter is my favorite for this recipe
1 tablespoon teaspoon (15 ml) vanilla
1 egg
1 ½ cup (180 g) flour
½ teaspoon (2.5 ml) baking soda
1 teaspoon (5 ml) salt
Instructions
Preheat oven to 350F (176C).
In an electric mixer cream together butter and sugars until fluffy. Then add the peanut butter. And mix until combined.
Then add the egg and vanilla beat to combine. Set aside.
In a separate bowl whisk together flour, baking soda and salt. Add the dry ingredients to the butter mixture, in thirds until everything is combined.
Line a baking sheet with parchment paper. Then with a 2" ice cream scoop parcel out 6 dough balls. And then with a fork that has been lightly dipped in flour, create a cross hatch pattern on top of each ball, pressing dough the dough slightly at the same time.
Bake for 13-15 mins.
Allow to cool slightly and then transfer to a cooling rack. Enjoy!
Notes
High-quality peanut butter has one ingredient: peanuts! Avoid others with added sugar or salt. Pure peanut butter will create the best-tasting cookie!
For this recipe I prefer the Trader Joe's Creamy Peanut Butter, No Salt
Dip your fork in flour first before making the hash marks, this will prevent your fork from sticking.
Nutrition Information:
Yield:

18
Serving Size:

1
Amount Per Serving:
Calories:

32
Total Fat:

2g
Saturated Fat:

1g
Trans Fat:

0g
Unsaturated Fat:

1g
Cholesterol:

22mg
Sodium:

21mg
Carbohydrates:

3g
Fiber:

0g
Sugar:

2g
Protein:

1g