Peanut Brittle is one of the easiest, most affordable food gifts for holiday gifting! It takes minimal ingredients, most of which you probably have on hand, and can be packaged up in a festive container and given to friends and family throughout the season.
It's one of my favorite holiday recipes because it's so affordable and fun to make! It's also a great candy recipe for beginners much like my Chocolate Turtle Recipe.
Really love peanuts? Try my delicious Peanut Butter Cookie Recipe. So easy and so good!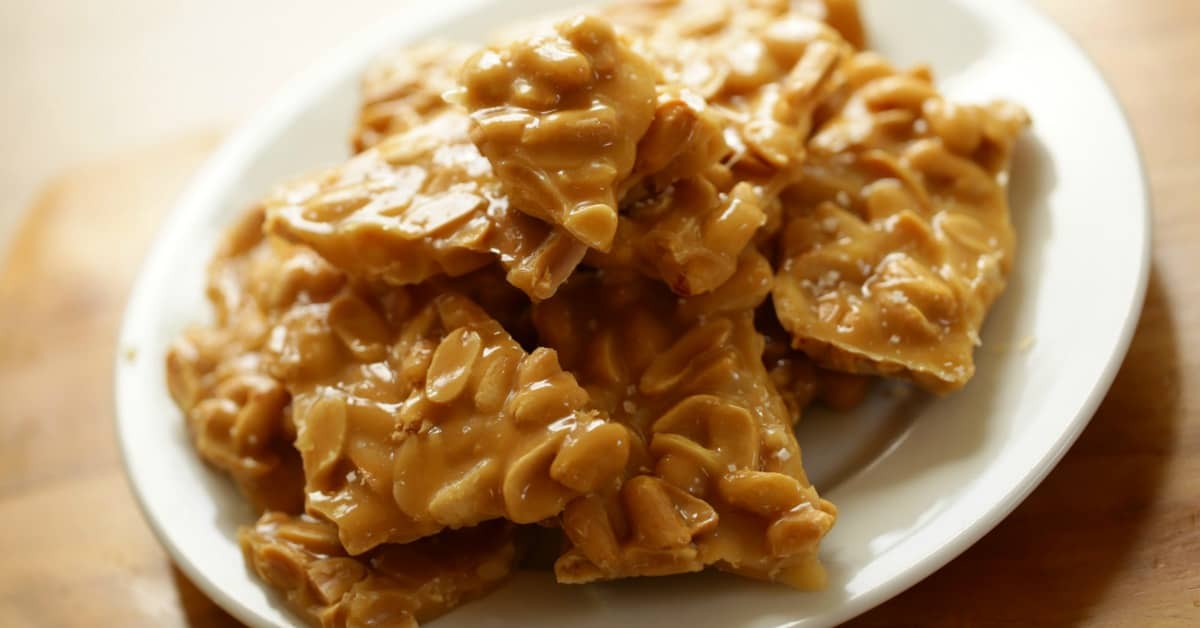 How Long Does Peanut Brittle Take?
It only takes 40 minutes to set up and can be made ahead of time and stored at room temperature.
It's best to use raw, unsalted peanuts and this recipe will also be even more affordable if you buy the peanuts in bulk. And you can then save a few for my delicious Peanut Butter Ice Cream Sauce recipe too!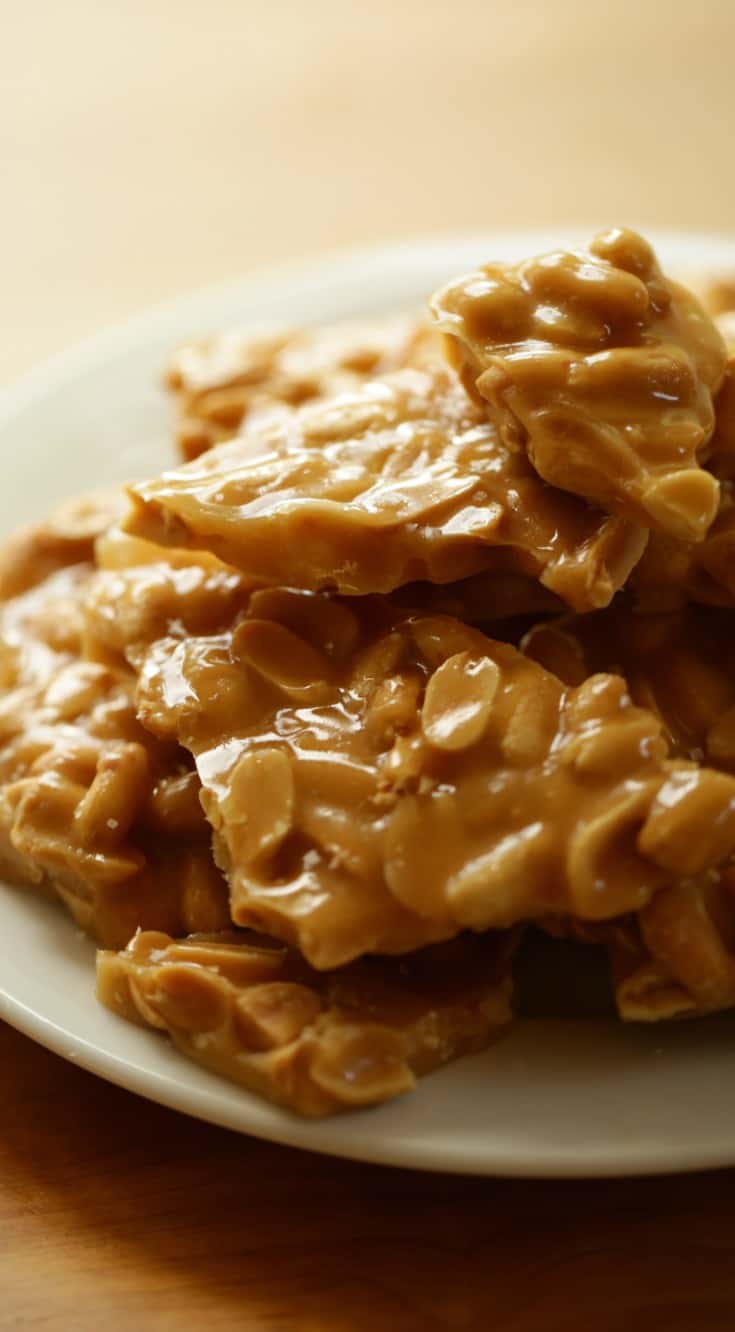 Watch My Video of This Recipe Below
Step#1: Grease the Pan and Spatula
Before you begin, it helps to grease the sheet pan and the spatula so they are ready to go.
The peanut brittle syrup hardens quickly so you don't want it sitting in the pot hardening while you'll grease the pan in the moment.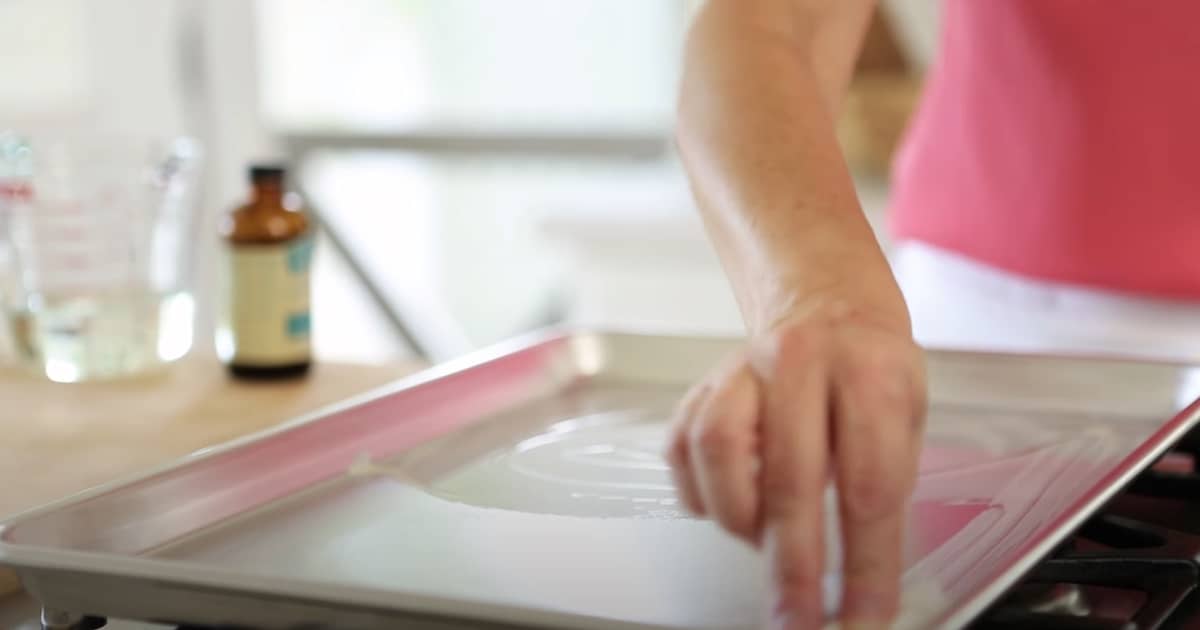 Don't Forget the Spatula!
I also grease the spatula because you will use it to press down the peanut brittle syrup into the pan, and if it's left ungreased it will continually stick to the spatula and be much harder to press into the pan.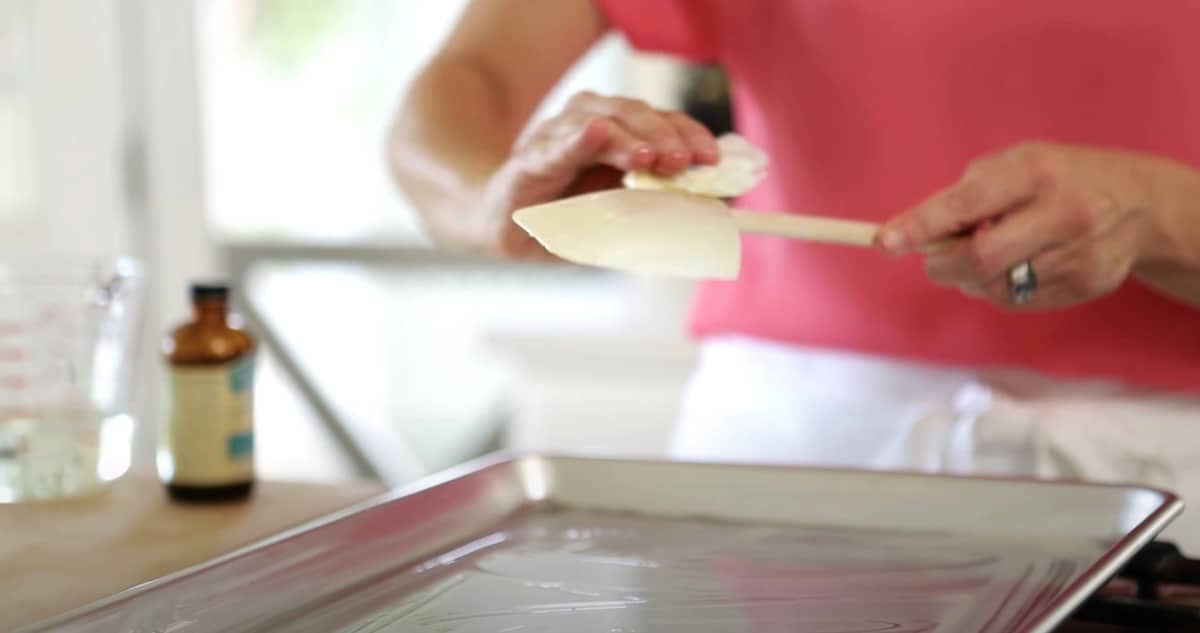 Step#2: Create the Syrup
The peanut brittle syrup is a simple mixture of sugar, water, corn syrup, butter, and vanilla.
It won't look like much at first and you may wonder how it will come together.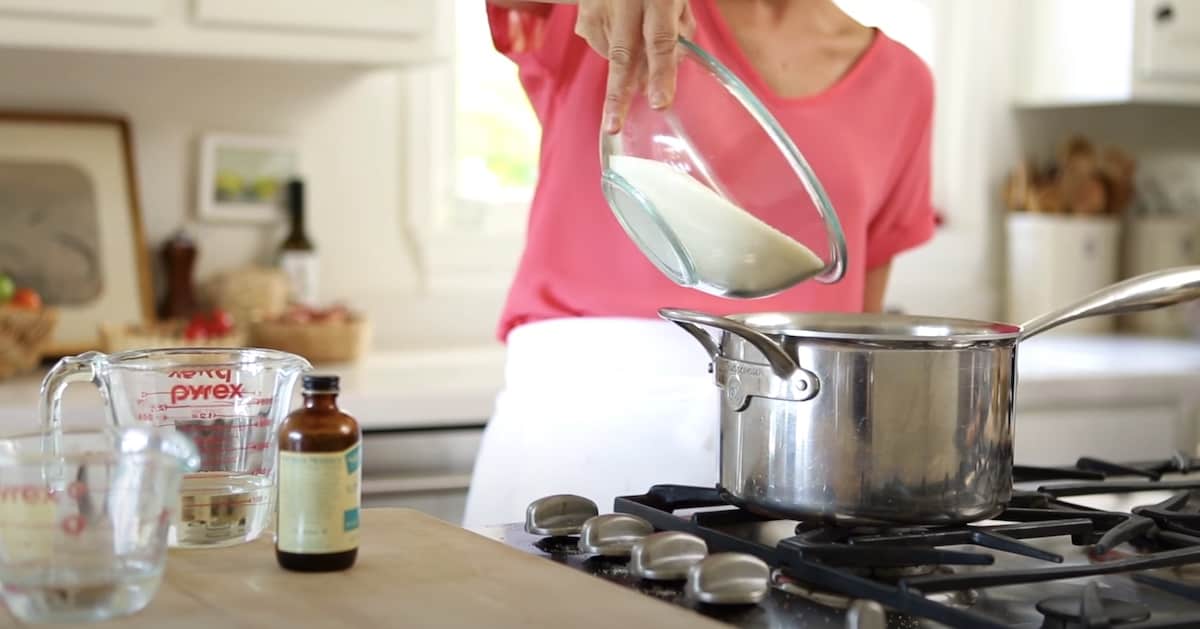 But just continue to stir it with a spatula until the butter melts and the sugar becomes translucent. Then you'll bring it to a boiling simmer. This is where the fun begins!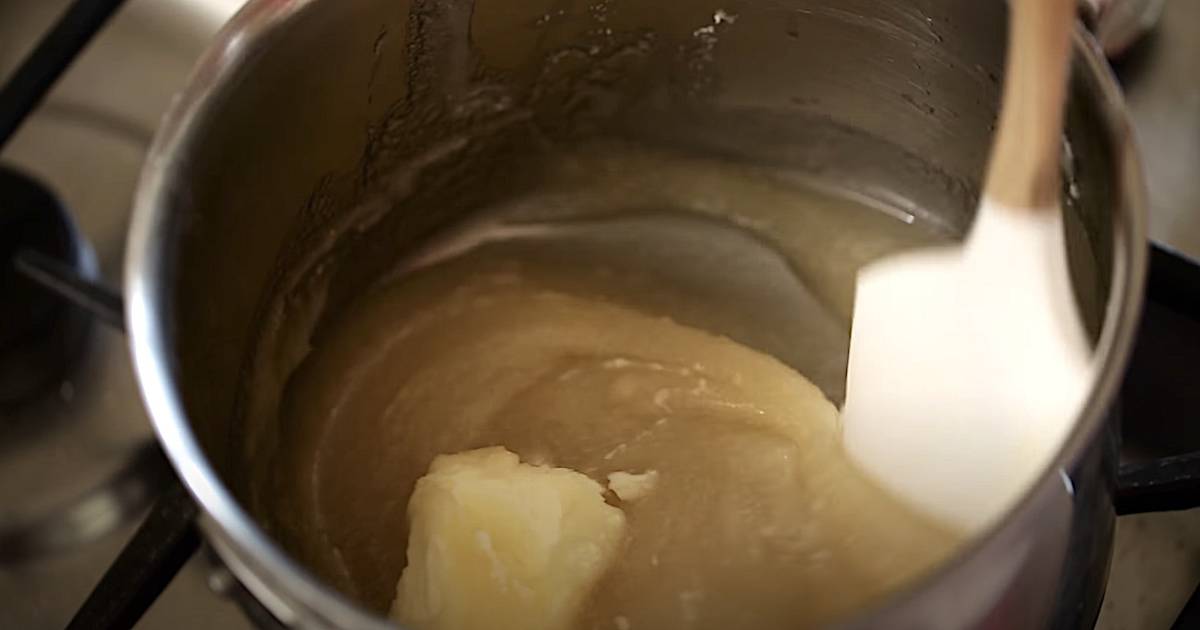 Step#3: Bring the Syrup to 302F
Once the sugar mixture starts to become translucent and boil it will look like this shot above.
This is also the moment to place the candy thermometer in the pot.
Why You Need a Candy Thermometer
A candy thermometer is critical for success!
It will tell you when your sugar syrup has reached 302F, the moment when the peanut brittle will achieve a "hard crack".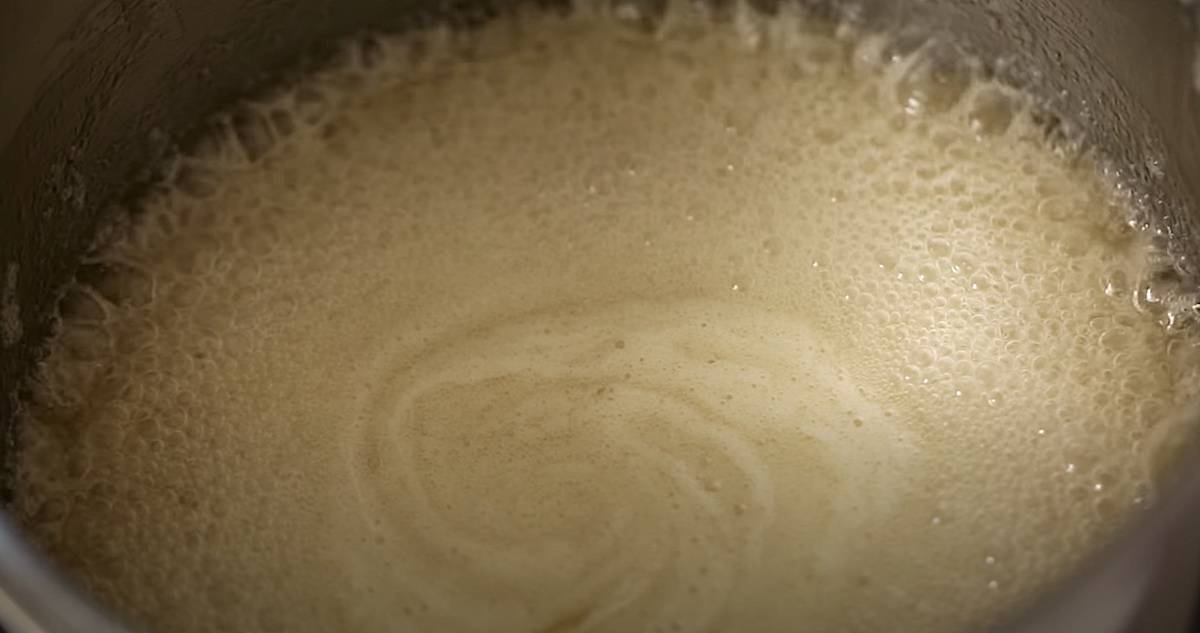 Why is my Peanut Brittle Chewy?
Peanut brittle will become chewy if the peanut brittle syrup does not reach the required temperature of 302F which produces the "hard crack".
If you want a softer peanut brittle more like taffy, take it to a soft crack register between 275F-285F.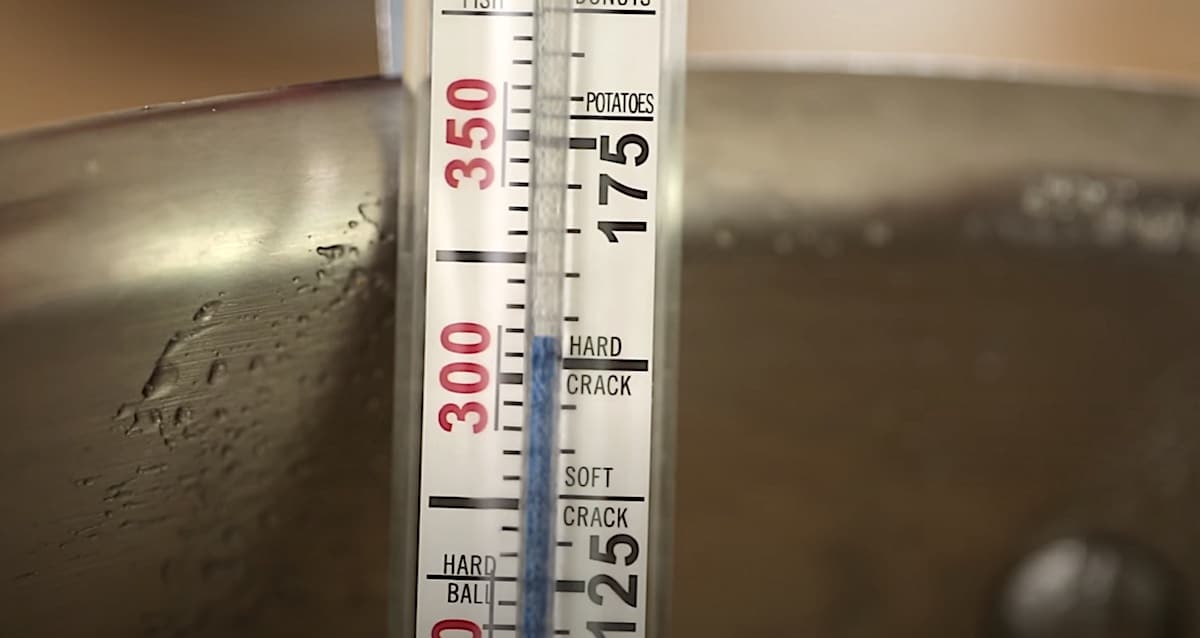 Step#4: Add the Baking Soda
Baking soda is an important component to making a successful peanut brittle because it creates air bubbles in the brittle that make it porous and easier to chew.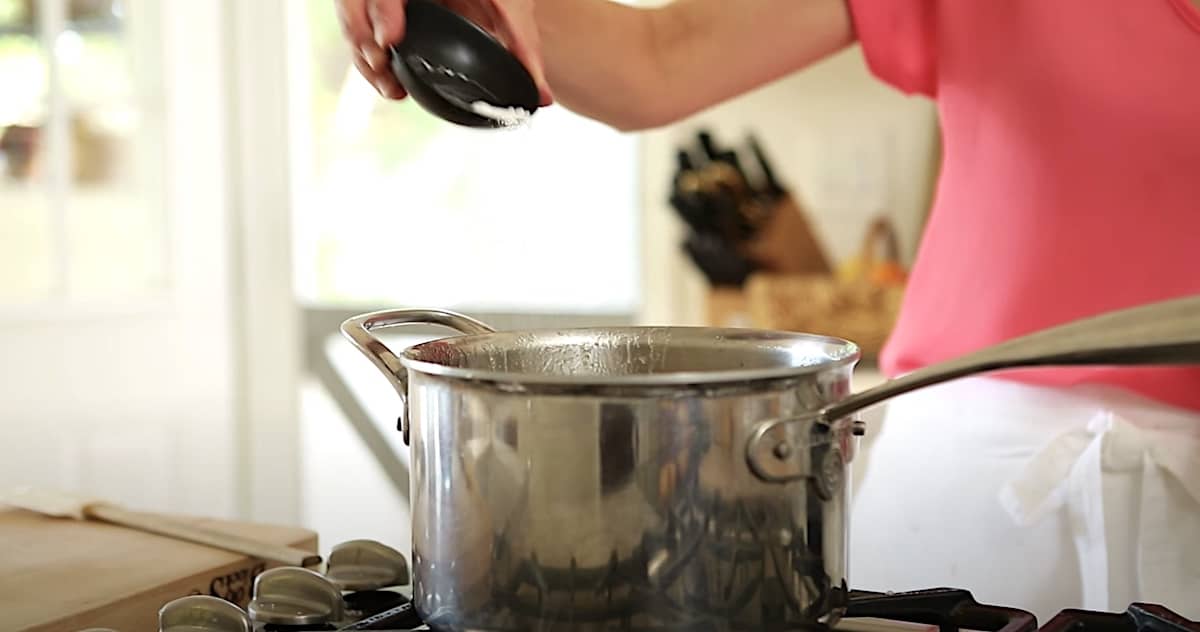 Step#5: Add the Peanuts
At this stage, you'll add the peanuts.
Raw, unsalted peanuts work best for this recipe.
You'll add a bit of salt at the end to the drying peanut brittle which will create a nice sweet and salty flavor.
Be sure to mix the peanuts quickly so that they are completely covered in the thickening syrup.
The syrup hardens quickly so be sure to coat them before the syrup starts to harden or it will become harder to coat the nuts.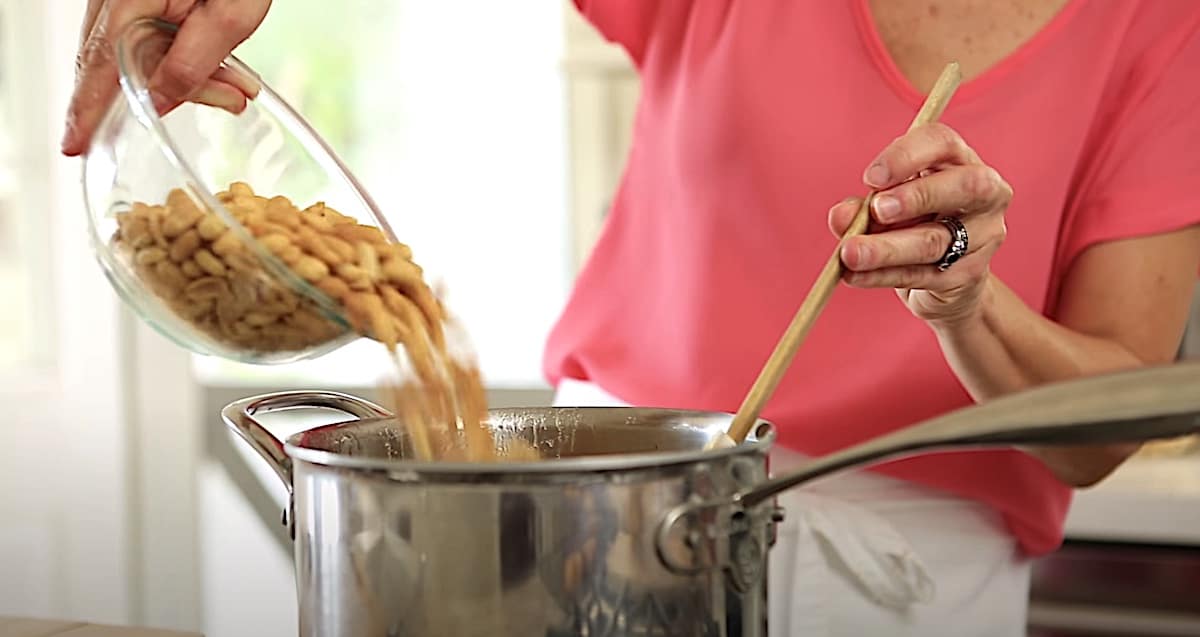 Step#6: Allow Peanut Brittle to Harden
At this stage, work quickly to release the sticky mixture with the greased spatula onto the greased baking sheet.
Spread it out to one level mass. Remember the brittle will ultimately be broken into shards so the shape doesn't matter.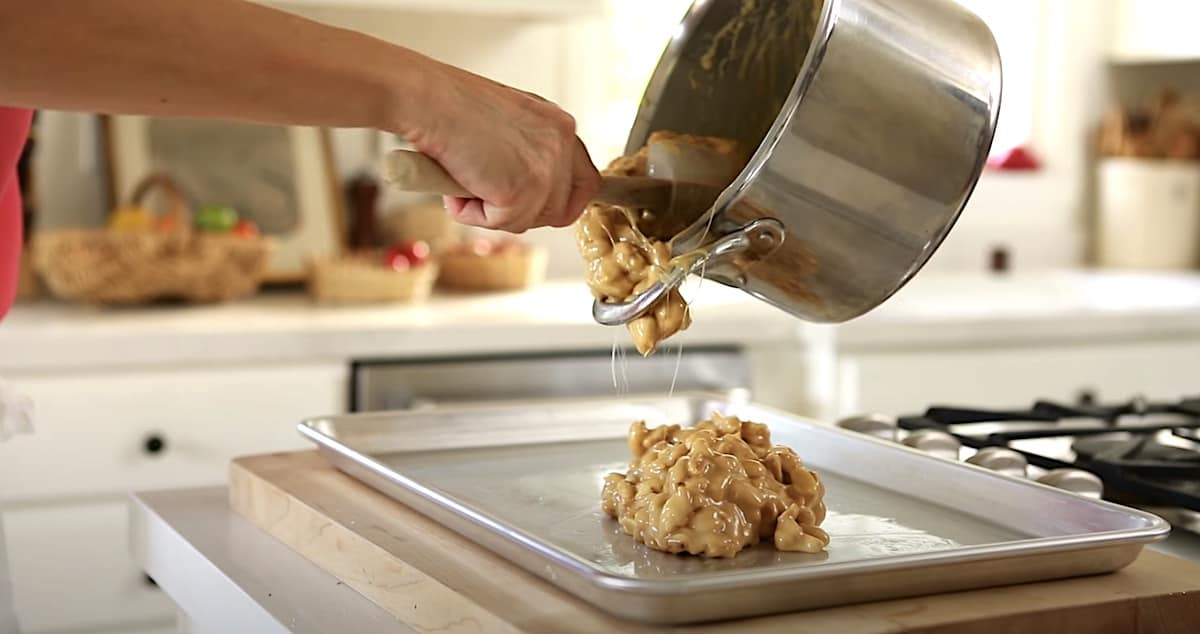 How Thick Should Peanut Brittle Be?
It's important to get a consistent thickness of about ½" thick.
This way the brittle will cool and set at the same rate.
It will also be easier to chew if the brittle is not too thick.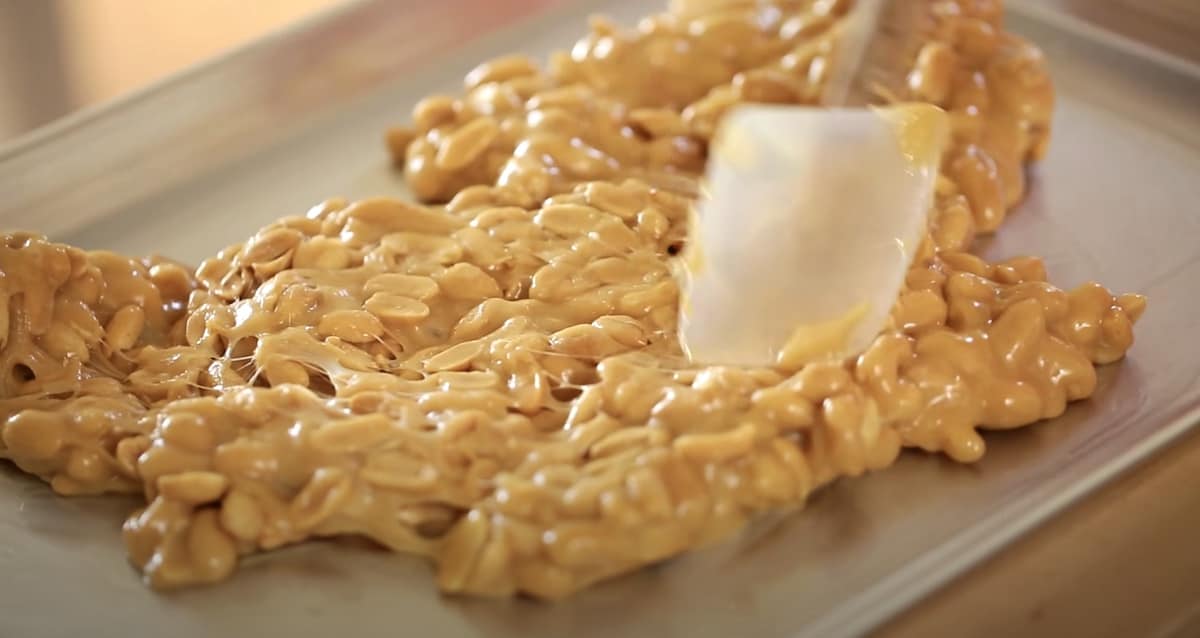 How Long Should You Let Peanut Brittle Cool?
Cooling peanut brittle can vary from recipe to recipe.
It really depends on the ratio of butter, sugar, and cornstarch used.
For this recipe, I recommend allowing the brittle to cool and set, at room temperature, for at least 40 minutes.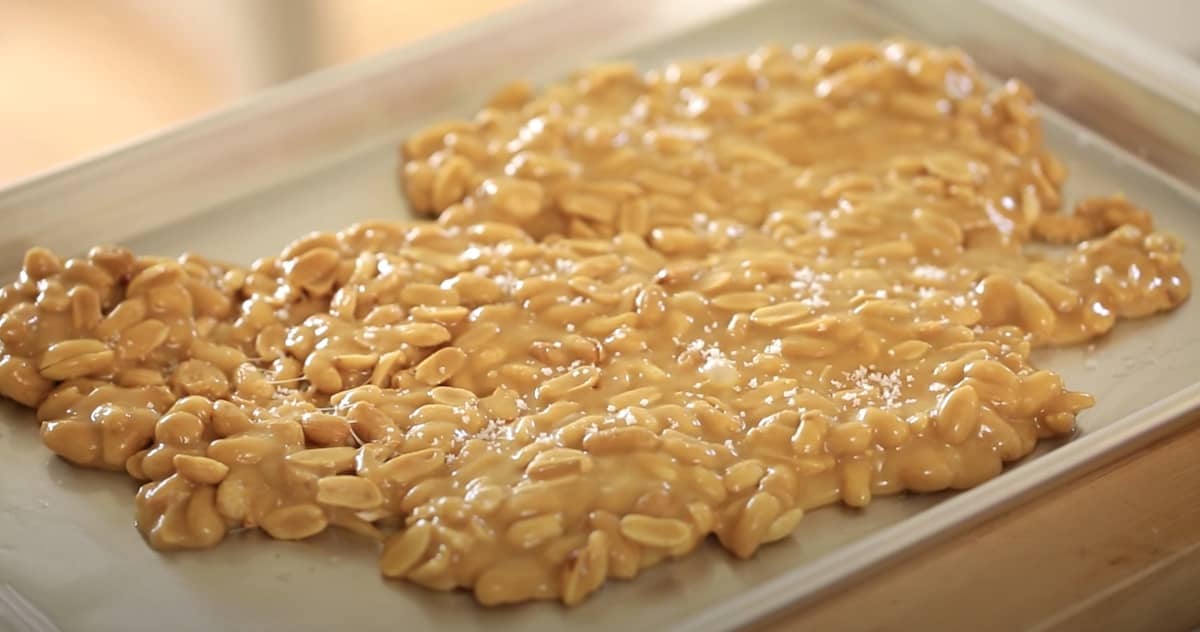 Storing Tips:
Peanut Brittle is best stored at room temperature.
Do not refrigerate or freeze it. Otherwise, the condensation will force the "hard crack" to melt and it will become, sticky and chewy in a not-so-nice way!
Step #7: Break into Shards and Package Up!
Once the brittle is set, you'll be able to pick it up as a solid mass.
I also like the pat the bottom down with a paper towel to soak up any excess butter on the bottom, from the greasing.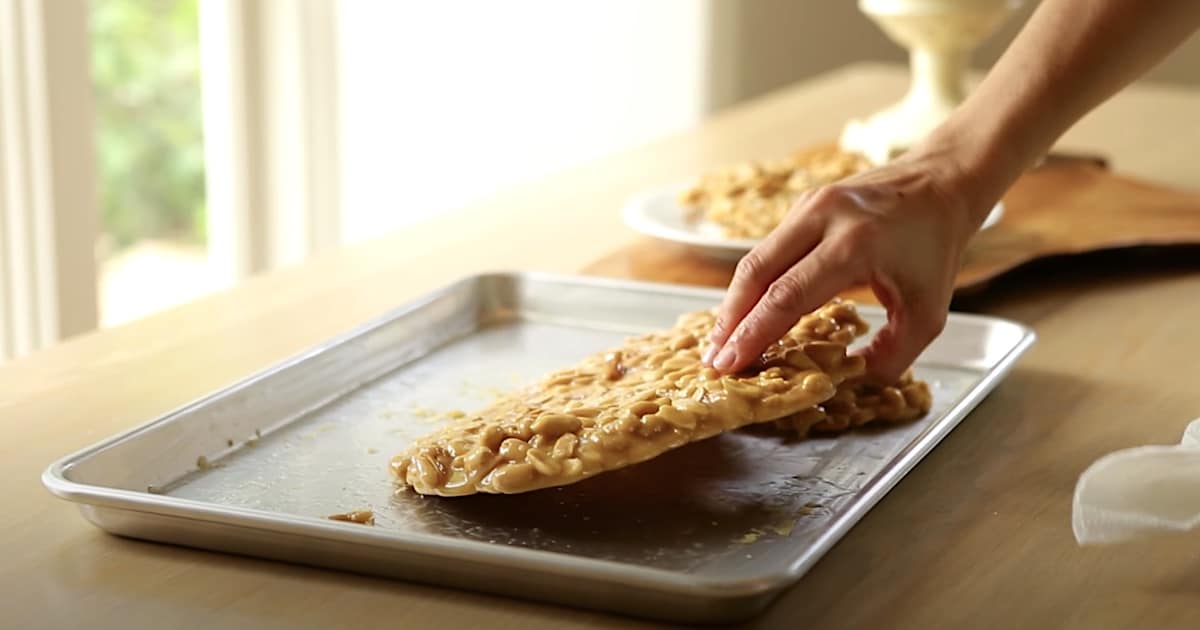 Packaging Tips:
Break the brittle into manageable pieces.
I like to use Chinese takeout containers in plain parchment and then dress them up with gold French wire ribbon, and gold-dipped pinecones.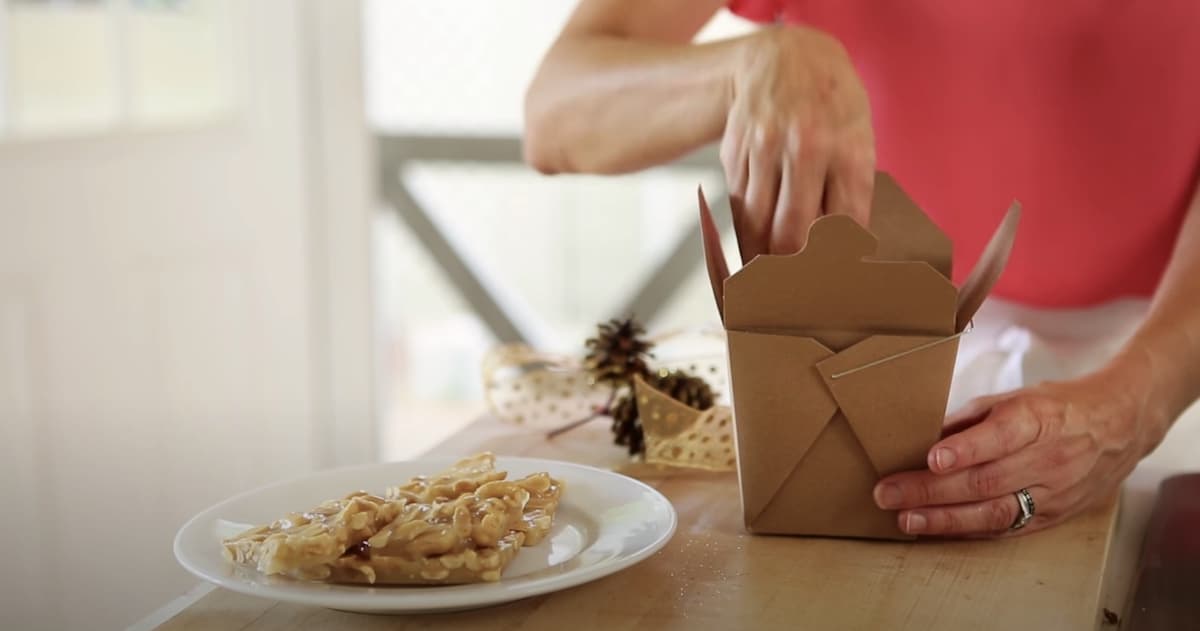 How Long Does Peanut Brittle Last?
The brittle will last for at least 2 weeks at room temperature (if it's not devoured before then!)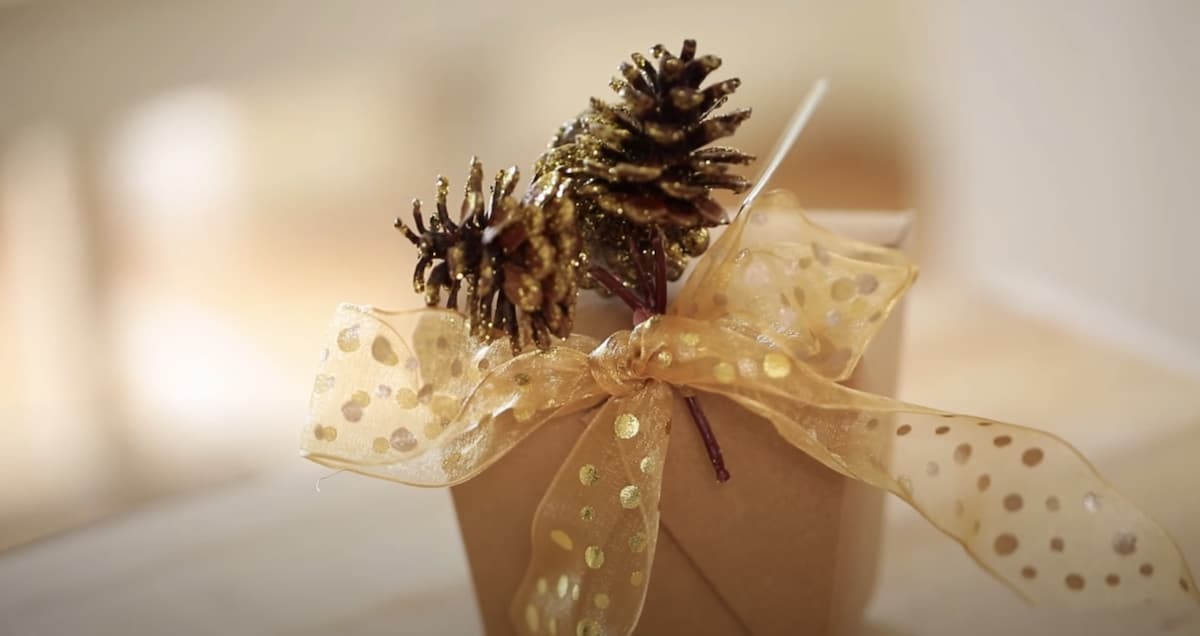 More Food Gift Ideas:
If you enjoyed this recipe
Please leave a rating and a review below!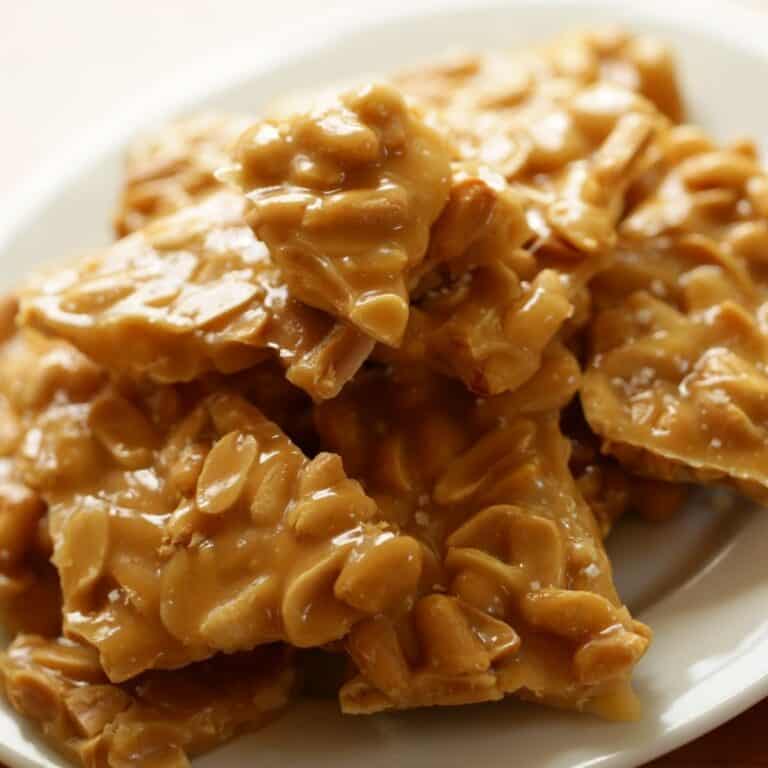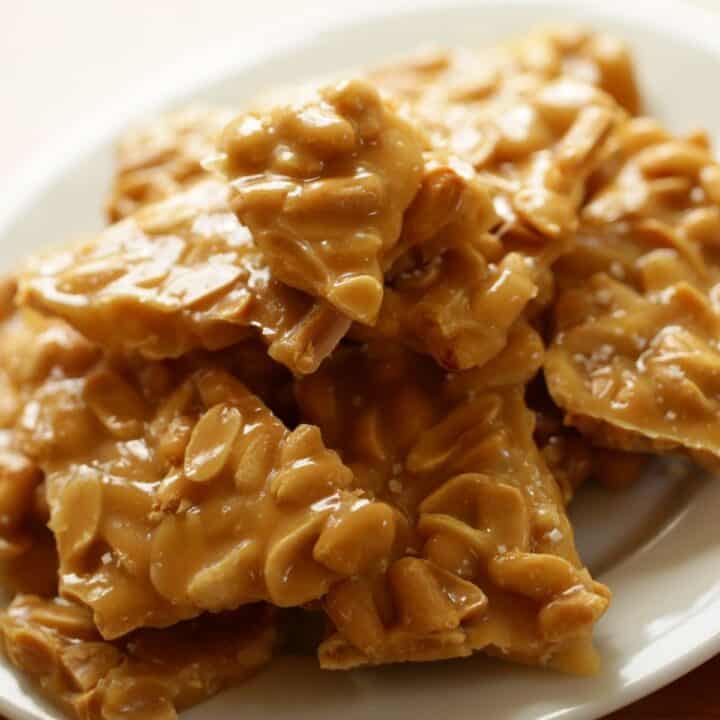 Peanut Brittle Recipe
Additional Time:
40 minutes
Total Time:
1 hour
25 minutes
Peanut Brittle is one of these easiest, most affordable food gifts for holiday gifting! It takes minimal ingredients, most of which you probably have on hand, and can be packaged up in a festive container and given to friends and family throughout the season.
Ingredients
2 ½ cups (500g) white sugar
¼ cup (60 ml) water
6 tablespoon (90g) unsalted butter + 1tbsp (15g) for greasing
½ cup (120ml) light corn syrup *
1 teaspoon (5ml) vanilla
1 teaspoon (5ml) baking soda
¼ teaspoon (1.25ml) fleur de sel + a sprinkle for garnishing
14 ounces (396g) unsalted, peanuts
Instructions
Grease a rim-lined cookie sheet and heat-safe spatula with butter. Set aside.

In a large saucepan, combine the sugar, water, butter, corn syrup, and vanilla. Bring to a boil.

Cook over medium-high heat, stirring periodically until mixtures registers at 302F degrees on a candy thermometer, it should take between 10-15 minutes.

Then turn off the heat and stir in the baking soda. Caution, the mixture will bubble up a bit. This is a necessary step to allow the brittle to have the right brittle texture and break off into pieces. Add the salt.

Stir in the nuts, quickly making sure to incorporate all the nuts with the sugar mixture

Press mixture down with a spatula to form a single even layer about ½" thick. Sprinkle with salt. Allow to cool completely 40 mins.

Break the brittle into shards and package up for friends!
Notes
This recipe makes 2 ½ pounds of peanut brittle which is enough for at least 2 gifts.
Nutrition Information:
Yield:

10
Serving Size:

1
Amount Per Serving:
Calories:

92
Total Fat:

8g
Saturated Fat:

4g
Trans Fat:

0g
Unsaturated Fat:

3g
Cholesterol:

18mg
Sodium:

62mg
Carbohydrates:

6g
Fiber:

0g
Sugar:

6g
Protein:

0g