Mushroom Ragu with Creamy Polenta
This Mushroom Ragu with Creamy Polenta is a fantastic vegetarian recipe for "Meatless Monday". Especially when you want something that doesn't require a lot of pre-planning.
It's quick and easy to throw together on a weeknight and so delicious too! The mushrooms are hearty and flavorful and the polenta is so warm and comforting.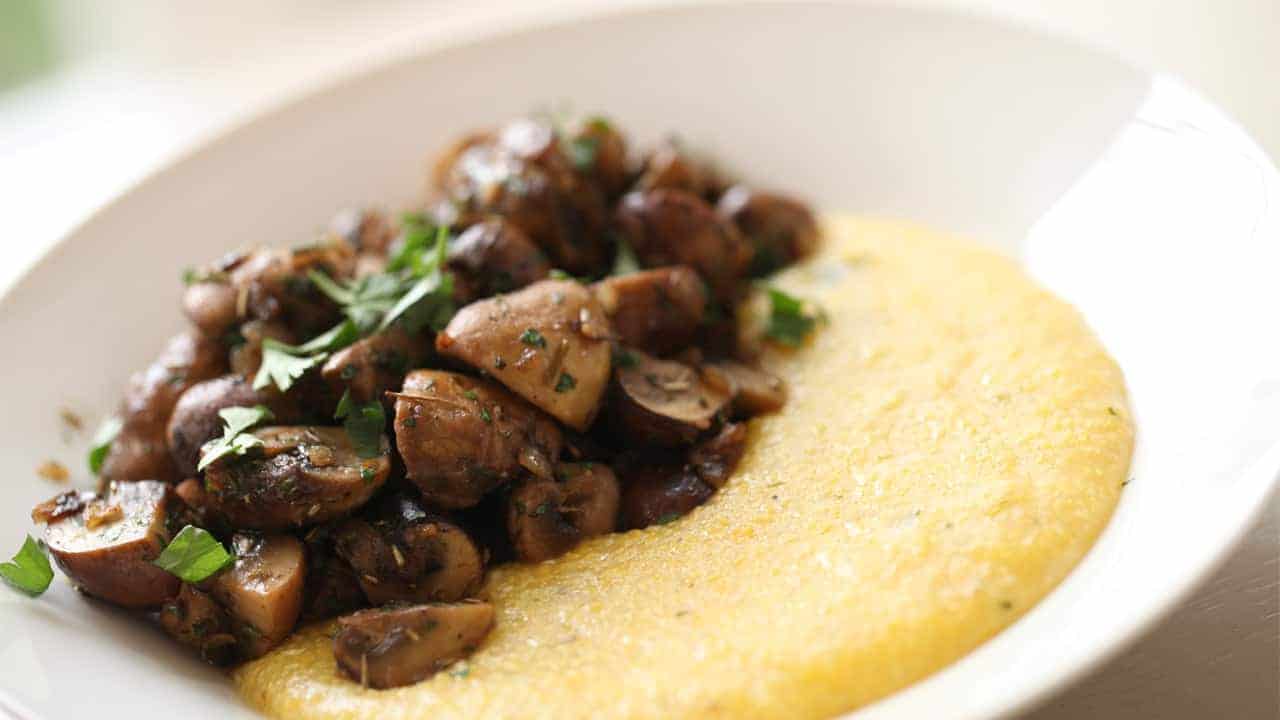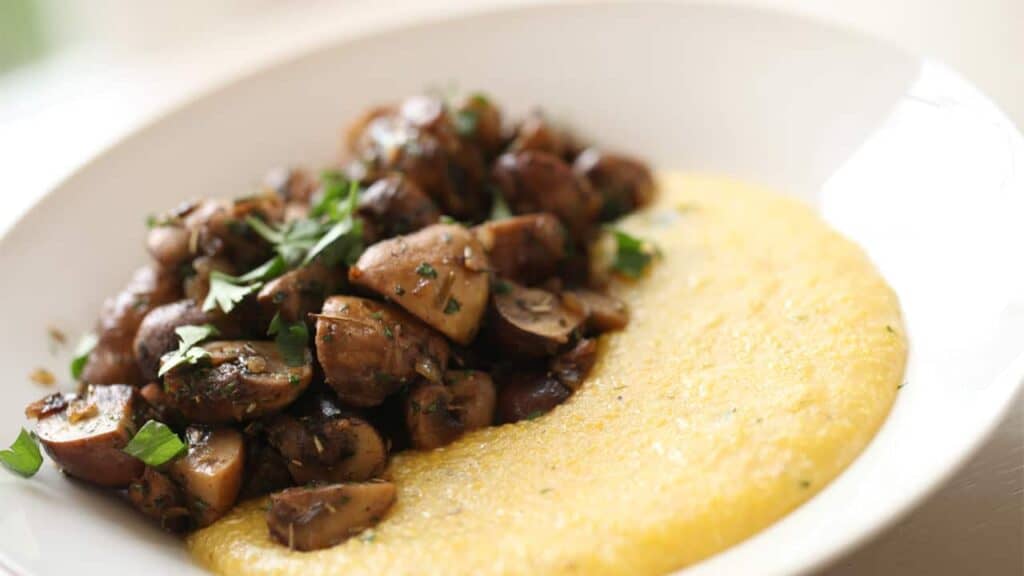 Looking for more vegetarian recipes? Then you must try my Thai Red Curry Recipe, or my Vegetarian Pot Pie, or my Roasted Harvest Salad with Balsamic Vinaigrette.
Watch My Video Demo of This Recipe Below!
STEP#1: Start the Polenta
Polenta is a comfort food staple at my house. I keep a big bag on hand because it's a great starchy side dish you can pair with so many things. It's especially great with my Provencal Chicken Stew.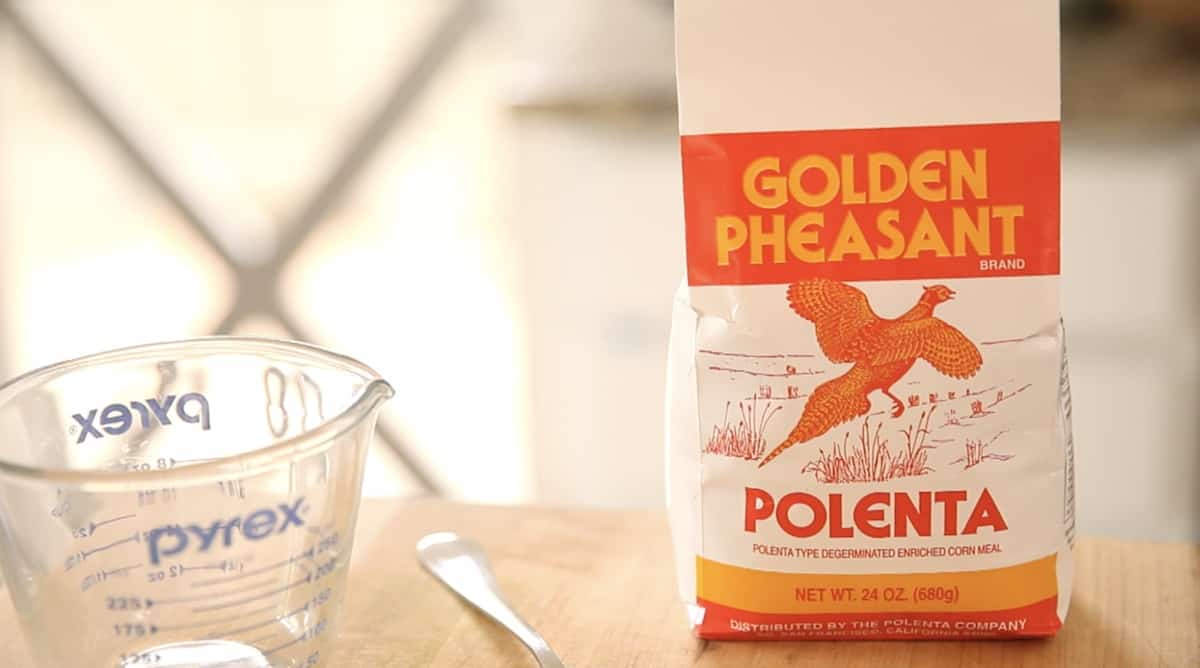 How to Cook Polenta in the Microwave
Cooking polenta on the stovetop can take a bit of time because it needs to be stirred almost constantly or it will scorch. But I've discovered it's just as good when you cook it in the microwave! And it only takes 8 minutes of "hands-free" cooking. Just stir the water and polenta in a large 4-cup Pyrex pitcher and microwave on high for 8 minutes.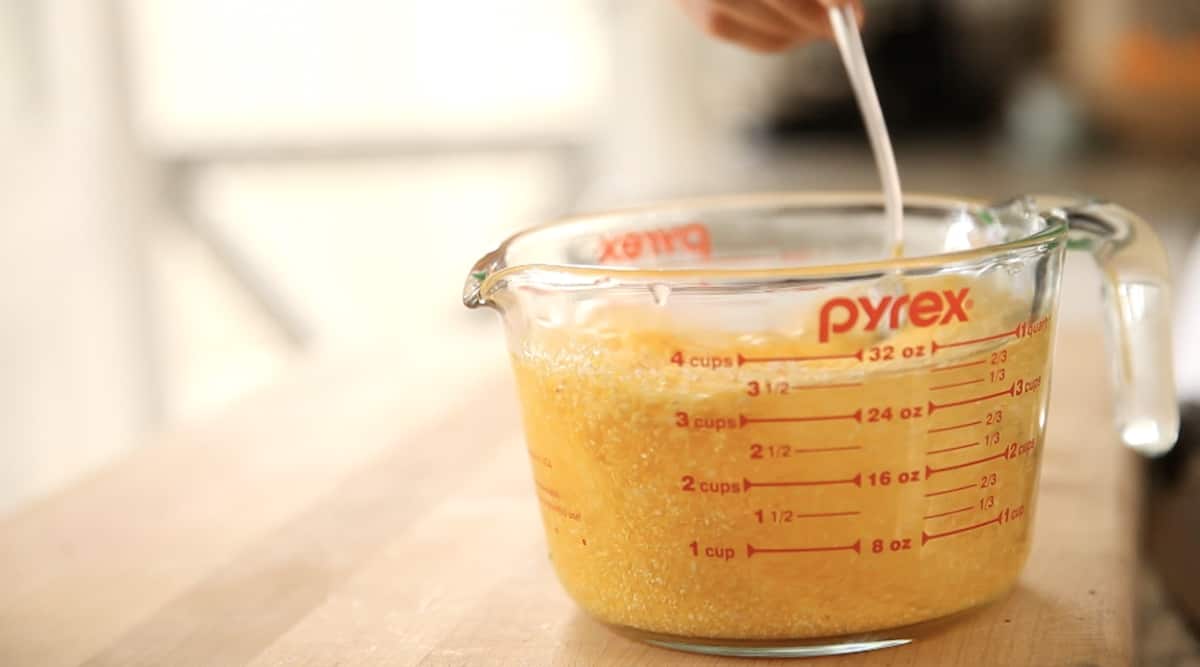 STEP#2: Prep the Mushrooms
While the polenta is cooking you can prep the mushrooms. I like to use a combination of white mushrooms and Cremini mushrooms. But do not submerge them in water to clean them or they will absorb all that water and become mushy.
The best way to clean a mushroom is with a damp paper towel. Brush off any dirt on top and below the cap on the stem. And that's all you need to do.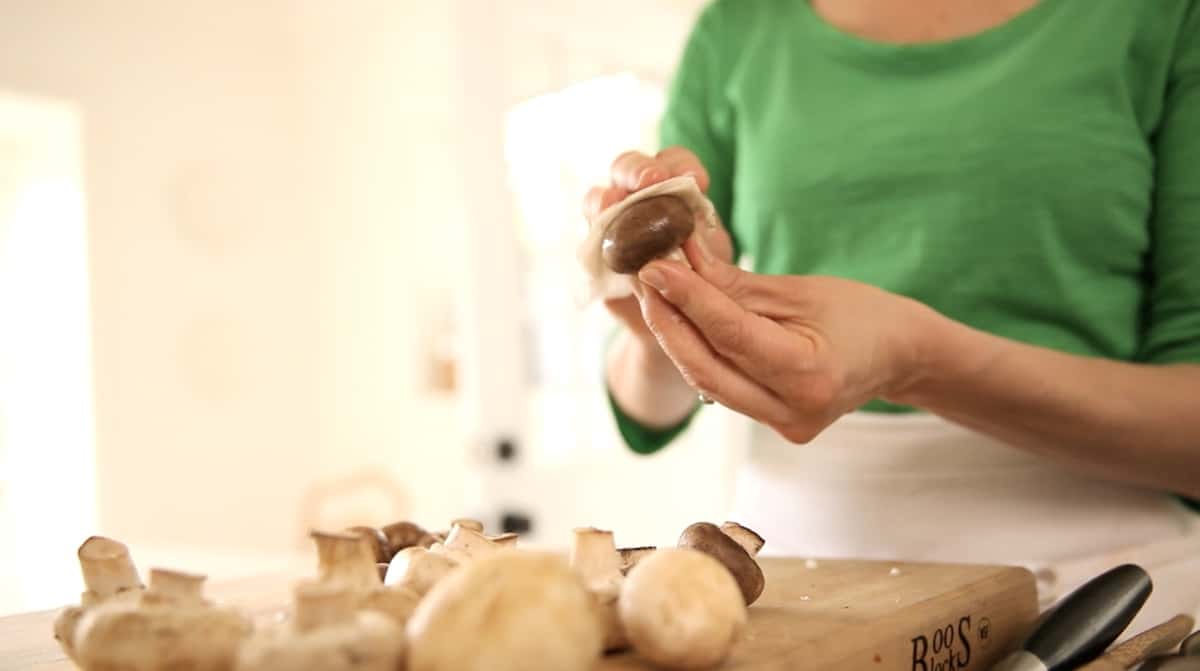 Quarter the Mushrooms
Since the mushrooms are the main ingredient in this recipe, it's best to quarter them instead of slice them. This will give this dish a heartier feel and I find they are more filling this way too.
Then sautee the shallots in oil until they are translucent and fragrant. If you don't have shallots you could also use diced red or white onion or leeks would be lovely too!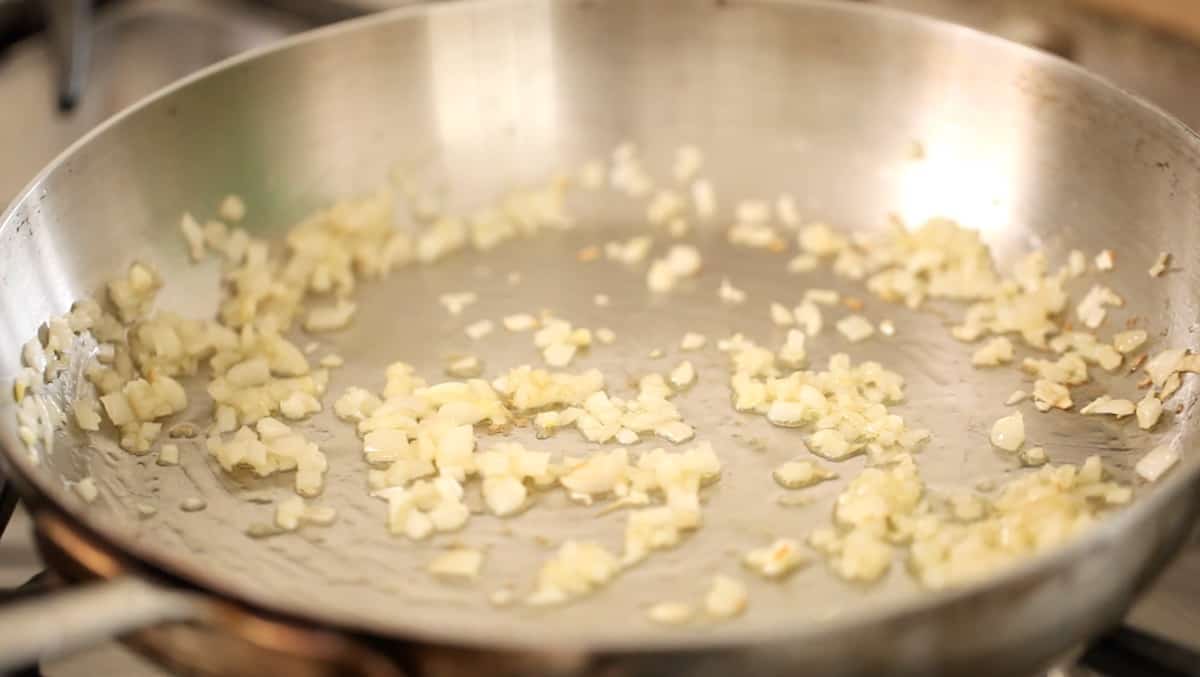 Seasoning the Mushrooms
Mushrooms are little sponges and will absorb any flavor you put against them, and for a mushroom ragu I love the combination of garlic, lemon, and fresh parsley. It gives the mushrooms a wonderful freshness and lightness to them. Once the mushrooms are done you can keep them warm on your cooktop until the polenta is done.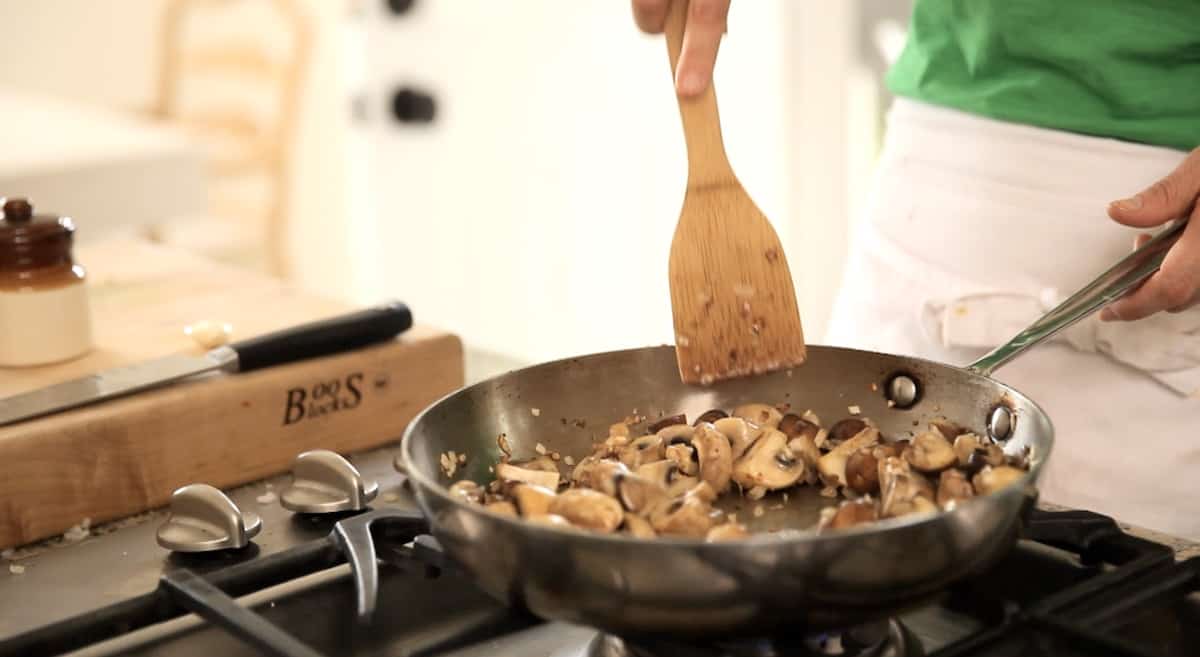 STEP#3: Season the Cooked Polenta
To keep this dish vegan, season with salt, pepper, rosemary, and a drizzle of olive oil. The olive oil keeps the polenta nice and silky smooth and will prevent it from clumping, without the need for butter.
For non-vegans looking for more flavor, you can also add some freshly grated parmesan cheese.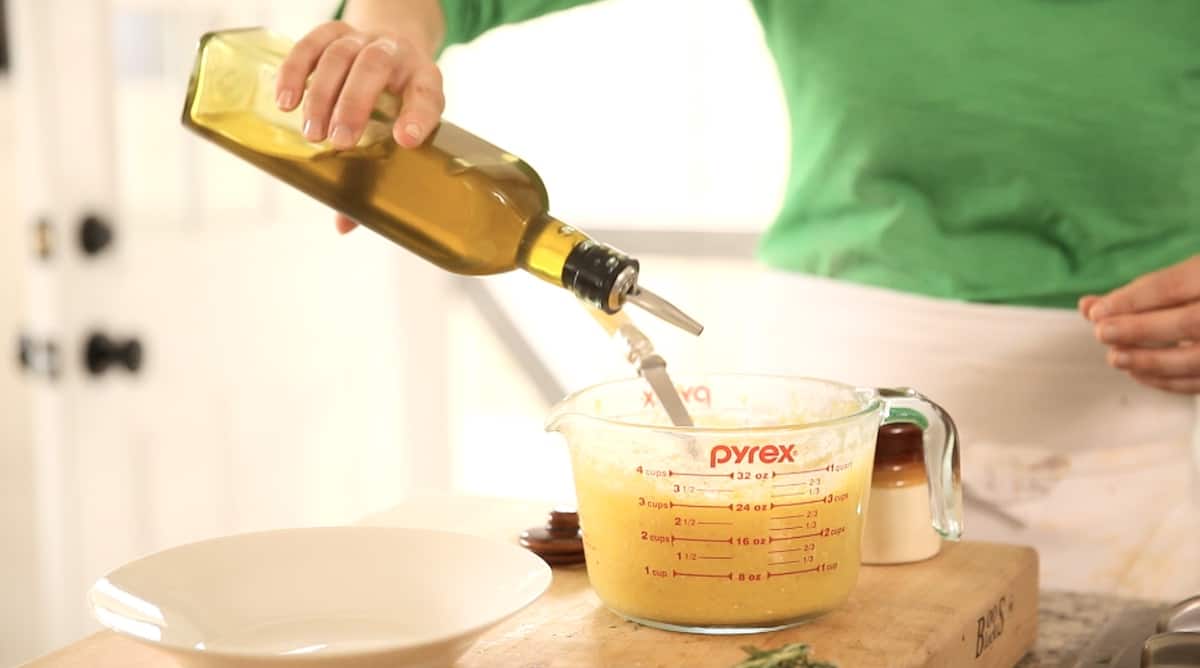 STEP#4: Plate and Serve!
I like to serve the ragu alongside the polenta in shallow white bowls. It looks pretty to devote half the bowl to the polenta and the other half to the mushrooms. I also like to garnish the mushrooms with some roughly chopped parsley.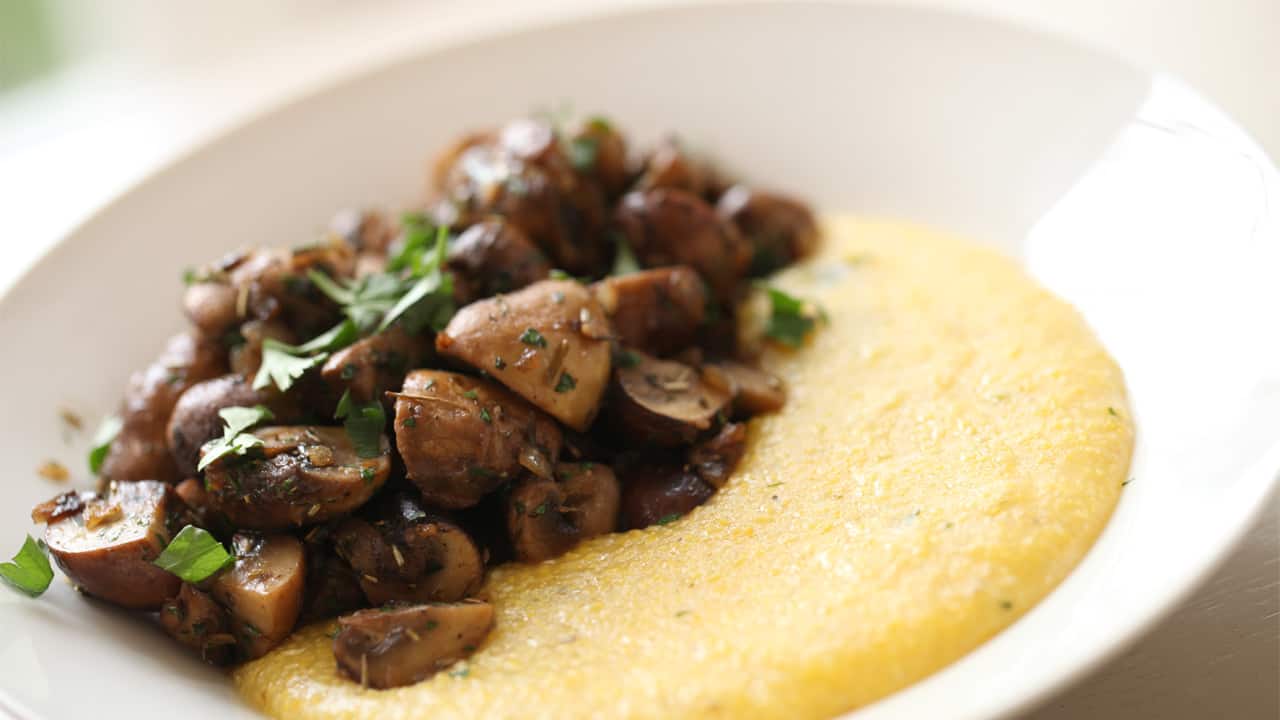 MORE MUSHROOM RECIPES!
If You Enjoyed This Recipe
Please Leave a Rating and a Review Below!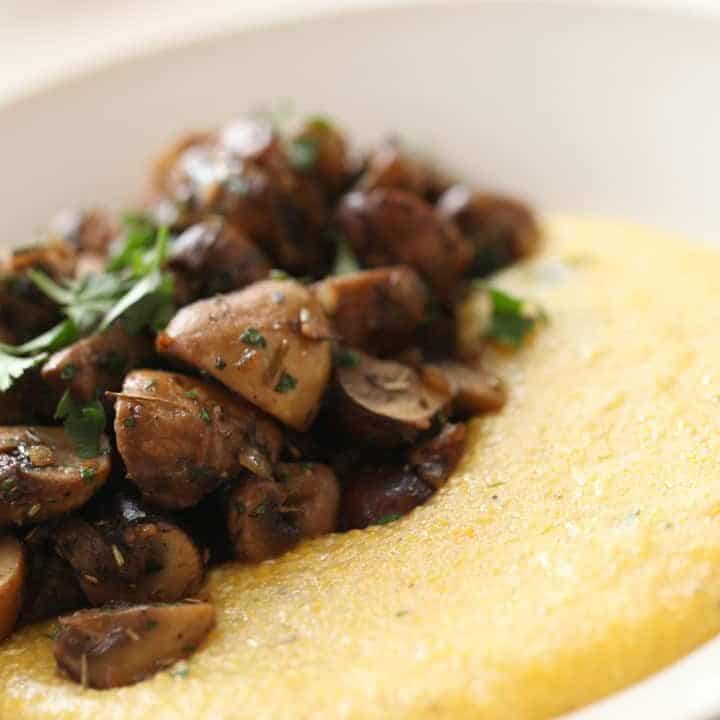 Mushroom Ragout with Polenta
A wonderful vegetarian dinner recipe. That comes together quickly and easily! The mushrooms are so hearty and flavorful and the polenta warm and comforting.
Ingredients
For Polenta:
¾ cup (120 g) of polenta
3 cups (240 ml) of water
½ teaspoon (2.5 ml) salt
1 tablespoon (15 g) butter (optional, if you don't eat dairy replace with a little olive oil)
⅓ cup (30 g) of freshly grated parmesan cheese (optional, if you don't eat cheese replace with some minced rosemary)
For Mushrooms:
1 tablespoon (15 ml) olive oil
1 shallot, minced
½ pound (230 g) of mushrooms (white button and cremini), cleaned and quartered
1 clove of garlic
1 teaspoon (5 ml) herbs de provence
salt and pepper to taste
Freshly squeezed lemon juice, ½ of lemon
1 tablespoon (15 ml) fresh Italian parsley, chopped
Instructions
Place the polenta, water and salt in a microwave safe bowl and microwave on high for 8 mins.
Clean mushrooms by dusting them off with a damp paper towel. Do not submerge in water or they will become soggy. Then quarter mushrooms.
Heat olive oil in a pan, and sauté shallots. Add mushrooms, once they release their juices add garlic, herbs de provence, salt and pepper. Cook for one minute then add lemon juice and Italian parsley. Stir to combine.
By this time the polenta is probably done. If you are not vegan you can add the butter and cheese, and stir. Otherwise if you don't eat dairy or cheese just omit and add some minced rosemary and drizzle with olive oil instead.
Spoon polenta out into one half of a shallow bowl. And then spoon mushrooms into the other half. Et voila dinner is ready! Enjoy!
Recommended Products
As an Amazon Associate and member of other affiliate programs, I earn from qualifying purchases.
Nutrition Information:
Yield:

2
Serving Size:

1
Amount Per Serving:
Calories:

168
Total Fat:

12g
Saturated Fat:

3g
Trans Fat:

0g
Unsaturated Fat:

8g
Cholesterol:

11mg
Sodium:

461mg
Carbohydrates:

15g
Fiber:

3g
Sugar:

2g
Protein:

3g