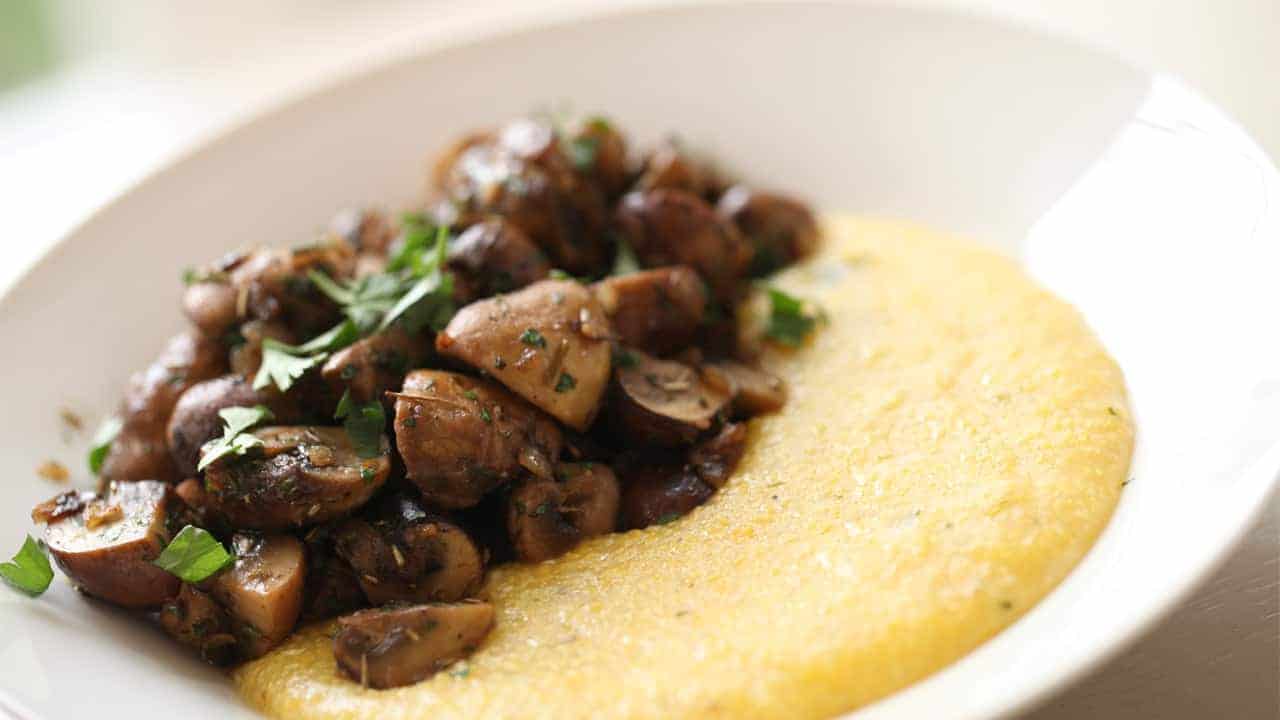 It can be challenging to come up with new ideas for "Meatless Monday".  Especially those that don't require a lot of pre-planning.  That's why I love this recipe, it's so quick and easy and so delicious! 
The mushroom are hearty and flavorful and the polenta so warm and comforting.  The perfect flavor mates in my book!  Enjoy! 🙂
Subscribe to my YouTube Channel and never miss a recipe!  (It's free!) and new videos post every Saturday!
Mushroom Ragout with Polenta
Ingredients
For Polenta:
¾ cup (120 g) of polenta
3 cups (240 ml) of water
½ tsp (2.5 ml) salt
1 tbsp (15 g) butter (optional, if you don't eat dairy replace with a little olive oil)
1/3 cup (30 g) of freshly grated parmesan cheese (optional, if you don't eat cheese replace with some minced rosemary)
For Mushrooms:
1 tbsp (15 ml) olive oil
1 shallot, minced
½ pound (230 g) of mushrooms (white button and cremini), cleaned and quartered
1 clove of garlic
1 tsp (5 ml) herbs de provence
salt and pepper to taste
Freshly squeezed lemon juice, ½ of lemon
1 tbsp (15 ml) fresh Italian parsley, chopped
Instructions
Place the polenta, water and salt in a microwave safe bowl and microwave on high for 8 mins.
Clean mushrooms by dusting them off with a damp paper towel. Do not submerge in water or they will become soggy. Then quarter mushrooms.
Heat olive oil in a pan, and sauté shallots. Add mushrooms, once they release their juices add garlic, herbs de provence, salt and pepper. Cook for one minute then add lemon juice and Italian parsley. Stir to combine.
By this time the polenta is probably done. If you are not vegan you can add the butter and cheese, and stir. Otherwise if you don't eat dairy or cheese just omit and add some minced rosemary and drizzle with olive oil instead.
Spoon polenta out into one half of a shallow bowl. And then spoon mushrooms into the other half. Et voila dinner is ready! Enjoy!
Never miss a recipe! Subscribe to my YouTube Channel! New recipes posted weekly!