Air Fryer Brussel Sprouts
Air fryer Brussel Sprouts is one of my favorite air fryer recipes because they cook in half the time than in a regular oven! They also get really crispy and charred and become evenly roasted, without any flipping involved.
So if your goal is to eat better in the new year but eating more vegetables is a challenge, then try air frying vegetables! They are quick, easy and so delicious too!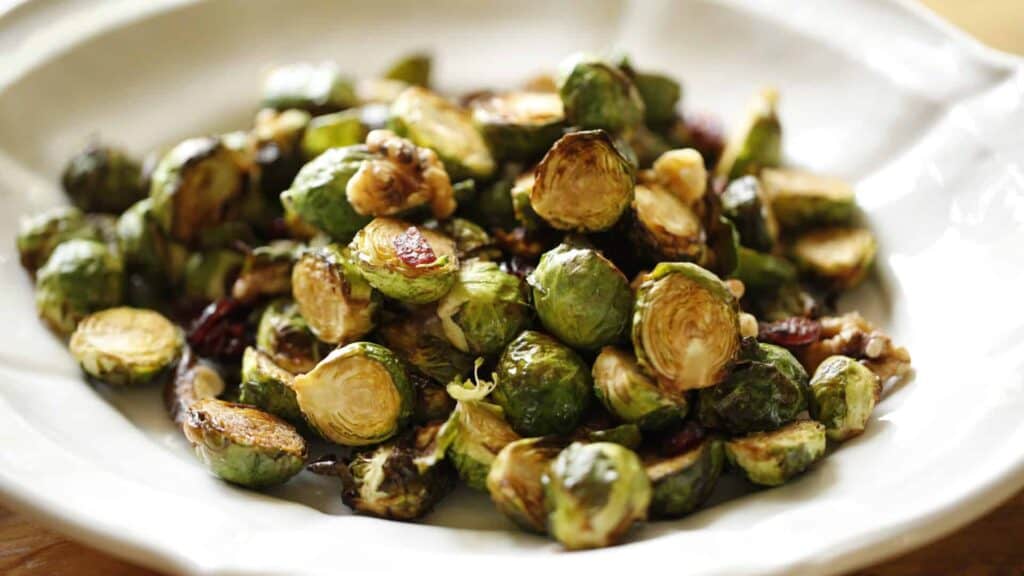 New to Air Frying? Check out my Top 10 Easy Air Fryer Recipes for more easy and delicious air fryer ideas! From perennial favorites like Air Fryer Taquitos to new things you maybe didn't realize you can Air Fryer Blueberry Muffins or Crustless Quiche.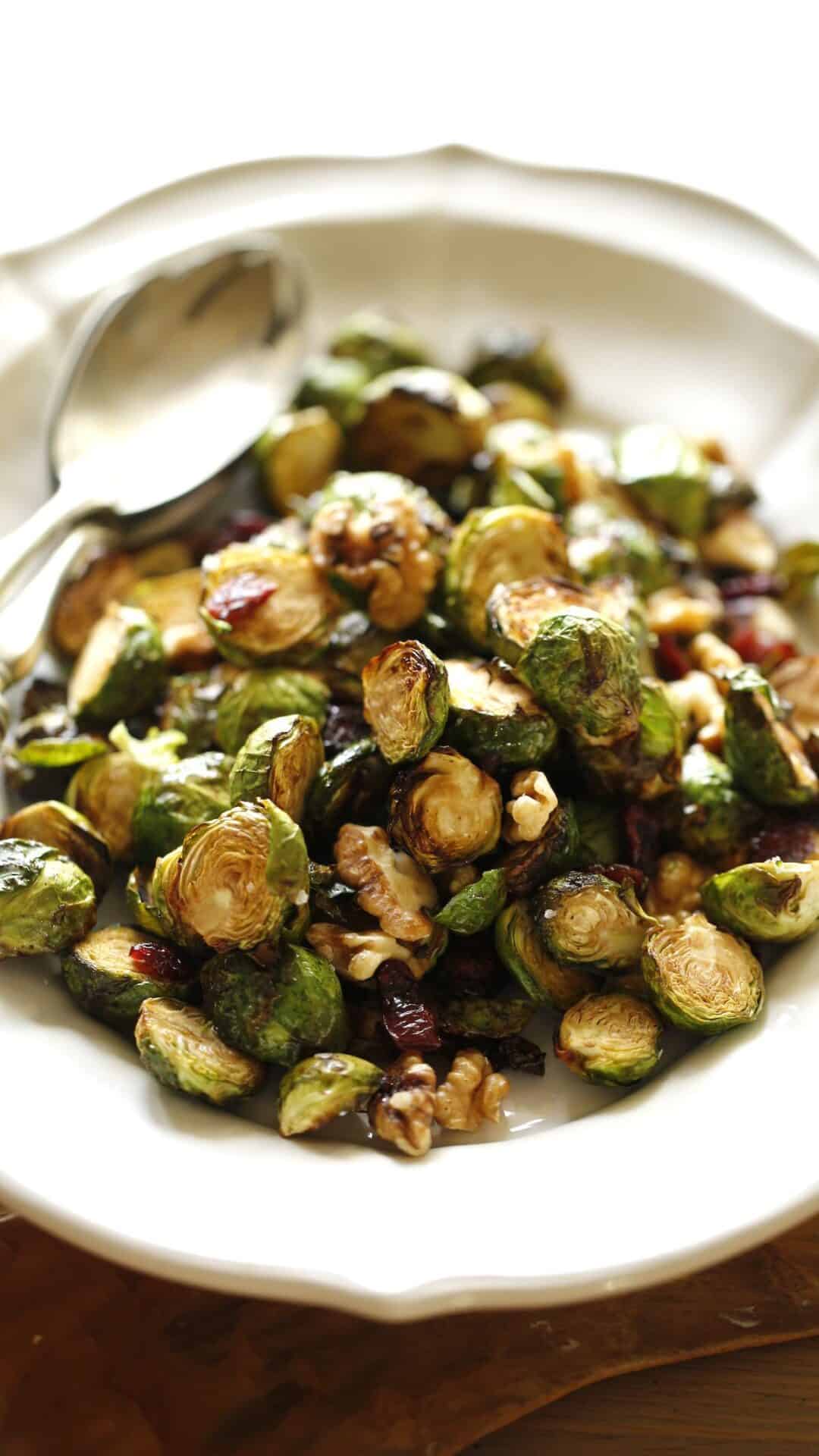 WATCH A VIDEO DEMO OF THIS RECIPE BELOW!
What To Serve with Air Fryer Brussel Sprouts?
I love to serve this recipe with my One-Pot Chicken and Potato recipe or my Chicken Marsala.
Or you could also pair these Air Fryer Brussel sprouts with my Air Fryer Cauliflower recipe along with some Homemade Hummus or Baba Ganoush for a delicious Vegetarian Dinner!
STEP#1: Prep the Brussel Sprouts
Brussel sprouts are pretty dense, so the smaller variety tends to work a bit better for air frying. They will cook quicker and be more tender inside. If your sprouts are larger just cut them in quarters.

Cut Sides Create Better Charring
Trim off the ends of the Brussel sprouts and any loose or damaged leaves. Then slice them in half. The cut side is what will create the beautiful charring and caramelization of the sprouts, which is what makes them so delicious!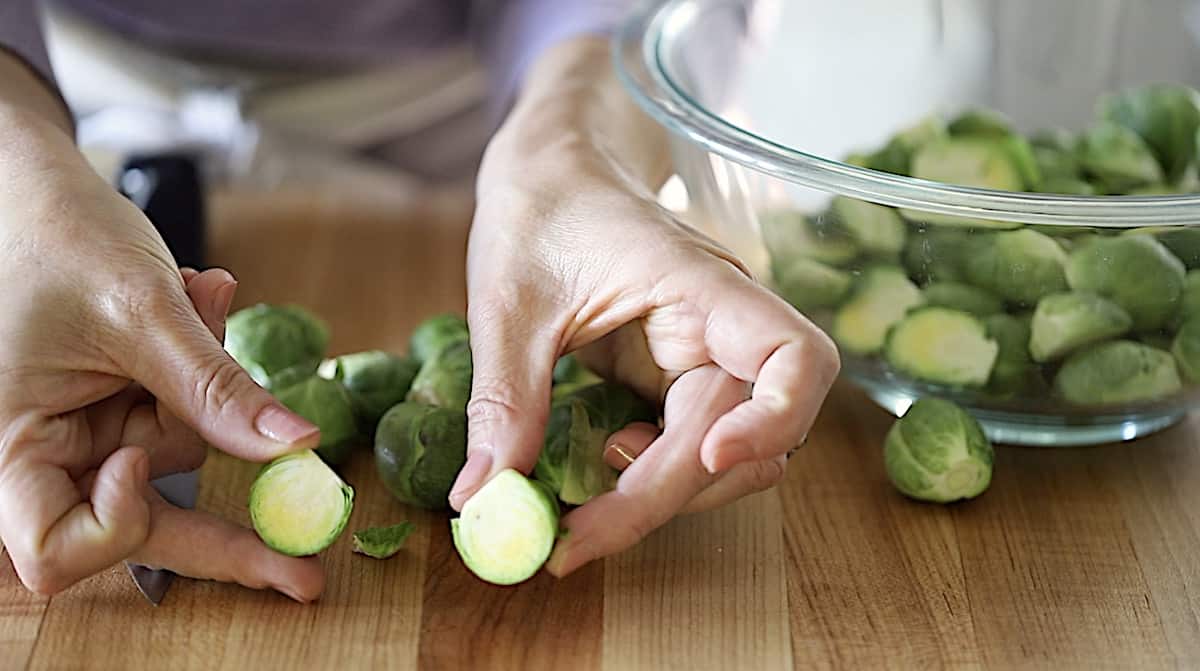 The more cuts you have the more caramelization you will get, so even if your sprouts are small, you could quarter them and fry less time for greater caramelization and crispiness.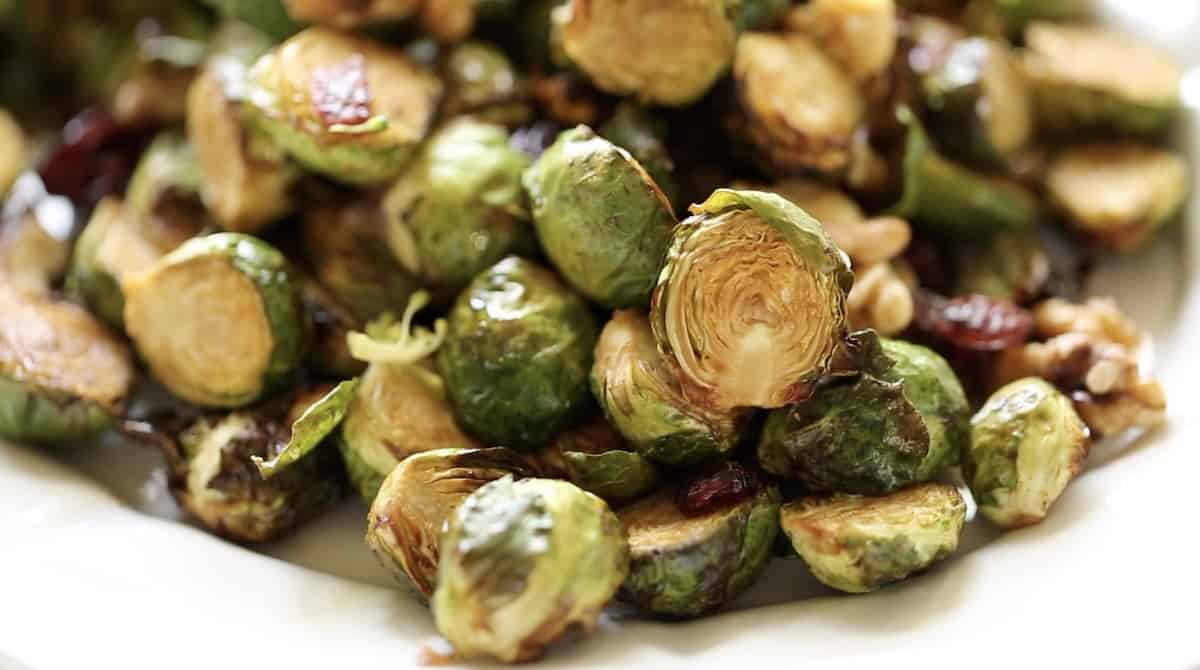 STEP#2: Toss with Seasonings
It's best not to use too much oil in your air fryer or it could affect its operation. But I find air fryer vegetables need just a bit of oil to get the best crispiness. The best way to add a little oil without over-doing it, is with an olive oil spray bottle.
This creates just a thin layer of oil which in addition to flavor also adds to the crispiness. All it takes is 2-3 sprays of olive oil on the Brussel sprouts. It's also fewer calories this way too!

It's all About the Balsamic Vinegar
What gives these Brussel sprouts so much flavor, is the balsamic vinegar. It will cook into the Brussel sprouts and caramelize, giving your sprouts a sweet yet savory coating.
Be sure to toss them up well with tongs, to allow the olive oil, salt, and pepper, and vinegar to evenly coat the sprouts.

STEP#3: Air Fry 375F
Then transfer the Brussel Sprouts into the air fryer. Set the temperature at 375F and air fry for 12 minutes. At this stage, they will already be charred and mostly cooked through. Then you'll add the dried cranberries and walnuts and fry for another 1-2 minutes.
This will allow the nuts to become toasted which will bring out their flavor and warm the cranberries which will soften them. This is a wonderful vegetable side dish that comes together so quickly and easily!

Blue Cheese Optional
Another delicious addition to this recipe would be to add some blue cheese on top, as soon as they come out of the air fryer. The heat from the sprouts will soften the cheese and warm it too. The blue cheese combined with the walnuts, cranberries, and balsamic vinegar, is a fantastic flavor combination!
Or serve them chilled and serve them with a Honey Balsamic Vinaigrette, which makes for a wonderful chilled salad for holiday entertaining too.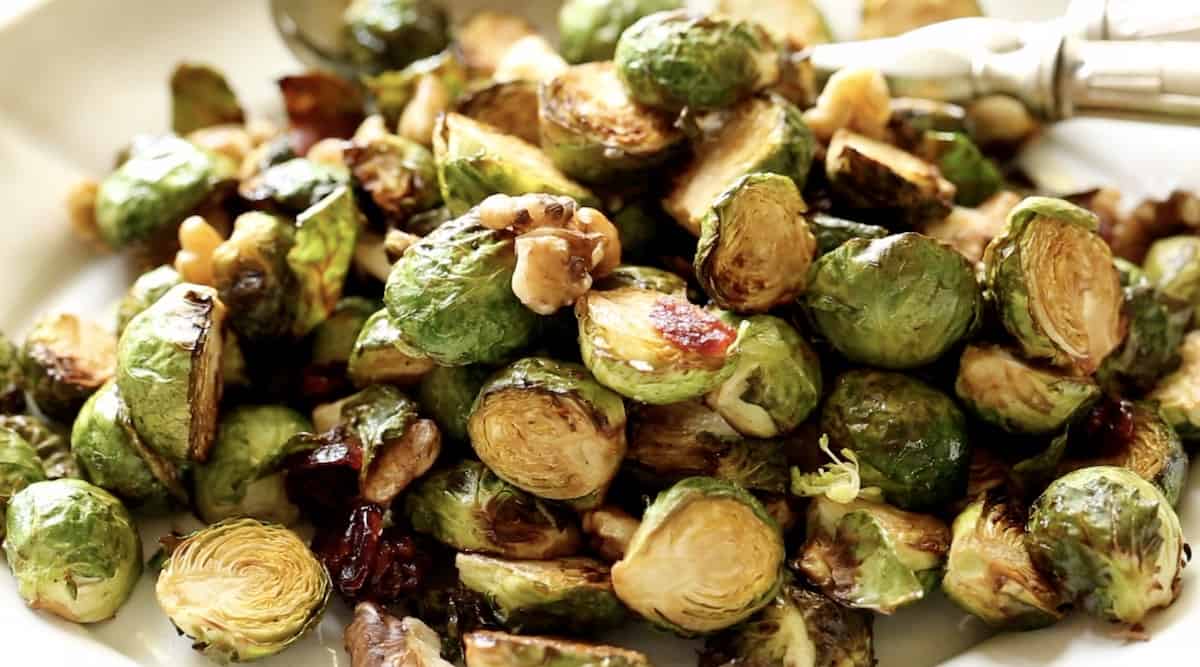 More Vegetarian Recipes!
If You Enjoyed this Recipe
Please Leave a Rating and a Review Below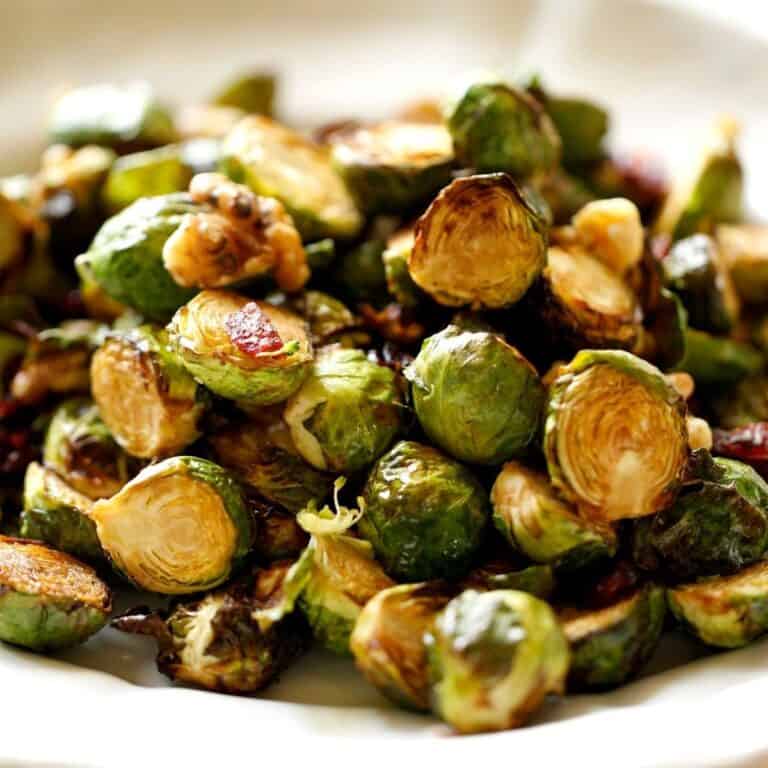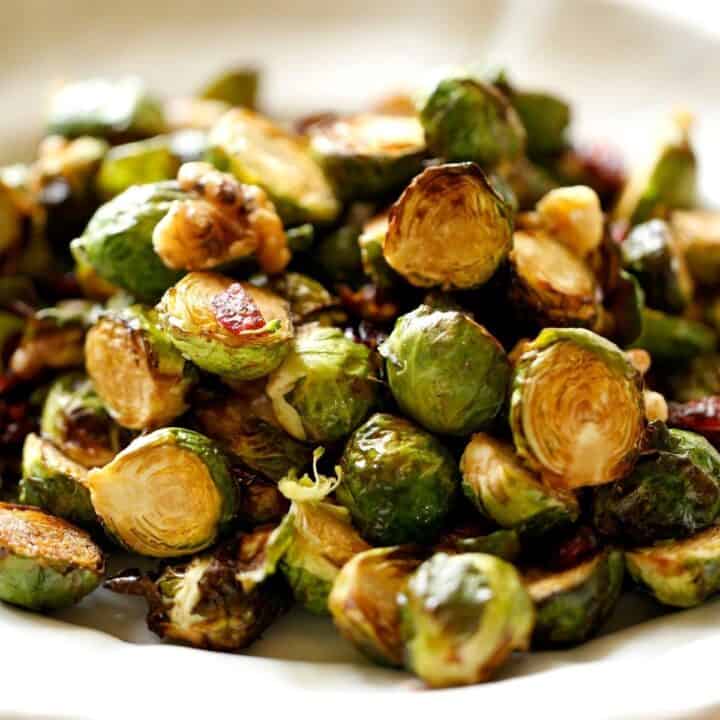 Air Fryer Brussel Sprouts
Delicious Air Fryer Brussel Sprouts with a balsamic glaze, toasted walnuts, and dried cranberries. A fantastic side dish for chicken!
Ingredients
1 lb (450g) small Brussel sprouts
2-3 sprays of olive oil spray
Salt and pepper to taste
1 tablespoon (15 ml) balsamic vinegar
⅓ cup walnuts
¼ cup dried cranberries
Instructions
Slice Brussel sprouts in half and place them in a medium bowl. Toss with olive oil, salt, pepper, and balsamic vinegar.
Place in the air fryer at 375F (190C) for 13 minutes. Then add the walnuts and cranberries and
cook for 1 more minute.
Serve immediately or allow to cool and serve chilled with my Honey Balsamic Vinaigrette.


Notes
All Air Fryers operate a bit differently. You may need to adjust the time or temperature for your individual model. To be safe, air fry for 10 minutes to start and increase the time as needed.
Nutrition Information:
Yield:

4
Serving Size:

1
Amount Per Serving:
Calories:

179
Total Fat:

16g
Saturated Fat:

2g
Trans Fat:

0g
Unsaturated Fat:

13g
Cholesterol:

0mg
Sodium:

76mg
Carbohydrates:

10g
Fiber:

1g
Sugar:

8g
Protein:

1g