Have you ever wondered if you could make eggs in the air fryer? Me too! That's when I tried this Broccoli and Cheddar air fryer quiche and oh my is it delicious!
NOTE: This post contains affiliate links to products I believe in. As an Amazon affiliate, I am compensated for products sold at no cost to the consumer.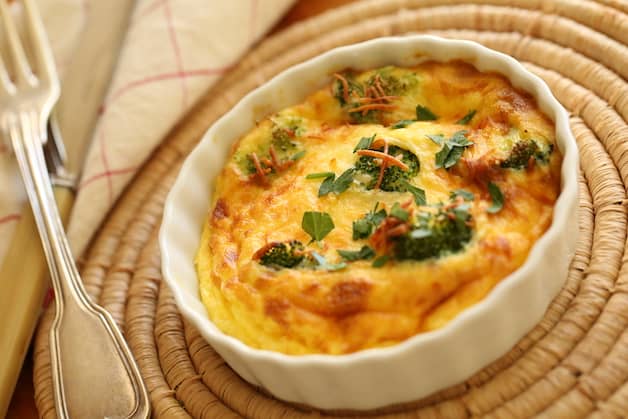 The air fryer does something to eggs that makes them so light and fluffy and completely delicious! It must be all that air circulating?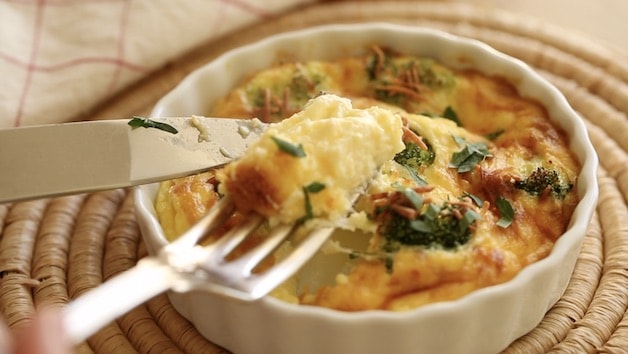 This quiche only takes 10-minutes to assemble and 10-minutes to cook, so if you are looking for easy air fryer breakfast recipes this is a great one for the repertoire! You could round out your breakfast with my Air Fryer Muffins!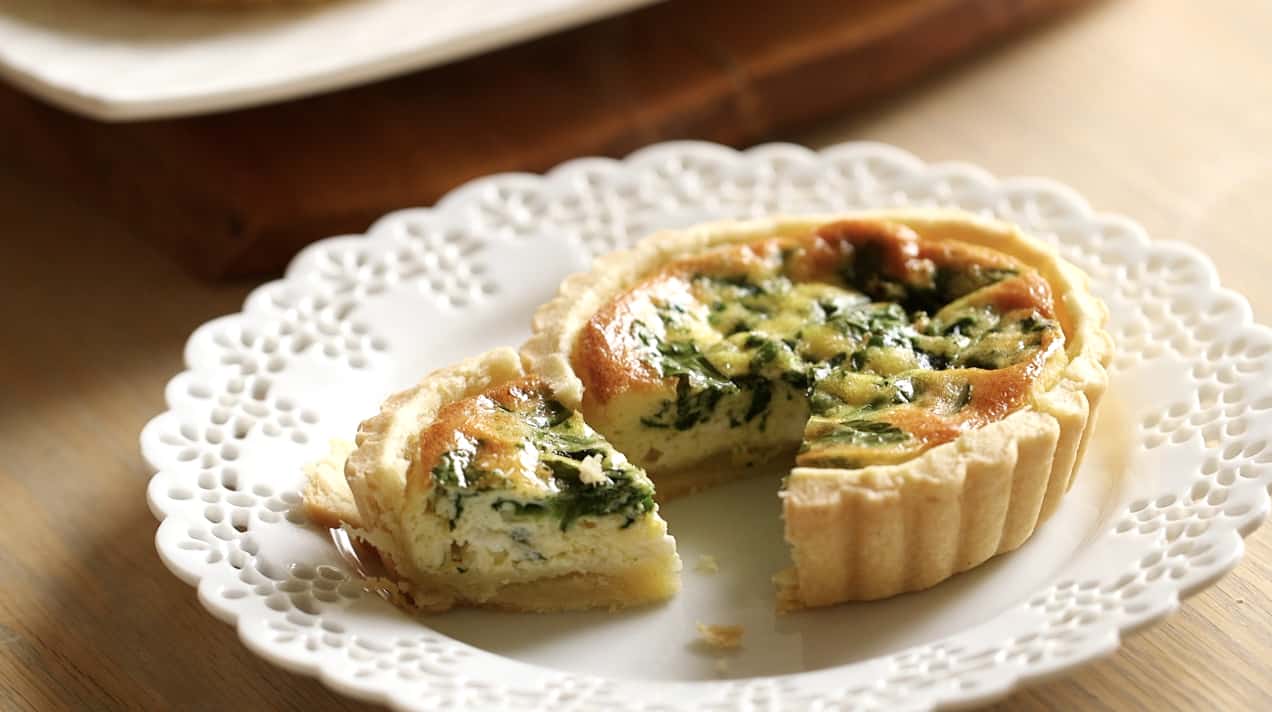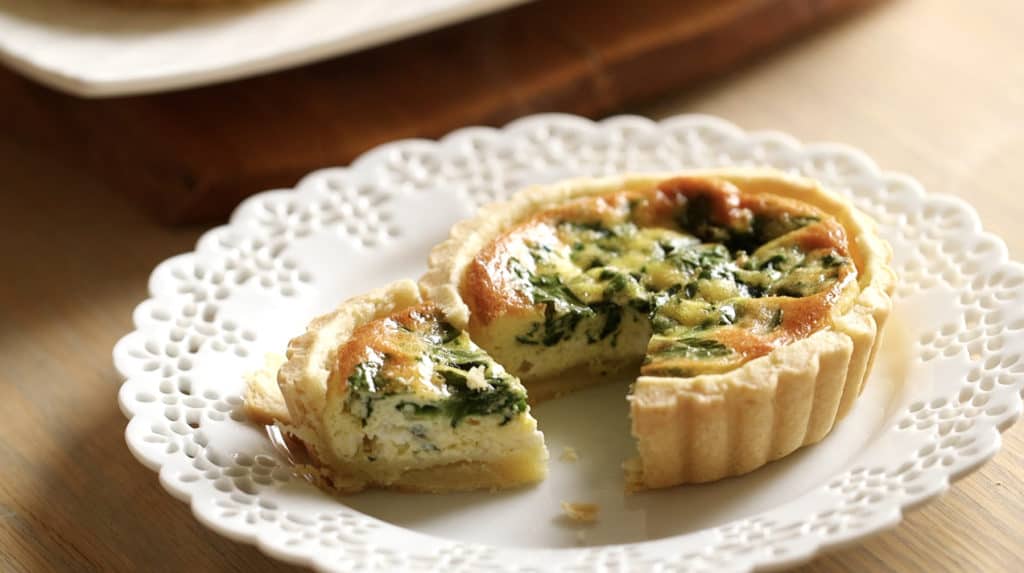 Looking for flakey crusted Quiche? Then you must try my traditional Mini Quiche Recipe than can be made in a regular oven.
How To Make Air Fryer Quiche and More in The Air Fryer
Other air fryer recipes in this video include, Air Fryer Blueberry Muffins, Air Fryer Grilled Cheese, Air Fryer Baklava Bites, Air Fryer Chicken Tenders, and Air Fryer Potato Wedges
For most of my air fryer recipes, I use the Philips HD9630 Air Fryer. It's larger than most air fryers and I also love the white color and the design. It also doesn't become an eyesore while sitting on your countertop.
How To Make a Broccoli and Cheddar Air Fryer Quiche
STEP#1: Add The Filling
Before you begin, make sure you are using a quiche dish that is oven-safe. I think a 5″ Ceramic Quiche Dish works perfectly for 1-serving.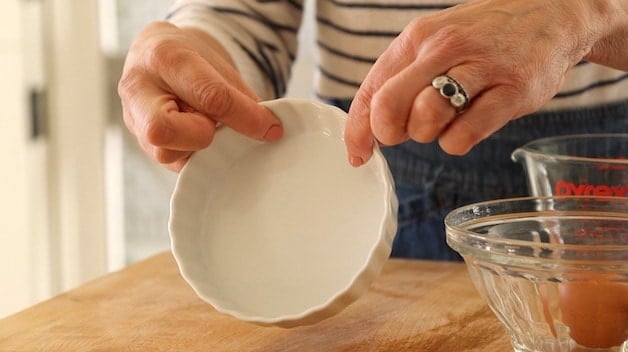 The fillings for air fryer quiche can vary according to your imagination, but I love to easy and simplicity of a broccoli and cheddar quiche because it's so quick! There's no need to cook the broccoli first it can be placed in raw.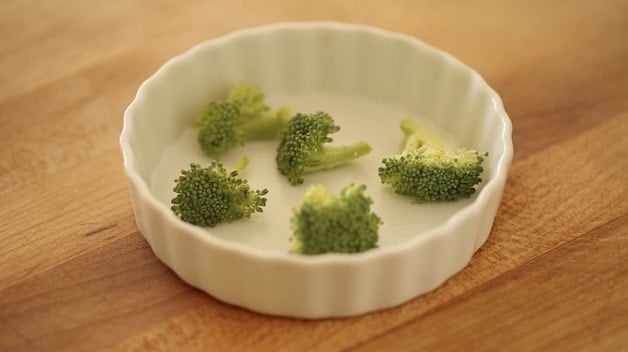 The quiche takes 10-minutes in the air fryer and during that time the broccoli is cooked to perfection. It comes out bright green and tender and no overcooking. Overcooked broccoli, not a good thing!
More Air Fryer Quiche Fillings:
Tomato and Mozzarella. Garnish with fresh basil
Spinach and Cheese
Cooked bacon and Cheddar
Mushroom and Thyme
Smoked Salmon, Goat Cheese, and Dill
Gruyere Cheese and Crispy Leeks (cook leeks first in a skillet with olive oil until crispy)
STEP#2: Create the Egg Custard
In a pyrex pitcher, you'll crack one egg, then fill the rest with heavy cream until you reach 1/2 cup.

Then just whisk to combine. I prefer to season with salt and pepper after the quiche is baked. I find eggs are better salted after they are cooked. A celebrity chef told me that once. I've always followed his advice and have never been disappointed!
STEP#3: Cover the Quiche Filling with Custard
Then you'll pour the custard over the broccoli. I let a few pieces of the broccoli peek through because I think it looks prettier after it's baked.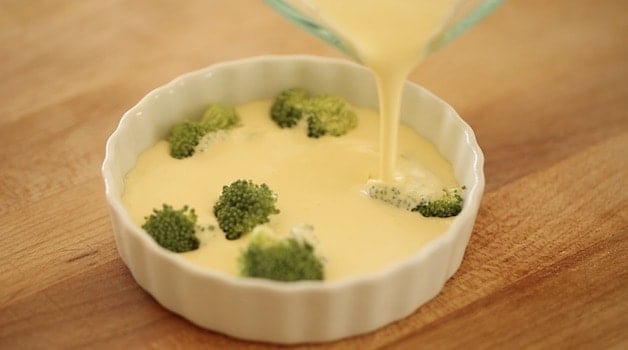 STEP#4: Add the Cheddar Cheese
I like to use the finely shredded Mexican blend cheese because it melts quicker and more evenly in the air fryer. If you can't find the Mexican blend, any "finely shredded cheese" will still be great! You could use mozzarella, Swiss or Monterey Jack.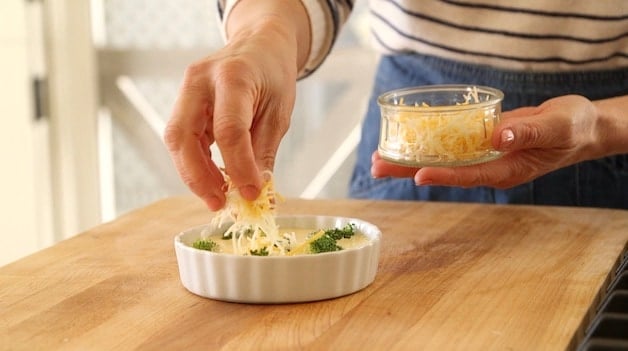 STEP#5: Place the Quiche in The Air Fryer
Place your quiche dish in the air fryer at 325F(160C) for 10 minutes. This is the secret with cooking eggs in the air fryer, you need a low temperature. This is what will make them so light and fluffy!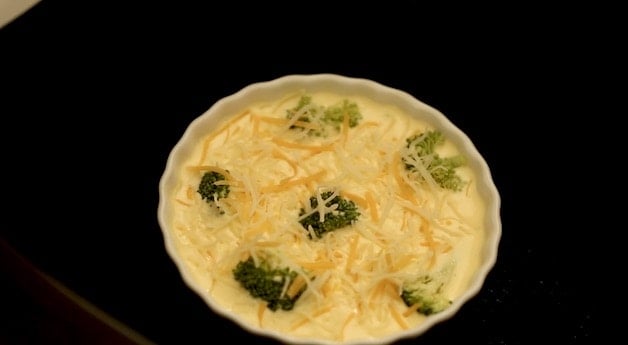 And when the quiche is done you'll see how beautiful it is! Lightly golden brown and puffed up. I can only fit one quiche at a time in my air fryer, but if you were making several of these, just place the cooked ones on a baking sheet in a 250F(125C) oven to keep warm.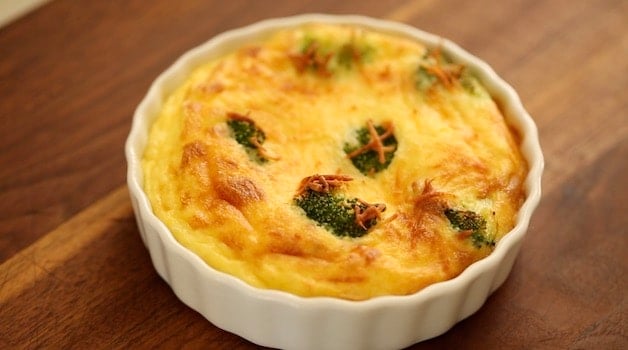 STEP#6: Garnish and Serve!
You can season the top with a little salt and freshly cracked pepper to taste, and I also like to add some freshly chopped parsley as well! These make for a great quick and easy breakfast or serve with a tossed salad for a light dinner or lunch.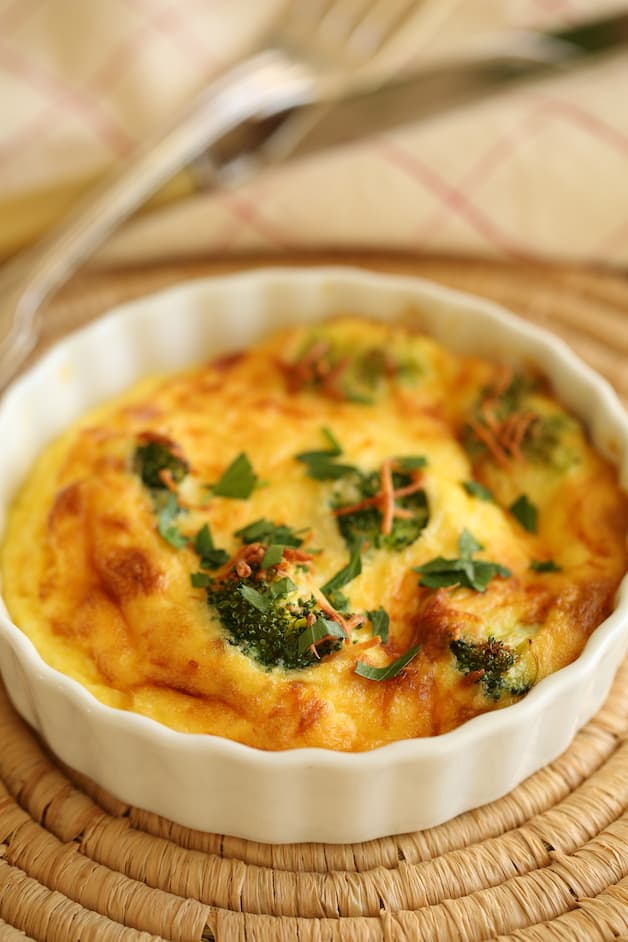 If You Enjoyed this Air Fryer Quiche Recipe
Please Leave a Rating Below!
This helps others discover and enjoy the recipe too!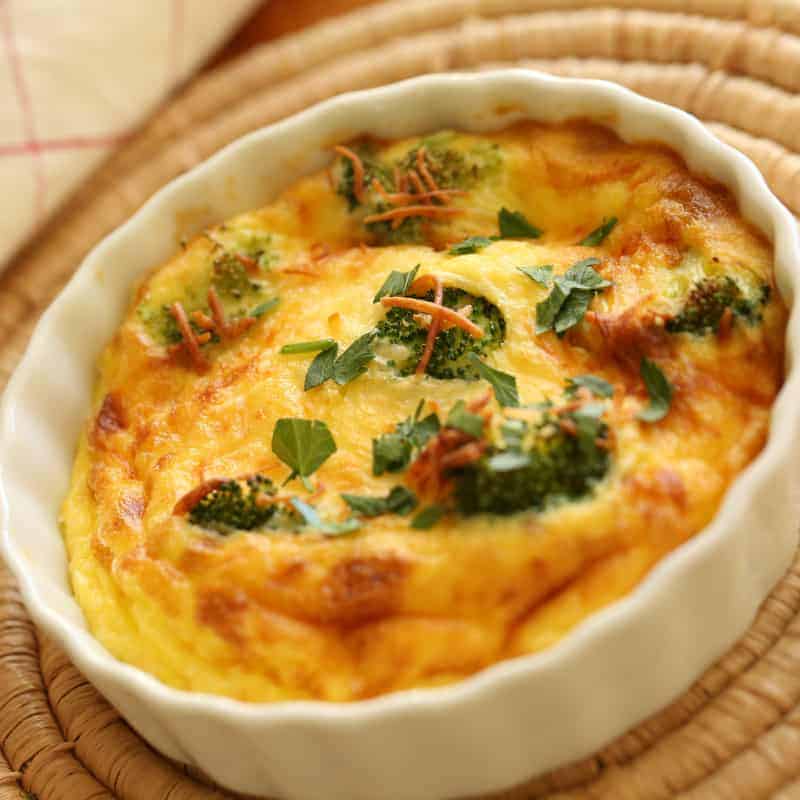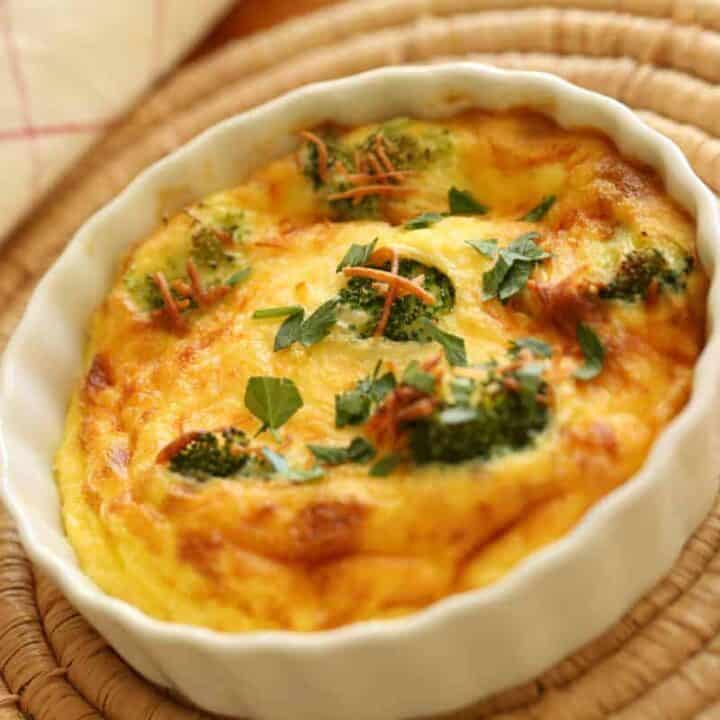 Air Fryer Quiche
A delicious broccoli and cheddar air fryer quiche! It comes together in less than 25 minutes and is the perfect quick and easy air fryer breakfast or simple lunch!
Ingredients
1 egg
3-4 tbsp (45ml-60ml) of heavy cream
4-5 tiny broccoli florets
1 tbsp (15ml) finely grated cheddar cheese
Instructions
Whisk together egg and cream. Lightly grease a 5" (13cm) ceramic quiche dish. Distribute broccoli florets on the bottom. Pour in the egg mixture. Top with grated cheddar cheese.

Air fry at 325F (162C) for 10 minutes.
Notes
More Air Fryer Quiche Fillings:
Tomato and Mozzarella. Garnish with fresh basil
Spinach and Cheese
Cooked bacon and Cheddar
Mushroom and Thyme
Smoked Salmon and Dill
Goat Cheese and Crispy Leeks (cook leeks first in a skillet with olive oil until crispy)
Nutrition Information:
Yield:

1
Serving Size:

1
Amount Per Serving:
Calories:

656
Total Fat:

58g
Saturated Fat:

34g
Trans Fat:

2g
Unsaturated Fat:

19g
Cholesterol:

349mg
Sodium:

364mg
Carbohydrates:

18g
Fiber:

6g
Sugar:

6g
Protein:

21g