Air Fryer Cauliflower Recipe
One of my favorite air fryer recipes is this delicious air fryer cauliflower recipe! It creates the most fantastic roasted cauliflower recipe in less than 15 minutes! It's great as a side dish or as a main vegan entree.
It can also be served warm or at room temperature, or tossed in a salad as an additional vegetable! It's also great as a starter too!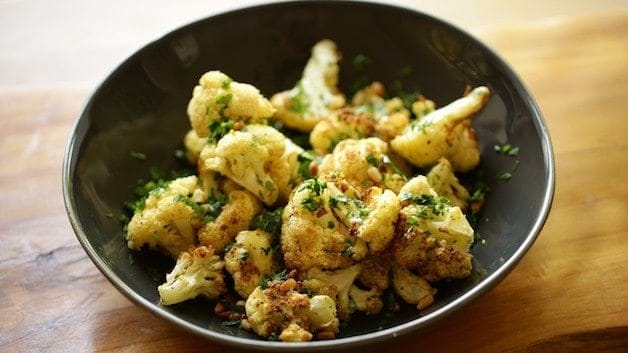 New to the air fryer craze?
Get started with my Top 10 Best Air Fryer Recipes! You'll find the classics like Air Fryer Chicken Tenders, Grilled Cheese, and Potato wedges. To new twists on air fryer cooking with my Broccoli Cheddar Quiche, Blueberry Muffins, and Baklava bites!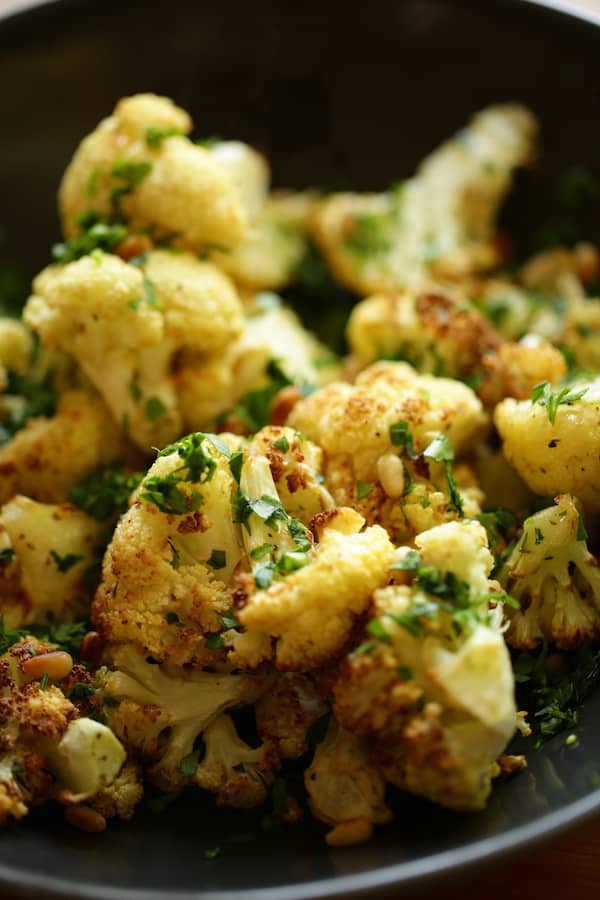 Why You'll Love This Recipe
This recipe comes together so quickly and easily!
It's also the kind of dish that is equally good served warm or cold.
Making roasted cauliflower used to take me 30 minutes in the oven, but now I find this Air Fryer Cauliflower recipe so much easier because it takes half the time!
For this recipe, I used the Philips Air Fryer model HD9630 and I must say, it is fantastic!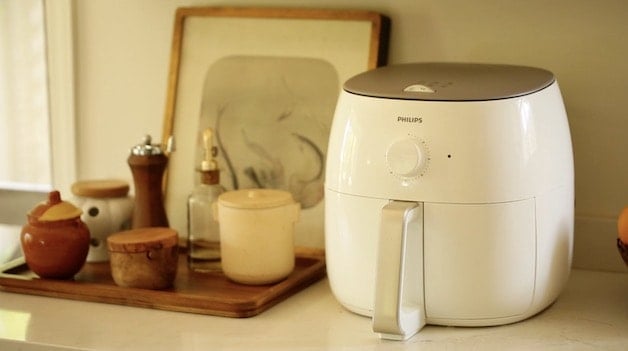 So easy to use, a roomy basket for frying and the pieces come apart for easy cleaning!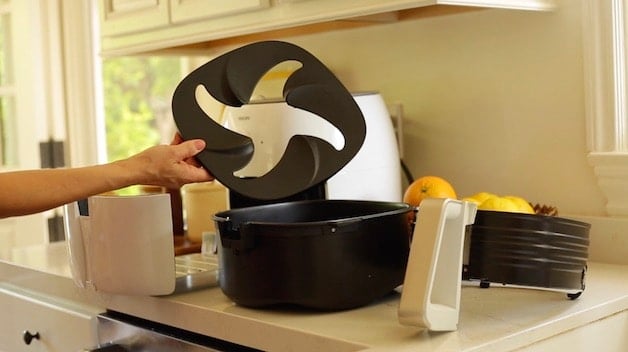 Watch My Video Demo of This Recipe Below!
Subscribe to My YouTube Channel and never miss a video!
Other recipes featured in this video include my Air Fryer Blueberry Hand Pies, Air Fryer Croutons, Air Fryer Taquitos, and Easy Puff Pastry Twists.
Step #1:Prep the Cauliflower
Place 3 cups of cauliflower in a large bowl.
Try to make sure the florets are roughly the same size so they cook at the same rate.
You can make this even easier by buying pre-cut cauliflower in the bag.

Time-Saving Tip
Cutting cauliflower florets from a head of cauliflower does make a bit of a mess!
So if you don't mind spending a little more on the pre-cut it will save you a lot of time in prep and clean up!

Step #2: Add a Little Oil
Most air fryers say you don't need any oil to fry and that's true if you want a drier effect, but I've found just a drizzle of olive oil helps with the flavor.
Add enough so it coats the cauliflower.
It also helps it taste like roasted cauliflower you may make in the oven.

Step #3: Add Seasoning
Sprinkle the cauliflower with salt and pepper to taste and some dried oregano.
An alternate version I make in a Quinoa Salad adds curry powder which is also really great!

I then pair it with yellow raisins, fresh mint, and pine nuts when it's done.

Step #4: Air Fry the Cauliflower
Place the cauliflower in the air fryer basket. For 3 cups I start out at 10 minutes at 400F degrees.

How To Know When The Cauliflower is Done?
After 10 minutes, check on it and shake the basket. Sometimes it may take a minute or two more, depending upon how big the florets are.
But once they look all charred and tender, they're done.
At this stage, you can continue with this recipe as directed below, or use your roasted cauliflower in my Roasted Cauliflower, Quinoa and Kale Salad Recipe. A great lunch option!

Step #6: Garnish and Serve
You really can get creative with your toppings, but for a Mediterranean flavor, I go with pine nuts, a squeeze of fresh lemon juice, and freshly minced parsley.
This cauliflower is also really great topped on a plate with a smear of my traditional Homemade Hummus Recipe or my striking Beet Hummus Recipe both will add a bit more protein if serving as the main entree as well.

More Cauliflower Recipes!
If you enjoyed this recipe
leave a rating and a review below!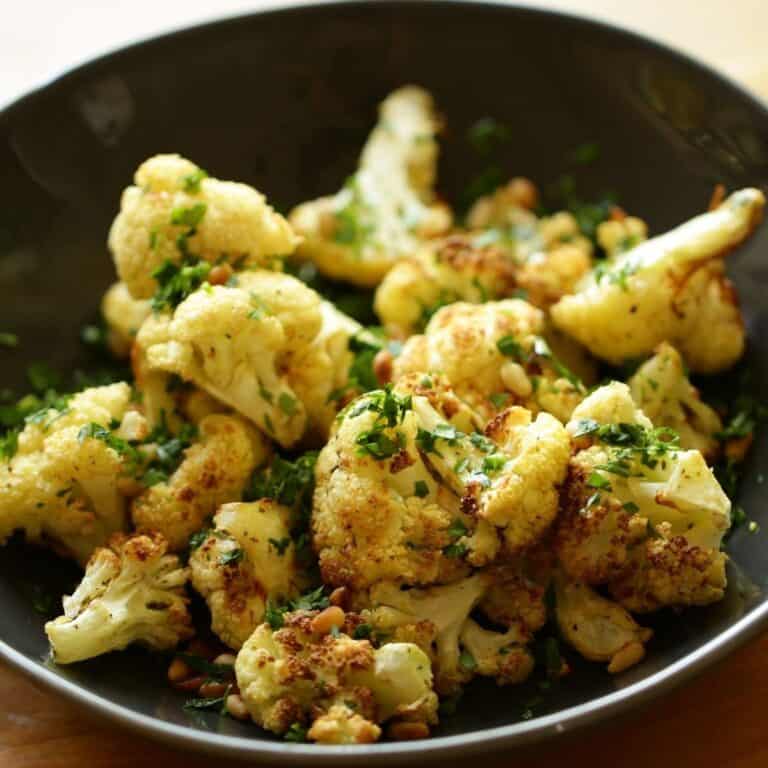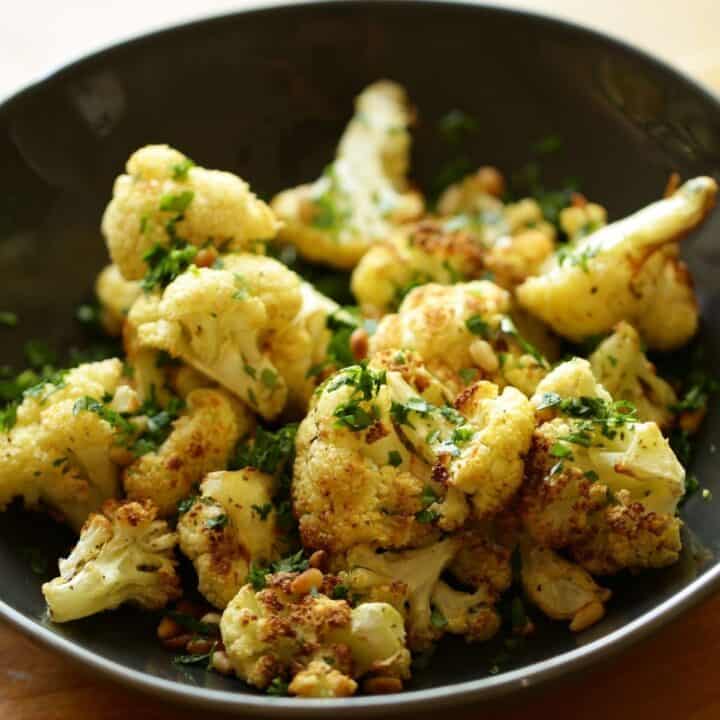 Air Fryer Cauliflower Recipe
Easy and delicious Air Fryer Cauliflower recipe. Perfectly roasted cauliflower! Ready in 10 minuets in your air fryer. A great side dish or vegan main dish.
Ingredients
3 cups cauliflower
1 ½ teaspoon olive oil
¾ teaspoon dried oregano
salt and pepper to taste
1 tablespoon pine nuts
½ teaspoon fresh lemon juice
1 tablespoon fresh parsley, chopped
Instructions
Place cauliflower in a bowl and drizzle with olive oil. Add oregano, and salt and pepper.
Place in the air fryer at 400F and fry for 10 mins. Transfer to a serving bowl and add pine nuts, lemon juice, and fresh parsley.
Notes
To save even more time buy the pre-washed, pre-cut cauliflower florets!
I like to slice a few cauliflower in half so that the charring makes it to more sides. It will charr easily on the cut side.
This dish is great served warm or cold!
To switch things up you can also add this to a salad bed, add some golden raisins and pomegranate seeds.
Nutrition Information:
Yield:

2
Serving Size:

1
Amount Per Serving:
Calories:

104
Total Fat:

7g
Saturated Fat:

1g
Trans Fat:

0g
Unsaturated Fat:

6g
Cholesterol:

0mg
Sodium:

177mg
Carbohydrates:

9g
Fiber:

5g
Sugar:

4g
Protein:

4g