Air Fryer Potato Wedges are one of the easiest air fryer recipes to make! They come out nice and crispy on the outside and soft and fluffy on the inside. Serve them with my easy smoky ketchup and you'll have one delicious little side dish or appetizer on your hands.
NOTE: This post contains affiliate links to products I believe in. As an Amazon affiliate, I am compensated for products sold at no cost to the consumer.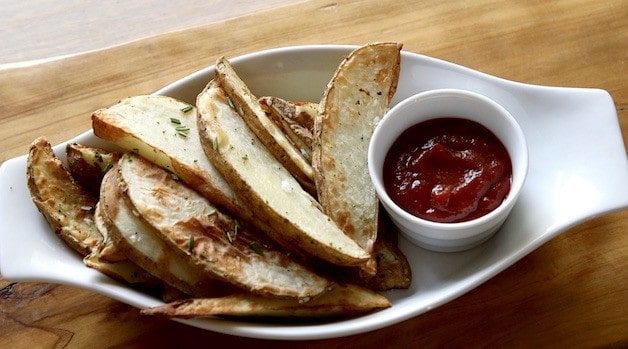 Air Fryer Potato Wedges are a great side dish with my Air Fryer Chicken Tenders, or serve them as an appetizer with some Air Fryer Taquitos!
Watch My Demo of this Recipe Below
Subscribe to My YouTube Channel and never miss a recipe!
Other air fryer recipes in this video include Air Fryer Blueberry Muffins, Broccoli and Cheddar Air Fryer Quiche, Air Fryer Grilled Cheese, Air Fryer Baklava Bites, and Air Fryer Chicken Tenders.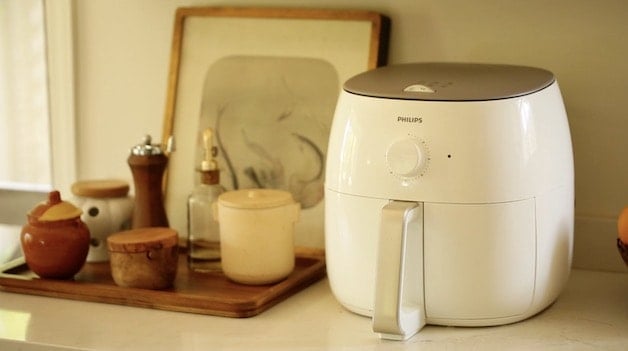 For most of my air fryer recipes, I use the Philips HD9630 Air Fryer. It's larger than most air fryers and I also love the white color and the design. It also doesn't become an eyesore while sitting on your countertop.
STEP#1: Slice the Potato
I love this recipe because it only takes 1 russet potato to make 2 servings. I also like to keep the potato skin on, because I find it protects the potato and keeps them crispy on the outside but soft and fluffy on the inside.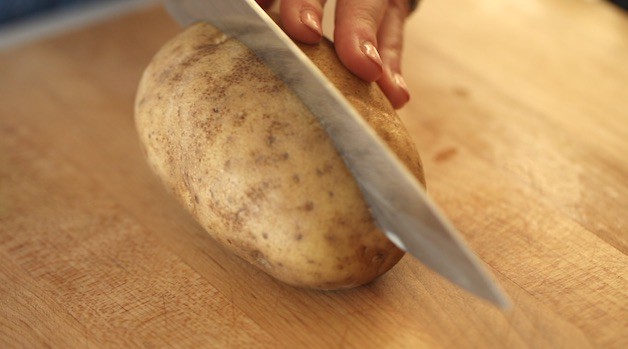 Then cut each half of your potato into quarters. And then cut each potato quarter into ¼" slices.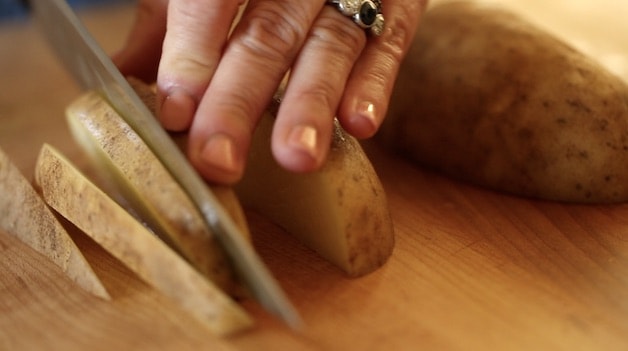 STEP#2: Toss with Oil and Seasoning
Place your potato wedges into a bowl and spray them lightly with olive oil. I find these olive oil spray cans are great for air frying because they just dust the food with oil, as opposed to a drizzle, which can drench your food with too much oil for air frying.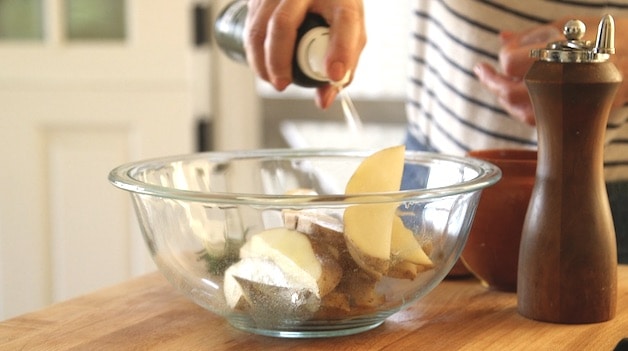 Most Air fryers do not require any oil, but I can't help giving certain things like potato wedges and chicken tenders a little spritz.
Toss your potato wedges with salt and pepper to taste and freshly minced rosemary.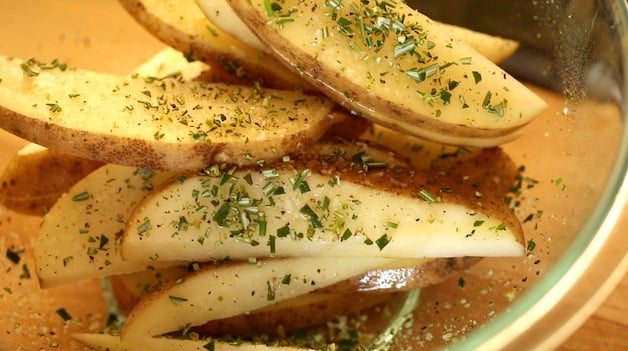 STEP#3: Air Fry
Lay the potato wedges in the air fryer basket in a single layer, and set the air fryer for 350F (175C).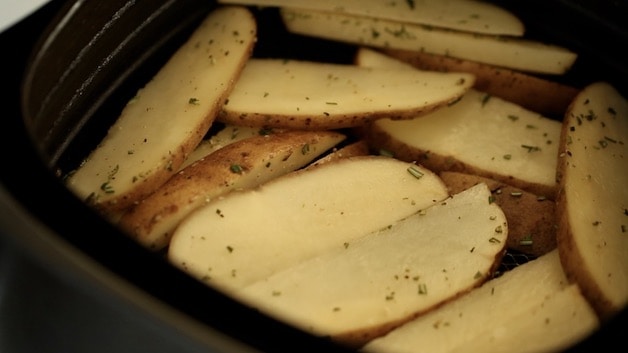 How Long to Cook the Potatoes?
The best way to cook potato wedges in the air fryer is low and slow. Meaning a lower temper, for a longer amount of time. I go 17 minutes at 350F, opening the air fryer mid-way through to give them a shake.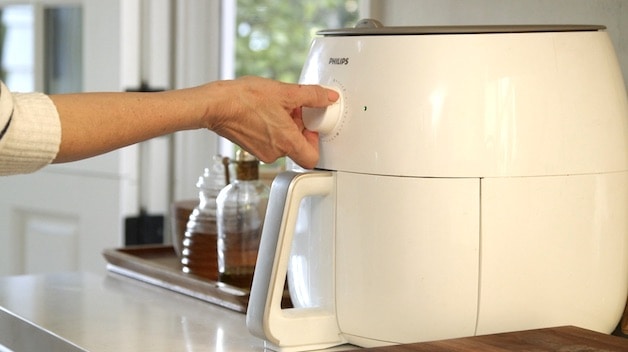 I find this creates a potato wedge that isn't too browned before the insides are fully cooked. That's the balance, crispy exterior with a fluffy interior.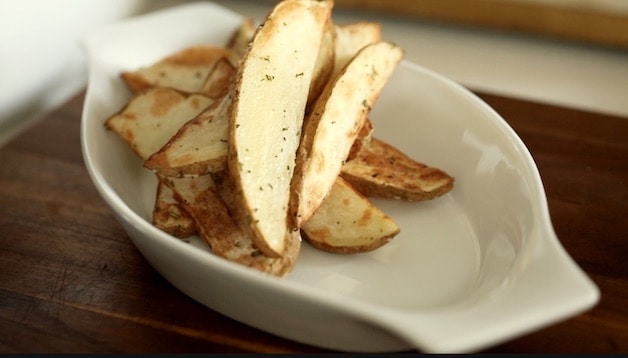 I like to serve these potato wedges in a shallow gratin dish with a little ramekin for the smoky ketchup.
STEP#4: Make Smokey Ketchup
You could serve these with regular ketchup, but the smoky ketchup just kicks it up a notch! And it's so simple to make!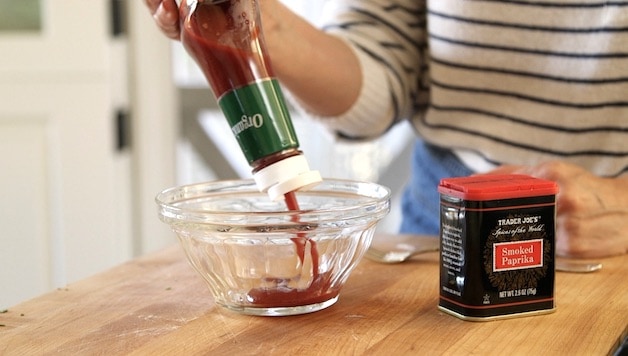 Just add some store-bought ketchup to a bowl, and tap in some smoked paprika. Whisk together and voila, smoky ketchup!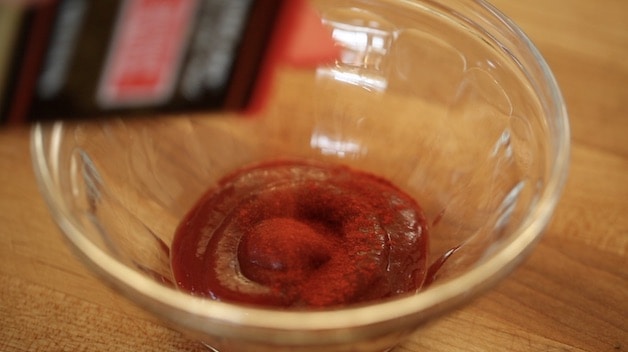 STEP#5: Garnish and Serve
For a finishing touch, I like to add some flakey sea salt on top.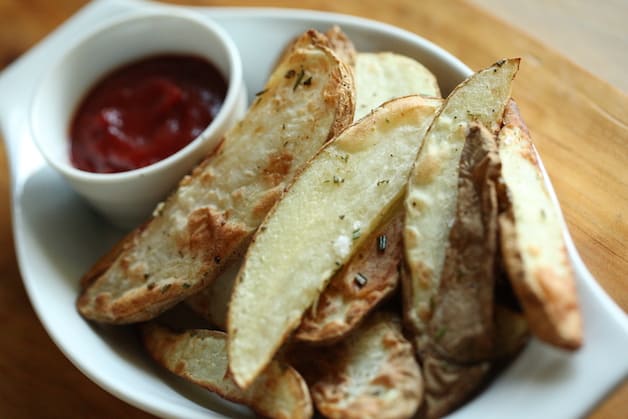 If you enjoyed this Recipe
please leave a rating below!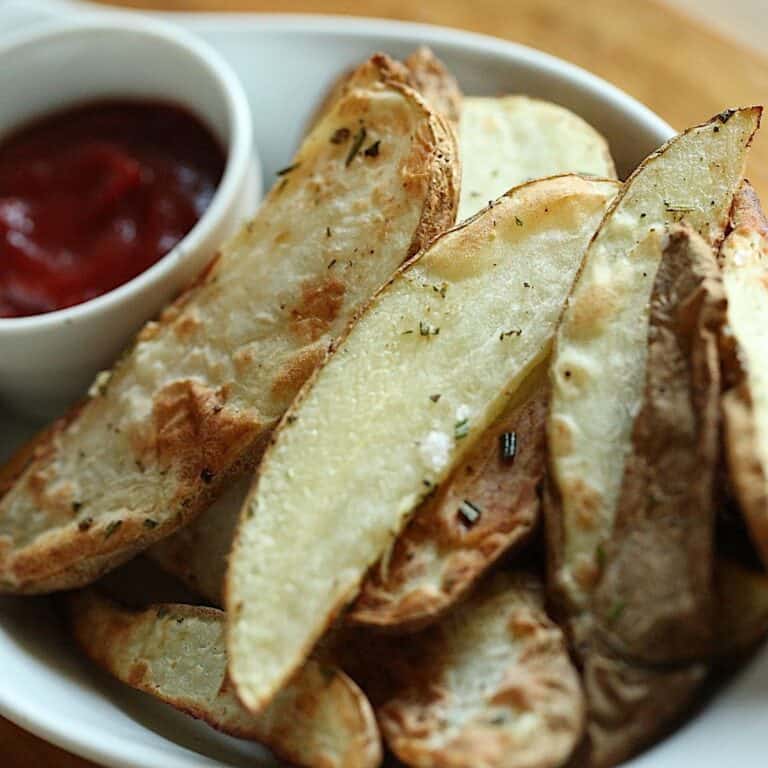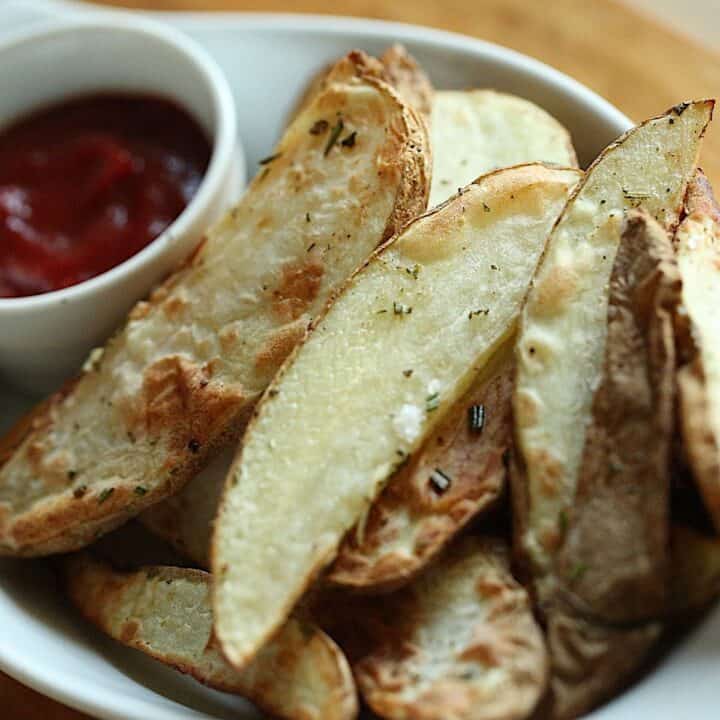 Air Fryer Potato Wedges Recipe
Air Fryer Potato Wedges are one of the easiest things to make in your air fryer! Crispy on the outside and soft and fluffy on the inside! Serve with my smokey ketchup for an expected dipping sauce.
Ingredients
1 russet potato
1 tbsp(15ml) olive oil
Salt and pepper to taste
1 tablespoon (15ml) chopped rosemary
¼ cup (60ml) ketchup
¼ teaspoon (1.25ml)smoked paprika
Instructions
Slice potato in half. Then slice each half in quarters.
Then slice each quarter into ¼ thick potato wedge slices.
Place potatoes in a bowl. Toss with olive oil, salt, pepper, and rosemary.
Place in a single layer in the air fryer. Fry at 350F (175C) for 17-20 minutes.
Garnish with sea salt and serve with smokey ketchup.
For smokey place ketchup in a bowl, add smoked paprika, and whisk. Transfer to a serving bowl and serve with the potato wedges.


Notes
Smoked paprika and paprika are not the same things. Make sure the paprika you buy says "Smoked Paprika" that's the one with the smoky flavor!
Nutrition Information:
Yield:

2
Serving Size:

1
Amount Per Serving:
Calories:

149
Total Fat:

7g
Saturated Fat:

1g
Trans Fat:

0g
Unsaturated Fat:

6g
Cholesterol:

0mg
Sodium:

160mg
Carbohydrates:

19g
Fiber:

2g
Sugar:

1g
Protein:

2g