This Easy Egg Bake Casserole is a great brunch recipe that is as elegant as it is delicious. It's the go-to breakfast casserole at our house for all special occasions! You'll love the spring flavors coming from the fresh herbs and goat cheese. It also has a few secret ingredients in it that make it super light and fluffy!
It's one of my easiest breakfast recipes that is as light as my egg souffle casserole, but way easier! You can also make the egg mixture the night before, place it in an airtight container, and then all you have to do is bake it off the next morning.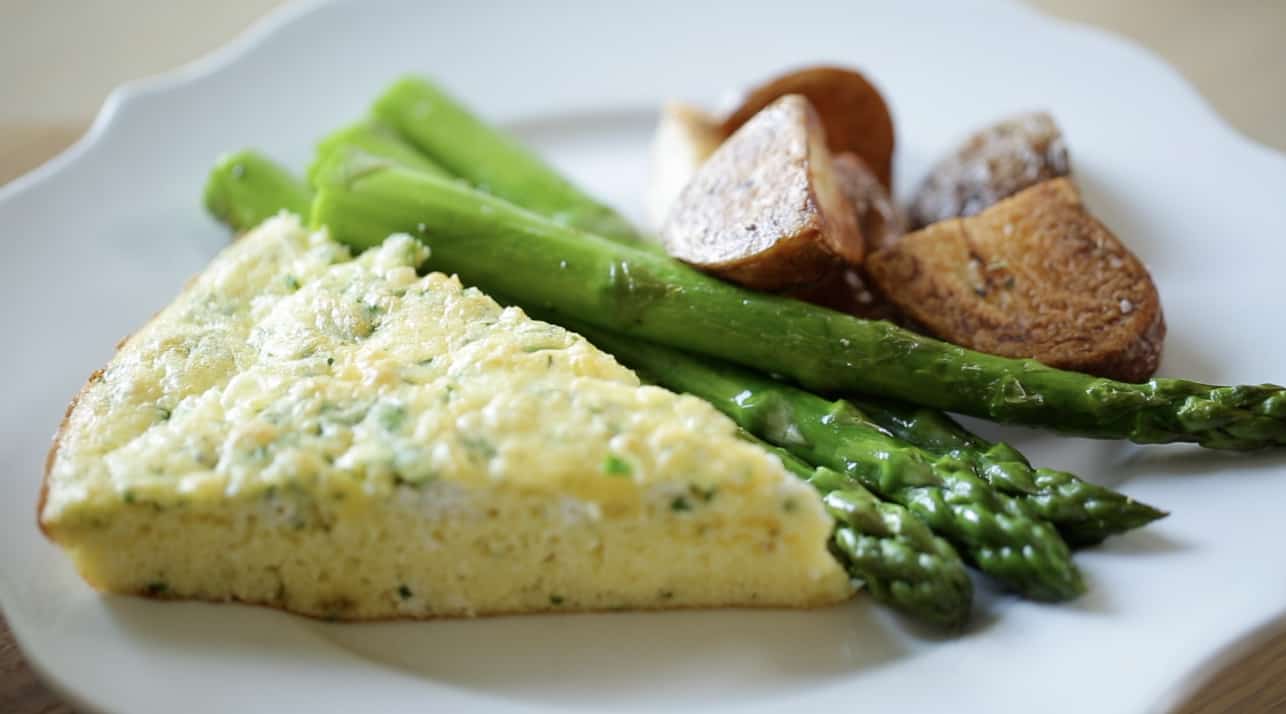 Why You'll Love This Recipe:
Uses simple ingredients you may already have in the fridge
It's an easy breakfast casserole for hectic holiday mornings like Christmas morning, Easter Sunday, or Mother's Day!
You can use this basic recipe and then add to it with your favorite meats, cheese, or vegetables. Various mix-ins suggested below
RECIPE PAIRING IDEAS: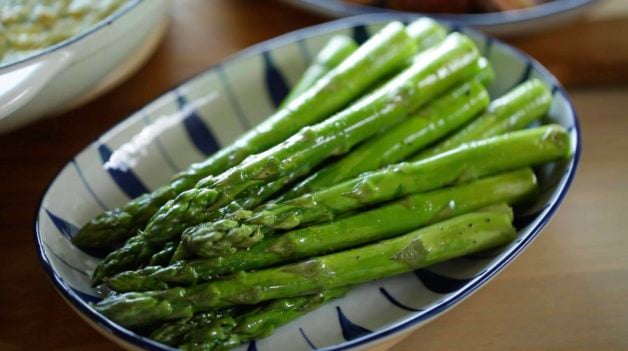 Broiled asparagus is such an easy side dish! Just toss a bunch of asparagus with a drizzle of olive oil, add salt and pepper, and place under the broiler for 5-7 mins et voila!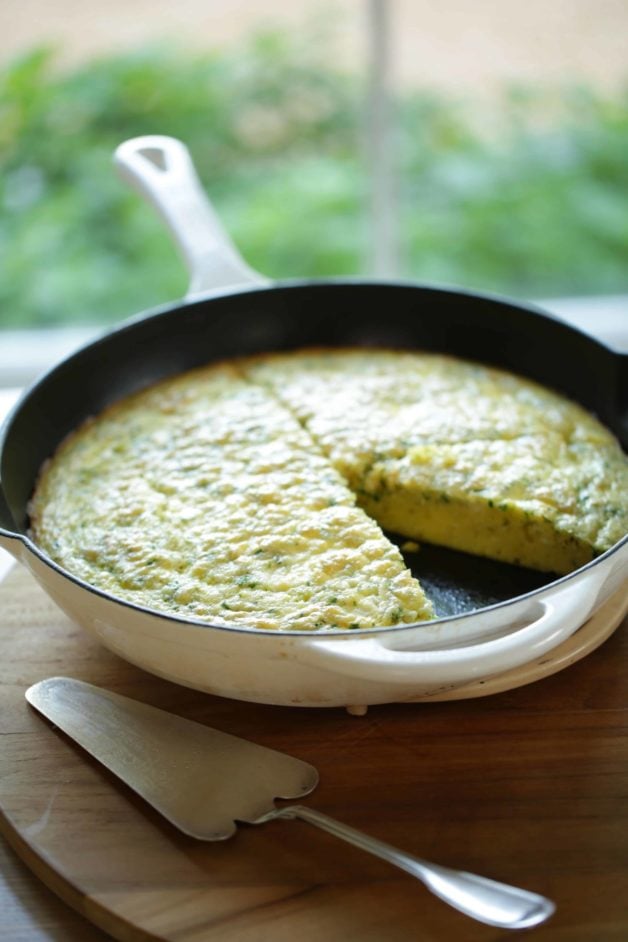 Watch a Video Demo of This Recipe Below!
Subscribe to My YouTube Channel and Never Miss a Recipe
SERVING TIPS:
This breakfast casserole can be baked in a large skillet or oven-safe casserole dish and will easily feed 6-8 guests.
Just make sure you grease your skillet or dish well with either butter or cooking spray so it's easy to slice and lift out of the pan.
If feeding a crowd this recipe is easy to double and distribute the batter across two skillets. Or you could also bake it in ramekins for individual portions too.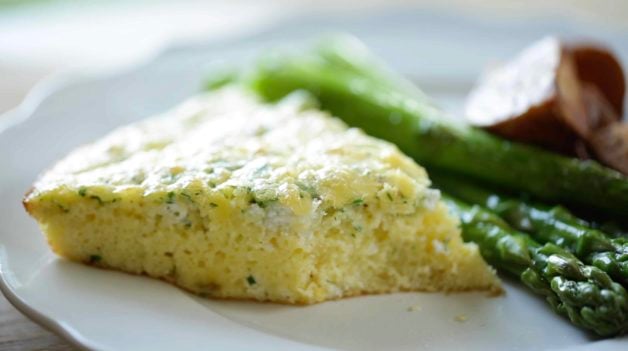 STEP#1: BEAT THE EGG MIXTURE
In a large mixing bowl, you'll whisk up the eggs. OK, yes this egg casserole does call for a lot of eggs! Ten large eggs to be exact. But keep in mind that it serves 8 people so that's roughly 2.25 eggs per person. Less than a 3-egg omelet at your favorite breakfast spot.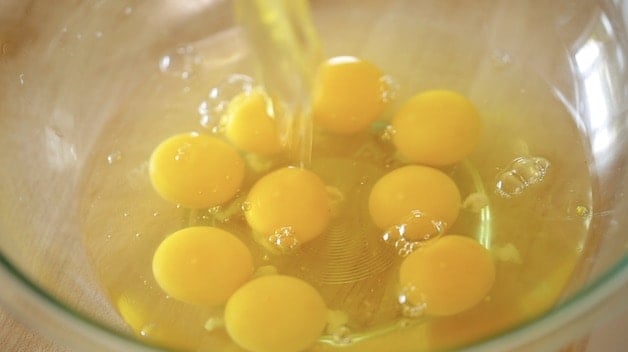 Step#2: Add "The Secret" Ingredients
I've learned over the years that if you want an egg bake casserole that doesn't sink, become limp, or taste too eggy these "secret ingredients" are a must! They will provide structure, lift, and lightness to your casserole.
Ricotta Cheese
Yep. Ricotta cheese. I know it's a bit weird, but the results are fantastic! The ricotta cheese makes the texture more like a souffle than an eggy frittata. It's so light and airy! Look for the full fat, ricotta cheese. I find it works best. If you have any leftover ricotta cheese you can also use it for my light and fluffy Lemon Ricotta Pancakes or my Crepe-Style Manicotti recipe.
If you don't have ricotta cheese you could also use full fat, small curd cottage cheese to get a similar effect.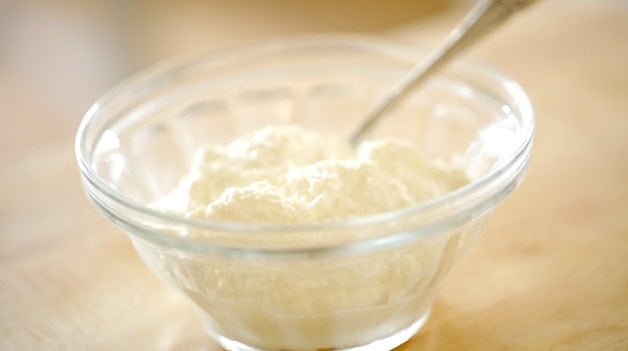 Flour
A little bit of flour in your egg bake casseroles gives them great structure. This makes it easier to slice and prettier to present on a plate once it's baked. It also helps the casserole keep its shape and avoid deflating or shrinking.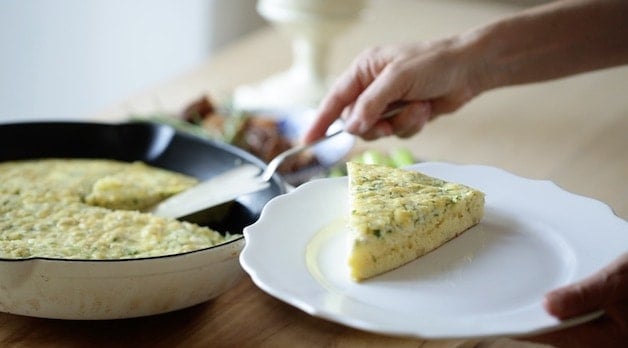 Baking Soda
A little baking soda is also the ticket for a nice consistent lift for your egg casserole that doesn't deflate as soon as you remove it from the oven. This also contributes to the light and airy texture as well.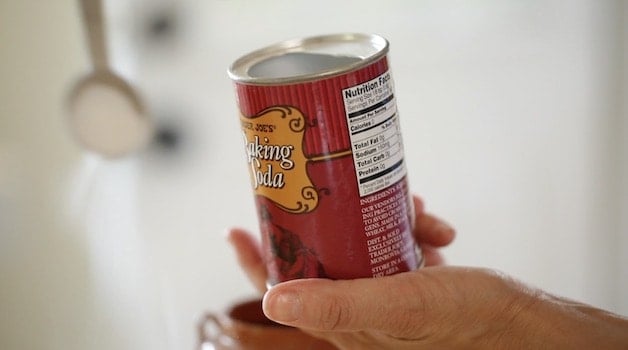 Step#3: Add The Cheese
At this stage, you really could use any cheese you like, sharp cheddar cheese, swiss cheese or Monterey Jack would all be good choices. But I find the combination of crumbled goat cheese and freshly grated parmesan is a wonderful compliment to the fresh herbs. These cheese varieties also melt well without becoming too gooey which can also make your egg casserole too heavy.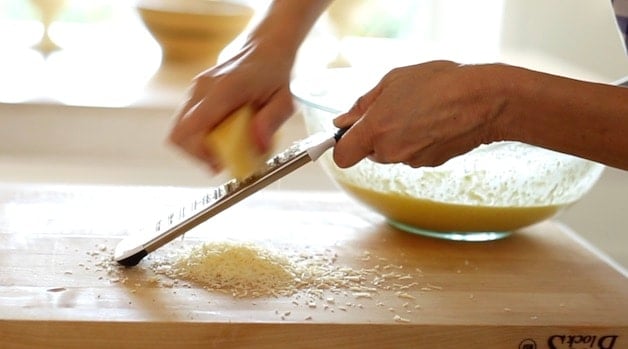 The Herbs
Eggs pair really well with light flavored spring herbs such as chives, dill, tarragon, and parsley. I like to use a mixture of herbs (dill, parsley, and chives) but really even just one of these herbs will make this egg casserole taste great!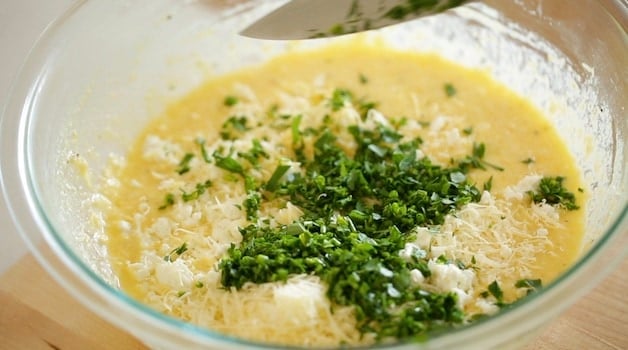 Additional Add-Ins:
To make this breakfast casserole even more filling consider adding a few more ingredients such as:
Diced red bell peppers
Cooked Italian sausage
Hash browns
Green onions
Cherry tomatoes
Make-Ahead Tips:
At this stage, you could cover your mixing bowl with plastic wrap and place it in the refrigerator overnight. Then all you have to do is pour the egg mixture into your greased skillet or oven-safe casserole dish and bake!
I would also suggest allowing the egg mixture to come up to room temperature in the bowl before transferring it to your baking dish. I have found this prevents over-browning on top, with a center that is still left uncooked.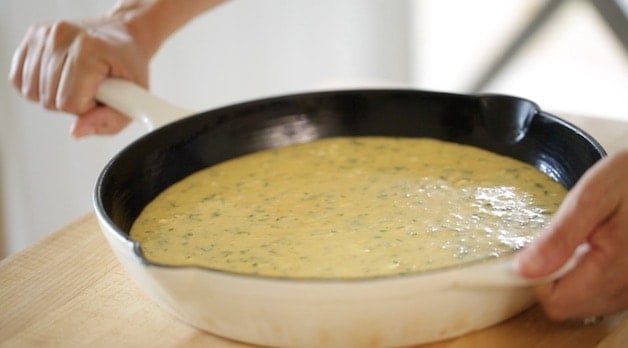 Step#4: Bake
Bake the casserole until it is set in the center, golden brown, and slightly risen. Place it on a trivet and serve oven-to-table! I love how beautifully this egg casserole slices. Nice clean, even cuts that you can serve with a pie server..thanks to our secret ingredients!
I hope you enjoy this easy breakfast casserole recipe, and that it becomes a new holiday tradition at your house too! It's definitely a recipe the whole family will love!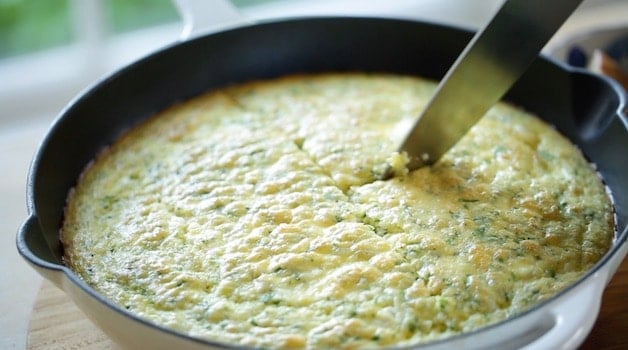 More Spring Brunch Recipes
Please let me know if you make this Recipe
by leaving a rating and review below!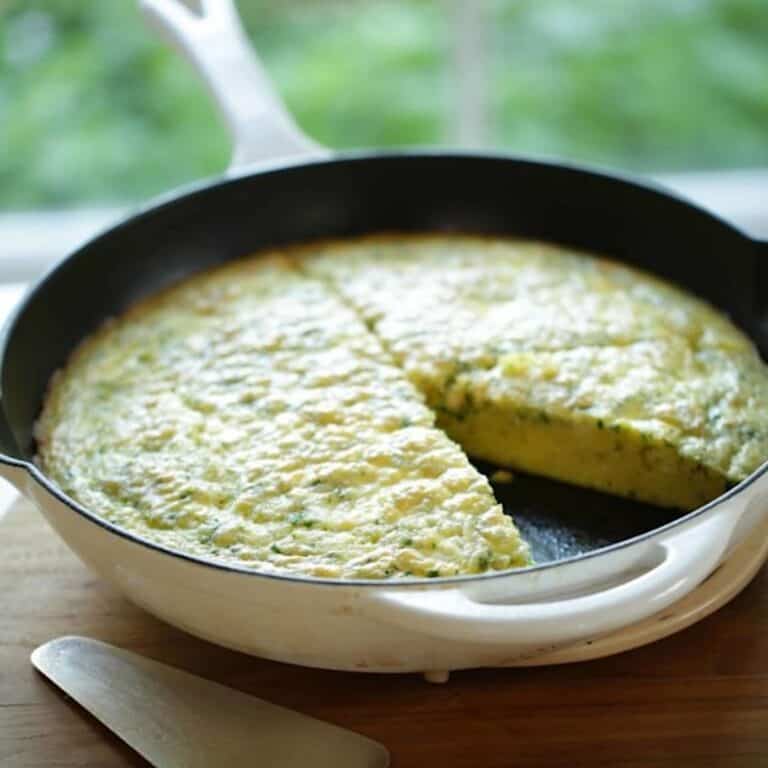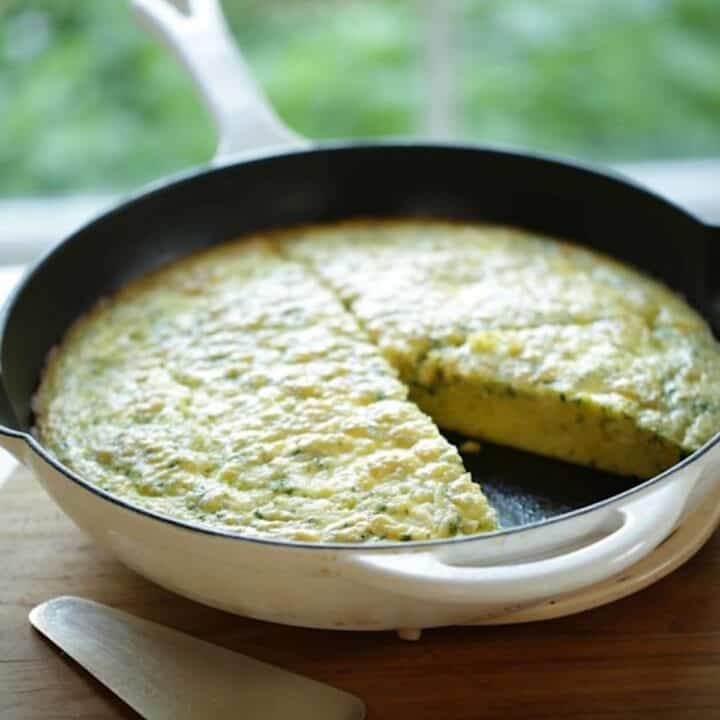 Easy Egg Bake Casserole Recipe
A wonderful make-ahead egg bake casserole A great brunch recipe that will feed a crowd.
Ingredients
10 Eggs
12 ounces (340 g) of ricotta cheese
¼ cup (60 ml) of melted butter + 1 tablespoon (15 ml) for greasing skillet
⅓ cup (40 g) of flour
1 teaspoon (5 ml) baking soda
½ teaspoon (2.5 ml) salt
freshly cracked pepper to taste
1 cup (90 g) of finely shredded parmesan cheese
1 cup (90 g) goat cheese crumbles
½ cup (120 ml) mixed fine herbs (dill, parsley, chives)
Instructions
Preheat oven to 350F (175C).
Mix together the eggs and the ricotta cheese until combined.
Add the flour, baking soda, salt and pepper, and melted butter. Mix until combined.
Stir in parmesan and goat cheese, and fresh herbs.
Pour batter into 12 inch (30 cm) oven safe skillet that has been greased. Bake for 20 mins until set. Serve with roasted potatoes and roasted asparagus. Or a nice tossed salad!
Notes
Look for the full fat, ricotta cheese. I find it works the best.
If feeding a crowd this recipe is easy to double (just click 2X on the recipe card) and distribute the batter across two skillets
To make ahead mix up the batter, cover, and refrigerate. Then all you have to do is pour into your skillets and bake!
Additional Add-Ins:
To make this egg casserole even more filling consider adding a few more ingredients such as:
Diced Red Peppers
Cooked Italian Sausage
Hashbrowns
Green onions
Nutrition Information:
Yield:

8
Serving Size:

1
Amount Per Serving:
Calories:

405
Total Fat:

23g
Saturated Fat:

12g
Trans Fat:

0g
Unsaturated Fat:

9g
Cholesterol:

295mg
Sodium:

311mg
Carbohydrates:

19g
Fiber:

0g
Sugar:

5g
Protein:

31g