Best Apple Cider Pancakes
These Apple Cider Pancakes, topped with warm spiced apple raisin syrup are the perfect breakfast recipe on a chilly fall weekend morning. It's a seasonal twist on my usual homemade crepe ritual on Saturday mornings.
They are light, fluffy, and topped with the most delicious apple, raisin syrup. The perfect blend of fall flavors!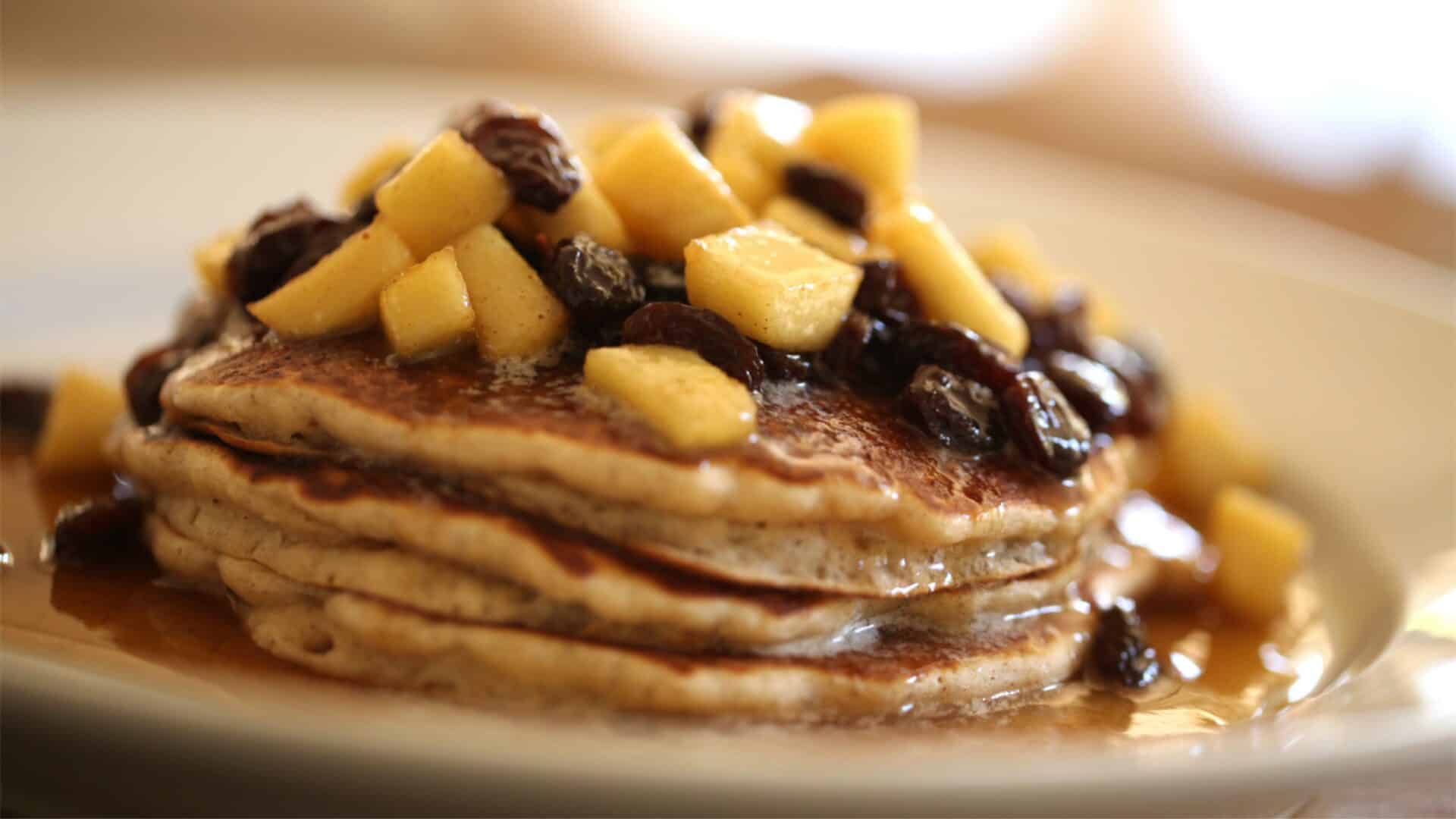 Pro Tip:
For making a big batch of pancakes, a large griddle is pretty awesome. It's an initial investment, but I'm glad I spent the money because I use it all the time. It's also great for grilled cheese sandwiches and my veggie quesadillas too!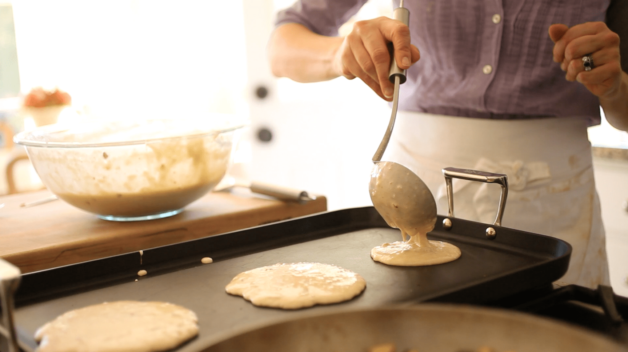 If you have kids it cuts down on the fights of who is served first since you can serve everyone at the same time!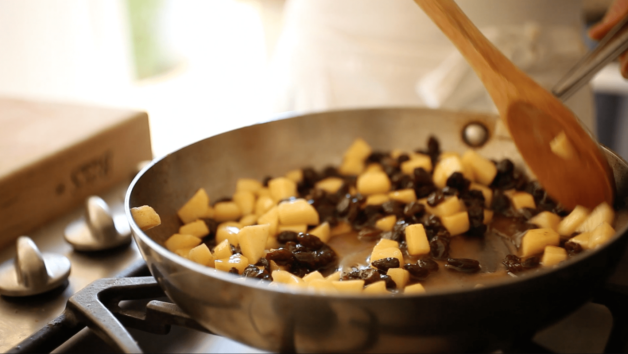 Apple Raisin Syrup
The apple raisin syrup is the best part of this recipe.
It's warm and hearty and just the perfect amount of sweetness and spice on a crisp fall morning.
You could make the syrup a day ahead if preparing this for a special breakfast and then reheat it in the microwave at :30 intervals.
If you live outside the U.S. and can't find Pumpkin Pie Spice or Grade B Maple Syrup, it's worth buying online, since they both add so much flavor to this recipe.
Or you can make your own! Here's my recipe for How To Make Pumpkin Pie Spice. And I bet you already have these spices sitting in your spice cabinet.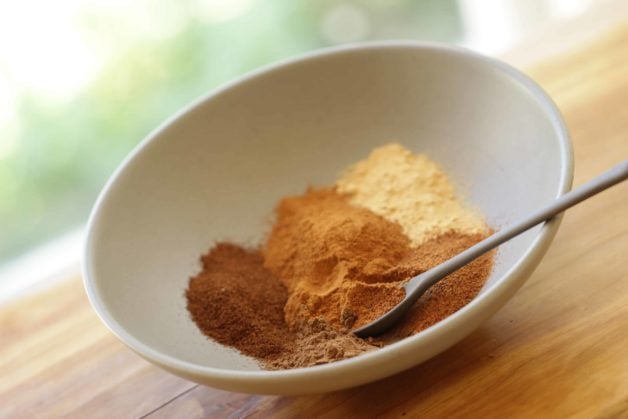 How Do You Make Pancakes Extra Fluffy?
The simple answer is don't over mix.
The more you mix your batter, the more you activate the gluten in the flour and the more elastic your pancakes will be.
The recipe also calls for 3 eggs, which I have found will also give your pancakes a little extra lift than the typical two 2 eggs found in most pancake recipes.
And of course, the baking powder is the real workhorse here. I find a good amount of baking powder will also give your pancakes a good lift too.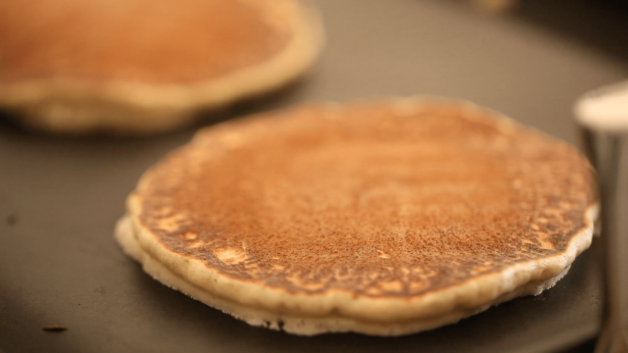 Preventing Over Mixing
To prevent over-mixing, whisk the dry ingredients first, then add the wet ingredients.
It also helps to beat your eggs ahead of time, as opposed to adding in whole eggs.
This will also prevent over mixing the eggs, once combined with the flour.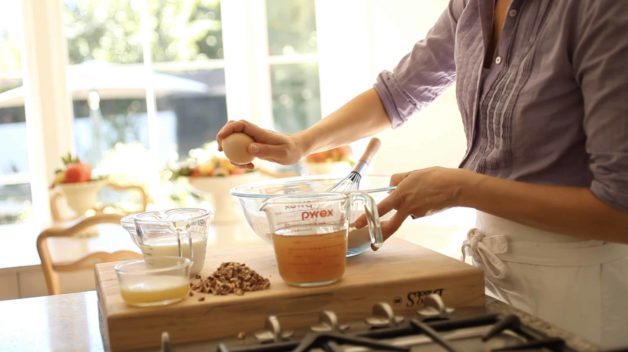 Can I Use Baking Soda in Pancakes?
You can use baking soda in a pancake recipe if you are adding something acidic in the batter like buttermilk. Otherwise, the baking soda will not have anything to react with and will not "do its thing" you'll also end up with a bit of that yucky metallic taste.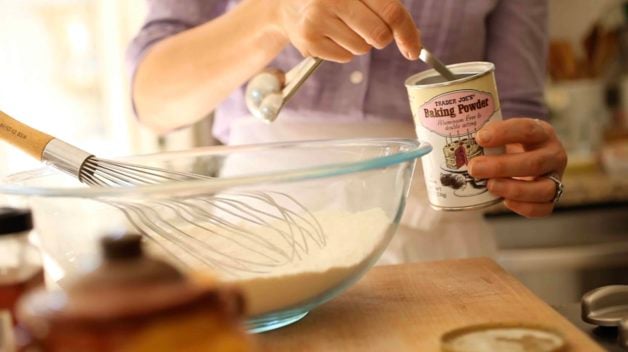 What Can You Use if You Don't Have Baking Powder?
You can actually make your own! Take 1 part baking soda and add 2 parts cream of tartar. Cream of tartar has acidic properties in it and will help the baking soda react and "lift" your pancakes.
More Great Pancake recipes 
Please let me know if you make this recipe
by leaving a rating and review below!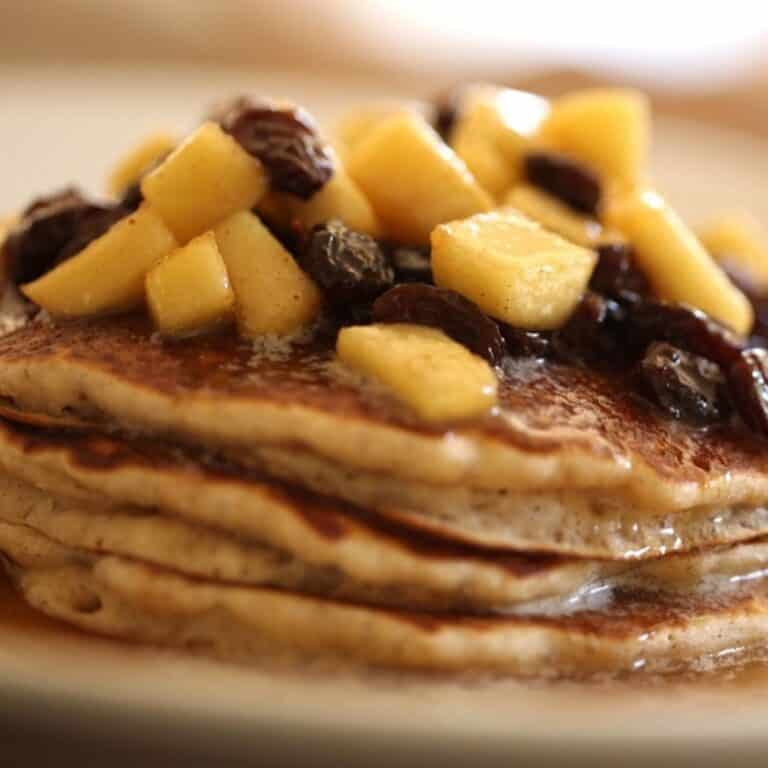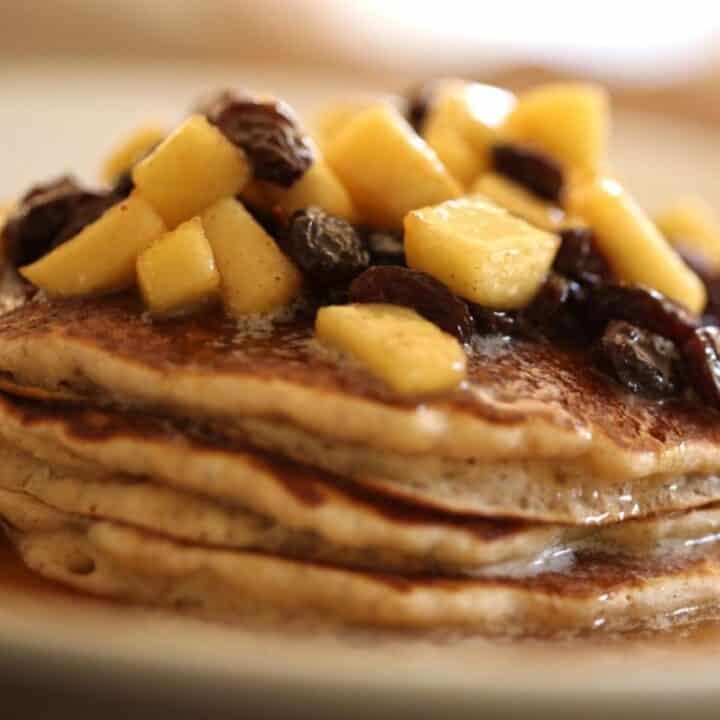 Apple Cider Pancakes
Learn how to make the Best Apple Cider Pancakes, topped with a warm spiced apple raisin syrup. The perfect breakfast recipe on a chilly fall morning.
Ingredients
2 ½ cups (300g) of flour
2 teaspoon (10 ml) baking powder
½ teaspoon (2.5ml) salt
1 tablespoon (12 g) sugar
1 teaspoon (5 ml) pumpkin pie spice
3 eggs, beaten
1 cup (240 ml) of milk
1 ½ cups (360ml) of Apple Cider
4 tablespoon (60 ml) melted butter
¼ cup (40 g) chopped pecans
For the syrup:
4 tablespoon (60 g) butter
2 Gala apples, peeled and chopped
1 cup (240 ml) of raisins
½ teaspoon (2.5ml) pumpkin pie spice
½ cup (120ml) grade B syrup
Instructions
Mix together the dry ingredients. Then add, milk, beaten eggs, cider and mix well. Stir in the melted butter, and add the pecans.
Then melt butter in a sauce pan, add chopped apples, raisins and spice and cook until apples begin to soften and release their juices. Add the syrup and simmer for 2-3 mins just to thicken.
Heat griddle and ladle out large pancakes. Flip when bubbles appear. Keep warm in a 200 degree oven.
Serve pancakes with the warm apple raisin syrup on top.
Nutrition Information:
Yield:

6
Serving Size:

1
Amount Per Serving:
Calories:

490
Total Fat:

15g
Saturated Fat:

7g
Trans Fat:

0g
Unsaturated Fat:

6g
Cholesterol:

117mg
Sodium:

190mg
Carbohydrates:

78g
Fiber:

4g
Sugar:

24g
Protein:

11g