For me, September 1st marks the beginning of fall (one of my favorite seasons!). It's a little hard to believe it's fall, now that I live on the West Coast where it's still 80 degrees, but hey that's OK.  Fall can easily be cooked up in the kitchen and this time of year, and these are the best apple cider pancakes that should do just the trick! It's a seasonal twist on our usual homemade crepe ritual.
For making a big batch of pancakes, a large griddle is pretty awesome. It's an initial investment, but I'm glad I spent the money because I use it all the time. It's also great for grilled cheese sandwiches and my veggie quesadillas too!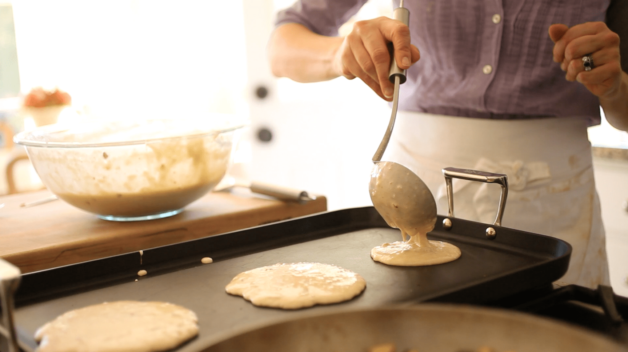 (If you have kids it cuts down on the fights of who is served first since you can serve everyone at the same time!)  This one is my favorite model, sturdy and well made, worth the money in my opinion (This link goes to Amazon where I am an affiliate partner)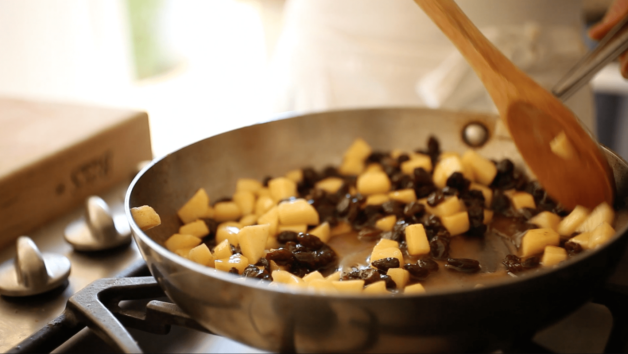 The apple raisin syrup is the best part of this recipe. It's warm and hearty and just the perfect amount of sweetness and spice on a crisp fall morning. For a fancy brunch (for grownups!) you could also add a splash of Calvados to this mixture and that would be quite divine 🙂
If you live outside the U.S. and can't find Pumpkin Pie Spice or Grade B Maple Syrup, it's worth buying online, since they both add so much flavor to this recipe.
Or you can make your own! Here's my recipe for How To Make Pumpkin Pie Spice.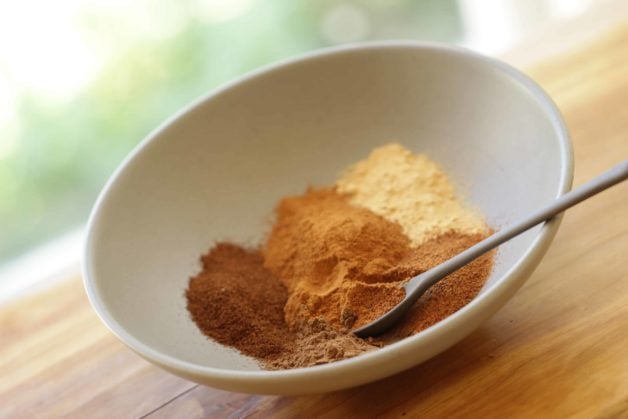 How Do You Make Pancakes Extra Fluffy?
The simple answer is don't over mix.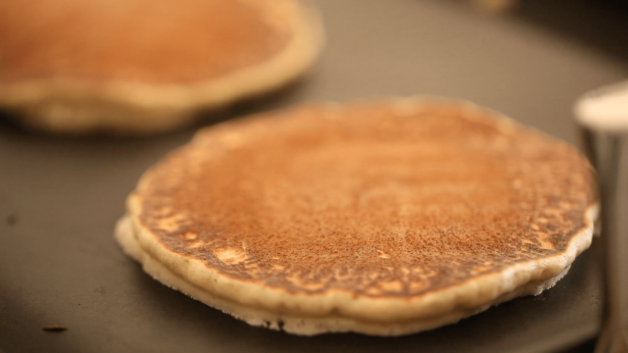 The more you mix your batter, the more you activate the gluten in the flour and the more elastic your pancakes will be.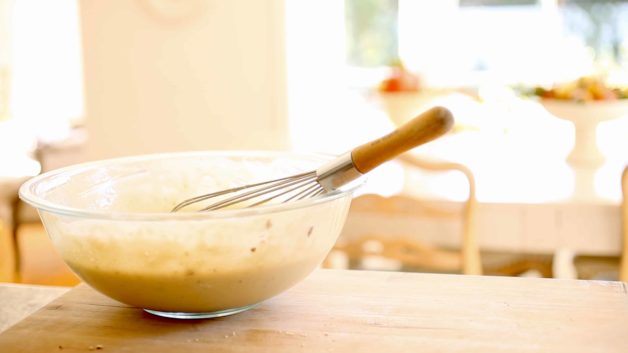 To prevent over-mixing, whisk the dry ingredients first, then add the wet ingredients. It also helps to beat your eggs ahead of time, as opposed to adding in whole eggs. This will also prevent over mixing the eggs, once combined with the flour.
The recipe also calls for 3 eggs, which I have found will also give your pancakes a little extra lift than the typically called for 2 eggs in pancake recipes.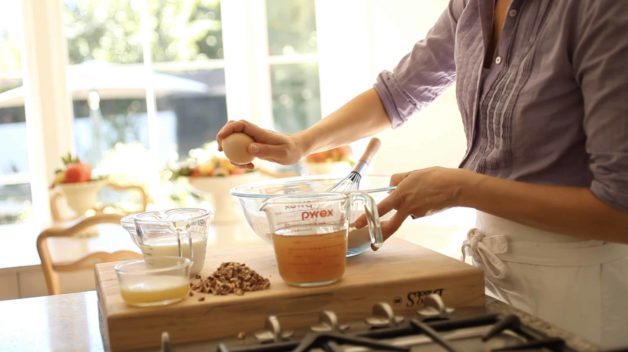 And of course the baking powder is the real work horse.
Can I use Baking Soda in Pancakes?
You can use baking soda in a pancake recipe if you are adding something acidic in the batter like buttermilk.  Otherwise, the baking soda will not have anything to react with and will not "do its thing" you'll also end up with a bit of that yucky metallic taste.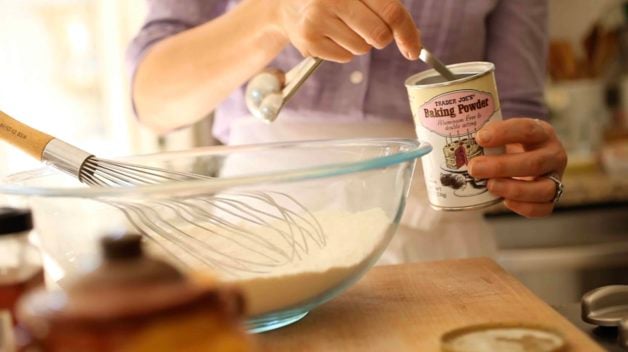 What Can You Use if You Don't Have Baking Powder?
You can actually make your own! Take 1 part baking soda and add 2 parts cream of tartar (cream of tartar has acidic properties in it and will help the baking soda react and "lift" your pancakes)
WATCH MY BEST APPLE CIDER PANCAKES VIDEO BELOW!
Subscribe to my YouTube Channel and never miss a recipe! (It's free!)
For more great breakfast recipes you might also like my Gingerbread French Toast with Cinnamon Syrup, or my Overnight Cinnamon Buns or my Herby, Cheesy Egg Bake
Please let me know if you make this recipe for the best apple cider pancakes by leaving a rating and review below
Sign up to get recipes in your inbox- click here to sign up! And make sure to follow us on Youtube, Pinterest, Instagram, Facebook & Twitter!
Print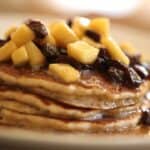 Best Apple Cider Pancakes
---
Author:

Prep Time:

30 mins

Cook Time:

10 mins

Total Time:

40 mins

Yield:

serves 6

Category:

Breakfast

Method:

Cook

Cuisine:

American
Description
Learn how to make the Best Apple Cider Pancakes, topped with a warm spiced apple raisin syrup. The perfect breakfast recipe on a chilly fall morning. INCLUDES VIDEO DEMO
---
Ingredients
2 ½ cups (300g) of flour
2 tsp (10 ml) baking powder
½ tsp (2.5ml) salt
1 tbsp (12 g) sugar
1 tsp (5 ml) pumpkin pie spice
3 eggs, beaten
1 cup (240 ml) of milk
1 1/2 cups (360ml) of Apple Cider
4 tbsp (60 ml) melted butter
¼ cup (40 g) chopped pecans
For the syrup:
4 tbsp (60 g) butter
2 Gala apples, peeled and chopped
1 cup (240 ml) of raisins
½ tsp (2.5ml) pumpkin pie spice
½ cup (120ml) grade B syrup
---
Instructions
Mix together the dry ingredients. Then add, milk, beaten eggs, cider and mix well. Stir in the melted butter, and add the pecans.
Then melt butter in a sauce pan, add chopped apples, raisins and spice and cook until apples begin to soften and release their juices. Add the syrup and simmer for 2-3 mins just to thicken.
Heat griddle and ladle out large pancakes. Flip when bubbles appear. Keep warm in a 200 degree oven.
Serve pancakes with the warm apple raisin syrup on top.
Keywords: Best Apple Cider Pancakes, Apple Cider Pancakes Recipe