These apple cinnamon pastries are the perfect fall morning breakfast treat. Simple to make, and the best part is they can be made ahead of time and baked right before serving! How great is that?!
These pastries are also a great quick fix for an Apple Pie or French Apple Tart craving, without all the work of these desserts!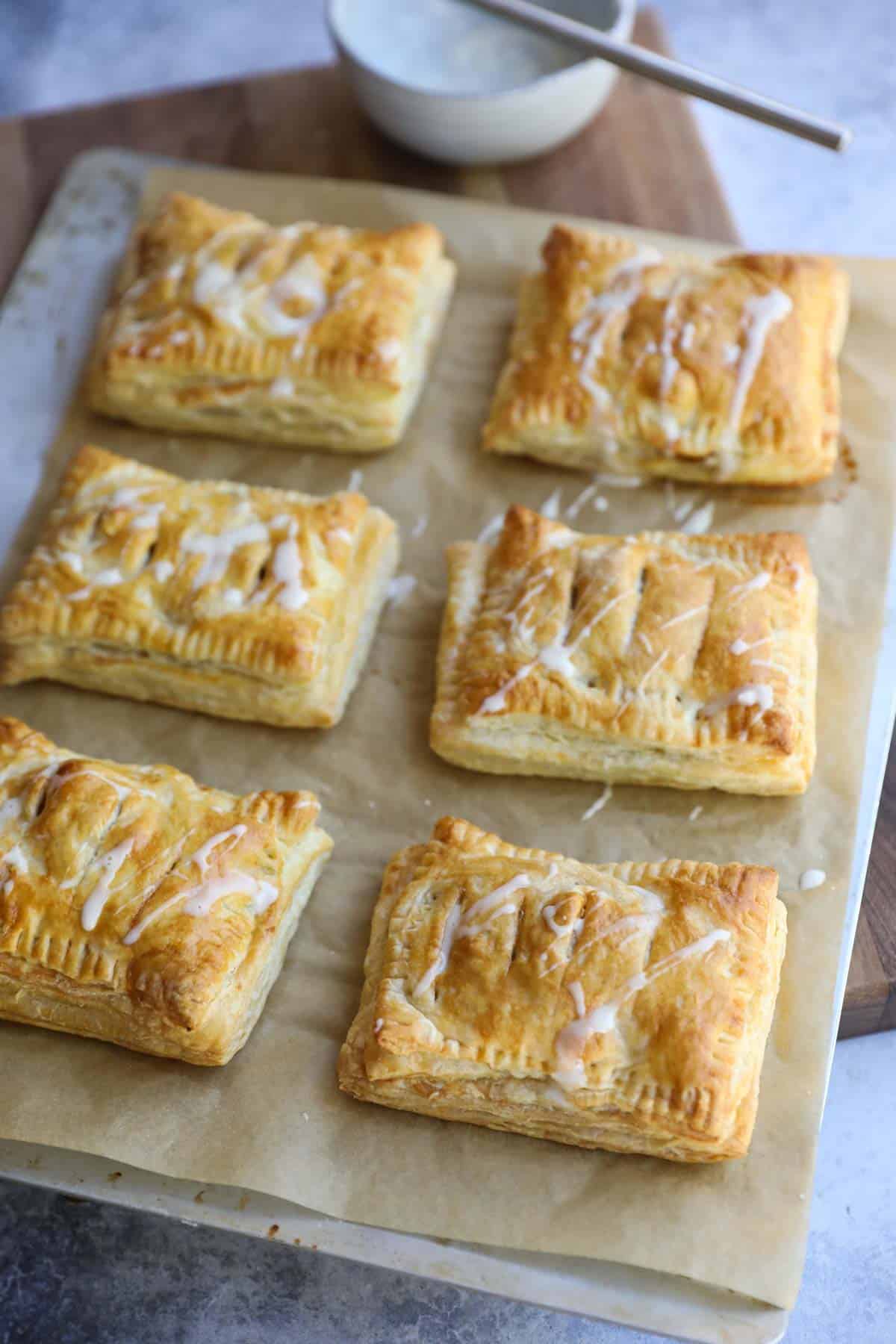 These apple pastries are one of my go-to puff pastry recipes as soon as the weather turns cool! For something more decorative you can also try my French Apple Pastries.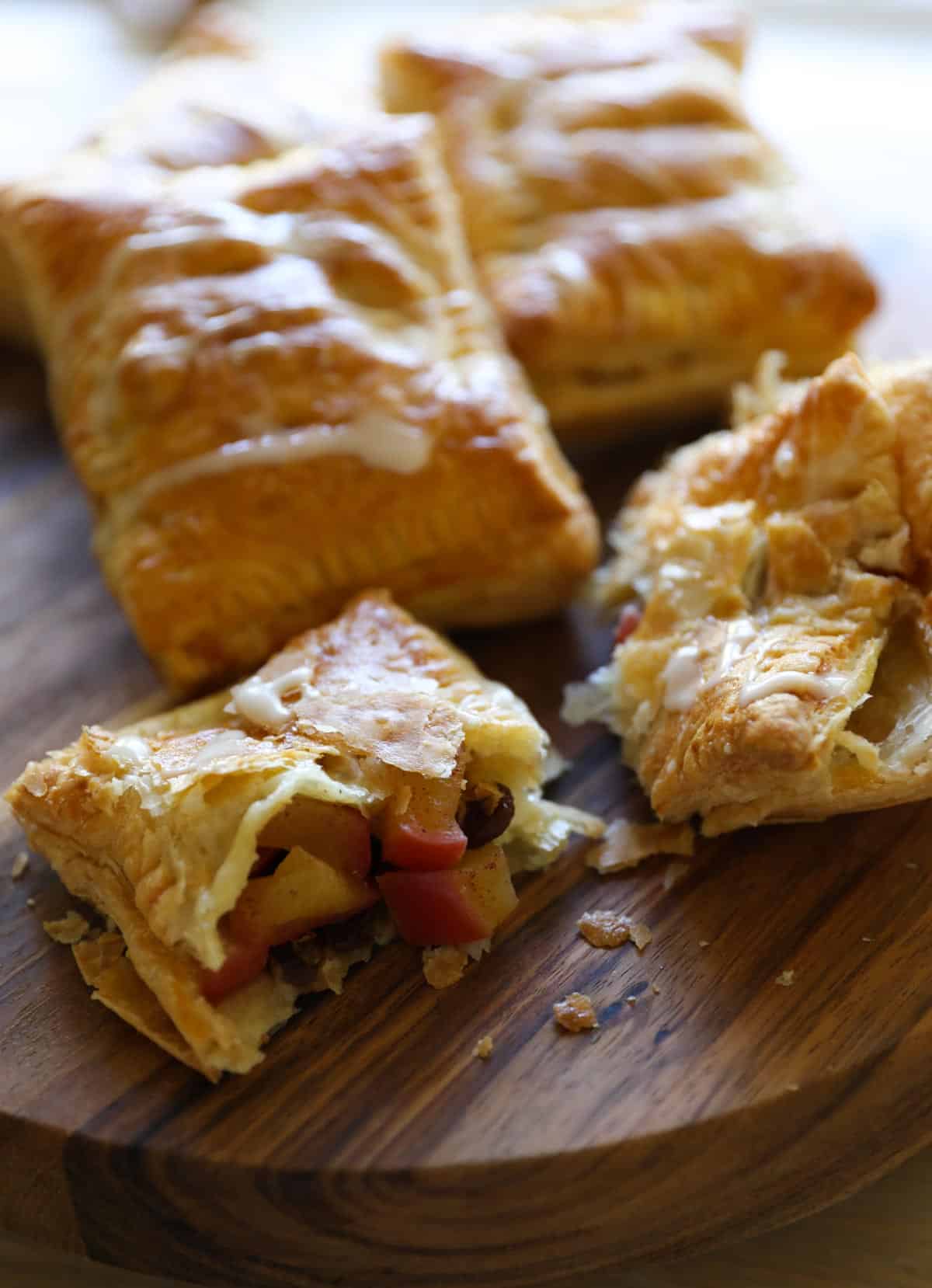 Guests are always impressed by these because they look very complicated but truth be told are super simple to make. They would be a great idea for Christmas morning too! The in-laws would be very impressed!
How do you make apple cinnamon pastries?
You'll first begin by creating a cinnamon-sugar mixture and tossing it with the apples and adding a few raisins.
Then you'll cut store-bought puff pastry into rectangles, brush with egg wash to seal them, and then fill with the apples.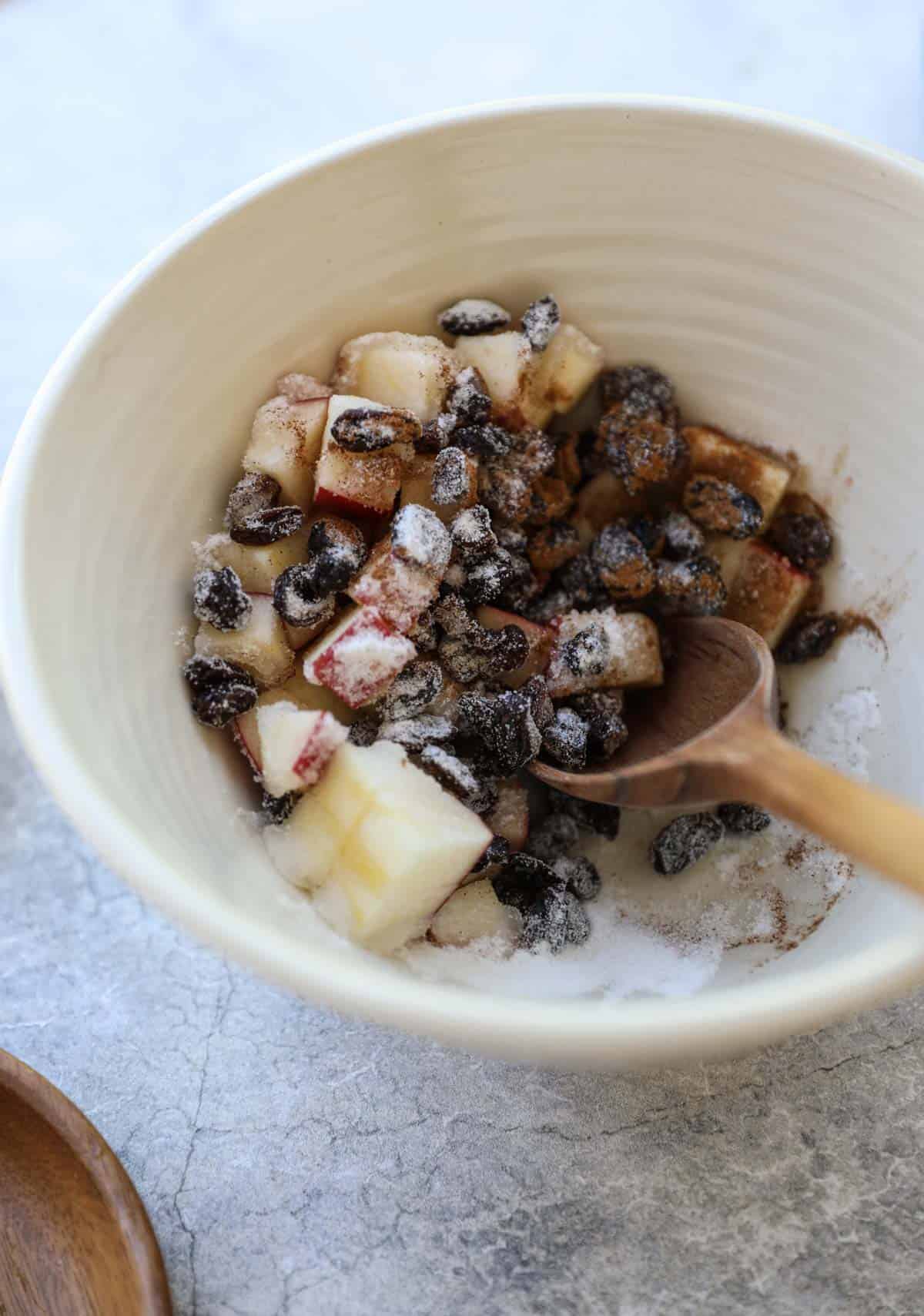 What Brand Of Puff Pastry Is Best?
I find the best brand of puff pastry to use for this recipe is the Pepperidge Farm brand of puff pastry because it's already scored into panels making it really easy to slice into rectangles and fill with the apple mixture.
Do you need to peel the apple?
I say no! There's a lot of pectin in the apple skin which adds to the syrupy consistency in the filling once those apples are baked.
So I leave the skin on. I also find it's so much quicker and easier to keep the skin on, so why go through that extra step if you don't have to.
Have leftover apples? Put them to good use in my succulent Pork Roast Recipe

with syrupy apples and cranberries.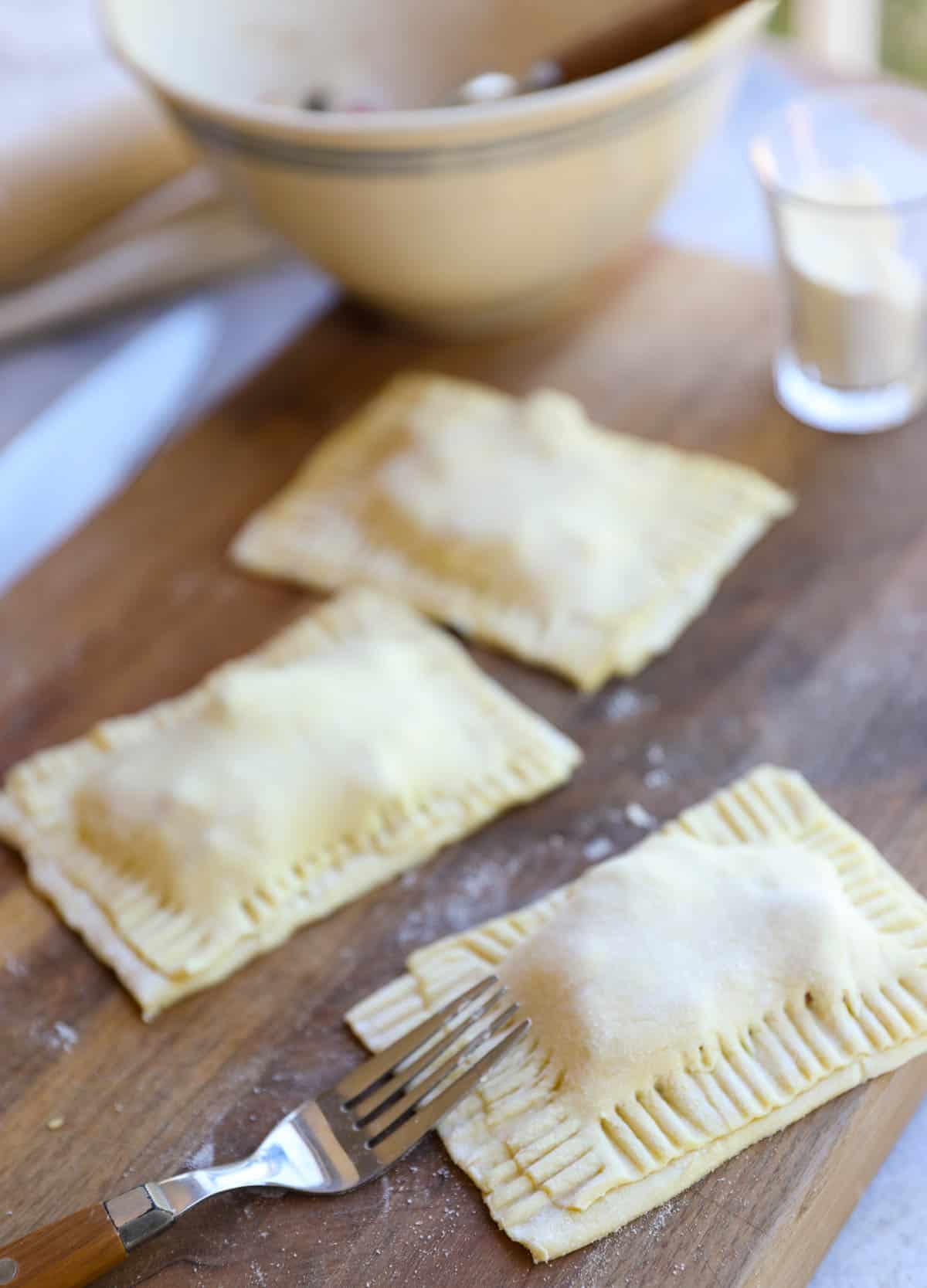 Can you make these pastries ahead of time?
Yes! That's why I love this recipe because it can all be made the day before, placed in the fridge or freezer, and baked the day of your party.
No need to defrost either! Just pop them right in the oven from the freezer or refrigerator.
After sealing the pastries shut with a fork, cover the tray and place in the freezer or the refrigerator.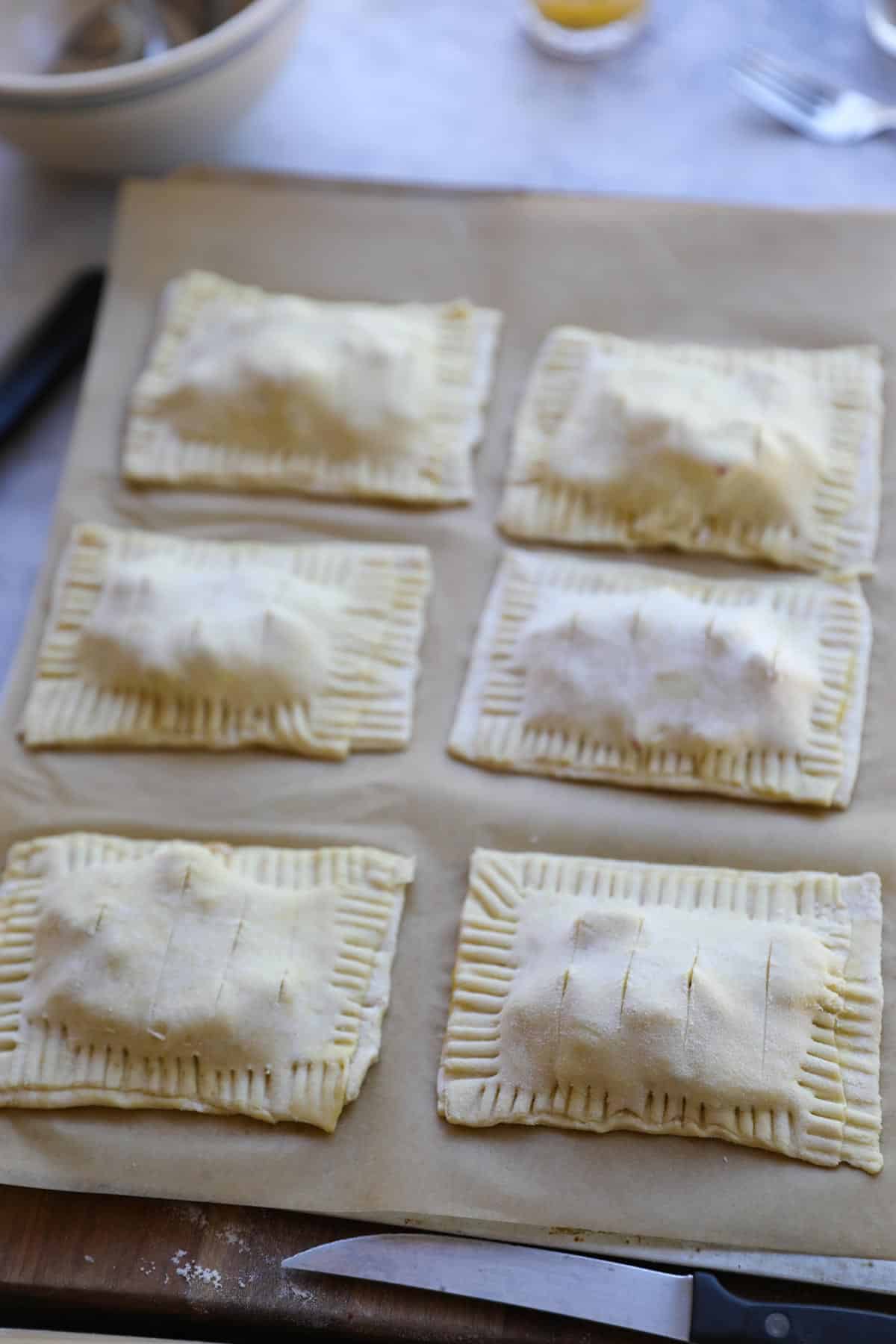 Then moments before baking, brush with egg wash, and create the slits, or steam vents, in the pastry tops.
Or you can also bake the pastries ahead of time and then reheat in a 300F(150C) oven right before guests arrive. Then moments before serving add a drizzle of the frosting on top.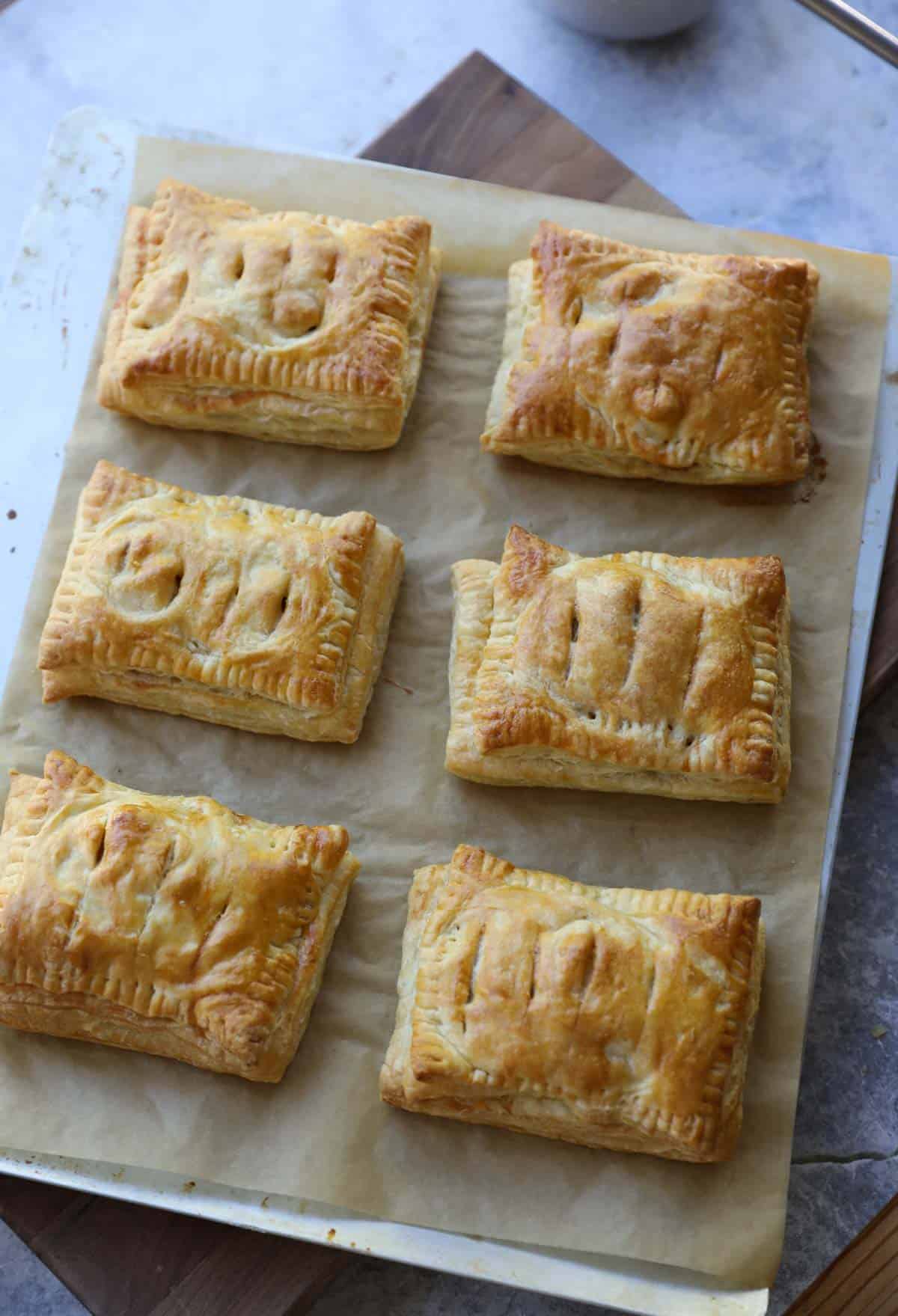 Frosting the Pastries
To create a thin layer of frosting on your pastries, it's best to drizzle with a fork. Allow to sit for a few minutes and the frosting will set and become less sticky.
The combination of the sweet frosting, tart apples and plump raisins is such as comforting breakfast treat against the flakey puff pastry.
Puff pastry just makes everything taste better!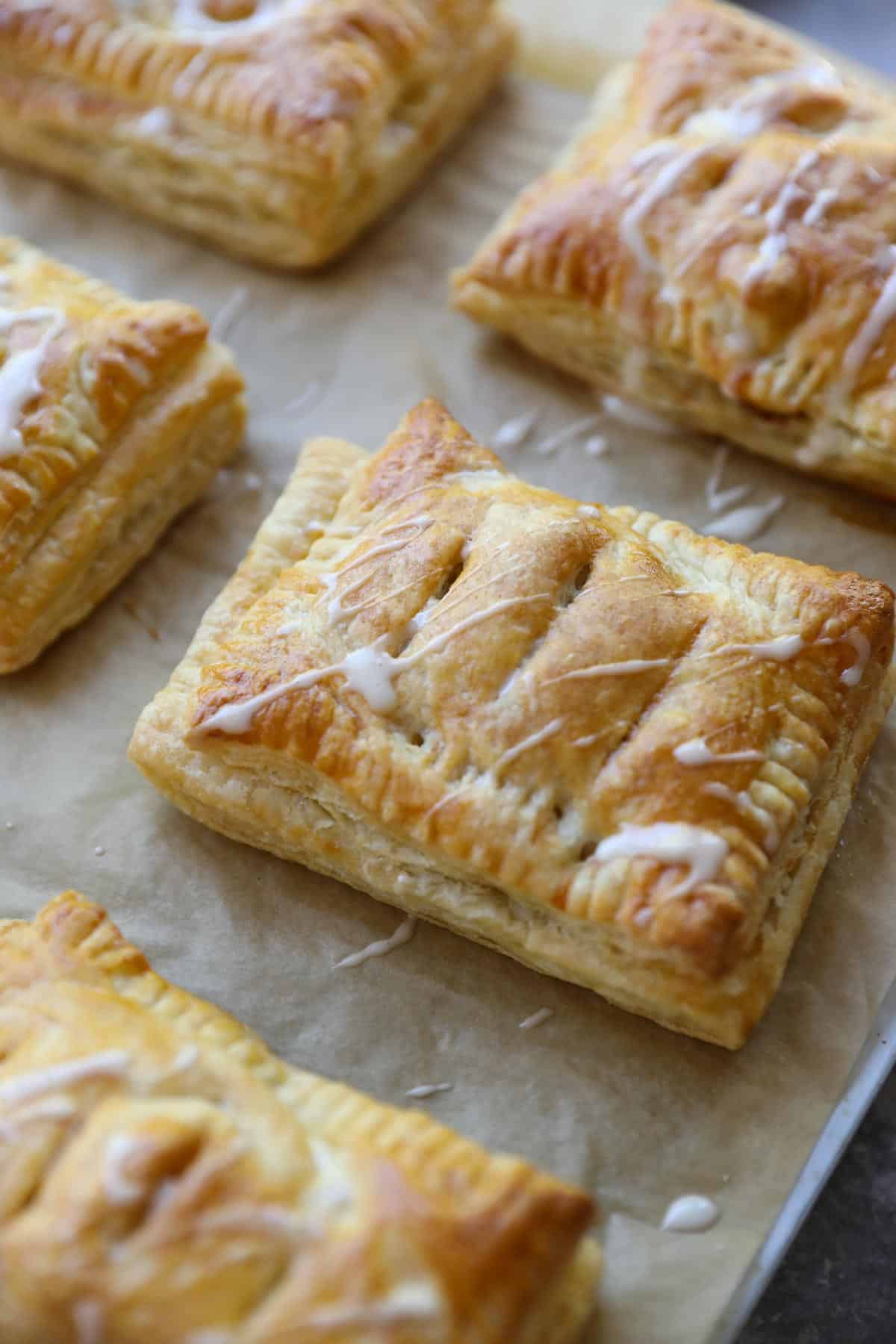 Are you a puff pastry fan? Try some of my other puff pastry recipes like my Baked Brie in Puff Pastry or my Tarte Au Soleil appetizer
Please let me know if you make this Recipe
by leaving a rating and review below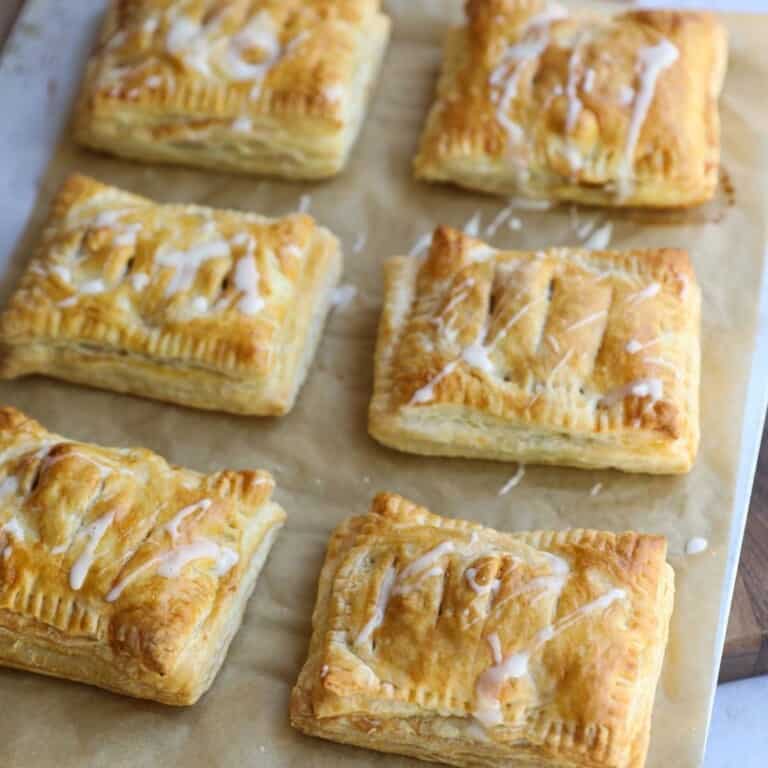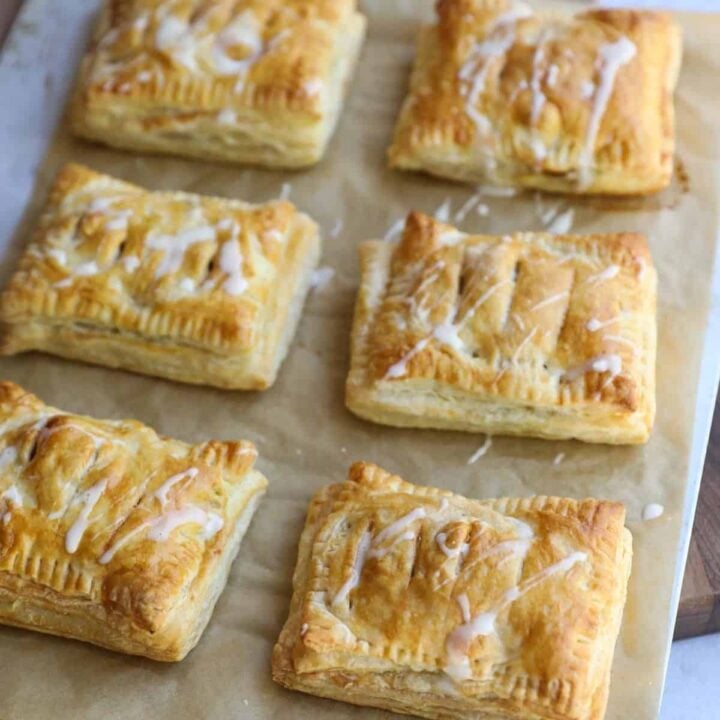 Apple Cinnamon Pastries
Total Time:
1 hour
30 minutes
Apple Cinnamon Pastries. The perfect Christmas Morning Breakfast Idea. Simple to do, and can be made ahead and baked! Includes recipe video tutorial too!
Ingredients
2 tablespoon (25 g) sugar
¼ teaspoon (1.25ml) cinnamon
1 ½ cup (240 g) of diced apples, skin on (to preserve the pectin)
3 tablespoon (30 g) raisins
1 egg beaten
1 package of store-bought puff pastry sheets (I really like the Pepperidge Farm Brand for these since it's already scored!)
FROSTING:
1 tablespoon (7g) powdered sugar
1-2 teaspoon (5-10ml) of heavy cream
Instructions
Pre-heat oven to 400F (200C)
In a small bowl combine the sugar with the cinnamon and set aside.
In a medium-sized bowl add the apples, the cinnamon sugar, and the raisins. Toss well to combine and set aside.
Beat 1 egg until combined.
Roll out the puff pastry onto a floured surface. Cut into 4" by 3" rectangles. Using a pastry brush, brush the egg wash around the perimeter of each rectangle.
Fill one half with a scoop of the apple mixture about 1 ½ tablespoons. Top with 2nd half of pastry and seal shut using the tines of a fork, pressing down into the pastry all the way around.
Brush pastry tops with egg wash, and then make 4-5 slits across the apple mound for ventilation. Transfer with a floured spatula to a parchment-lined cookie sheet.
Bake for 30-35mins, depending on it they were frozen or not if frozen will take the full 35 mins most likely. If not 25-30 mins. If not freezing before do take the time to firm up the dough by popping your tray in the fridge for 20 mins, freezer for 10 mins, otherwise the pastry can melt too quickly in the oven and lose its shape.
Remove from oven and allow to cool slightly. Meanwhile in a small bowl and the powdered sugar and heavy cream and whisk with a fork until smooth. Start with 1 teaspoon if too thick and the 2nd tsp.
Drizzle the glaze on the pastries with a fork in a zig-zag motion. Transfer pastries to cake stand, et voila! Serve and enjoy!
Notes
These can all be made in advance, wrapped tightly with foil, and popped in the fridge or freezer until ready to be baked.
You can bake them straight from the freezer, no need to defrost first! They may just take an additional 5-7 minutes more of baking time.
Nutrition Information:
Yield:

6
Serving Size:

1
Amount Per Serving:
Calories:

91
Total Fat:

6g
Saturated Fat:

3g
Trans Fat:

0g
Unsaturated Fat:

3g
Cholesterol:

42mg
Sodium:

27mg
Carbohydrates:

7g
Fiber:

1g
Sugar:

4g
Protein:

2g