This French Apricot Pastry Recipe is the perfect treat to serve at your next brunch. They are inspired by the Lunettes Aux Abricots, that you see in the French bakeries when traveling in France.
They are one of my favorite French recipes to make because they look so impressive but are actually a cinch to put together!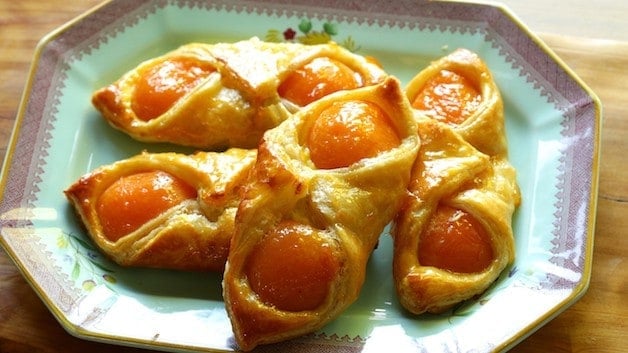 What makes these so easy is the fact that you can use store-bought puff pastry and canned apricots! No apricots on hand?No problem! You could also use canned pears or peaches too!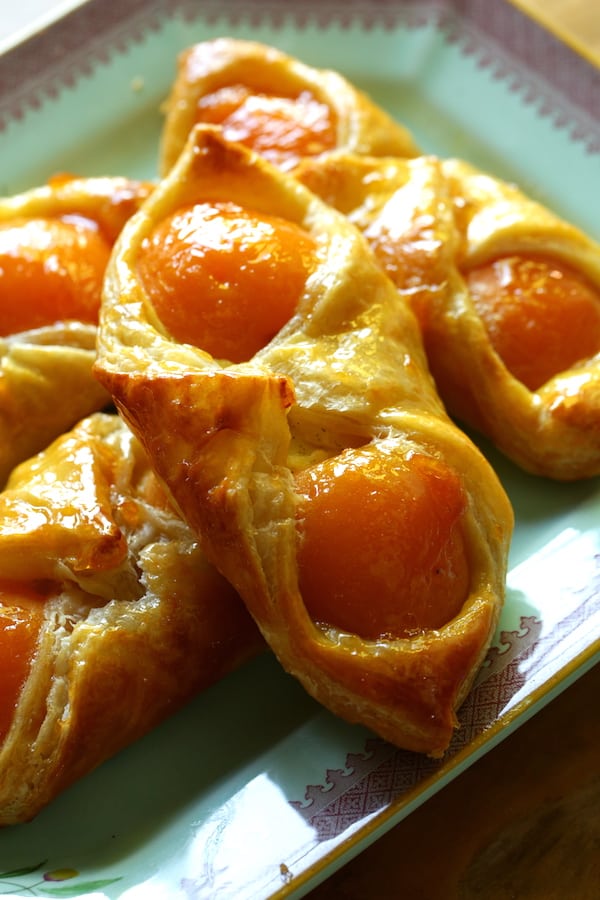 They are filled with rich pastry cream and topped with tart apricots. Once baked they are lathered with warm apricot jam. The combination of the flakey puff pastry, the rich pastry cream, and the tart apricots is just divine!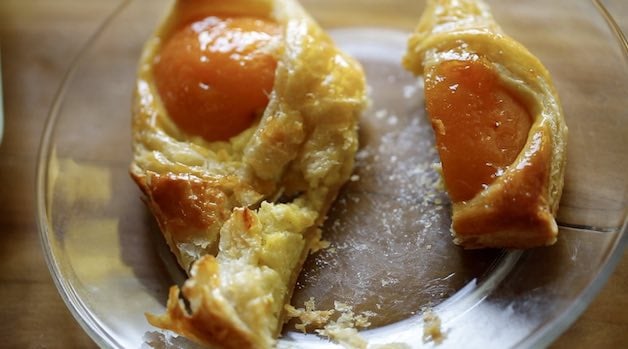 You could also pair these apricot pastries with my "Cheater" almond croissant and mini ham and cheese croissant recipes for a fun "French Pastry Theme!"
WATCH MY VIDEO DEMO OF THIS RECIPE BELOW!
STEP #1: Make the Pastry Cream
To a saucepot, you'll add milk, sugar and a vanilla bean scraped of its seeds.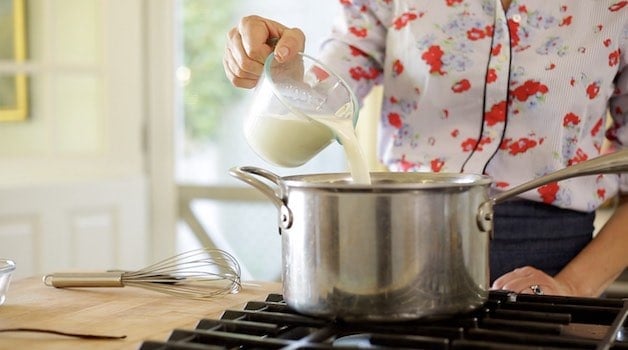 Simmer the milk until the vanilla seeds float to the surface. Remove the pod.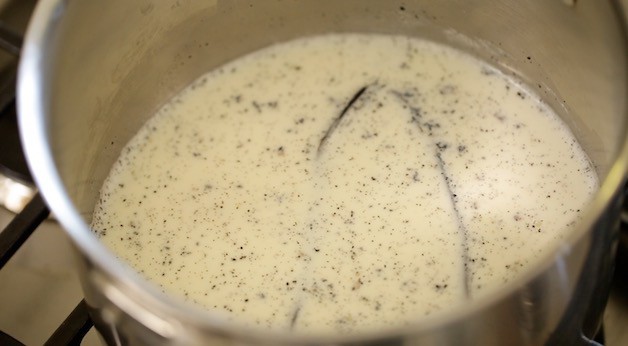 Allow the milk to cool and meanwhile, you'll mix together egg yolks and cornstarch until a paste forms.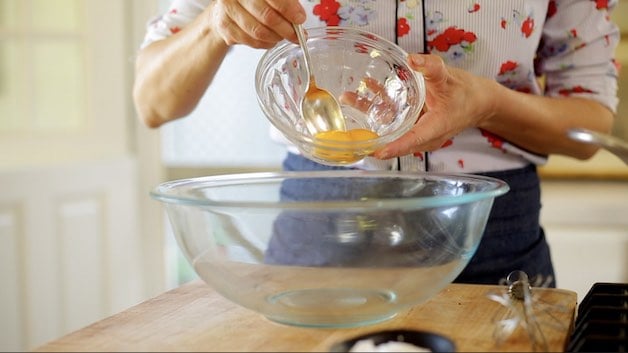 Then slowly add the warm milk until the mixture is smooth.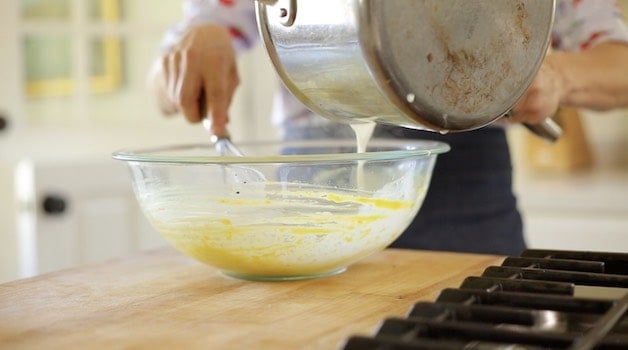 Strain into a cleaned out pot through a fine-mesh sieve and heat on medium-high, whisking all the while, until mixture thickens.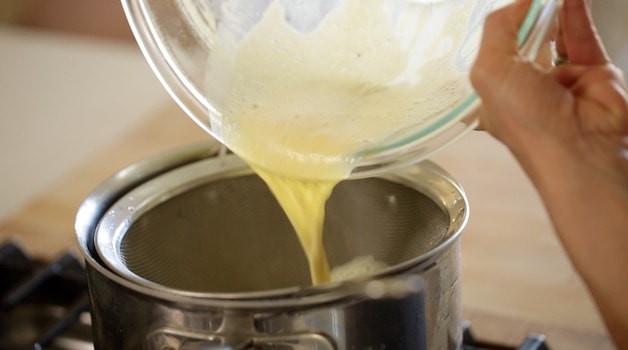 It's ready when it has a pudding-like consistency. Transfer to a bowl, cover with plastic wrap, and refrigerate until ready to use.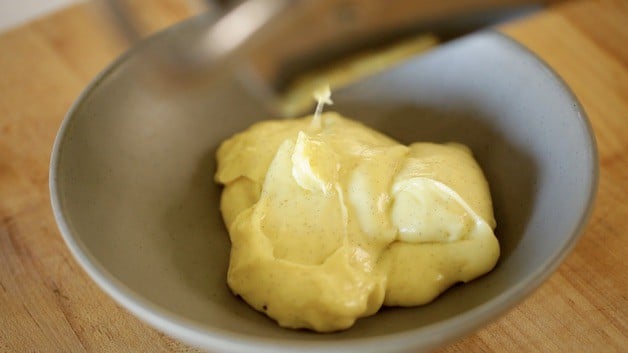 The plastic wrap should touch the pastry cream and have a tight seal. This will prevent a skin from forming.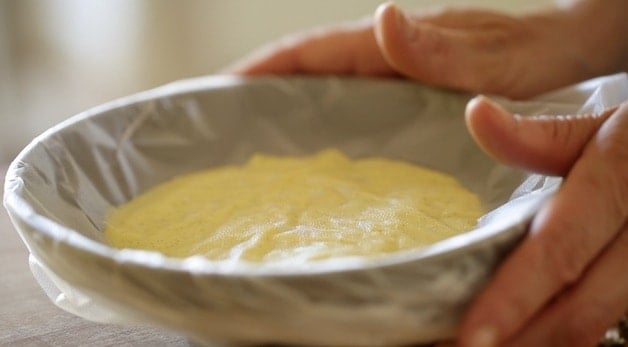 TIP: The pastry cream can be made up to 2 days in advance and kept refrigerated until ready to use.
Pastry cream is a terrific recipe to master because you can use it in so many other delicious things! Such as my Chocolate Eclairs, Fruit Tart, or my Strawberry Pistachio Tart.
STEP#2: Assemble the Apricot Pastries
To assemble the pastries, place one 5″ x 5″ (13cm x 13cm) puff pastry square on a cutting board. Add two tablespoons of the pastry cream in the center, and top with the apricot halves, cut side down.
TIP: The best place to find pre-cut squares of puff pastry in the size is in the Mediterranean markets. Having the pastry pre-cut will assure that all your pastries are the same size and will bake at the same rate. It also saves a ton of time!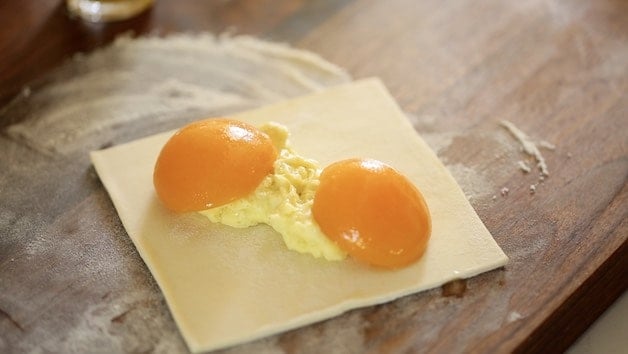 TIP: You can also fill these with an almond filling too! You can see my recipe for Apricot Tarlettes and use the filling recipe. Just be careful not to over-fill the pastries if using the almond filling 1 good tablespoon is plenty, otherwise, the almond filling tends to seep out too much.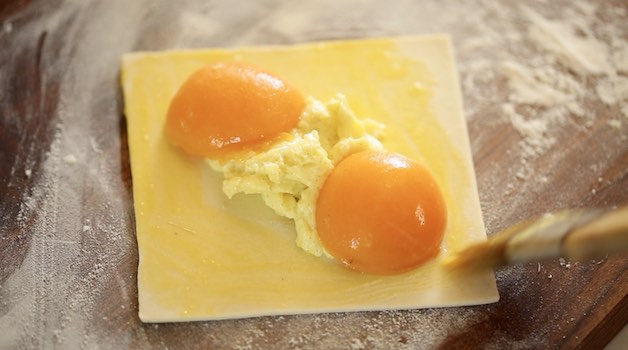 Brush the pastry with a beaten egg, then bring the corners to the center, covering the pastry cream, and leaving the apricots visible. Seal the pastry up with more egg wash.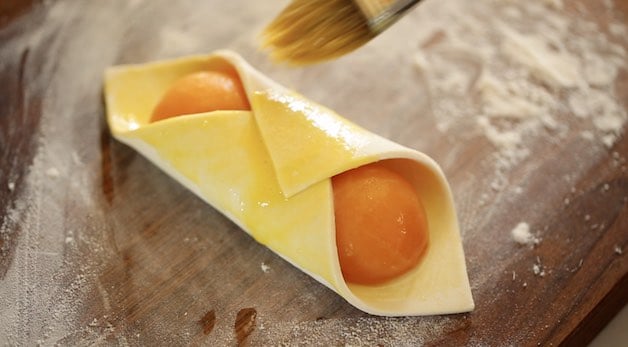 Transfer pastries to a baking sheet lined with parchment paper and cover loosely with foil.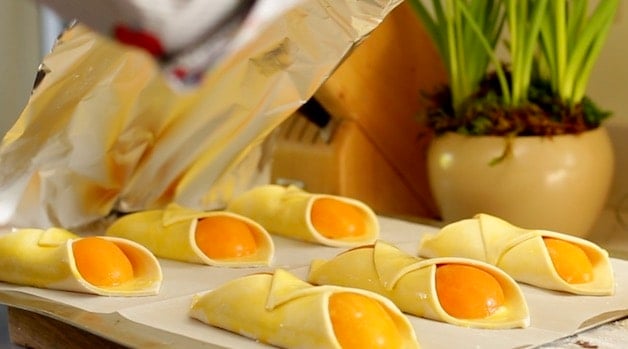 STEP#3: Bake Your Apricot Pastries
An hour before your guests arrive, remove your pastries from the refrigerator. Bake at 400F (200) for 20-25 minutes until puffed up and golden brown.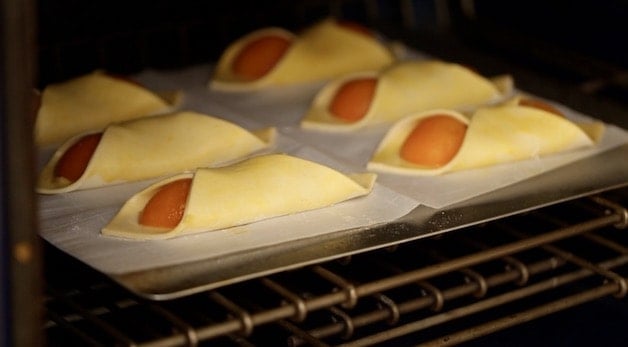 STEP#4: Glaze and Serve!
Brush the apricot pastries with melted apricot jam, including the apricots.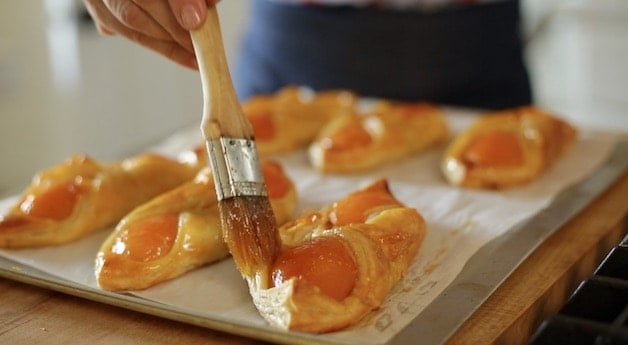 Pile on a large platter and serve! This is a great recipe for Easter Sunday, Mother's Day, or baby or bridal showers too!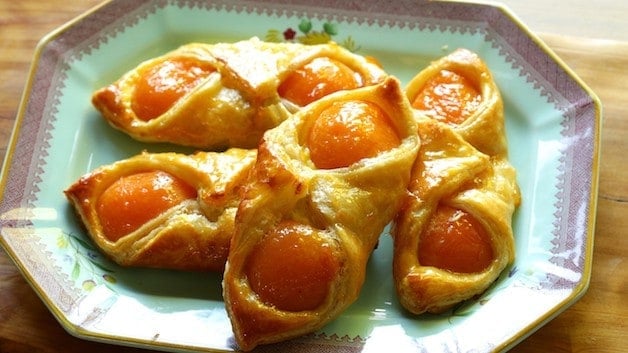 MORE GREAT PUFF PASTRY RECIPES!
Please let me know if you make this recipe
by leaving a rating and review below!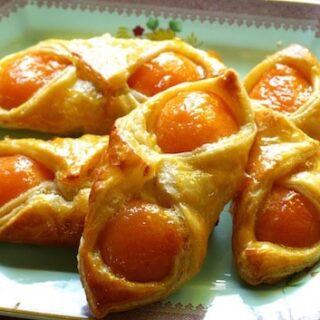 French Apricot Pastry
Total Time:
1 hour
25 minutes
Beautiful French apricot pastries made with store-bought puff pastry, pastry cream and tart apricots. The perfect easy treat to make for any Sunday brunch!
Ingredients
For the Pastry Cream:
1 cup (240ml) milk
2 tbsp (25g) sugar
1 vanilla bean, scrapped of its seeds
2 egg yolks
2 tbsp (15g) cornstarch
1 tbsp (15g) butter
For the Pastries:
6 puff pastry squares 5" x 5" (13cm x 13cm)
2 15-ounce cans of canned apricots (you'll need 12 apricot halves)
1 egg, beaten
¼ cup (60 ml) Apricot Jam
Instructions
The day before, make the pastry cream.
In a medium sauce pan add the milk, sugar, and vanilla bean paste and pod. Bring to a simmer and the vanilla seeds rise to the top. Fish out the vanilla bean pod with tongs, and allow the milk mixture to cool slightly.
In a large mixing bowl add egg yolks and cornstarch. Whisk together until a pale-yellow paste forms. Slowly add the milk mixture to the paste mixture, whisking until combined.
Strain mixture through a fine mesh sieve into a cleaned-out sauce pot. Heat mixture on medium high heat, whisking all the while until thickened. Soon after a pastry cream will begin to form. Whisk until it reaches pudding-like consistency. Whisk in butter.
Transfer pastry cream to a shallow bowl and cover with plastic wrap and refrigerate overnight or until completely cooled.
Drain apricots of their syrup and place on a plate. Place 1 puff pastry square on a floured surface, rotating it to a diamond shape facing you. Spread 2 tablespoons of pastry cream in the center of the diamond. Spread out to about 3 inches long. Place apricots, cut side down at the edge of the pastry cream.
Brush the perimeter of the pastry with egg wash. Then take the two-outer points of the diamond, at the sides and bring them towards the center, folding one over the other and brushing seal with the egg wash to affix it together. Brush the outer pastry area with egg wash as well.
At this point, pastry cream should not be visible when you fold this up, only apricots should be visible.
Gently place a floured metal spatula under the pastry and transfer to a baking sheet lined with parchment paper.
Continue the process until 6 pastries are formed. Place the tray in the fridge, tented lightly with foil until ready to bake.
To bake place pastries into a pre-heated 400F (200C) oven for 20-25 mins or until golden brown and puffed up. Allow to cool slightly.
Meanwhile place the apricot jam in a sauce pan to melt the jam and liquefy. Brush the jam on the pastries and apricots to create a shiny surface. Transfer to a platter and serve immediately.
Notes
You can make the pastry cream up to 2 days before.
You can also fill these with an almond filling too! You can see my recipe for Apricot Tarlettes and use the filling recipe. Just be careful not to over-fill the pastries if using the almond filling 1 good tablespoon is plenty, otherwise the almond filling tends to seep out too much.
Nutrition Information:
Yield:

6
Serving Size:

1
Amount Per Serving:
Calories:

259
Total Fat:

14g
Saturated Fat:

2g
Trans Fat:

0g
Unsaturated Fat:

11g
Cholesterol:

92mg
Sodium:

88mg
Carbohydrates:

30g
Fiber:

3g
Sugar:

14g
Protein:

6g