These delicious Easy Smashed Potatoes are a great addition to your side dish repertoire! They are a combination between a roasted potato and a baked potato, but the flavor and crispiness put them in a class all by themself!
They are fantastic as a side dish paired with any chicken dish, my favorites would be my Creamy Chicken Florentine Recipe, Chicken Piccata 15-Minute Chicken Dijon or Chicken Marsala Recipes.

What's the Technique?
Making smashed potatoes is a simple process that involves boiling the potatoes first, smashing them with a potato masher or meat mallet, drizzling them with olive oil, seasoning with salt and pepper, and then baking until crispy.
The final stage involves brushing them with garlic butter and garnishing them with fresh parsley and grated parmesan cheese. How can that be bad, right?! Ha!
Watch a Video Demo of this Recipe Below!
Subscribe to My YouTube Channel and Never Miss a Recipe
This video also includes a recipe for my Sour Cream Mashed Potato Recipe another fantastic side dish with chicken!
Step#1: Boil Red Potatoes
Smashed potatoes work best with a waxy potato like a red potato, Dutch Baby, or Yukon Gold. The waxy potatoes hold their shape better than the starchy potatoes (i.e russets) and their waxiness helps them stay together once baked and smashed, whereas a russet would crumble too much.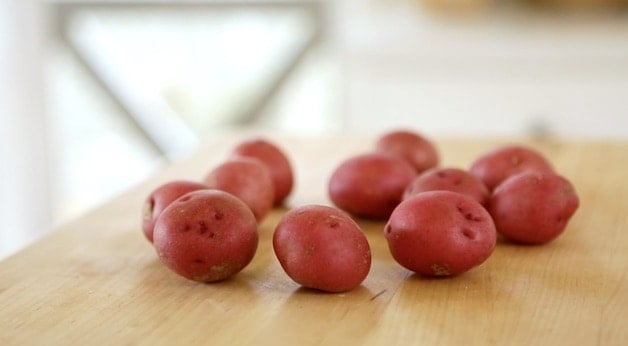 Boil the potatoes until they are tender and then be sure to pat them dry. Removing the moisture will assure your potatoes will crisp up in the oven and don't steam up.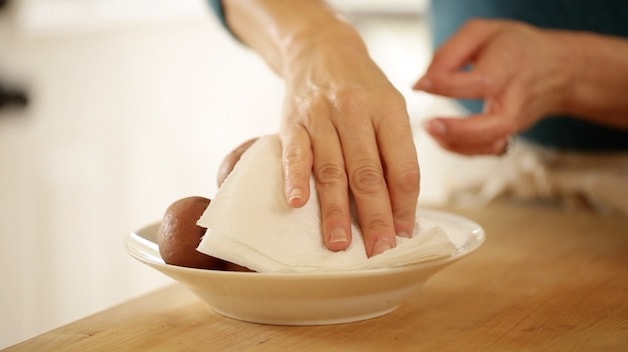 Step#2: Place Potatoes on Baking Sheet
Be sure to allow room for your potatoes to spread out since they will take up more room once they are smashed and it's harder to reposition them once you have smashed them, so best to do it beforehand.

Step#3: Smash Potatoes
Gently press down on the tender potato with a potato masher. This is the stage when you'll be happy you let your potatoes boil to the fork-tender stage since they will be much easier to mash when soft!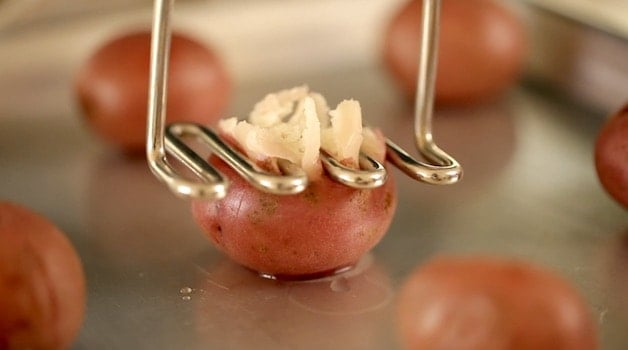 The potato will crumble a bit but just push them back together to form a circle. They will stick back together once they bake in the oven.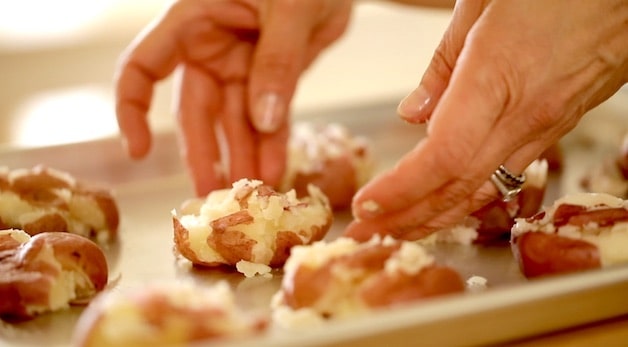 Tip: If you don't have a potato masher you can also use a meat mallet. Gently press the mallet down until the potato flattens.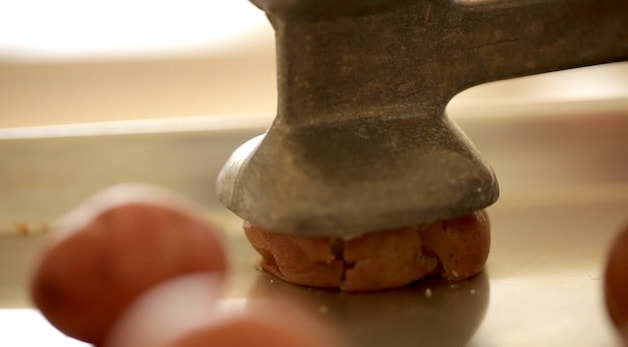 This will create a "flat" mashed potato which is still really good, but I have to say I'm partial to the potato masher technique because I think it creates prettier smashed potatoes with nooks and crannies which will ultimately hold the garlic butter.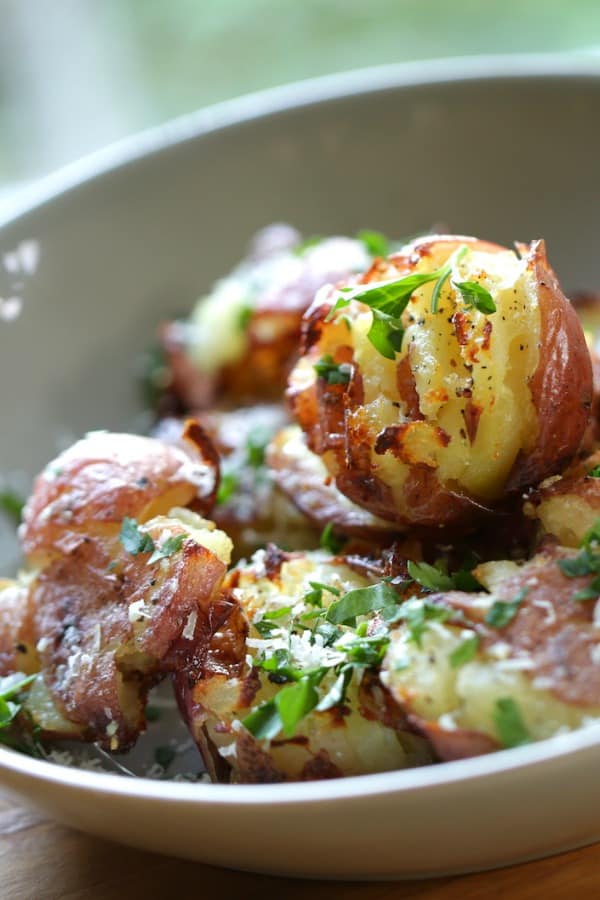 Step#4: Add Olive Oil and Season
Drizzle olive oil on top of each potato and season with salt and pepper to taste. The oil helps the potatoes crisp up in the oven and become golden brown around the edges.

How Do You Make the Potatoes Crispy?
It's really the combination of the oil right after smashing and then the butter in the final stages of baking that will create the crispiest and most flavorful smashed potato!
Step#5: Add the Garlic Butter
Once your potatoes have completed the 20 minutes of initial baking time. You'll take them out of the oven and brush each one with the garlic butter, including the sides.
Don't skimp on the butter! It's really what creates the crispiest, more flavorful smashed potato.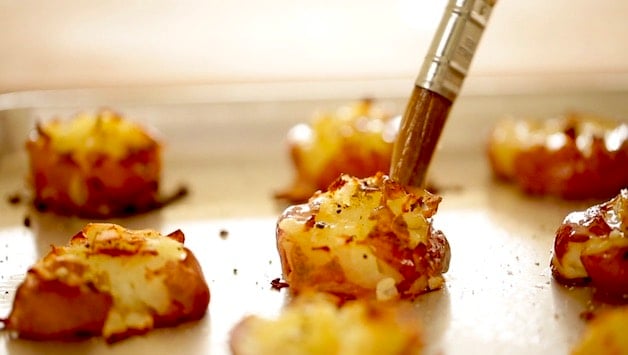 Then they'll go back in the oven for 5-7 minutes and they'll be shinny and crispy and oh so delicious!
At this stage, you can keep the potatoes in the oven, but turn down the heat to 200F to keep warm before serving
They just get better the longer they sit
But I wouldn't go over 30 minutes or they'll get too crispy and will lose the fluffy insides
Step#6: Garnish with parsley and parmesan
Just before serving sprinkle the potatoes with fresh parsley and parmesan cheese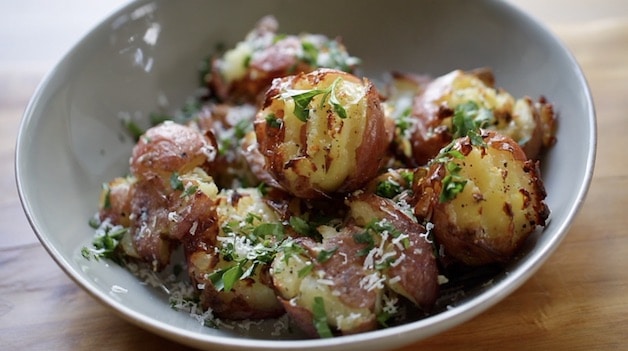 These potatoes pair perfectly with my white Wine Chicken Recipe, the potatoes can be baking in the oven, while you prepare the chicken on the cooktop. The two together make for a wonderful Sunday Night Dinner!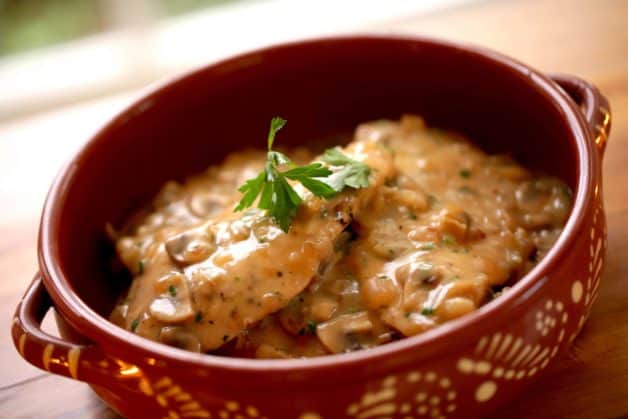 More Sunday Night Dinner Ideas!
Please Let Me Know If You Make This Recipe
By Leaving a Rating and a Review Below!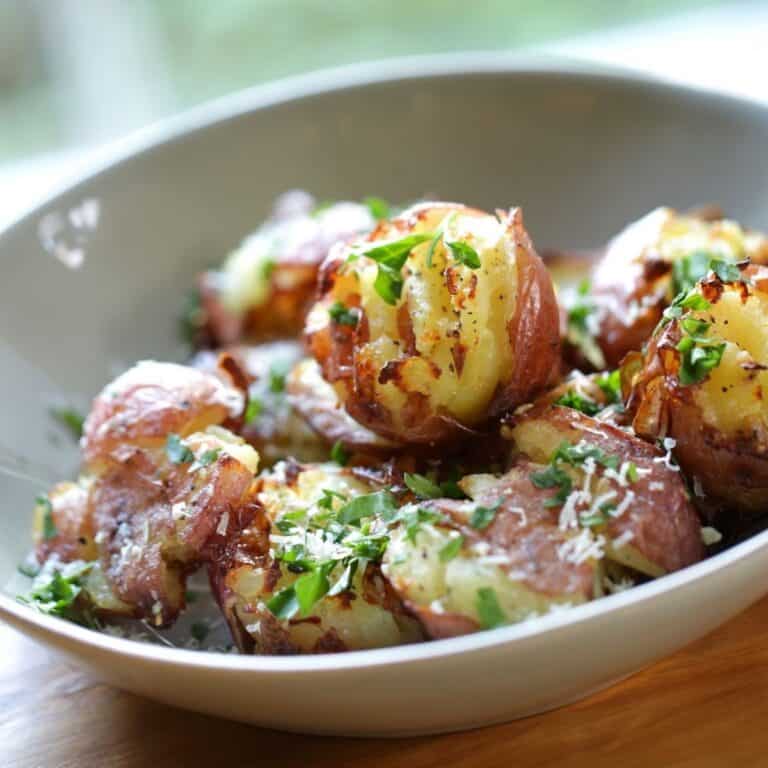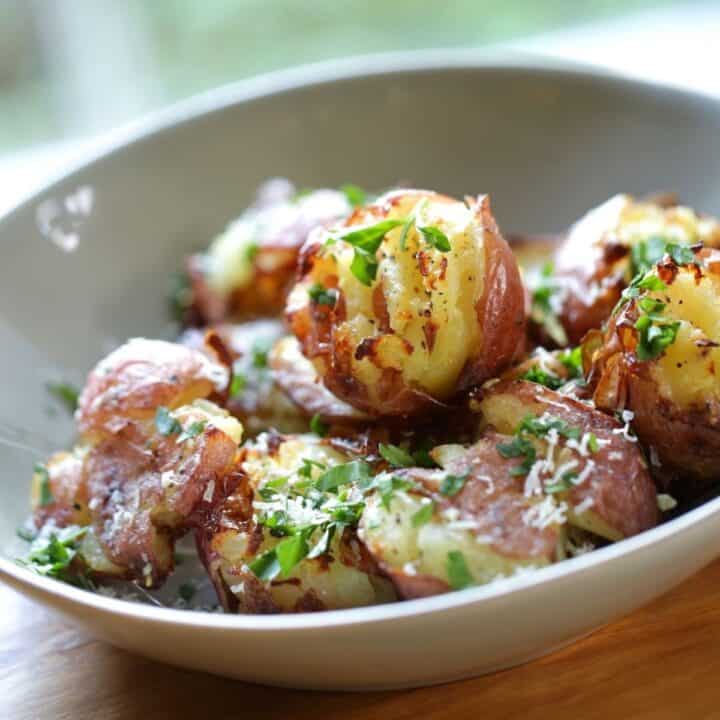 Easy Smashed Potato Recipe
Smashed potato recipe with garlic, parmesan and parsley. The perfect side dish for a Sunday night dinner. Pairs beautifully with Chicken, Pork or Beef.
Ingredients
16 oz (450 g) red baby potatoes
1 tablespoon (15 ml) olive oil
salt and pepper to taste
2 tablespoon (30 ml) melted butter
1 garlic clove, minced
1 tablespoon (15 ml) fresh parsley, chopped
1 teaspoon (5 ml) freshly grated parmesan cheese
a sprinkle of fleur de sel sea salt, optional
Instructions
Preheat oven to 425F (218C)
Boil potatoes until soft and tender. Drain and pat dry.
Place potatoes on a rimmed lined cookie sheet and press each one down, gently, with a potato masher. It's OK if they crumble a bit a fall apart, just bring the crumbs together to form a cohesive disk, they will come together once roasted.
Drizzle olive oil over smashed potatoes and season with salt and pepper. Roast for 20 mins.
Meanwhile in a small bowl whisk melted butter with minced garlic clove. Set aside.
After potatoes have roasted for 20 minutes, pull the tray out and with a pastry brush, gently brush each potato with the melted butter mixture and place the tray back in the oven for 5 more minutes.
Then remove potatoes with a spatula and place in a shallow bowl. Sprinkle with some fleur de sel sea salt. Add the chopped parsley and freshly grated parmesan cheese.
Notes
Red Potatoes (or Yukon Golds) work best for this recipe because of their waxy texture. Stay away from starchy potatoes like russets since they'll fall apart too easily.
Be sure to pat your boiled potatoes really dry. A dry potato will crisp up much better than one that is wet, which will steam up.
You can also use a meat mallet to smash your potatoes, you'll just get a flatter potato
Once the potatoes are done, you can keep them warm in a 200F oven before serving. They just get better the longer they sit in there. But I wouldn't go over 30 minutes.
Nutrition Information:
Yield:

4
Serving Size:

1
Amount Per Serving:
Calories:

182
Total Fat:

10g
Saturated Fat:

4g
Trans Fat:

0g
Unsaturated Fat:

5g
Cholesterol:

16mg
Sodium:

298mg
Carbohydrates:

22g
Fiber:

2g
Sugar:

1g
Protein:

3g