If you are looking for a great Sunday night dinner idea then you cannot go wrong with my One Pot Chicken and Potatoes recipe. This is a main course recipe that feeds a crowd and always gets rave reviews at our house, especially with our picky eaters!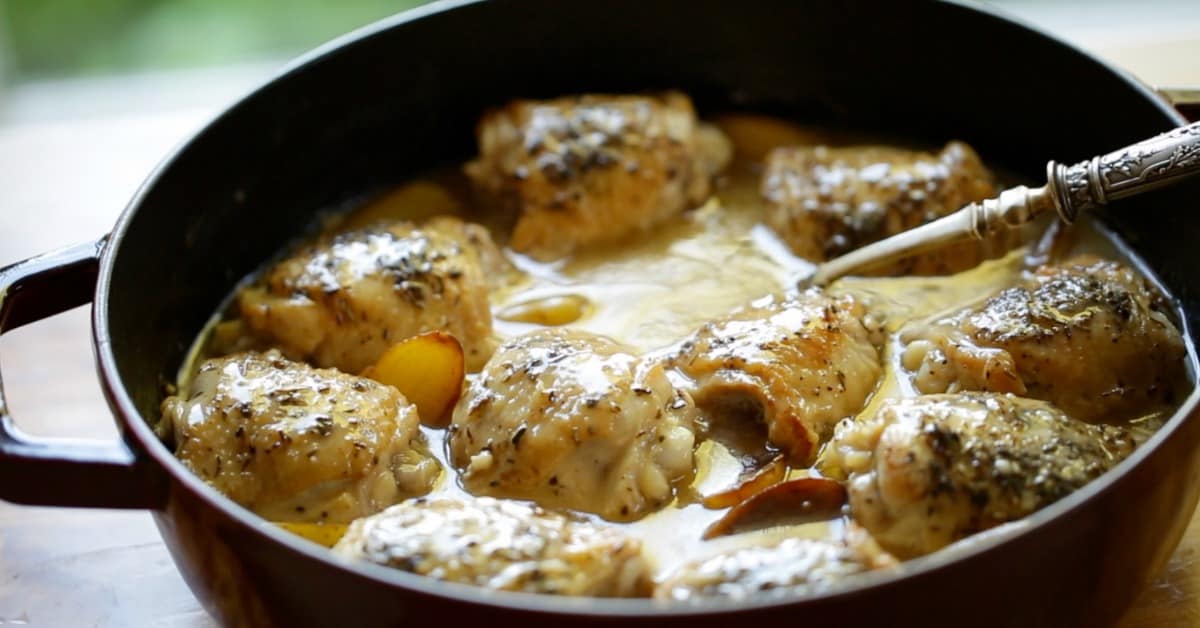 It's "hands-free" cooking because once the chicken and veggies are seared, everything stays in one pot and finishes cooking in the oven. Allowing you time to set the table, help with homework, or pour yourself a glass of wine!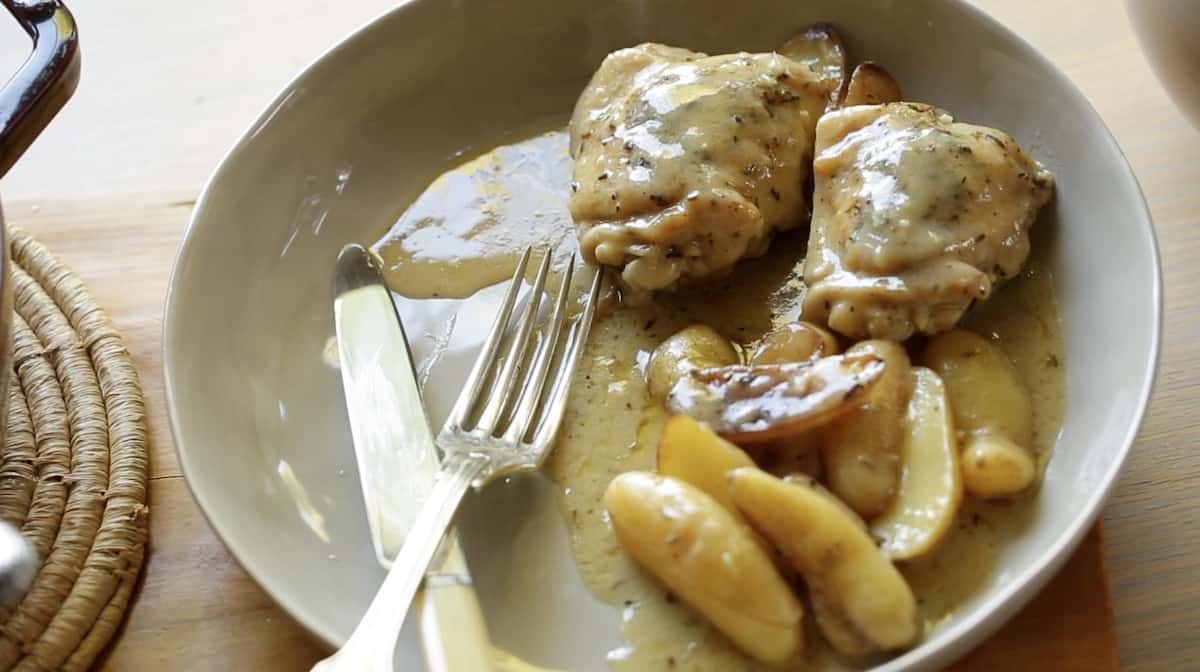 It works really well when made in a braiser because it can go from cooktop to oven, to table! It's also a great recipe that uses an inexpensive cut of meat like chicken thighs, and an affordable bag of potatoes.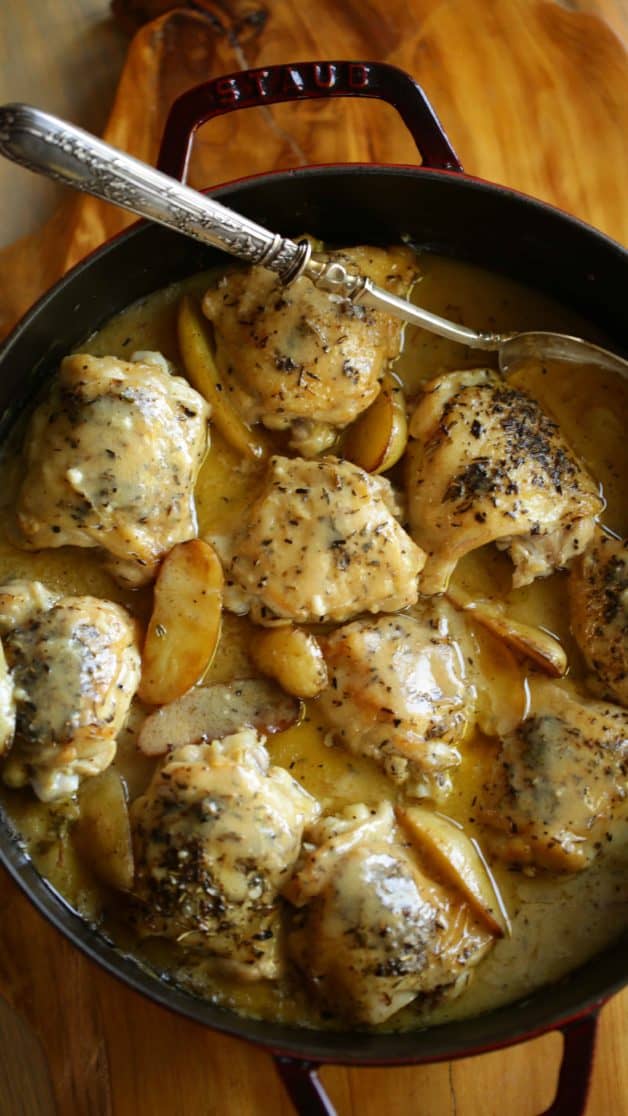 Watch My Video Demo of this Recipe Below!
Subscribe to My YouTube Channel and never miss a recipe!
The preparation for this recipe is also really simple making it a great chicken recipe for beginners!
STEP#1: Season the Chicken
You'll season your chicken breasts with salt, pepper, and Herbs de Provence. I like to use bone-in, skin-on chicken thighs since they will stay moist and tender while they roast in the oven. Another great recipe to try with chicken thighs is my Orange and Cinnamon Sheet Pan Chicken with Couscous.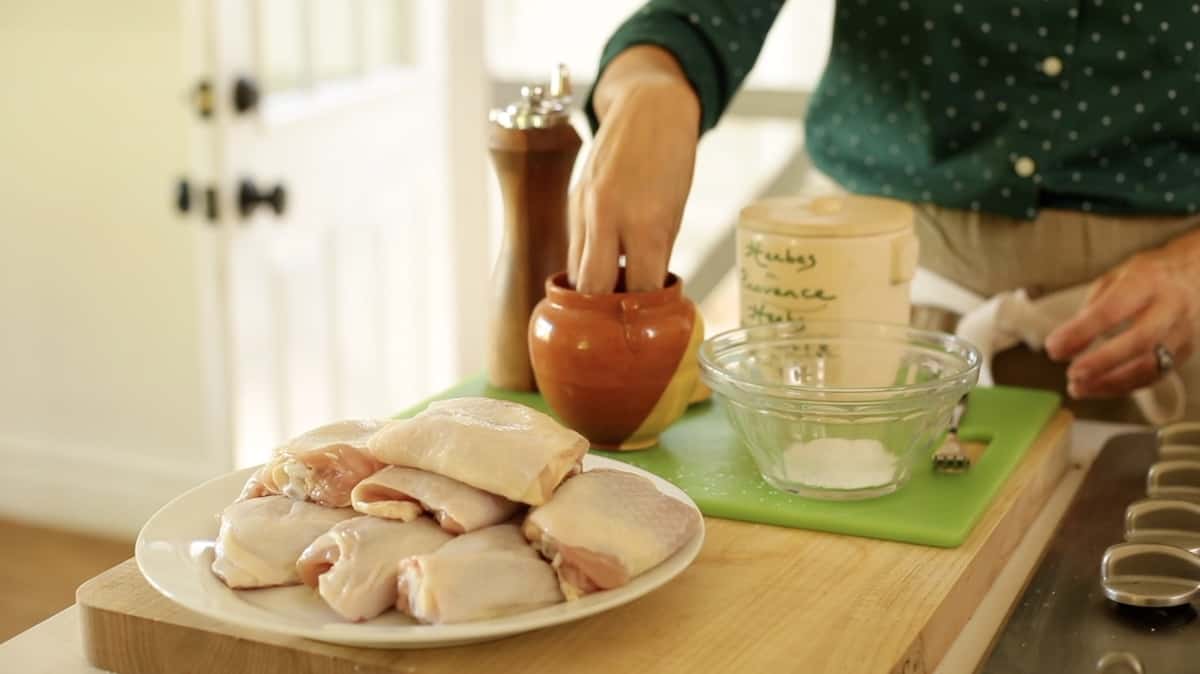 Herbs de Provence is a French spice blend that includes rosemary, thyme, basil, tarragon and other dried herbs, if you don't have Herbs de Provence you can also use any single herb for the skin such as dried or fresh rosemary or thyme.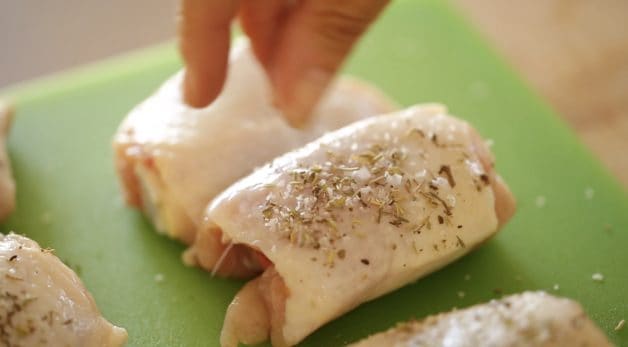 STEP#2: Sear the Chicken
To create crispy skin and lock in the flavor, sear the chicken thighs on both sides. You may need to do this in batches to avoid overcrowding the chicken. It will sear better if it has room to cook without touching the other pieces.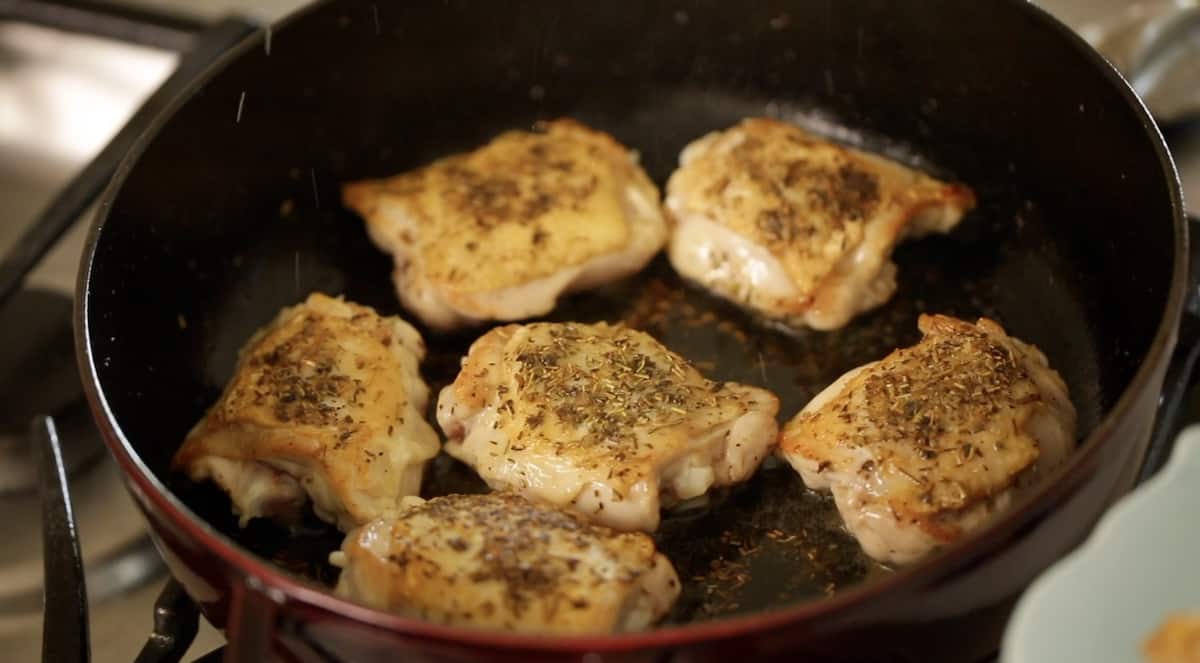 At this stage the chicken doesn't need to be cooked through, it will finish cooking in the oven as it braises in the sauce. Transfer the chicken to a plate to rest while the potatoes are cooked in the chicken fat to carmelize their cut sides.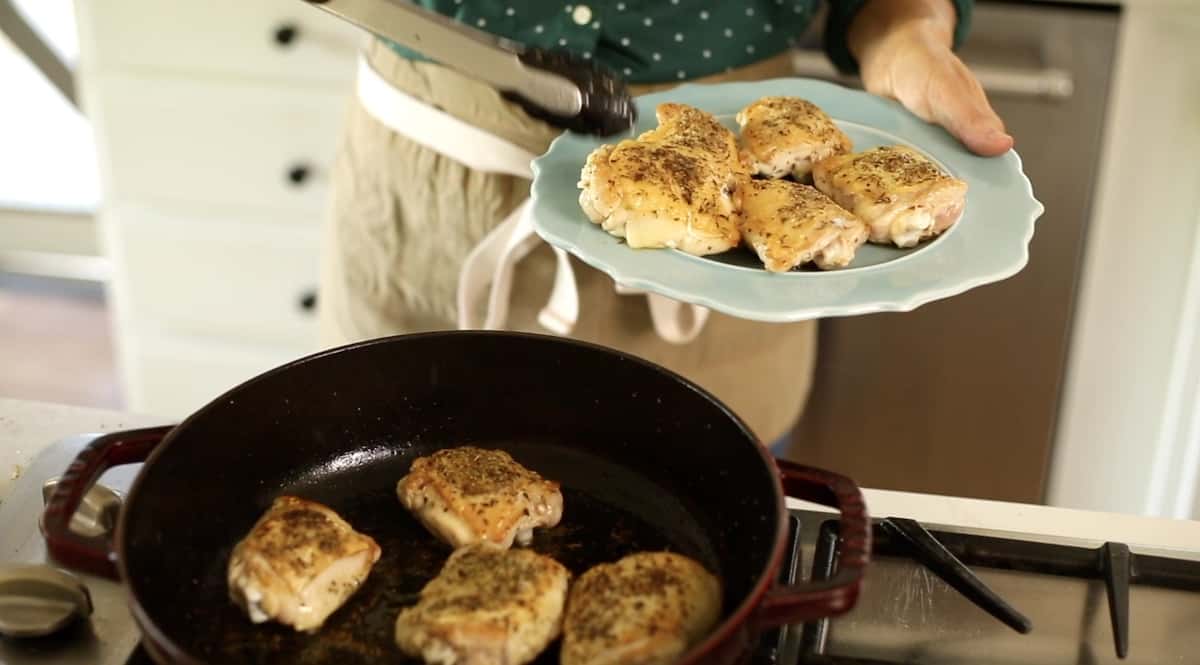 STEP#3: Cook the Potatoes in the Chicken Fat
Cooking the potatoes in the chicken fat will give them great flavor and color. It also gives them a head start before they hit the oven, which makes them cook faster too and saves you the step of washing out the pan!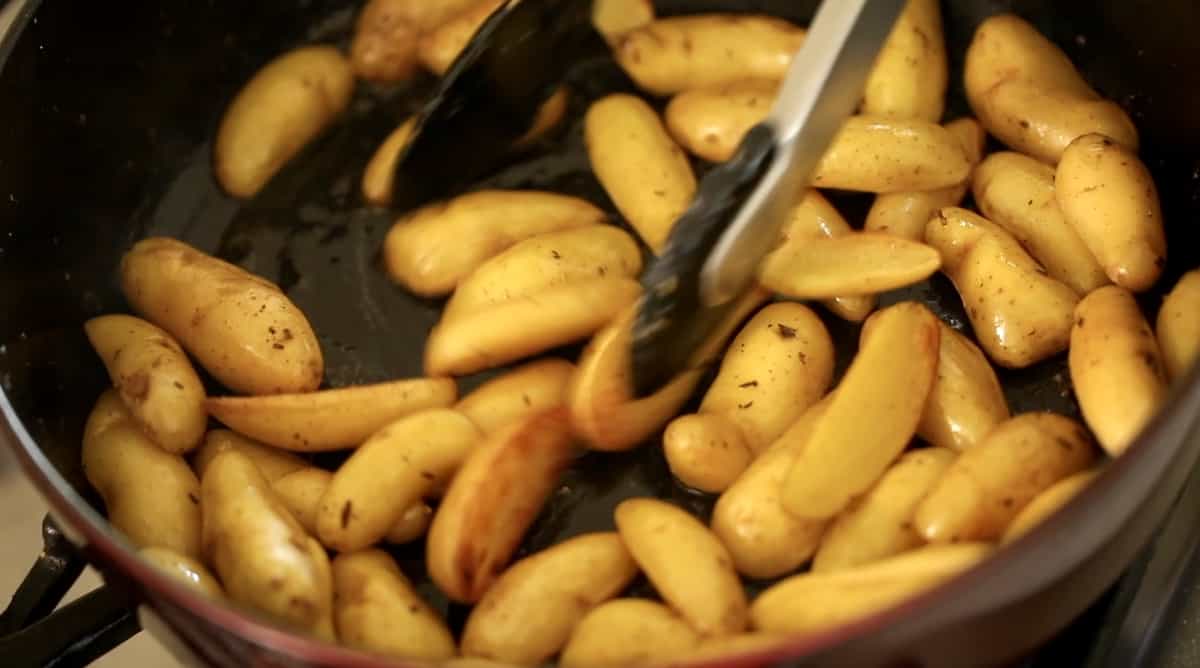 Transfer the potatoes to a bowl to rest, while you create the base for the sauce. Do not clean out the pan, you will use the remaining fat in the pan to create a roux. If no fat remains, you can add two tablespoons of butter.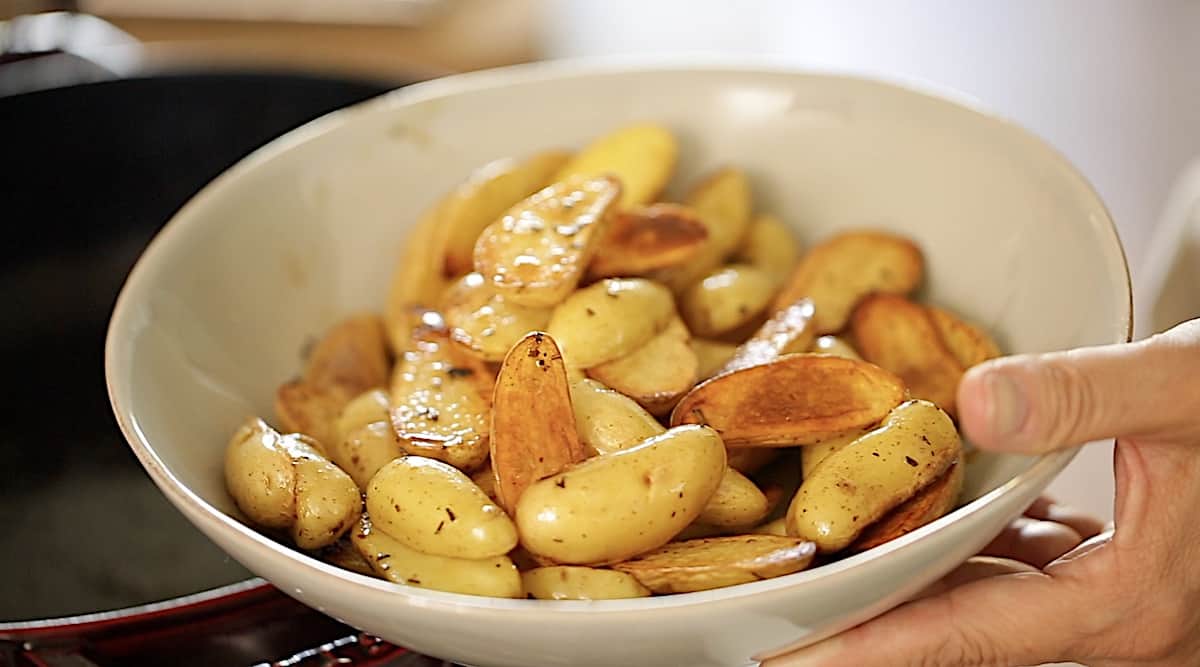 STEP#3: Create the Sauce
Add the flour to the pan, and whisk until paste forms, then you'll add the chicken broth, mustard, wine and Worcestershire sauce to create a sauce. It will simmer and thicken as it cooks. You might take the thickening a bit further than you normally would since the chicken will release its juices as it roasts, thinning out the sauce a bit.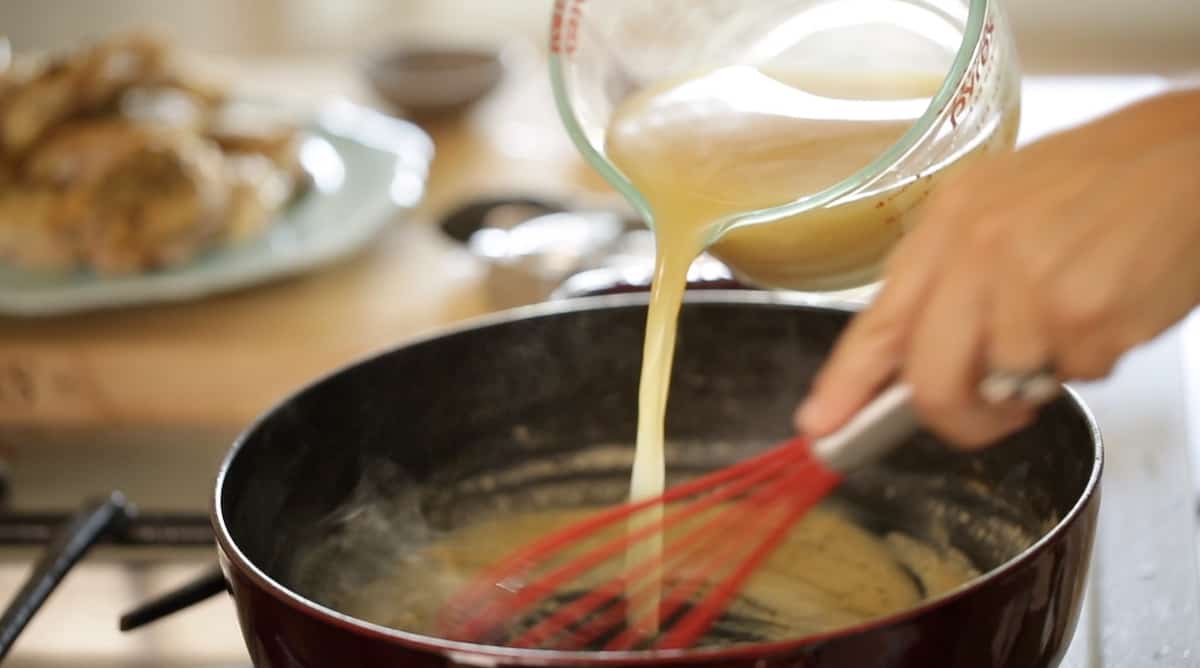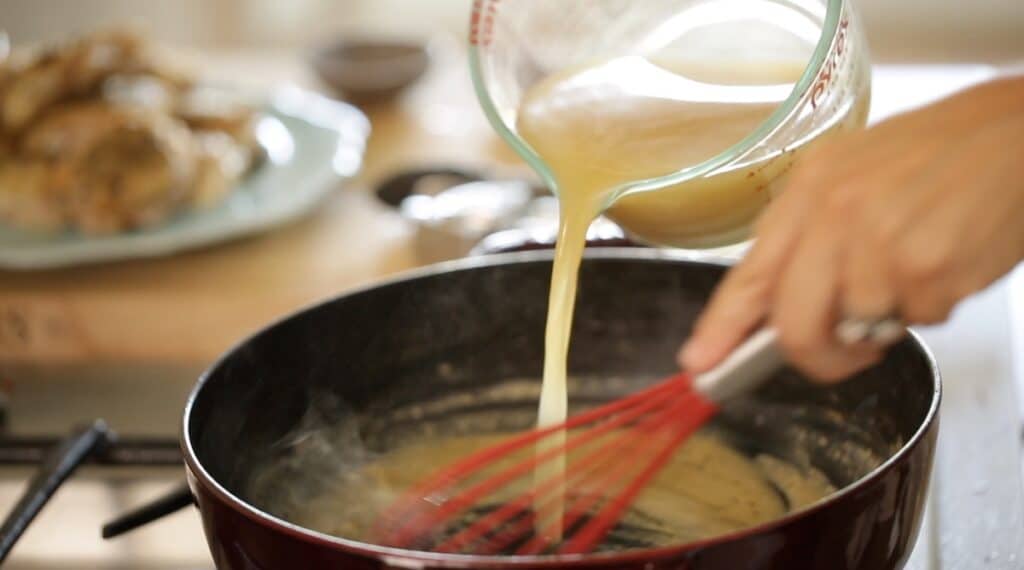 This sauce is a really delicious addition to this meal, as it combines all the flavors of the seared chicken, wine, mustard and herbs and just gets better as it roasts in the oven. Serve with some crusty bread for soaking up the sauce!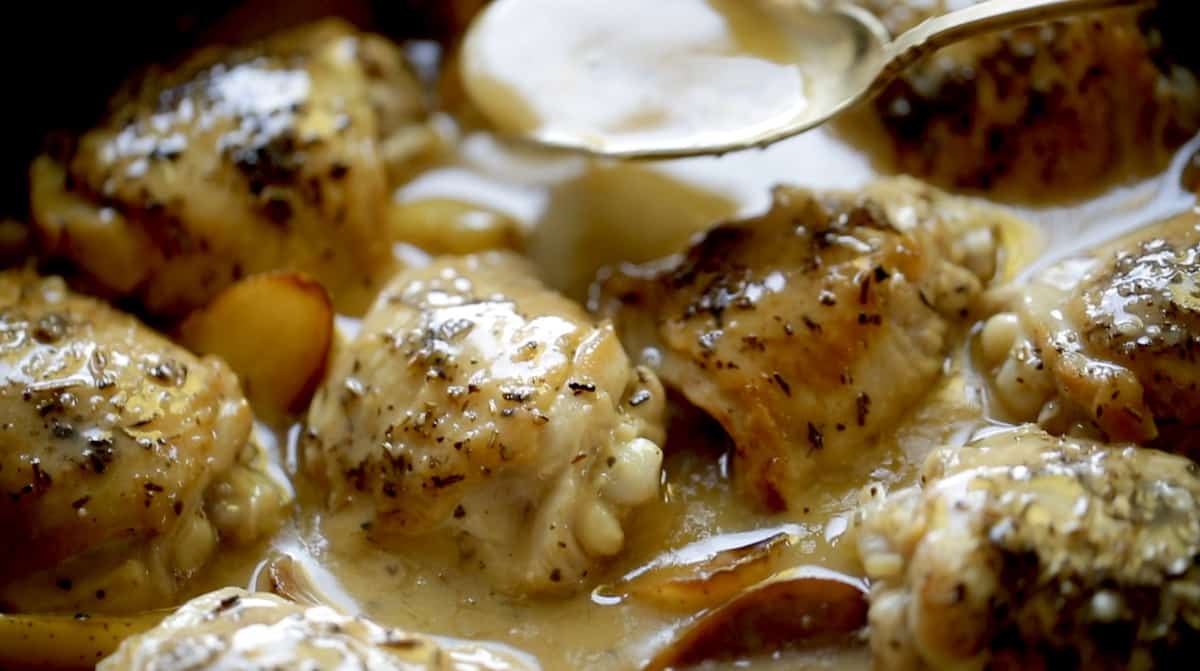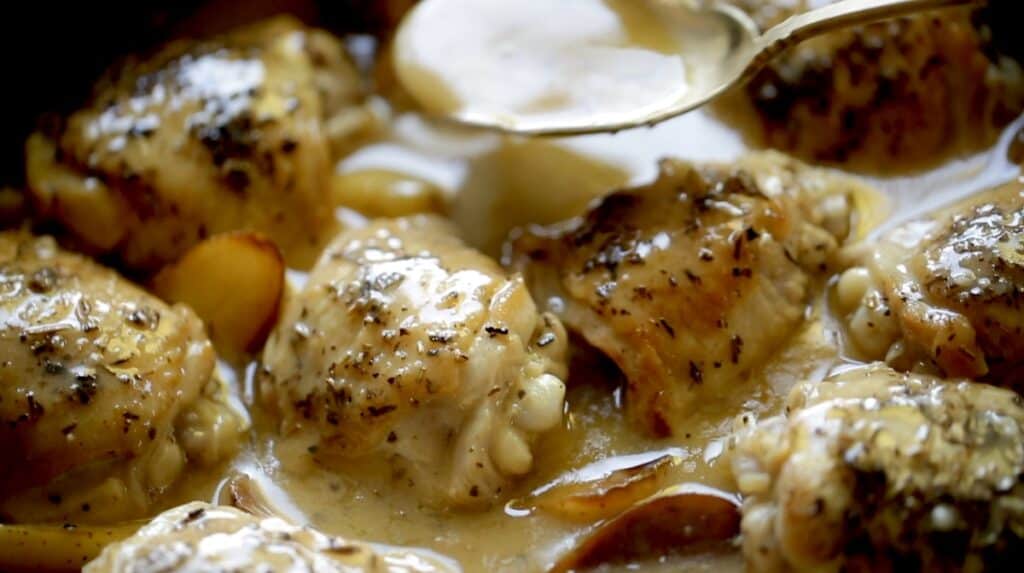 STEP#4: Add the Chicken and Potatoes Back In
Once the sauce has thickened, you'll add the thyme sprigs and garlic. The thyme will simmer with the sauce and infuse the sauce with a delicious flavor.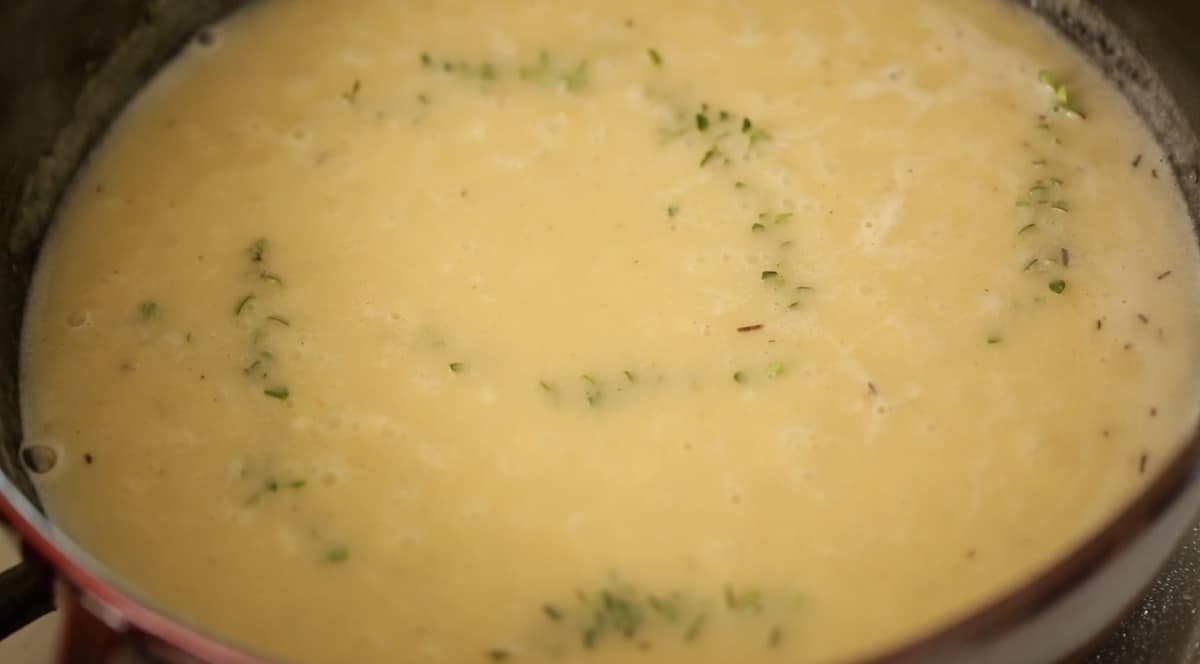 Then you can place back in the potatoes and then the chicken on top. Placing the chicken on top, skin side up will keep the chicken skin crispy and allow the potatoes to further cook below.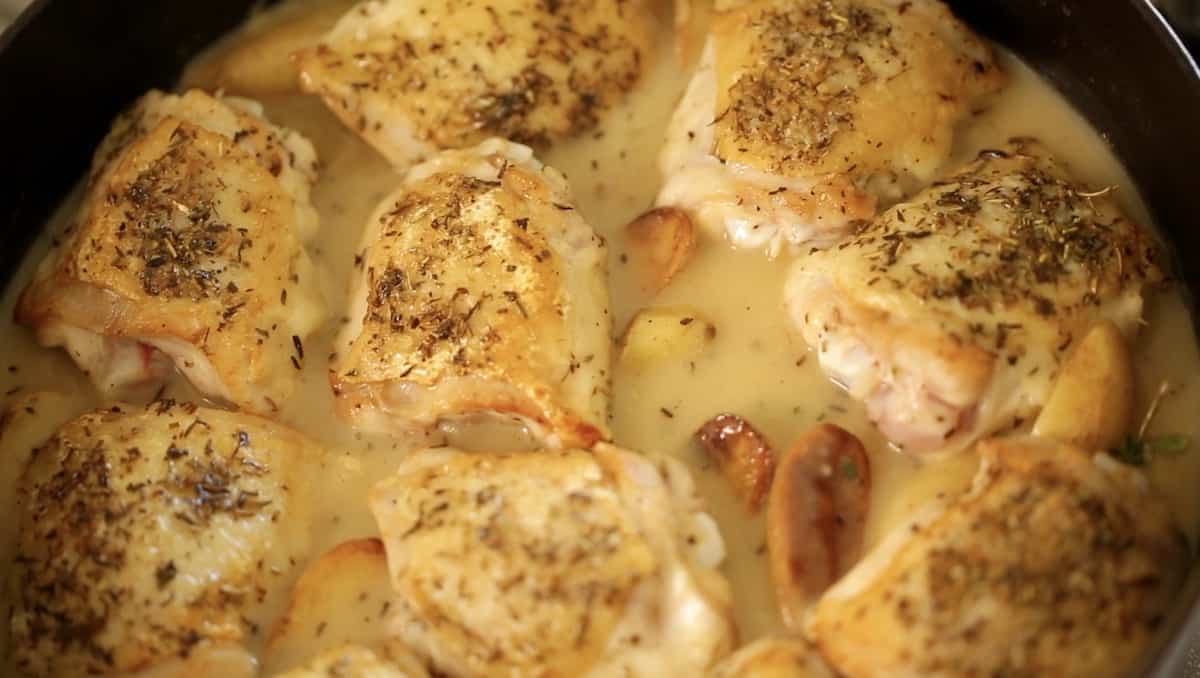 STEP#5: Cover and Bake
Then place the lid on the braiser and bake for 40 minutes until the chicken is cooked through. To create even crispier skin, you can place the braiser until the broiler for just a minute or two to crisp up the skin. Serve oven to table!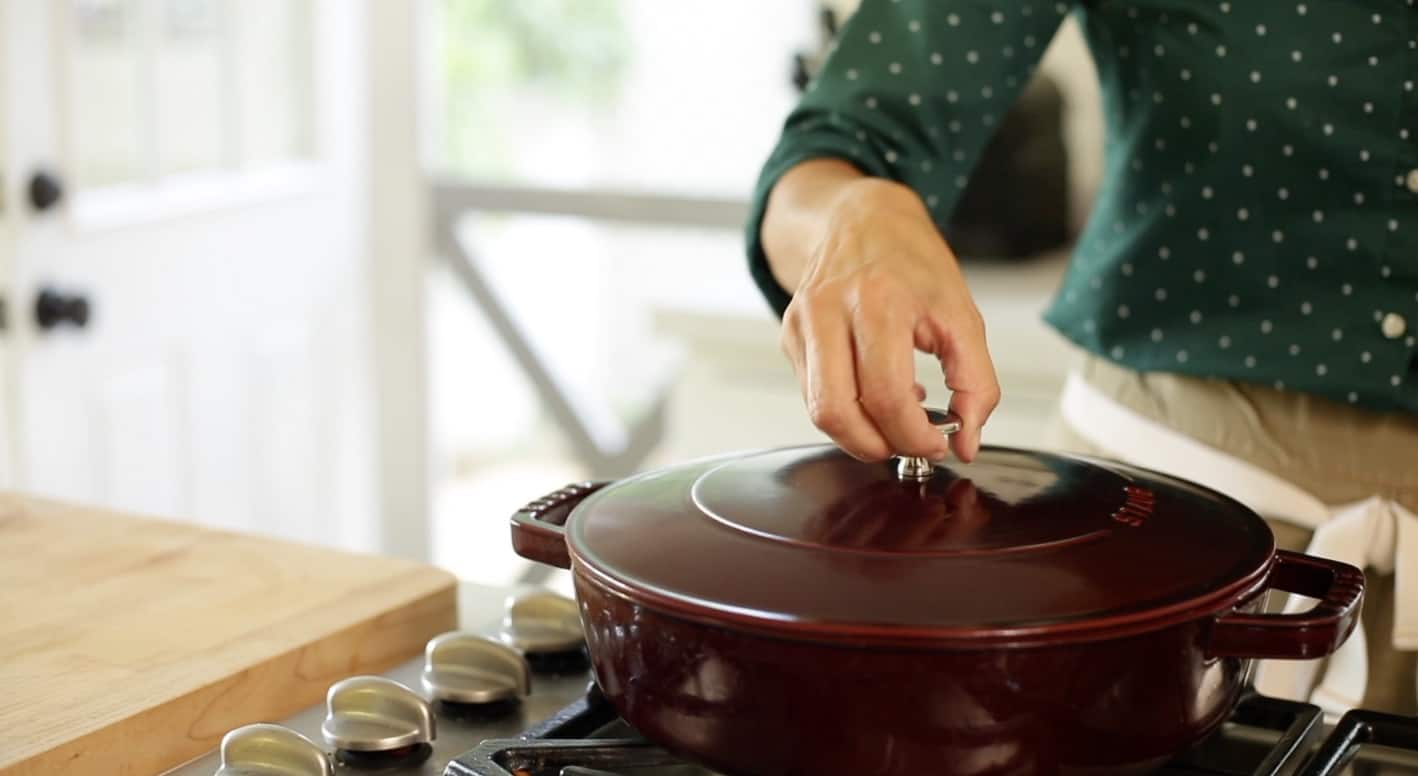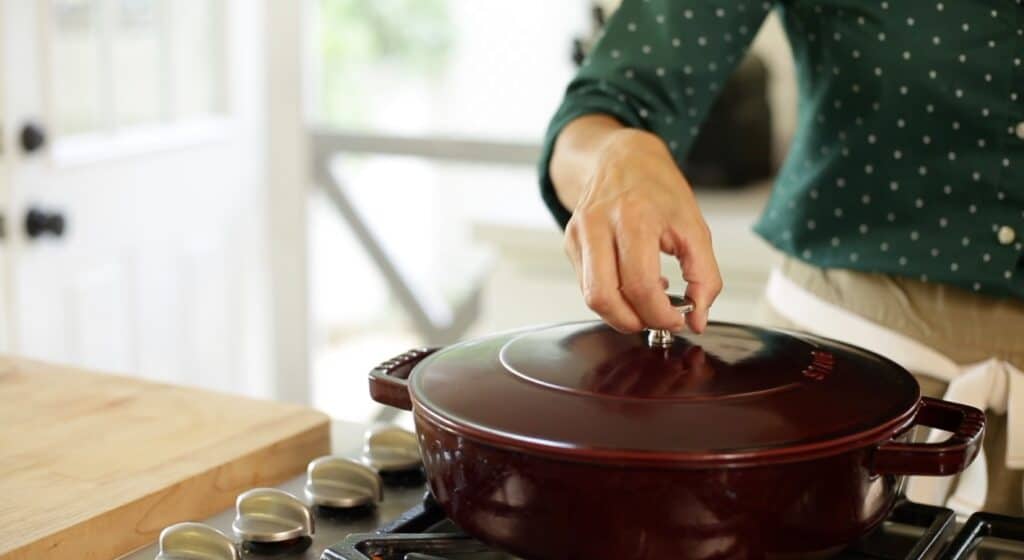 MORE EASY CHICKEN RECIPES!
If you enjoyed this one-pot chicken recipe
leave a rating and review below!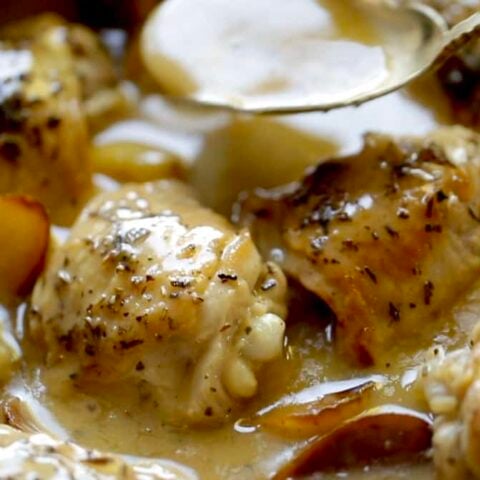 One-Pot Chicken and Potatoes
One Pot Chicken and Potatoes. A great Sunday night dinner recipe the whole family will love!
Ingredients
1 tbsp (15 ml) olive oil
10-12 chicken thighs, skin on, bone-in
salt and pepper to taste
Herbs de Provence, to taste
12 ounces (340g) small "Dutch Baby" potatoes, sliced in half
2 tbsp (15g) of flour
Pre-Mix Broth Mixture in a Small Pitcher or bowl:
1 cup (240ml) chicken broth
¼ cup (60ml) white wine (or ¼ cup more broth)
2 tsp (10ml) Dijon Mustard
1 tsp (5ml) Worcestershire Sauce
2 garlic cloves, minced
5 sprigs fresh thyme
Instructions
Preheat oven to 325F (162C). Measure out all your ingredients so you are ready to go. This recipe happens fast and it will help if everything is pre-measured.
Season chicken (skin side) with salt, peppers, and Herbs de Provence.
Heat olive oil in a large braiser. Sear chicken, skin side down until golden brown, flip, and cook for 2-3 minutes more. Transfer to a plate and set aside. It will finish cooking in the oven.
Sauté potatoes in chicken fat until caramelized and golden brown. Transfer potatoes to a bowl and set aside.
Whisk together the broth mixture in a Pyrex pitcher and set aside
Add flour to remaining chicken fat and whisk until paste forms. If you have no more chicken fat you can add 2 tbsp. (30g) of butter to create more fat. Cook paste 1 minute.
Add broth mixture and whisk to combine. Add garlic and fresh thyme. Season to taste with salt and pepper.
Place potatoes in sauce, add chicken on top. Cover and bake for 40 minutes.
Remove from the oven, remove lid and spoon sauce on top, bring to the table and serve!
Recommended Products
As an Amazon Associate and member of other affiliate programs, I earn from qualifying purchases.
Nutrition Information:
Yield:

10
Serving Size:

1
Amount Per Serving:
Calories:

486
Total Fat:

24g
Saturated Fat:

7g
Trans Fat:

0g
Unsaturated Fat:

17g
Cholesterol:

201mg
Sodium:

408mg
Carbohydrates:

28g
Fiber:

2g
Sugar:

1g
Protein:

41g