Chicken and Biscuit Casserole
There's nothing more comforting than a classic chicken and biscuit casserole made from scratch. No need to turn to those biscuits in a can, these homemade drop biscuits are as easy as it gets and totally worth the effort! It's cold-weather comfort food at its best!
For more delicious cold-weather foods try my Endive Bechamel or my Chicken and Mushroom Pie.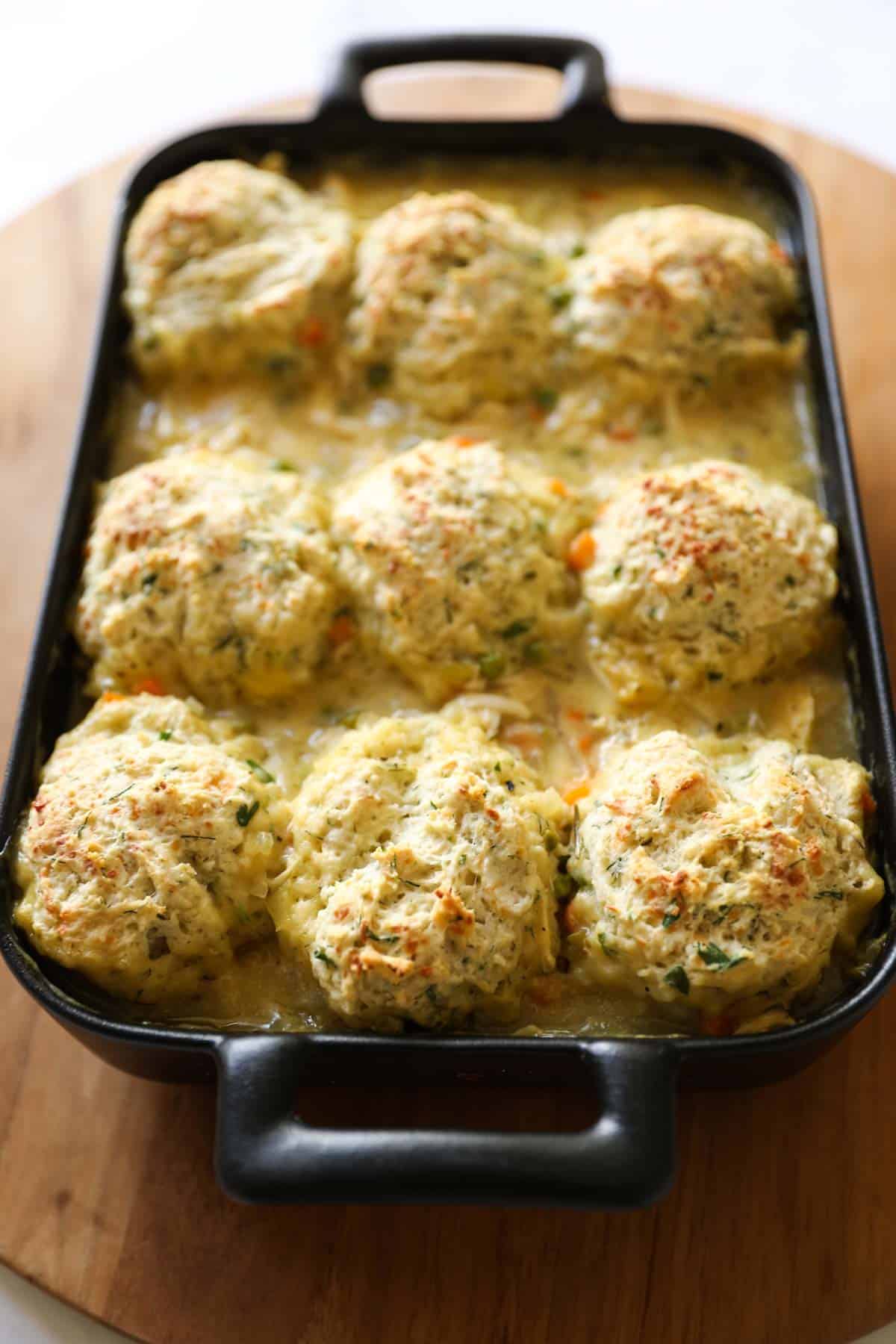 Why You'll Love This:
It's a full meal all in one dish! Chicken, vegetables, flavorful sauce and a roll!

The warm and fluffy biscuits soak up the sauce, making the whole experience utterly delicious!

It's a perfect recipe for leftovers! I'm a huge fan of the "Cook once...Eat twice" philosophy. And the effort you make on Sunday will also be enjoyed on Monday too!

You can prepare the chicken casserole base ahead of time and refrigerate it. Then just before reheating make the biscuits.
If you are looking for more recipes that deliver great leftovers try my Slow Cooker Tacos or my Chicken Tortellini Soup Recipe.
Watch my Video Demo of This Recipe Below!
Step#1: Prep the Chicken
Roast the chicken until cooked through. I find bone-in, skin-on chicken breasts will ensure the juiciest, most tender chicken. Then shred it with a fork into bite-sized pieces. To save a step, you could also use store-bought rotisserie chicken.
Step#2: Create the Sauce
First, saute the vegetables in a large Dutch oven, then simmer them in white wine and dried herbs until reduced.
You'll then add the chicken broth, and bring it up to a boil.
Once boiling, then add the "slurry". A slurry is a mixture of cornstarch and water which will thicken your sauce.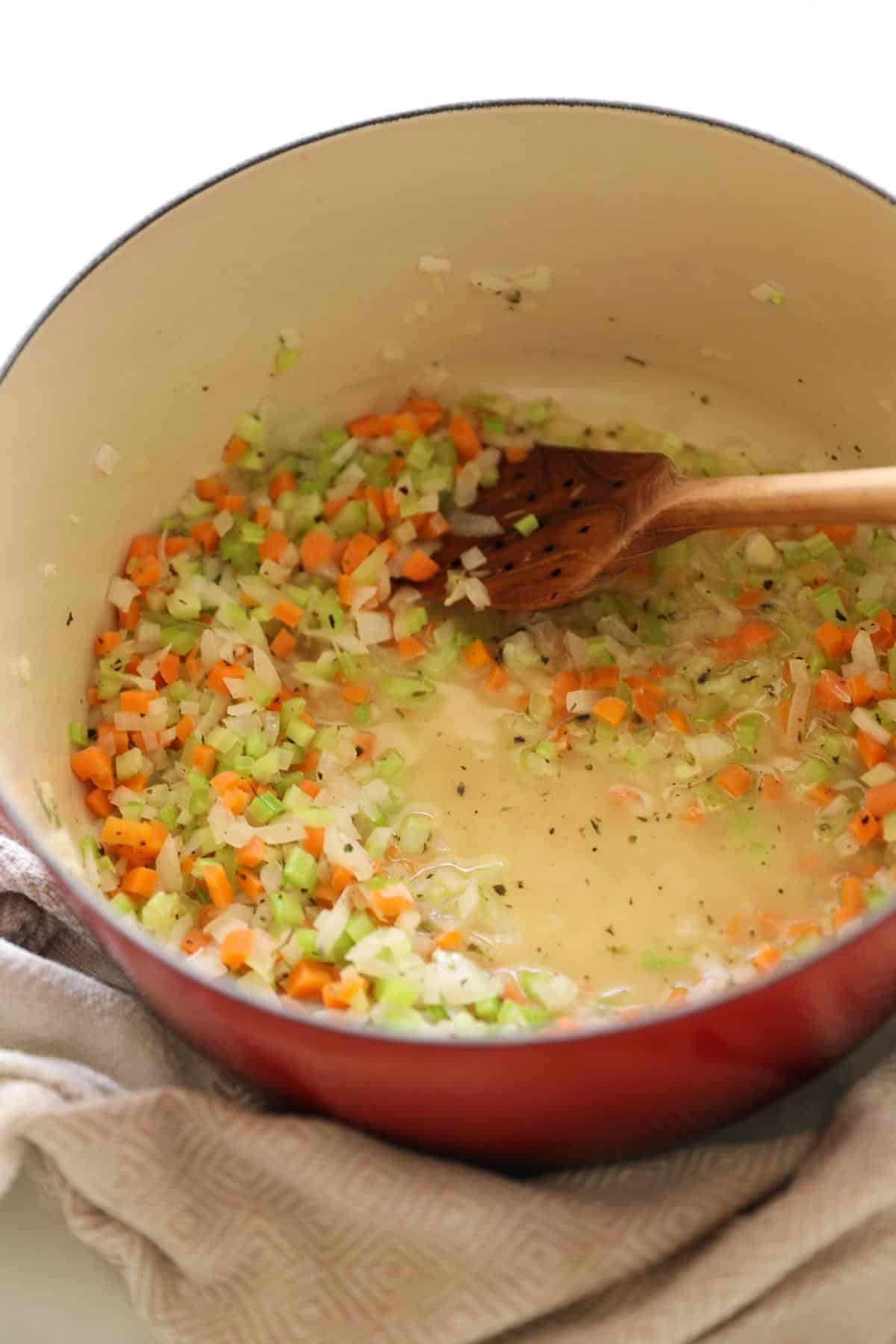 Tips in order for a slurry to work
Mix the cornstarch with very cold water
Assure the sauce is boiling when you add it
Otherwise, the slurry will not work and your sauce will not thicken.
I like a slightly looser sauce since the biscuits are heavy, but if you wanted to make the sauce thicker, just increase the slurry to 4 tablespoon cornstarch to 4 tablespoons water.
Then for a little creamy decadence, I also add a touch of heavy cream.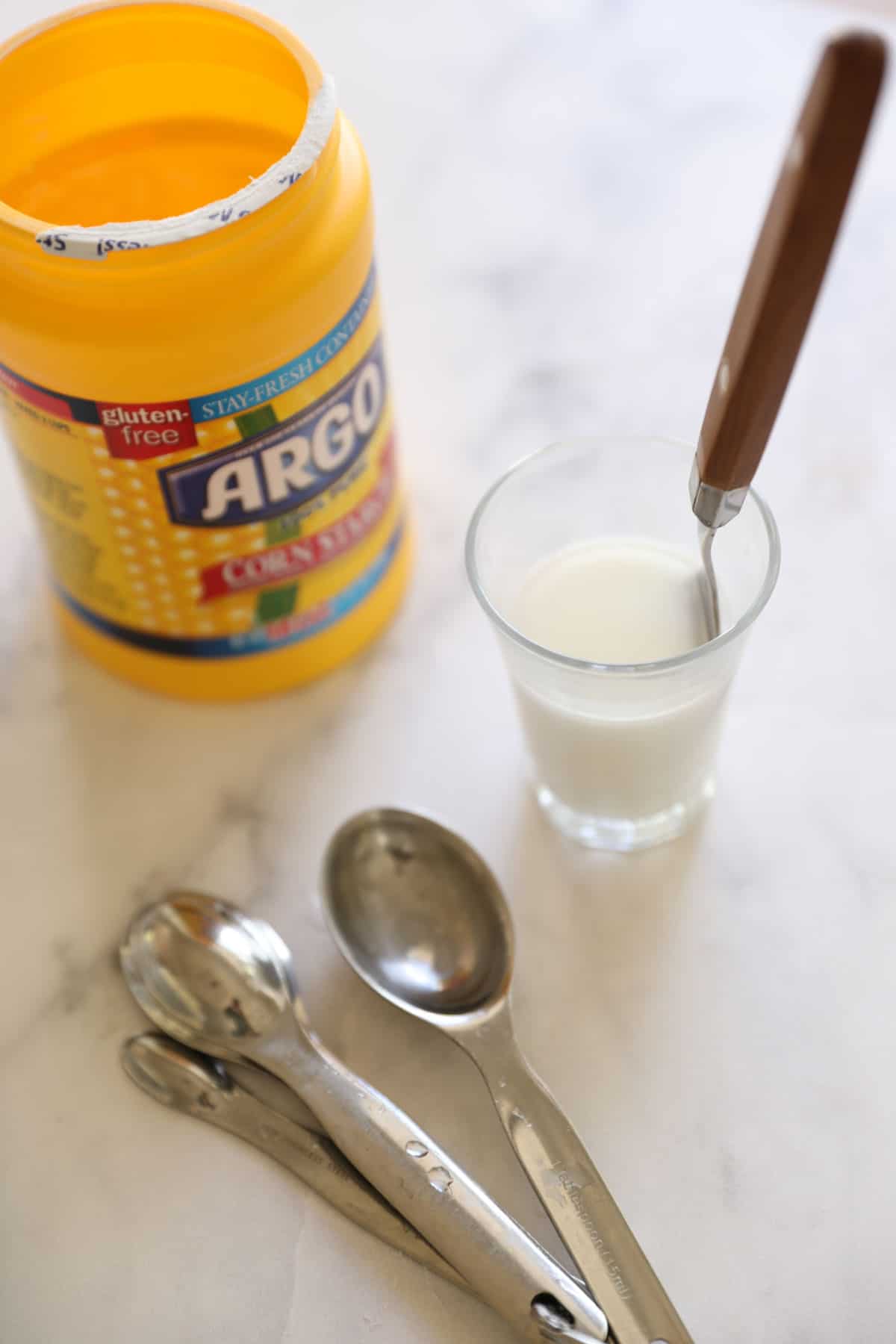 Step#3: Make the Cheesy Biscuits
Personally, you've come this far it's really not the time for store-bought biscuits in a can, you'll be SO much happier with homemade!
And they come together so quickly and easily.
Making the biscuits homemade also allows for adding fresh herbs and cheese which I think is well worth the effort!
Need more biscuits in your life? Then you must try my Classic Buttermilk Biscuits with Soft Scrambled Egg Recipe or my Sweet Potato Biscuits with Sage. Both are fantastic homemade biscuit recipes to see you through the colder months.
The best part about these biscuits is the fact that you don't have to drag out the food processor, you can mix them up in one bowl, with your hands and a wooden spoon. Just like Grandma did!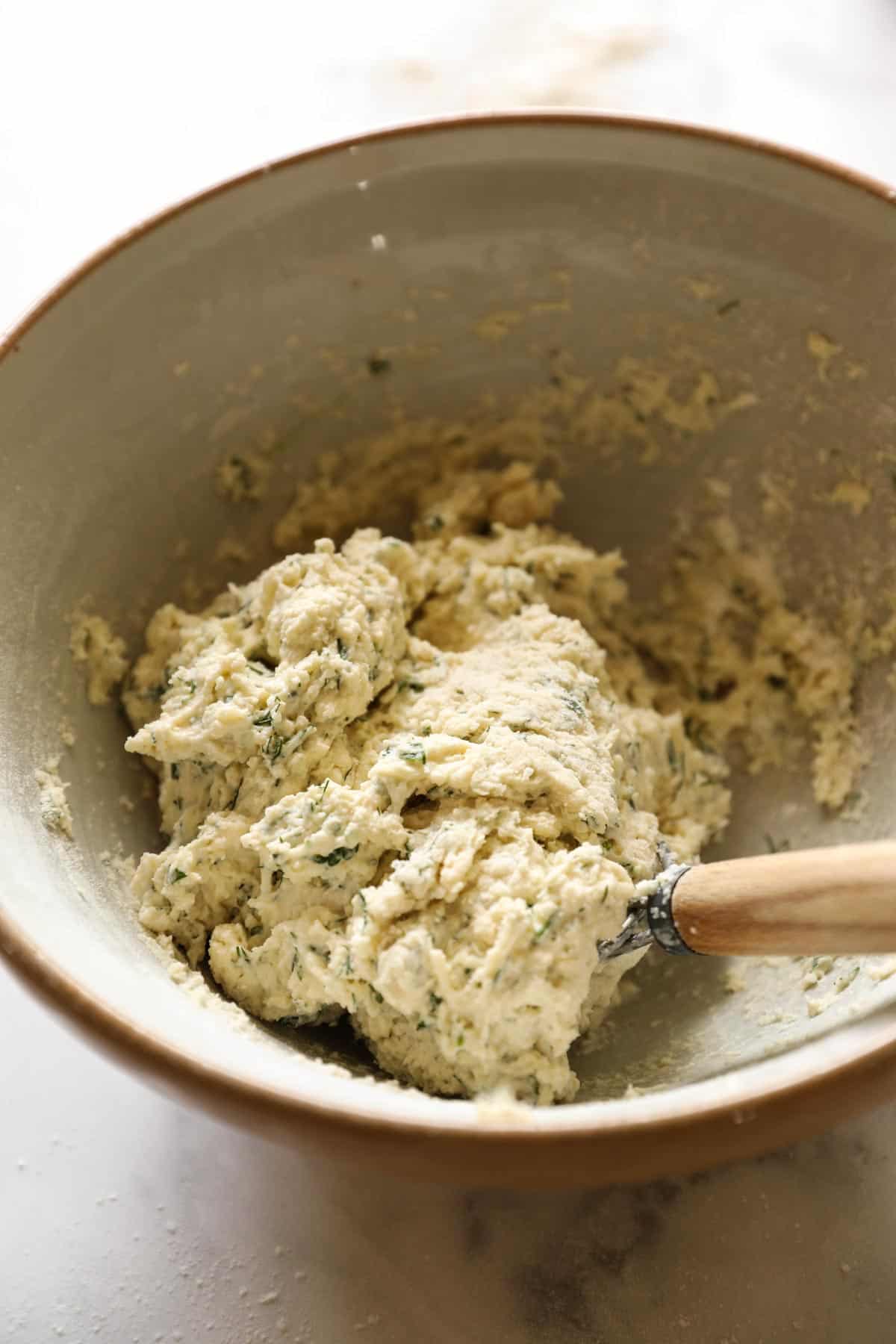 Step#4: Assemble the Casserole
To assemble, transfer the sauce into a 9 x 14 oven-safe casserole dish.
Then portion out the biscuit dough on top with an ice cream scooper. The ice cream scoop assures the biscuits are the same size and will bake at the same rate.
Leave a bit of room between the biscuits since they will rise and expand in the oven.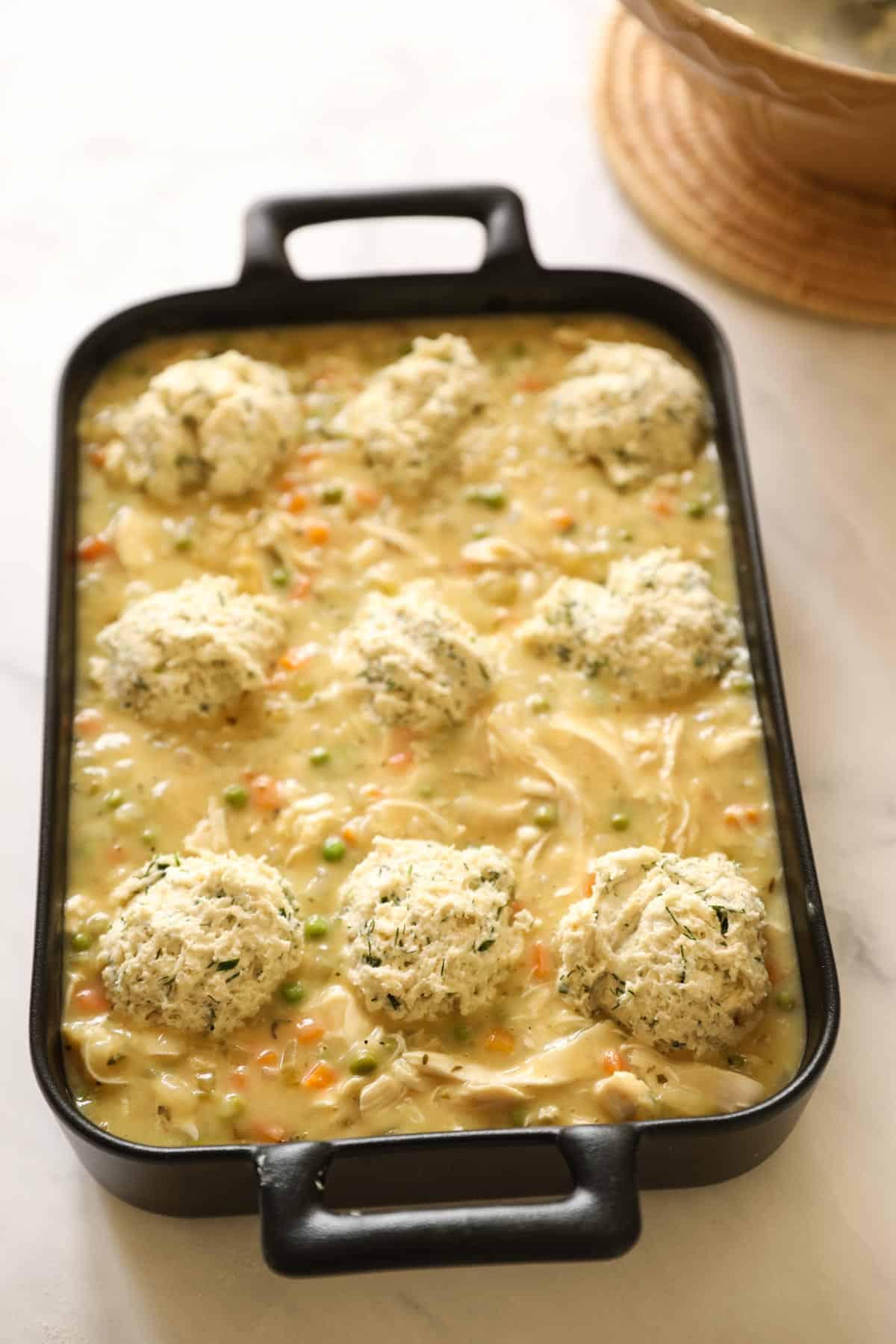 Step#5: Bake the Casserole
As the casserole bakes, you can reposition the biscuits if needed with two forks, in case they need to be spread out since they do expand nicely in the oven. They ultimately should cover the majority of the casserole.
Step#6: Serve!
I typically serve the biscuit first and then the sauce all around it. You can place the leftovers in the refrigerator and re-heat as individual portions the next day. Or freeze the individual portions for later in the week or month.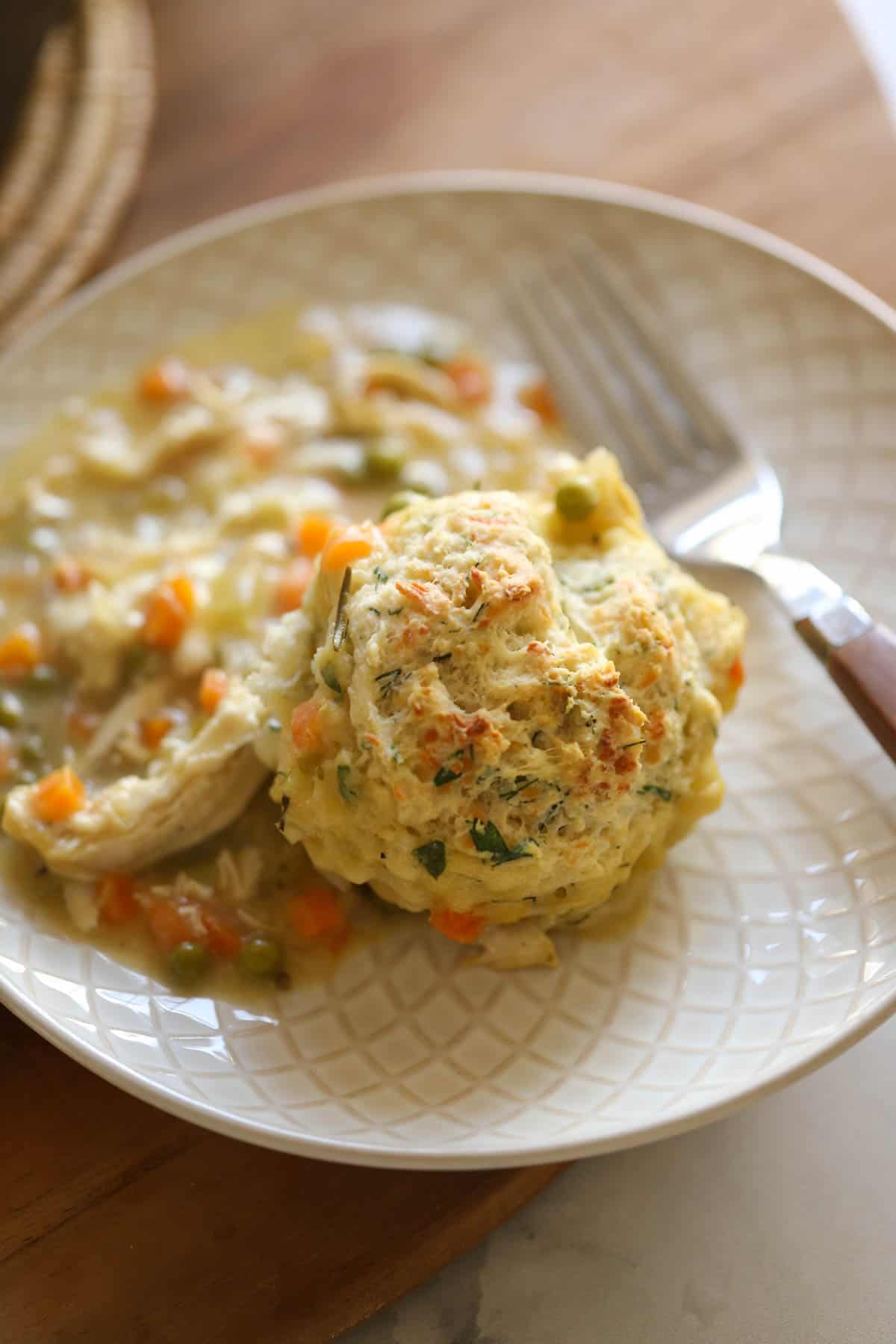 Storage and Reheating Leftovers
To store leftovers, cover the casserole and keep refrigerated.
To reheat place the covered casserole in a 350F oven for 20 minutes, then continue to bake uncovered for 10-15 minutes.
You can reheat it in the microwave too, but to keep the best fluffy texture on the biscuits, it's worth the patience to reheat the casserole in the oven!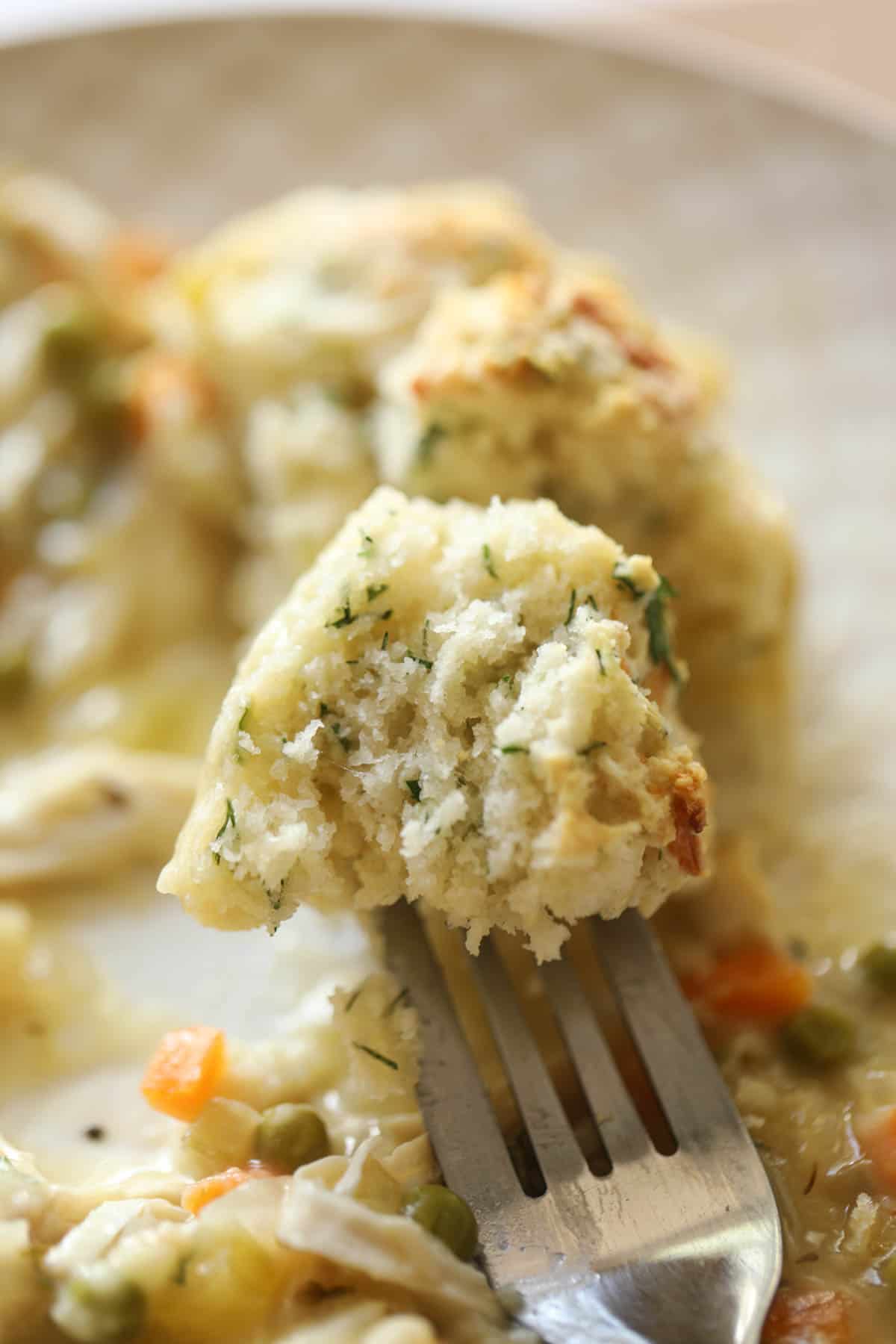 More Great Chicken Recipes!
If You Enjoyed This Recipe
Please leave a Rating and a Review Below!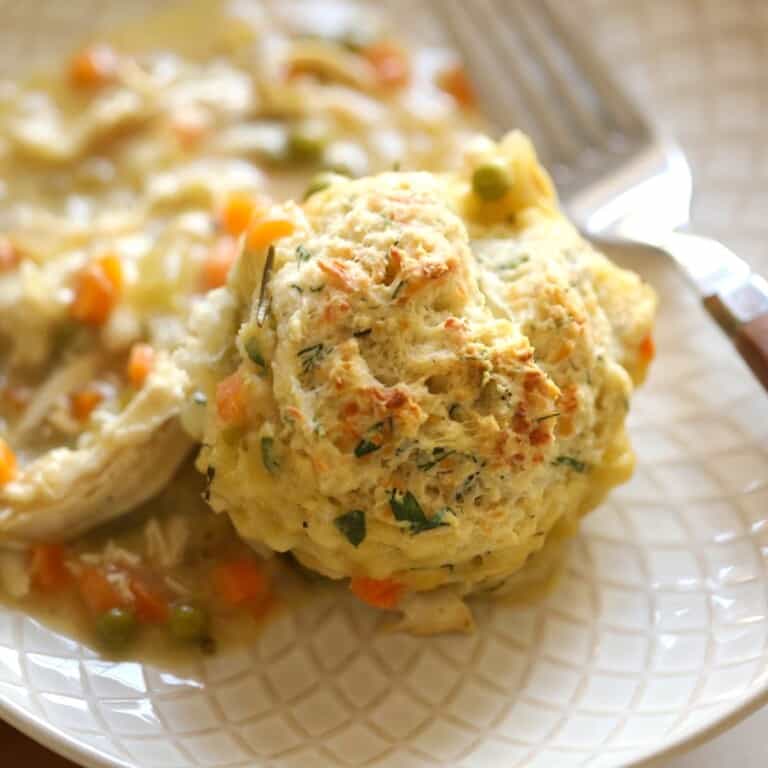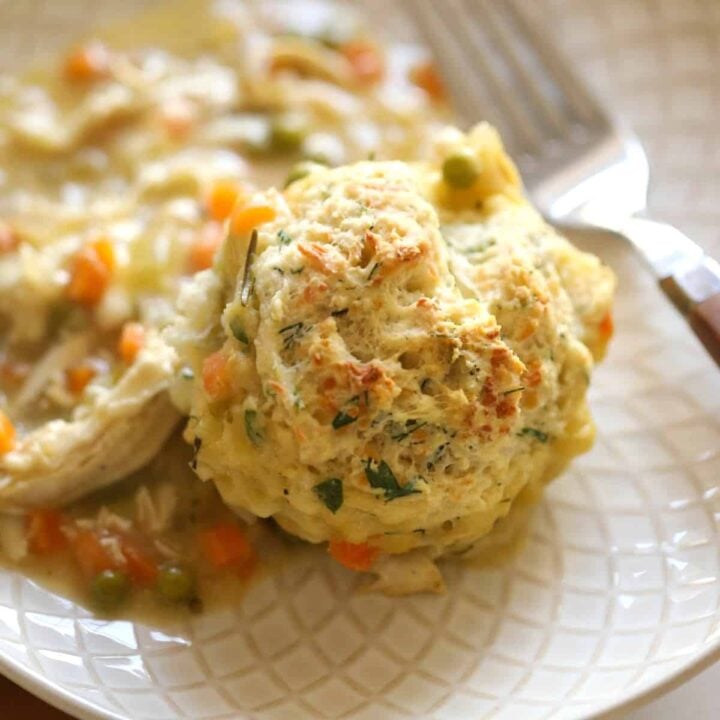 Chicken and Biscuit Casserole
Prep Time:
1 hour
30 minutes
Total Time:
2 hours
10 minutes
Chicken and Biscuit casserole is a fantastic cold-weather meal. It's classic comfort food that will bring everyone to the table!
Ingredients
2 Chicken breasts, skin-on, bone-in
2 tablespoon (30 g) butter
1 cup (150 g) yellow onion, diced
½ cup (75 g) celery, diced
½ cup (75 g) carrots, diced
salt and pepper to taste
⅓ cup (80 ml) dry white wine
¼ teaspoon (1.25 ml) dried thyme
4 cups (950 ml) chicken broth
3 tablespoon (45 ml) cold water
3 tablespoon (19 g) cornstarch
¼ cup (60 ml) heavy cream
1-2 dashes of Worcestershire sauce
½ cup (75 g) frozen peas
1 tablespoon (15 ml) fresh thyme
FOR BISCUITS:
2 cups (240 g) flour
1 tablespoon (15 ml) baking powder
½ teaspoon (2.5 ml) salt
4 tablespoon (60 g) butter, cubed
⅔ cup (160 ml) grated Gruyere cheese
1 tablespoon (15 ml) chopped parsley
1 tablespoon (15 ml) chopped dill
1 cup (240 ml) of milk
Instructions
Preheat oven to 425F (218C).
Roast chicken on a baking sheet for 30 mins or until cooked through. Set aside to cool.
Meanwhile, melt butter in a large soup pot. Add the onion, celery, carrots, season with salt and pepper to taste. Cook vegetables in the butter and then turn flame down to medium-low, cover pot and allow vegetables to cook for 5-7 mins until tender.
Remove lid. Add the wine and dried thyme. Cook until wine is reduced in half. Then add chicken broth. Bring broth to a boil. Meanwhile in a small bowl add the cornstarch and mix with the water to create a slurry.
Once broth is simmering (make sure it is bubbling or slurry won't thicken) add the slurry to the pot and stir as the mixture thickens.
Once you've reached desired thickness. Turn off the heat. Add the heavy cream, and stir, then add Worcestershire sauce, fresh thyme and season to taste with salt and pepper. Stir to combine and then add the frozen peas. Set aside to cool.
Remove the skin off the chicken and shred the chicken with two forks. Add the chicken to the pot and stir to combine.
Transfer chicken to a heat safe casserole.
Meanwhile, make the biscuits. Combine all dry ingredients in a bowl, whisk together. Add butter and work flour and butter together with your hands until a coarse meal forms. Add herbs and the cheese whisk to combine. Add milk. Stir into a dough and allow to rest for 5 minutes in order for the baking power to activate.
Then using an ice cream scooper, scoop a mound of the biscuits over the casserole, spacing out to cover it. You should be able to fit 2 rows of 3 biscuits.
Bake casserole in a Pre-Heated oven at 425F(218C) for 35-40 mins until casserole is bubbling and biscuits have risen and are golden brown.
Notes
You must do 2 things in order for a slurry to work
Mix the cornstarch with very cold water
Assure the sauce is boiling when you add it
Otherwise, the slurry will not work and your sauce will not thicken. I like a slightly looser sauce since the biscuits are heavy, but if you wanted to make the sauce thicker, just increase the slurry to 3 tablespoon cornstarch to 3 tablespoons water. 
Casserole filling can be made the day ahead and refrigerated. Day of serving make the biscuits and bake!
Nutrition Information:
Yield:

6
Serving Size:

1
Amount Per Serving:
Calories:

230
Total Fat:

9g
Saturated Fat:

4g
Trans Fat:

0g
Unsaturated Fat:

4g
Cholesterol:

57mg
Sodium:

423mg
Carbohydrates:

13g
Fiber:

1g
Sugar:

6g
Protein:

22g