This Healthy Tortilla Chicken Soup Recipe is perfect for a weeknight meal! It comes together in 20-minutes or less and the flavors are so fresh and pronounced!
It's one of my favorite soup recipes because it uses minimal ingredients that are healthy and light and includes all the food groups from protein to vegetables and some healthy fat. It also makes enough for the lunch box the next day!
For more healthy soups try my Vegan Cream of Broccoli Soup or my Creamy Potato Leek Soup (with no cream, I use a secret ingredient!) both are equally delicious.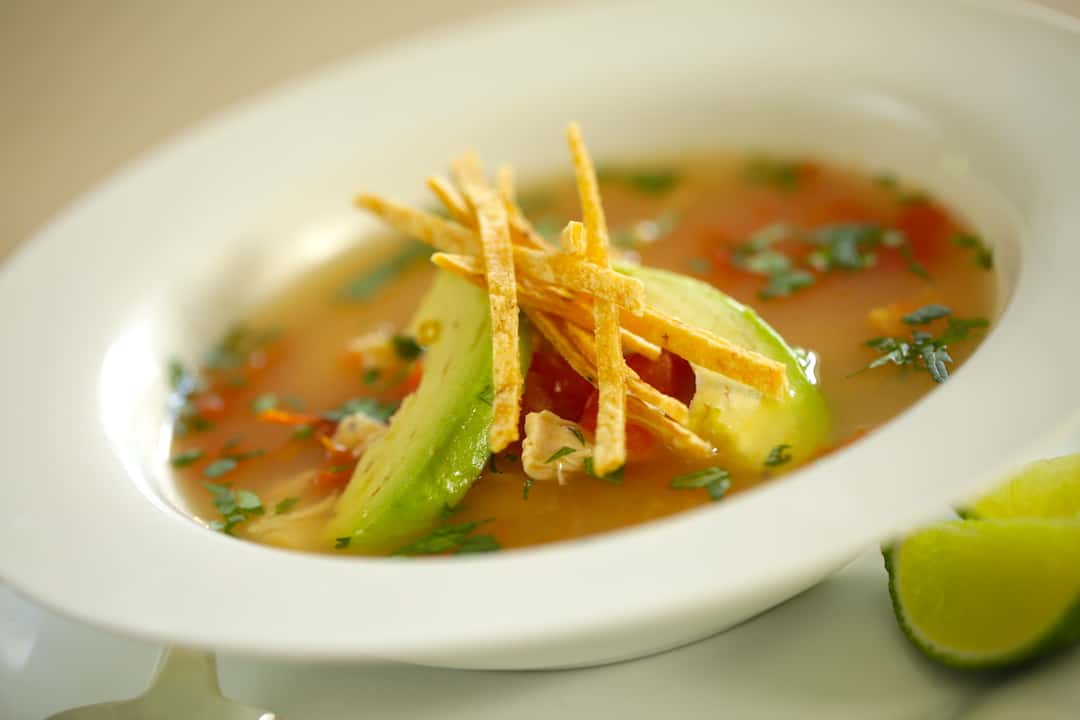 Why You'll Love This:
The chicken broth, lime, and cumin do "all the work" for you! They add so much flavor, without a lot of calories, in just 3 simple steps
It's a great way to use up extra cooked chicken sitting in the fridge
This dinner is even faster if you use store-bought rotisserie chicken

Step#1: Bake the Tortilla Chips
Slice the corn tortilla strips thinly for the best crunch.
The corn tortilla will crisp up better than flour tortillas, and most corn tortillas are also Gluten-Free! Just be sure you read the ingredients to be sure.
You can bake them in the oven or the air fryer too!
Follow my recipe for homemade Air Fryer Tortilla Chips for larger chips
Then salt them with just a touch of salt for flavor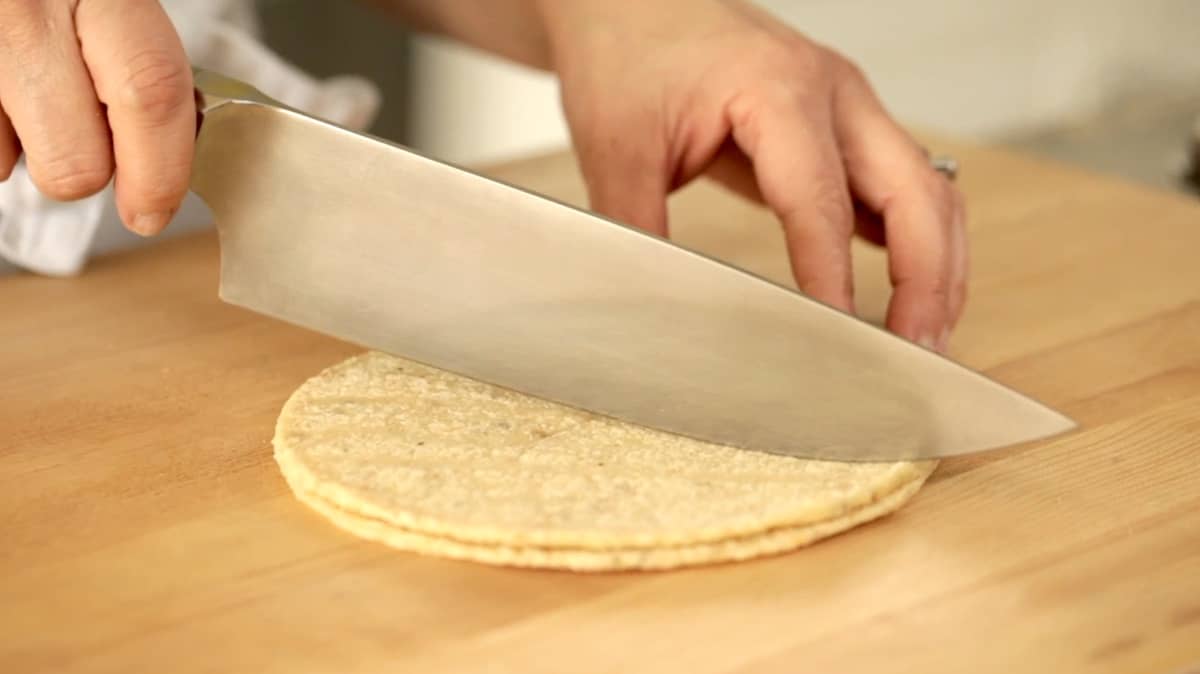 Make-Ahead Tips:
You can bake the tortilla strips in advance and keep them on hand to last throughout the week
Once they have cooled, place them in an airtight container and leave them at room temperature
For the lunch box, you can pack the soup in a Thermos and then place the tortilla strips in a small container to pack in the lunch box the next day

Step#2: Add the Broth and Tomatoes
There are a lot of great-tasting store-bought chicken broths to choose from, but my favorite is always the Swanson Chicken Broth.
It's not too salty or overpowering in flavor, I think it works perfectly for this soup
You can use Roma tomatoes or vine-ripened tomatoes. Allow them enough time to simmer in the broth so that they have time to soften

Step#3: Add Seasonings and Lime Juice
What gives this soup so much flavor is the ground cumin, it creates a smoky, savory flavor that is balanced out with the freshness of the lime juice.
I also like to add red pepper flakes, which is a fantastic way to beat off winter's chill. It's also good if you are feeling under the weather too!
If you are serving kids, you may want to serve the red pepper flakes on the side as a condiment.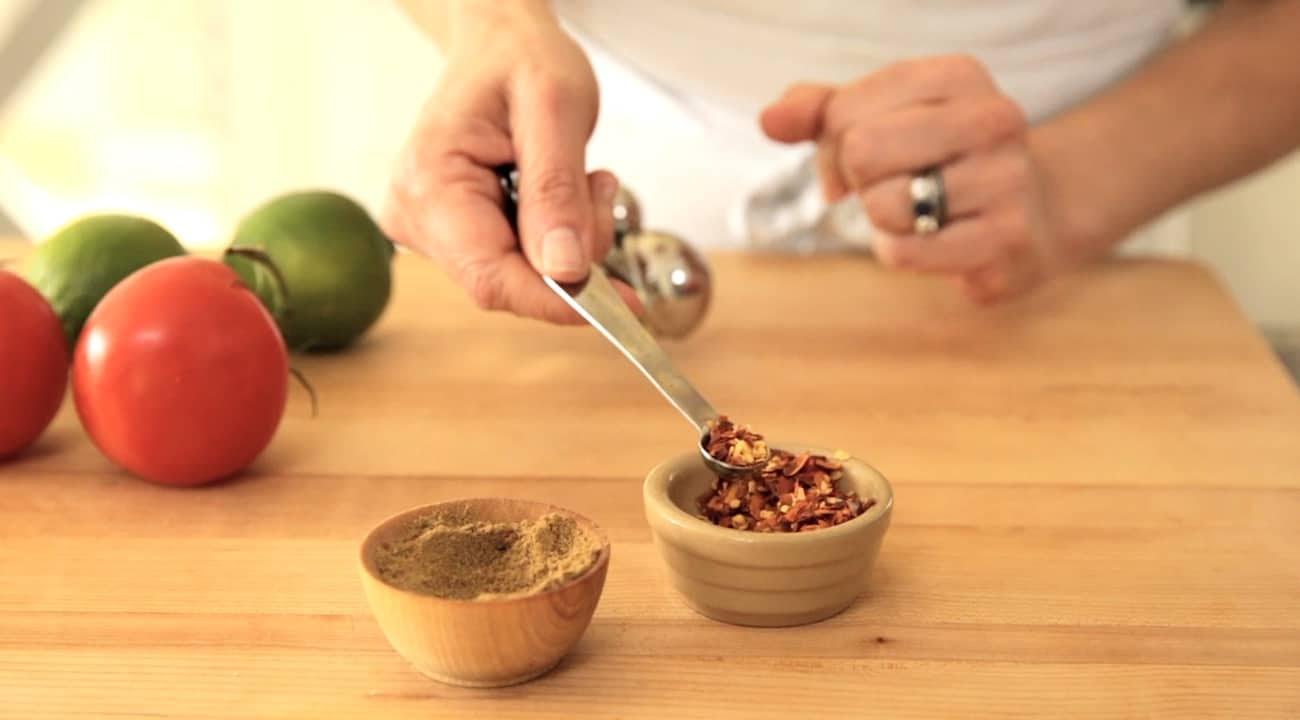 How to Extract More Juice From a Lime
To get more juice from your lime, try placing it in the microwave for five seconds.
The heat will soften the flesh of the lime and allow you to extract more juice from it.
You can also roll it back and forth on a cutting board with the back of your hand. This too will soften the flesh and make your lime easier to juice.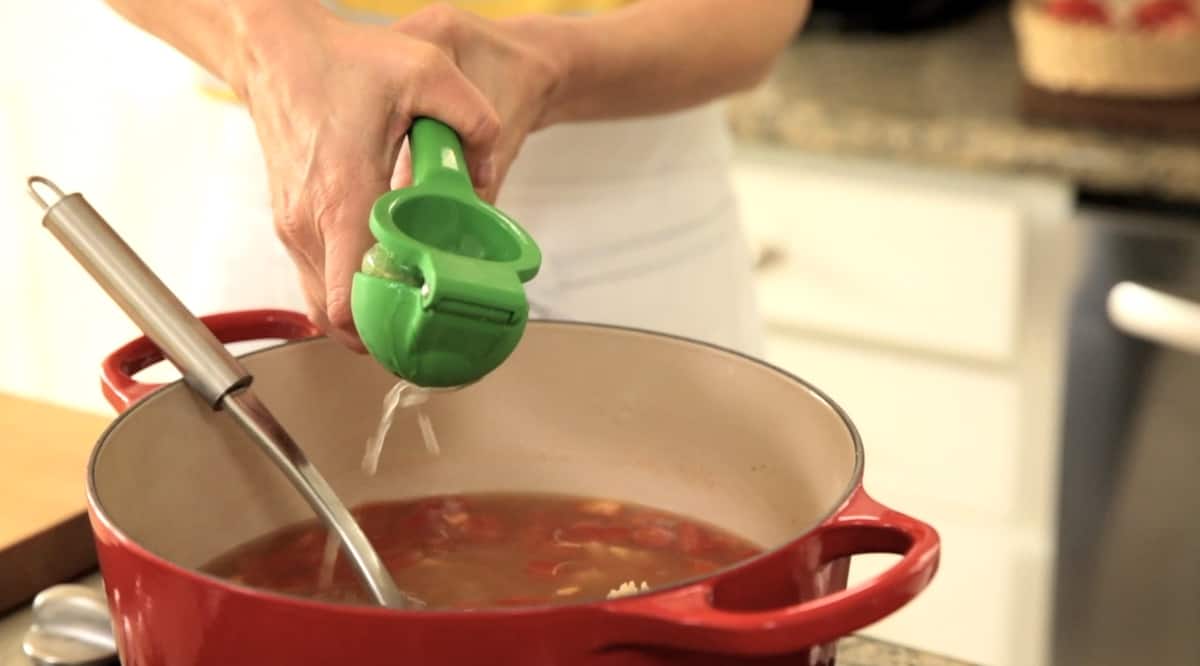 Step#4: Add the Chicken
This soup comes together really quickly when using store-bought rotisserie chicken, but you can also roast your own chicken breasts and shred them with two forks.
I use bone-in, skin-on chicken breasts which will give you tender and moist chicken for the soup.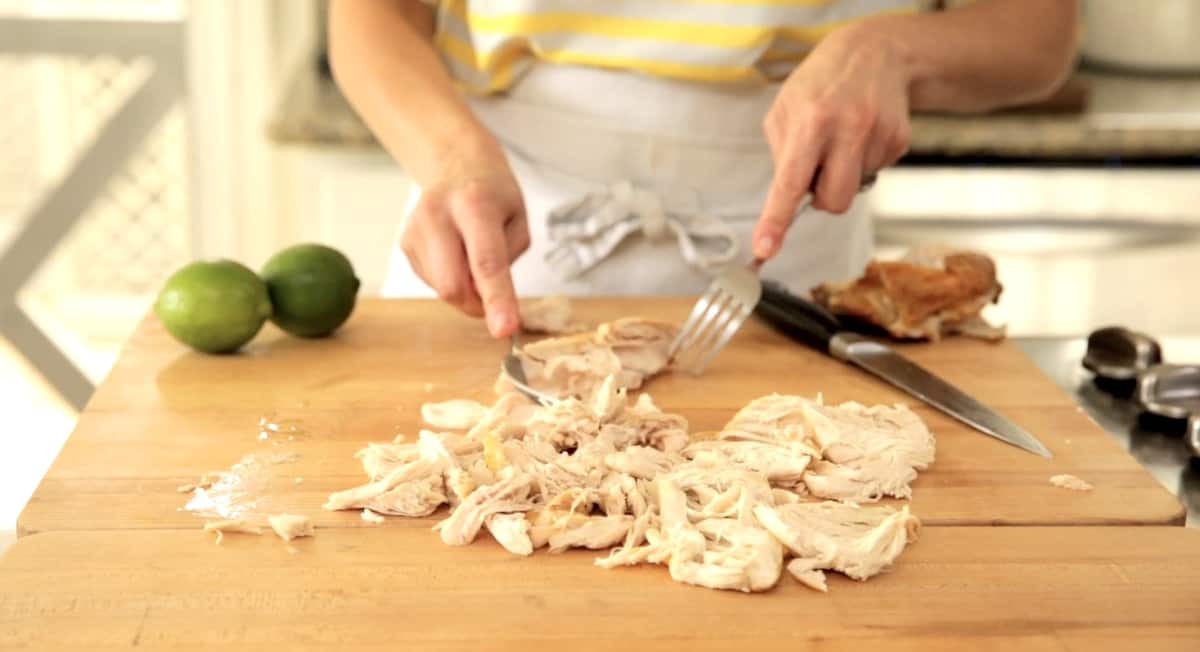 For Additional Flavor:
Add some dried oregano to the chicken broth as well
You can also add some heat via freshly sliced jalapenos or a shake or two of your favorite hot sauce.

Make This Soup Cheesy!
This soup is pretty healthy as is, but if you wanted to "kick it up a notch" and make it a bit more decadent, add some cheese!
I like to use the finely shredded Mexican cheese blend on top of this soup because it melts quickly and adds a wonderful gooeyness against the flavors of the soup and the tortillas

Serving and Garnishing Tips:
You can make a big batch of this soup on the weekend to last throughout the week
Prepare the broth, add the cumin, tomatoes, and chicken
Then before serving add the tortilla chips, lime juice, avocado, and fresh cilantro
Can You Freeze This Soup?
Yes! You can freeze the soup base with the chicken.
Once reheated, then add the fresh lime juice, avocado, and tortilla chips
More Easy Soup Recipes!
If You Enjoyed This Recipe
Please Leave a Rating and a Review Below!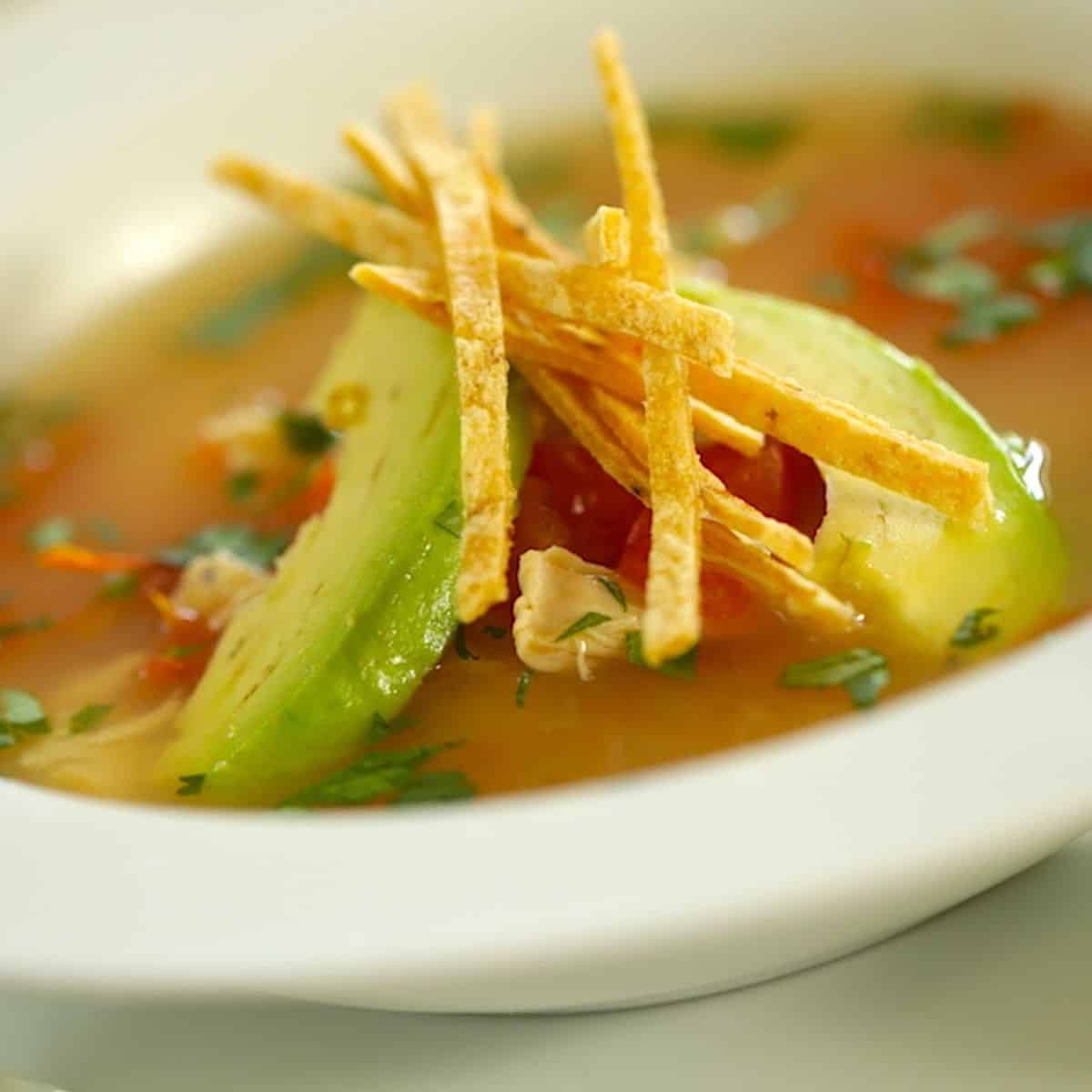 Healthy Chicken Tortilla Soup Recipe
This Healthy Tortilla Chicken Soup Recipe is perfect for a weeknight meal! It comes together quickly and easily and the flavors are so pronounced and fresh! It also makes enough for the lunch box the next day!
Ingredients
6 cups (1425ml) Chicken Broth
1 teaspoon (5ml) cumin
¼ teaspoon (a good pinch) red pepper flakes
2 medium-sized tomatoes, chopped into chunks
2 cups (300g) store-bought* rotisserie chicken, shredded
Juice of 1 lime
1 avocado
¼ cup (60ml) chopped cilantro
2 corn tortillas
*NOTE: If you want to roast the chicken yourself, place 2 chicken breasts, bone-in, skin on a baking sheet and roast at 375F for 30-35 mins.
Instructions
Preheat oven to 350F
Slice tortillas in half then into thin matchsticks. Place on a baking sheet and bake for 15 mins until crispy. Set aside to cool and sprinkle with salt.
In a large pot simmer broth on med low heat, add cumin, red pepper flakes, tomatoes and chicken. Cover and simmer until tomatoes are softened and chicken is cooked through.
Cut avocado in half. Remove skin. Remove pit. Place halves flat side down and cut into thin slices.
Add lime juice to soup pot.
Ladle soup into bowls. Top with chopped cilantro and 2 pieces of sliced avocado, top with tortilla strips.
Notes
For Additional Flavor:
Adding some dried oregano to the chicken broth as well
You can also add some heat via freshly sliced jalapenos or a shake or two or red pepper flakes
Nutrition Information:
Yield:

4
Serving Size:

1
Amount Per Serving:
Calories:

627
Total Fat:

31g
Saturated Fat:

8g
Trans Fat:

0g
Unsaturated Fat:

18g
Cholesterol:

238mg
Sodium:

1873mg
Carbohydrates:

15g
Fiber:

5g
Sugar:

4g
Protein:

72g