This Easy Shrimp Stir Fry Recipe is perfect for those who are strapped for time. It's healthy, quick and delicious! There are a just a few ingredients in it and it comes together in a flash!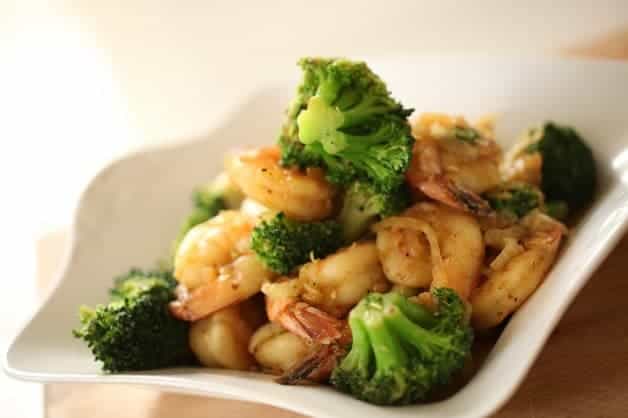 It's so easy and budget-friendly, but feels kinda fancy at the same time. Sometimes I think of "budget-friendly" in terms of saving both time and money. So if this is a week you are strapped for time, it can be worth a few extra dollars to buy pre-cut broccoli and peeled and de-veined shrimp.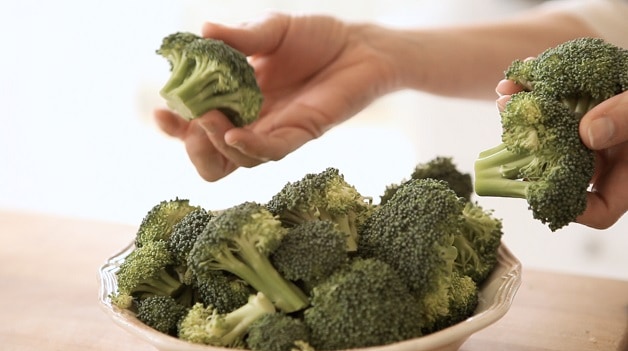 Watch How to Make My Easy Shrimp Stir Fry Below
SUBSCRIBE TO MY YOUTUBE CHANNEL FOR MORE RECIPE VIDEOS! (IT'S FREE!)
How To Make an Easy Shrimp Stir Fry
Step 1: Make the Stir Fry
In a deep, medium-sized skillet or wok, add olive oil and heat.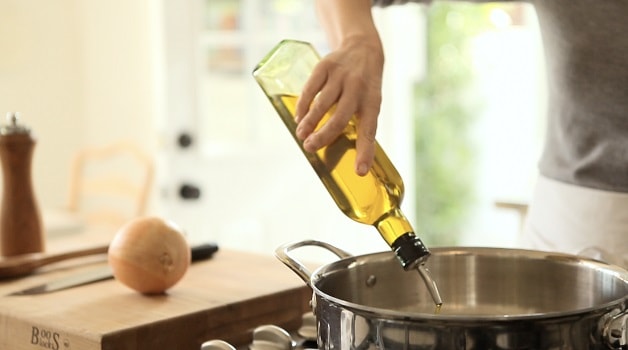 Then, add sliced onions and season with salt and pepper. Saute until the onions become translucent and fragrant.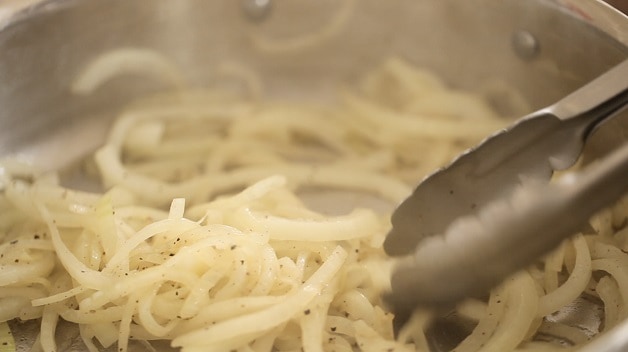 Then, add the peeled shrimp. Cook the shrimp for just a few minutes before adding the broccoli.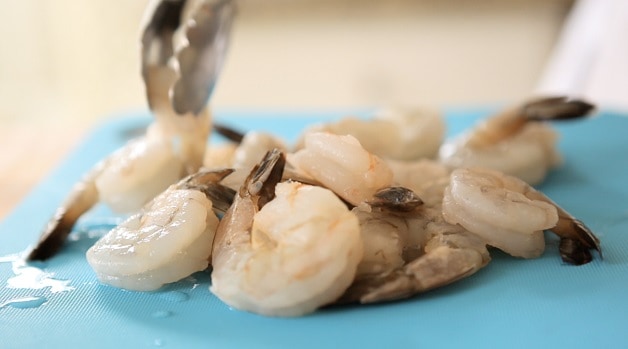 If you are trying to stay in budget, use frozen raw shrimp instead of fresh. If you want to save even more money, buy a bag with the shells still on. It's a little more work to peel them, but it does save a few extra dollars.
Tips for Cooking Raw Shrimp:
Leave the tails on because it will help the shrimp retain its flavor and moisture. I also think it looks prettier on the plate.
If you are cooking with frozen shrimp, make sure the shrimp is completely defrosted. Otherwise, the shrimp will release its moisture when it hits the hot pan and dilute the sauce.
Pat the shrimp down with paper towels to remove excess moisture from thawed shrimp.


After the shrimp is added, add the broccoli to the same pan and cover.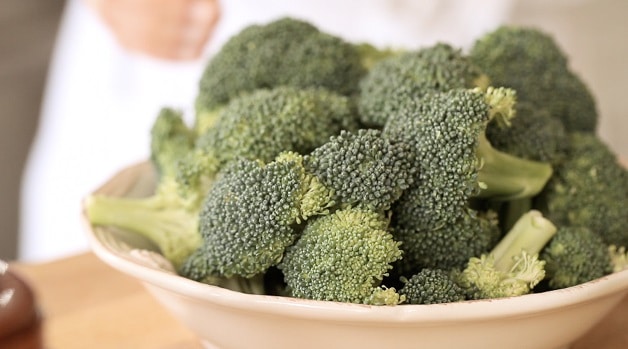 Steam the broccoli for about 3-5 minutes until bright green and fork tender.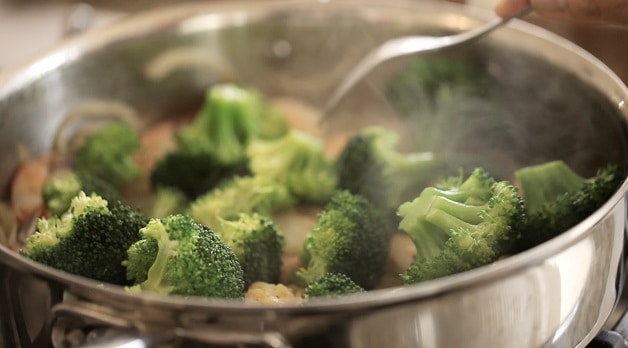 Step 2: Add the Stir Fry Sauce
This may be the easiest sauce ever, and I bet you have most of these ingredients sitting in your fridge and pantry. It's such a flavorful sauce and complements all these ingredients beautifully.
Add soy sauce, toasted sesame oil, garlic and red pepper flakes to a small bowl, and whisk until well-blended.
TIP: Make sure you buy the toasted sesame oil instead of the regular sesame oil. It's the toasted sesame that has all the flavor. Regular sesame oil doesn't taste like much.



Pour the sauce over the shrimp and vegetables in the pan, and cook for about one minute. Serve this dish as is, or with a side of brown rice.
This sauce also makes a great pot-sticker sauce. These pot-stickers are a fun weekend project that can be frozen to last throughout the week.
PLEASE LET ME KNOW IF YOU MAKE THIS RECIPE
BY LEAVING A RATING AND REVIEW BELOW!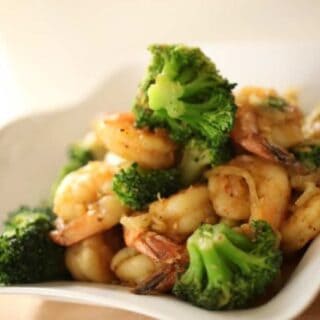 Beth's Easy Shrimp Stir Fry
Easy Shrimp Stir Fry Recipe that makes for a quick and healthy dinner idea!
Ingredients
1 tbsp (15ml) olive oil
1 white onion, sliced in half moons
1 lb (450g) frozen shrimp, tails on (defrosted)
2 cups (300g) broccoli florets
1 tbsp (15ml) soy sauce
½ tsp (2.5ml) sesame oil
1 shake red pepper flakes
1 clove of garlic, minced
Instructions
In a small bowl mix together soy sauce, sesame oil, pepper flakes and garlic. Set aside.
Heat oil in a sauté pan. Place onions in pan and season with salt and pepper. Cook onions until soft and fragrant.
Add shrimp, cook both sides until just turning pink. Add broccoli. Cover and cook for 5 mins until broccoli fork tender and bright green.
Pour sauce over the stir fry and cook for 1 minute. Serve immediately.
Notes
This recipe goes even quicker if you can but pre-cut broccoli and already cleaned shrimp
Keeping the tails on prevents the shrimp from drying out and will keep them tender and succulent
Nutrition Information:
Yield:

4
Serving Size:

1
Amount Per Serving:
Calories:

214
Total Fat:

9g
Saturated Fat:

2g
Trans Fat:

0g
Unsaturated Fat:

6g
Cholesterol:

16mg
Sodium:

285mg
Carbohydrates:

30g
Fiber:

2g
Sugar:

26g
Protein:

5g