How To Make Potstickers with Angel Wong
Potstickers are one of my favorite foods! It's the go-to dish I also know my kids will eat while dinning in a Chinese restaurant. But making them at home, well that I have never attempted.
Until I had the pleasure of meeting Angel Wong one of my favorite YouTubers Angel Wong!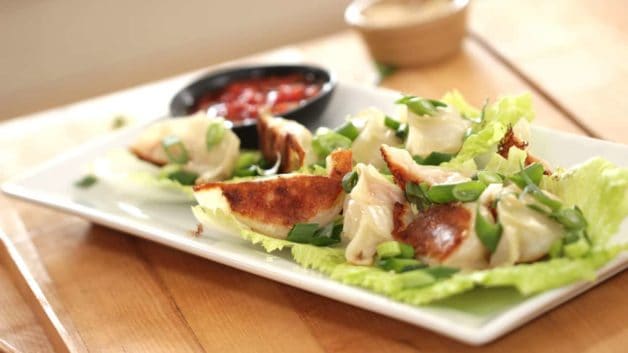 WATCH THE VIDEO DEMO BELOW!
Subscribe for weekly recipes
and new videos!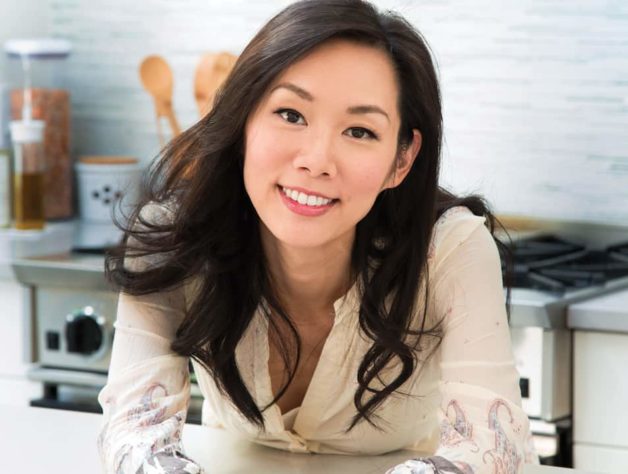 Angel and I met last year and I immediately fell in love with her warm, lovely personality. She has the most calming energy that can instill confidence in just about anybody, this is especially handy when learning new techniques associated with Asian cooking.
Her YouTube Channel Angel Wong's Kitchen has some of the most interesting recipes on it. Classics like Wonton Soup and 5-spice chicken but then things like that I've never heard of like Taiwanese Pineapple Cakes. She's truly a gem and I was so excited when she said she's come to my kitchen and show me how to make potstickers!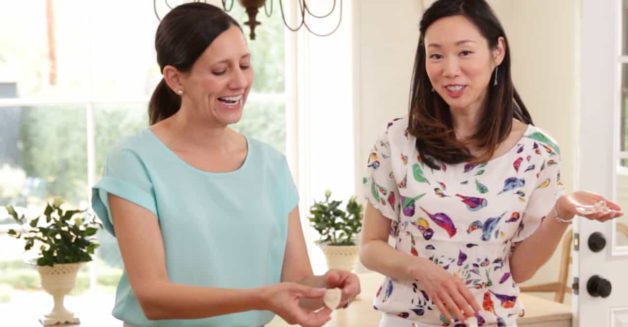 The results were fantastic! I've never tasted a potsticker so light, so delicate and SO delicious! Even the camera crew couldn't stop eating them! Days later I couldn't stop thinking about them, craving another batch! They were that intoxicating!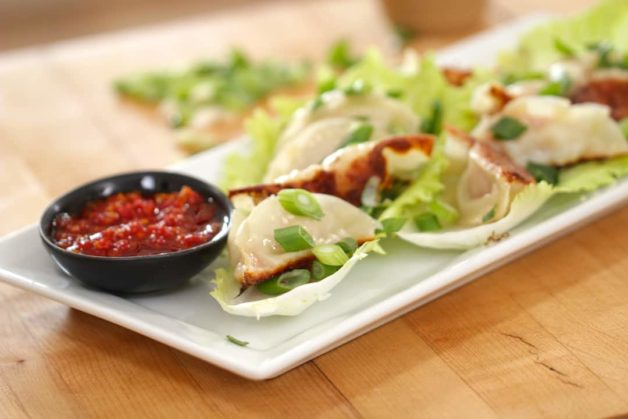 The best part is you can also switch up the fillings too. Vegetarian, or all pork or all shrimp, the choice is yours. I'll admit, the hardest part is getting the pleats down. But hey that's easily mastered with a lot of practice. Angel is a pro and in he video above she'll show you how.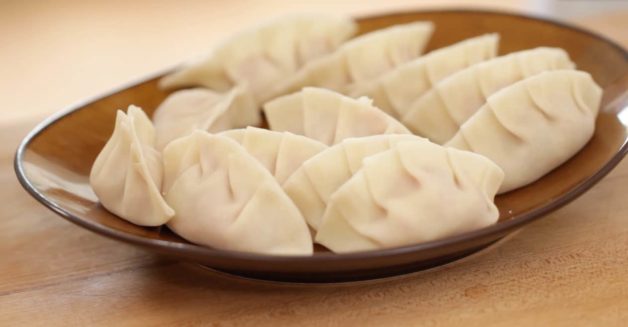 Don't be intimidated by her skill, this is clearly a woman who has done this for years and watching her effortlessly fold these things was like watching someone perform magic! Ha! But really after awhile you do get the hang of it 🙂
Can You Make Potstickers Ahead of Time?
Yes! Just assemble them and place them in a freezer safe container separated with wax paper. Then before serving just cook and serve!
How Do You Pan Fry Potstickers?
Place the oil in the pan first, then add about ¾ cup of water cover and cook.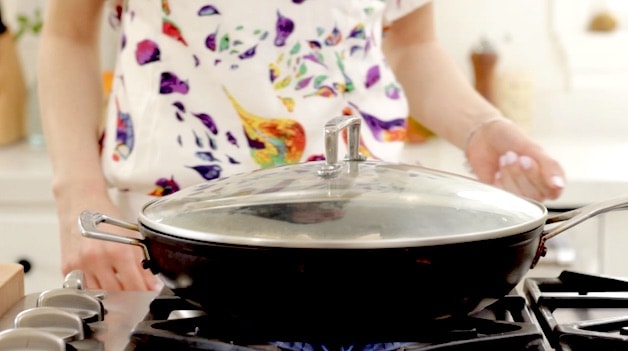 Once the water starts to evaporate and is almost all gone, remove the lid and fry until the bottoms are nice and crispy.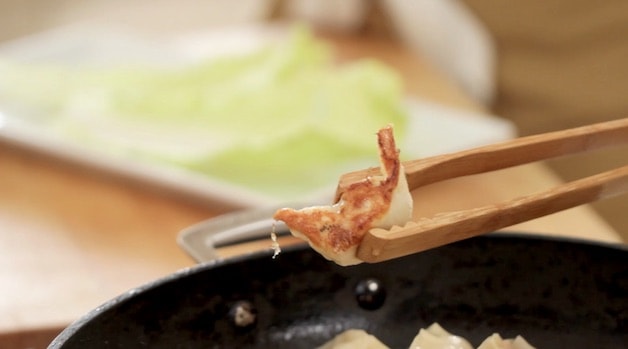 I hope you will enjoy this recipe as much as I did. And you must try Angel's Spicy Red Chili Dipping Sauce to pair with them. The combo is fantastic!
Looking for more Chinese Inspired Recipes? You might also enjoy my Cashew Chicken Recipe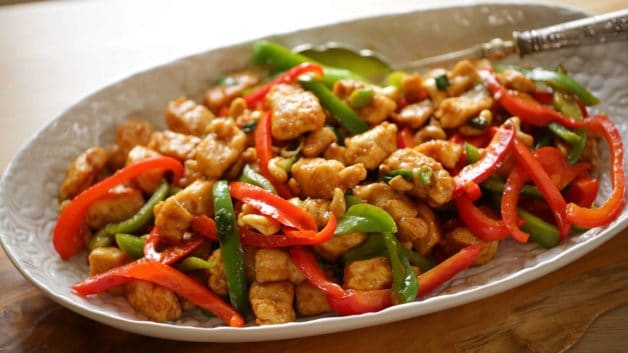 Or my Shrimp Stir Fry Recipe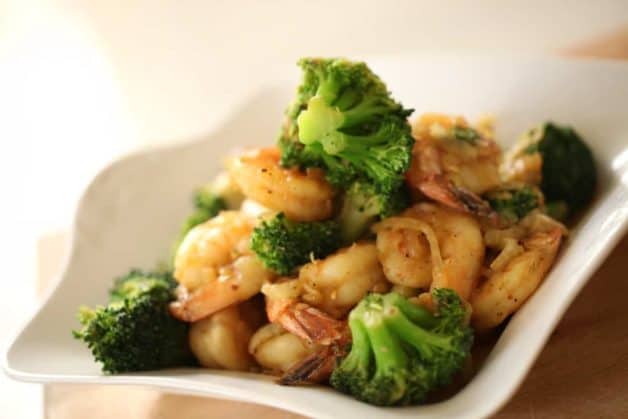 Please let me know if you make this recipe by leaving a rating and review below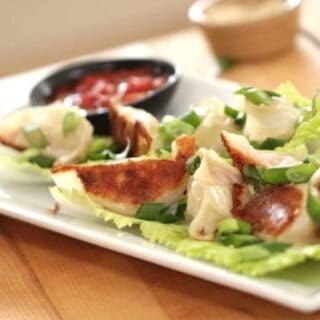 Angel Wong's Potsticker
Total Time:
1 hour
10 minutes
Learn how to make potstickers from Scratch.From how to fold potsticker and how to cook potstickers to how to make an easy potstickers sauce. It's easier than you think!
Ingredients
½ lb. (230g) ground pork
6 medium shrimp
1 cup (150g) of napa cabbage (about 6 leaves), only the white stem part
½ tsp. (2.5 ml) salt
1 tsp. (5 ml) garlic, minced
½ tsp. (2.5 ml) rice wine (if there's no rice wine, a dry sherry will work too)
1 tsp. (5 ml) low sodium or light soy sauce
½ tsp. (2.5 ml) ginger, minced
1 Tbsp. (13 g) cornstarch
1 tsp. (5 ml) toasted sesame oil
1 package gyoza/ potsticker wrappers, thick and round
2 green onions for garnish
Instructions
Prep the napa cabbage by cutting the leafy parts off, leaving the white stems remaining.
Chop the white stems into small pieces.
Mix the chopped napa with the ½ tsp. of salt and let sit in a bowl for 20-30 minutes. This will help remove water from the napa.
After letting it sit, drain the water and discard. Do not rinse the napa (we want to keep the salt)
Peel and devein the shrimp and cut into small pieces (same size as the napa)
Combine and mix all the ingredients into a bowl to make the filling.
Add a small spoonful of the filling in the center of the potsticker wrapper and wet the edges with a damp finger. Fold and pleat the edges of the wrapper together to make the potsticker.
In a nonstick pan add 1 Tbsp. oil then your potstickers then turn the pan on medium- med/high heat.
Add ¾ cup of water, then cover and let steam for 5-6 minutes or until the water has mostly evaporated.
Remove the lid, then let the potstickers cook for an additional 2-4 minutes or until the bottoms develop a golden brown crust.
Notes
Don't open the potsticker package until ready to use as they will dry out.
If needed wrap them in a paper towel after opening to prevent them from drying out.
You can freeze the wrappers and defrost them for use later.
Completed potstickers can be frozen if not used right away. Just freeze on a tray lined with parchment paper (make sure they are not touching). Once frozen, transfer to a plastic bag or container for easier storage.
Nutrition Information:
Yield:

24
Serving Size:

1
Amount Per Serving:
Calories:

21
Total Fat:

1g
Saturated Fat:

0g
Trans Fat:

0g
Unsaturated Fat:

1g
Cholesterol:

5mg
Sodium:

71mg
Carbohydrates:

1g
Fiber:

0g
Sugar:

0g
Protein:

1g