Stuffed Avocado with Shrimp Salad
There are times during the summer when I want to entertain, but quickly realize "It's too hot to cook!" That's when I turned to my Stuffed Avocado with Shrimp Salad recipe.
It's such an easy recipe that can also be made hours ahead, it also works for an appetizer too when followed with a light main course recipe.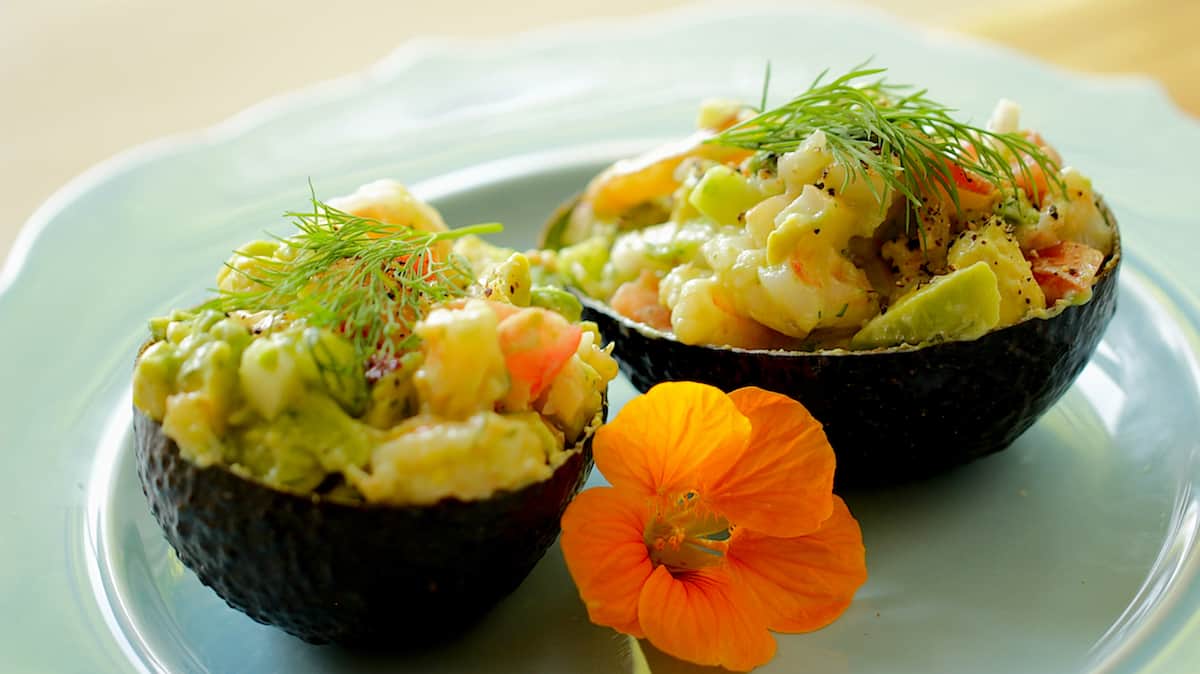 Recipe Pairing Ideas: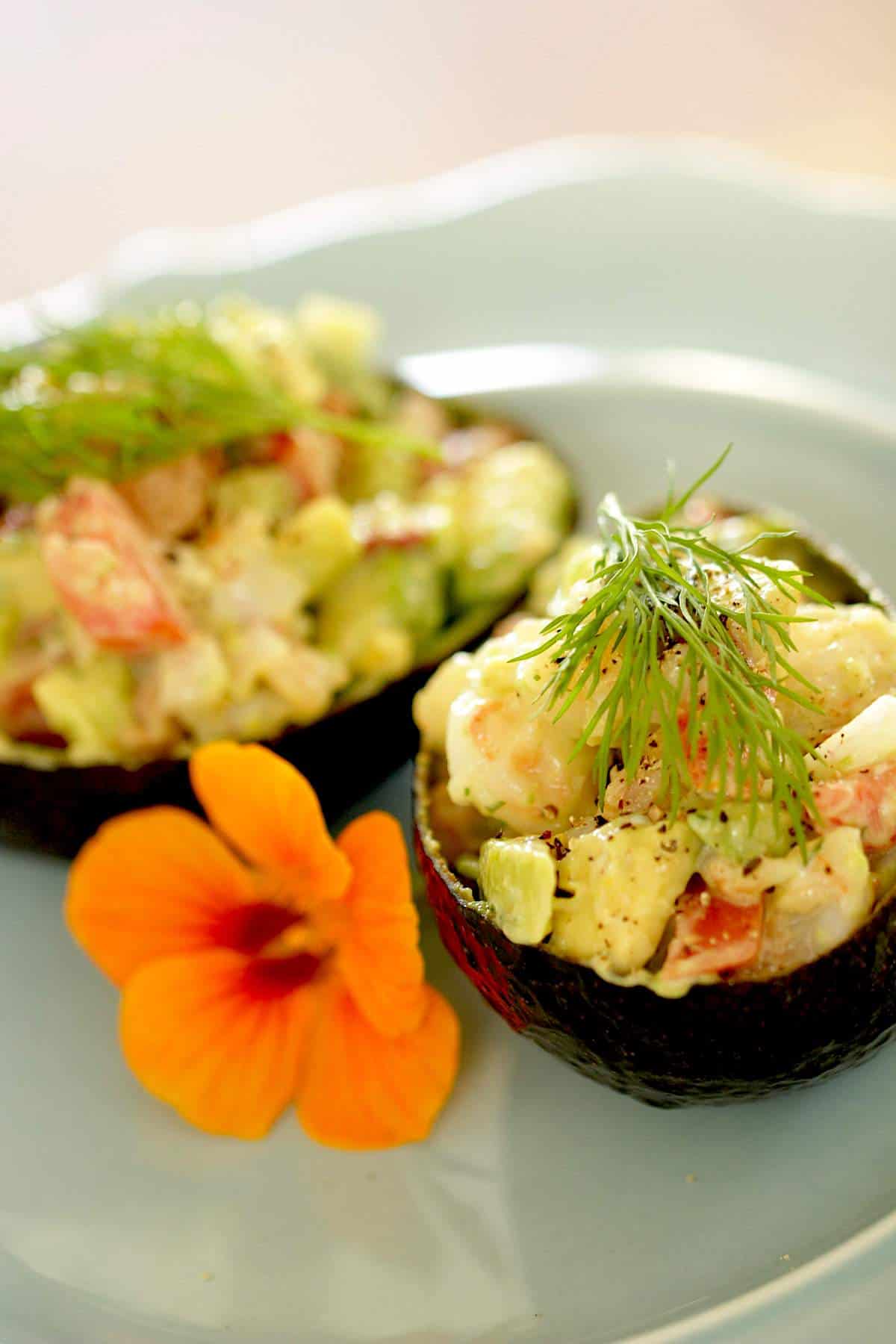 Subscribe for weekly recipes
and new videos!
Great Visual Appeal
Stuffed avocados are also such a pretty dish, and the shells work so well as little serving dishes too. I also love to garnish pretty summer dishes like this with edible flowers, and nasturtiums are a great choice for their bright color and peppery flavor. For another recipe with edible flowers try my Lavender Creme Brûlée.
Watch My Video Demo of This Recipe Below
Subscribe To My YouTube Channel and Never Miss a Recipe
Best Way To Cook Shrimp for Salads
I think the easiest way to cook shrimp for any chilled salad is to bake it in the oven it's quick and easy and will keep the shrimp moist and succulent.
Just be sure to keep the tails on, that will also prevent your shrimp from drying out.
You can also cook shrimp this way for my classic New-England style Shrimp Roll Recipe which is another fantastic summer recipe to try.
You can bake them at 375F for just a few minutes until pink and cooked through and use in any recipe calling for cooked shrimp.
Stuffing the Avocados
Stuffing avocados are so easy to do! And you can fill them with all sorts of things, shrimp salad, chicken salad or my Charred Corn Mexican Salad would be great too!
Just be sure they are soft and ripe since they are easier to handle and scoop out.
All you do is cut the avocado in half, remove the pit with a chef's knife and then scoop out the avocado with a large serving spoon.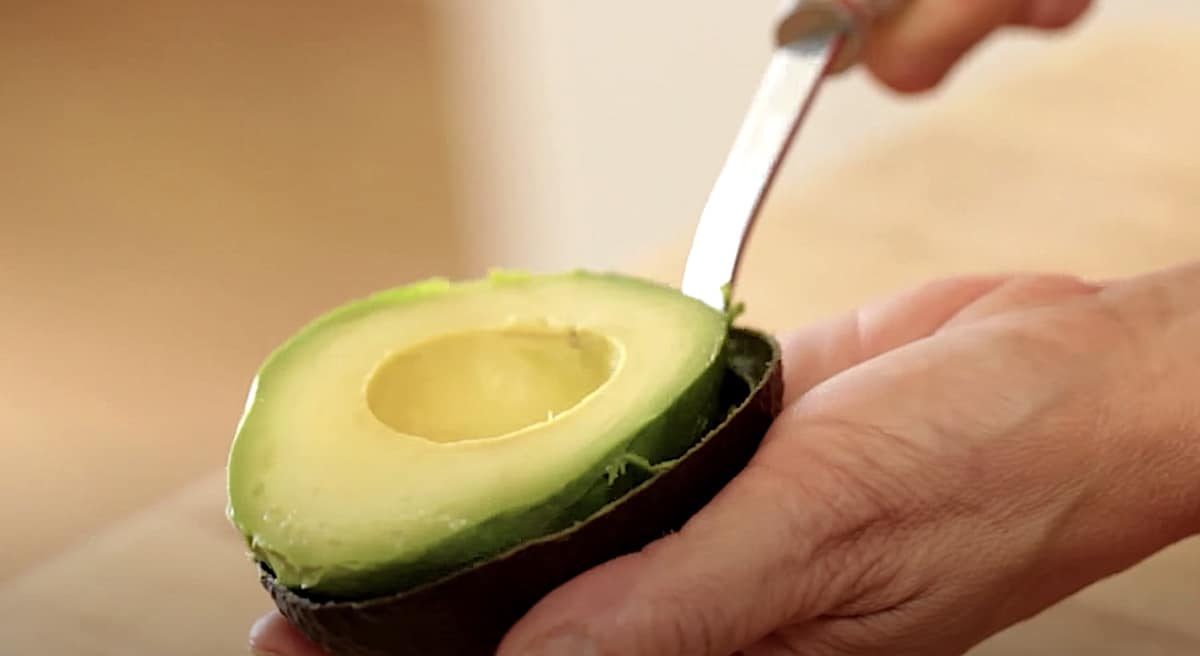 Preparing the Salad Dressing
I think the best combination for the dressing base is sour cream and mayonnaise. The sour cream will make the salad lighter than if you used all mayonnaise, but you still need at least a little bit to make the dressing creamy and smooth.
Then to add flavor and freshness I like to also add dill, lemon zest, and lemon juice, toss with the shrimp and vegetables and that's all there is to it!
To Serve:
Spoon the shrimp salad into the avocado shells
Garnish with fresh dill
Add an edible flower
Nasturtiums are my favorite for the bright colors and peppery flavor but you can also find edible pansies in your produce aisle of the supermarket this time of year, usually in the fresh herb section.
But do only buy them from a grocery store (not a plant store!) to assure they are safe to eat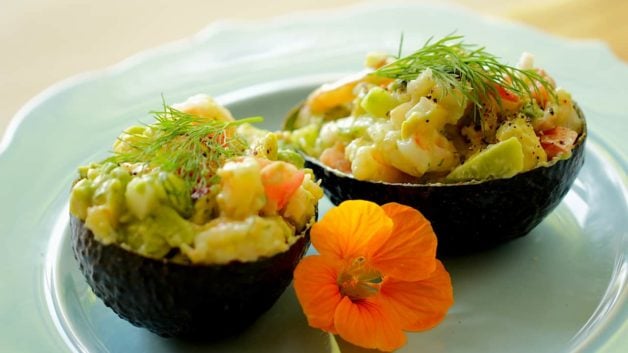 Make-Ahead Tips:
You can cook the shrimp a day ahead cover and refrigerate
You can mix the dressing a day and too, cover and refrigerate
Keep the shrimp and the dressing separated until ready to serve
Then all you have to do the day of is cut the vegetables, toss the salad and serve
More Great Summer Recipes!
Please let me know if you make this Recipe
by leaving a rating and review below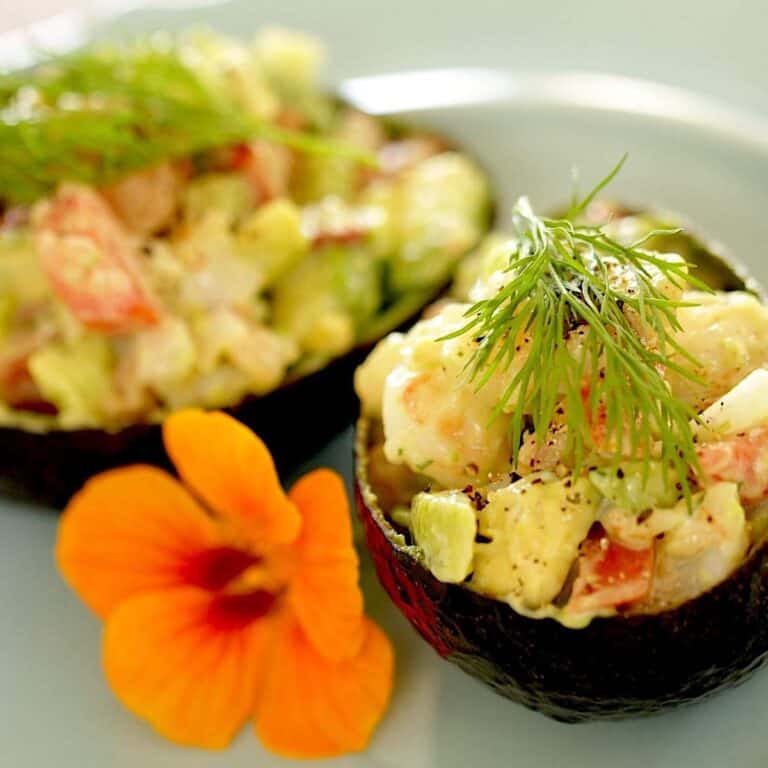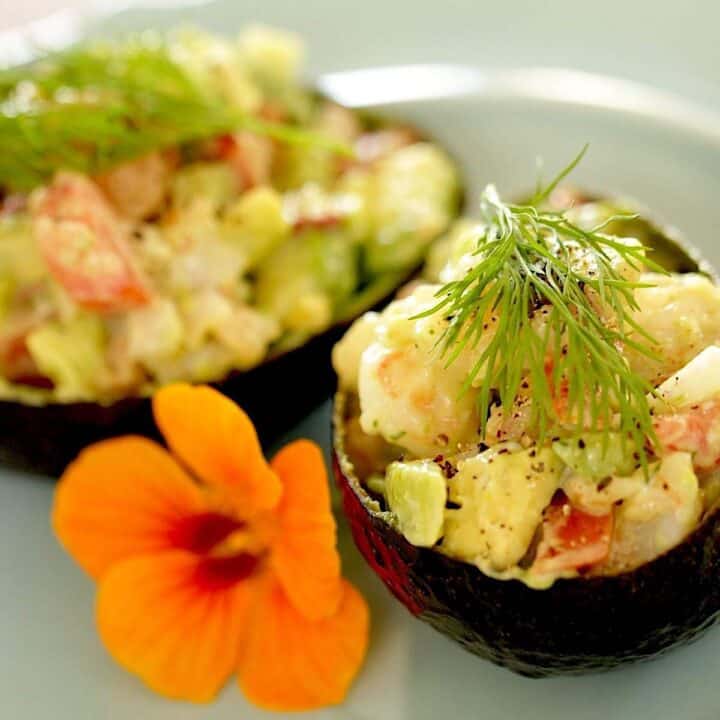 Stuffed Avocados with Shrimp Salad
An easy and delicious dinner idea for summer entertaining. The best part is it can be made in advance too!
Ingredients
For Salad:
1 lb (450g) of Shrimp
drizzle of olive oil
salt and pepper to taste
For Dressing:
3 tablespoon (45 ml) sour cream
1 tablespoon (15 ml) mayonnaise
¼ teaspoon (1.25 ml) lemon zest
¼ teaspoon (1.25 ml) fresh lemon juice
1 tablespoon (15 ml) fresh dill, minced + more for garnish
⅓ cup (80 ml) tomato, diced
⅓ cup (80 ml) cucumber, diced
2 tablespoon (30 ml), radish, diced
2 ripe avocados, cut into chunks, shells reserved
Instructions
Preheat Oven to 375F/(190C)
Place shrimp on a rimed sheet pan and drizzle with olive oil and season with salt and pepper. Bake for 7 mins until pink and cooked through. Set aside and allow to cool.
Meanwhile in a small bowl combine sour cream, mayonnaise, lemon zest and juice, fresh dill, salt and pepper to taste. Whisk to combine. Set aside.
Dice shrimp into small cubes and transfer to a large bowl. Add the diced tomatoes, cucumbers and radish.
Moments before serving, slice the avocado in half, length wise. Scoop out the avocado with a large spoon. Cut avocado into small chunks, add to the large bowl of shrimp and veggies.
Toss the dressing with the shrimp and veggies. Spoon the salad back into the Avocado Shells, place two cups filled with the salad on a plate, top with freshly cracked pepper and a fresh sprig of dill and place an editable flower on the side.
Serve as a light dinner or lunch, or it's also great as a first course too!
Notes
To prepare ahead of time you can roast the shrimp and cut it, along with cutting the other veggies. Toss them in a bowl together and then cover and refrigerate.
You can also prep the dressing as well. Store in a separate bowl, cover and refrigerate.
Nutrition Information:
Yield:

4
Serving Size:

1
Amount Per Serving:
Calories:

310
Total Fat:

26g
Saturated Fat:

8g
Trans Fat:

0g
Unsaturated Fat:

17g
Cholesterol:

28mg
Sodium:

101mg
Carbohydrates:

17g
Fiber:

7g
Sugar:

2g
Protein:

4g