These New England-Style Shrimp Rolls are easier and less expensive than traditional lobster rolls but just as delicious! When served with my easy corn salad recipe, you'll have a classic New England dinner!
Both of these dishes can be made ahead of time and all you have to do before serving is grilled the buns! It's perfect summer entertaining fare that is even better when it's just too hot to fire up the grill!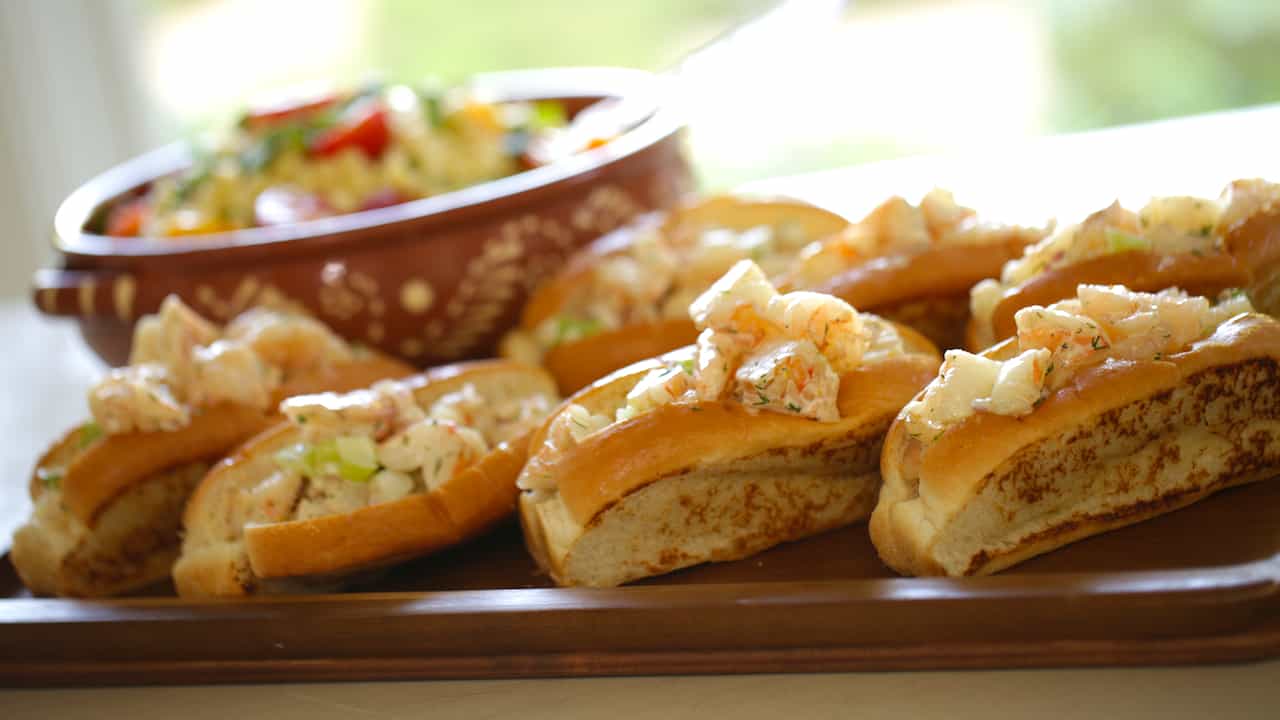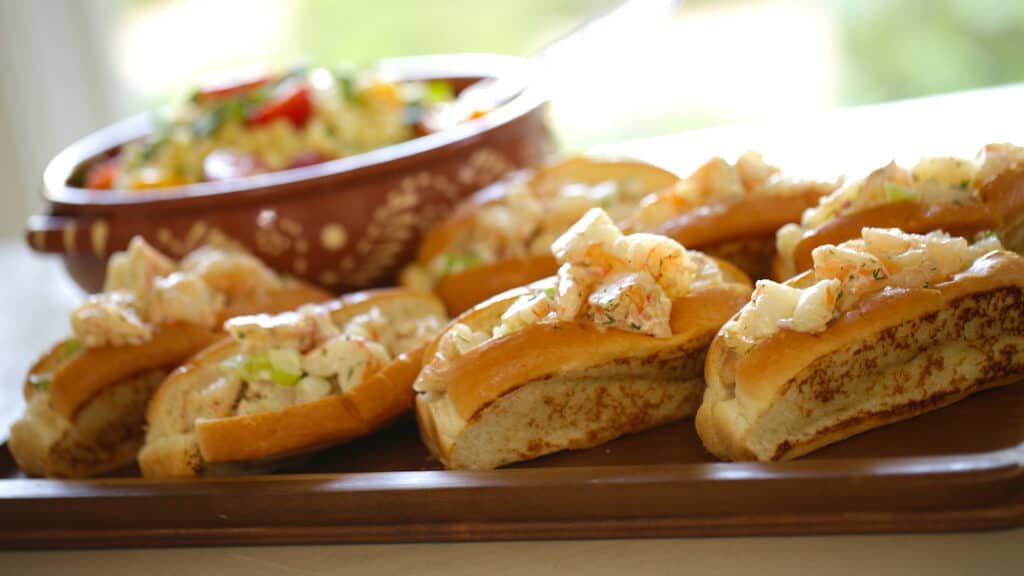 I grew up in New England and summers for me always meant lobster rolls down by the beach. But here in L.A. good lobster can be hard to find, at an affordable price, so instead, I find my New England Style Shrimp Rolls are the next best thing!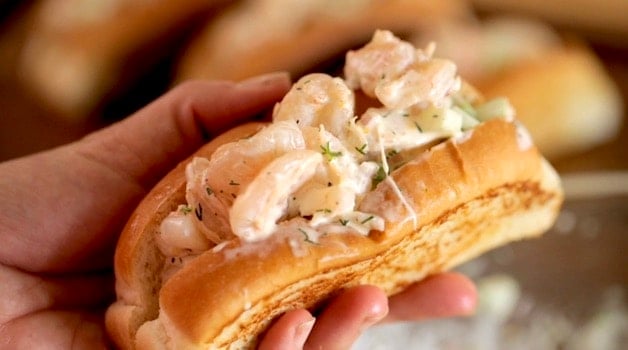 Recipe Pairing Ideas:
Watch My Video Demo of This Recipe Below!
How Easy is this Recipe?
This shrimp roll recipe is super easy to follow. Essentially, you'll roast the shrimp to bring out its best flavor. Then mix up the dressing, add some celery, shallots, and dill and then combine it all together and load it into a buttery split-top bun.
Step#1: Prep the Shrimp
Purchase your shrimp with the tails on. This will prevent your shrimp from drying out when you roast it in the oven. I also find they are less expensive this way too!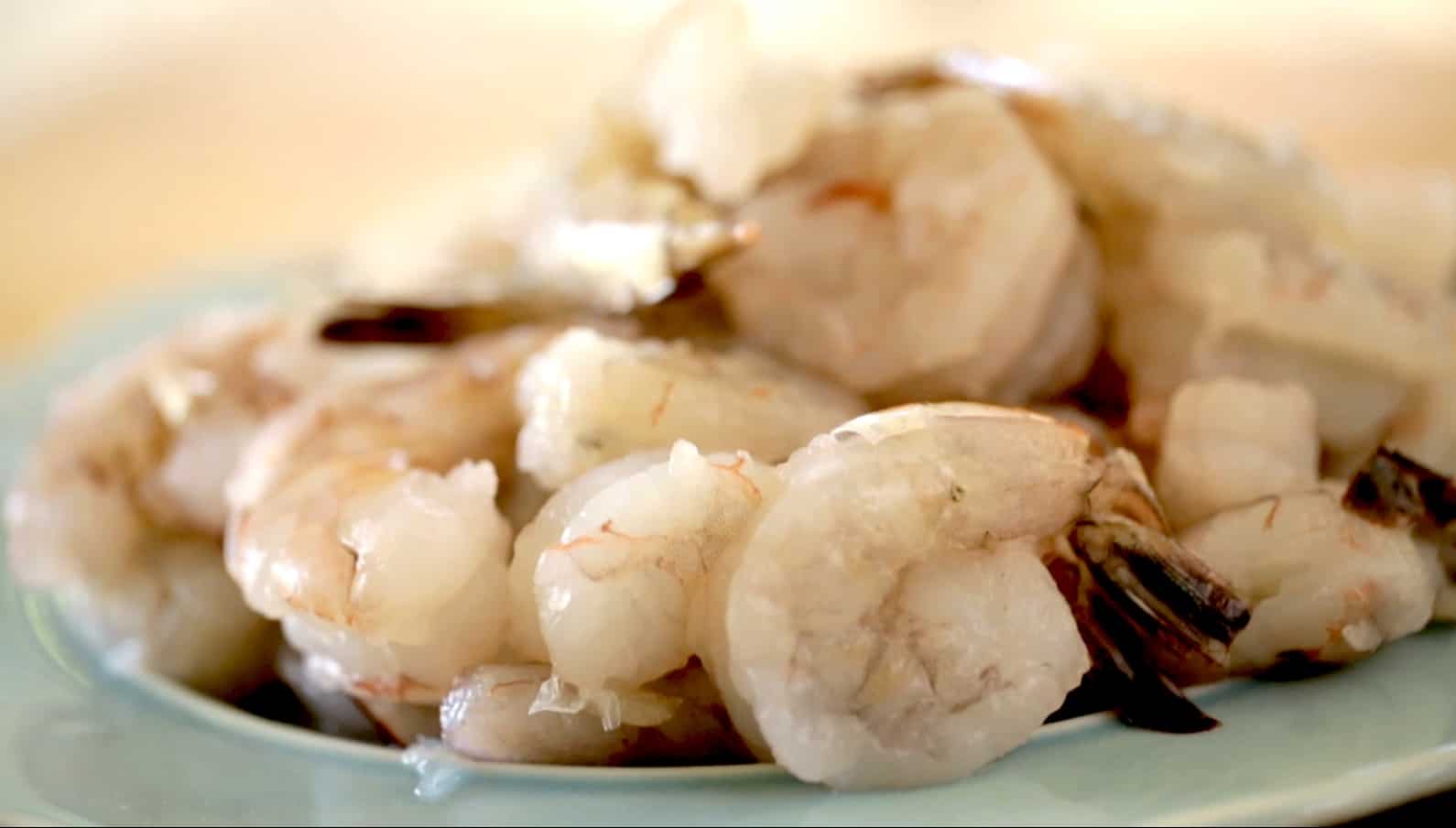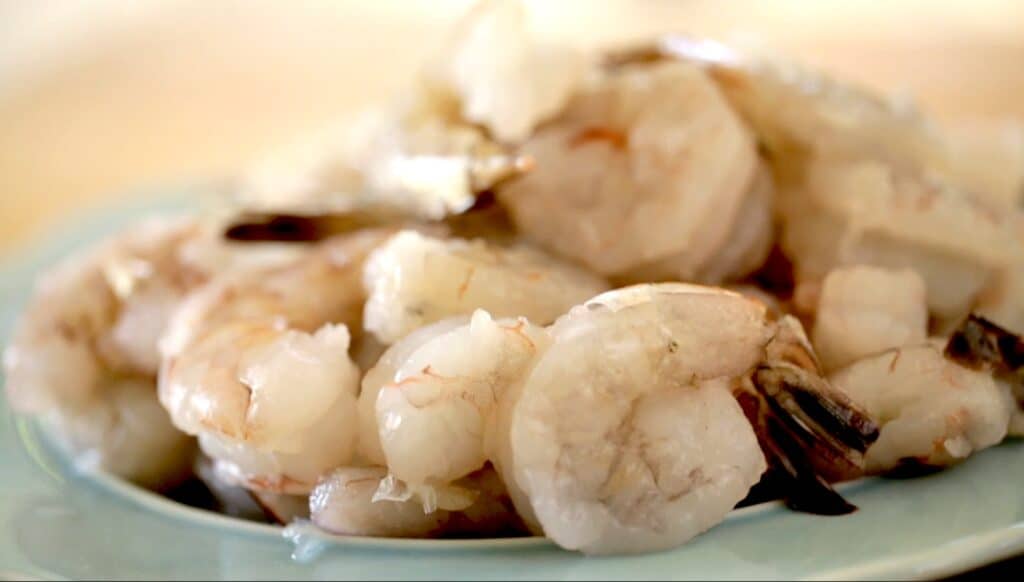 I like to score the backs of the shrimp after cleaning them and removing the vein. Otherwise known as "butterflying". This plumps them up while cooking and will give them a similar texture to lobster, but for a lot less money.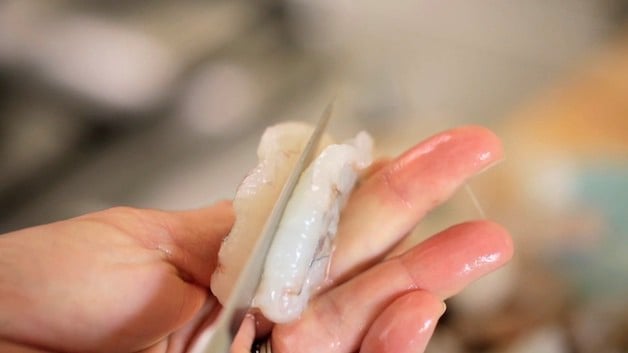 As your shrimp roast, turn them frequently with tongs so that they turn pink and opaque on all sides. This goes pretty quickly!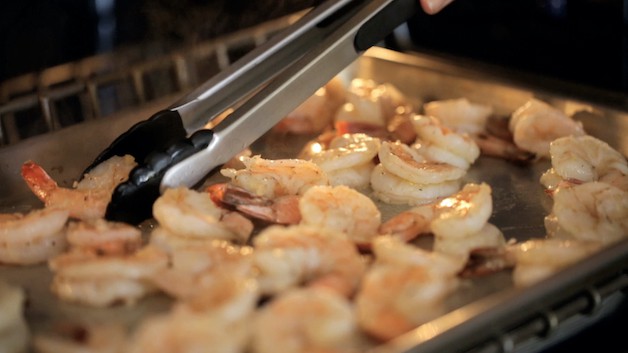 Once the shrimp is cooked through, remove the tails and chop them into bite-sized pieces around 1-inch in size. I wouldn't go bigger otherwise it will be harder to fill the buns when it comes time to serve.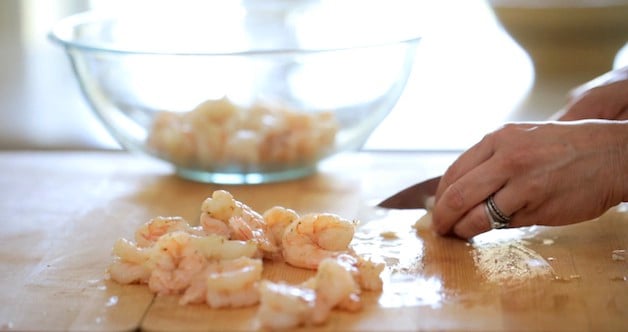 I like to place the cut shrimp in a large bowl so that it's all ready to go when it comes time to toss them with the dressing. That way, you'll be able to use the same bowl.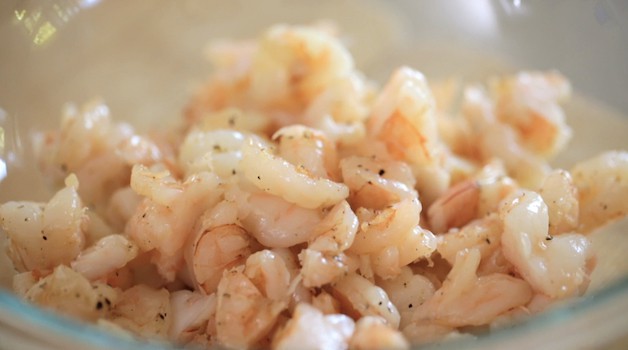 Step#2: Prepare Dressing
You'll love the flavor of the shrimp roll dressing! It is a wonderful lemony mayo dressing that is loaded with crunchy celery, shallots, and dill. It pairs beautifully with the shrimp and its flavors become even better the longer the salad sits in the fridge.
Add the dressing to the cooked shrimp and toss to coat well. I also like to reserve 3 tablespoons of the dressing and place in a separate bowl. That way I have a little more dressing to toss in to freshen the salad right before serving.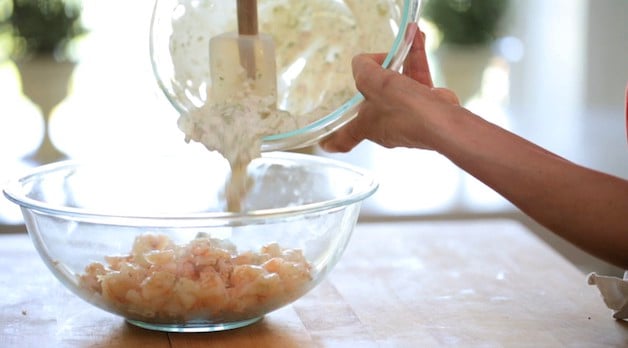 Step#3: Grill the Buns
A critical component to this shrimp roll recipe is of course the split-top buns, which are a bit of a unicorn here on the West Coast. No seriously, they don't exist. Not anywhere!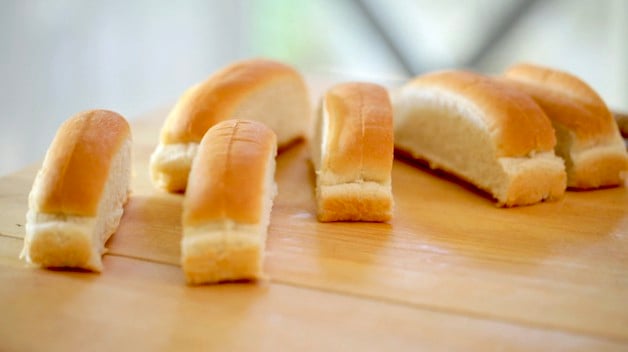 It's the strangest thing I've come across, being an "east coat" transplant, the complete absence of a split-top bun. Why is that? I'm sure Westerners would love them as much as New Englanders do, but alas to no avail.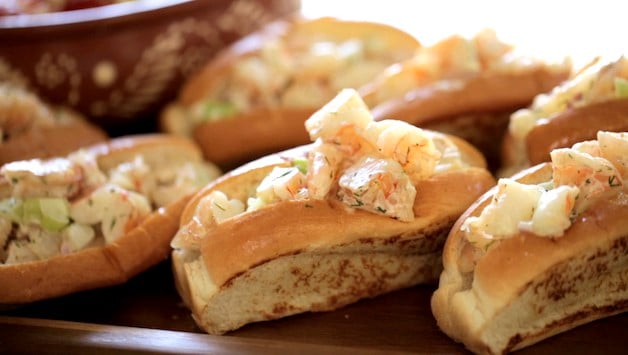 The Split-Top Buns Are Worth Buying Online
But, as is the case with most things these days, I found them on Amazon! They are also known as "hot dog buns" so don't be confused. I buy a big batch of them and then freeze them. Yes, they are pricey, yes a tad inconvenient. But when you bite into the buttery, crispy roll that is as light as a feather, you'll agree it was worth the effort.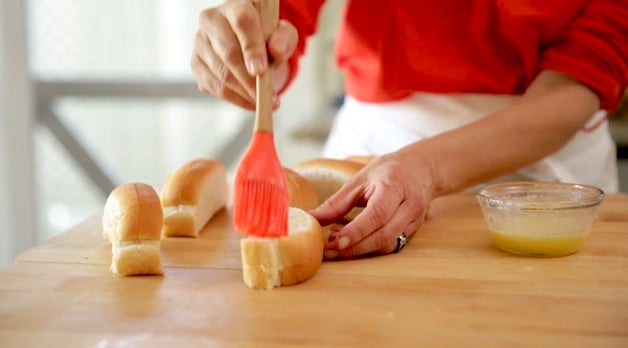 Grilling the Buns
Simply butter their sides with melted butter and grill on a griddle. I love this recipe for entertaining because this is the only "cooking" you need to do the day of the party. Everything else can be made the day before!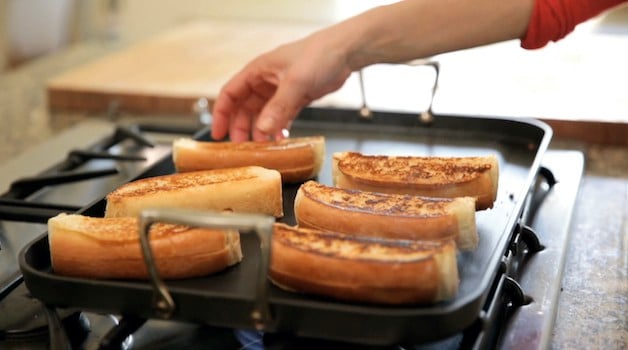 Then all you have to do is fill the buns with the shrimp salad and set them out on a platter. How easy is that?!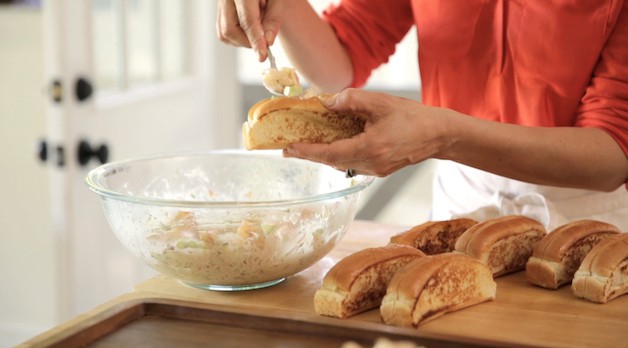 More Great Summer Recipes!
Please let me know if you make these shrimp rolls
by leaving a rating and review below.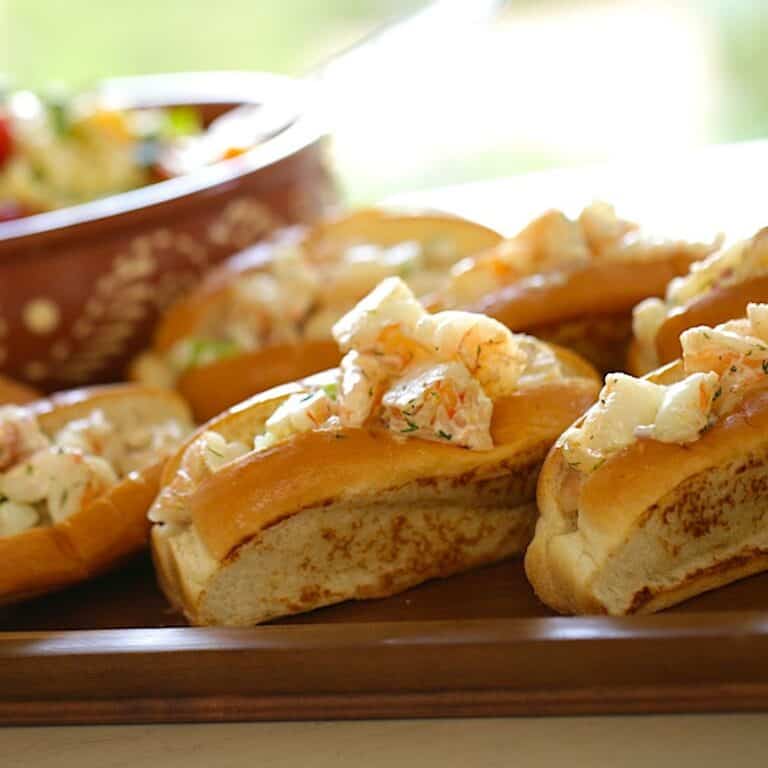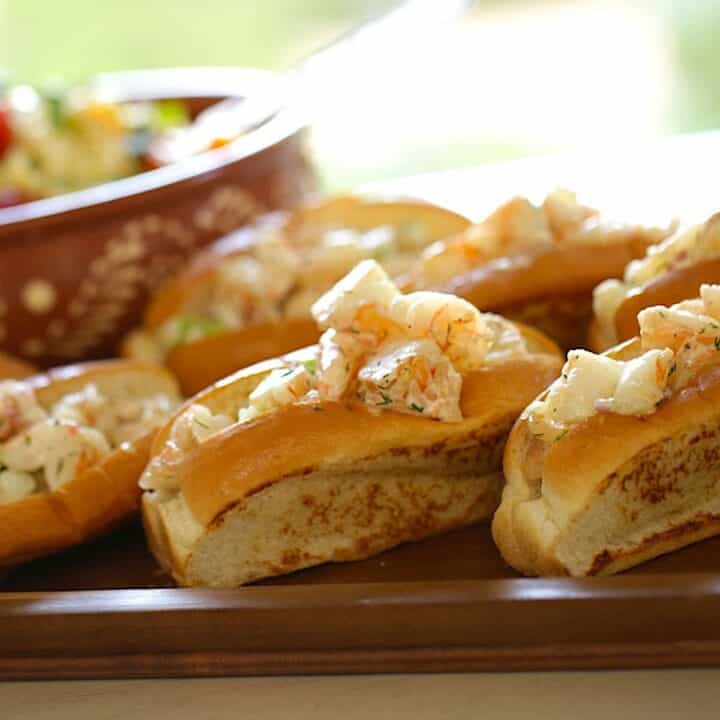 New England-Style Shrimp Rolls
Learn how to make my Recipe for Shrimp Rolls New England Style, complete with split top bun. The perfect hot weather meal for summer entertaining.
Ingredients
2 lb shrimp (900 g), shelled, deveined, tails on and butterflied
1 tablespoon (15 ml) olive oil
salt and pepper to taste
½ cup (120 ml) mayonnaise
1 teaspoon (5 ml) lemon zest
2 tablespoon (30 ml) lemon juice
Pinch of Cayenne Pepper
½ cup (120 ml) celery, diced
2 tablespoon (30 ml) shallots, minced
1 tablespoon dill, minced
salt and pepper to taste
Split top hotdog buns
2 tablespoon melted butter
Instructions
Preheat oven to 400F (200C).
Butterfly shrimp by slicing shrimp down their backs ¾ of the way. Shrimp halves should stay intact.
Toss with 1 tablespoon (15 ml) olive oil, salt and pepper to taste. Roast in the oven for 5 mins each side, or until pink and opaque. Allow to cool. Remove tails. And roughly chop shrimp into bite-sized pieces.
In a large bowl combine mayonnaise, zest and juice, celery, shallots, dill, salt and pepper. Reserve 3 tablespoon (45 ml) in a small bowl, and then toss the rest with the shrimp. Cover and keep refrigerated until ready to serve.
Moments before serving, brush outsides of split top buns with butter, grill each side until golden brown.
Add reserve dressing to shrimp and toss to re-freshen. Scoop shrimp salad into buns and serve immediately
Recommended Products
As an Amazon Associate and member of other affiliate programs, I earn from qualifying purchases.
Nutrition Information:
Yield:

6
Serving Size:

1
Amount Per Serving:
Calories:

302
Total Fat:

9g
Saturated Fat:

3g
Trans Fat:

0g
Unsaturated Fat:

5g
Cholesterol:

329mg
Sodium:

1652mg
Carbohydrates:

17g
Fiber:

0g
Sugar:

10g
Protein:

35g