I love this easy fresh corn salad recipe because it's so simple to whip up for summer get-togethers or if you need a summery side dish to bring to a backyard BBQ or summer potluck! It pairs beautifully with my New England Style Shrimp Rolls or Ultimate Burger recipes. Surely, one for the summer rotation!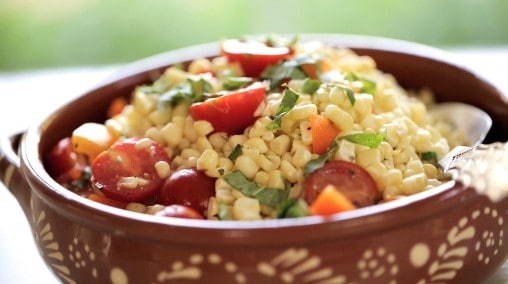 WATCH MY VIDEO DEMO OF THIS CORN SALAD RECIPE
STEP#1: Prep the Corn
Once you have shucked the corn, place it in a large pot of boiling water for just 5 minutes. You only want to blanch it to remove its raw flavor. Be careful not to overcook it or you'll cook the fresh flavor out of it!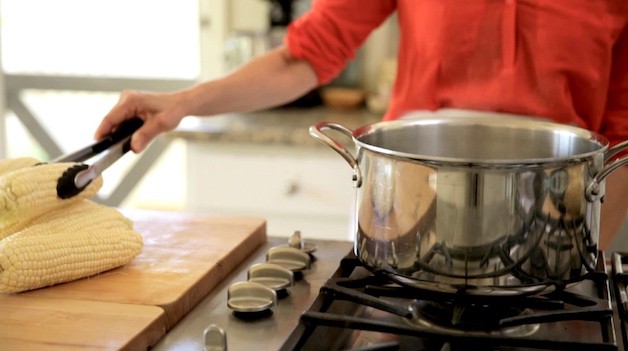 When the corn is ready place it in a colander and run it under cold water. This will stop the cooking process and prevent it from being overcooked.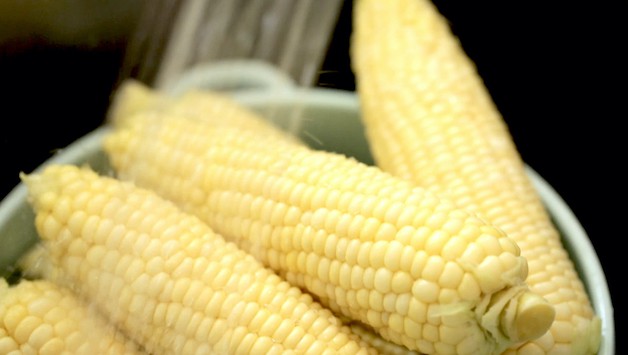 Then allow it to cool completely and then cut the corn off the cobb and transfer it to a large bowl. You want to make sure the corn is cool before adding the next step of cut veggies, otherwise, the heat from the corn will start to "cook" them too!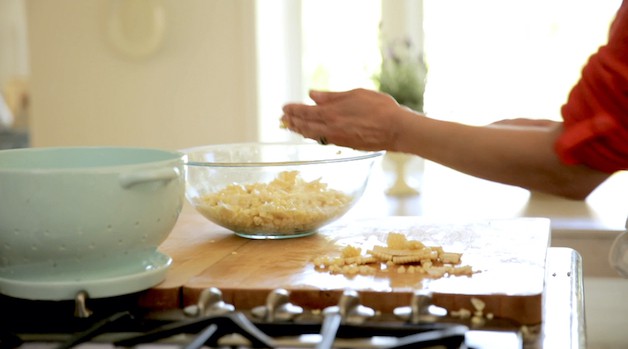 STEP#2: Add Veggies
The sweetness of the corn pairs really well with cherry tomatoes and bell peppers. You can use red or orange peppers. But I like to use the orange ones to introduce one more color to this summery salad.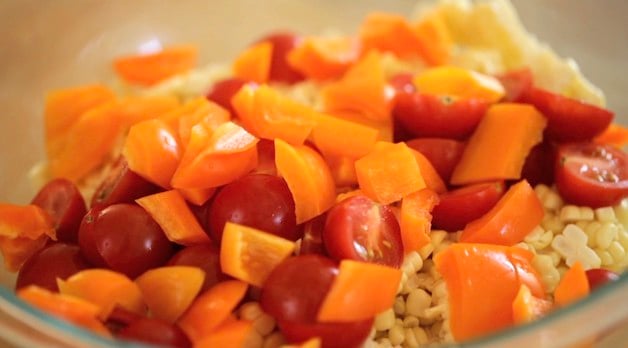 At this stage, you could cover and refrigerate the salad until ready to serve. Don't add the dressing until moments before serving or it will become too soggy.
STEP#3: Toss with Dressing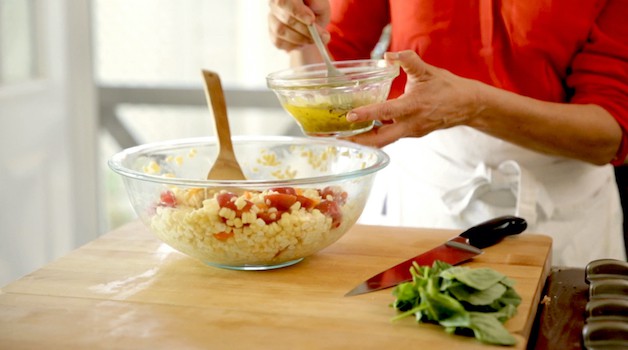 Toss the corn salad with the dressing. The dressing is a delicious flavorful mixture of lime juice, garlic, olive oil and a touch of tarragon. The slight anise flavor of the tarragon pairs beautifully with the sweetness of the vegetables.
STEP#4: Add Fresh Basil
Moments before serving toss the salad with freshly chopped basil or you could also use parsley too. Or both!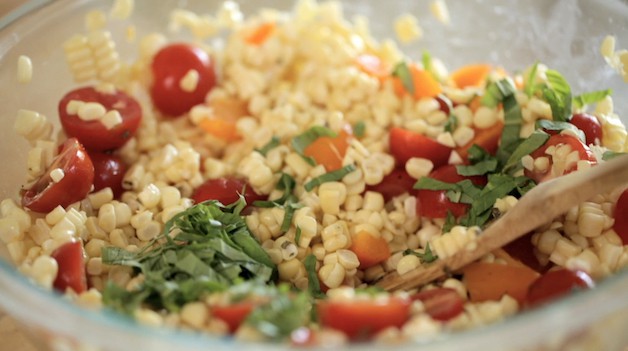 Then transfer to a decorative serving bowl and present it to your guests! The combination of the sweet corn and crunchy peppers along with the cherry tomatoes and basil is such a beautiful flavor combination for summer!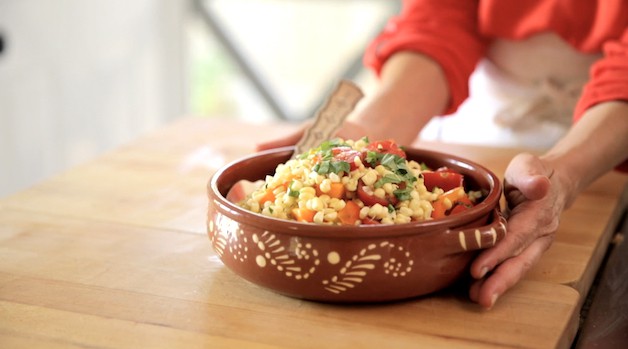 It also is a refreshing side dish to the decadence of my New England Style Shrimp Rolls! HAPPY SUMMER!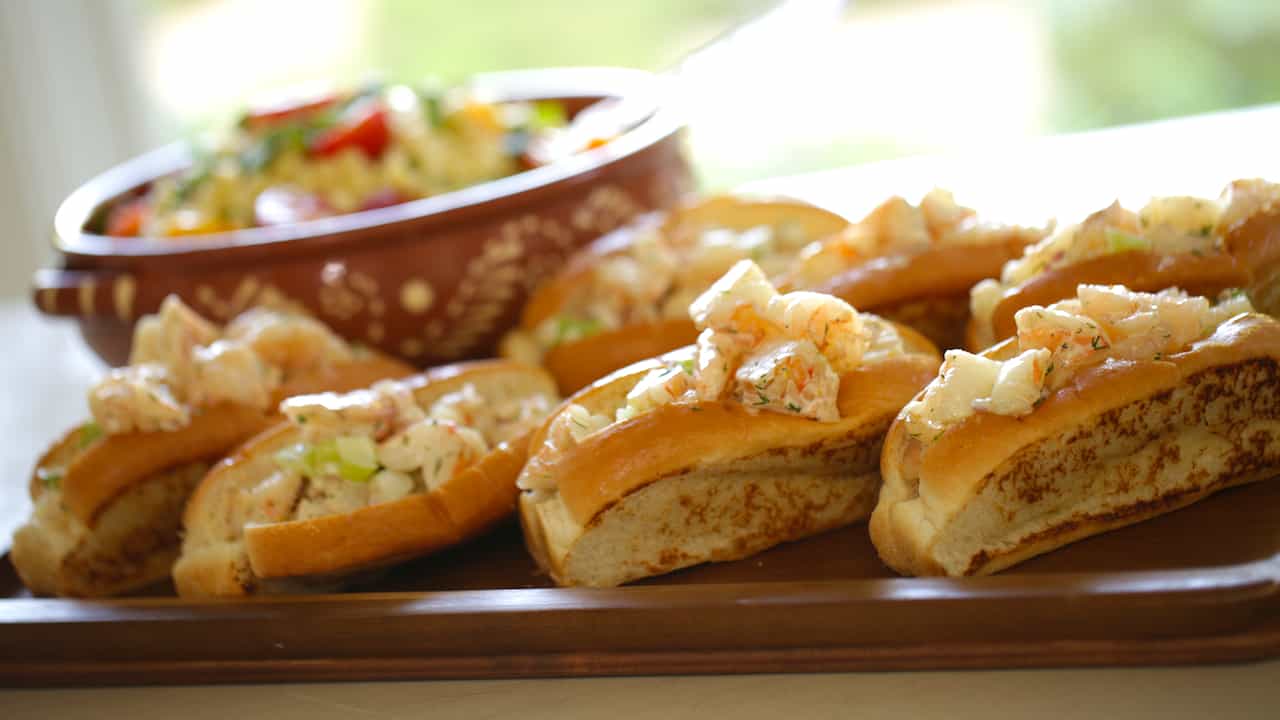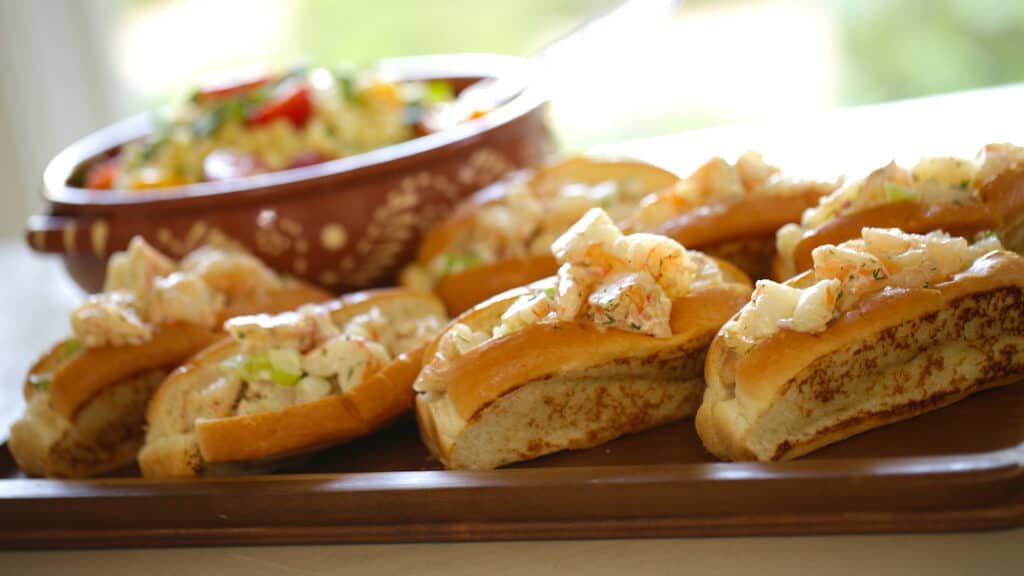 MORE GREAT SUMMER RECIPES!
Please Let Me Know if You Make This Corn Salad Recipe
By Leaving a Rating and Review Below!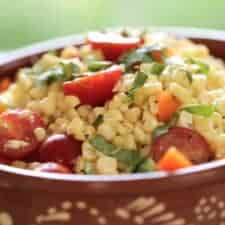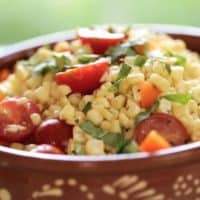 Easy Fresh Corn Salad
I love this corn salad recipe because it's so easy to whip up for summer get togethers or if you need a summery side dish to bring to a backyard BBQ or summer potluck!
Ingredients
8 Ears Fresh Corn, husked
1 cup (240 ml) cherry tomatoes, diced in half
1 cup (240 ml) orange bell peppers, diced
¼ cup (60 ml) fresh basil, cut into ribbons
Juice of 1 lime or 1 teaspoon (5 ml) red wine vinegar
1 garlic clove, minced
½ teaspoon (2.5 ml) dried tarragon
3 tablespoon (45 ml) olive oil
salt and pepper
Instructions
Blanch corn in boiling water for 5 mins. Remove and allow to cool. Slice corn off the cob and transfer to a large bowl. Add cherry tomatoes and peppers.
In a small bowl add red wine vinegar, garlic, tarragon, salt and pepper, and combine. Slowly add olive oil whisking all the while.
Keep dressing covered and refrigerated until ready to serve.
Moments before serving, pour dressing over the salad, add basil and toss.
Recommended Products
As an Amazon Associate and member of other affiliate programs, I earn from qualifying purchases.
Nutrition Information:
Yield:

6
Serving Size:

1
Amount Per Serving:
Calories:

196
Total Fat:

9g
Saturated Fat:

1g
Trans Fat:

0g
Unsaturated Fat:

7g
Cholesterol:

0mg
Sodium:

52mg
Carbohydrates:

26g
Fiber:

3g
Sugar:

6g
Protein:

4g