It's cherry season and I can't think of a better way to put these delectable little fruits to good use than with a cherry clafoutis!
It's a super simple summer dessert recipe that comes together easily and quickly! Cherries out of season? Try my apricot clafoutis recipe instead which is equally delicious!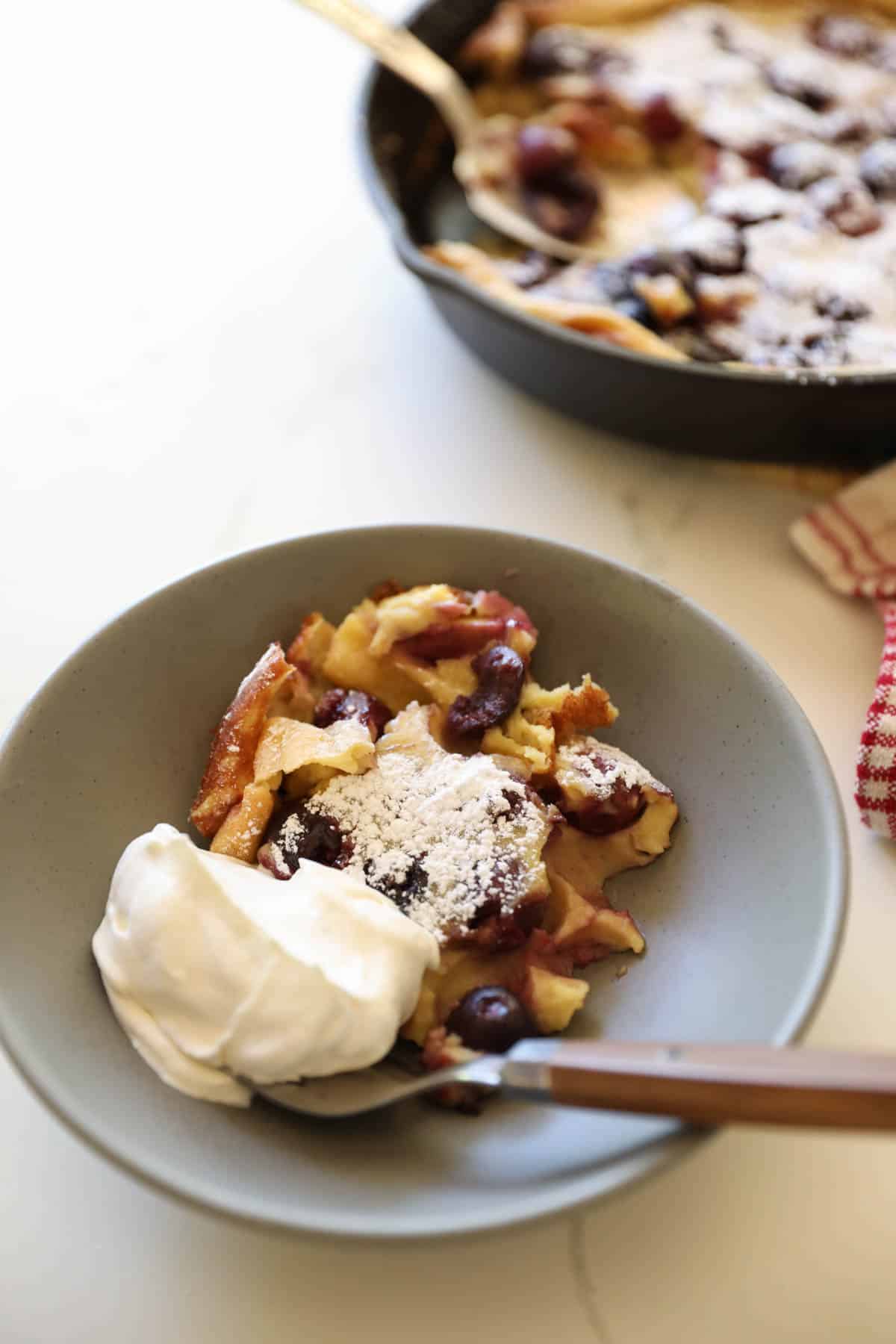 What is a Clafoutis?
Clafoutis (pronounced KLA-foo-TEE) is a French dessert that traditionally bakes cherries into a luscious, lightly sweetened custard. The traditional fruit used most often is cherries, but you can also use any stone fruit too! Like plums, peaches or apricots.
Ingredients:
Fresh Cherries. This dessert is wonderful when cherries are in season, but then you will have to pit them. Although in France they leave the pits in the cherries (!?) claiming it imparts more flavor. But that has always felt like a chocking hazard to me, so I would not recommend that!
Milk I use whole milk for the best texture
All-Purpose Flour is all you need. Nothing fancy!
Eggs I use 2 eggs and 2 egg yolks for a richer consistency.
Heavy Cream I add a little heavy cream for a richer, firmer, texture.
Kirsch or Almond Extract Kirsch is a cherry liqueur that compliments the cherries quite well, but you can also use almond extract too.
Vanilla Extract If using the Kirsch I also add vanilla extract for flavor. But leave it out if using almond extract.
Salt to spike all the flavors and avoid a bland custard.
Powdered Sugar to dust on top of the clafoutis once it's done.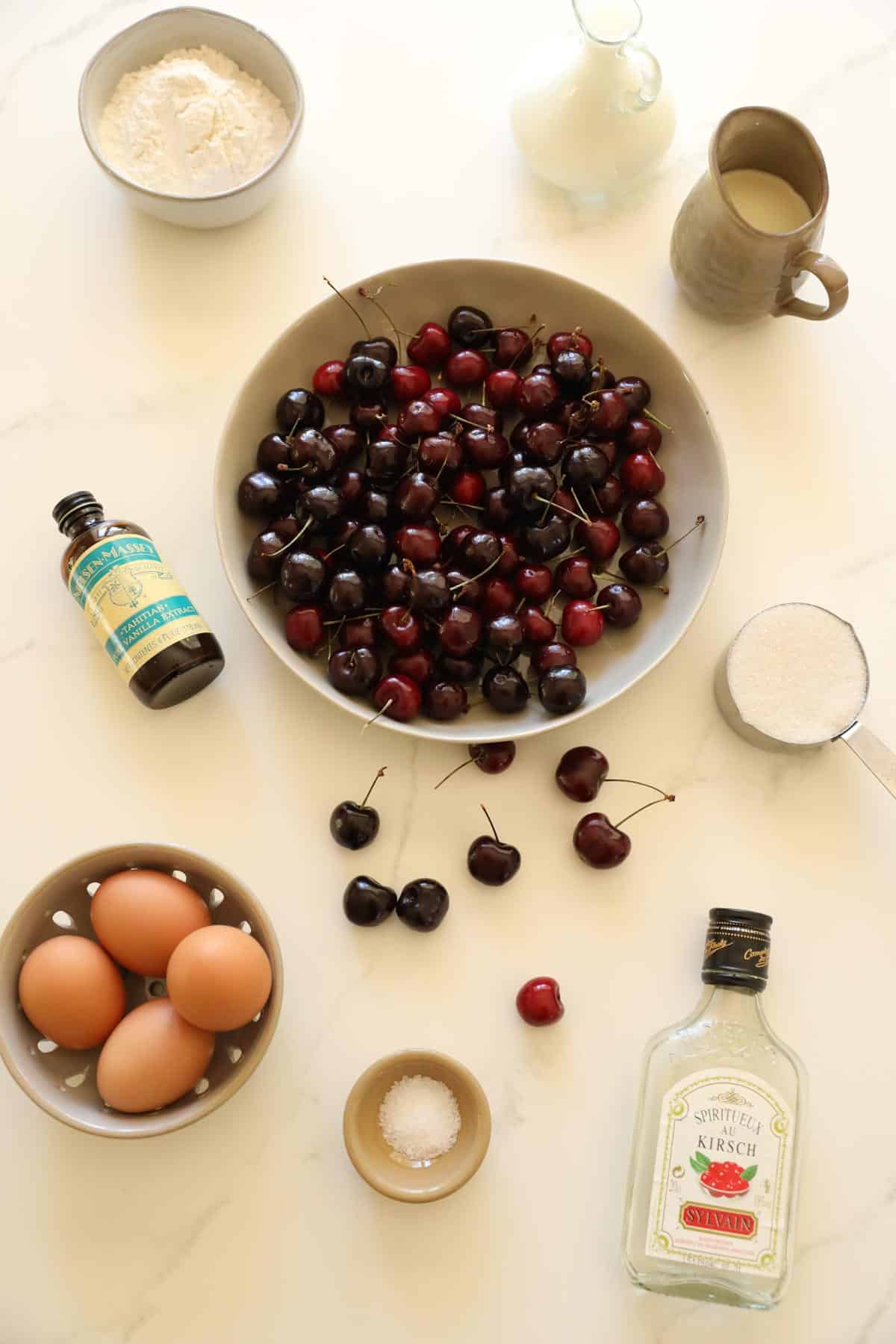 Subscribe for weekly recipes
and new videos!
Step#1: Make the Batter
Cherry Clafoutis is super simple to put together!
You'll start by making the egg custard base which is a combination of flour and milk to begin.
You'll whisk these two ingredients together first. This avoids getting clumps in your batter. Similar to making a crepe batter.
Then you'll add the heavy cream, eggs, sugar, vanilla, and the secret ingredient...kirsch. Kirsch is a cherry liquor that will give your Cherry Clafoutis a little extra something and will heighten the flavor.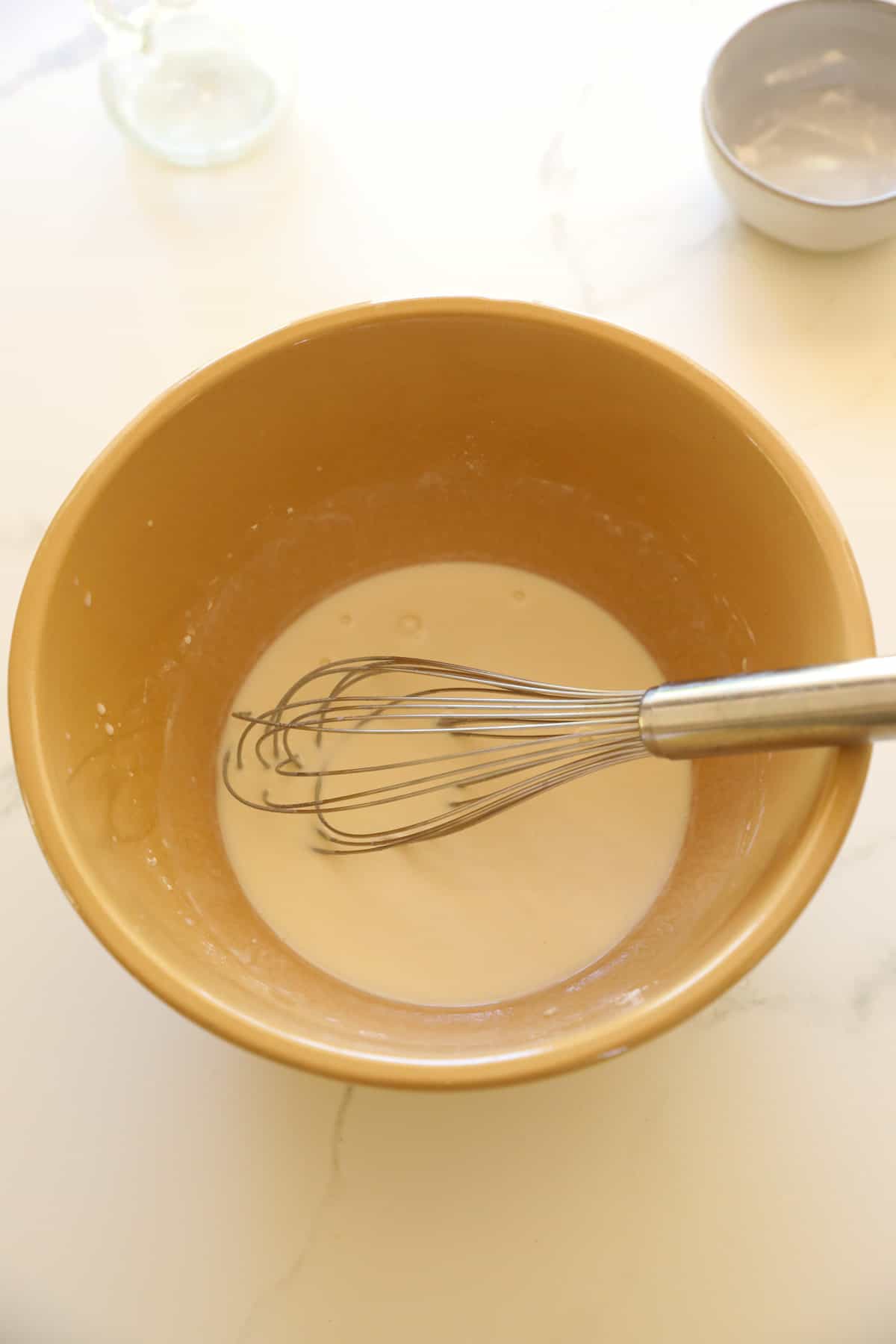 Step#2: Pit The Cherries
The hardest part in making this recipe is pitting all the cherries.
You can certainly use frozen cherries that come already pitted, or hook yourself up with a Cherry Pitter, one of my favorite kitchen gadgets! It also works on olives too!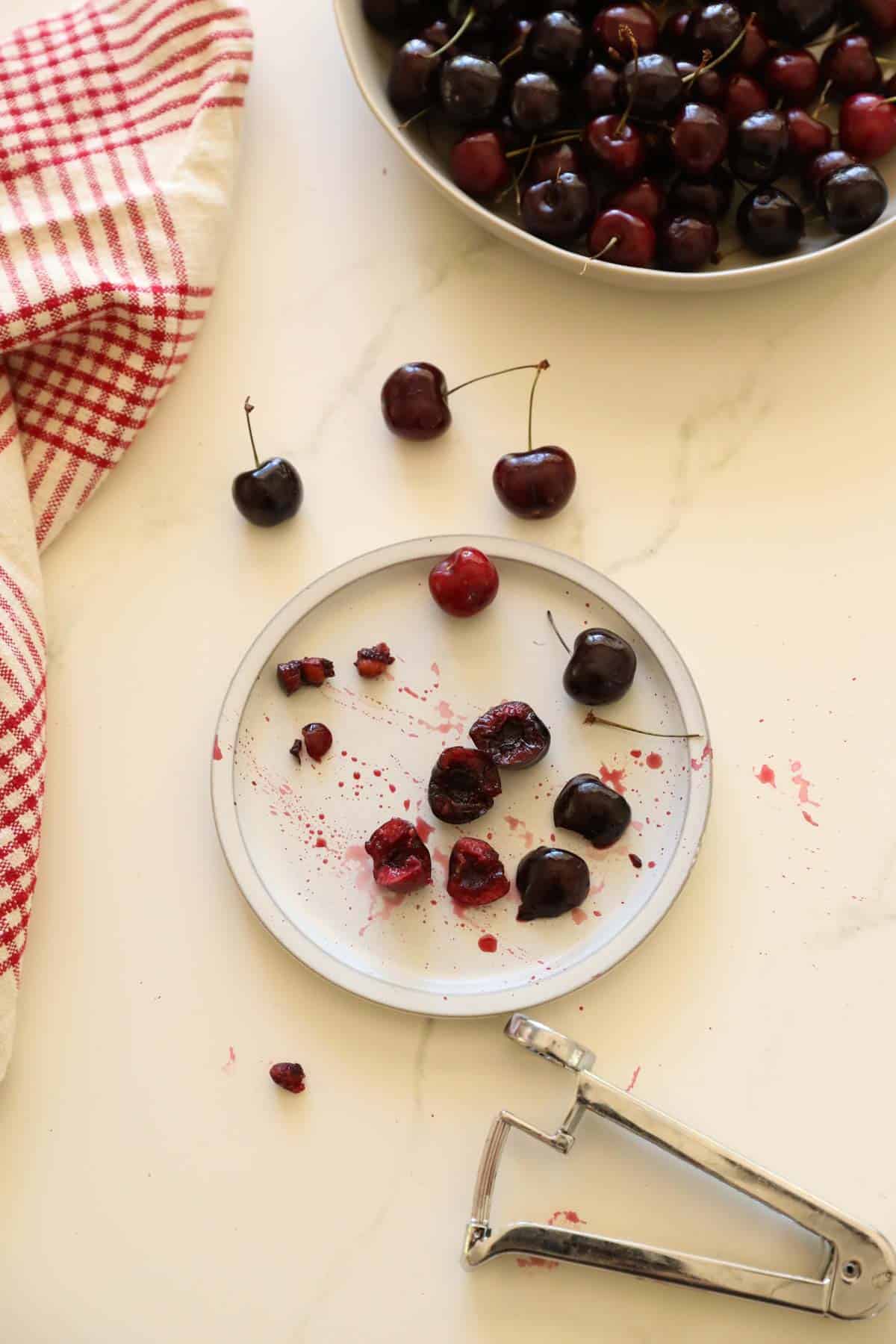 Step#3: Lay Cherries in the Pan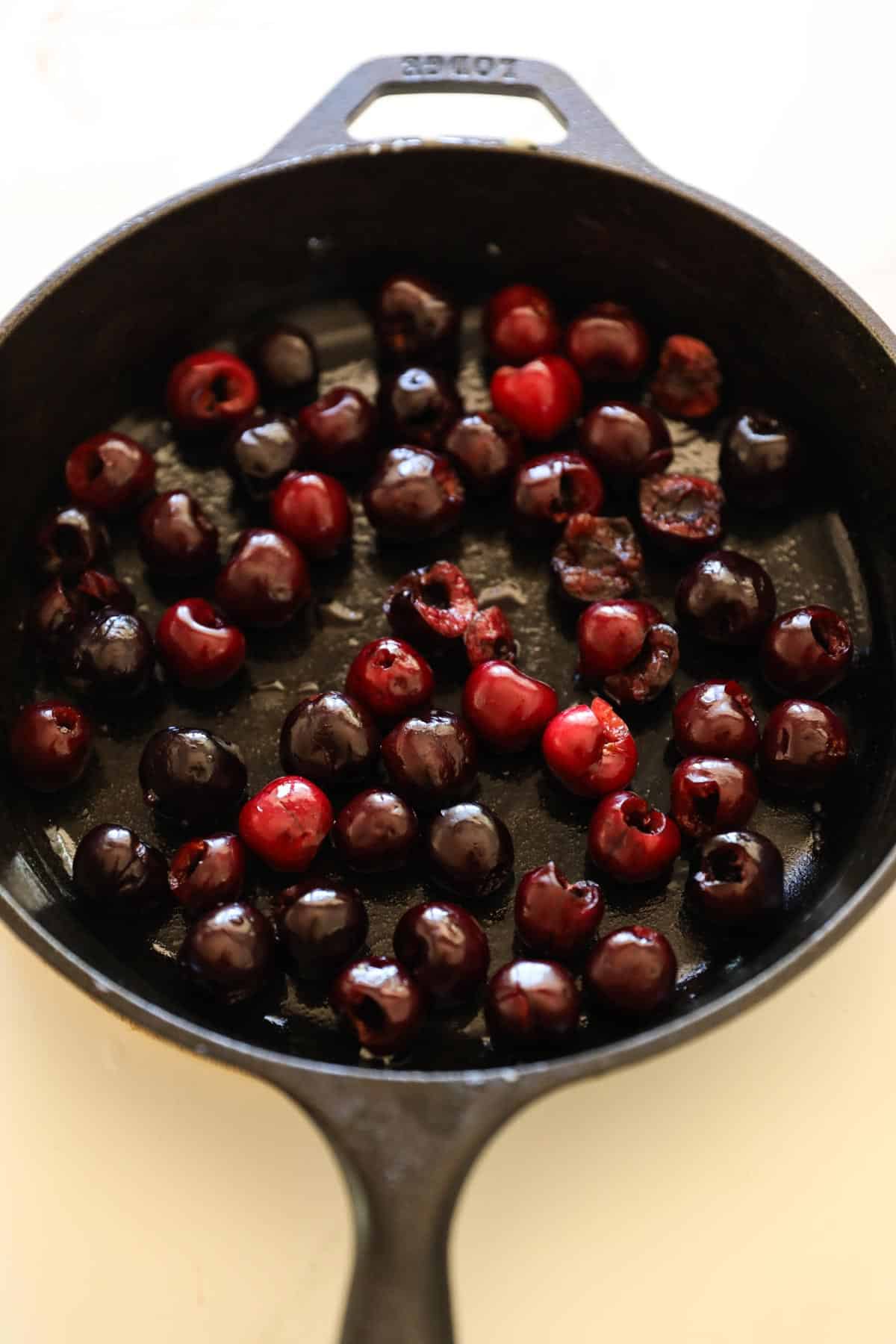 Step#4: Pour Batter Over Cherries
Gently pour the batter over the cherries and then place in the oven.
To avoid spills you might consider pouring the batter in the pan, once it's in the oven.
You could also add sliced raw almonds on top top for a nice crunch.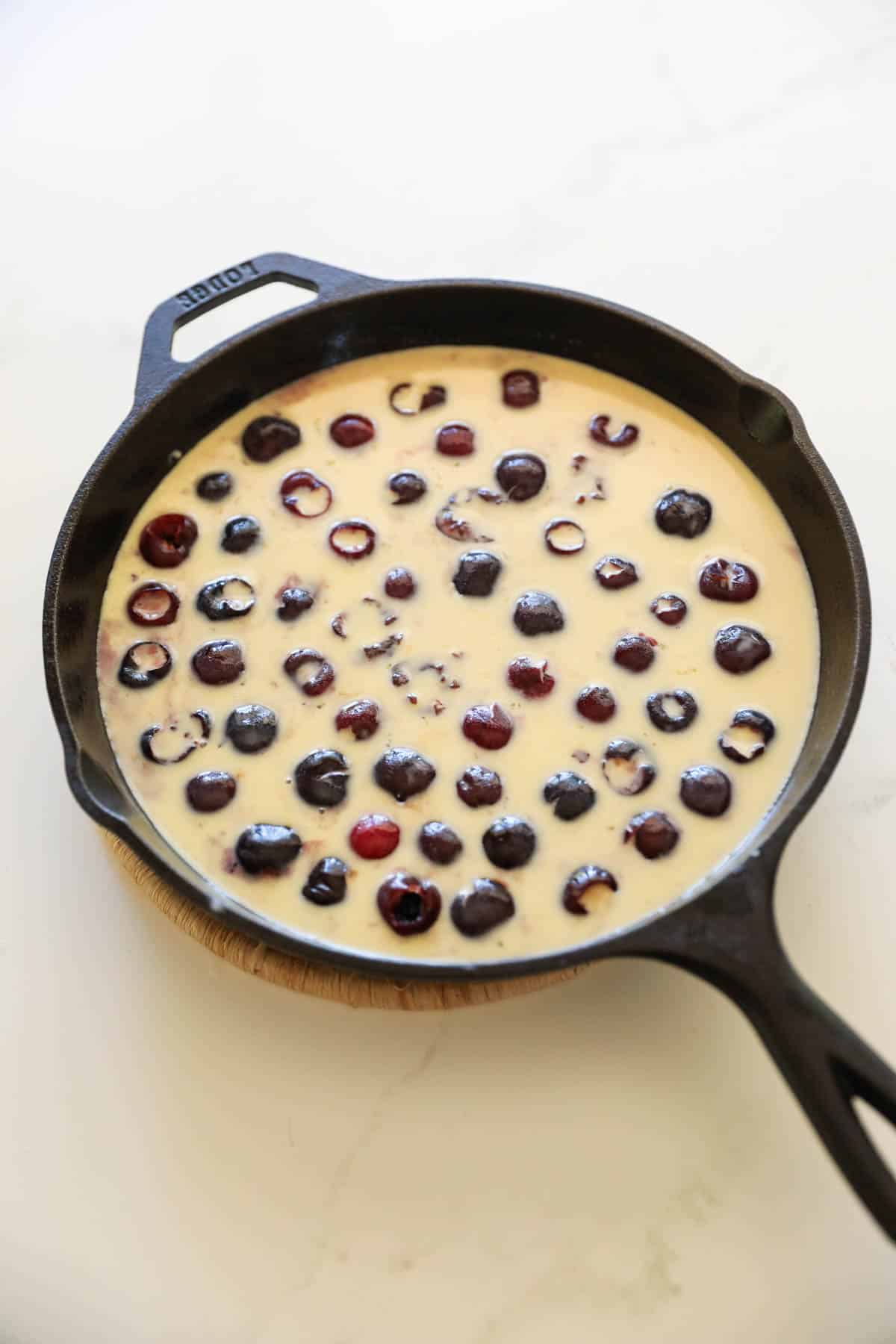 Is Clafoutis Served Warm or Cold?
You really can serve it either way, but I like to serve it slightly warm with a dollop of whipped cream on top.
My French husband though prefers it cold! So if you are serving it chilled don't bake it in a cast-iron skillet since it's not idea to chill things in cast-iron.
Instead I would bake it in a 10 or 12" ceramic quiche dish.
What do you serve Clafoutis?
I think the best way to serve a Cherry Clafoutis is to dust it with powdered sugar and served with a dollop of homemade whipped cream (recipe below).
More French dessert recipes?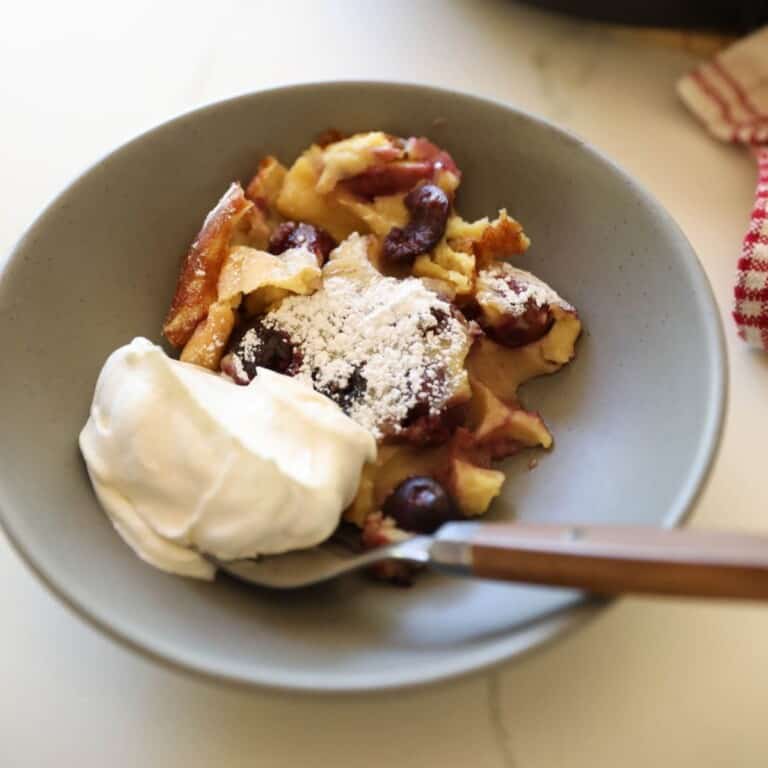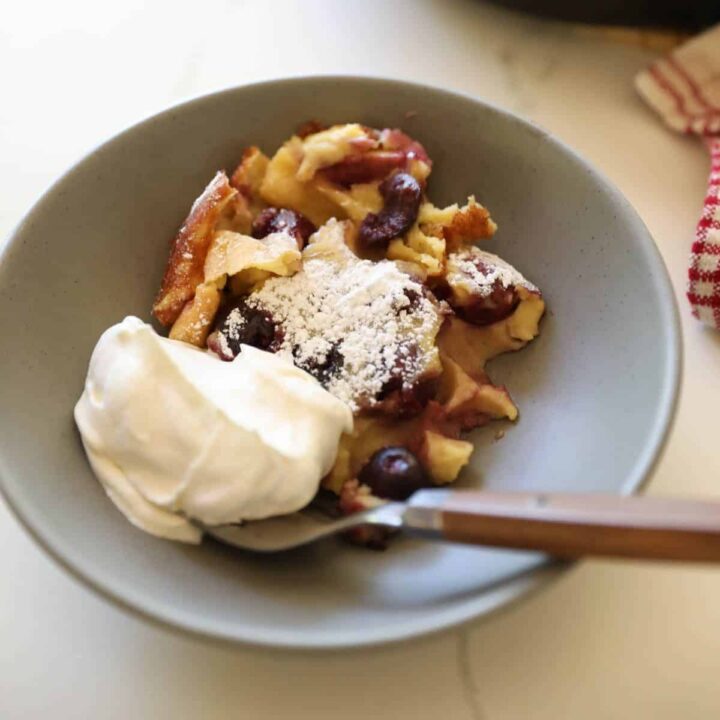 Cherry Clafoutis
Total Time:
1 hour
20 minutes
Learn how to make the Best Cherry Clafoutis Recipe a quick and easy dessert idea for summer entertaining. Includes video tutorial!
Ingredients
1 ¼ (300 ml) cup milk
¾ cup (90 g) flour
¾ cup (180 ml) heavy cream
2 eggs
2 egg yolks
½ cup of sugar
2 tablespoon Kirsch
1 teaspoon (5 ml) vanilla
¼ teaspoon (1.25 ml) salt
2 cups (300 g) pitted cherries
Instructions
Preheat oven to 350F (176C).
In a large bowl whisk together the flour and milk until smooth. Add heavy cream, and eggs, whisk to combine.
Add sugar, kirsch, vanilla and salt, whisk to combine.
Place pitted cherries in a single layer in the bottom of a greased 10" skillet or oven safe casserole dish. Pour batter over cherries.
Bake for 35-40 mins until puffed and golden brown.
Serve warm or allow to cool and refrigerate until ready to serve, chilled.
For whipped cream combine all ingredients and whip with an electric mixer until soft peaks form
To serve dust clafoutis with powdered sugar and serve with homemade whipped cream.
Nutrition Information:
Yield:

8
Serving Size:

1
Amount Per Serving:
Calories:

95
Total Fat:

3g
Saturated Fat:

2g
Trans Fat:

0g
Unsaturated Fat:

2g
Cholesterol:

96mg
Sodium:

25mg
Carbohydrates:

14g
Fiber:

0g
Sugar:

13g
Protein:

3g