Crème brûlée is one of those desserts most people only order in restaurants. But learn how to make The Best Crème Brûlée Recipe at home! No torch needed!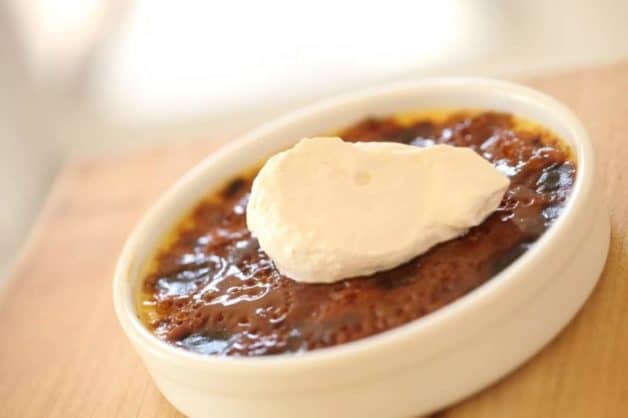 I think the intimidation of Crème Brûlée has to do with that blowtorch thingy that no one wants to deal with. I hear ya! I'm the same way. I'm always afraid I'm going to burn down the house with that thing.
Is it hard to make a Crème Brûlée?
Crème Brûlée isn't hard to make it all. It's essentially just "fancy" custard made from creme vanilla and eggs. But it's the kitchen torch that gets people feeling squeamish. That's why I think this is The Best Crème Brûlée Recipe because it can be made without a kitchen torch and utilizes just the broiling implement of your oven (Sweet!) and seriously, it's just as good if not better than those you will order in a restaurant.

I think there are three things that make for a terrific Crème Brûlée. First, you must use real vanilla bean to flavor your cream. This isn't the time for vanilla extract folks.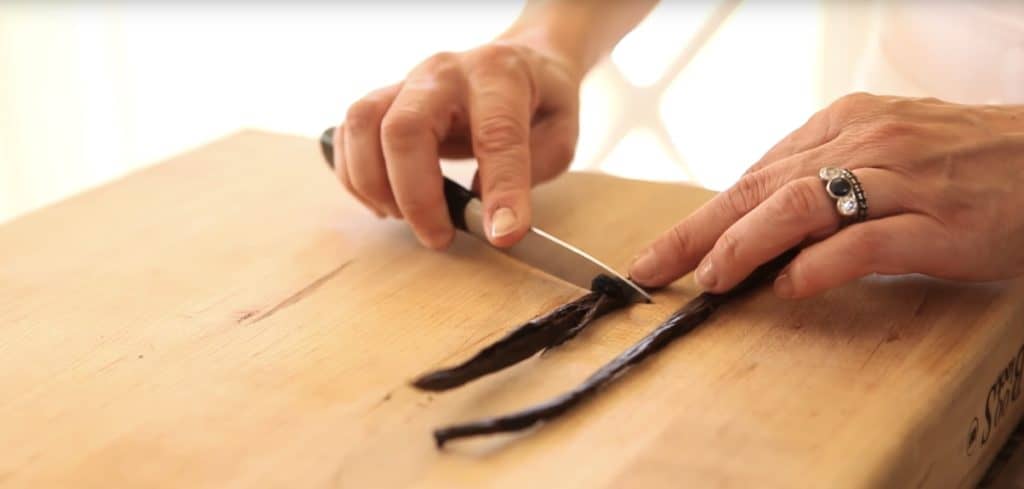 Secondly, take the extra time to strain your cream mixture through a fine mesh strainer, this will give you the best texture and last, but not least, bake the custards in a water bath, and make sure the ramekins don't touch. This will assure the custards are baked at a slow even temperature and will not scorch.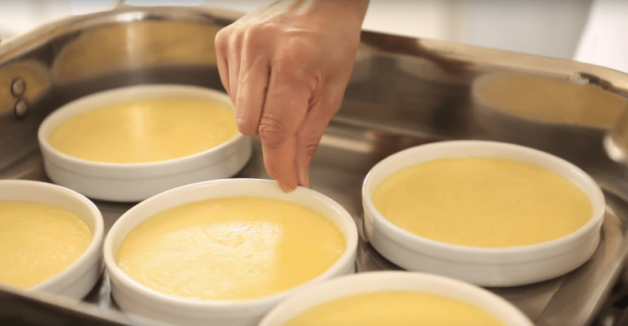 Watch My Crème Brûlée Video Demo Below!
Subscribe to my YouTube Channel and never miss a recipe! (It's free!)
Best ramekins for this undertaking can be found here (This link goes to Amazon where I am an affiliate)
Some more French recipes I love Croque Monsieur and Croque Madame Sandwiches, Troubleshooting French Macarons,French Onion Soup Recipe.
Please let me know if you make The Best Crème Brûlée Recipe by leaving a rating and review below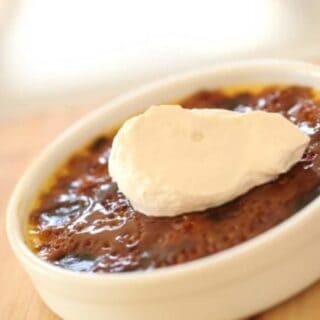 Easy Crème Brûlée
Crème brûlée is one of those desserts most people only order in restaurants.  But learn how to make The Best Crème Brûlée Recipe at home! No torch needed!
Ingredients
3 cups (720 ml) of heavy cream
1 vanilla bean, scraped
6 egg yolks
⅓ (65 g)cup sugar
pinch of salt
6 tbsp (69) brown sugar for the tops
Instructions
Preheat oven to 300F (150C).
In a saucepan combine the heavy cream, vanilla bean seeds and the pod. Bring to a simmer.
Meanwhile combine the egg yolks, sugar and salt.
Fish out the vanilla pod from the milk mixture, and slowly pour a stream of the hot milk into the egg mixture. Whisk to combine.
Using a fine mesh strainer, over a heat safe bowl, strain the mixture.
Ladle mixture into ramekins, and place in a roasting pan. Place in the oven and pour hot water slowly in the corner of the roasting pan (to avoid splashing into the custards. They will not set if they are mixed with splashed water, so be careful not to splash). Place just enough so that it reaches half way up the ramekins.
Bake for 15-20 mins just until custards are set and jiggle slightly.
Allow them to cool, then cover and refrigerate.
To serve sprinkle tops of custard with 1 tsp each of the brown sugar. Position your oven rack on the highest shelf of your oven. Set your oven to broil. Place the custards on a low profile cookie sheet and pop under the broiler for about 10-15 seconds, or until the sugar has browned and caramelized.
IMPORTANT!: Do not walk away from custards under broiler you must watch this carefully or they will catch fire if left too long to broil!!!
Serve with a dollop of homemade whipped cream, et voila!
Notes
HOMEMADE WHIPPED CREAM:
1 cup (240 ml) heavy cream
1 tbsp (6 g) powdered sugar
1 tsp (5 ml) vanilla extract
METHOD:
Combine all ingredients in a bowl and whip with an electric mixer until soft peaks form.
Nutrition Information:
Yield:

6
Serving Size:

1
Amount Per Serving:
Calories:

164
Total Fat:

10g
Saturated Fat:

5g
Trans Fat:

0g
Unsaturated Fat:

4g
Cholesterol:

201mg
Sodium:

34mg
Carbohydrates:

16g
Fiber:

0g
Sugar:

16g
Protein:

3g