Air Fryer Crab Cakes with Apple Slaw
Air Fryer Crab Cakes with Apple Slaw is a fantastic recipe to make in your air fryer! If you love air fryer recipes this is a great one to try for a great Sunday night dinner when you have a little more time on your hands.
New to air frying? Then you must check out my post on 10 Easy Things to Make In Your Air fryer! Lots of yummy and easy recipes you will fall in love with!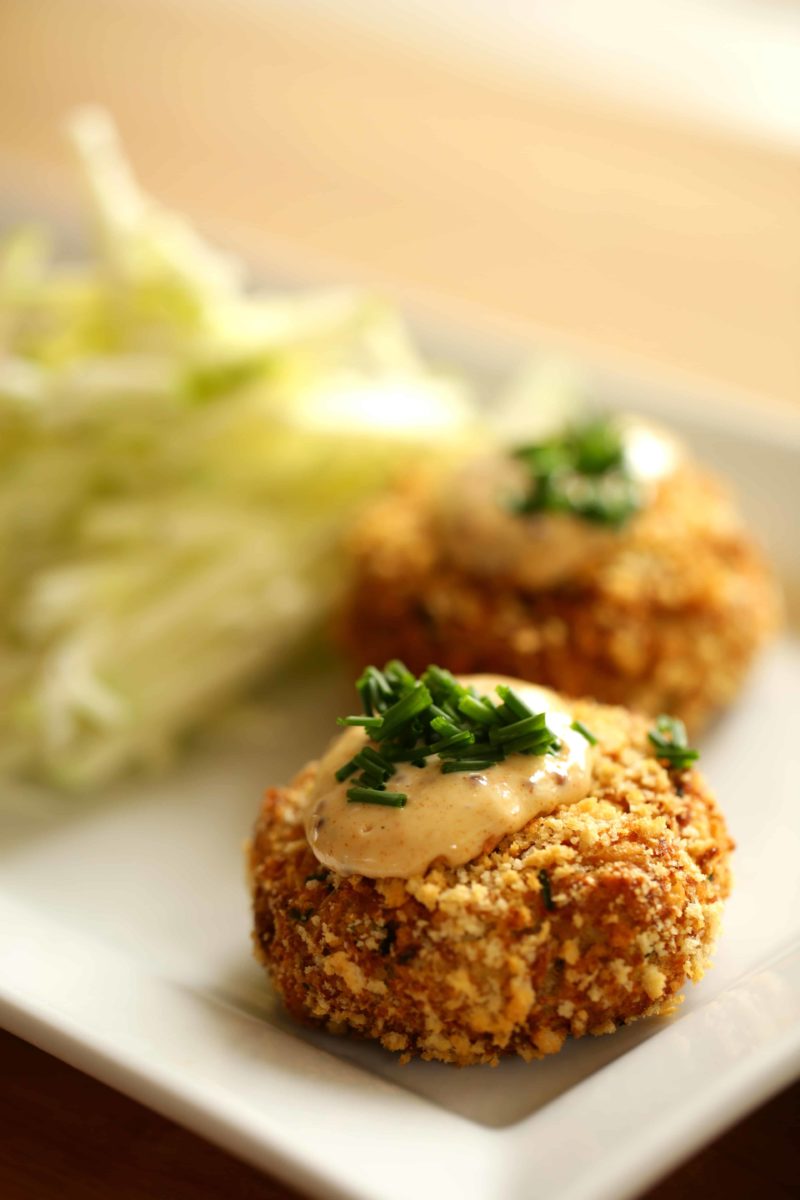 Why You Will Love These!
This recipe uses lump crab meat and panko bread crumbs, and when you fry them in the air fryer there's way less mess to clean up and they get so extra crispy!
Serve them with a delicious remoulade sauce and apple slaw and the flavor combinations are just fantastic!
You can even make them ahead of time store them in the refrigerator, and then air fry quickly to reheat and crisp back up!
Subscribe for weekly recipes
and new videos!
Making The Crab Cake Mixture
Crab cakes are super simple to put together and make for a great weekend project. You'll first begin by combining lump crab meat with mayonnaise, mustard, Worcestershire sauce, hot sauce, and lemon juice (recipe follows below).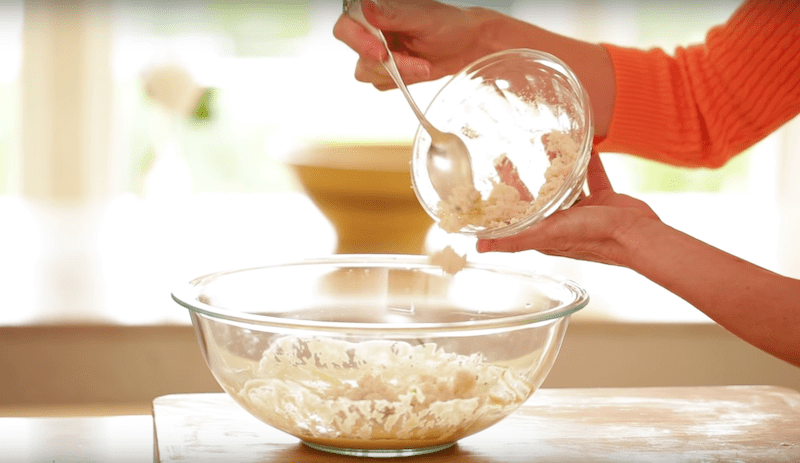 Forming the Patties
It's best to assure they are each the same size for a pretty presentation and even cooking.
This is easy to do in a ¼ or ⅓ cup measuring cup depending upon the size of the crab cake you desire.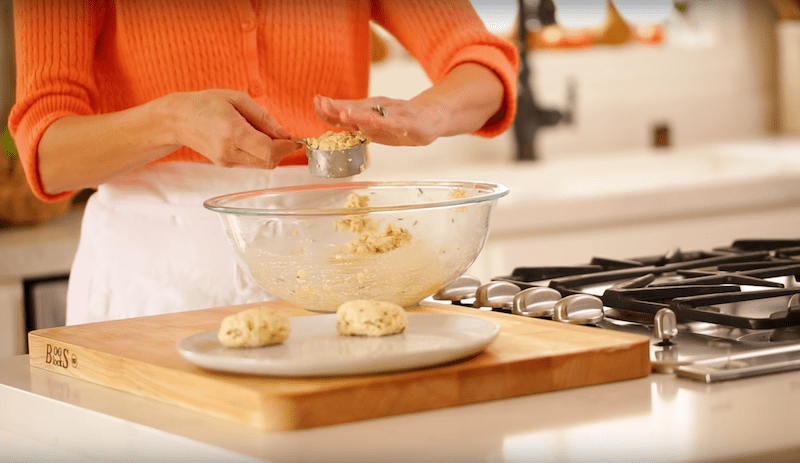 Rolling the Mixture in The Bread Crumbs
Then you'll roll the crab cakes in bread crumbs, I really like to use the panko bread crumbs since they provide a nice crunch.
But you could use one or the other if you didn't have both on hand.
If you want to go out and buy both, you'll be able to use this combination again in my Extra Crispy Chicken Parmesan Recipe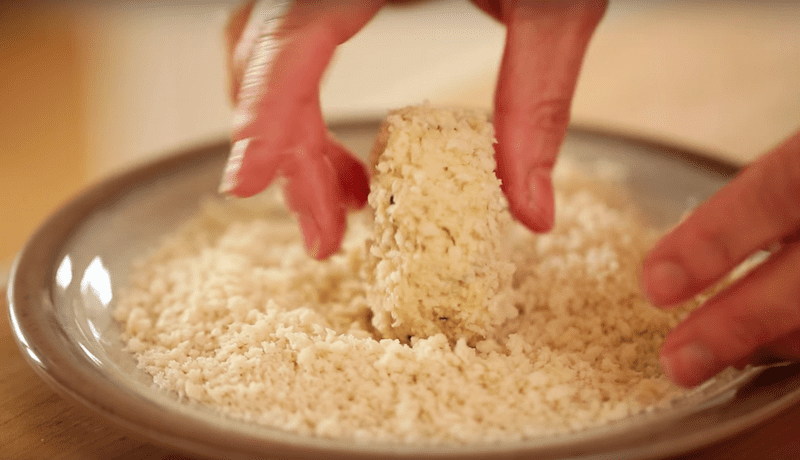 What kind of sauce to serve with crab cakes?
The best kind of sauce to serve with crab cakes is a remoulade sauce.
It's a simple sauce made with mayonnaise, grain mustard, horseradish, pickle juice, and paprika.
You can also add things like capers and fresh herbs if you choose as well.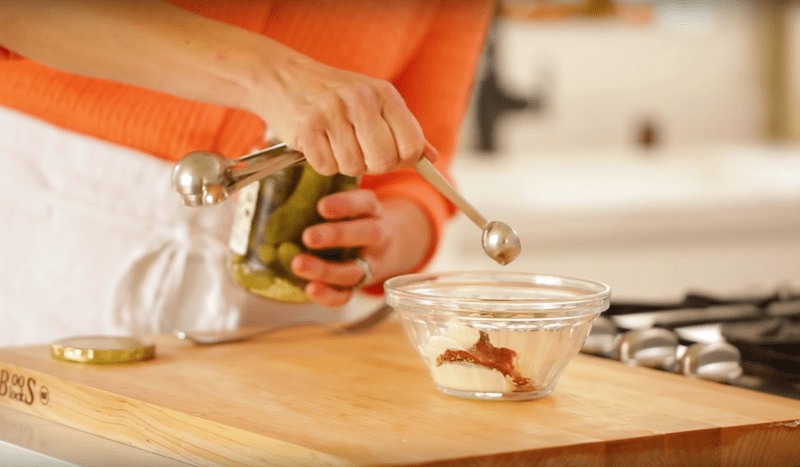 How long do you cook crab cakes in an
Air Fryer

?
It can depend slightly on the model of air fryer you have, I'm using a Philipps Air Fryer.
But a good place to start is to set the fryer at 360F and go for 15-18 minutes or until golden brown and crispy.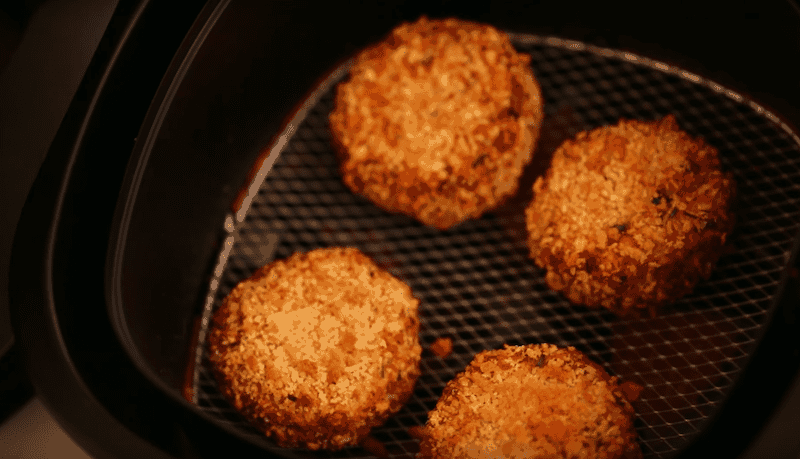 Apple Slaw Makes a Great Side Dish
Since crab cakes can be a bit heavy, I like to serve a simple apple slaw with this crab cake recipe.
The apples look really beautiful when sliced with a mandoline, but you can also use a knife.
If you are in the market for a mandoline I highly recommend the OXO Mandoline It's the best! It has a wonderful selection of settings, is really easy to use, and has some great safety features too like a locking blade, safety guard, and very stable construction.
You'll then be able to easily make things like my Matchstick Fries, Shaved Brussels Sprout Salad, Sliced Cucumber Salad, and Scalloped Potatoes.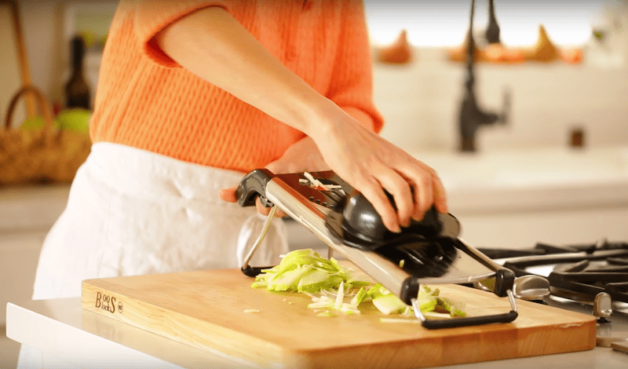 I like to use a granny smith apple because the tartness is a great flavor combination against the richness of the crab cake and the remoulade sauce.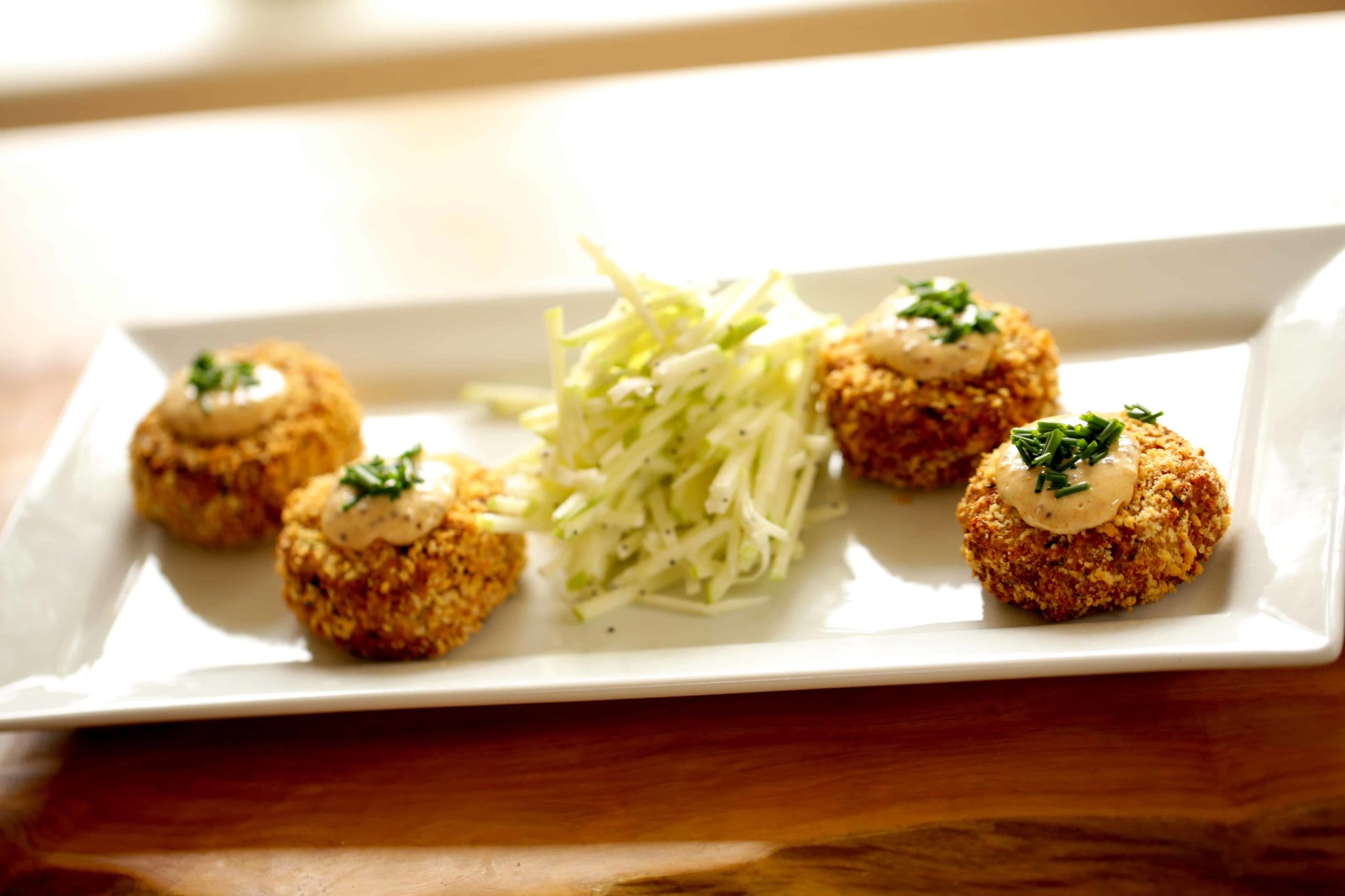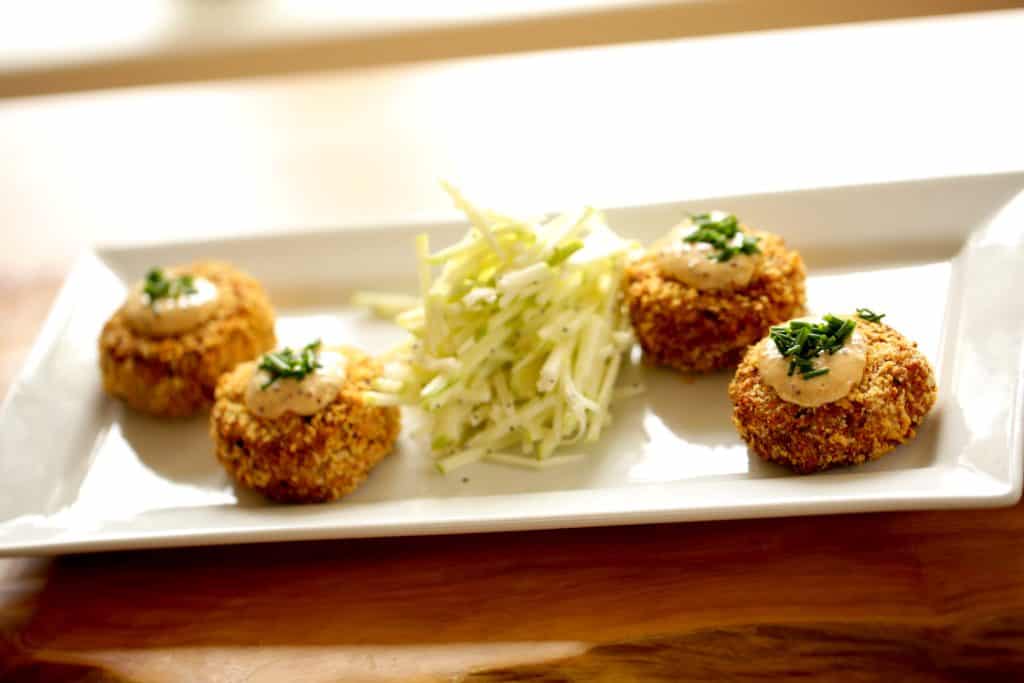 One More Side Dish
Another great thing to make in an Air Fryer is roasted cauliflower.
Air fryer cauliflower would be a great side dish for these crabs cakes if you wanted to add a vegetable.
I would air fry the cauliflower first and set it aside. It can stay at room temperature while you fry the crab.
In fact, I think this air fryer cauliflower is even better when served at room temperature!
More Wonderful Spring Recipes
Please let me know if you make this Recipe
by leaving a rating and review below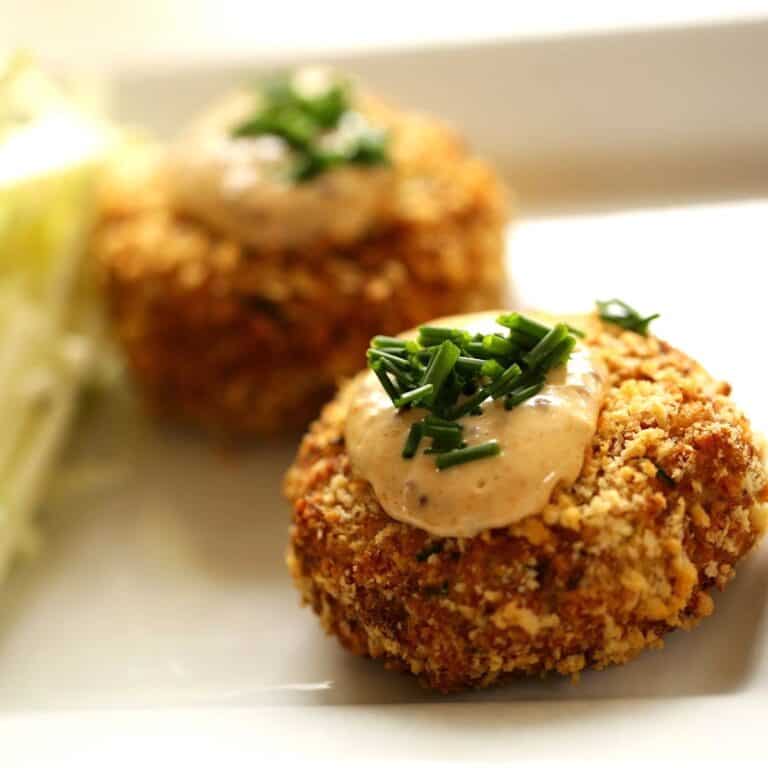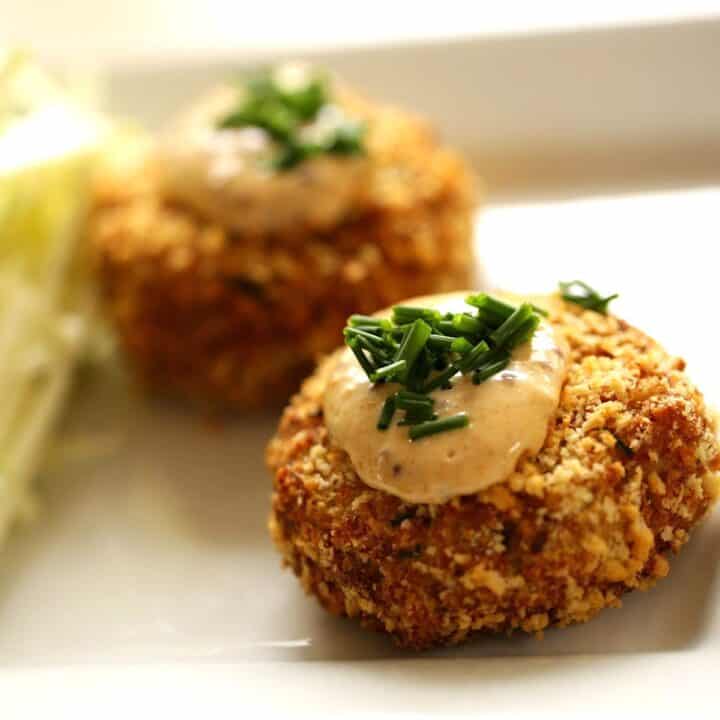 Air Fryer Crab Cakes with Apple Slaw
Prep Time:
1 hour
30 minutes
Total Time:
1 hour
45 minutes
Easy Air Fryer Crab Cakes with apple slaw and remoulade sauce. A great Sunday Night Dinner Idea! Includes video tutorial.
Ingredients
FOR CRAB CAKES:
8 oz (230 g) Crab Meat
2 tablespoon (30 ml) mayonnaise
1 egg
2 teaspoon (10 ml) mustard
1 ½ teaspoon (7.25ml) Worcestershire sauce
1 teaspoon (5 ml) lemon juice
¼ teaspoon (1.25 ml) of hot sauce
½-1 teaspoon (2.5ml-5ml) jalapeno pepper, diced
1 tablespoon (15 ml) chives + 1 tablespoon (15 ml) for garnishing
½ cup (75 g) panko bread crumbs + ¼ cup (40g) for rolling
FOR REMOULADE SAUCE:
¼ cup (60 ml) mayonnaise
1 ½ teaspoon (7.5 ml) whole grain mustard
¼ teaspoon (1.25ml) paprika
1 teaspoon (5 ml) horseradish
1 teaspoon (5 ml) pickle juice
FOR APPLE SLAW:
2 tablespoon (30 ml) sour cream (or crème fraiche or plain Greek Yogurt)
1 teaspoon (5 ml) apple cider vinegar
1 granny smith apple, sliced into matchsticks with a mandolin
¼ teaspoon (1.25ml) poppy seeds
Instructions
Prepare crab cakes. In a large bowl combine mayonnaise, egg, mustard Worcestershire sauce, lemon juice and hot sauce. Whisk to combine.
Then add the jalapeno and 1 tablespoon (30 ml) of chives, stir to combine. Then add the crab and ½ cup of the bread crumbs, stirring into well combined.
Place the remaining ¼ cup of bread crumbs in a shallow bowl and set aside.
Then take a ¼ cup (60 ml) measuring cup and scoop out the crab mixture and form into a patty. Roll patty in panko on all sides to coat completely, and transfer to a plate. Repeat with remaining crab until 4 cakes are formed. Refrigerate to firm up for 10 minutes.
Meanwhile prepare the remoulade sauce. In a small bowl combine mayonnaise, mustard, paprika, horseradish, and pickle juice. Whisk to combine. Keep refrigerated until ready to use.
For the slaw. Cut apple by slicing off all sides or "cheeks" of the apple, leaving you with 4 pieces and a square core. Run apple pieces, one by one, through a mandolin, with the matchstick setting, creating fine apple sticks. Set aside.
Then in a small bowl combine sour cream, apple cider vinegar and whisk together until combined. Add apples and toss until apples are fully coated with dressing and then add poppy seeds and toss. Keep refrigerated until ready to use.
All components are ready! Now to cook and plate!
If cooking in an air fryer set temperature to 360 and "fry" for 15-18 mins until golden brown and crispy.
Remove cakes from fryer and place on a plate, top each cake with a dollop of remoulade sauce, top with chives. Then place the slaw in the center, piled high
Enjoy!
Nutrition Information:
Yield:

4
Serving Size:

1
Amount Per Serving:
Calories:

318
Total Fat:

14g
Saturated Fat:

6g
Trans Fat:

0g
Unsaturated Fat:

7g
Cholesterol:

116mg
Sodium:

405mg
Carbohydrates:

27g
Fiber:

2g
Sugar:

20g
Protein:

19g