Steak Frites with Herbed Compound Butter
One of my favorite bistro dinners, any time we are in France, is steak frites. It's a pretty easy French Recipe to master at home if you follow of few of my basic tips. Served with spicy Dijon mustard and a pile of crispy fries this is comfort food at its best.
It's a great recipe for a special occasion like Valentine's Day or a Birthday Dinner and is always sure to impress someone special! For more romantic dinner ideas see my 7 Valentine's Day Dinner Ideas post.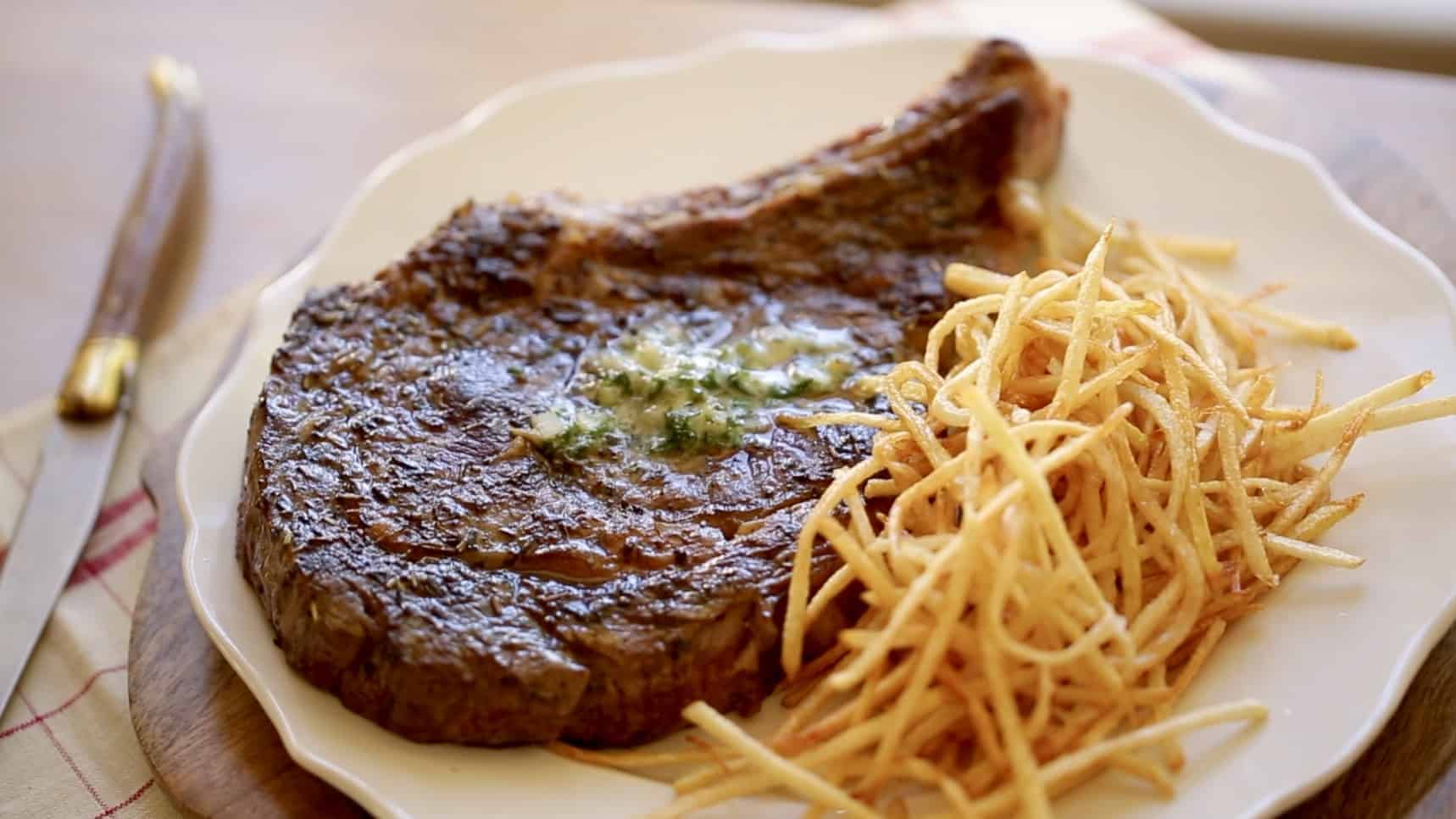 Watch My Video Demo of This Recipe Below!
Step# 1: Season your Steak
A few hours before grilling, season your steaks with salt, pepper, and herbs de Provence. This will help flavor the steak and the salt will help to tenderize it too. Keep the steaks covered and refrigerated until ready to grill.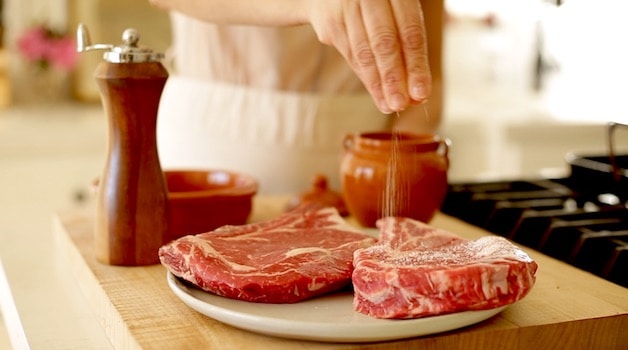 Step #2: Prepare your Potatoes
You'll want to use Russet potatoes for your fries, Russets are non-waxy potatoes that are ideal for creating a crisp exterior and fluffy interior. Peel them on all sides and then cut them in half.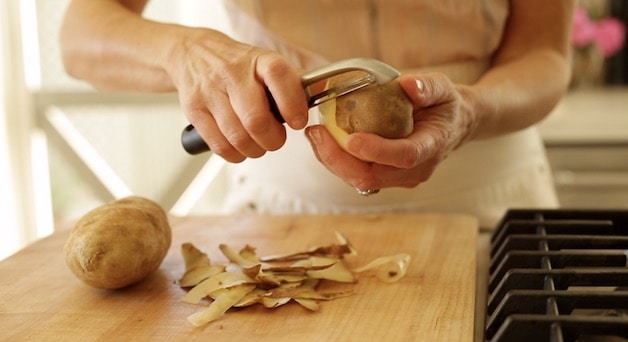 Create Pomme Frites Like a Pro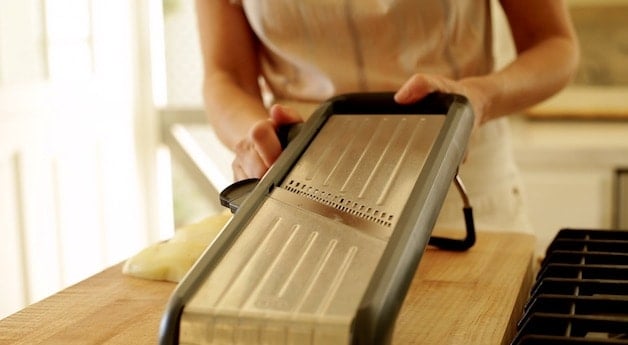 Removing the Starch
The ⅛" setting will create beautiful match stick potatoes. Rinse them in cold water, until the water runs clear, to remove the starch.
This will help your potatoes fry up to a nice crispy texture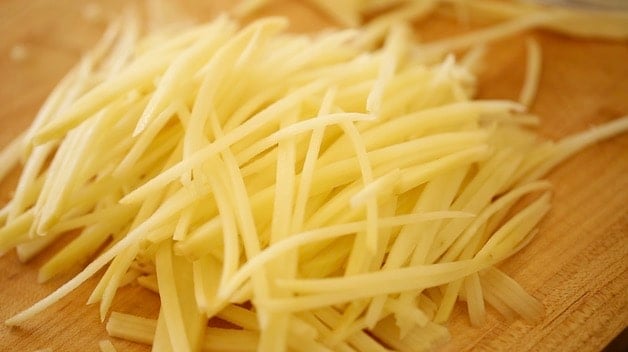 Step#3: Grill your Steak
Grill your steaks on each side for 5-7 minutes depending upon how you like them cooked. You're looking for an internal temperature of 145F for Medium Rare 160F for Medium.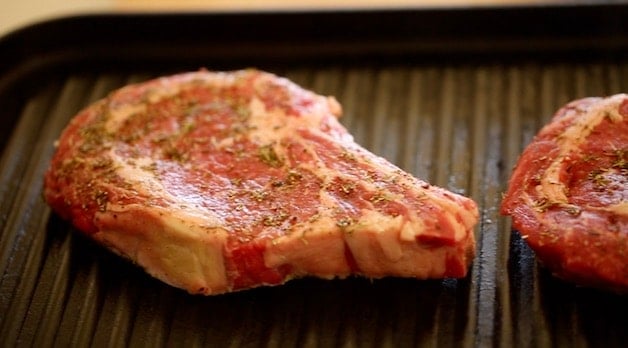 Allow Your Steaks Time To Rest
Allow your steaks to rest for at least 15 minutes. This will preserve their juicy interior.
Cut into it too soon, and all those lovely juices will spill out and you'll have a dried-out piece of meat.
While they are resting, top with the compound butter (recipe included below!)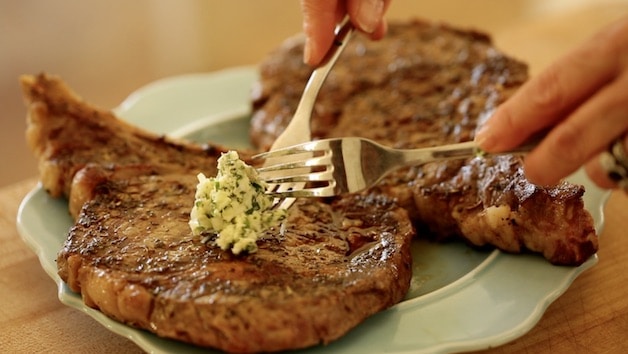 Step#4: Fry the Fries
Fry the match stick potatoes in vegetable oil until golden brown and crispy. Then season them with sea salt.
This is best done while the steaks are resting so that you can serve them piping hot and crispy
Alternatively you could fry them, let them rest on a paper towel at room temperature and then crisp them back up in an air fryer.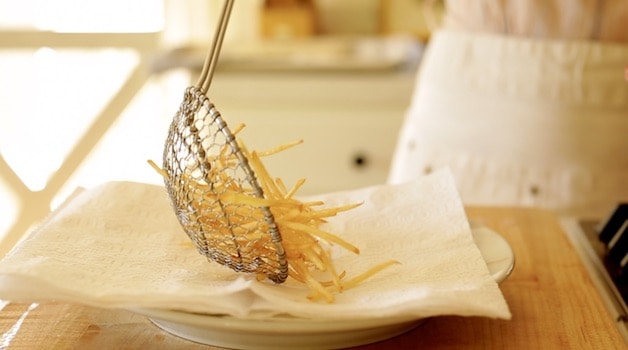 Place your steaks on a plate and pile high with the fries! Don't forget to serve this meal with some nice spicy Dion Mustard like Amora, my favorite!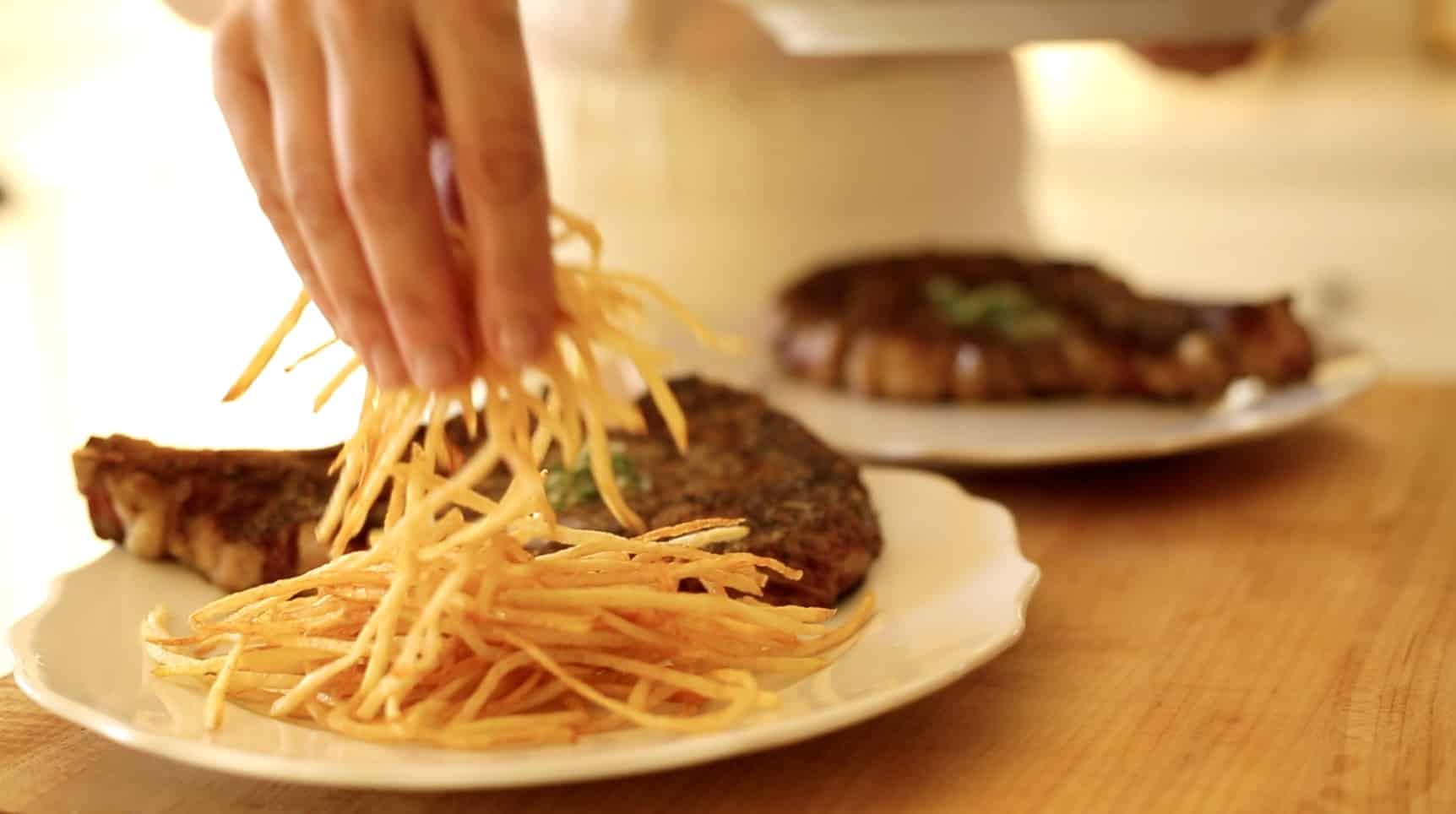 More French Recipes You'll Love:
If you Enjoyed This Recipe
Please Leave a Rating and a Review Below!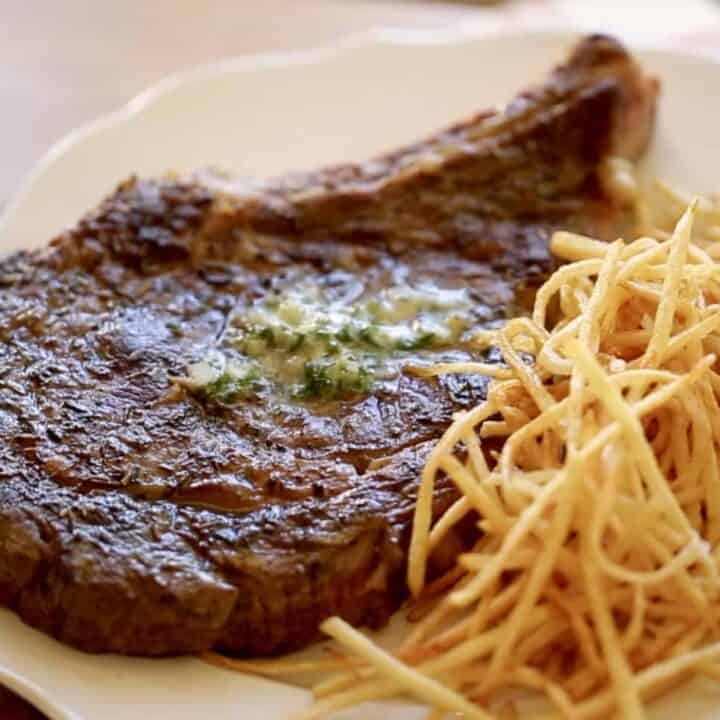 Steak Frites with Herbed Compound Butter
Prep Time:
1 hour
30 minutes
Steak frites are wonderful bistro classic that is pure comfort food.
Ingredients
For Steak:
(2) Ribeye Steaks
salt and pepper to taste
Herbs de Provence, to taste
For Fries:
2 Russet Potatoes, peeled and sliced in half lengthwise
vegetable oil for frying
For Compound Butter:
4 tablespoon butter
1 tablespoon shallot, minced
1 teaspoon fresh parsley, minced
1 teaspoon fresh chives, minced
1 teaspoon fresh tarragon, minced
salt and pepper to taste
For serving:
Instructions
Season both sides of steak with salt, pepper and herbs de Provence. Place on a plate and keep covered and refrigerated until ready to grill.
Then you can prepare the compound butter. In a small bowl add all the ingredients and mash together with a fork until combined. Cover and refrigerate until ready to serve.
An hour before serving prep the fries.
Set a mandolin to the julienne setting and set the thickness to ⅛" thick.
Run 1 potato half through the mandolin to create the matchstick fries. Separate the pieces and place in a bowl of cold water. Repeat the process until all the fries are cut.
Then take the bowl to the sink and pour out water and refill the water until the water runs clear of any starch. Then drain water completely.
Transfer the fries to a baking sheet, lined with clean kitchen towels. Pat the fries dry with paper towel, and cover with clean paper towel and keep in fridge until ready to fry.
30 minutes before serving, lightly grease an outdoor grill or grill pan to medium heat.
Place steaks horizontally on grill at first. Then after a few minutes rotate the steaks vertically and continue to grill. This will create a nice cross hatch pattern.
Grill the steaks on each side 4-7 minutes each side for medium or 5-8 minutes for medium. Then flip and repeat the same process for the cross-hatch pattern.
Grilling times may need to be adjusted depending upon the thickness of your steaks. Thinner steaks will take less time, thicker steaks will take more time. The best way to really know when your steaks are done is with a meat thermometer 145F for medium rare and 160F for medium.
Allow to rest for at least 15 minutes. Meanwhile prepare the fries.
Heat oil in a large Dutch oven until it registers at 375F with a candy thermometer. Line a plate with paper towel to drain the fries after they come out of the oil. Best to have this all ready to go.
Fry the French fries in 2 batches, turning gently with a spider strainer to cook on all sides. Once golden-brown remove from oil and transfer to the plate lined with paper towel.
Season fries with salt. And serve with the steaks. Serve steaks with Dijon mustard.
Nutrition Information:
Yield:

4
Serving Size:

1
Amount Per Serving:
Calories:

278
Total Fat:

19g
Saturated Fat:

9g
Trans Fat:

1g
Unsaturated Fat:

9g
Cholesterol:

47mg
Sodium:

298mg
Carbohydrates:

20g
Fiber:

2g
Sugar:

1g
Protein:

8g