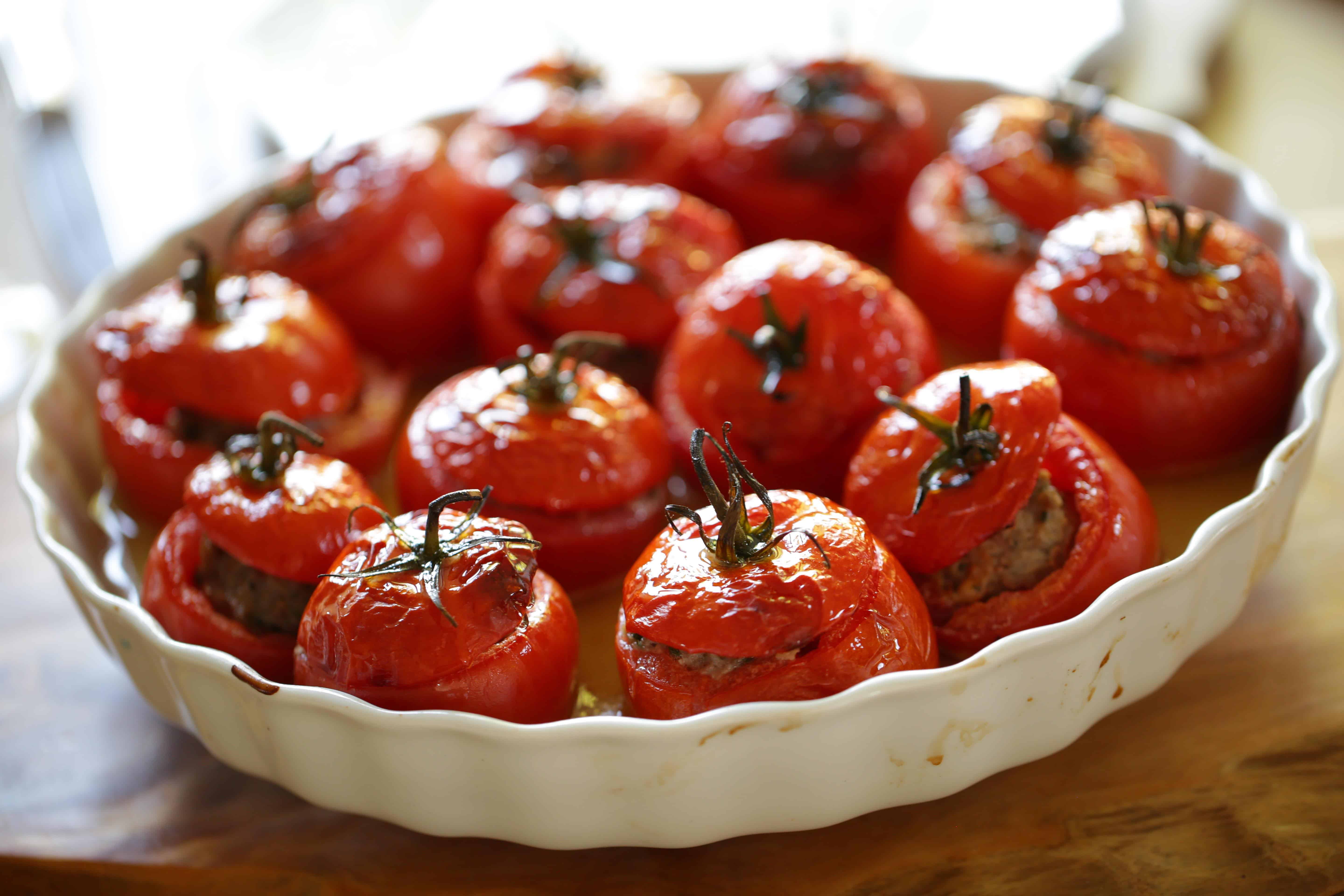 Every year when summer rolls around and tomatoes are at their peak, I start to crave "Tomate Farcie".  This a classic French dish that is hands down my husband's favorite.  I learned how to make it from his mother, and then tweaked it a bit to suit my own tastes. This is the thing you will find with this recipe, everyone has their own special version of it and this one is mine.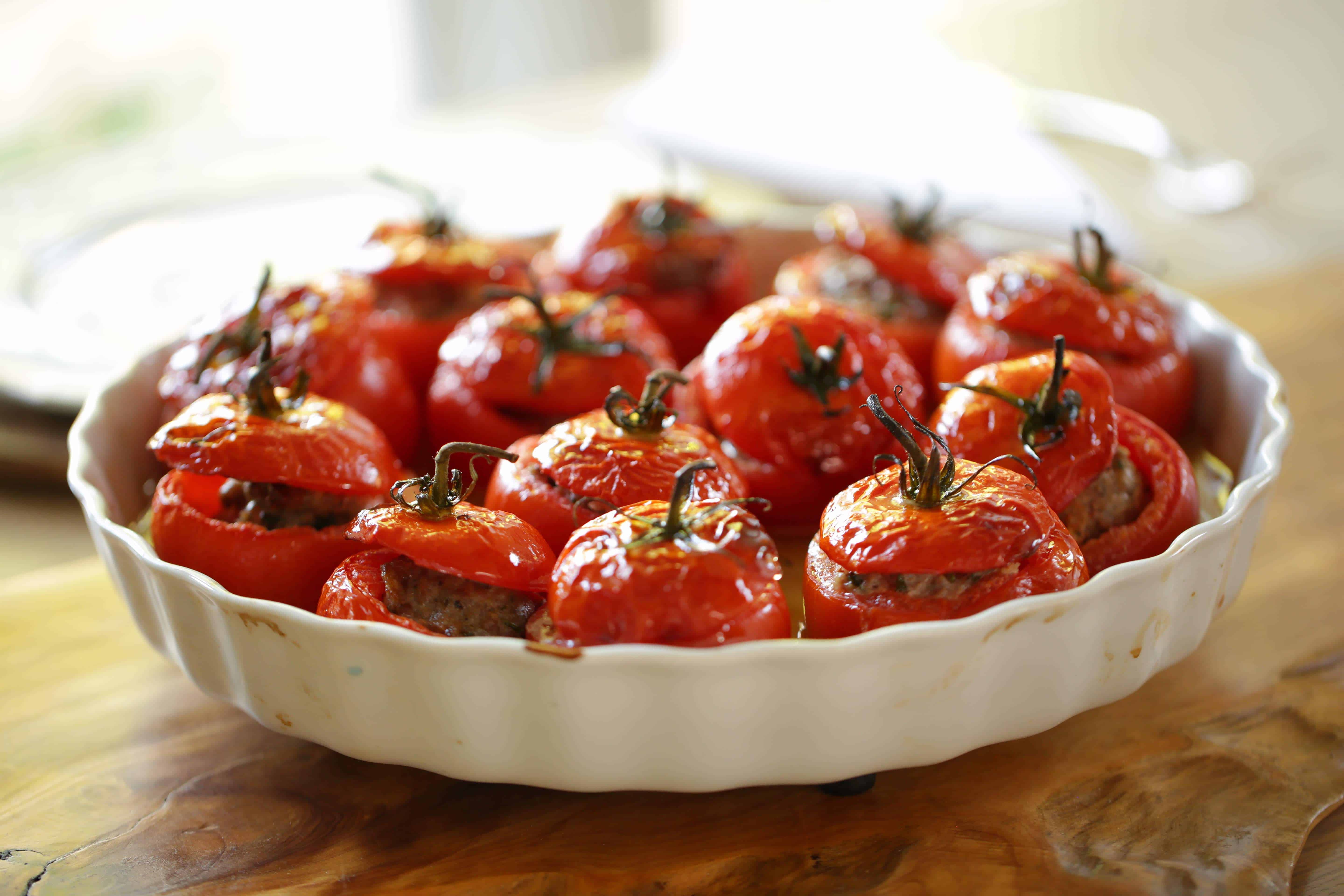 It's a hot dish, which might seem odd for the summertime, but you really need very ripe tomatoes in order to bring out its full flavor. It's something my mother-in-law will serve for a big family lunch claiming "C'est trop lourd pour le soir!" (it's too heavy to serve at night!) which always makes my husband and I chuckle a bit because we think it's great anytime!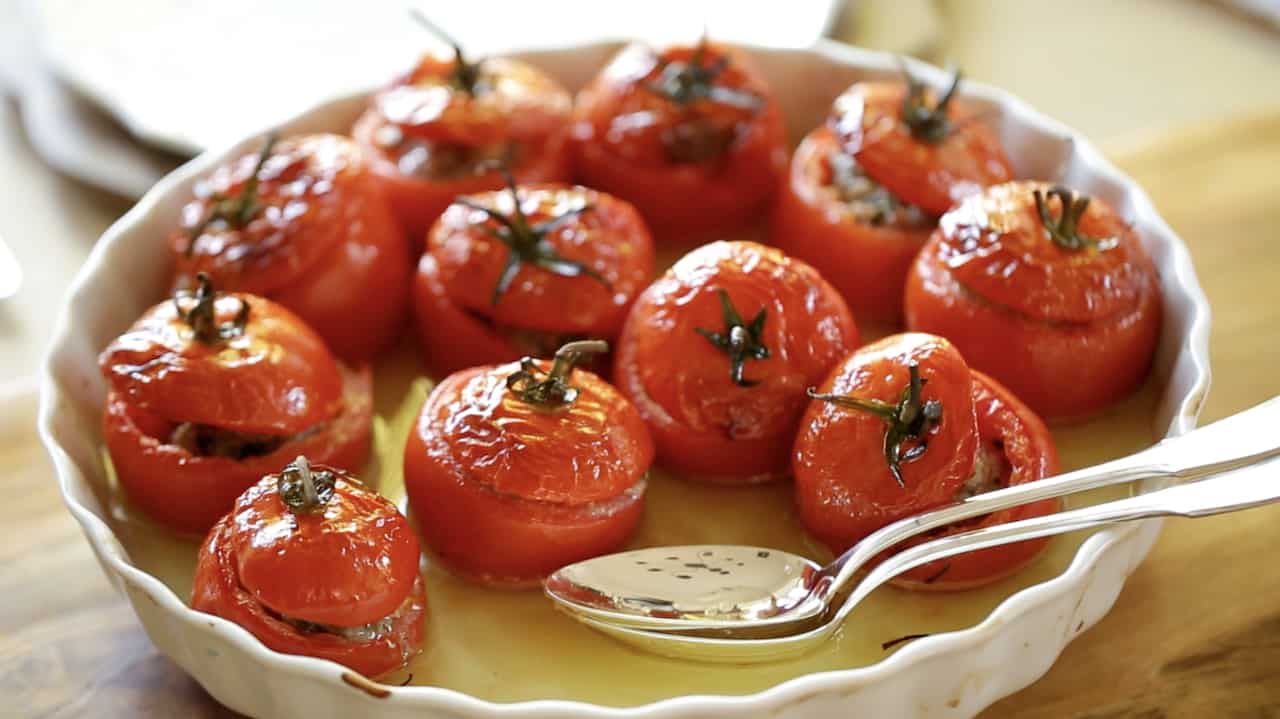 Tomate Farcie is a classic "home-cooked" meal, you won't see in restaurants, but rather only if you are invited to someone's home.  Sometimes you can find the tomatoes (or peppers!) already stuffed and for sale at the butcher or charcuterie wagon at the market, but that's about it. So it's definitely worth making yourself! Serve with a little white rice and you'll experience French comfort food at its best! Bon Appetit!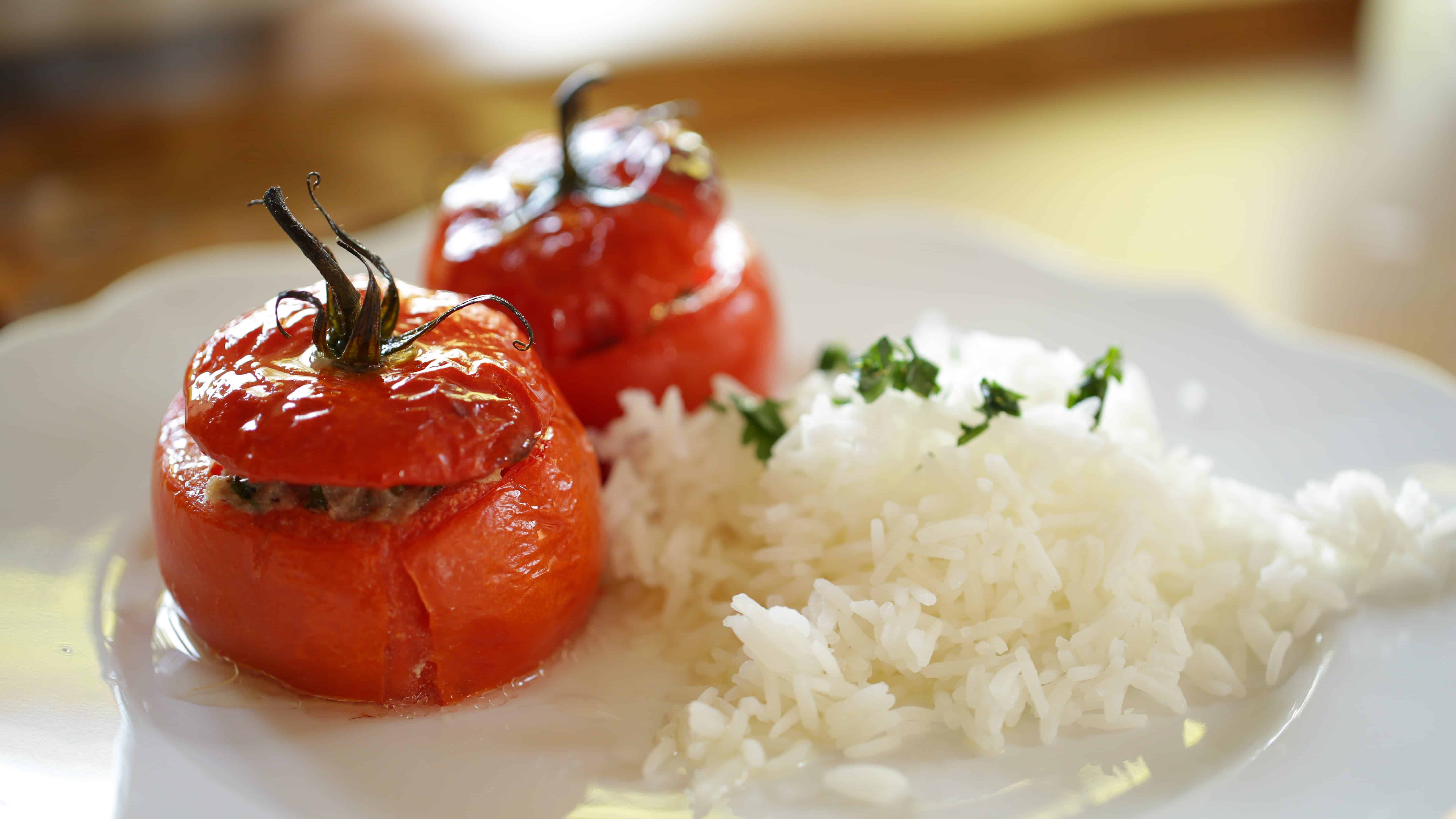 For a step-by-step demo of this recipe, you can watch my video tutorial below.
SUBSCRIBE TO MY YOUTUBE CHANNEL and never miss a recipe! (it's free!) and new videos post every Saturday.
Print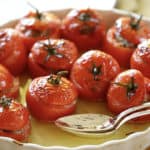 Beth's Tomate Farcie Recipe
---
Author:

Prep Time:

45 mins

Cook Time:

45 mins

Total Time:

1 hour 30 mins

Yield:

serves 8

Category:

Main

Cuisine:

French
Ingredients
(18) Medium Tomatoes "on the vine"
2 tsp (10 ml) Herbs de Provence
2lbs (900g) pound ground pork
3 garlic cloves minced
2 tsp (15 ml) salt
freshly ground pepper
2 tbsp (30 ml) fresh parsley minced
1 cup (240 ml) diced sandwich bread mixed with 3 tbsp (45 ml) milk
¼ cup (60 ml) dry white wine
---
Instructions
Clip vines gently from tomatoes, leaving the stems intact on each tomato at least 1 inch high.
Slice tops off the tomatoes and set aside.
Core tomatoes and remove their interior flesh, transfer to a bowl. (keep for a simple tomato sauce, recipe below)
Place hollowed tomatoes in a shallow, oven safe casserole dish and set aside.
Combine pork, garlic, salt, pepper, herbs de provence, parsley and bread that has been soaked in the milk. Combine with hands until incorporated.
With an ice cream scooper, scoop meat into tomatoes and top with their "lids".
Add ¼ cup of wine to the bottom of the dish.
Place in a 400F (200C) oven for 45 mins. Reduce oven to 350F (175C). Brush lids with olive oil, cover with foil and bake another 10-15 mins until tomatoes are softened and meat is cooked through.
Serve with white rice. Enjoy!
Notes
Save the pulp and juice from the inside of the tomatoes to make my simple tomato sauce!
BETH'S SIMPLE TOMATO SAUCE
Serves 4

INGREDIENTS:
2 cups (480 ml) tomato pulp and juice (from cored tomatoes)
2 tbsp (30 ml) dry white wine (Chardonnay or Sauvignon Blanc)
1/4 tsp (1.25ml) salt
1/2 tsp (2.5 ml) herbs de provence
Pepper to taste
1 cup plain tomato sauce
3 tbsp (45 ml) tomato paste
2 garlic cloves
2 tbsp (30 ml) freshly chopped basil
Freshly grated parmesan to taste
METHOD:
Simmer tomato pulp and juice until reduced by 1/3. Add wine and simmer 2-3 minutes.
Add tomato sauce and paste and stir to combine. Add salt, pepper, herbs de Provence and garlic. Simmer for 15-20 mins until flavors mellow and sauce sweetens.
Add freshly chopped basil and toss with pasta of choice and top with freshly grated parmesan cheese. Enjoy!