Every year when summer rolls around and tomatoes are at their peak, I start to crave "Tomates Farcies", or "Stuffed Tomatoes". This is one of my favorite French recipes, that's served in the summertime when tomatoes are at their peak.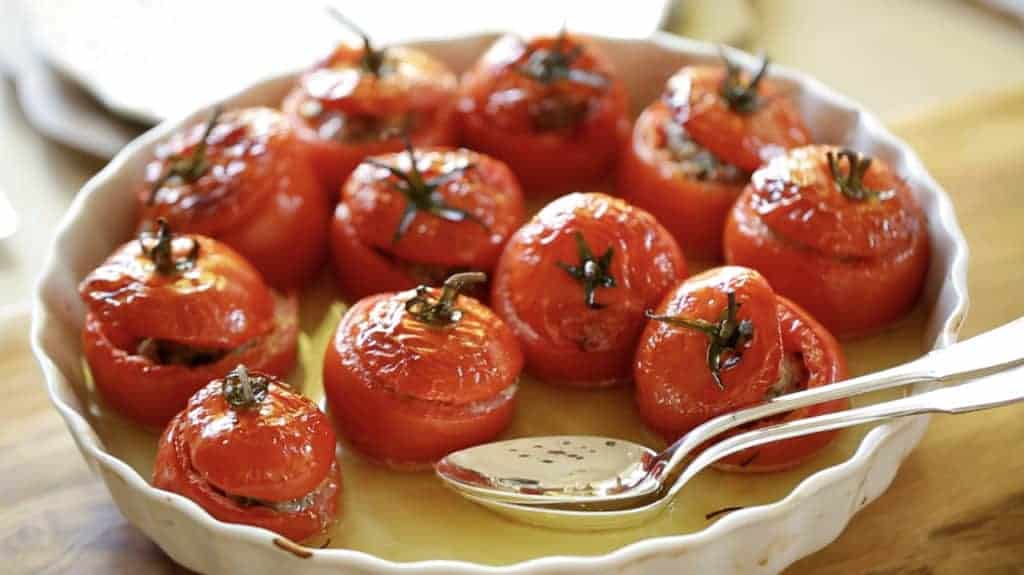 It's a hot dish, which might seem odd for the summertime, but you really need very ripe tomatoes in order to bring out its full flavor. Tomates Farcies is a classic "home-cooked" meal, you won't see in restaurants in France, but rather a dish served at home.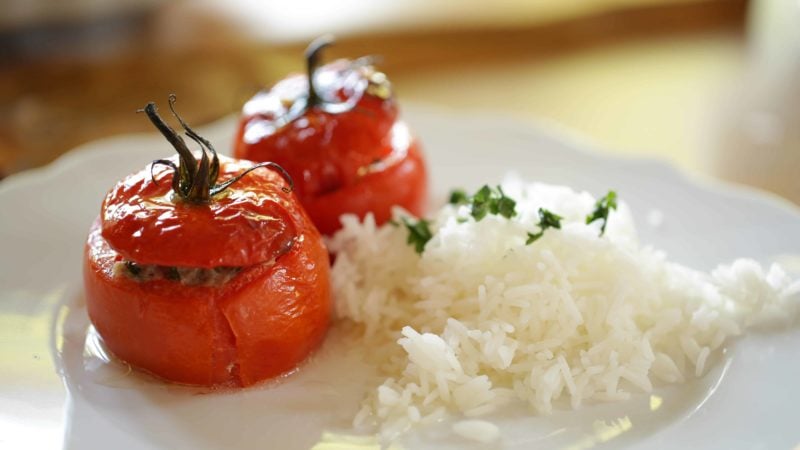 Sometimes you can find the tomatoes (or peppers!) already stuffed and for sale at the butcher or charcuterie wagon at the market, but that's about it. So it's definitely worth making yourself! Serve with a little white rice and you'll experience French comfort food at its best! Bon Appetit!
WATCH MY VIDEO DEMO OF TOMATOES FARCIES BELOW
How-To Make Tomates Farcies
STEP#1: Prep The Tomatoes
Stuffed tomatoes look and taste their best when vine-ripened tomatoes are used. I choose to keep the green tops on the tomatoes because not only does it look more charming, but it also makes the tops easier to place on and off the tomatoes.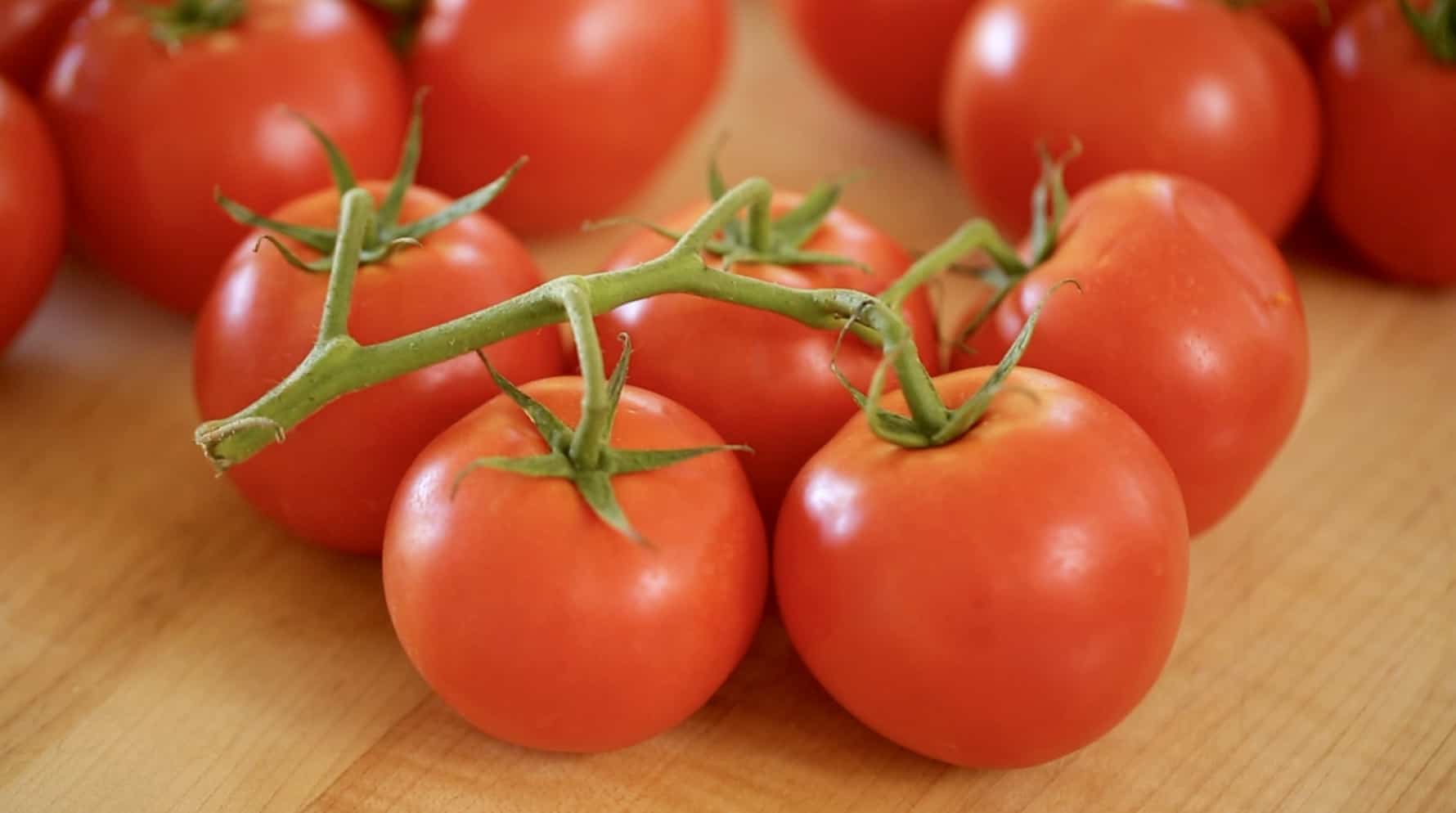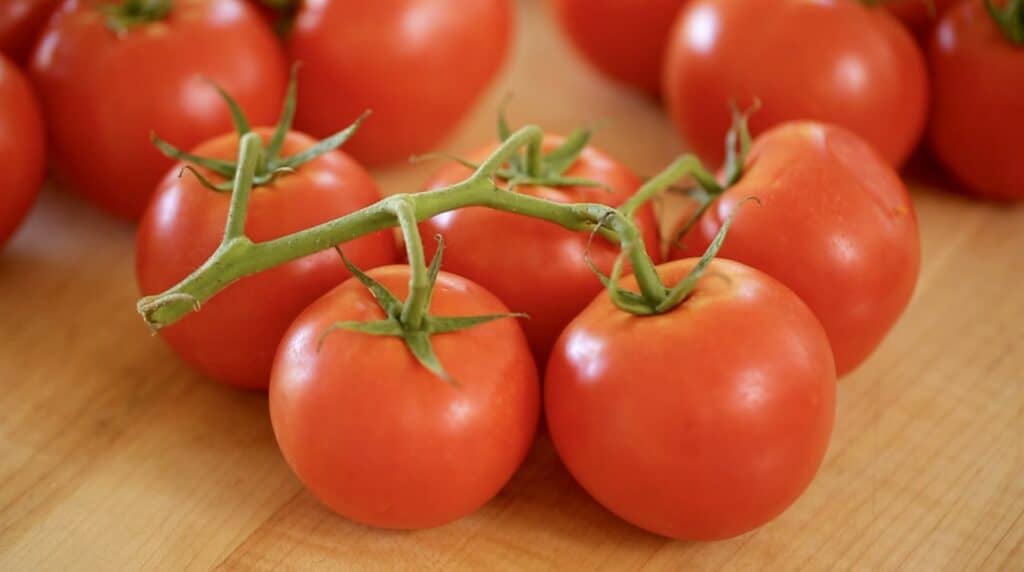 Slice the tops off the tomatoes and be sure you keep each top "married" to the tomato it was sliced off of. This helps all the tops fit perfectly on all the bases. Otherwise, it will be hard to match them up later!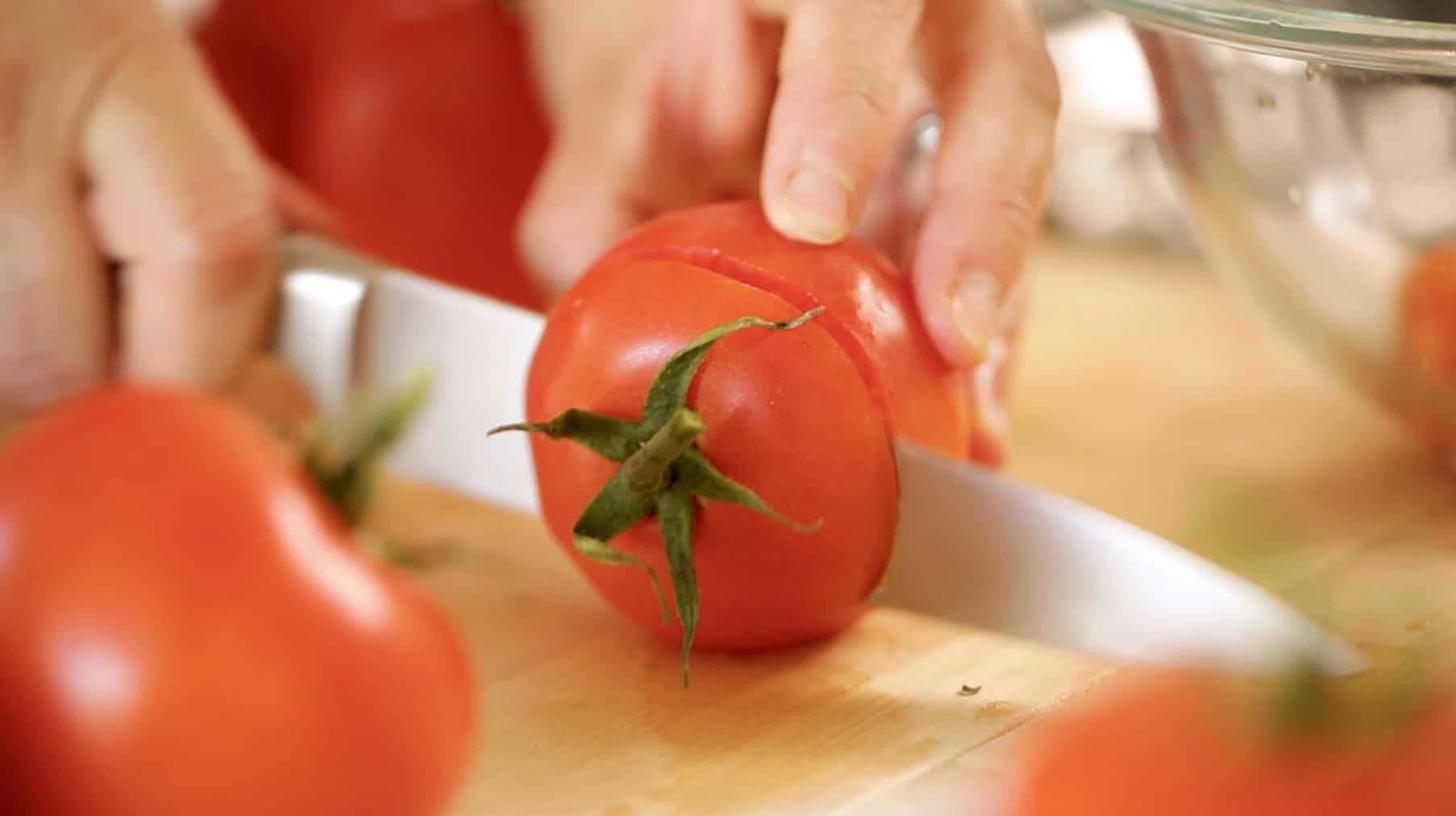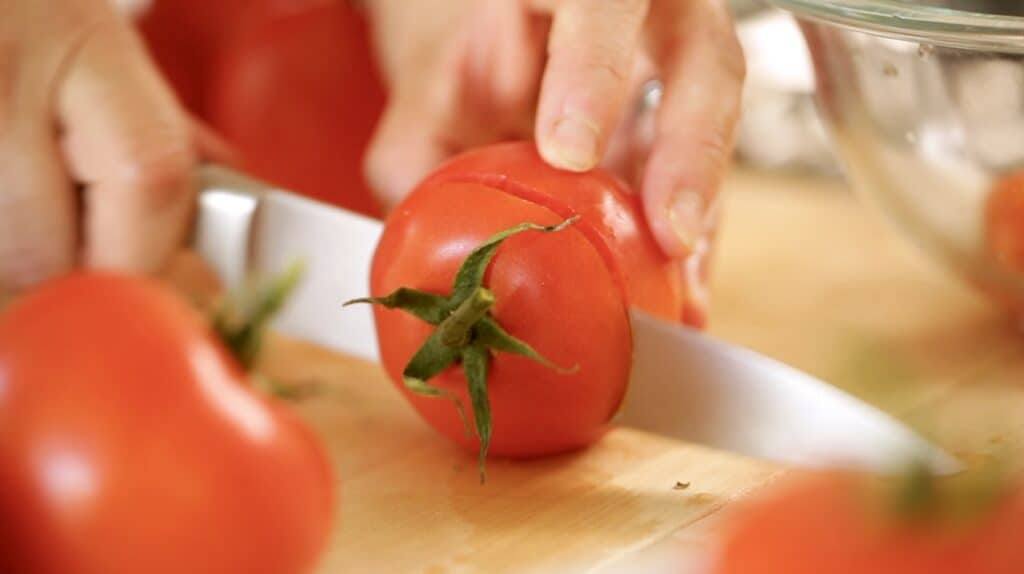 Core each tomato with a melon baller. This is the easiest way to avoid cutting yourself or damaging the insides of the tomato. This is definitely the most tedious part of the process. But if you have kids at home or family visiting, this is a great group project!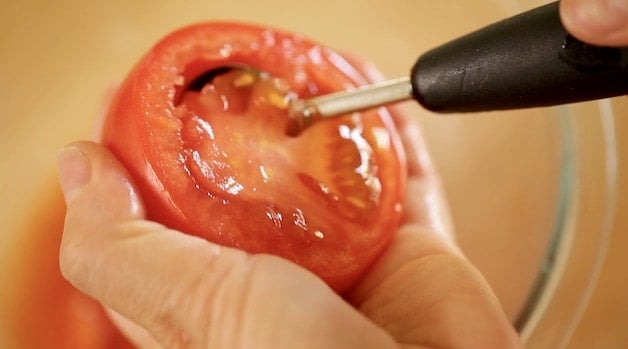 You can save the tomato flesh and juice to create a simple tomato sauce for pasta. Simply, season with salt and pepper, 1 clove of garlic, Italian seasoning or Herbs de Provence and a drizzle of olive oil. Simmer until reduced then serve right away or freeze for later.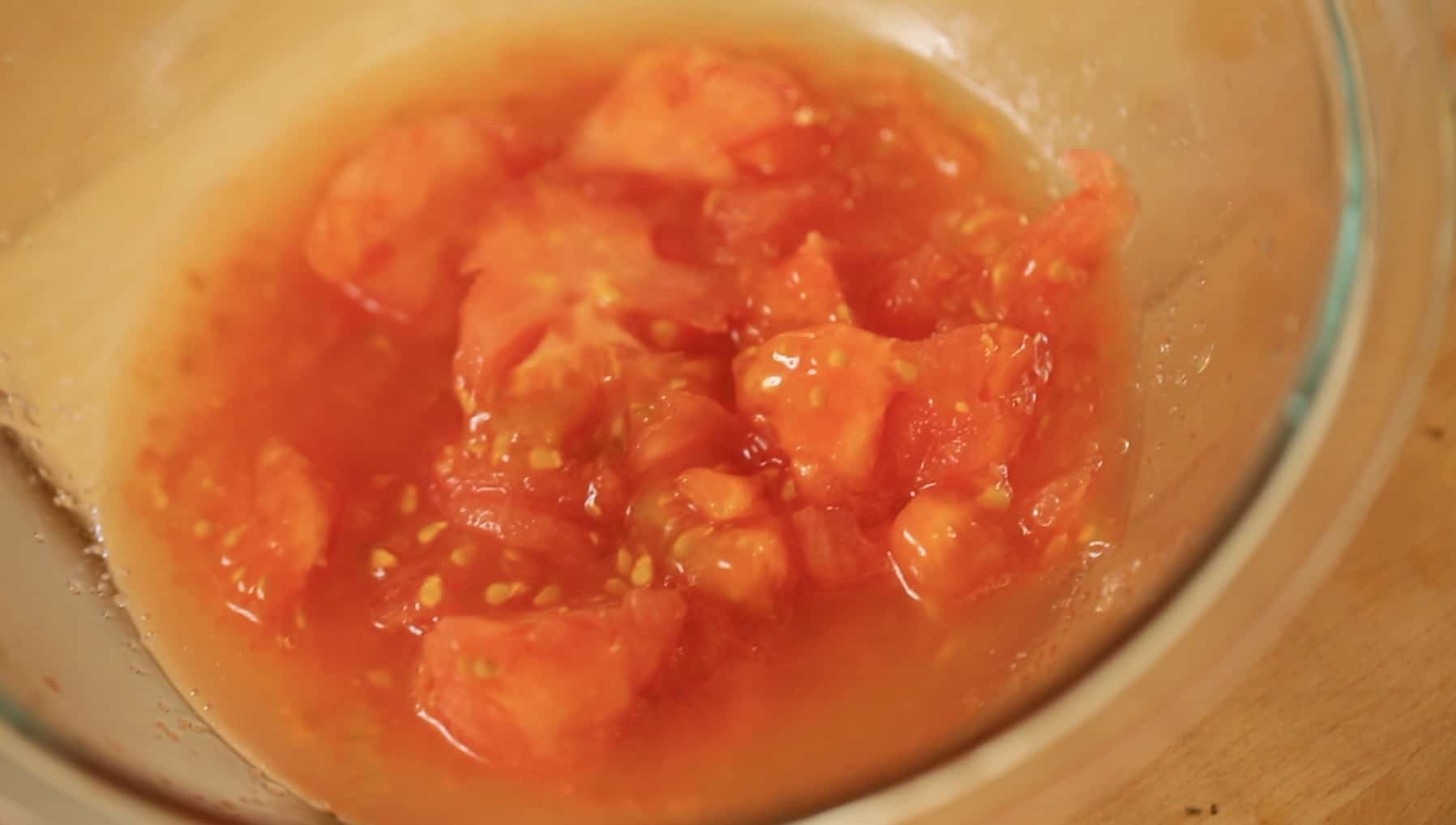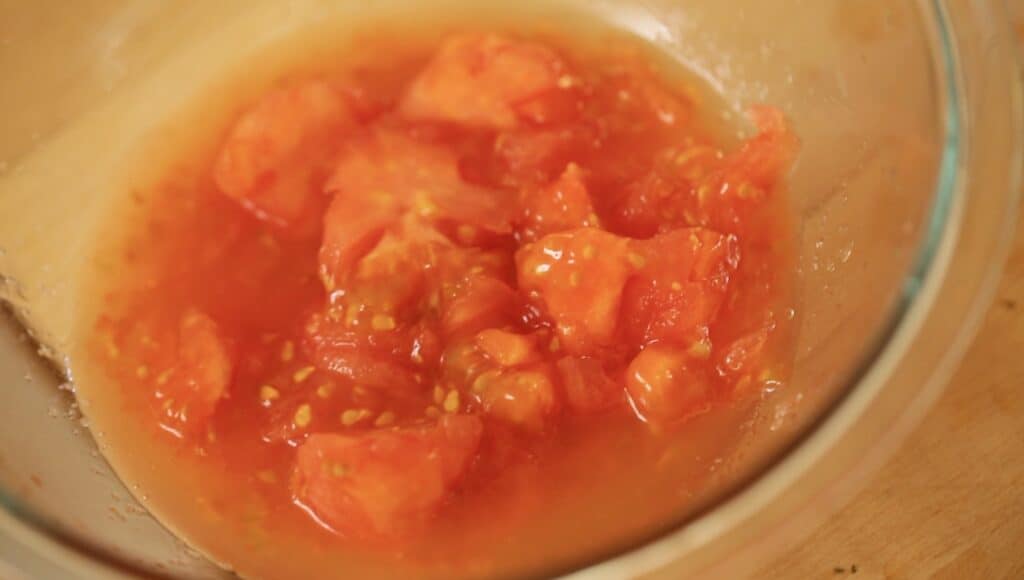 Place the tomatoes and their "matching tops" in a baking dish and set aside. If tomatoes are too wobbly and having a hard time staying upright, you can slice a small sliver off the bottom of the wobbly tomato to stabilize it.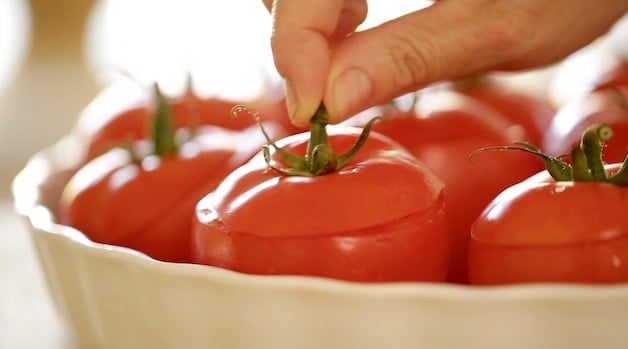 STEP#2: Prepare the Stuffing
For stuffed tomatoes, I like to use ground pork as it's most traditional. But you could also use a mix of beef and pork, or beef, pork, and veal. I have found that the fattier cuts of pork work better as it will create a more flavorful stuffing. Just ask your butcher for their recommendations for the fattiest ground pork.
If you are a pork fan you must try my Pork Loin with Maple Glaze and Apples and Cranberries! This is a fantastic recipe for the holidays!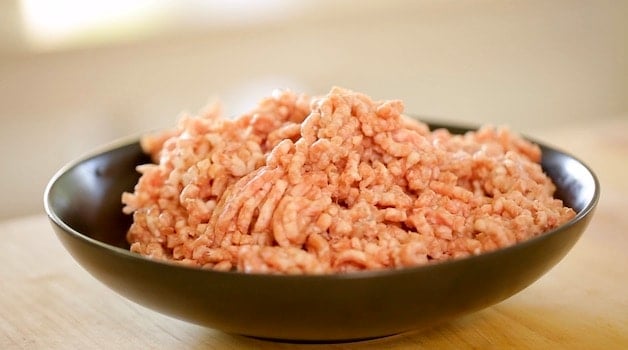 You'll season the pork with salt, pepper, herbs de Provence, garlic, and fresh parsley. This will add the flavor to the stuffing, but it's the sandwich bread that adds all the lightness!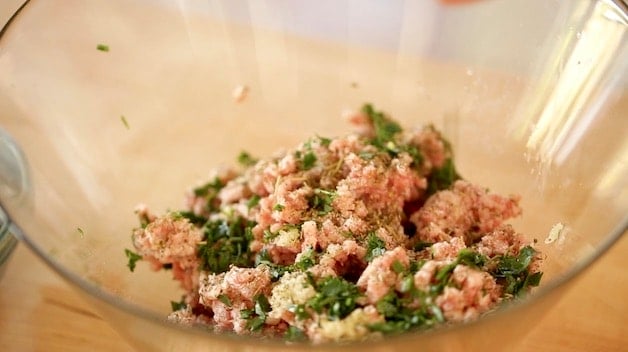 You'll cut off the crusts of the bread and then cut the bread into cubes and toss gently with milk. This is the same technique my Italian relatives employ for their meatballs and it does a world of good!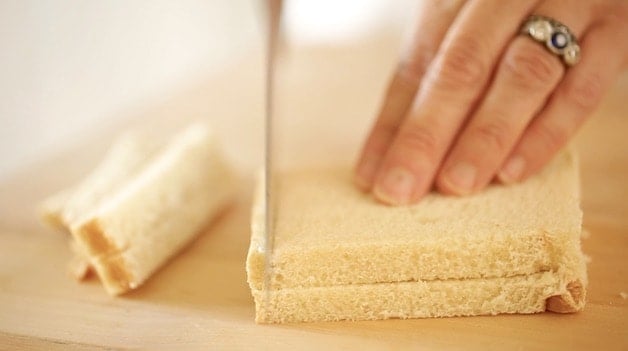 The bread and the milk makes the stuffing in the tomatoes less dense, and more light and fluffy!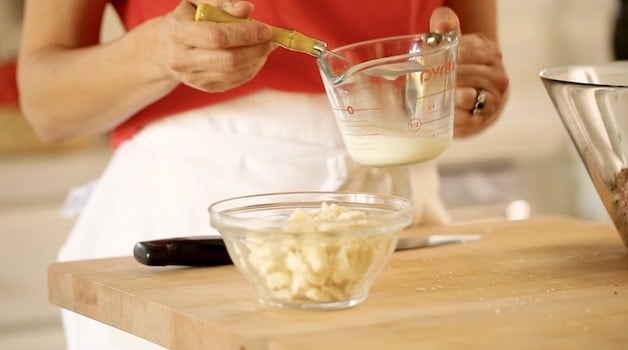 Stir the mixture together with your hands. This is the best way to keep the stuffing light while preventing it from compressing too much. If the stuffing gets too "compacted" kit will create a denser texture. So work the stuffing gently!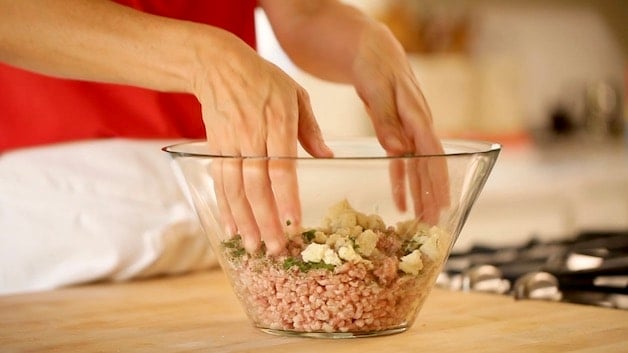 STEP#4: Stuff the Tomatoes and Bake
Stuff each tomato by filling it with an ice cream scoop. This will assure that each stuffing is approximately the same size and will cook through at the same rate.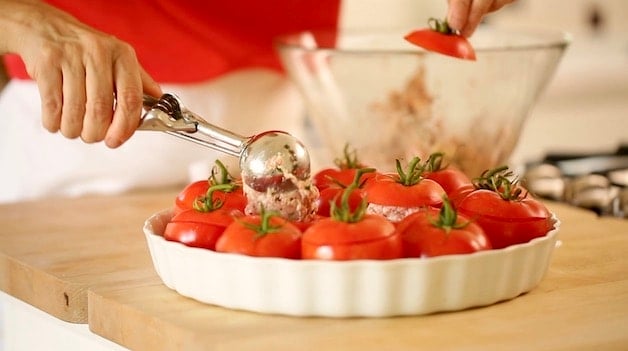 Then the final step, which is the piece de resistance, in my opinion, is the white wine. Once the tomatoes are stuffed and secured in their baking dish, add the wine to the baking dish. The wine will combine with the tomato and meat juices that are released while baking, and create the most delicious sauce once the tomatoes are done.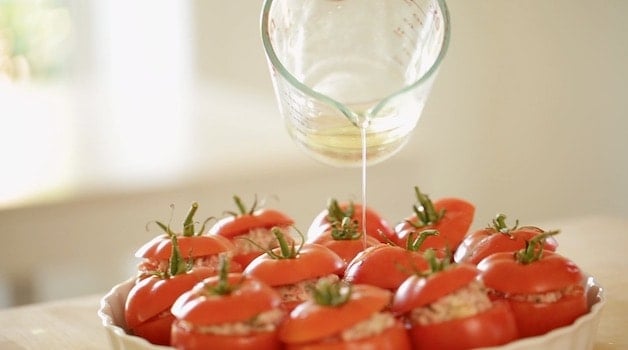 Spoon the sauce over the tomatoes before serving and bring oven-to-table. I typically serve 2 tomatoes per person, since the vine-ripened tomatoes are a bit smaller than say a beefsteak tomato, but so much tastier too!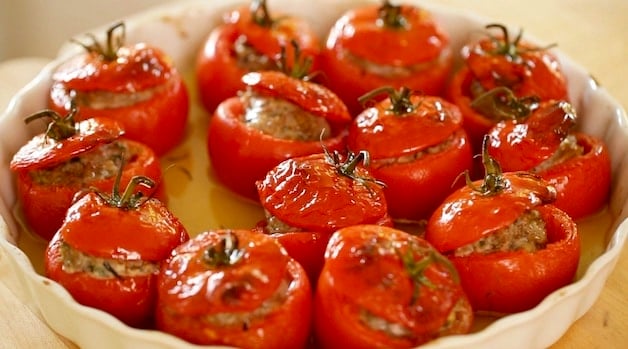 My mother-in-law always serves her tomatoes farcies with white rice, which I think is the perfect accompaniment with this dish since it gives you a vehicle for collecting all that delicious sauce! But a crusty French baguette works too!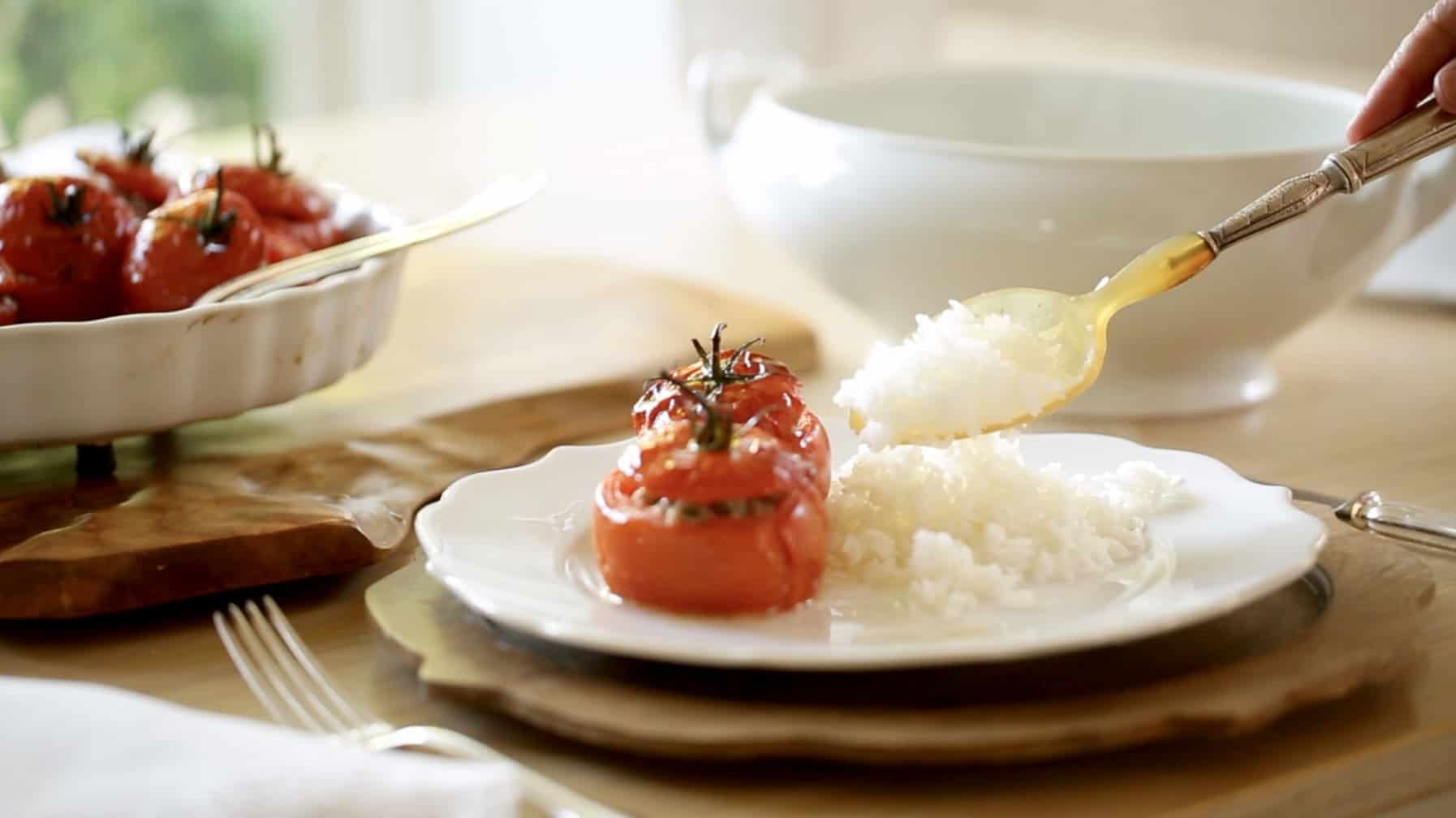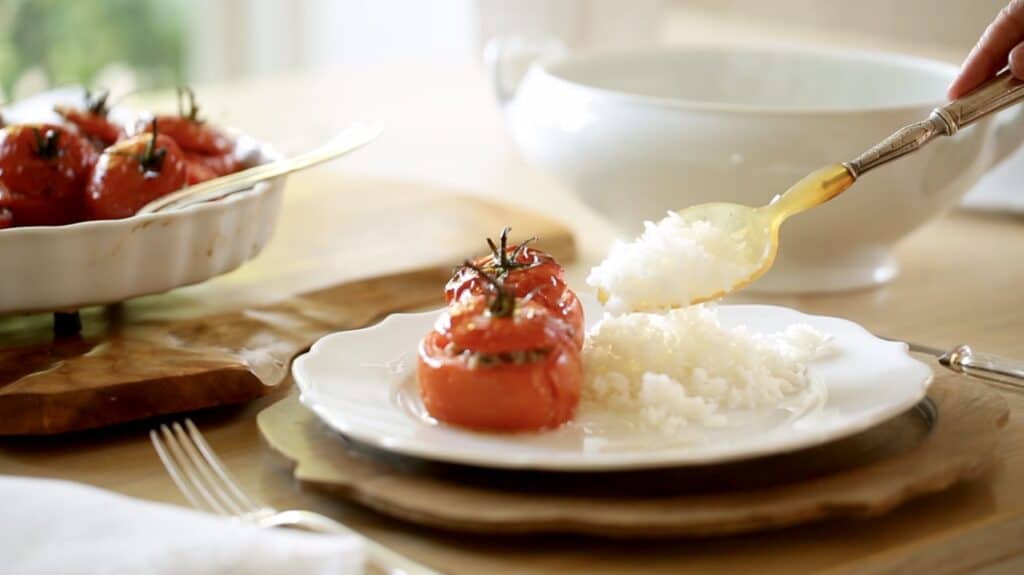 MORE CLASSIC FRENCH RECIPES YOU'LL ENJOY!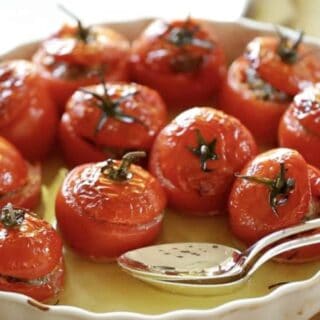 Beth's Tomates Farcies
Total Time:
1 hour
30 minutes
Every year when summer rolls around and tomatoes are at their peak, I start to crave "Tomate Farcie," a classic French dish I learned from my mother-in-law.
Ingredients
(18) Medium Tomatoes "on the vine"
2 tsp (10 ml) Herbs de Provence
2lbs (900g) pound ground pork
3 garlic cloves minced
2 tsp (15 ml) salt
freshly ground pepper
2 tbsp (30 ml) fresh parsley minced
1 cup (240 ml) diced sandwich bread mixed with 3 tbsp (45 ml) milk
¼ cup (60 ml) dry white wine
Instructions
Clip vines gently from tomatoes, leaving the stems intact on each tomato at least 1 inch high.
Slice tops off the tomatoes and set aside.
Core tomatoes and remove their interior flesh, transfer to a bowl. (keep for a simple tomato sauce, recipe below)
Place hollowed tomatoes in a shallow, oven safe casserole dish and set aside.
Combine pork, garlic, salt, pepper, herbs de provence, parsley and bread that has been soaked in the milk. Combine with hands until incorporated.
With an ice cream scooper, scoop meat into tomatoes and top with their "lids".
Add ¼ cup of wine to the bottom of the dish.
Place in a 400F (200C) oven for 45 mins. Reduce oven to 350F (175C). Brush lids with olive oil, cover with foil and bake another 10-15 mins until tomatoes are softened and meat is cooked through.
Serve with white rice. Enjoy!
Nutrition Information:
Yield:

8
Serving Size:

1
Amount Per Serving:
Calories:

51
Total Fat:

2g
Saturated Fat:

1g
Trans Fat:

0g
Unsaturated Fat:

1g
Cholesterol:

10mg
Sodium:

32mg
Carbohydrates:

3g
Fiber:

0g
Sugar:

0g
Protein:

3g