This Blackberry Crumble recipe is a fantastic summer dessert recipe for classic warm-weather comfort food. Syrupy blackberries, combine with sweet and chewy crumble, and of course when served warm and topped with vanilla ice cream, the results are truly sublime!
The other nice thing about this recipe is the fact that you can have them all preassembled on a sheet pan, sitting in your fridge, and then all you have to do is pop in the oven when you sit down to dinner.
There's something so relaxing about enjoying a summer meal, knowing that dessert is already in the oven and all you have to do is plop the ice cream on top!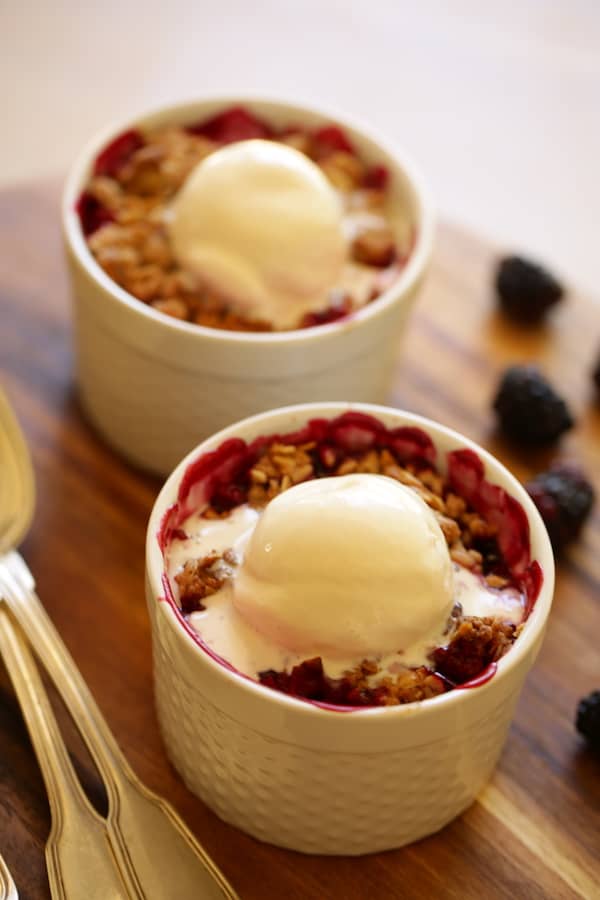 WATCH MY BLACKBERRY CRUMBLE DEMO BELOW
If you enjoy this recipe, you may also enjoy my Plum Crumble recipe or my Apple Crisp in a Cast-Iron Skillet recipe. Two other great fruit crumbles to try!
STEP#1: Prep the Blackberries
I love a good blackberry crumble because there is no fruit to peel or chop! Just rinse the berries and place them in a bowl.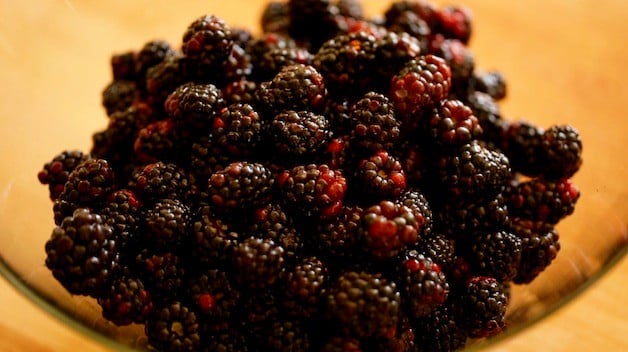 You'll toss them with sugar and flour. The flour will help create a thickened sauce that will add to the lovely syrupy texture of the berries once they are baked.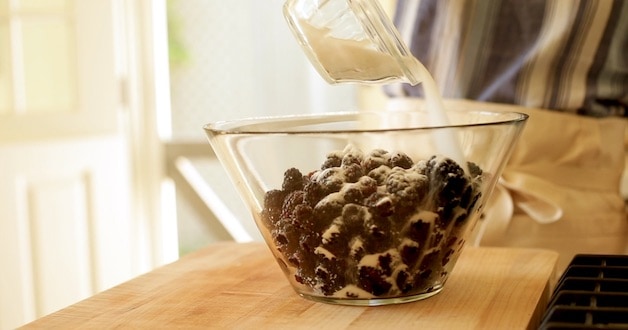 You'll also add some water to get the syrup going! This is the thing I've found about crumbles in general. If you don't prime them with a little water first, they can end up being a bit dry.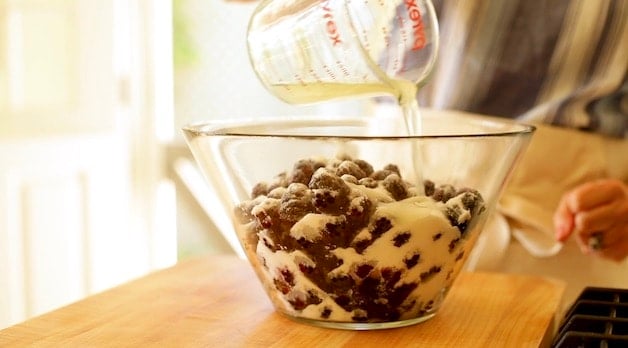 Transfer the blackberry mixture to your ramekins and place them on a sheet pan while you prepare the crumb topping.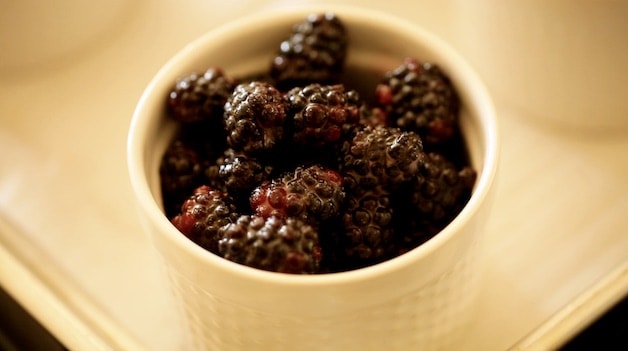 STEP#2: Prepare the Crumb Topping
I really love a crumb topping with a bit of oatmeal in it. I think it adds to the texture and crunchiness of the crumble which is a nice match against the syrupy blackberries.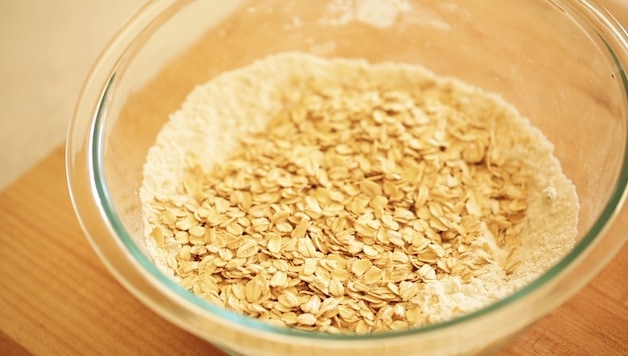 Once the crumble is made, sprinkle it generously on each ramekin. Let's face it, the crumble is the best part so don't be shy, load it on!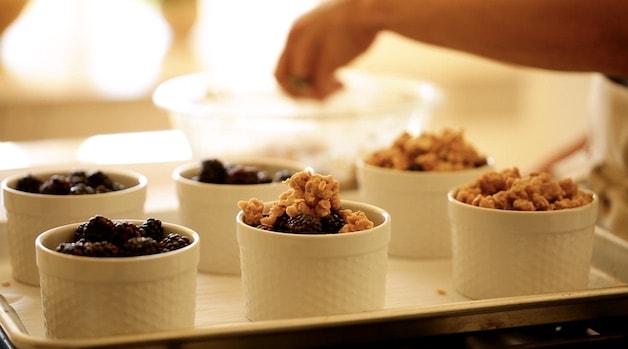 I also like to allow small pockets for the berries to peek through. This creates some pretty detailing around the rim, pf baked-on syrup that adds to the presentation. It also allows a little place for the syrup to bubble while it is in the own. This will make it easier to check for doneness.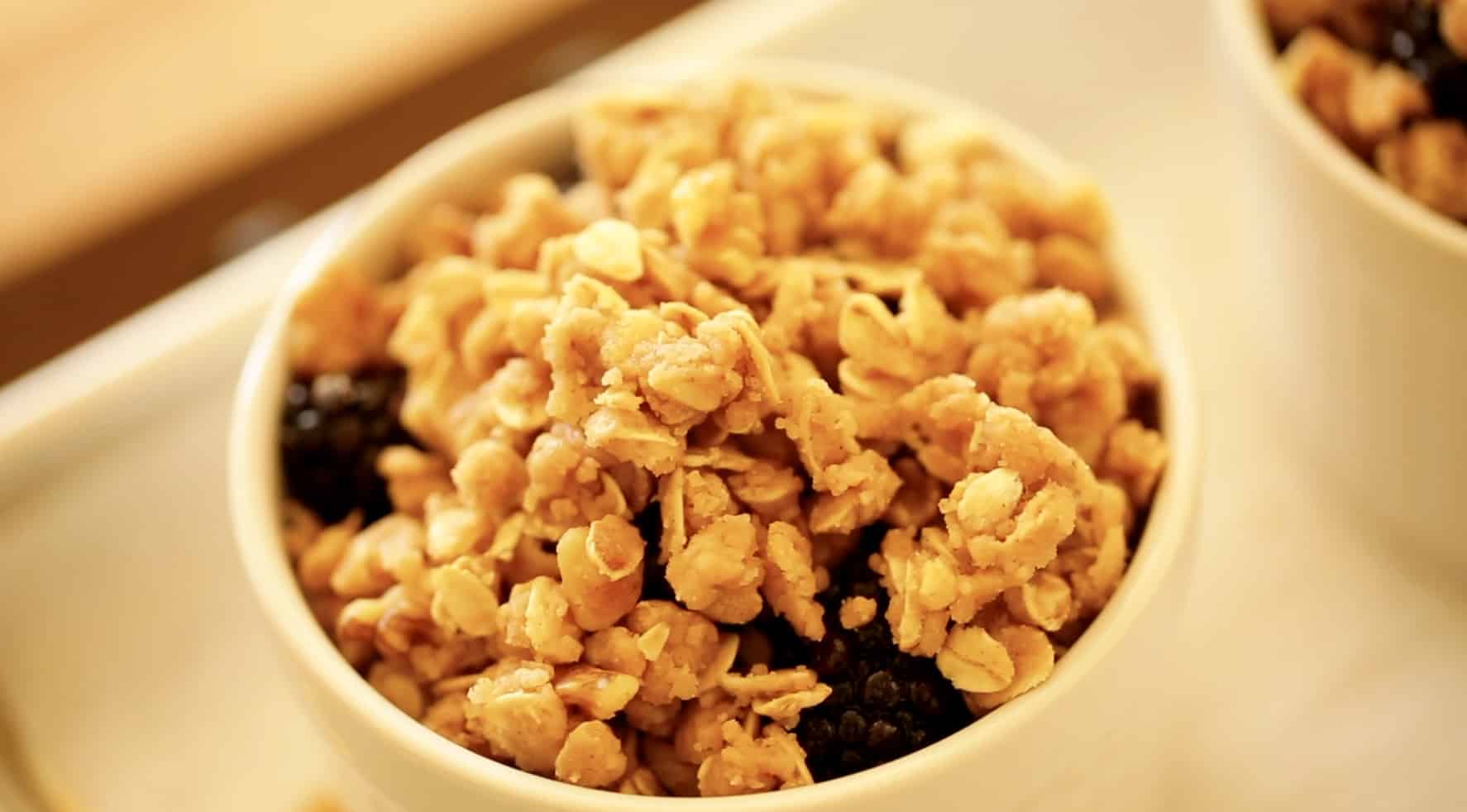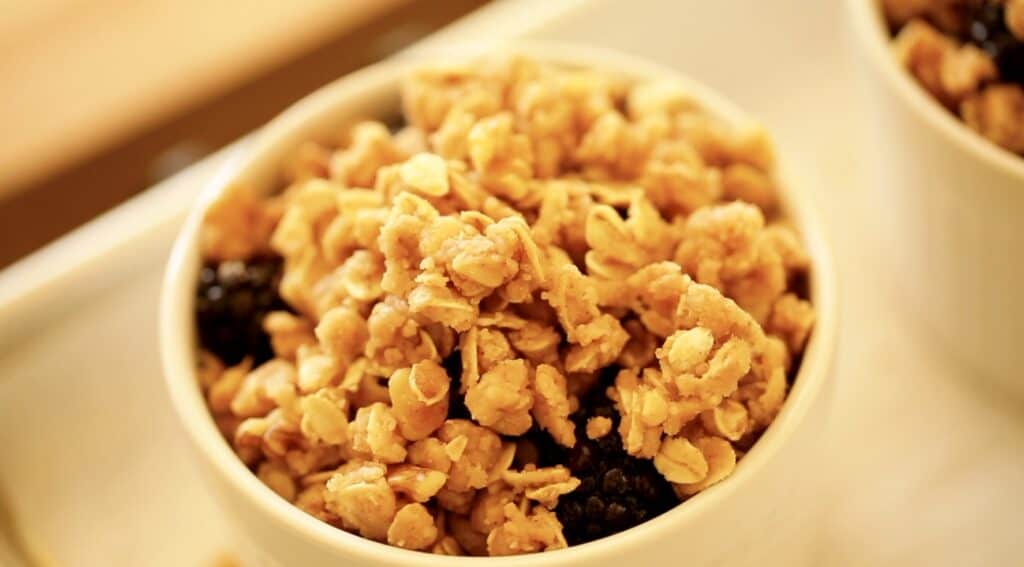 Allow them to bake as directed, but once you are nearing the time they should be done, check for the syrupy dribbles!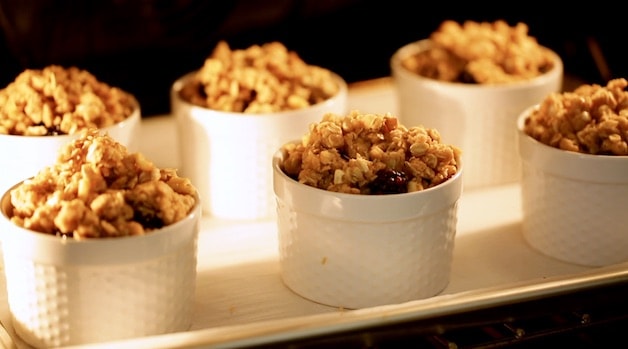 You should see the syrup oozing down the sides. If you don't see that, you can "help-it-along" by adding a little water to each one to get those juices bubbling!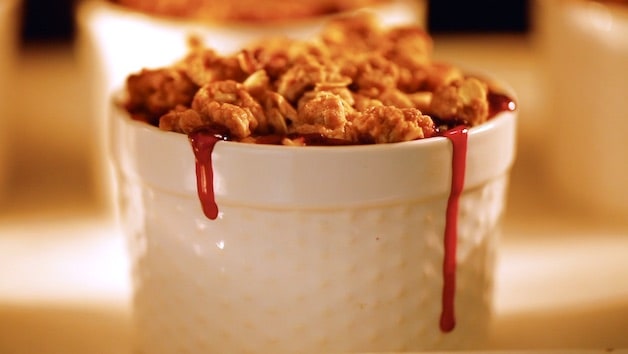 STEP#3: Serve with Ice Cream
Allow your blackberry crumbles to cool slightly. These are best served when they are warm and not too hot. Otherwise, the ice cream will melt too fast, and then you'll have a bit of blackberry crumble soup!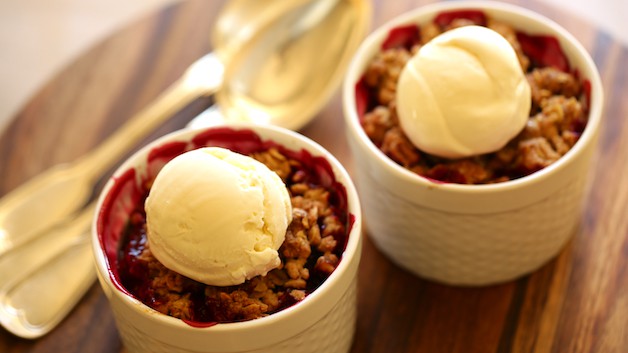 But when it's served warm the ice cream melts slowly. It combines with the blackberry syrup for the most fantastic summer combination!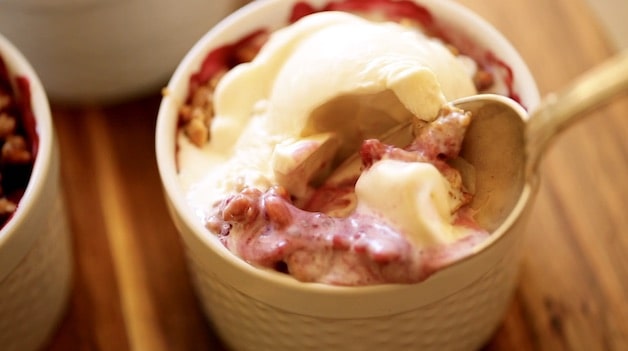 YOU MAY ALSO ENJOY:
If You Enjoyed This Blackberry Crumble Recipe
Please leave me a Rating and a Review Below!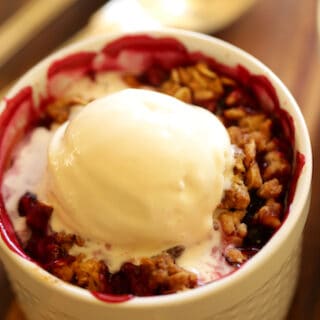 Beth's Easy Blackberry Crumble Recipe
Total Time:
1 hour
25 minutes
This Blackberry Crumble recipe is a fantastic summer dessert idea for classic warm-weather comfort food. Syrupy blackberries, combine with crunchy crumble and of course when served warm, and topped with vanilla ice cream, the results are truly sublime! 
Ingredients
7 cups (1050g) of blackberries
¾ cup (150g) sugar
¼ cup (60ml) lemon juice
¼ cup (25g) cornstarch
pinch of salt
Crumb Topping:
1 cup (120g) flour
2 tbsp (23g) brown sugar
2 tbsp (25g) white sugar
1 tsp (5ml) baking powder
¼ tsp (1.25ml) salt
½ tsp (2.5ml) cinnamon
1 cup (90g) old fashioned oats
½ cup (120ml) melted butter
3 tbsp (45ml) heavy cream
2 ½ tsp (12.5ml) vanilla extract
¼ cup (40g) chopped walnuts
Serve with:
Vanilla Ice Cream
Instructions
In a large bowl combine the blackberries, sugar, lemon juice, cornstarch, and salt. Set aside.

In a smaller bowl whisk together the flour, sugars, baking powder, salt, and cinnamon.

Then stir in the oats. Add the melted butter, heavy cream, and vanilla. Combine with a fork until crumble forms, then add the walnuts.

Spoon the berry mixture into 1 cup ramekins (240ml) (or 9 (23cm) x 12 (30cm) baking dish). Sprinkle the crumble generously on top.

Place ramekins on a sheet pan and bake at 375F (190C) for 35-40 minutes or until the berry juices start to run.

Serve with a scoop of vanilla ice cream on top!
Recommended Products
As an Amazon Associate and member of other affiliate programs, I earn from qualifying purchases.
Nutrition Information:
Yield:

6
Serving Size:

1
Amount Per Serving:
Calories:

150
Total Fat:

9g
Saturated Fat:

6g
Trans Fat:

0g
Unsaturated Fat:

3g
Cholesterol:

29mg
Sodium:

58mg
Carbohydrates:

15g
Fiber:

1g
Sugar:

10g
Protein:

2g