This Blackberry Cornbread Skillet Cake is the perfect savory and sweet addition to your summer brunch menu. It's perfect to serve for out of town guests who may be visiting or a lazy Sunday breakfast with a cup of coffee.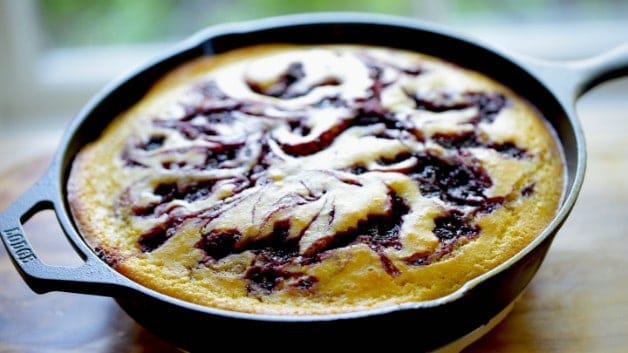 This cornmeal cake is a little bit of breakfast and a little bit of dessert for the perfect brunch dish. Just add mimosas!
With the delicate blackberry swirls and the rustic cast iron pan, it's certainly a beauty when presented to the table.
Try it out with my frittata recipe and smashed potatoes to round out the brunch.
How to Make Blackberry Cornbread Skillet Cake
(Full recipe video is in the recipe card below)
Subscribe to my YouTube Channel for more recipe videos! (it's free!)
I love this recipe because it's super moist, and it's a one pan meal from beginning to end.
Here's how to make the perfect summer brunch cake:
Step 1: Make the Blackberry Syrup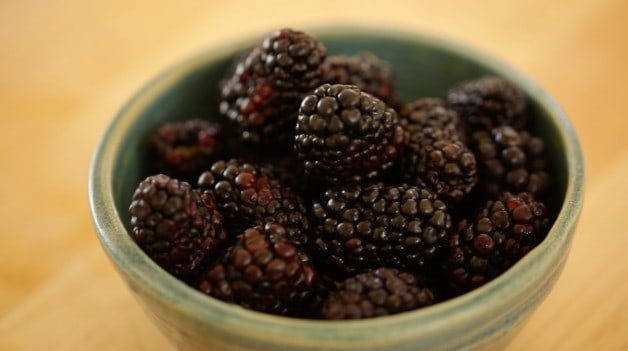 In a large pot, add two tablespoons of butter. When the butter has melted, add your blackberries and give them a stir.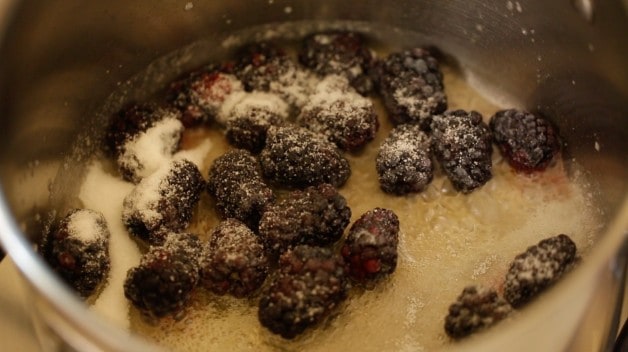 After the berries are incorporated, top them with a tablespoon of sugar. Place on medium-low heat as the berry mixture begins to break down.
When the berries become a little syrupy, take a fork or potato masher and mash the berries to create a thick but semi-smooth consistency.
How do I thicken berry syrup?
If your syrup is a little on the runny side, add a mixture of cornstarch and water to your berry mixture and stir for a minute or two. Simply follow the directions on the back of the cornstarch container for best results.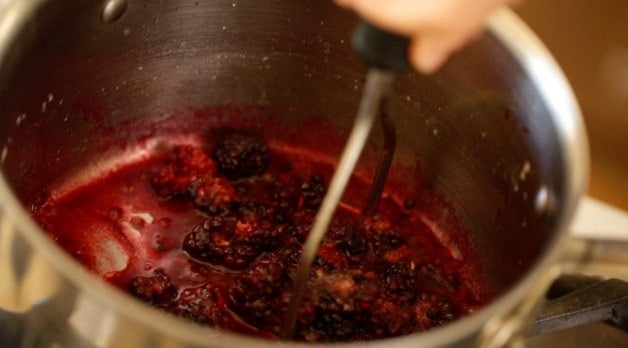 When you are satisfied with the consistency. Set aside while you make your cake batter.
TIP: The blackberry syrup will also thicken a bit as it cools.
Step 2: Make the Cornbread Batter.
In a large bowl, add all purpose flour, cornmeal, sugar, baking powder, and salt. Whisk together until all dry ingredients are combined. (exact measurements in recipe card below)
TIP: Not all cornmeals are alike! Some are more grainy that others. I like a fine grain cornmeal for this recipe as it create a better cake-like texture. You can find my favorite brand in the recipe card below under "Recommended Products".
In the same bowl, you will add three eggs, whole milk, melted butter and canola or vegetable oil. Whisk until the wet and dry ingredients are combined. Pour batter into your greased cast-iron skillet. My favorite brand of skillet can also be found below.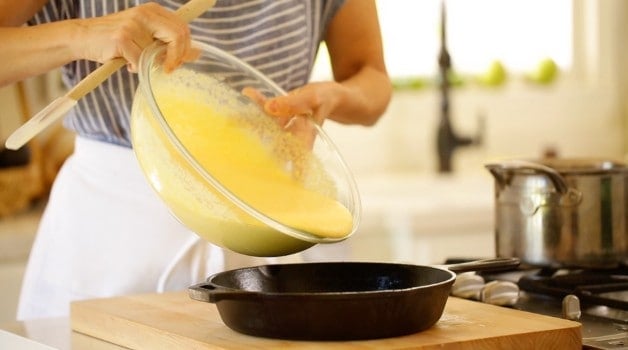 Why is my cornbread dry and crumbly?
Not enough of the right kind of fat. I've found using two types of fats – butter and oil – is the perfect ratio for super moist cornbread. The butter adds flavor and the oil adds moisture.
Over-mixing can cause more glutens to form in the flour and can leave you with a crumbly and dry result. Mix until well-combined and you should be just fine.
Over Baked! Too much heat for too long will also dry out your cornbread. Bake just until you cornbread is springy to the touch and a toothpick comes out clean.
Step 3: Swirl in the Blackberry Syrup
Now, that our cornbread batter is in the skillet, it's time for the fun part! Swirling in the syrup.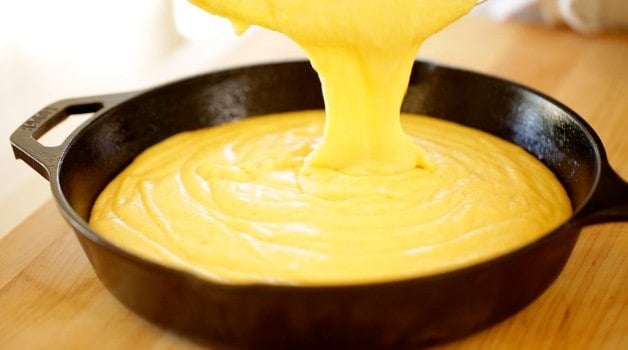 Using a spoon, gently place small dollops of the blackberries onto the top of the batter.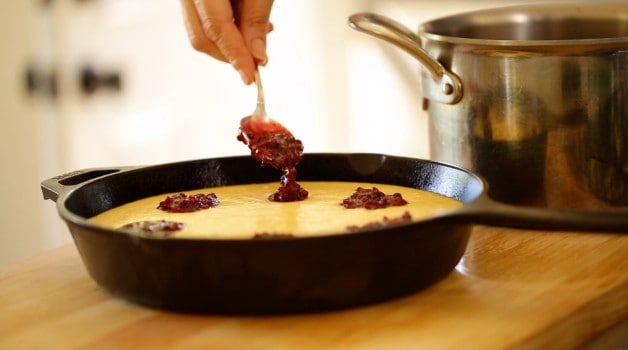 Then, using a skewer or toothpick, create swirls by dragging through the batter and blackberries.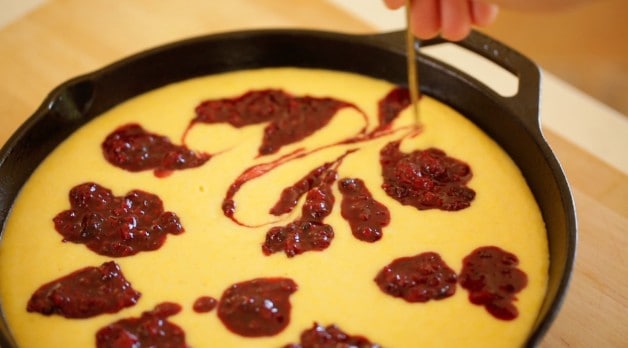 Now's the chance to get creative. Make zig-zag lines, circles – whatever you like. I find the classic, gentle swirl adds such elegance to this simple dish! The blackberry syrup will set into the cake and back right into the cornbread.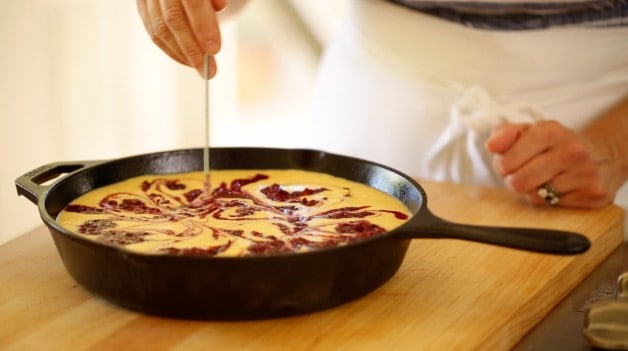 Step 4: Bake and Serve
After you've made your swirls, place in the oven at 350F (175C) degrees for about 30-35 minutes.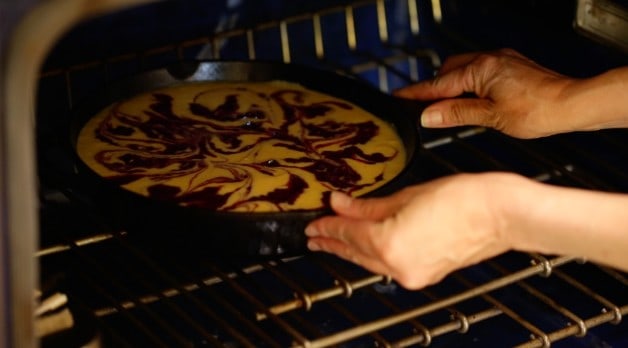 The dish is ready to serve when the edges brown and the center is firm but springy. I like to serve right from the skillet. Be sure to place a dishtowel around the handle to remind everyone that the skillet is hot!
Served warm with butter on the side and you'll find it is the perfect treat for a summer Sunday brunch!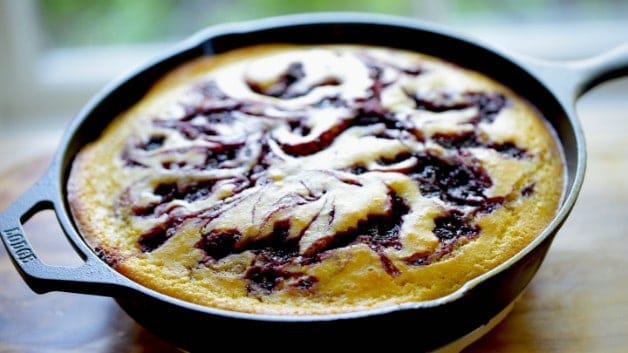 PLEASE LET ME KNOW IF YOU MAKE THIS RECIPE BY LEAVING A RATING AND REVIEW BELOW!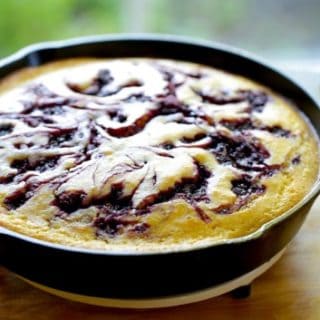 Blackberry Cornbread Skillet Cake
Blackberry Cornbread Skillet Cake is the perfect savory and sweet addition to your brunch menu. Enjoy with out of town guests or a lazy Sunday brunch with a cup of coffee. 
Ingredients
1 ½ cup flour
1 ½ cup cornmeal
½ cup sugar
2 tsp baking powder
1 ½ tsp salt
3 eggs
1 ¾ cup milk
¾ cup melted butter + 1 tbsp for greasing
¼ cup vegetable or canola oil
Blackberry topping:
2 tbsp (30 g) butter
1 pint (300 g) of fresh blackberries
1 tbsp (15 ml) white sugar
Instructions
Preheat oven to 350F (176C).
In a large sauce pan melt 2 tbsp of butter add blackberries and sugar. Simmer, until blackberries soften, then mash the berries with a fork or a potato masher. Cook until a chunky, syrupy sauce develops. Set aside to cool.
For the cake, grease a 10" cast-iron skillet with 1 tbsp melted butter.
In a large bowl, combine the flour, the cornmeal, the sugar, baking powder and salt. Whisk together until combined.
Then add the eggs, the milk, and melted butter and oil. Stir to combine.
Pour batter into skillet. Then top with dollops of the blackberry sauce. Swirl dollops with a skewer to create swirls.
Sprinkle top with raw turbinado sugar. Bake for 30-35mins until golden brown around the edges and center is firm, yet springy to the touch. Slice into wedges and serve warm!

Notes
This can also be made the day before, covered with foil and refrigerated, and then pop in a 300F (150C) oven with foil to warm through for 15 mins.
Recommended Products
As an Amazon Associate and member of other affiliate programs, I earn from qualifying purchases.
Nutrition Information:
Yield:

8
Serving Size:

1
Amount Per Serving:
Calories:

303
Total Fat:

7g
Saturated Fat:

2g
Trans Fat:

0g
Unsaturated Fat:

4g
Cholesterol:

78mg
Sodium:

634mg
Carbohydrates:

52g
Fiber:

2g
Sugar:

13g
Protein:

9g