Strawberry Panna Cotta with Basil
Strawberry Panna Cotta with Basil is the perfect summer dessert recipe! You can make it ahead of time and there's something so refreshing about having a chilled, creamy dessert on a hot summer night.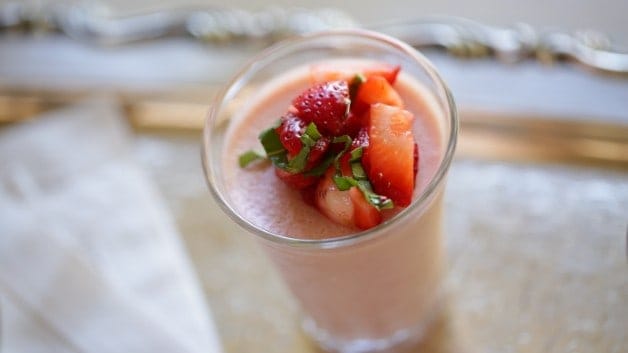 I also find that guests really love the unexpected flavor combination between the strawberries and basil. It's definitely a conversation starter. This rich and summery dessert would be the perfect finish to my Pan Seared Salmon with Buerre Blanc Sauce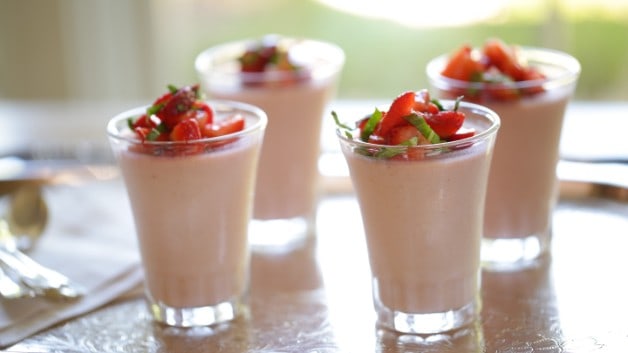 Subscribe for weekly recipes
and new videos!
Watch My Video Demo of This Recipe Below!
SUBSCRIBE TO MY YOUTUBE CHANNEL FOR MORE RECIPE VIDEOS!
Step 1: Prep the Strawberries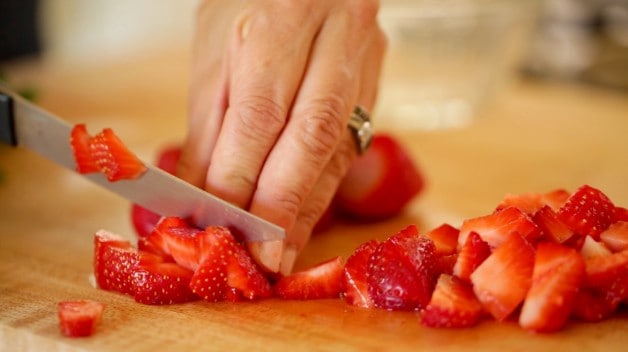 First, quarter the strawberries and add those to a blender. This dessert is best made with ripe strawberries since you'll get the best flavor. But if fresh strawberries are not available you can also use frozen strawberries too. Just be sure they are thawed first.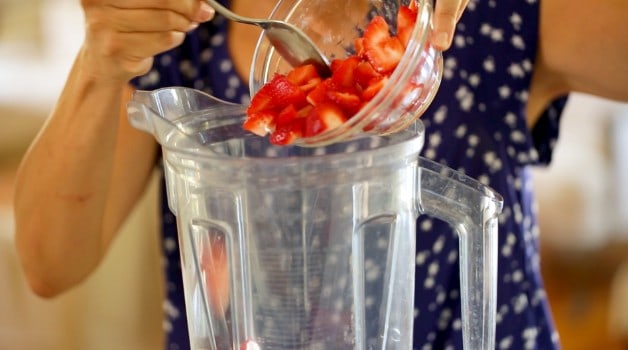 What is Panna Cotta made of?
Panna Cotta is an Italian-style dessert, much like pudding, made with gelatin and thick cream. In fact, the exact translation for Panna Cotta is "cooked cream".
Step 2: Make the Gelatin Mixture
To a large pot, add milk, heavy cream, and sugar. Simmer until the sugar has dissolved and the mixture is hot, but not boiling. After the sugar has dissolved, turn off the flame and add the powdered gelatin and stir until it has dissolved.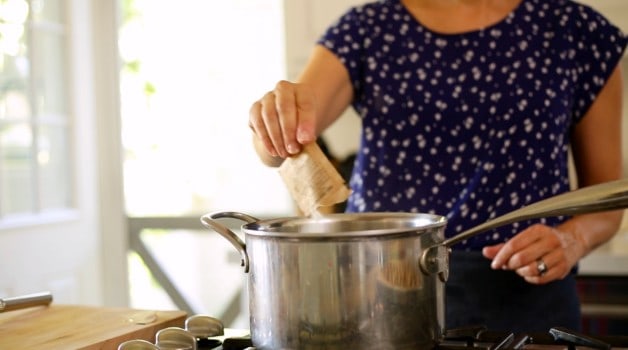 Now, add in the strawberry puree and stir that into the gelatin mixture.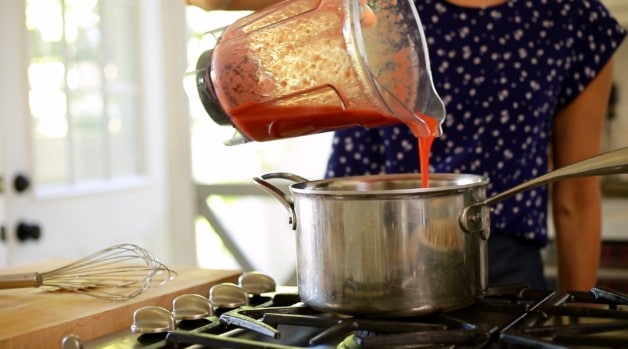 Step 3: Strain and Divide the Panna Cotta
Now that the panna cotta is mixed well, pour the mixture through a fine-mesh sieve to extract any bits of undissolved gelatin.
Tip: Pouring the mixture through the sieve and into a four-cup measuring pitcher makes for easy distribution into smaller serving glasses. No spills that way!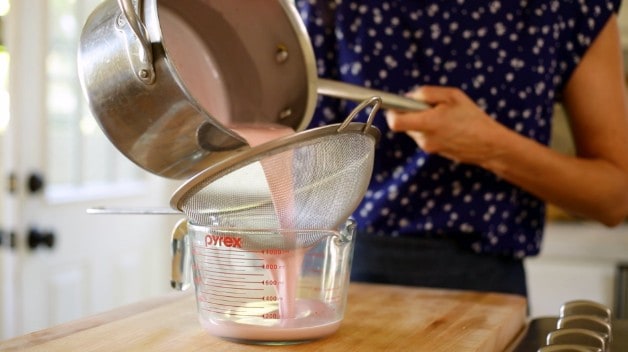 Carefully pour the mixture into the serving glasses. Be sure to leave a little space at the top to allow room for the strawberry and basil topping.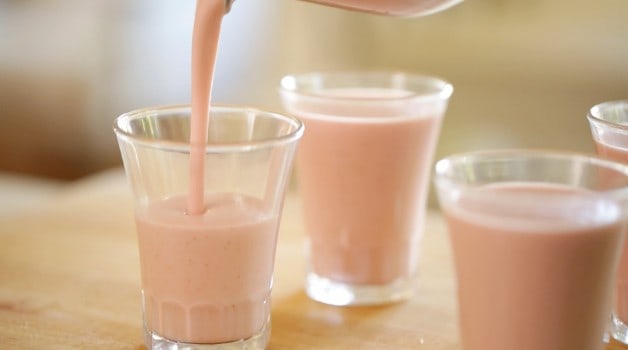 Step 4: Let the Panna Cotta Set
The Panna Cotta should set for at least four hours, but overnight is best. Jumbo muffin tins are super handy for transporting your panna cottas to the refrigerator. The individual wells stabilize the glasses while carrying them and it allows you to carry four glasses to the fridge at one time!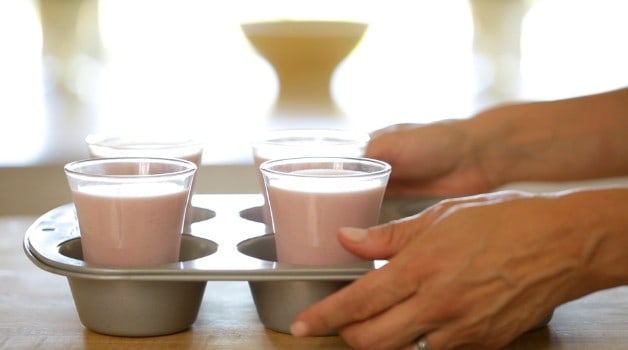 Step 5: Garnish and Serve
The great thing about this dessert is there is very little "busy" time right before serving. You can enjoy your meal with friends, then quickly dice up the fresh strawberries and chiffonade the basil for the topping.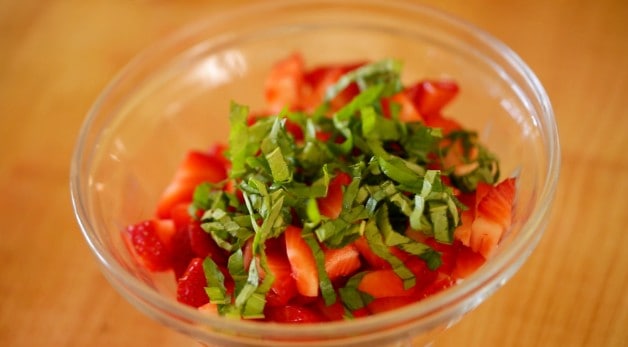 How do you Chiffonade?
A Chiffonade cut is only slightly different from Julienned. To chiffonade, roll the leaves tightly and thinly slice across the roll. Julienned is a matchstick cut.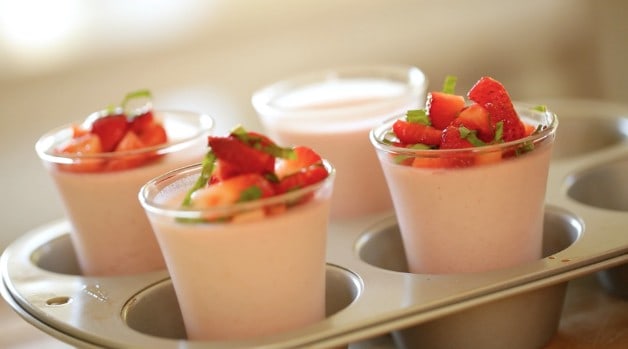 Top each glass with 1-2 tablespoons of the strawberry basil mixture and they are ready to go! Your guests will just love these.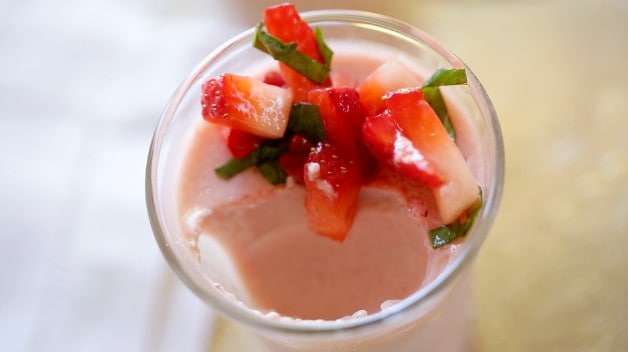 PLEASE LET ME KNOW IF YOU MAKE THIS RECIPE
BY LEAVING A RATING AND REVIEW BELOW!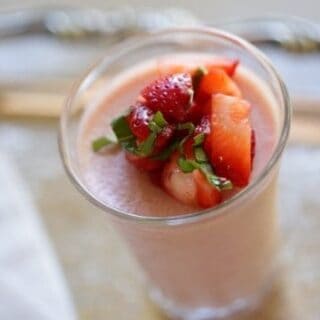 Strawberry Panna Cotta with Basil
Total Time:
4 hours
25 minutes
Strawberry Panna Cotta with Basil is the perfect summertime dessert! I find guests really love the unexpected flavor combination between the strawberries and basil. It's definitely a conversation starter.
Ingredients
¾ cup milk
¾ cup heavy cream
3 tablespoon sugar
1 ½ teaspoon unflavored powdered gelatin
1 ½ cup strawberries, chopped
2 teaspoon sugar
3 tablespoon water
Garnish
½ cup fresh strawberries, diced
2 tablespoon fresh basil, chiffonade
Instructions
Add strawberries, sugar and water to a blender. Blend until pureed. Set aside.
Place milk, cream and sugar in a sauce pan. Simmer until sugar dissolves. Allow to cool slightly. Add gelatin. Stir to dissolve. Add strawberry puree. Stir to combine.
Strain mixture through a fine mesh sieve, into a 4-cup Pyrex pitcher.
Pour mixture into 6 oz. glasses. Refrigerate at least 4 hours to set.
Before serving, toss diced strawberries with basil. Top each panna cotta with 2 tablespoon of the strawberry basil mixture.

Recommended Products
As an Amazon Associate and member of other affiliate programs, I earn from qualifying purchases.
Nutrition Information:
Yield:

4
Serving Size:

1
Amount Per Serving:
Calories:

251
Total Fat:

17g
Saturated Fat:

11g
Trans Fat:

1g
Unsaturated Fat:

5g
Cholesterol:

54mg
Sodium:

39mg
Carbohydrates:

22g
Fiber:

2g
Sugar:

17g
Protein:

4g