Pan Seared Salmon with Vegetables
This easy pan-seared salmon with roasted vegetables is a fantastic main course recipe that comes together in less than 30-minutes. The salmon is moist and flavorful thanks to pan-searing it first and then finishing it in the oven, and the vegetables are a delicious medley of flavors and textures.
The best part about this recipe is that it can feed two or four people depending upon your need for leftovers. The leftovers easily convert to a wonderful Salmon and Spinach salad that makes for a delicious lunch the next day. It's a "cook once, eat twice" recipe you'll go back to time and time again!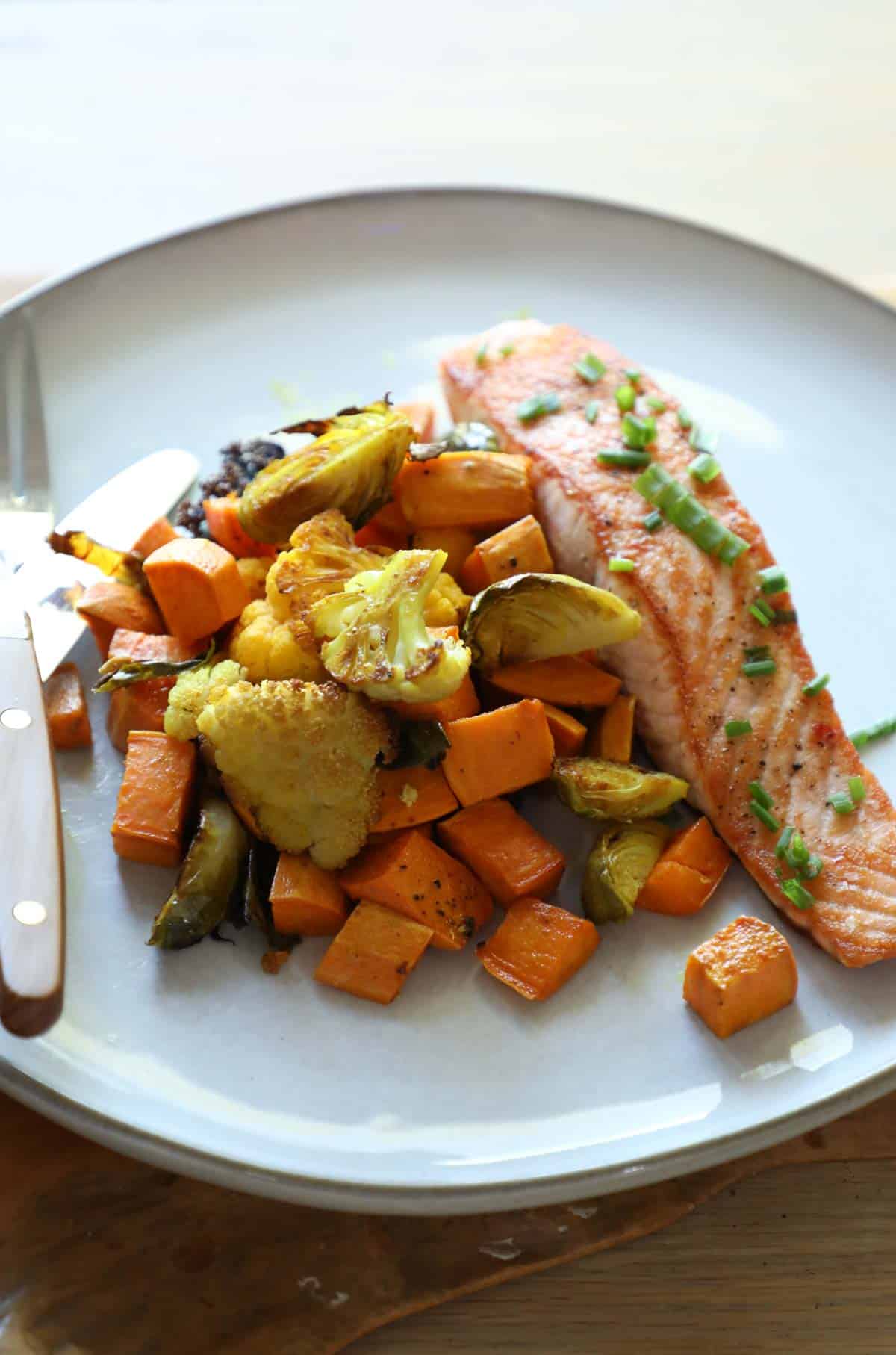 The Ingredients:
Rainbow Cauliflower is coming into season! And I just love it. It's so vibrant and beautiful and while it tastes the same as regular cauliflower, it will add greater interest to your plate.
Sweet Potatoes will provide a wonderful sweet starchiness to the vegetables which makes this dish more filling.
Brussels Sprouts are best roasted which will leave them crispy and slightly charred, bringing out their flavor.
Avocado Oil or Olive Oil for tossing the vegetables before roasting. I prefer the avocado oil since it has a low smoke point and can withstand the high heat of a 475F oven.
Blood Orange After the salmon finishes cooking in the oven, you'll squeeze a little orange juice on top of the fish. This is in lieu of a sauce and creates a wonderful healthy finish to the fish. For a more decadent sauce try my Salmon with Beurre Blanc Sauce or my Salmon with Tzatziki Sauce.
Salmon Filets For this recipe I prefer using salmon without the skin. Since I use the leftovers for a salad the next day, not having the skin on prevents the fish (and your refrigerator!) from becoming too "fishy". But the skin is totally edible and many people enjoy the skin and will sear it skin side down first to get that crispiness so really the choice is yours.
Salt and Pepper to Taste Seasoning the fish before searing is easy! All it needs is a little kosher salt and freshly cracked pepper
Turmeric is used to flavor the vegetables and for some added health benefits. I had no idea turmeric had so many wonderful health benefits until I started cooking with it. This Healthline Article does a good job explaining all its benefits.
Chives I like to finish the salmon with some snipped chives just before serving. But dill or parsley would also be great too.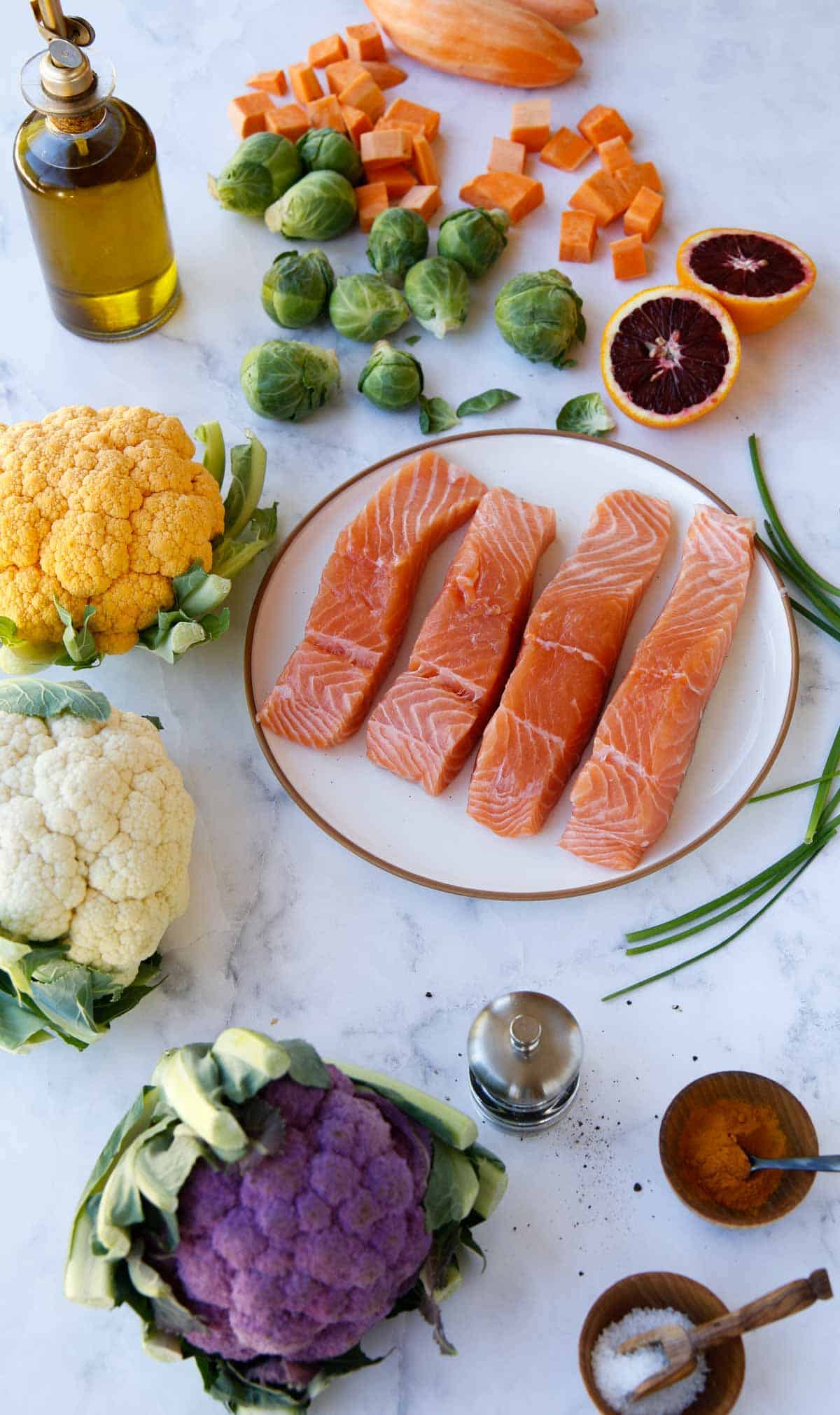 Subscribe for weekly recipes
and new videos!
Rainbow Cauliflower
Every spring with this colorful cauliflower starts to appear I'm always a sucker for it. It's wonderful roasted or raw. In fact, it makes a beautiful addition to any crudite platter and I serve it frequently with my Beet Hummus in the spring for a vibrant appetizer platter.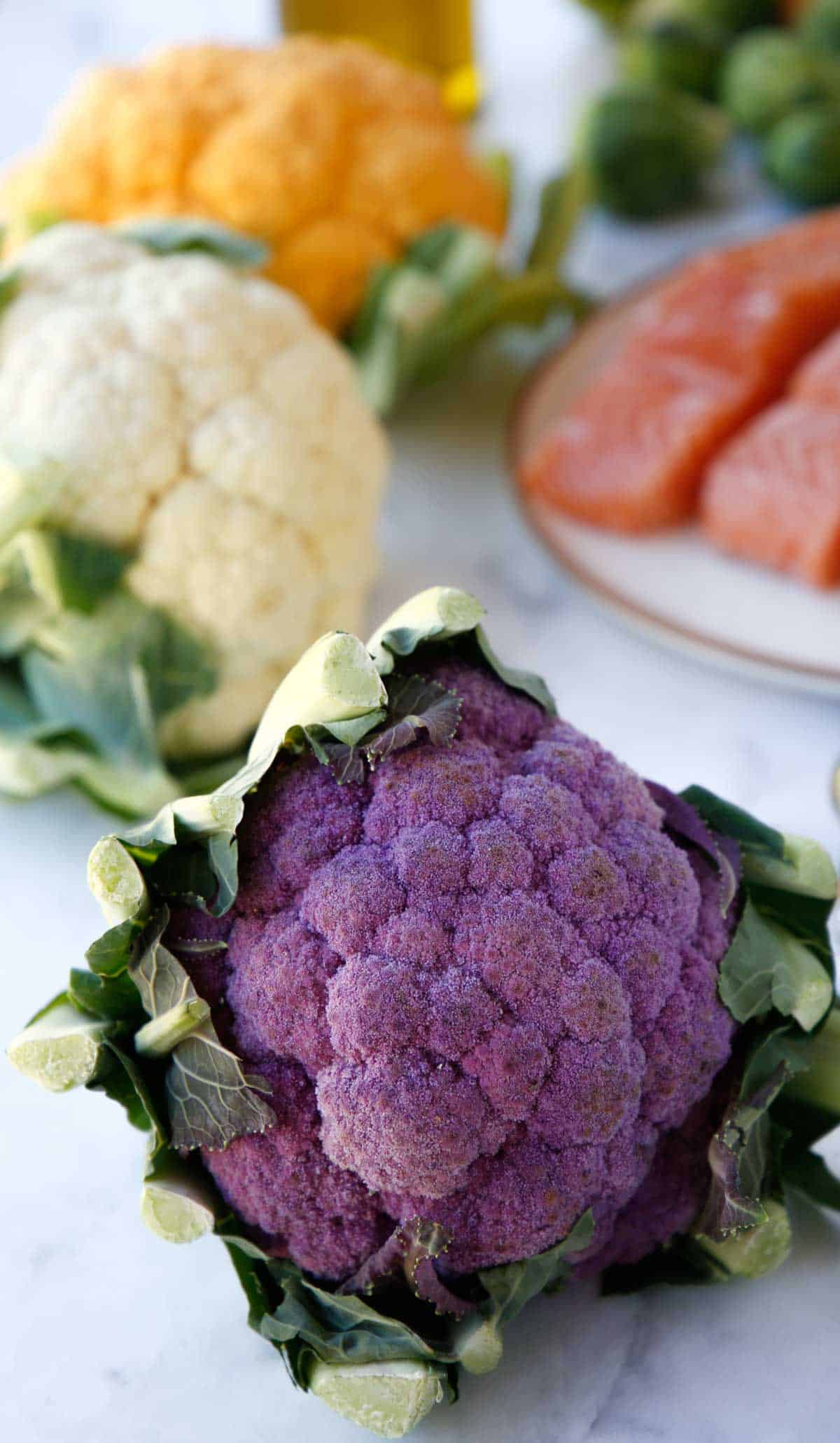 Watch My Video Demo Of This Recipe Below!
Tips for Roasting Vegetables
Be sure the vegetables have been patted dry after rinsing. This will prevent them from steaming up and instead will crisp up.
Cut the vegetables according to their density so they cook at the same rate.
I keep the sweet potatoes small since they are the densest and could take the longest to cook through. The cauliflower will cook the fastest so you can keep the florets medium in size and the Brussels sprouts should be quartered.
It also helps to place the vegetables such as the cauliflower and the Brussels sprouts, cut side down so they crisp up
Do not overcrowd the tray they need room to roast or they will steam up instead.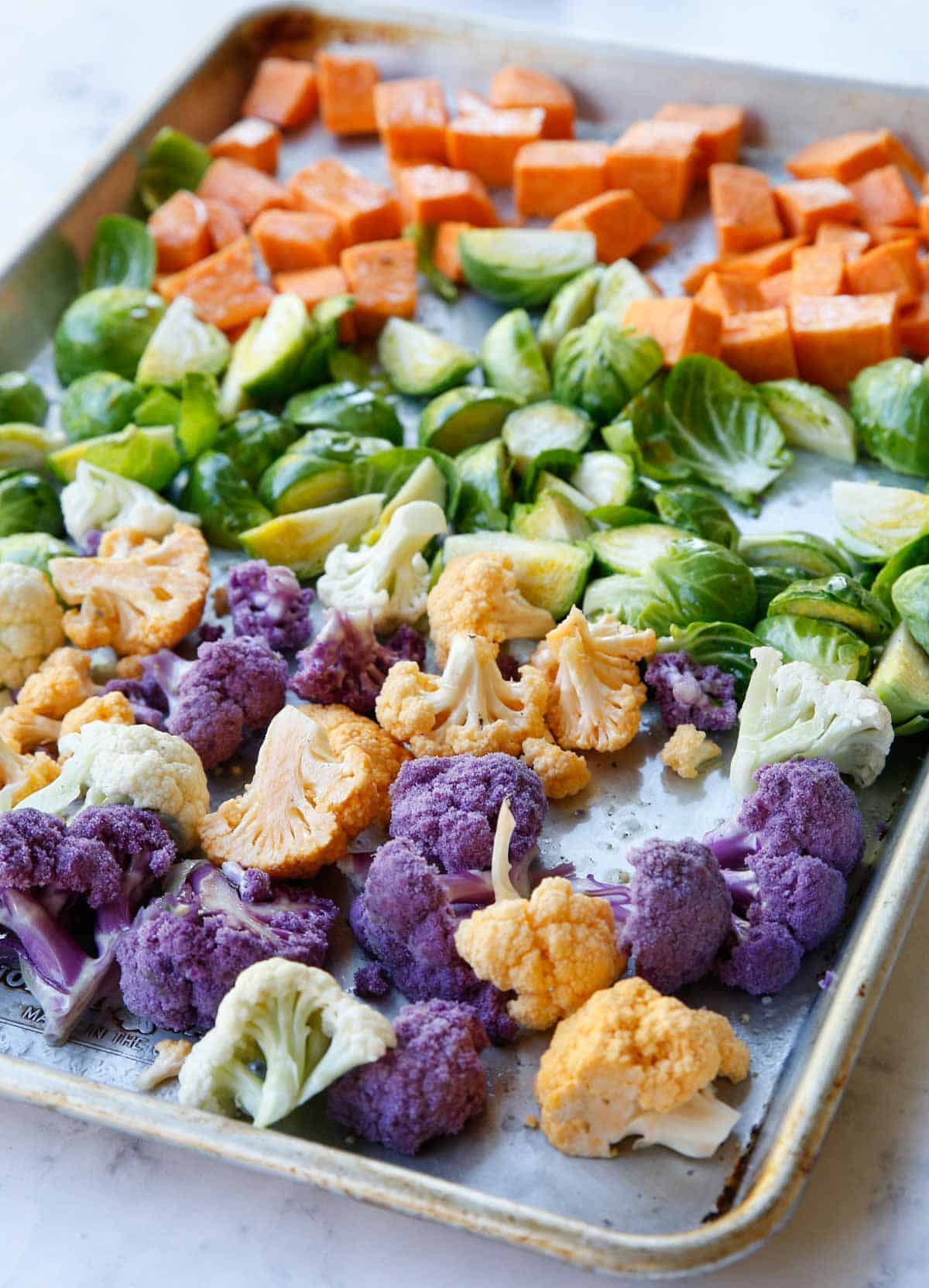 Tips for Pan Searing Salmon
Use a good non-stick pan.
I have recently fallen in love with The Green Pan. This Skillet Set on Food52 is what I use and the non-stick properties are unbelievable! I also love the soft muted colors and gold handle.
These pans don't require a lot of oil, so I just use ½ teaspoon of coconut oil to achieve the perfect amount of browning and crispiness on the fish. This pan is also great for making my Peach Tarte Tatin recipe as well!
For salmon that is cooked to perfection, pan sear it for 3-4 minutes, flesh side down, then flip it cook for another 1-2 minutes, and then finish cooking in the 475F oven with the vegetables for 1-2 minutes more until it's cooked through.
This is also the technique I use for my 15-minute Salmon Bowls with Rice, and it's such a quick and easy preparation for a healthy weeknight meal!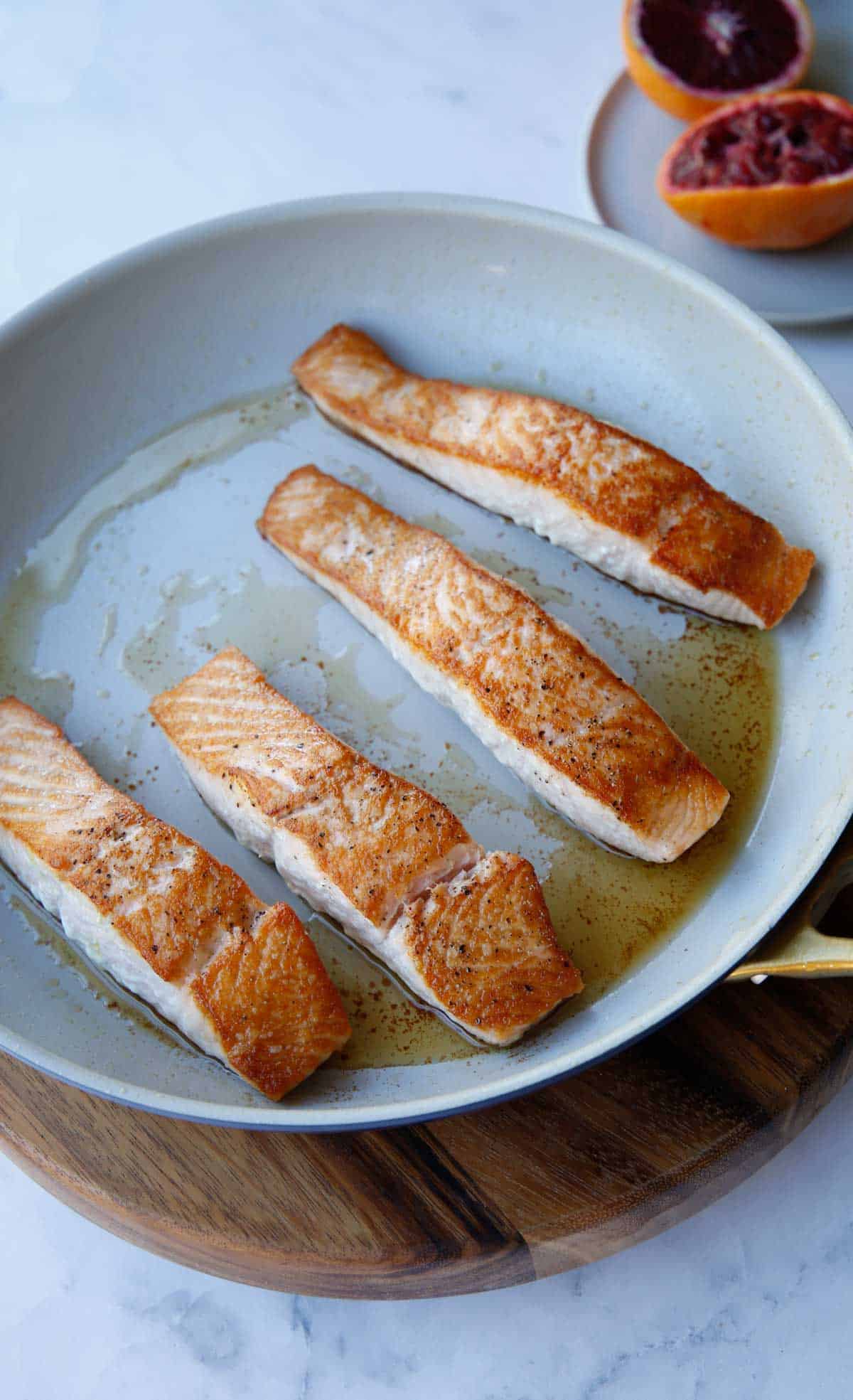 How To Know When The Salmon Is Done?
This is something you will begin to recognize with practice.
Look for when the salmon starts to plump up at the sides, is completely opaque on the sides and starts to flake apart ever so slightly at the top.
But for a foolproof method use a meat thermometer to check for doneness. I think salmon is best served somewhere between medium rare and medium which will register between 125F-130F on your thermometer when inserted into the thickest part of the filet.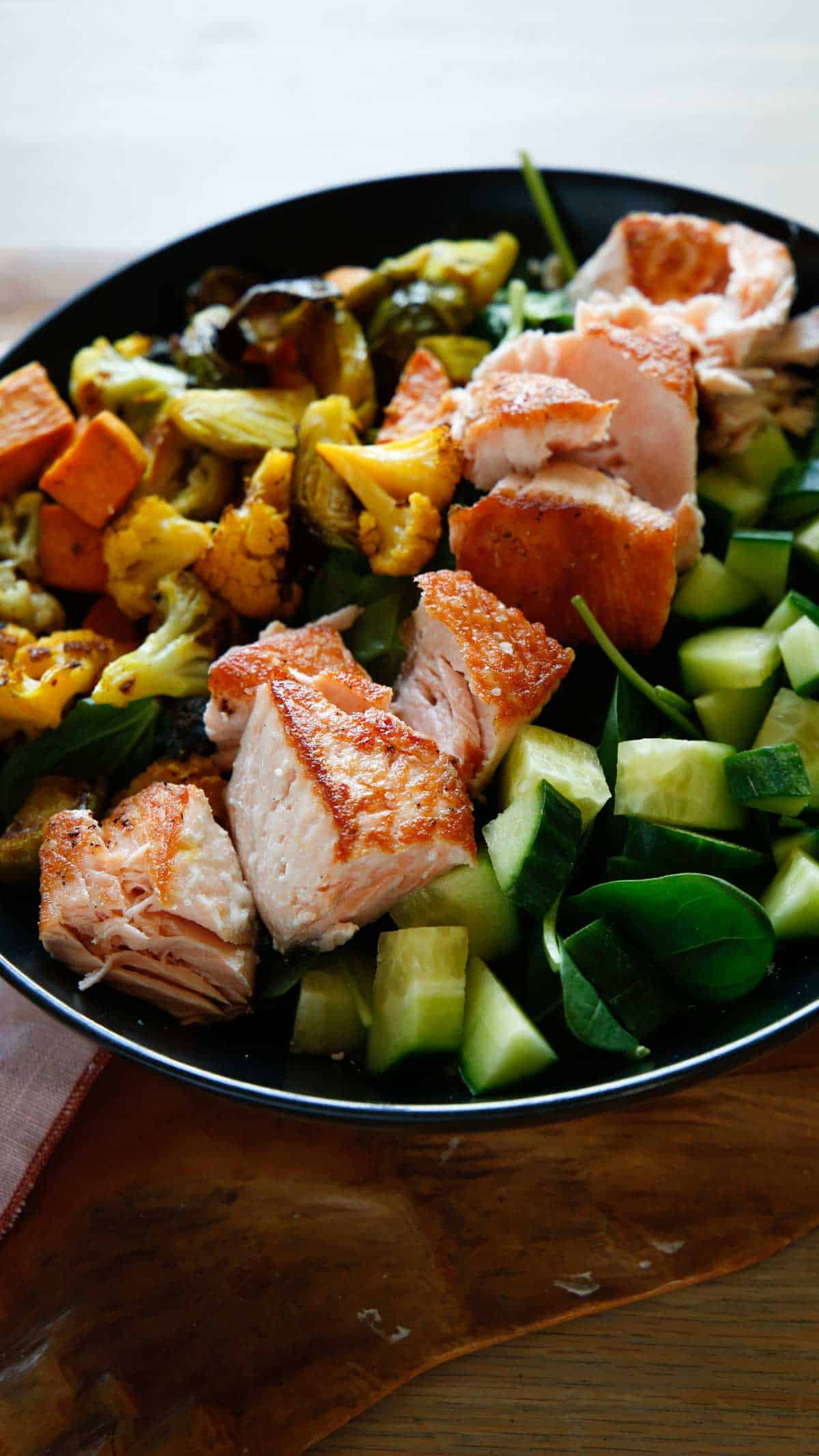 Using the Leftover For a Healthy Lunch Idea!
If serving the dinner for 2, just wrap up the rest of the cooked salmon and vegetables and place them in the refrigerator for the next day.
Then serve the salmon and vegetables on a bed of spinach with goat cheese, pinenuts and cucumber, all of which are delicious flavors with the salmon.
Pull the salmon apart into chunks by separating it with 2 forks
And whip up a quick and easy salad dressing with Dijon Mustard, the rest of the blood orange, grapeseed oil, chives and salt and pepper.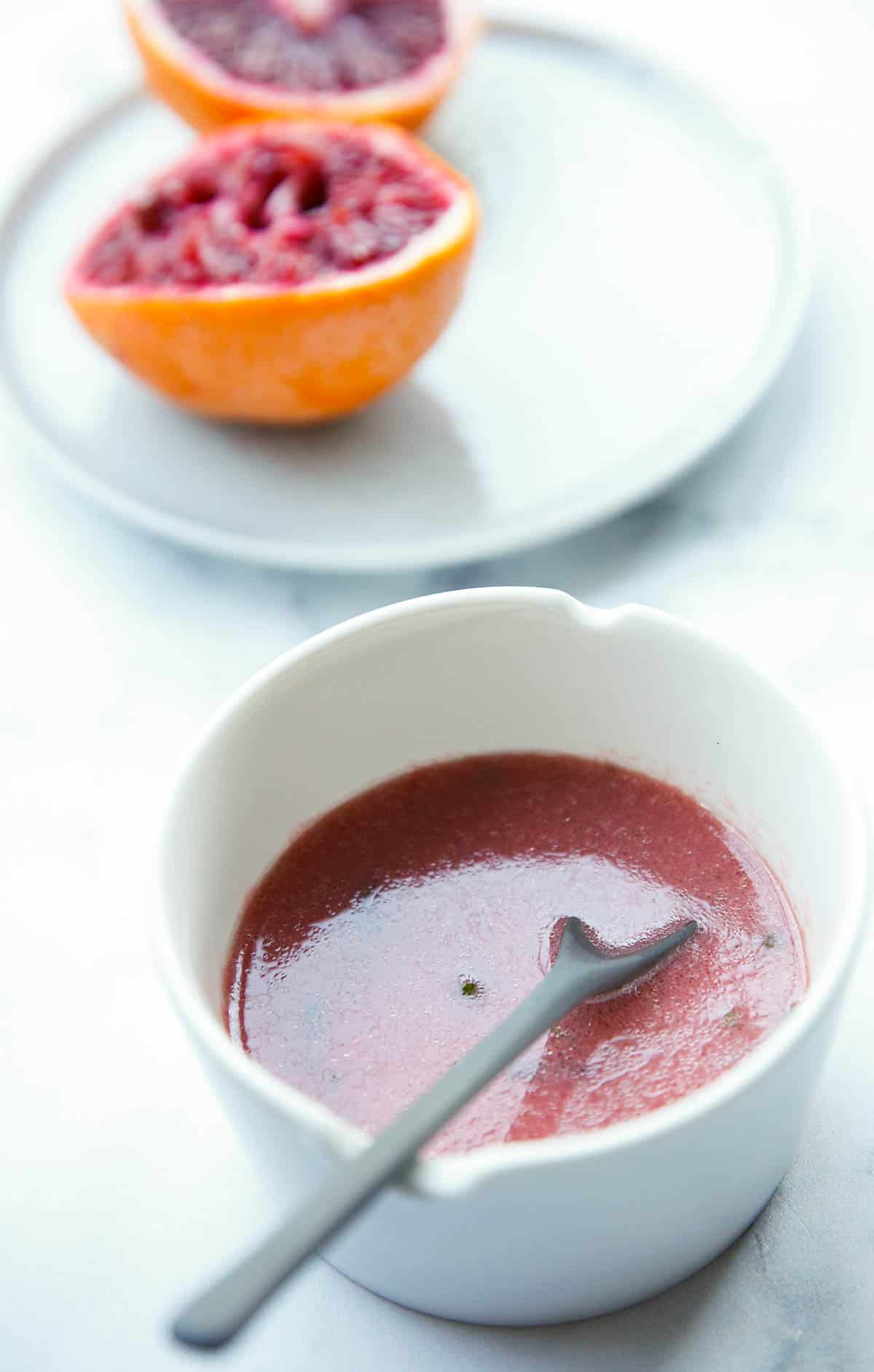 More Great Dinner Ideas!
If You Enjoyed This Recipe
Please Leave a Rating and A Review Below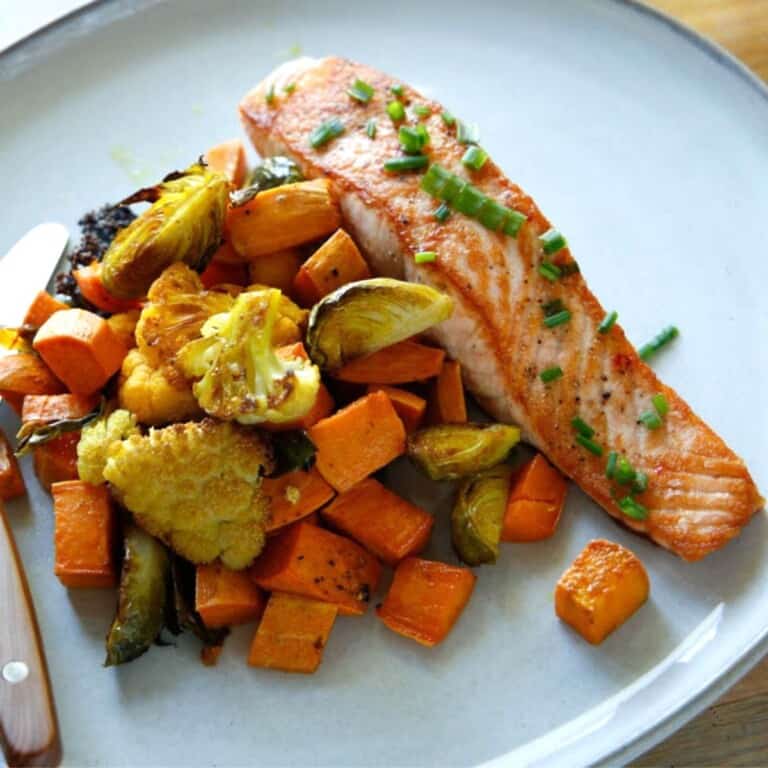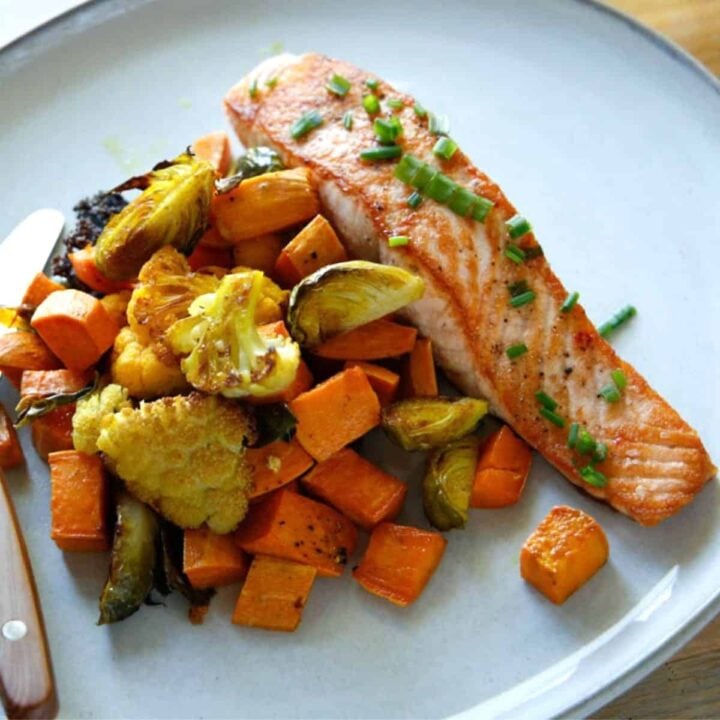 Pan Seared Salmon with Vegetables
A delicious pan-seared salmon with roasted vegetables that is easy enough for beginners to master! Dinner in 30 minutes or less.
Ingredients
FOR DINNER:
2 cups sweet potatoes cut into cubes
2 cups Brussels sprouts, quartered
4 Cups Cauliflower, cut into florets
Avocado Oil
Salt and Pepper to Taste
Ground Turmeric to taste
4 Salmon Filets (4-6 oz)
½ teaspoon Coconut Oil
1 orange (Blood orange, Cara Cara Orange or Navel Orange)
1 tablespoon fresh chives
FOR LUNCH:
Washed bag of baby spinach
A spoonful of Crumbled Goat Cheese for each bowl
A spoonful of pine nuts for each bowl
1 tablespoon (15ml) Dijon Mustard
½ blood orange
6 tablespoon (90ml) of grape seed oil
fresh chives to taste
salt and pepper to taste
Leftover roasted veggies
Leftover roasted salmon
Cucumber to taste
Instructions
Preheat oven to 475F.
Place vegetables on a sheet pan, spray with Avocado Oil, season with salt pepper and turmeric. Place in the lower third rack of the oven for 15-20 mins until roasted and slightly charred. (Leaving middle rack open for the fish)
Meanwhile, heat a large, non-stick 12" skillet on the cooktop. Melt ½ teaspoon of coconut oil in the pan. Season flesh side of salmon with salt and freshly cracked pepper to taste.
For salmon that is cooked to perfection, pan sear, flesh side down, for 3-4 minutes, then flip once golden brown, and cook for another 1-2 minutes, and then finish cooking in the 475F oven with the vegetables for 1-2 minutes more until it's cooked through. I think salmon is best served when an internal temperature of 125F-130F is reached, medium-rare to medium.
Squeeze ½ of orange over fish while it's in the skillet. Then transfer fish onto a plate. Add chives and serve with roasted veggies.

For The Salad:
Place a few handfuls of spinach in a salad bowl. Top with goat cheese, and pine nuts. Add a few spoonfuls of the roasted vegetables on one side, and the chopped cucumbers on the other side. Then cut the cooked salmon by pulling it apart with two forks, add the salmon chunks to the center of the salad.

For the dressing: Add the mustard to a small bowl, whisk in the orange juice, add the oil in slowly whisking to combine, season with salt and pepper and chives. Serve with the salad.
Notes
I prefer to buy the salmon filets without skin because I save the cooked salmon for a salad the next day.
The skin can make it turn a bit fishy if refrigerating overnight.
Otherwise, if you are only serving it once and like the crispy skin, go for it! Just sear the salmon skin-side down to begin and then flip it.