The BEST Moist chocolate cupcake recipe that is melt-in-your-mouth delicious! Topped with silky smooth chocolate cream cheese frosting, and garnished with chocolate curls, this will be your new go-to chocolate cupcake recipe.
This is a perfect dessert recipe for Valentine's Day! For more romantic dessert ideas try my Raspberry Cheesecake my Foolproof Chocolate Souffle, or my Tiramisu Cupcakes.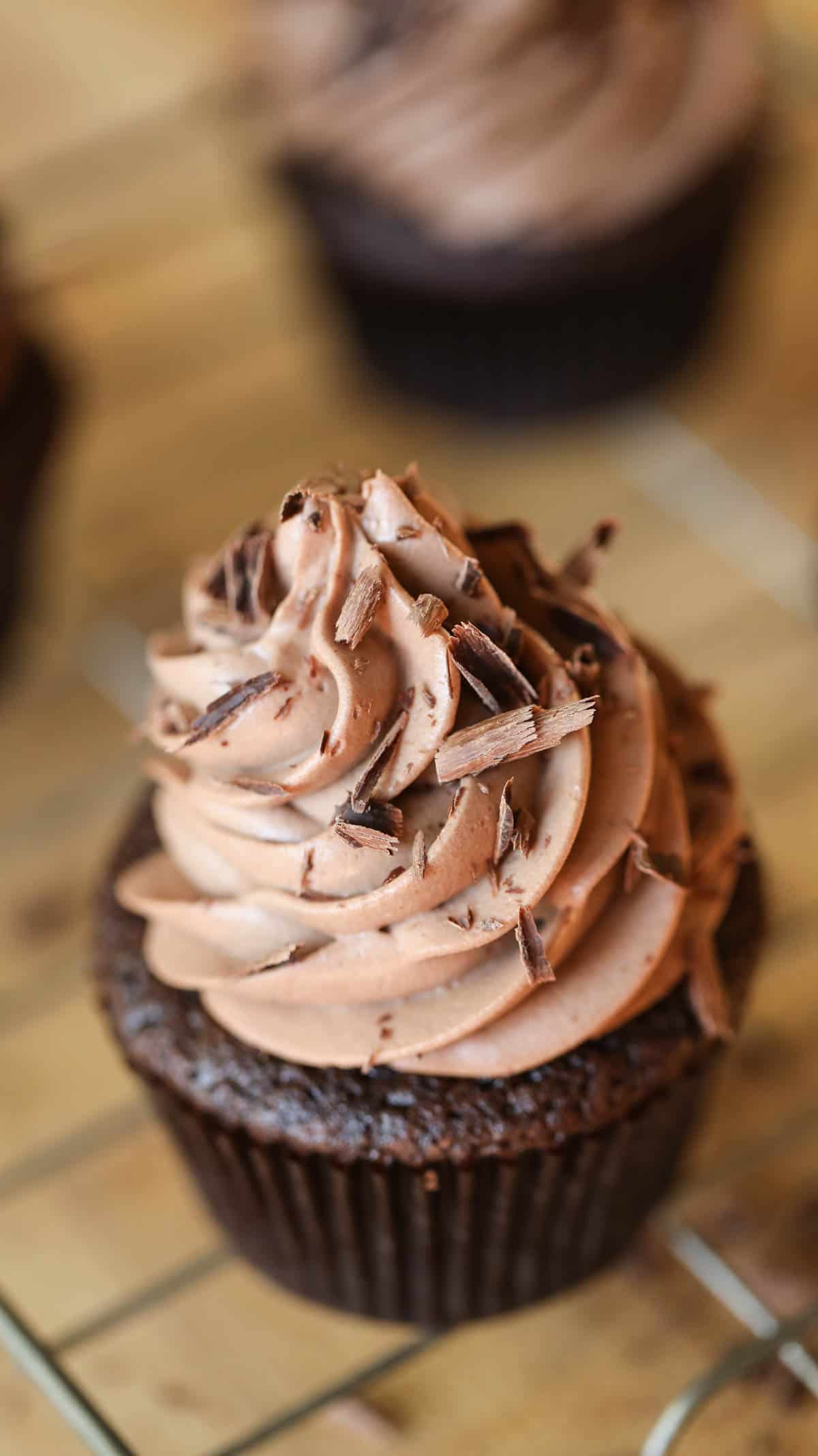 Why You'll Love these Cupcakes:
The cupcake is made with basic ingredients you probably already have on hand! (No need for buttermilk!)
The cake is so moist, light, and delicious!
Thanks to the combination of melted dark chocolate and unsweetened cocoa powder these cupcakes are extra chocolatey! This recipe is similar to my Chocolate Christmas Cake recipe which is a quick and festive chocolate cake recipe.
The frosting uses a cream cheese base, not butter, which lessens the need for a ton of powdered sugar like most buttercream frostings!
Watch My Video Demo Of This Recipe
(NOTE: My Strawberry Cupcake Recipe is also featured in this video)
The Ingredients:
Dark Chocolate Chips I use these in addition to the unsweetened cocoa powder for the best rich, chocolatey flavor. My favorite brand is Nestle's Dark Morsels. They are the best! Not overly sweet and full of chocolate flavor. The recipe only calls for 2 tablespoons of the chips so you can use up the rest of the bag in my Chocolate Chip Oatmeal Cookies or my Chocolate Chip Banana Muffins.
Unsweetened Cocoa Powder Use the Natural Unsweetened Cocoa Powder, not Dutch Processed. My favorite brand is Hershey's I find I get the most consistent results with it.
Hot Water The hot water will help the cocoa powder "bloom" and bring out its best flavor it will also help melt the chocolate chips too.
Vegetable Oil I prefer the oil over butter in this recipe because I find it will create a super moist chocolate cupcake!
Eggs You'll need two.
Sugar I prefer white granulated sugar. The whiter, the finer the better! This is what gives you the best light and fluffy texture. Stay away from the coarse, natural-looking sugars it will create a denser cupcake.
Vanilla extract Be sure you are using pure vanilla extract (not imitation vanilla extract) My personal favorite vanilla extract is Trader Joe's Pure Vanilla. It will give you the best flavor, and consistency for the price.
All-Purpose Flour I know there are bakers out there that swear by cake flour for cupcakes, but honestly, I cannot see the difference so I say you can make things easy on yourself and stick with the all-purpose flour.
Baking Soda I don't use too much baking soda in order to prevent "the dome effect" on the cupcake. Domed tops are nice for muffin recipes but not great for cupcakes since it makes them harder to frost.
Salt will boost all that wonderful chocolate flavor!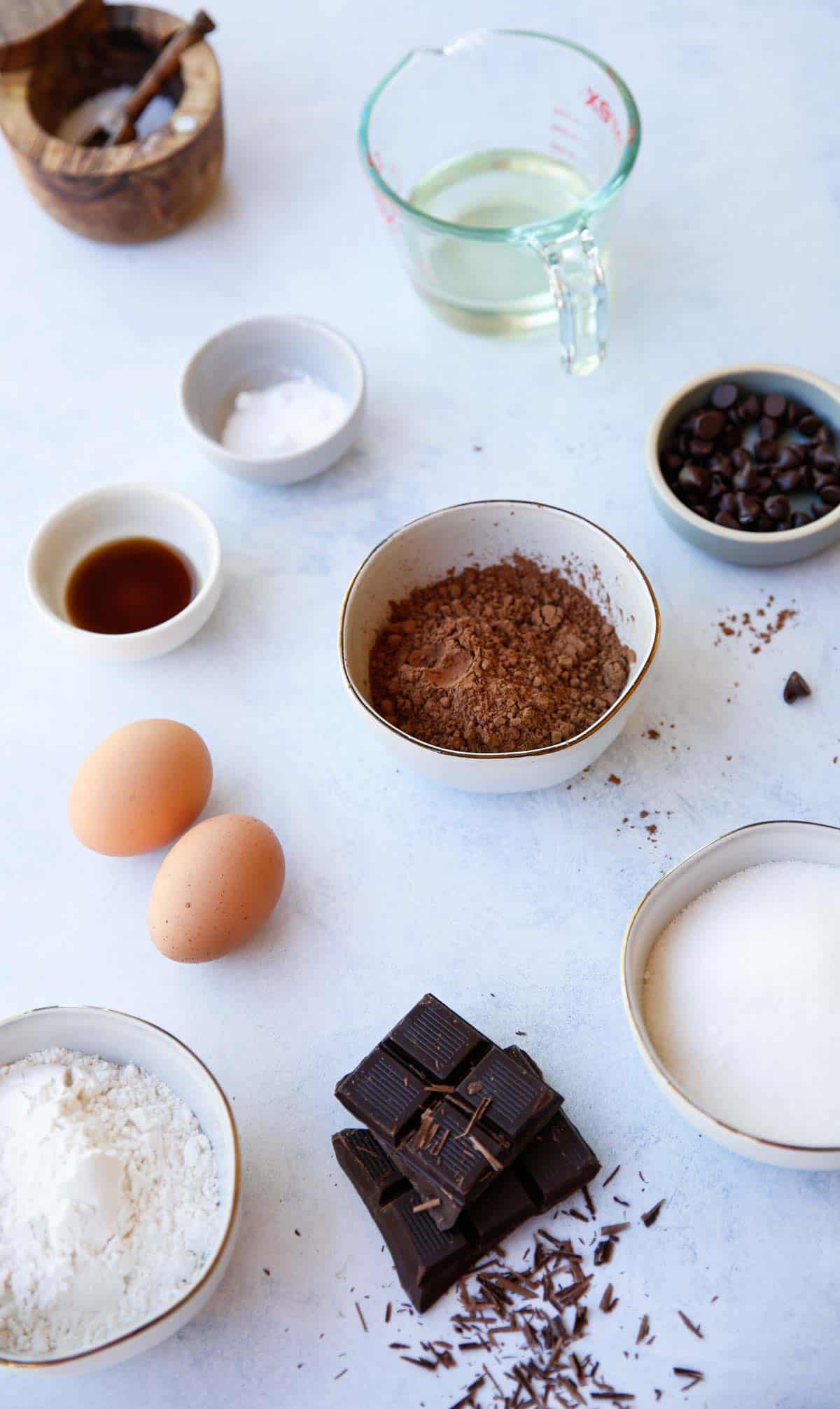 A Word About The Cupcake Batter:
What makes these chocolate cupcakes so moist and delicious is the fact that they don't call for a lot of flour, but the trade-off is a runny batter!
For this I recommend filling the cupcake liners with an ice cream scoop, it's a little less messy that way, and will assure an even quantity of batter will be distributed among the 12 cupcakes
I also like to use brown parchment paper liners because after the cupcakes are baked they blend into the cupcake and allow the frosting to "pop" making for a dramatic presentation.
Only fill the cupcake liners about ¾ full so they don't spill over while in the oven.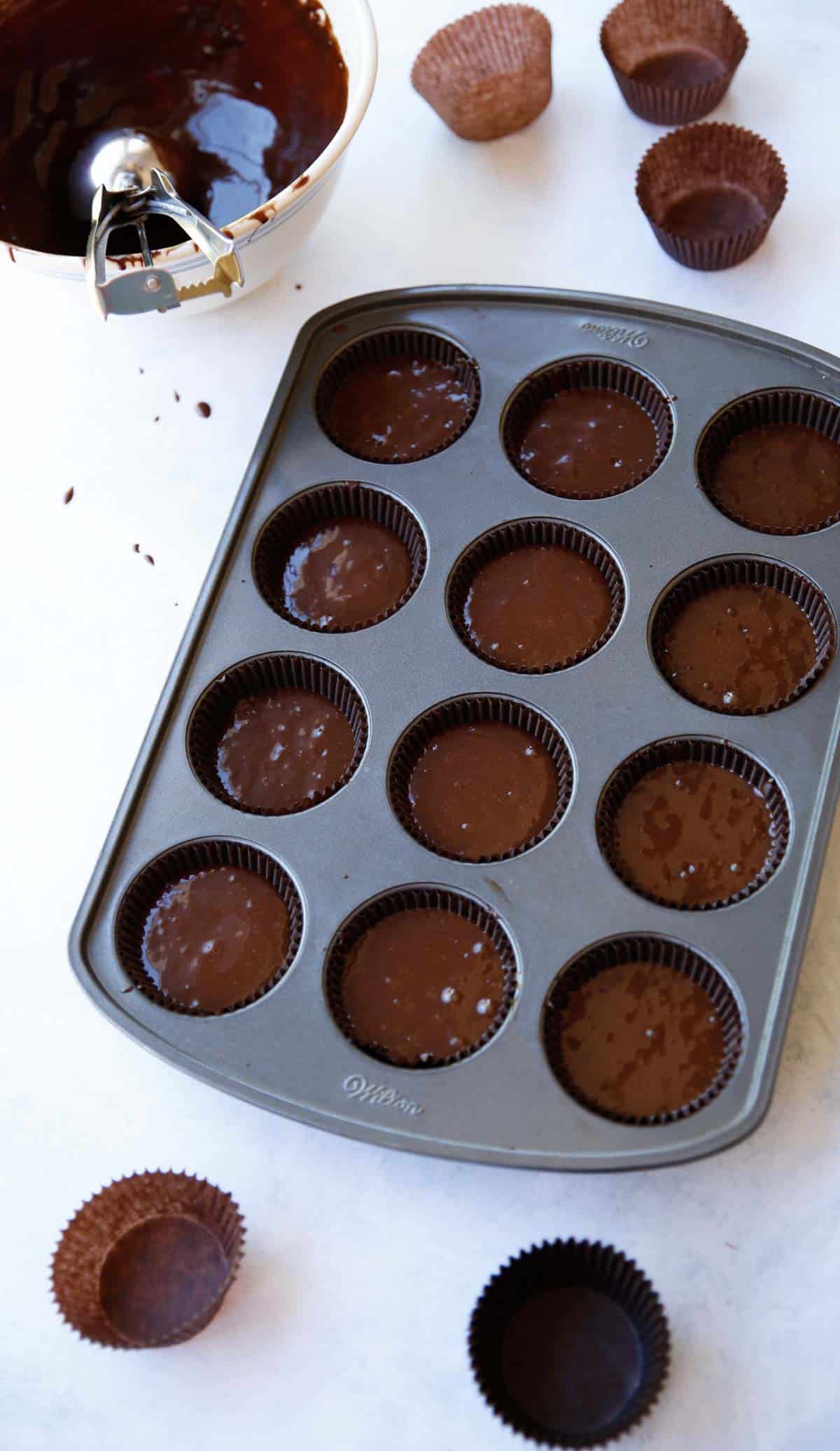 Tips for The Best Chocolate Cream Cheese Frosting:
Use whipped cream cheese. This will make your cream cheese frosting extra light and fluffy.
Instead of adding butter, which I think makes the frosting too dense, I use heavy cream, this lightens the cream cheese and makes the frosting extra smooth and silky
Use a star tip for the best presentation. I use the 1C tip from the Kayaso Pastry Tip Kit and it works perfectly for a beautiful swirl.
The swirl also provides the perfect place to catch the chocolate curls once they are added on top.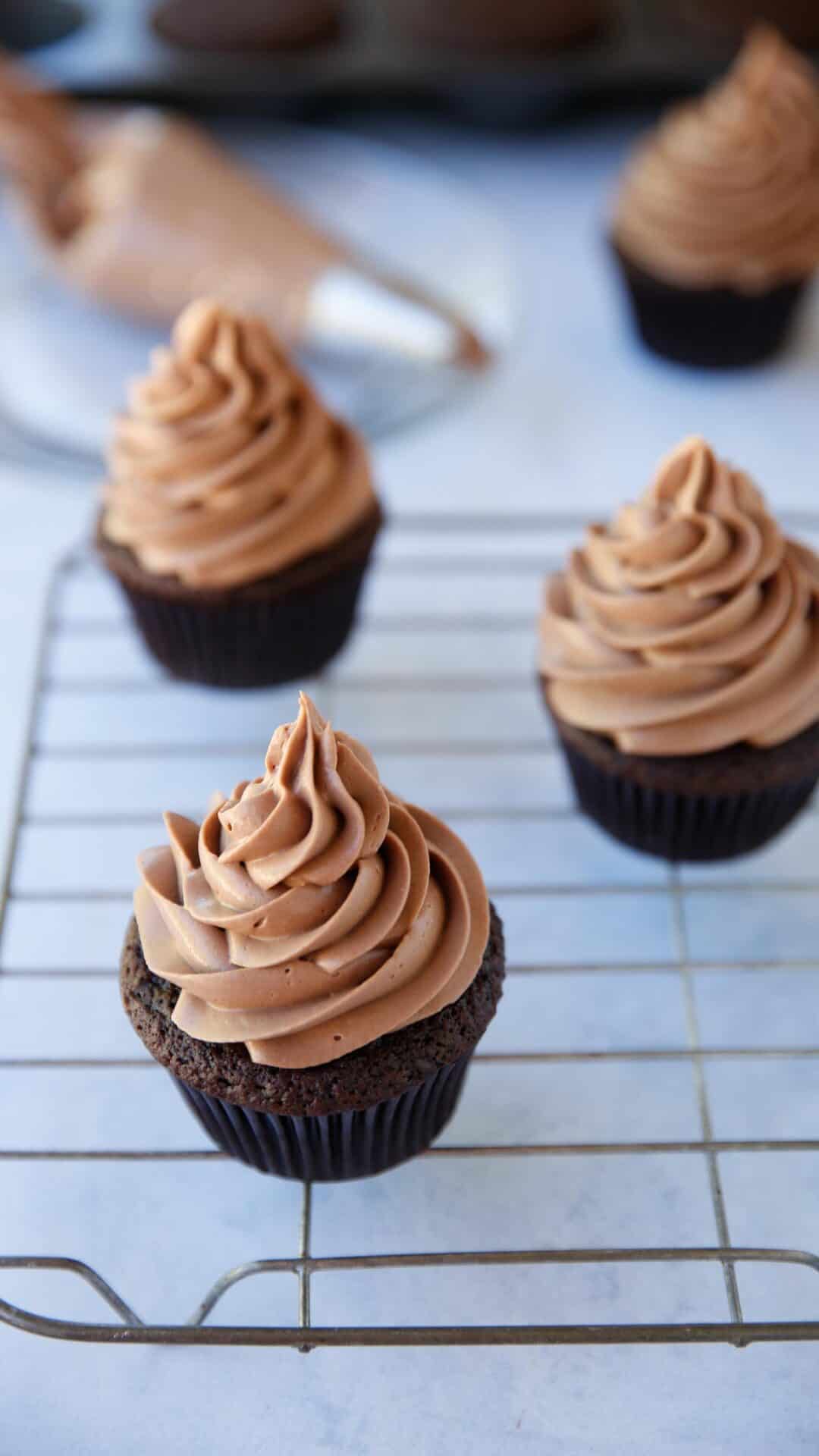 Storing the Cupcakes:
These cupcakes are best eaten the day they are made.
Once the cupcakes are cooled, frost them and garnish them and keep them refrigerated until ready to serve.
They can also be made 1 day ahead and frosted and still be pretty good!
Freezing the Cupcakes:
You can also freeze these cupcakes, unfrosted, for up to 1-month
To defrost, heat 2-3 on high in the microwave for :18-:30 until just warm.
Then allow them to cool and then frost and store in the refrigerator until ready to serve.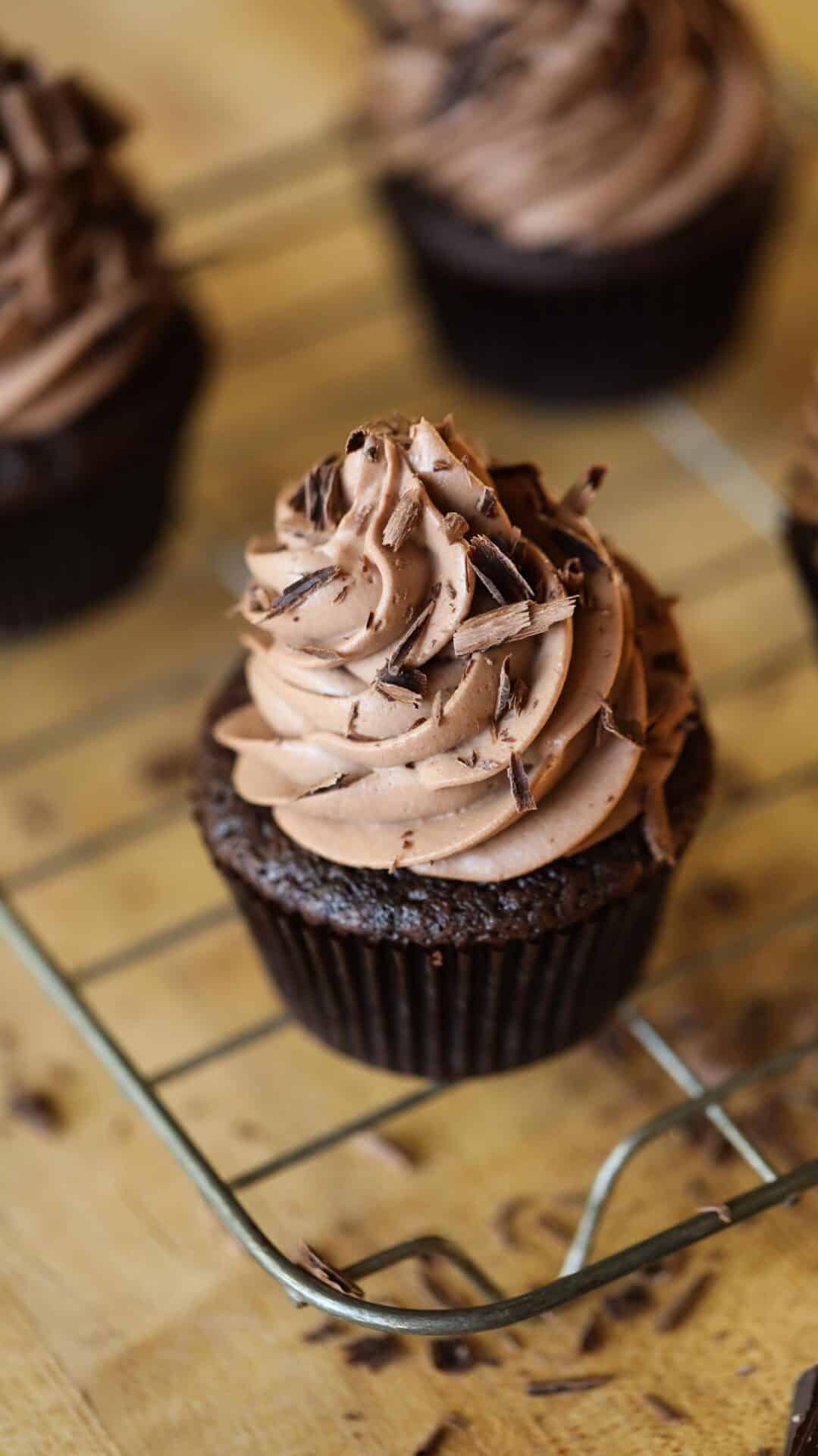 If You Enjoyed This Recipe
Please Leave a Rating and A Review Below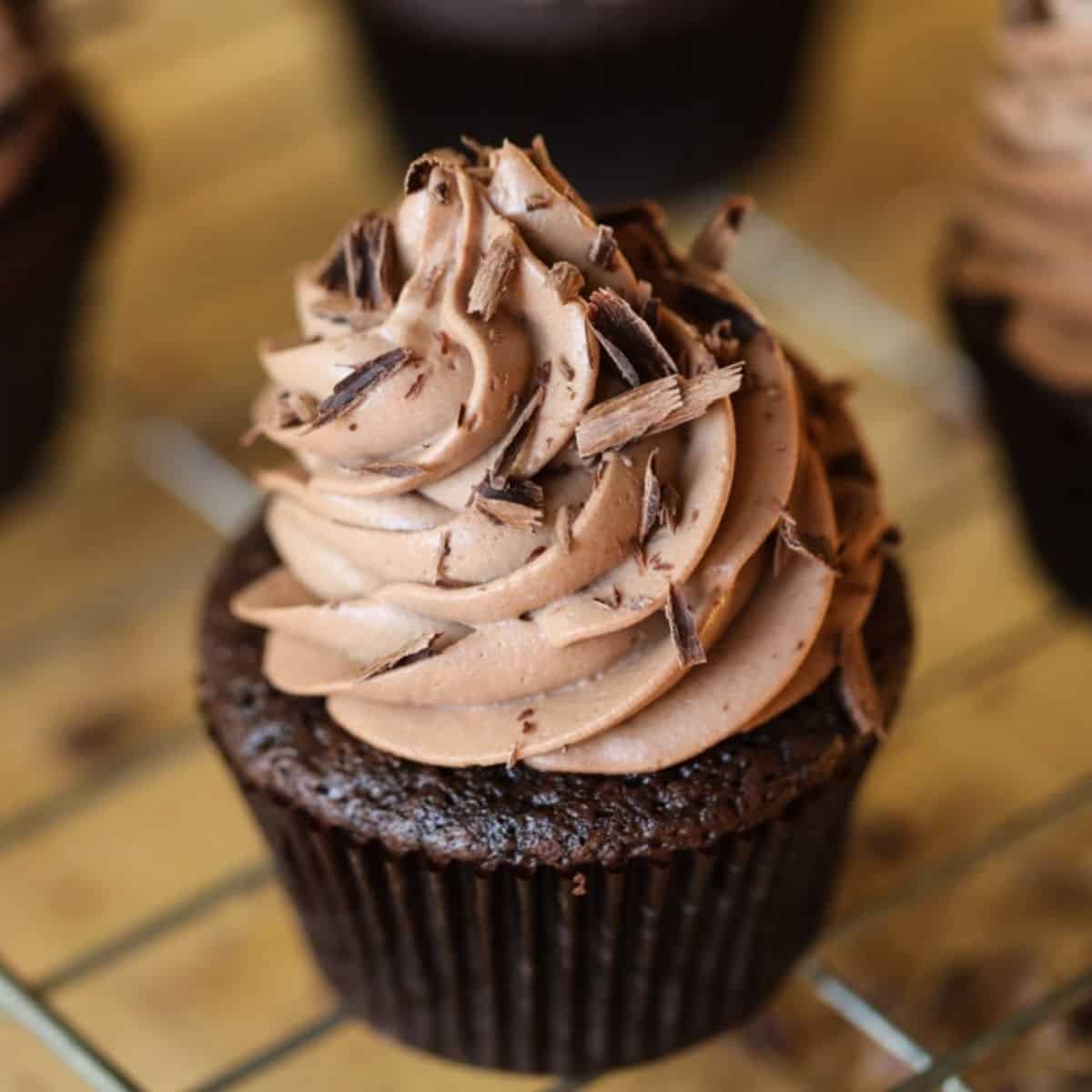 The Best Moist Chocolate Cupcake Recipe
The BEST Moist chocolate cupcake recipe will melt in your mouth! Topped with silky smooth chocolate cream cheese frosting, this will be your new go-to cupcake recipe.
Ingredients
2 tablespoon (30ml) Dark Chocolate Chips
½ cup (50 g) unsweetened Cocoa powder
½ cup (120 ml) hot water
1 cup (200 g) of sugar
½ cup (120 ml) vegetable oil
2 eggs
1 ½ (7.5 ml) teaspoon vanilla
⅔ cups (80 g) of flour
¾ teaspoon (8.75 ml) salt
½ teaspoon (2.5 ml) baking soda
Chocolate Cream Cheese Frosting:
16 oz (450g) whipped cream cheese
4 tablespoon (25g) Unsweetened Cocoa Powder
1½ cup ( 170g) powdered sugar
¾ cup (177ml) heavy cream
1 teaspoon (5 ml) vanilla
Dark Chocolate curls for garnish
Instructions
Preheat oven to 350F (175 C) degrees. Line a 12-well muffin tin with cupcake papers.
In a large heat-safe bowl, add the chocolate chips and the cocoa powder. Then pour the hot water over the top to combine. Add the sugar and oil, whisk to combine. Add the eggs and whisk until smooth. Add the vanilla. Set aside.
In a smaller bowl sift together the flour, salt, and baking soda. Add the dry ingredients to the chocolate mixture, in thirds, stirring gently with a wire whisk until combined.
Fill the cupcake wells ¾ of the way full. Bake 17 mins or until a toothpick comes out clean. Allow cupcakes to cool completely before frosting.
To make the frosting combine cream cheese, cocoa powder, and powdered sugar in a bowl and with an electric mixer beat until combined.
Add heavy cream and vanilla and beat until smooth and creamy.
Fit a pastry bag with your favorite star tip, pipe frosting, and garnish with chocolate curls made with a potato peeler and a dark chocolate bar.
Notes
The cupcakes cake be made a day ahead and left unfrosted, at room temperature lightly covered with foil.
If frosting ahead of time, they can be made up to 1 day ahead, frosted and garnished, placed in the refrigerator uncovered.
These cupcakes can also be frozen, unfrosted. Once cooled place them in a ziplock bag, and pop them in the freezer for up to 1 month. Then defrost in the microwave on high for :15-:30. Allow to cool before frosting.
Nutrition Information:
Yield:

12
Serving Size:

1
Amount Per Serving:
Calories:

242
Total Fat:

18g
Saturated Fat:

10g
Trans Fat:

0g
Unsaturated Fat:

6g
Cholesterol:

72mg
Sodium:

136mg
Carbohydrates:

16g
Fiber:

1g
Sugar:

9g
Protein:

5g