Strawberry Cupcake Recipe
This Strawberry Cupcake Recipe is the perfect cupcake recipe for Valentine's Day or Mother's Day too! They are moist and delicious and topped with the most smooth and creamy cream cheese frosting bursting with strawberry flavor!
For more Valentine's Day dessert recipes try my Foolproof French Macaron Recipe, my Raspberry Cheesecake Recipe , or my Foolproof Chocolate Souffle!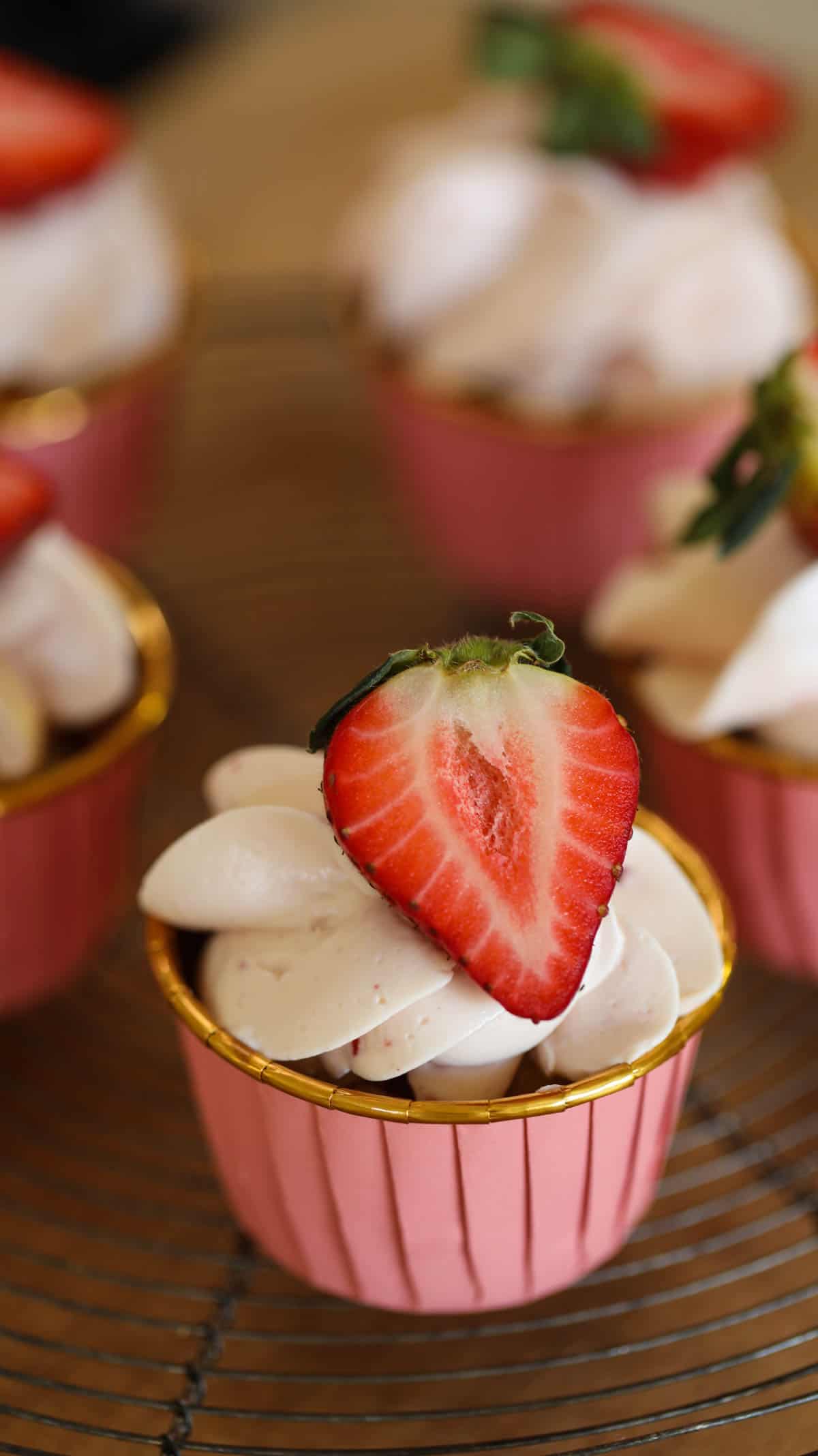 Why You'll Love These Strawberry Cupcakes
These cupcakes are so moist and delicious! They use fresh strawberries for the cupcake while the silky smooth cream cheese frosting uses freeze-dried strawberries whirled up in the food processor.
The freeze-dried strawberries create the most delicious strawberry frosting that is full of strawberry flavor and creates the most beautiful delicate color too!
These cupcakes also use basic ingredients you probably already have on hand! (No buttermilk needed!)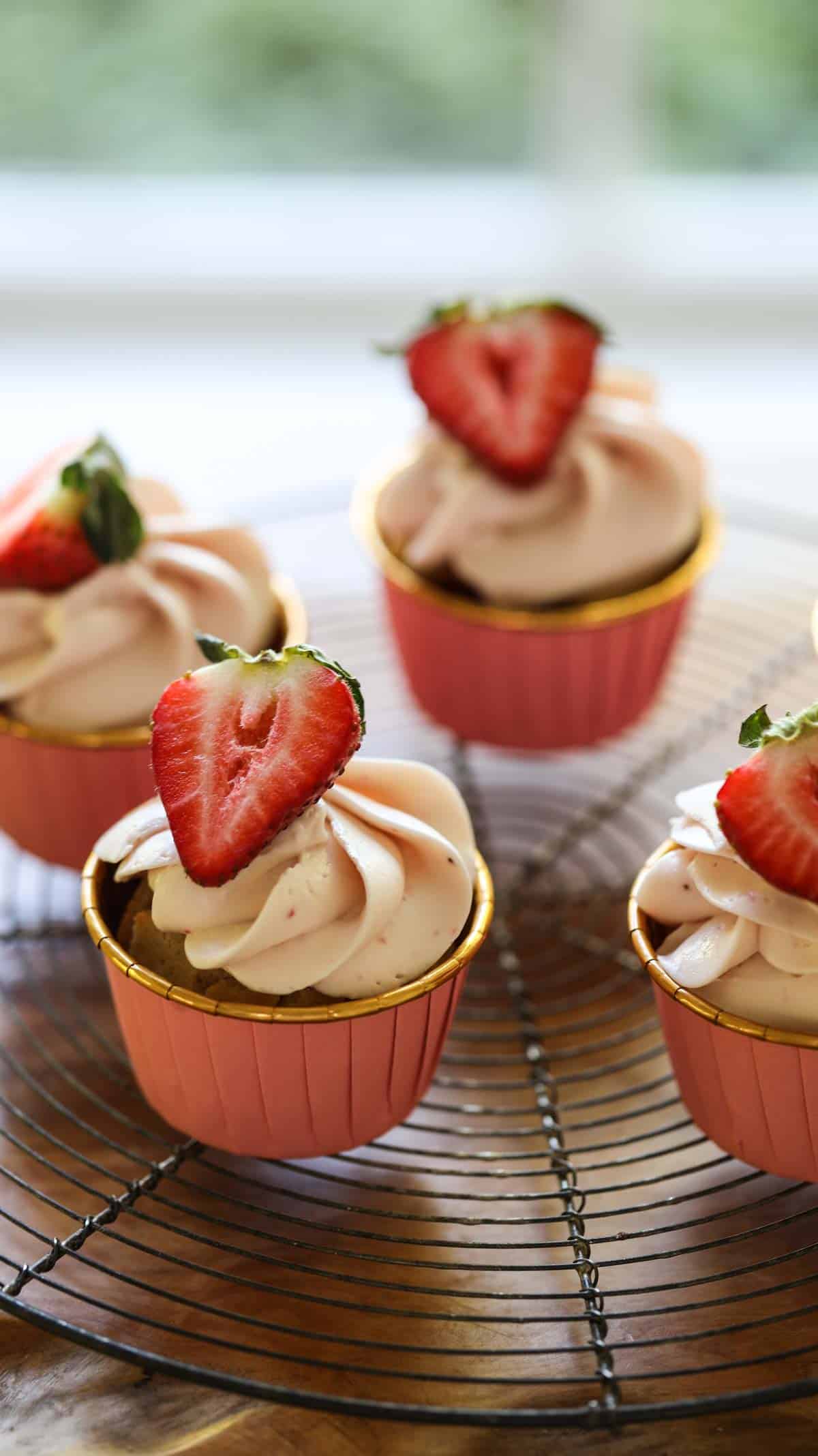 Watch My Video Demo Of This Recipe
(NOTE: My Moist Chocolate Cupcake Recipe is also featured in this video)
The Ingredients:
Butter I like to use melted butter for this recipe because I find it creates a lighter cupcake. If you live in the U.S. use salted butter because it has more flavor. But outside of the U.S. use unsalted butter since salted butter outside the U.S. is pretty salty!
Vegetable Oil I also like to add a little bit of vegetable oil as well to create even more moisture in the cupcake
Sugar I only use ¾ cup of sugar in this recipe because I don't like desserts to be overly sweet, but if you have a real sweet tooth you could increase it to 1 cup.
Vanilla Extract will give the cupcake a nice vanilla undertone in addition to the strawberry flavor
Eggs Use room temperature eggs they will be easier to incorporate into the oil and butter. If you forgot to take them out of the refrigerator you can place them in a bowl with warm water for 5-10 minutes to come up to temperature.
Water I'm a big fan of using water in my cupcake and muffin recipes because I find it creates a lighter crumb than milk.
All-Purpose Flour I have never seen a big difference between all-purpose flour and cake flour, so I make things easy and use the all-purpose flour.
Baking Powder I only use a teaspoon so the cupcakes don't rise too much which would then make them harder to frost!
Salt to boost the flavor of the vanilla and the strawberries
Fresh Strawberries you can also use frozen strawberries too. Buy the frozen sliced strawberries though, they will be easier to chop and use in the batter without the need for defrosting them.
Whipped Cream Cheese will create a lighter, fluffier frosting
Powdered Sugar dissolves best for a smooth frosting
Heavy Cream will create a silky smooth strawberry frosting
Freeze-Dried Strawberries creates a delicious full-flavored strawberry frosting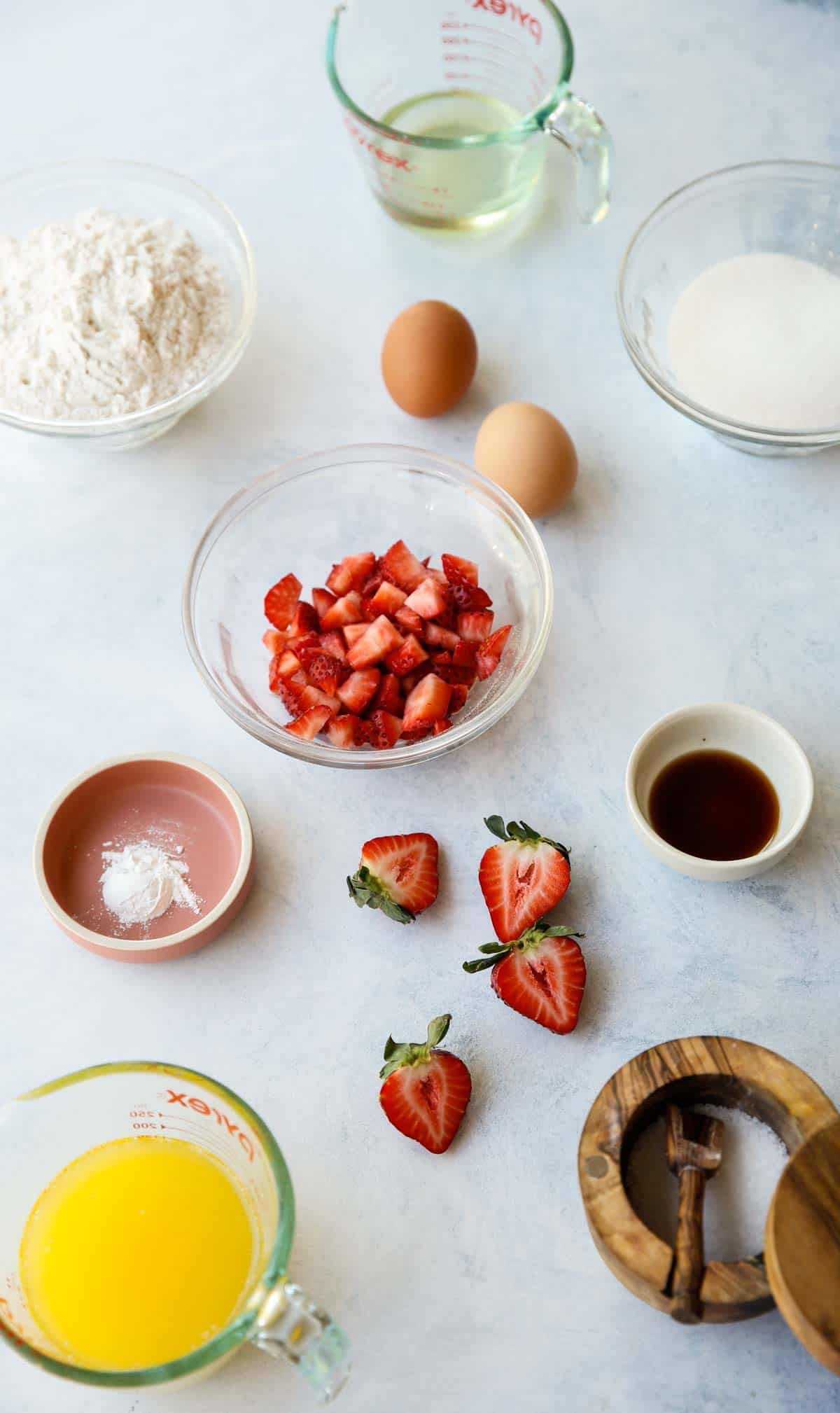 Filling The Cupcake Liners
I love these pink and gold cupcake liners. Not only are they bright and festive, but they are also really sturdy too! In fact, you could eat the cupcake right in the liner with a little spoon if you wanted to.
Fill the liners only ⅔ of the way full, this will give them room to rise and still allow room to add the frosting once they are baked.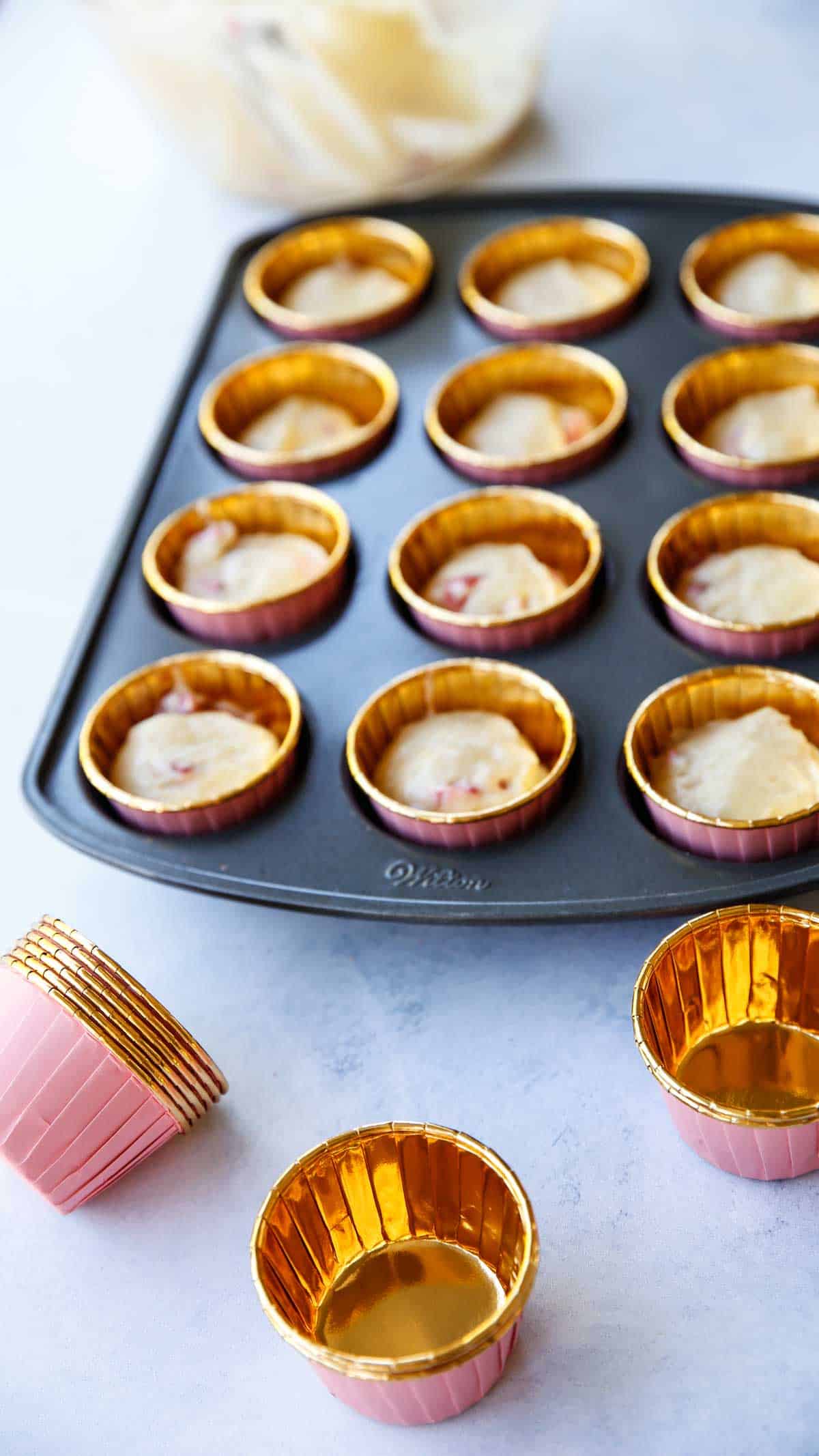 Making the Cream Cheese Frosting
The secret to making the delicious strawberry frosting is to use freeze-dried strawberries. They are so full of strawberry flavor and also help to create the most beautiful color too.
They whirl up easily in the food processor and turn into "strawberry dust" that is easily combined with the cream cheese.
It's easy to create lighter or deeper pink frosting depending upon how much "strawberry dust" you add. For the cupcakes pictured here, I used 1 Tablespoon of the dust and then use the rest in Breakfast Smoothie Recipes throughout the week.
Or another fun thing to do is create a variety of colors. Add the 1 tablespoon of "strawberry dust" first, create the pale pink frosting, frost 3-4 cupcakes, then add a little more of the dust, beat it into the existing frosting to deepen the color, frost a few more, and so on. This way you could create a beautiful Strawberry Cupcake Platter with varying degrees of pink frosting.
I've even used the whole bag of freeze-dried strawberries too to create a deeply flavored strawberry frosting that is fantastic! So really the choice is yours.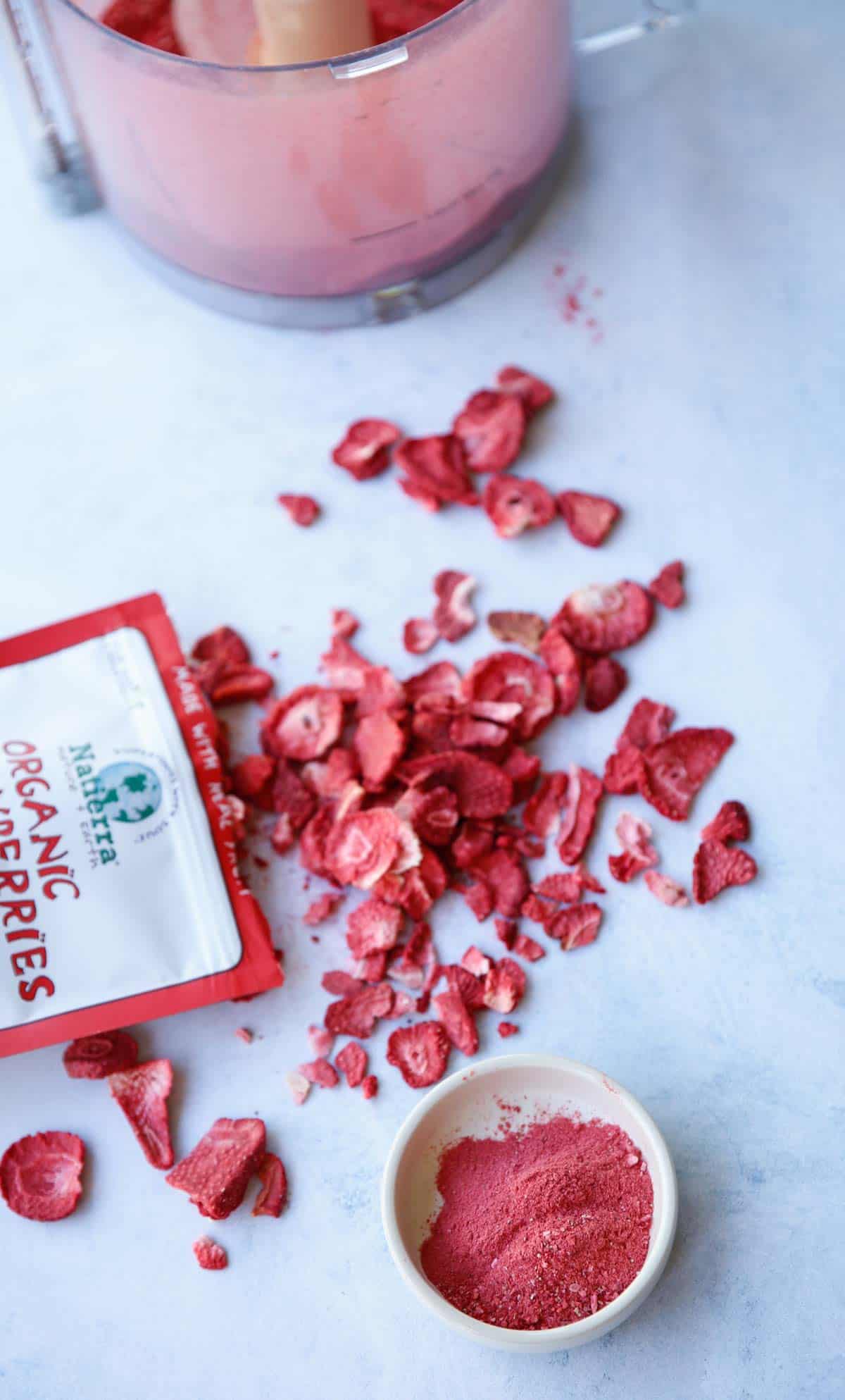 Garnishing The Cupcakes
I think these cupcakes are beautifully garnished with a fresh strawberry on top. I like to keep their green tops on too for another burst of fresh color, then slice them in half and place the cut side facing out. Sometimes the interior can even resemble a heart.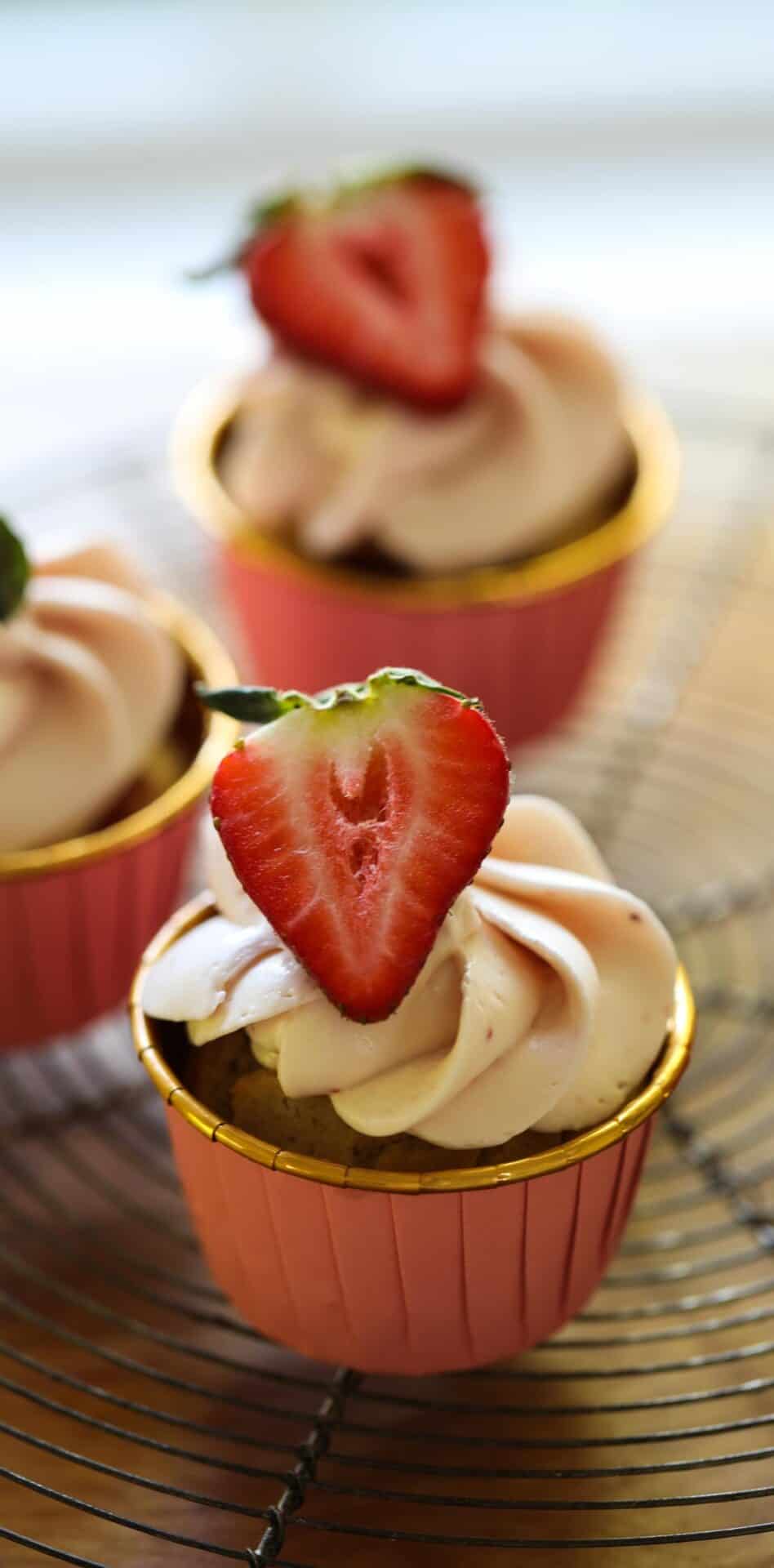 Serving Tips
These cupcakes are best enjoyed the day they are made.
But you can make them a few hours ahead, frost them, and then keep them refrigerated until ready to serve.
Then place the fresh strawberry garnishes on top, just before serving.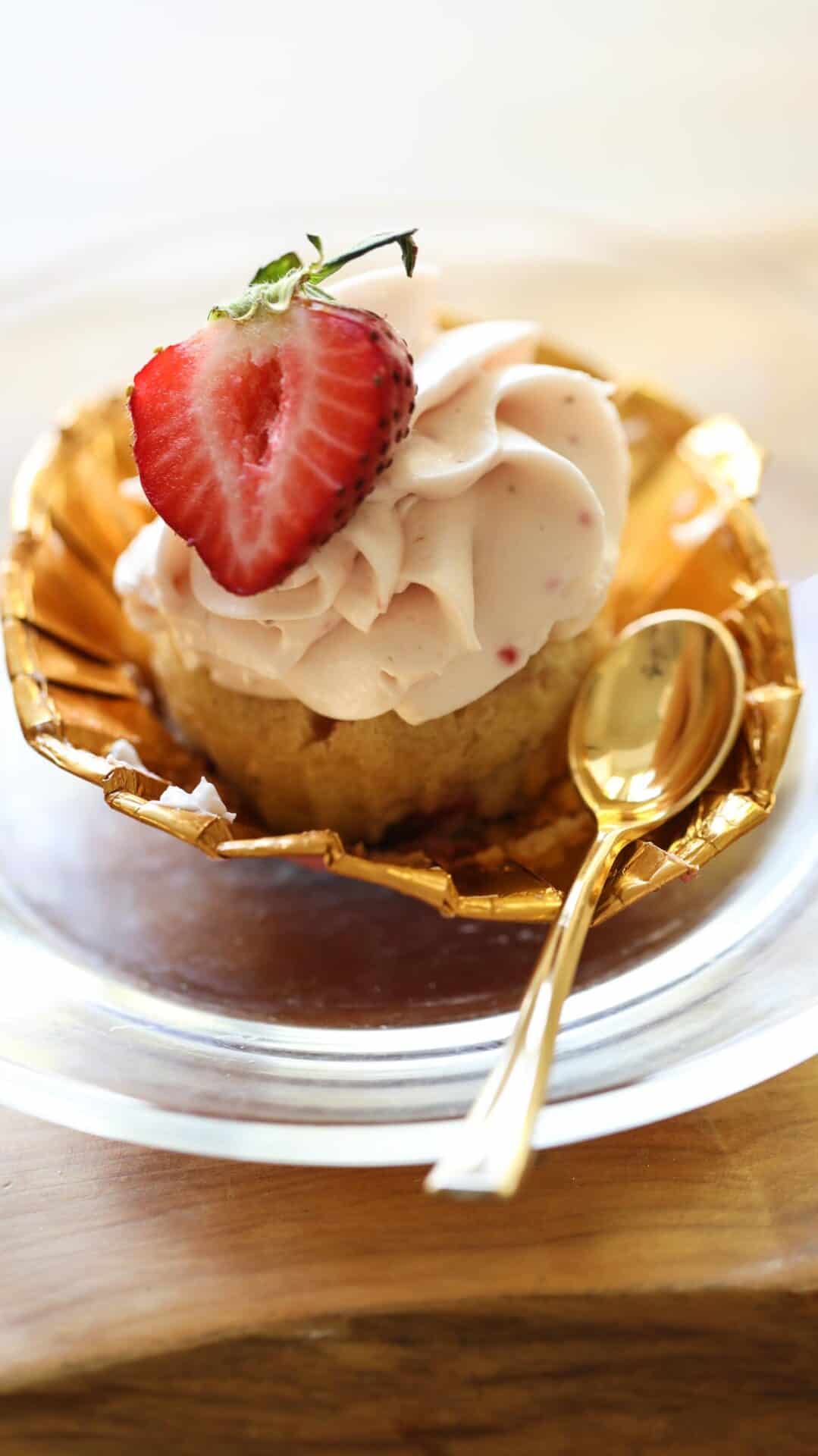 If You Enjoyed This Recipe
Please Leave a Rating and A Review Below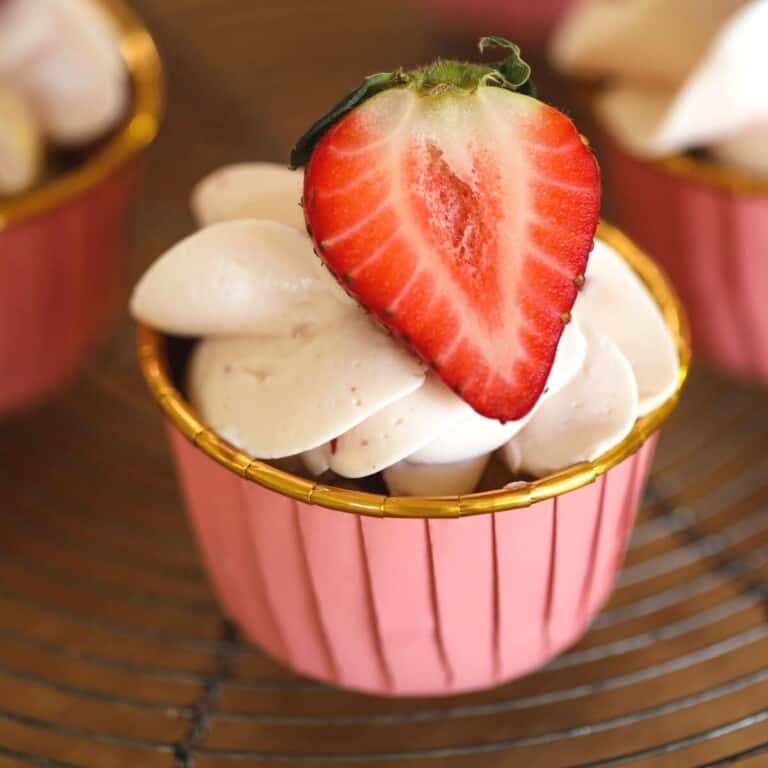 Strawberry Cupcake Recipe
This Strawberry Cupcake Recipe is moist and delicious and topped with the most smooth and creamy cream cheese frosting bursting with strawberry flavor!
Ingredients
2 eggs
¾ cup (180 ml) melted butter
¼ cup (60 ml) vegetable oil
½ cup (120 ml) water
¾ cup (150g) sugar
1 teaspoon (5 ml) vanilla extract
1 ¾ cup (210 g) flour
1 teaspoon (5 ml) baking powder
½ teaspoon (2.5ml) salt
1 cup (150g) fresh strawberries, diced
Strawberry Frosting:
16 oz (450g) whipped cream cheese
⅔ cup (65g) powdered sugar
1 package (1.2 oz/34g) of freeze-dried strawberries. I like this brand: https://amzn.to/33hiabl
⅓ cup (79ml) heavy cream
Fresh strawberries for garnishing
Instructions
Preheat oven to 425F (218C).
In a large bowl mix together the butter, oil, eggs, water, sugar, and vanilla extract. Set aside.
In a medium-sized bowl whisk together the flour, baking powder, and salt. Add the dry ingredients to the wet ingredients, in thirds, until combined. Then fold in the strawberries.
Scoop batter into muffins tins lined with muffin papers ⅔ of the way full. Bake 16-18 mins until golden brown and risen.
For the frosting:
Pulse the entire bag of freeze-dried strawberries in a food processor until a dust forms.
In an electric mixture, add the cream cheese, powdered sugar, and 1 tablespoon (15ml) of the strawberry dust -for light pink, or the entire quantity for Dark pink.
NOTE: If not using all the strawberry dust save it for pancakes or smoothies!
Beat the mixture until smooth, then slowly add the heavy cream and beat until smooth and creamy. Transfer the frosting to a pastry bag fitted with a star tip, and pipe onto the cupcake.
Slice a ripe strawberry in half vertically, and garnish with the sliced strawberry, cut side facing out.
Notes
These cupcakes are best eaten the day they are made but can be prepped a few hours ahead of time.
Once cooled, frost the cupcakes and place them in the refrigerator uncovered, until ready to serve.
Then moments before serving, garnish each one with the sliced strawberry.
Nutrition Information:
Yield:

12
Serving Size:

1
Amount Per Serving:
Calories:

163
Total Fat:

15g
Saturated Fat:

9g
Trans Fat:

0g
Unsaturated Fat:

5g
Cholesterol:

73mg
Sodium:

139mg
Carbohydrates:

3g
Fiber:

0g
Sugar:

2g
Protein:

4g