This Strawberry Pistachio Tart with Sable Breton Crust is a perfect summer dessert recipe when strawberries are in season. It's equally delicious as it is beautiful, it can be made across 2 days to help manage the prep!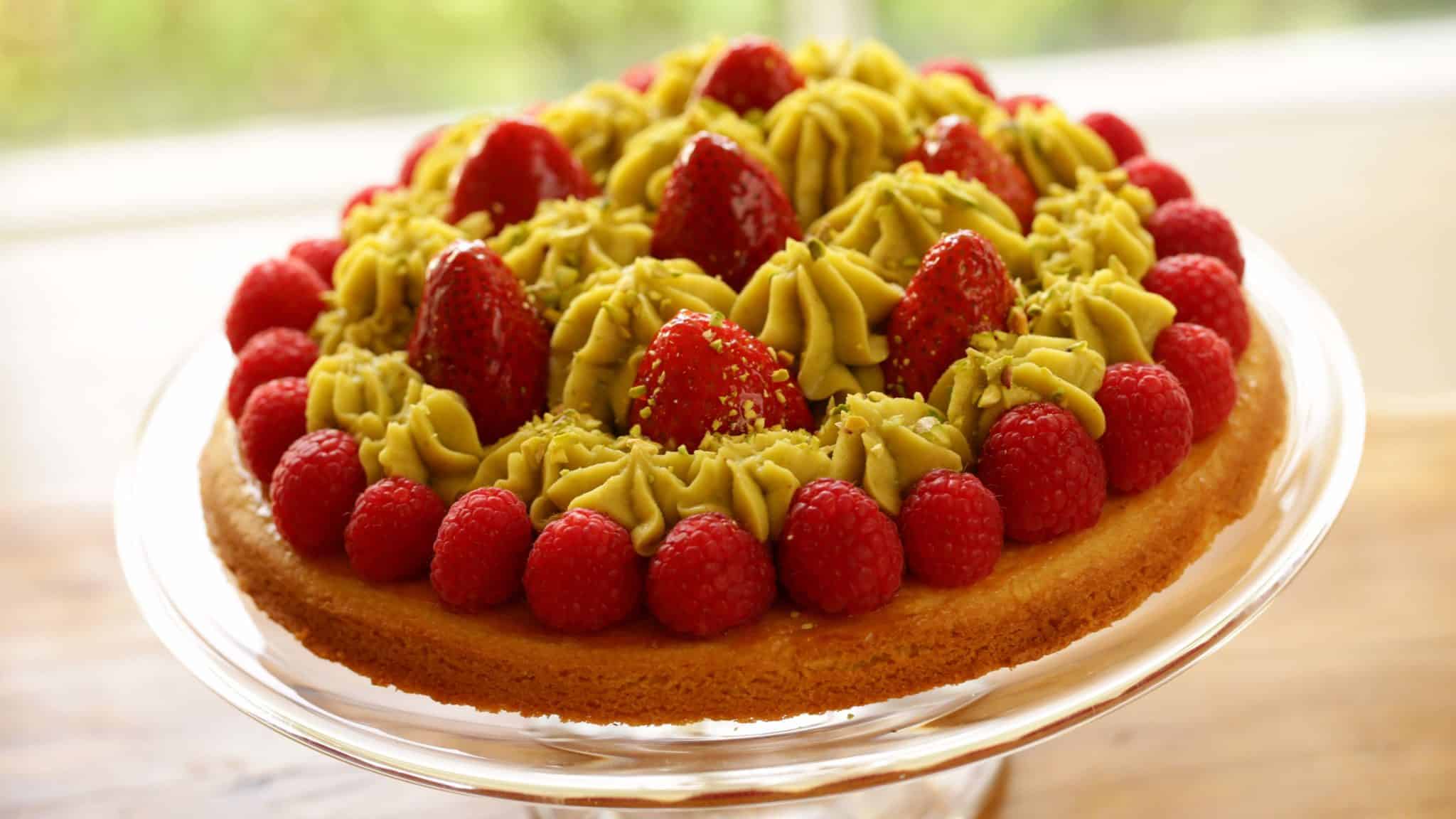 The combination of the sweet strawberries with the nutty and decadent pastry cream, on a base of buttery sable Breton pastry, is just divine!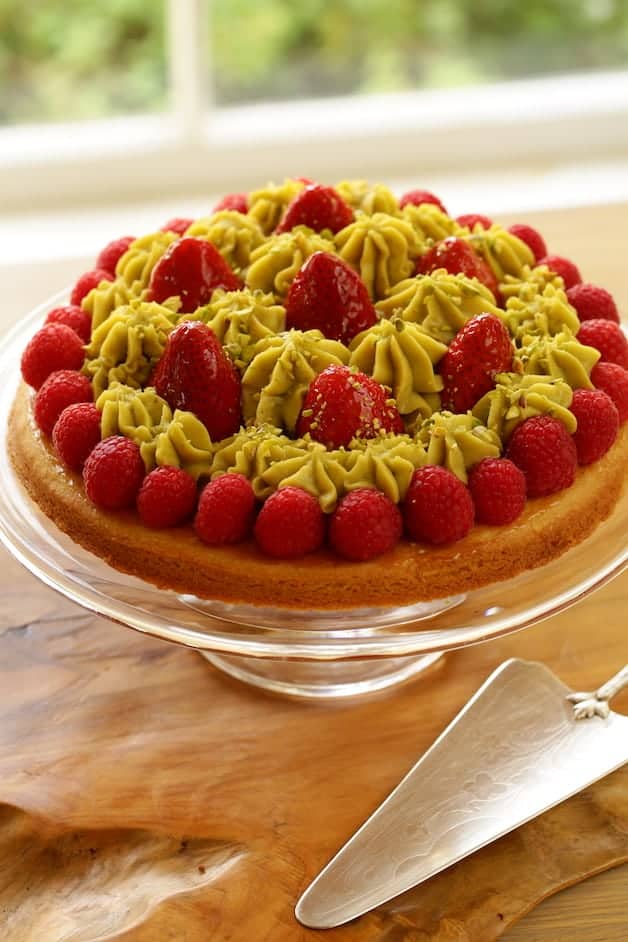 Allow it to refrigerate overnight and the pastry cream will firm up, providing a more decorative and tidy slice!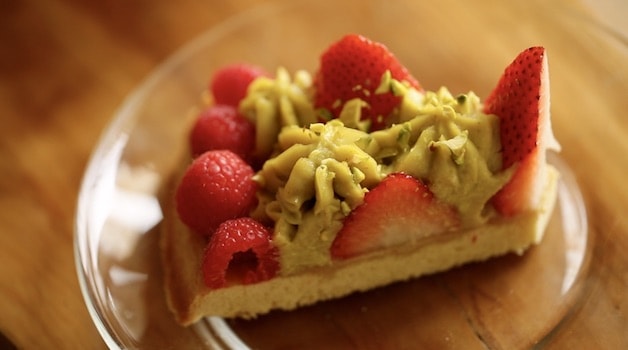 WATCH MY VIDEO DEMO OF THIS TART BELOW!
Subscribe to my YouTube Channel for more videos! (it's free!)
STEP#1: Make the Dough
This sable Breton dough is quite buttery and needs to be well-chilled before it's baked.
TIP: You can make the dough the day before. Press it into a disc, cover in parchment paper and refrigerate.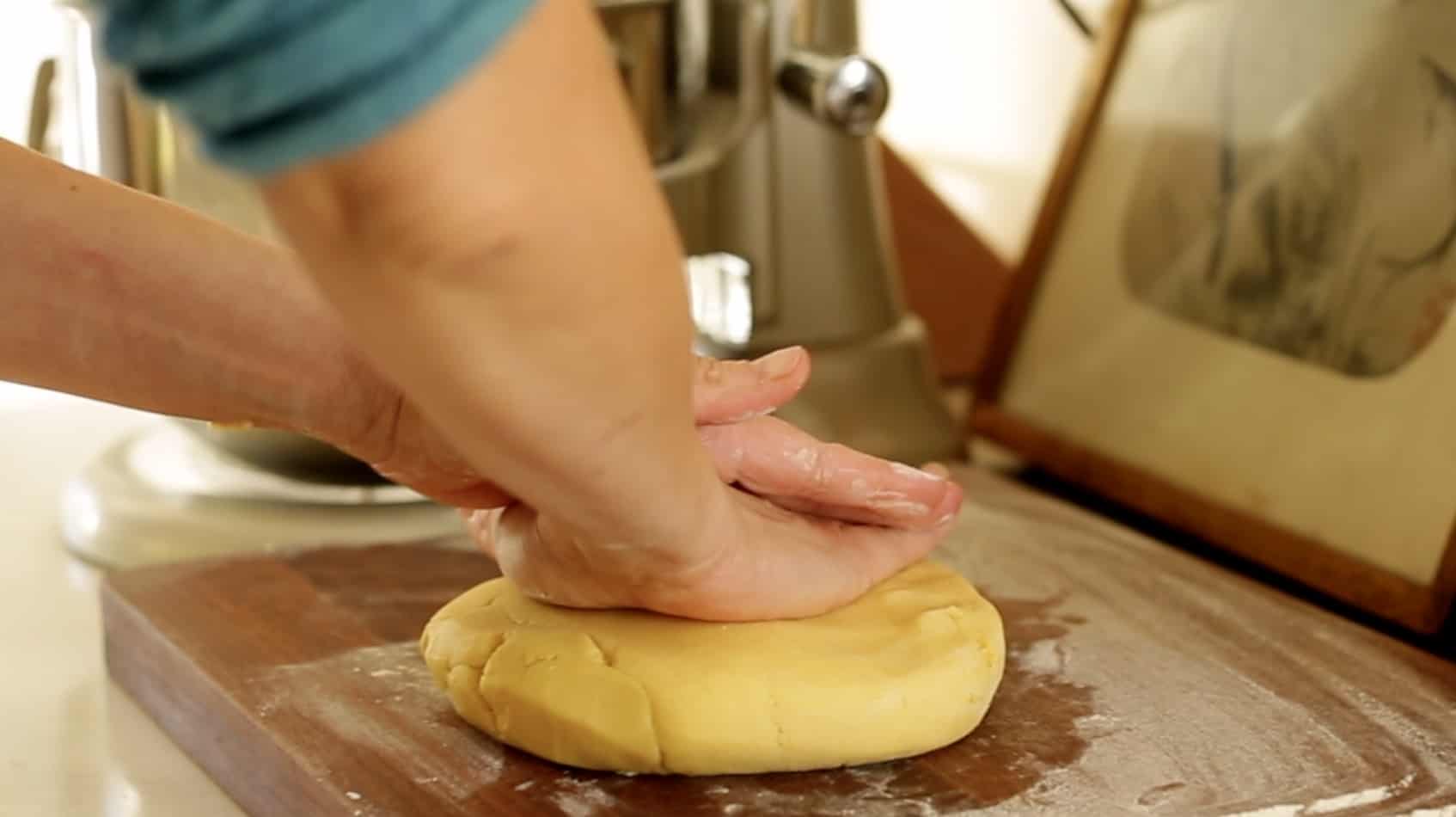 STEP#2 Make the Pistachio Paste
You could buy the pistachio paste but I find it's quite expensive and sometimes difficult to find. I think it's easier and tastier to make it yourself!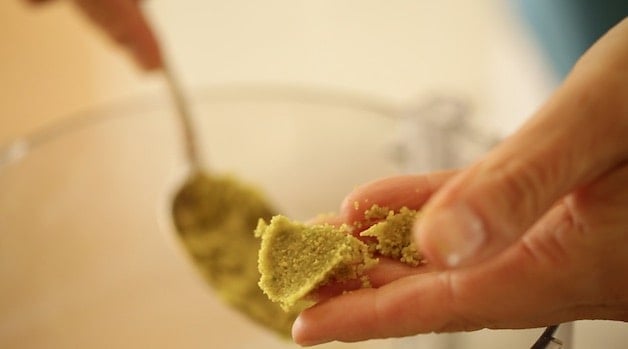 Start with raw, very green, already shelled pistachios.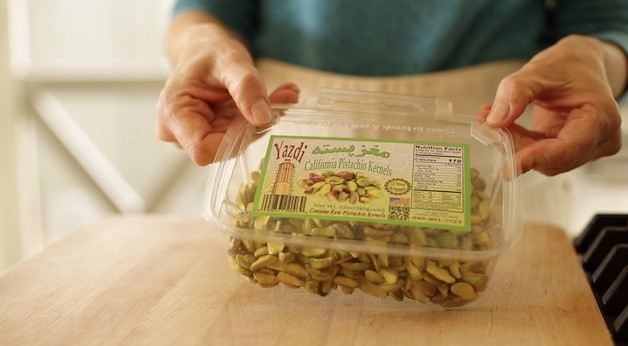 TIP: The best place to find pistachios, already shelled in large quantities is at your local Mediterranean or Middle-Eastern markets! Buy and extra box and you'll have enough to make my Pistachio Olive Oil Cakes another great pistachio recipes!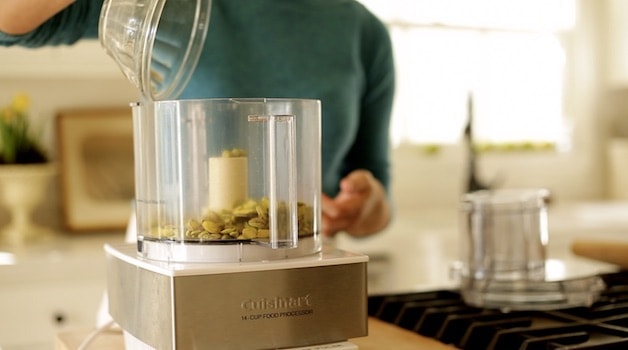 Place them in a food processor with sugar, pulse them up and then add a little water to create a paste-like consistency.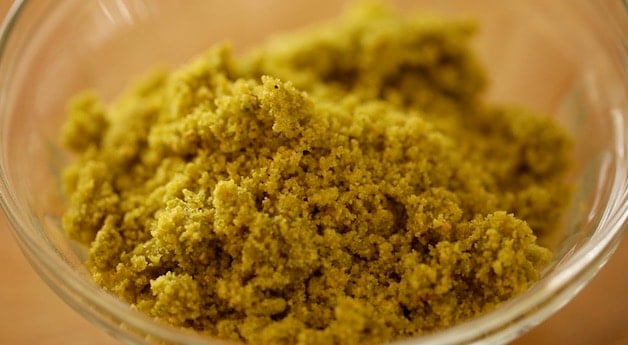 STEP#3: Make the Pastry Cream
You'll add the pistachio paste and milk to a large saucepot.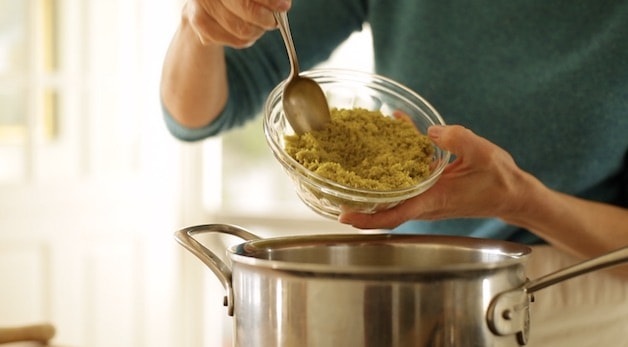 Then bring to a simmer, shut off the flame and steep the pistachios in the milk for 20 minutes.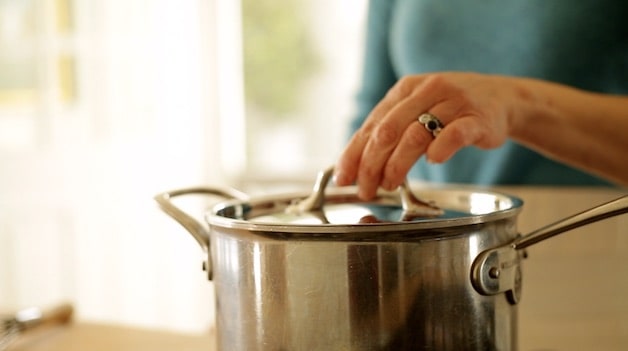 This will infuse the milk with pistachio flavor. You'll add the milk to eggs and cornstarch, and cook this mixture until a pastry cream forms.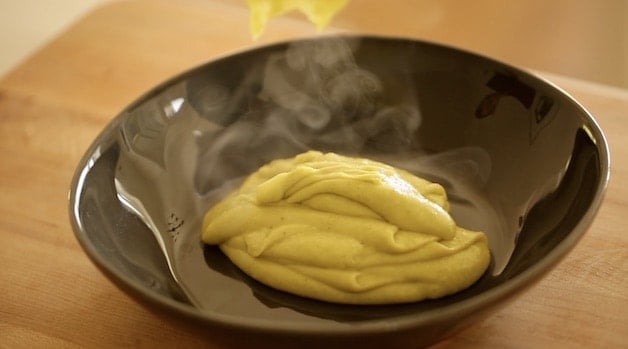 Cover with plastic wrap and refrigerate.
TIP: The pastry cream can also be made the day before and kept refrigerated until ready to use.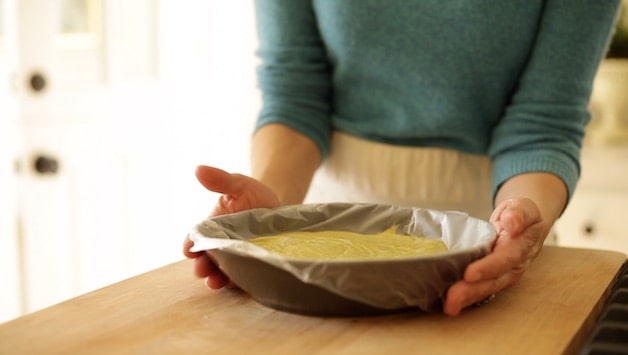 Step#4: Bake the Pastry
You will then roll out your pastry dough to a large circle. Press the ring of a springform pan on top, like a big cookie cutter and trim.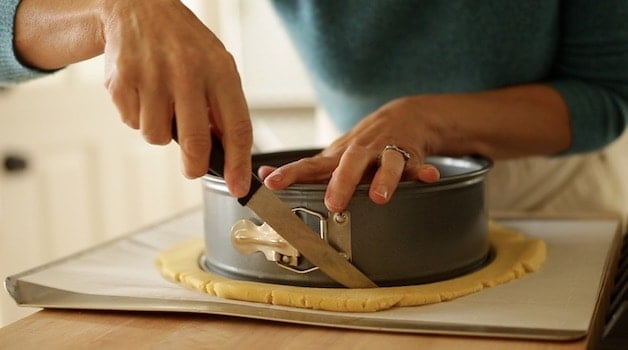 You will bake the dough in the ring in order to set it. Then when you release the ring you'll have a perfect circle.
TIP: Be sure you brush the ring with baking spray and distribute it well with a pastry brush. This will allow for easy release of the biscuit and avoid it cracking.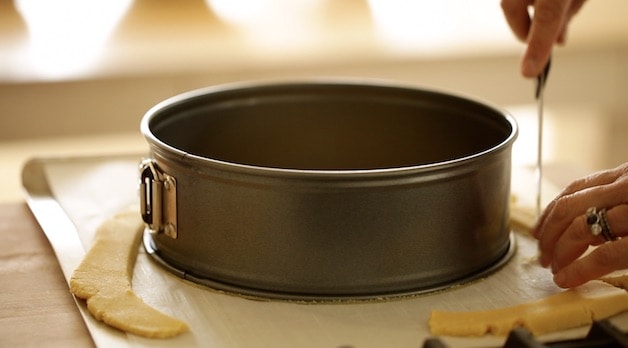 Bake the pastry in the ring until golden brown and set. Then release it and place it on a cake stand.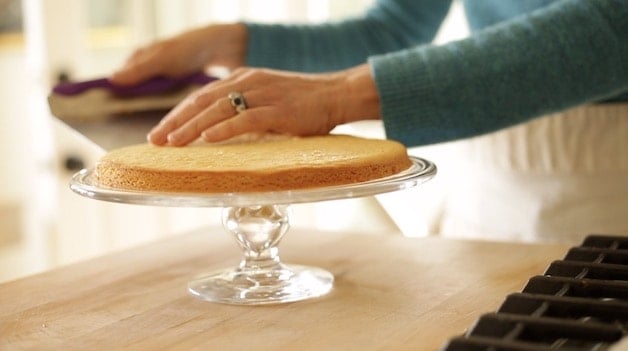 Step#5: Assemble the Tart
Start by brushing a layer of warm strawberry jam on the bottom. This will act as a "glue" to keep the berries in place.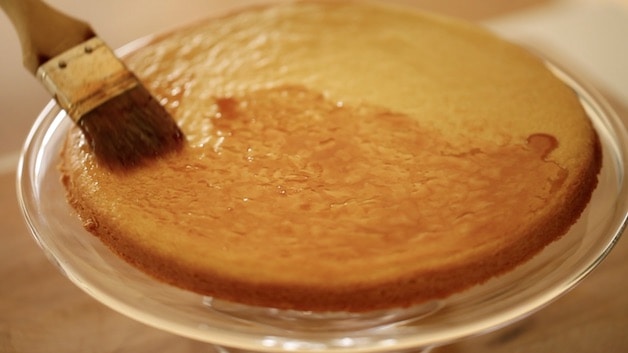 Add a border of raspberries around the edge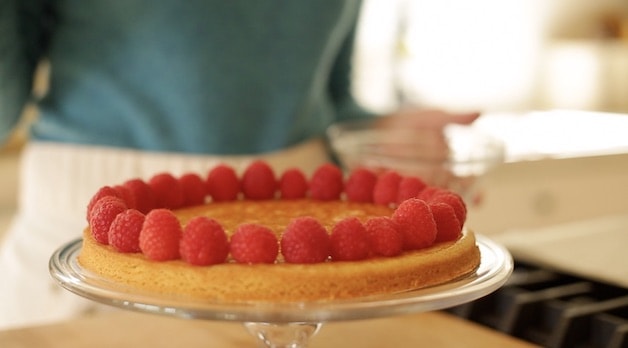 Place your strawberries in the center. Cut the strawberries so they are roughly the same height. You'll want to space them out about an inch apart to leave room for the pastry cream.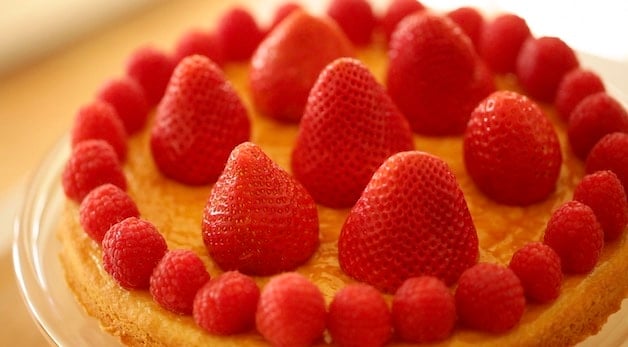 Then brush the strawberries with the liquified strawberry jelly for shine.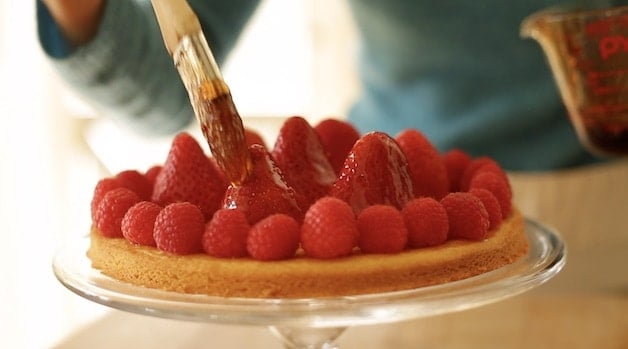 I prefer to brush only the strawberries and leave the raspberries as is, I think they look prettier that way.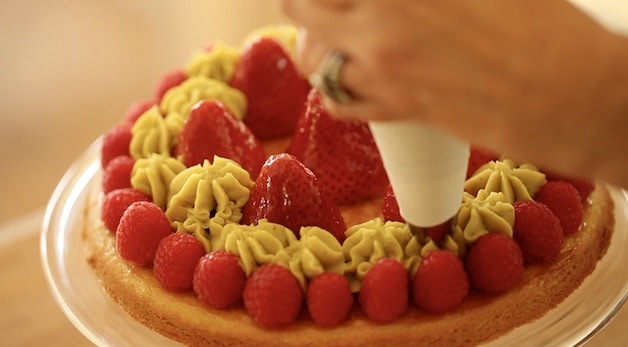 Pipe the pistachio pastry cream in between the fruit.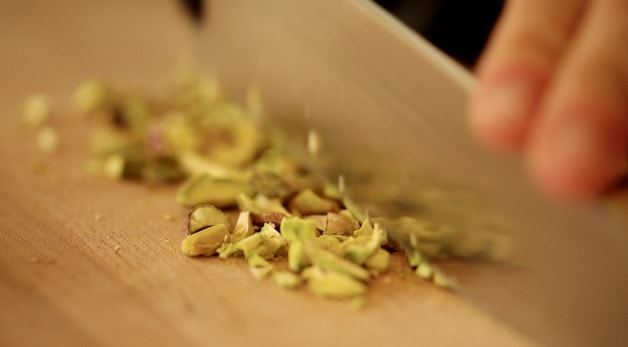 Then garnish your tart with roughly chopped pistachios.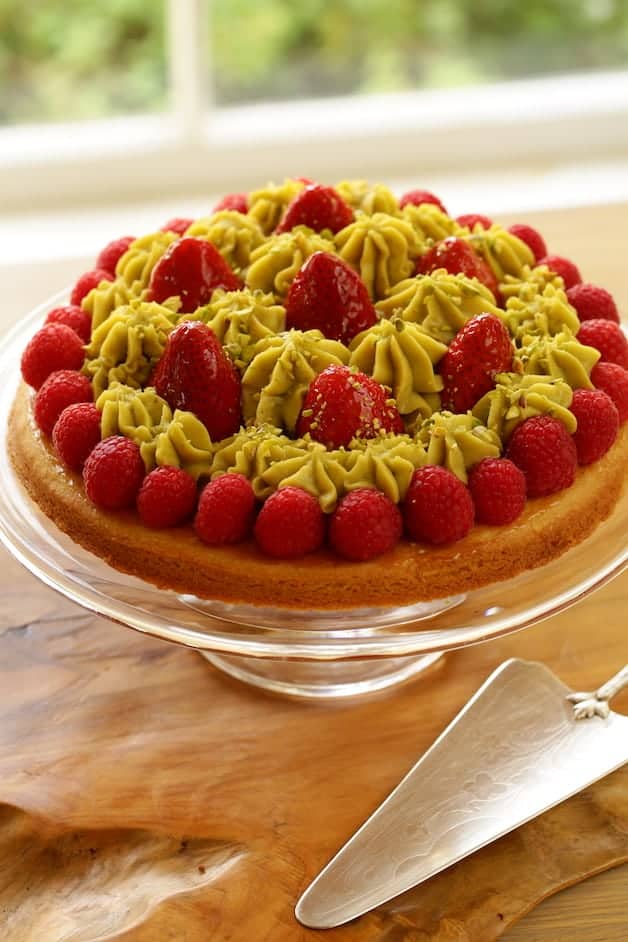 Keep you tart refrigerated for a minimum of 2 hours for the pastry cream to set up.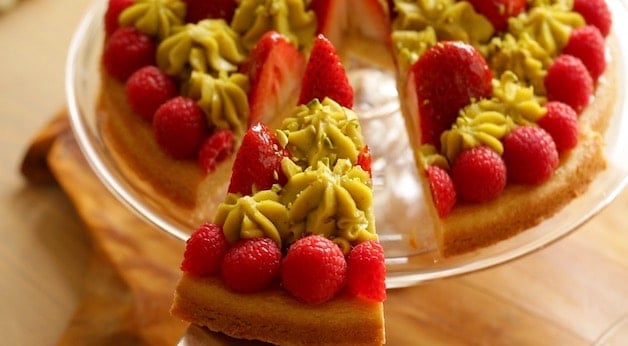 This will make it easier to slice and assure you get nice clean edges around your slice.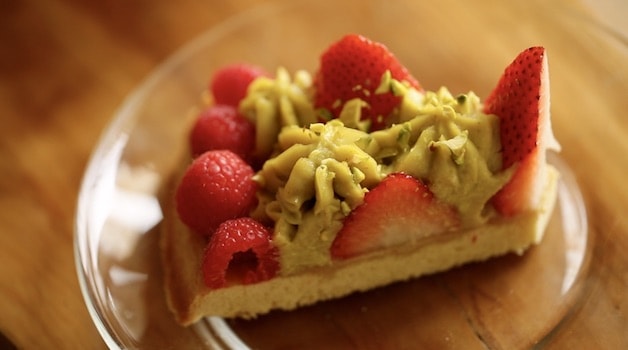 More delicious tart recipes!
Please let me know if you make this recipe
by leaving a rating and review below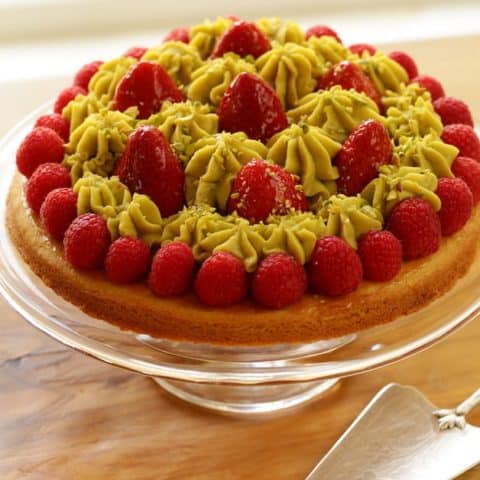 Strawberry Pistachio Tart with Sable Breton Crust
Total Time:
1 day
30 minutes
This tart is as delicious as it is beautiful! It can also be made across 2 days to help manage the prep. Perfect for Easter Sunday or Mother's Day.
Ingredients
For Sable Breton:
4 egg yolks
¾ cup (150g) of sugar
¾ cup (180g) unsalted butter, softened
1 tsp (5 ml) vanilla
2 cups (240g) all-purpose flour
2 tsp (10ml) baking powder
¼ tsp (1.25ml) salt
Pistachio Paste:
1 cup (150g) raw, unsalted pistachios (shelled)
½ cup (100g) sugar
1 tbsp (15ml) water
Pastry Cream:
2 cups (475ml) milk
1 cup (150g) Pistachio Paste
4 egg yolks
1/3 cup (35g) cornstarch
2 tbsp (30g) butter
To Garnish:
1/3 cup (80 ml) strawberry jelly
25-30 Raspberries (depending upon the size you may need more or less)
5-6 large strawberries
1 tbsp (20g) chopped raw pistachios
Instructions
The Day Before:
For the sable Breton, in a medium sized bowl whisk together the flour, the baking powder and the salt, set aside.
In the bowl of an electric mixer beat together the egg yolks and sugar for 5-7 minutes until smooth and pale yellow.
Add the softened butter, in cubes until combined. Add the vanilla.
Add the flour a little at a time, beating in between each addition, until a dough forms.
Roll dough into a ball, flatten into a disk and wrap in parchment paper. Refrigerate for a minimum over 4 hours but overnight is even better.
For the pistachio paste, add the shelled pistachios to a food process with the sugar. Process on high until a fine meal forms, keep going until this meal starts to stick together with pressed between fingertips. Then add the water and process until a loose paste forms. Transfer to a bowl and set aside.
To prepare the pastry cream, add milk and pistachio paste to a medium sauce pot. Heat mixture until simmering and hot. Turn off heat, cover and "steep" mixture for 20 minutes to infuse milk with the flavor of the pistachio.
Once fully steeped, add 4 egg yolks to a large bowl, add cornstarch. Whisk together to form a yellow paste. Slowly pour in the pistachio milk, whisking until combined.
Strain pistachio mixture through a fine mesh sieve, into a cleaned-out sauce pot. Heat on medium high flame, whisking until thickened and eventually a pastry cream will form. Add butter and swirl until smooth.
Transfer pastry cream to a shallow bowl. Press plastic wrap onto to assure a skin doesn't form.
Refrigerate a minimum of 4 hours, but overnight is even better.
The Day Of:
Preheat oven to 350F (176C).
Roll out dough, on a sheet of parchment paper, to a 10-inch (25cm) circle, ¼" (6 mm) thick. Slide a cookie sheet under the parchment paper.
Lightly spray the ring of a 10-inch (25cm) spring form pan, or tart ring, with baking spray. Distribute spray with a pastry brush. Press ring into dough (like a giant cookie cutter) trim outer edges clean with a sharp knife.
Bake 20 minutes until biscuit is golden brown. Allow to cool completely.
Once cooled transfer to a cake stand to assemble the tart.
Heat strawberry jelly in the microwave for :30 until liquefied. Brush biscuit with a layer of jam. Arrange raspberries all around the edge. In the center, create a circle of upright strawberries, allowing 1-inch in between them. Place the largest strawberry in the center.
Brush each strawberry with the strawberry jam until they are well-coated and shiny.
Transfer chilled pastry cream to a pastry bag fitted with your favorite swirly pastry tip.
Pipe small mounds between the raspberries and strawberry border, then add larger mounds in-between the strawberries.
Top the tart with chopped raw pistachios. Keep refrigerated until ready to serve. Best served the same day it is assembled.
Notes
The best place to buy raw, shelled pistachios is either in your Middle-Eastern Markets or Trader Joes!
If you have pastry dough left over, keep it refrigerated and you can make small Sable Breton Cookies with it. Just roll it out and cut them out with a cookie cutter. Bake at 350F until set and golden brown.
Recommended Products
As an Amazon Associate and member of other affiliate programs, I earn from qualifying purchases.
Nutrition Information:
Yield:

8
Serving Size:

1
Amount Per Serving:
Calories:

7
Total Fat:

0g
Saturated Fat:

0g
Trans Fat:

0g
Unsaturated Fat:

0g
Cholesterol:

0mg
Sodium:

1mg
Carbohydrates:

2g
Fiber:

0g
Sugar:

1g
Protein:

0g