If you are looking to celebrate the flavors of spring, try my Coconut Cream Pie with Coconut Milk! This is a great recipe for Easter or Mother's Day!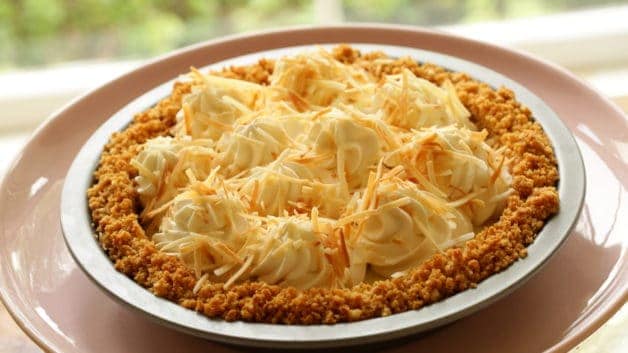 The flavors of the crunchy graham cracker crust, sweetened coconut flakes and macadamia nuts makes for such a fantastic crust.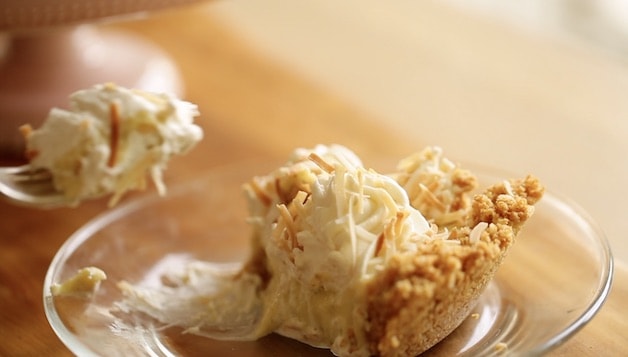 The coconut pastry cream is really divine with the addition of coconut milk, and the whipped cream on top garnished with the toasted coconut flakes, makes this pie a taste sensation!
WATCH MY STEP-BY-STEP VIDEO DEMO DELOW!
STEP#1:Make the crust
You'll combine graham crackers, macadamia nuts and sweetened coconut then add butter until a wet crumb forms (see full recipe below)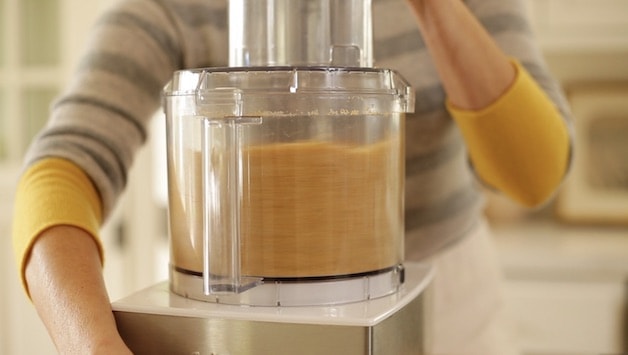 Next, level out the crumbs in to a greased metal pie plate.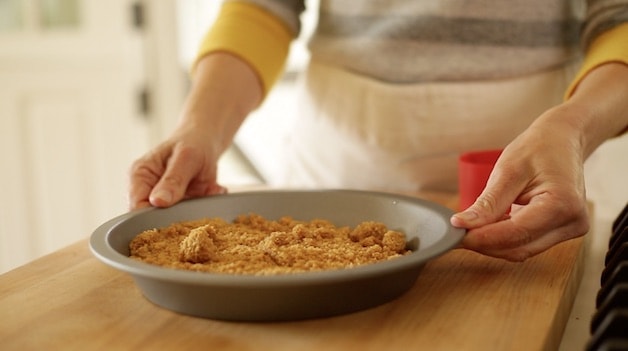 TIP: Use a measuring cup to push the crumbs up the tin to form a crust. Or a coffee mug would work too.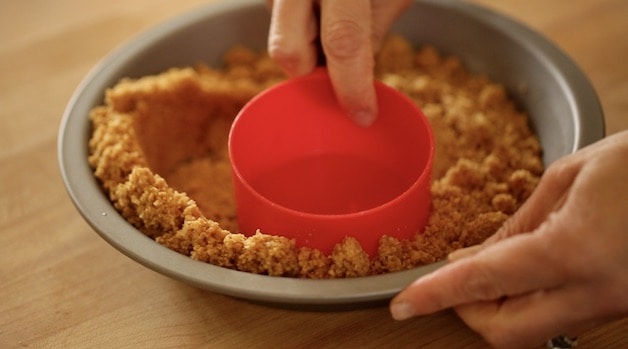 Then pay down the bottom of the crust with the cup to flatten. Bake pie shell until golden brown and crisp.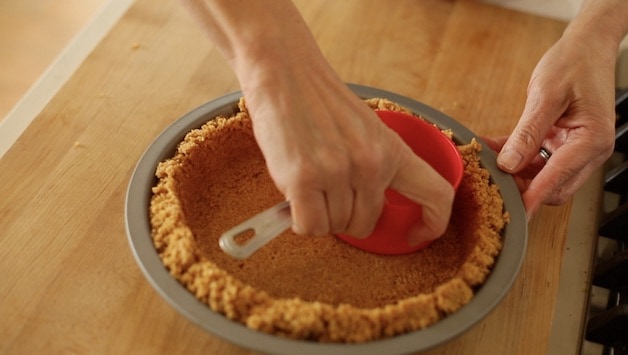 STEP#2: Make the Pastry Cream
The secret to this filling is the 50/50 combination of whole milk and coconut milk. This gives you the best coconut flavor. If you use all coconut milk, it's too dense! So do cut it with the milk.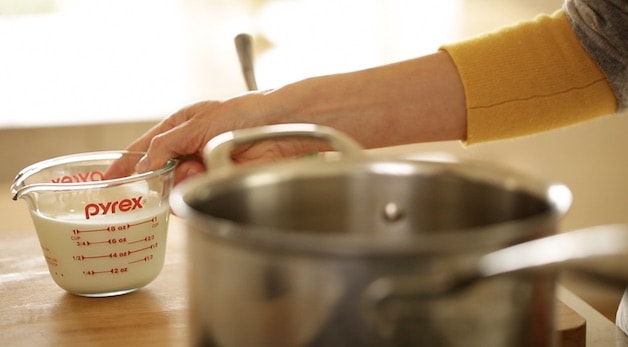 TIP: Be sure to buy "full fat" or Classic Coconut Milk, not "lite" coconut milk. You need the full fat to get the right texture.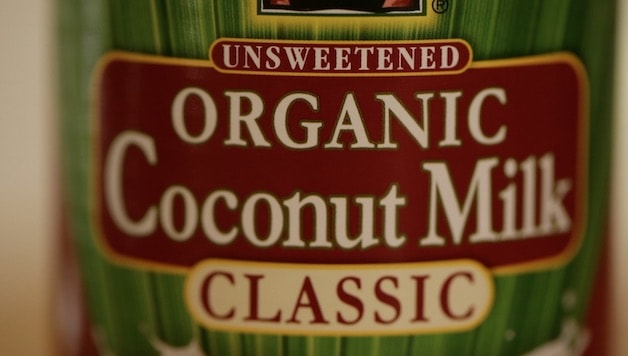 But the full fat does tend to separate as the cream and fat rises to the top.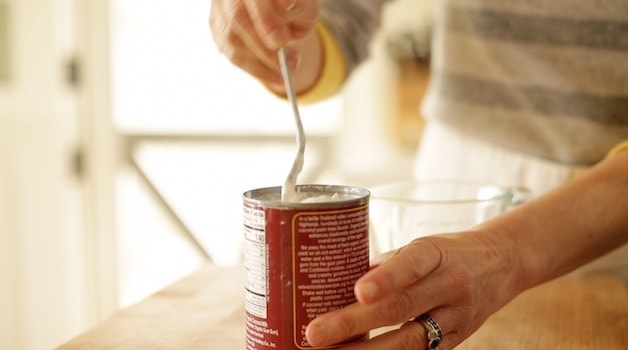 Just stir it up with a fork before using and the fat will melt and liquify once it heats up.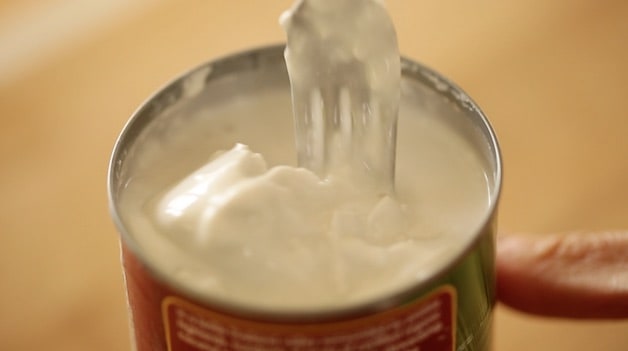 The mixture will thicken and then turn into a pastry cream.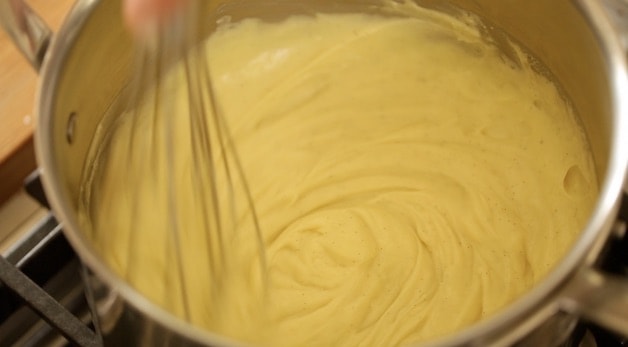 You'll want to pour it into your cooled pie shell as soon as it's ready and allow it too cool completely before adding the whipped cream topping.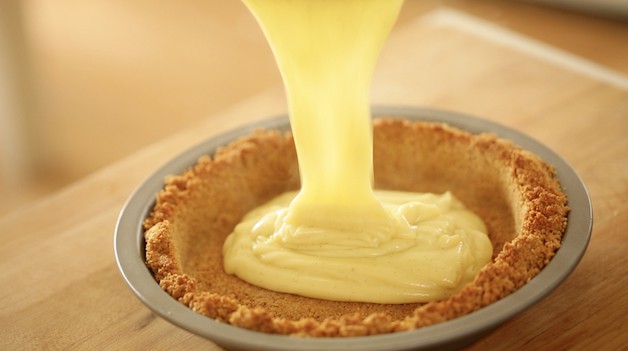 STEP#5: Add Whipped Cream Topping
You can create decorative swirls by placing the whipped cream in a pastry bag fitted with a star tip.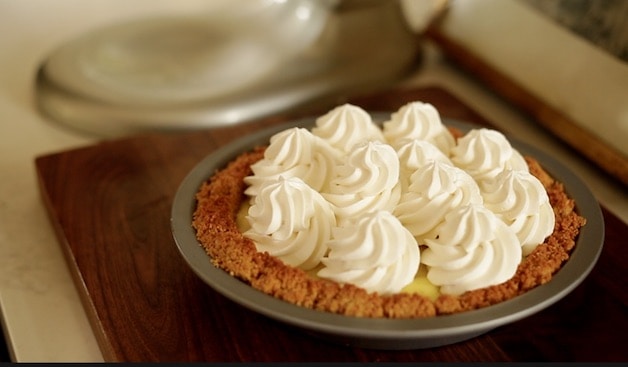 This pie does need to be refrigerated overnight. You will get the best texture that way and it will be easier to slice too!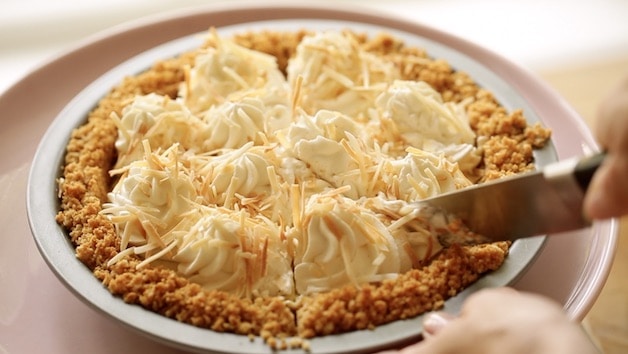 STEP#6: Garnish with Toasted Coconut
Moments before serving, toast the unsweetened coconut on a baking sheet in a 400F oven for 5 minutes.
TIP: The unsweetened coconut works better here for greater coconut flavor and it won't clump together the way the sweetened coconut would. Looks prettier on the pie that way!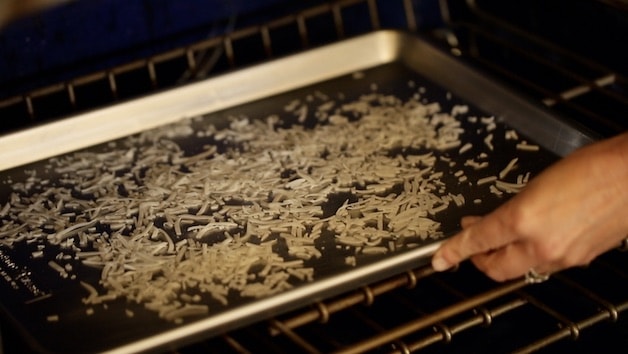 Top your pie with the coconut flakes and serve!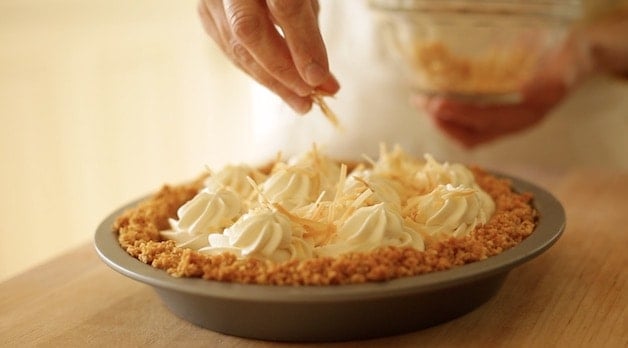 This is a great recipe for any spring time occasion! Easy, delicious and beautiful! Hope you enjoy! xx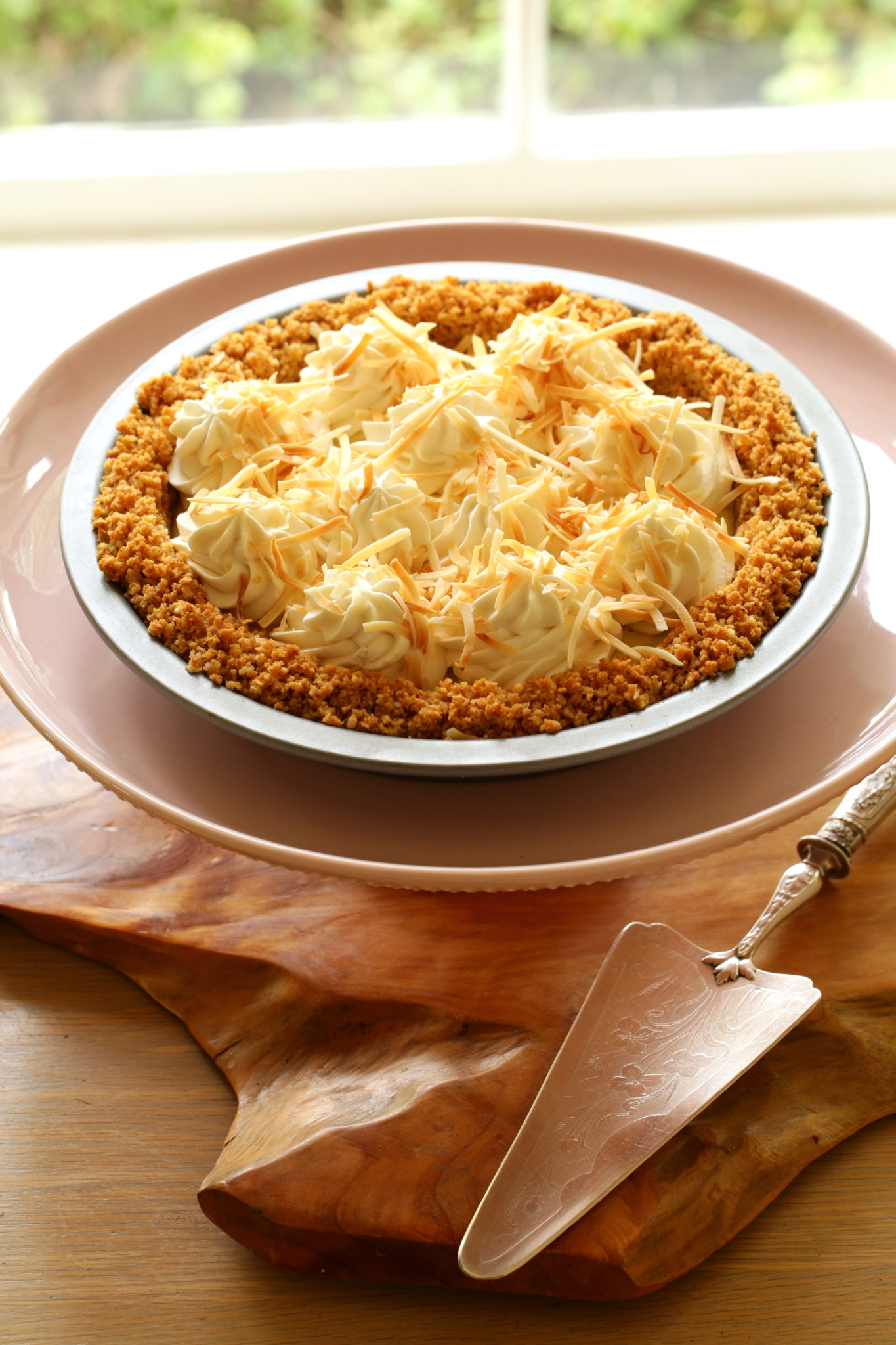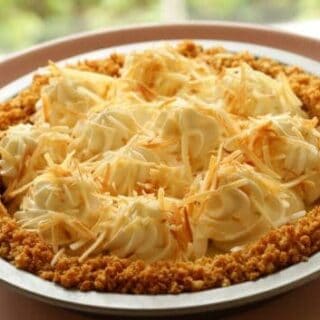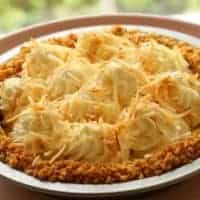 Coconut Cream Pie with Coconut Milk
Prep Time:
1 days
2 hours
Total Time:
1 days
2 hours
15 minutes
A delicious coconut cream pie recipe that incorporates 2 types of coconut, macadamia nuts and coconut milk for the ultimate coconut dessert!
Ingredients
Crust:
9 graham crackers (1 ½ cup/225g) or digestive biscuits
½ cup (75g) raw macadamia nuts
1 tbsp (13g) sugar
½ cup (50g) sweetened coconut
pinch of salt
5 tbsp (75ml) melted butter
Coconut Filling:
1 cup (240ml) of full-fat coconut milk (not lite coconut milk)
1 vanilla bean, scraped of its seeds
¼ cup (50g) of sugar
4 egg yolks
Pinch of salt
1/3 cup (40g) cornstarch
2 tbsp (30g) butter
Whipped Cream:
2 cups (475ml) heavy cream
2 tbsp (13g) powdered sugar
1 tsp (5ml) vanilla extract
For Garnish:
¼ cup (25g) unsweetened coconut flakes
Instructions
Preheat oven to 375F (109C). Lightly grease a metal pie tin with baking spray. Then distribute with a pastry brush. Set aside.
In a food processor combine graham crackers, macadamia nuts, sugar, sweetened coconut, pulse until a fine crumb forms. Add butter and pulse until a wet crumb forms. Pour out crumbs into pie plate. Shake pan to level crumbs.
Take a ½ cup measuring cup or coffee mug and begin to push the crumbs up against the side of the tin, to form a crust. Work all the way around the pie tin until a crust forms all the way around the perimeter. Then pat down the center to form a flat bottom. Place the pie tin on a baking sheet and bake for 10 mins until the crumbs are golden brown. Set aside to cool.
To create the coconut cream, place the milk and coconut milk in a medium sauce pot. Add the vanilla bean seeds and throw in the pod as well. Add the sugar. Whisk to combine. Simmer until the sugar is dissolved and vanilla seeds rise to the top. Remove the vanilla pod. Allow the milk mixture to cool slightly.
Meanwhile, in a large bowl, combine egg yolks, pinch of salt and cornstarch. Whisk until a paste forms. Slowly add the milk mixture, tempering the eggs with just a small amount, whisk to combine, and then slowly add the rest of the mixture, whisking until combined. Strain mixture through a fine mesh sieve, into a cleaned-out sauce pan. Cook on medium flame, whisking all the while, until a thick pastry cream forms. Whisk in butter. Immediately pour pastry cream into cooled pie crust. Allow to cool completely.
Meanwhile make the whipped cream. In the bowl of an electric mixer combine heavy cream, powdered sugar and vanilla extract. Whip until stiff peaks form. Transfer cream to a pastry bag fitted with a large star tip. Once pie filling is cool to the touch (you can pop it in the fridge to speed up the cooling process if needed) pipe large swirls of whipped cream mounds around the perimeter of the pie and then 3 swirls in the center.
Refrigerate overnight for the custard and cream to set (otherwise it will be difficult to slice). Just before serving, sprinkle ¼ cup of unsweetened coconut flakes on a baking sheet. Bake in a 400F (200C)  oven for just 5 minutes or until golden brown. Allow to cool, and then sprinkle the golden flakes all over the top of the pie and serve!
Nutrition Information:
Yield:

8
Serving Size:

1
Amount Per Serving:
Calories:

309
Total Fat:

24g
Saturated Fat:

15g
Trans Fat:

0g
Unsaturated Fat:

7g
Cholesterol:

120mg
Sodium:

206mg
Carbohydrates:

21g
Net Carbohydrates:

0g
Fiber:

2g
Sugar:

10g
Sugar Alcohols:

0g
Protein:

4g
MORE GREAT SPRING DESSERTS!
Please let me know if you make this recipe by leaving a rating and review below!
Follow me on Youtube, Pinterest, Instagram, Facebook & Twitter!