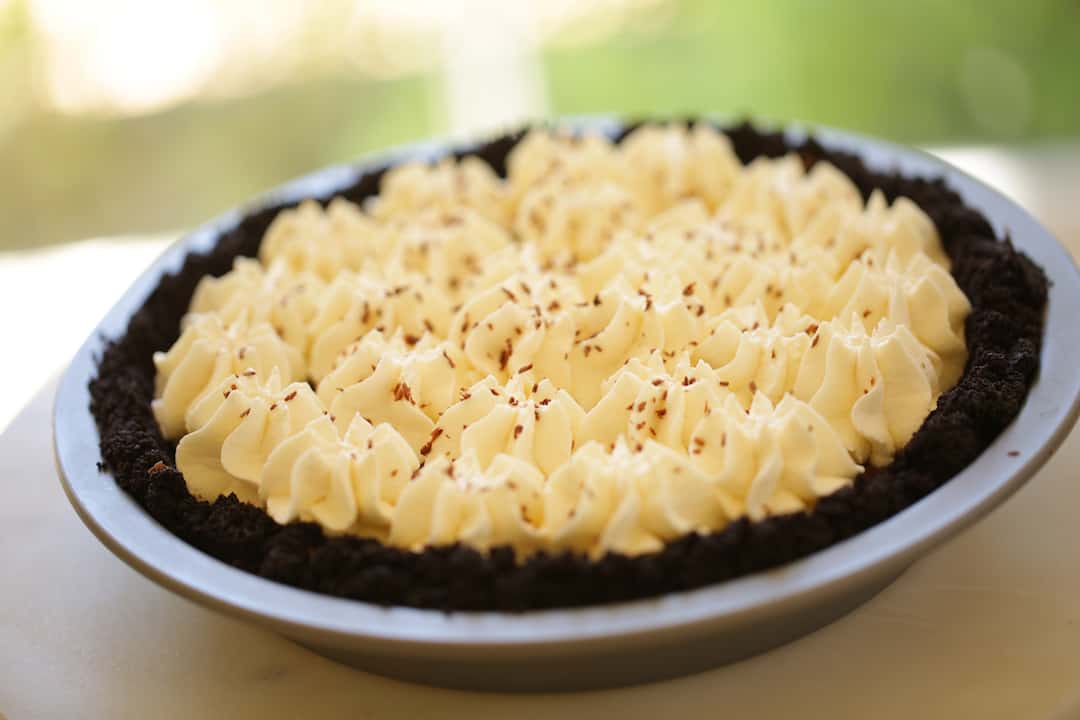 If you are looking for two great Mother's Day Dessert Recipes, you've come to the right place! Today I'm doing a YouTube Collaboration with one of my favorite foodie friends, Amanda Frederickson. Amanda has an amazing Instagram Feed with the most mouthwatering recipes! And I'm so excited to see her brining her culinary talents coming to YouTube!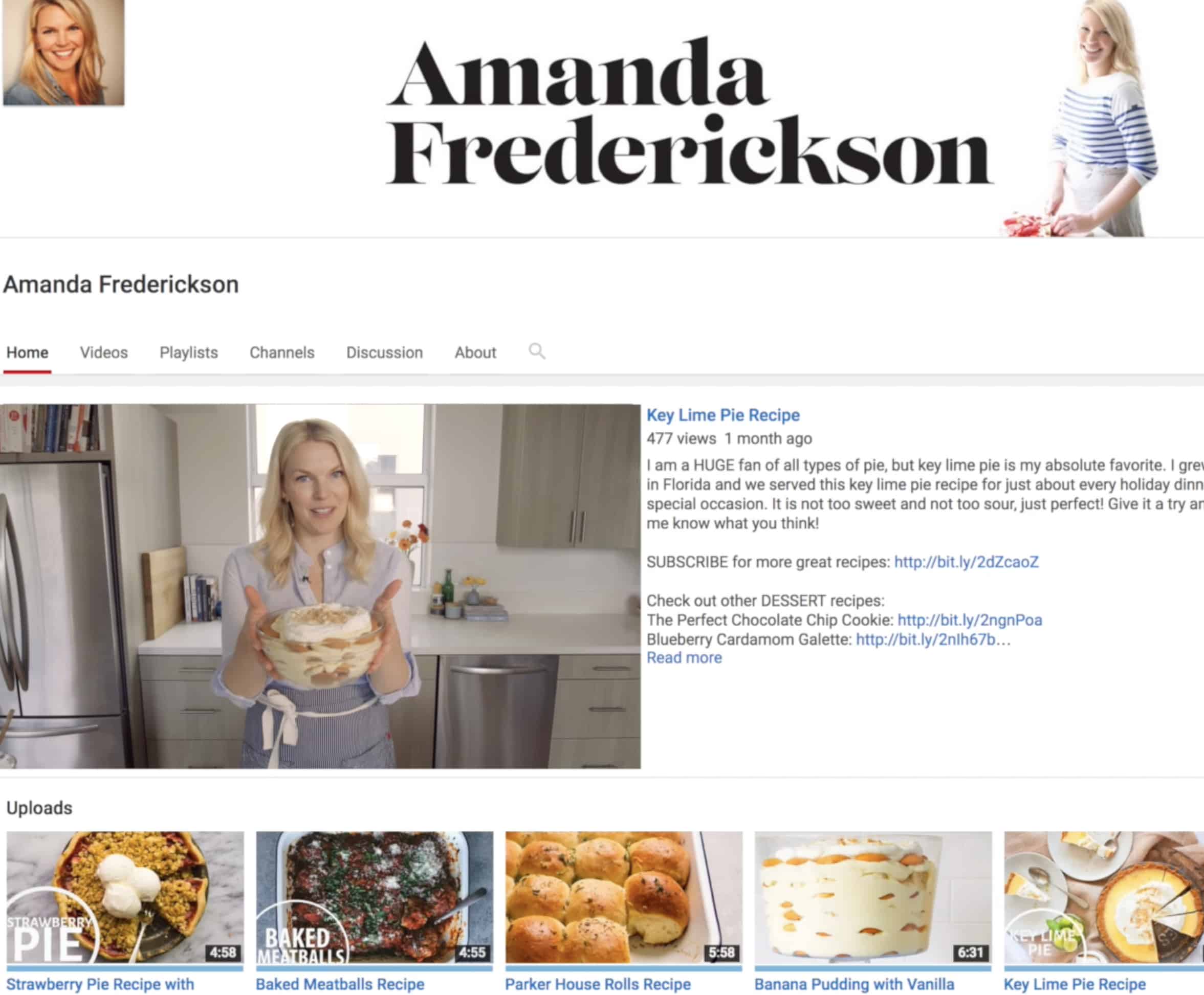 For my part I'm sharing a decadent chocolate cream pie recipe…it's easy and can all be made in advance.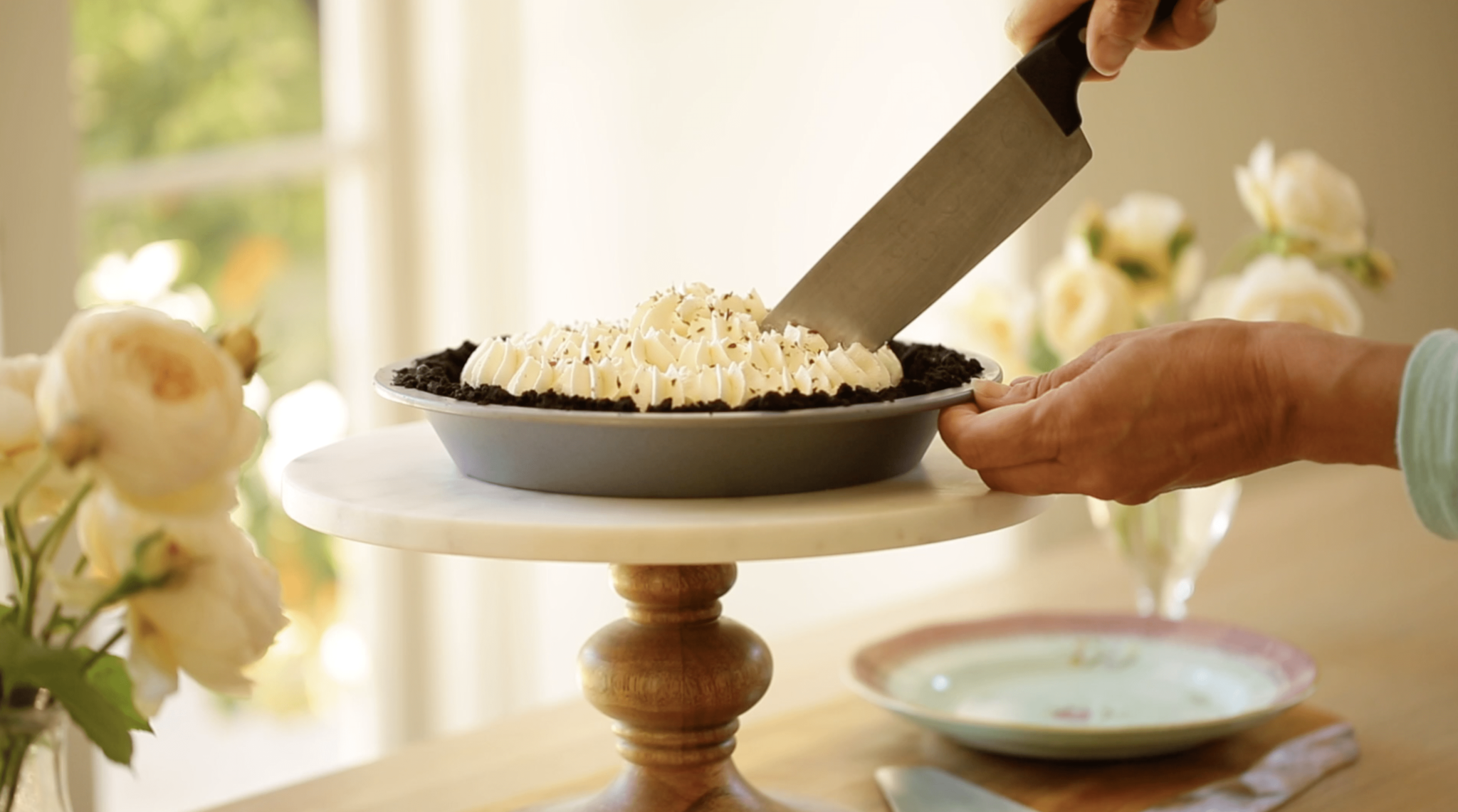 And Amanda is sharing a Lemon Crepe Cake Recipe…how good does this look?!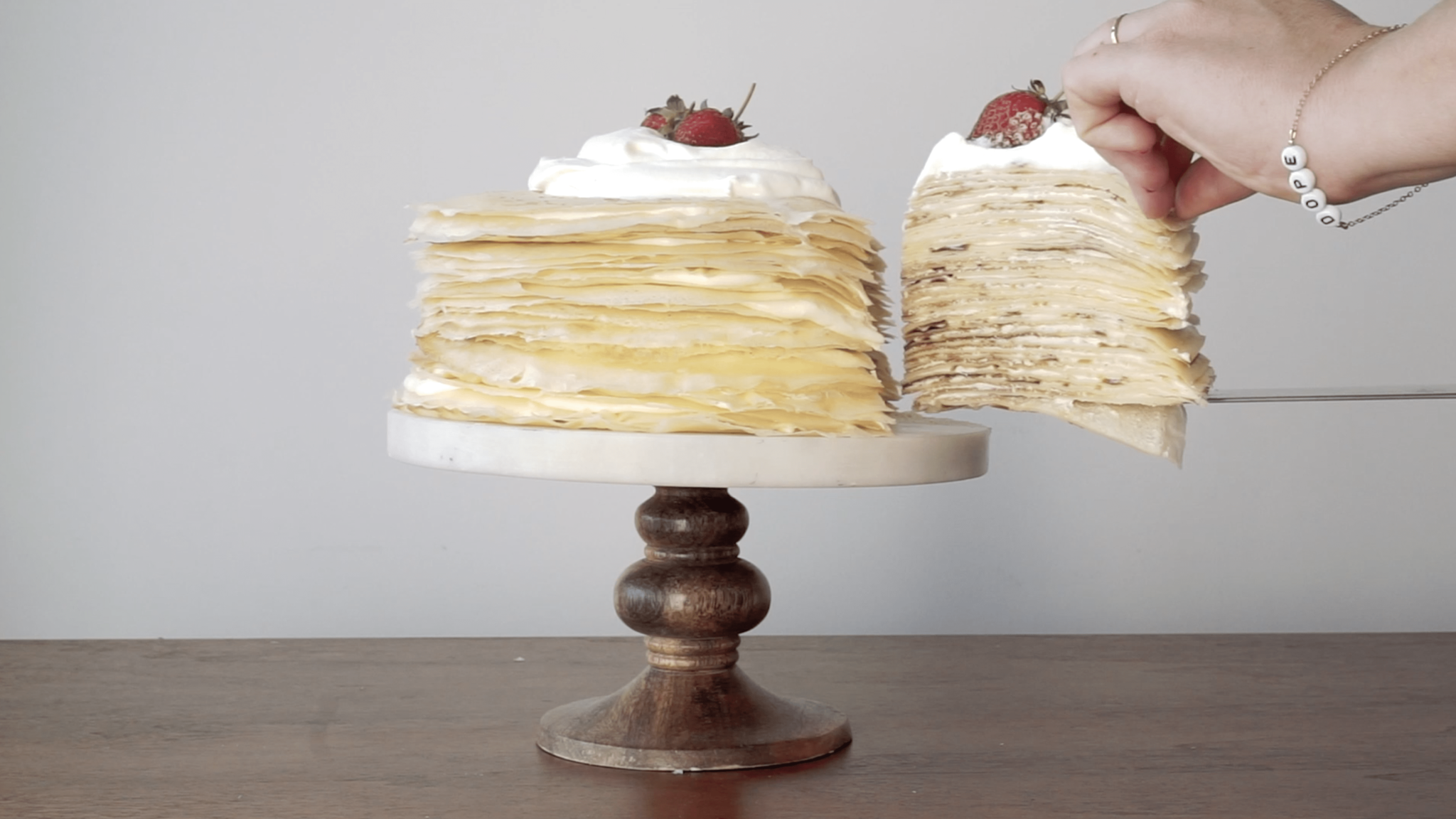 You can watch both our videos below…
You can make the pie filling the days before and then just refrigerate over night and pipe the whipped cream the next day.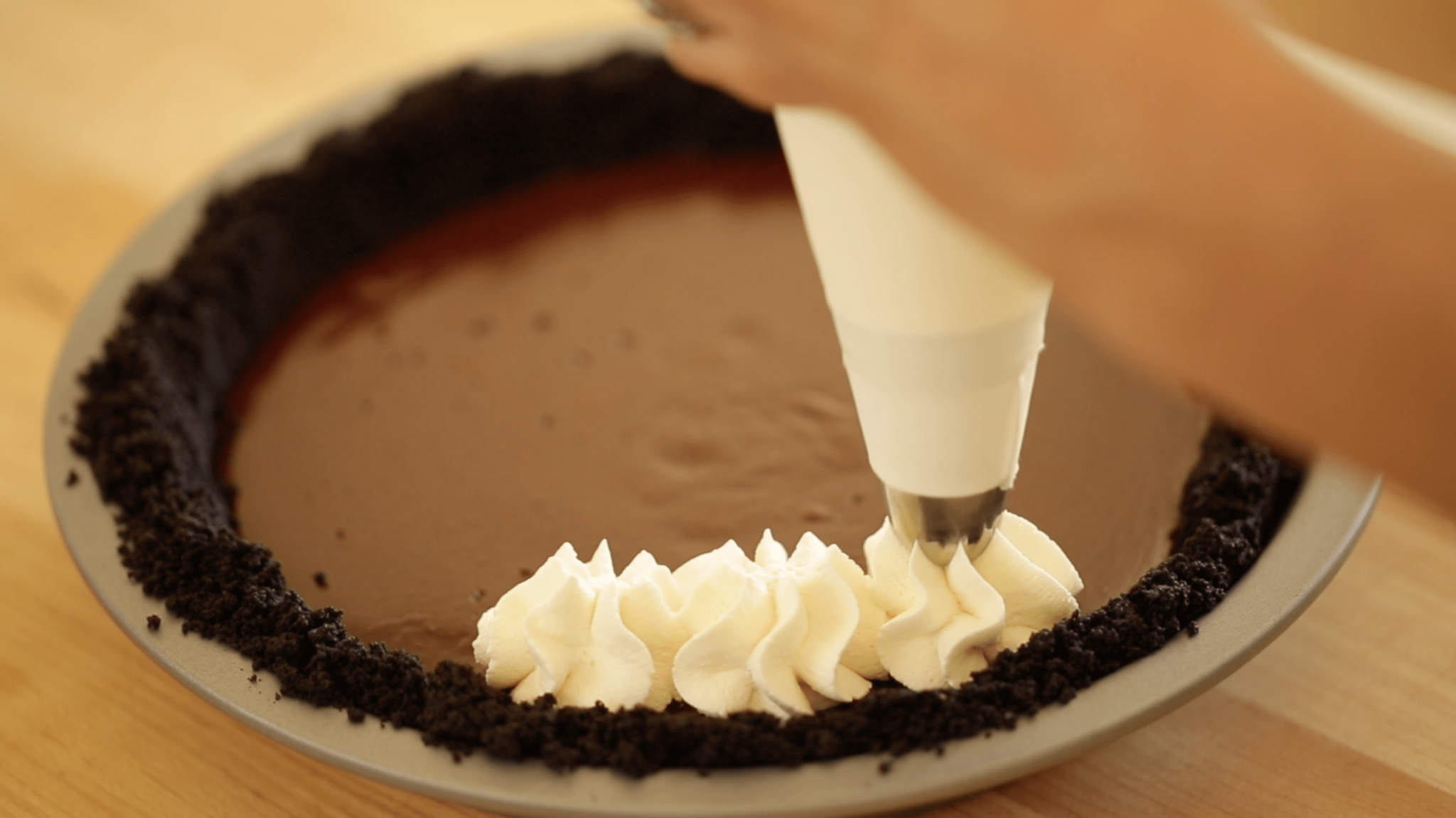 Then be sure to place back in fridge for 2-3 hours before serving to allow the whipped cream to set up.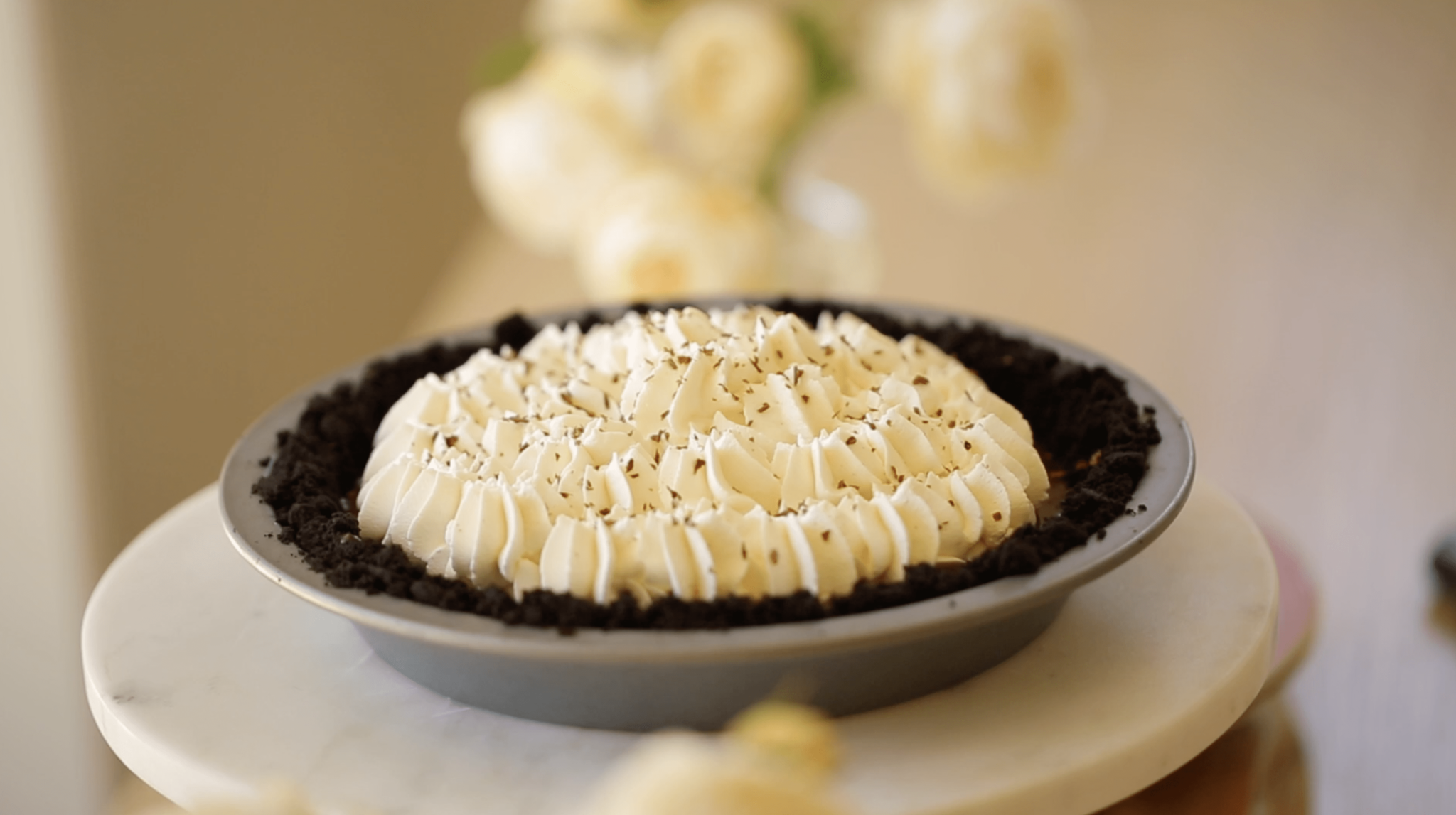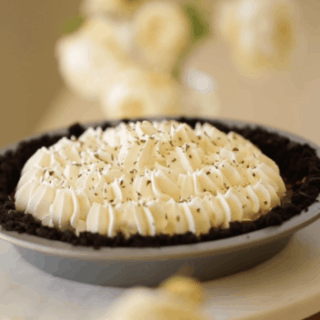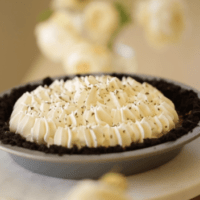 Chocolate Cream Pie Recipe
Prep Time:
1 hour
30 minutes
Total Time:
1 hour
45 minutes
Ingredients
7 oz (196g) chocolate wafer cookies
5 tbsp (75ml) of melted unsalted butter
1 cup (240 ml) whole milk
1 cup (240 ml) heavy cream
¼ cup (50 g) of sugar
1 cup (150 g) semi-sweet chocolate chips
1 cup (150 g) bittersweet chocolate chips
3 egg yolks
1 tbsp (7 g) cornstarch
1 tsp (5 ml) vanilla
1 tbsp (15g) butter
Whipped Cream Topping:
1 cup (240 ml) heavy cream
2 tsp (10 ml) powdered sugar
½ tsp (2.5ml) vanilla extract
Instructions
Pre-heat oven to 375F (190C).
Place cookies in a food processor and pulse until finely ground. Add melted butter and pulse until a wet crumb forms. Place crumbs in a 9" (23 cm) pie tin, working them up the sides with your hands and flattening the bottom with a measuring cup until a tight, crumbly crust forms. Bake for 6-7 mins until fragrant and set. Set aside to cool.
In a large mixing bowl whisk egg yolks and cornstarch until pale yellow and smooth. Set aside.
In a large sauce pot combine milk, cream, sugar, and chocolates. Heat on medium, whisking all the while until chocolate melts and a smooth liquid forms.
Measure out 1/3 cup of the hot chocolate mixture and add it to the egg mixture whisking to combine and tempering the eggs. Then pour the rest of the chocolate mixture into the egg mixture and whisk to combine. Rinse out pot.
Pour the new chocolate mixture back into the clean sauce pot and cook on medium, whisking constantly until custard thickens and "cooks". It's import you do this for at least 5 minutes to cook off the bacteria of the raw egg. 165F degrees with a candy thermometer to be sure.
Add butter and whisk until smooth, add vanilla.
Pour chocolate mixture into cooled pie crust and refrigerate 4-6 hours, overnight even better!
-3 hours before serving create the whipped cream topping.
In the bowl of an electric mixer combine heavy cream, sugar and vanilla. Whip until stiff peaks form. Transfer to a pastry bag fitted with a star tip.
Begin piping stars ½ inch from the crust so that you can see a little bit of the chocolate cream below. Pipe little stars all around pie in decorative fashion. Top with grated chocolate coming from bittersweet chocolate chip.
Place pie (uncovered) in fridge for another 2-3 hours. Cut and serve chilled!