Pumpkin Pie Recipe with Marshmallow Topping
This Pumpkin Pie with Marshmallow Topping is a pumpkin pie recipe with a serious "Wow" factor.
When it comes to Thanksgiving nothing will suffice but a homemade pumpkin pie but add a special topping like homemade marshmallow and the results are over-the-top! No time for pumpkin pie? Try my No-Bake Pumpkin Cheesecake Mousse, an even easier pumpkin dessert!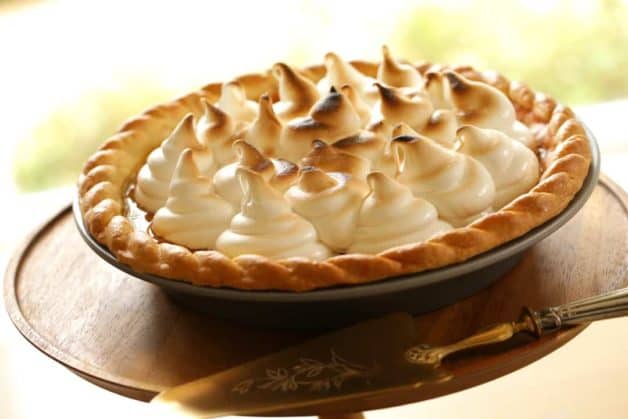 It's so much better than a store-bought pie and you'll be surprised by how easy it can be!
Subscribe for weekly recipes
and new videos!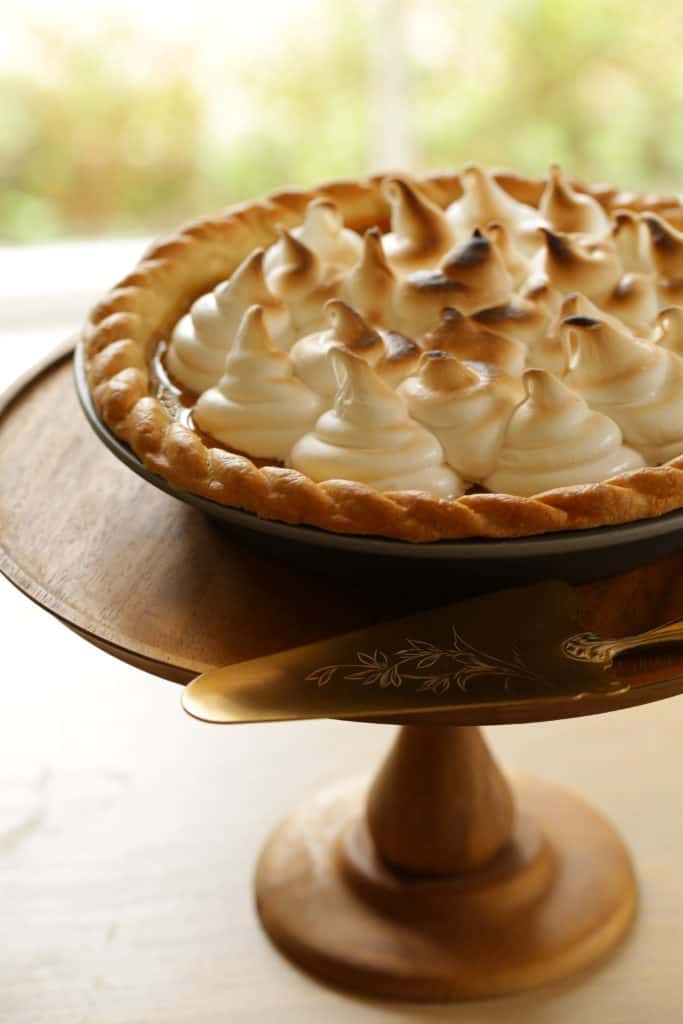 Watcha Video Demo of this Recipe Below!
Subscribe to My YouTube Channel for more Recipe Videos
How do you make homemade pumpkin pie?
Pumpkin Pie is one of the easiest pies to make! It's essentially just pureed pumpkin, eggs, sweetened condensed milk, pumpkin pie spice, and salt. Really, that's all there is to it!
Step 1: Make the Pie Crust
If you want to kick this pie up a notch, you can spend a little time on creating an "Instagram Worthy" pie crust. This is thanks to my most favorite pie-making gadget, The Pastry Wheel Decorator by Talisman Designs.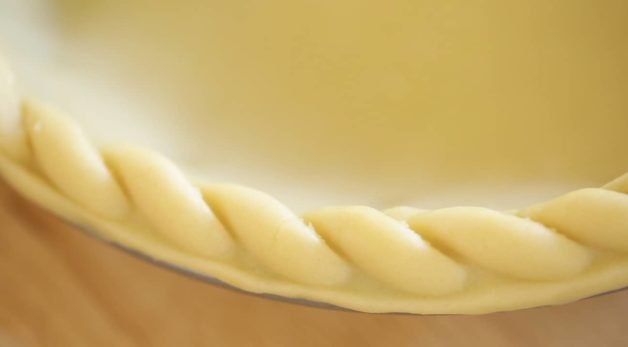 This product is SO easy to use and will make you look like such a "Pie Boss" on Thanksgiving!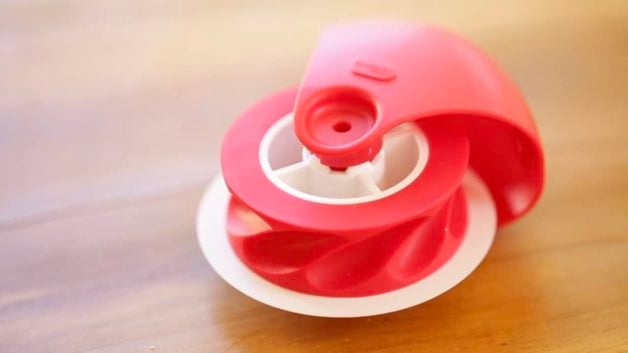 All you do is just place the wheel on the edge of your pie crust and zip around the edge! It's that easy! I find this tool works best with a metal pie like as shown below because the rim is flat and allows the pie crust decorator to zip around the rim unencumbered. For this recipe, I'm using a 9" pie tin.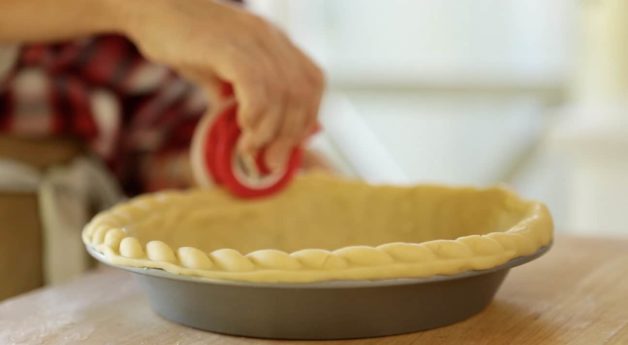 To preserve the beautiful design of your crust it helps to place the tin in the freezer to firm up while you create the filling.
Do I cook pie crust before filling?
The great thing about this pumpkin pie recipe is that you do not need to pre-bake the crust before filling. You can bake both at the same time. Just make sure your pie dough is well-chilled or frozen before hitting the hot oven.
I typically place my tin in the freezer for 15 minutes before baking and filling.
Step 2: Make the Pumpkin Pie Filling
In a large bowl, you'll add pure pumpkin puree. This recipe calls for a full 15-ounces can of puree, which is nice since you'll use the whole quantity for this recipe. However, if you could only find the 28-ounce can and have leftover puree you can use it to make my Pumpkin Scones or my Pumpkin Cinnamon Roll Loaf as well.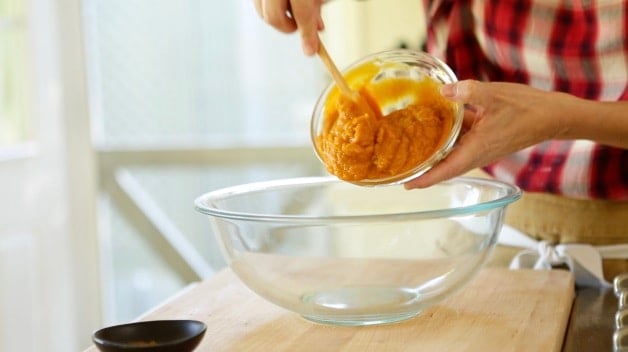 What is the difference between pumpkin puree and pumpkin pie filling?
Pumpkin puree is just that - cooked, pureed pumpkin, and nothing more. Pumpkin pie filling is the puree with different spices added to it. Since we are adding our own for this recipe, pumpkin puree is best.
Then, add salt, eggs, and pumpkin pie spice. No pumpkin pie spice? Not to worry!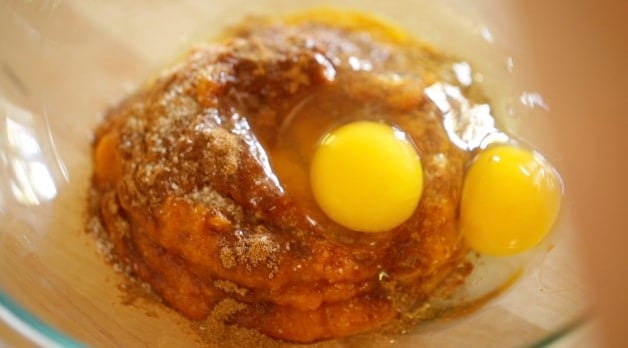 The thing about pumpkin pie spice is it's really easy to make at home! You can try my Homemade Pumpkin Pie Spice Recipe and see for yourself.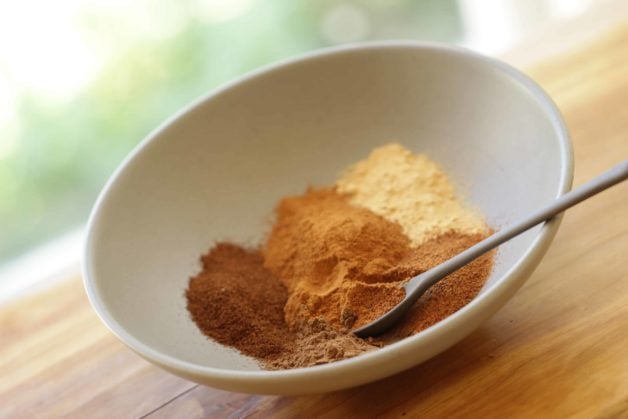 I bet you probably already have the spices for homemade pumpkin pie spice sitting in your pantry too! Once you have a little jar of it prepared it can sit in your pantry until you are ready to use it in a Pumpkin Chocolate Cheesecake or my extra moist and delicious Pumpkin Bread Recipe.
What's in pumpkin pie spice?
Pumpkin Pie Spice is made by combining (3 tbsp) cinnamon, (2 tsp) ground ginger, (2 tsp) nutmeg, (1 ½ tsp) allspice and (1 ½ tsp) cloves.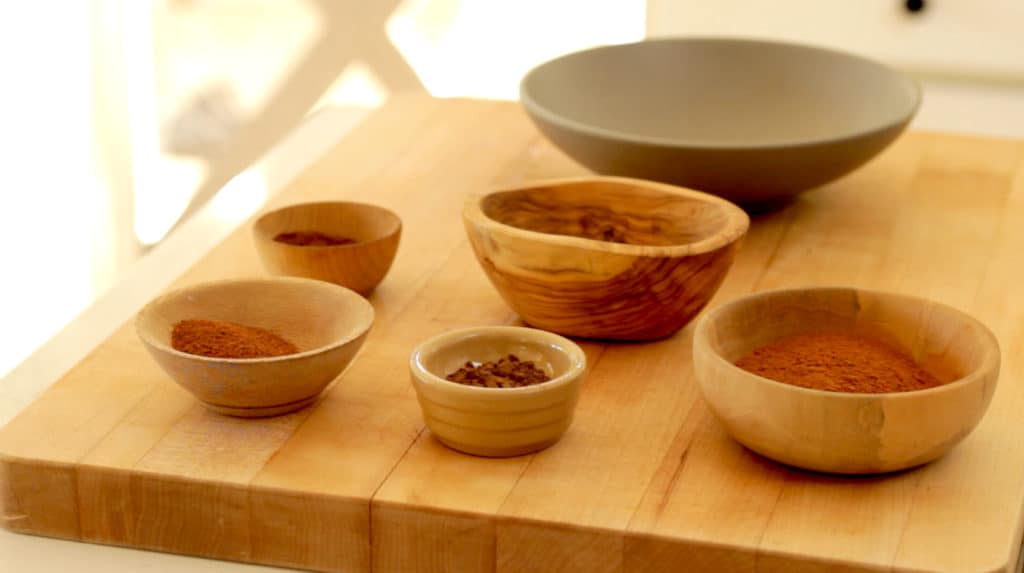 Do You Need Sweetened Condensed Milk for Pumpkin Pie?
In a word, yes! My Mom has always sworn by the use of sweetened condensed milk in pumpkin pies, mostly for the texture and firmness it provides.
I've tried in years past to use a heavy amount of egg yolks to get the same effect, but it just doesn't compare! It doesn't create those nice clean slices of pie, the filling just doesn't set the same. So it's best to stick with tradition and use sweetened condensed milk. Mom knows best! Have extra sweetened condensed milk? Use it to try my Nutella Ice Cream, No Machine Needed!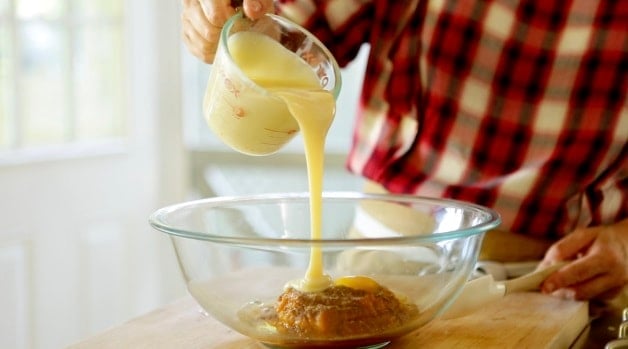 Whisk the filling until well-combined, then pour into a pie shell which should be well-chilled or frozen.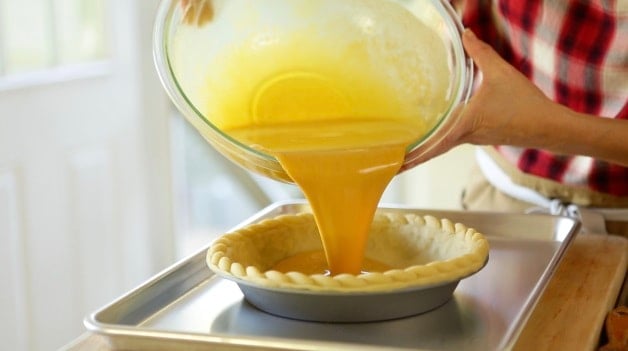 Egg White vs Egg Yolk or Egg Wash?
Right before placing in the oven, brush the edges of the crust with egg white for a pretty shine to the crust. I find the egg white works better over egg yolk or egg wash, mainly because it doesn't burn as egg yolk does, or turn your crust soggy like an egg wash can do.
Instead, it just adds a pretty shine to a golden-brown crust.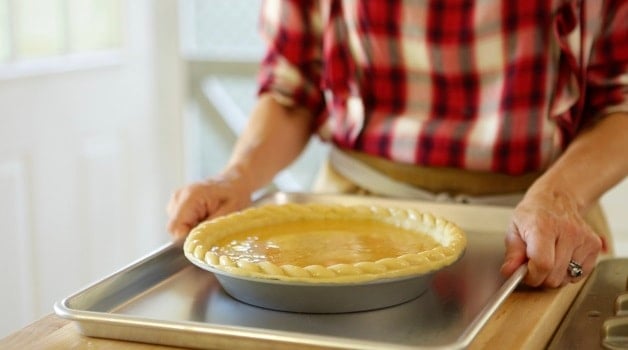 Place the pie on a baking sheet in a 450F (232C) oven for 15 minutes, then reduce the temperature to 350F (132C) degrees for 40 more minutes.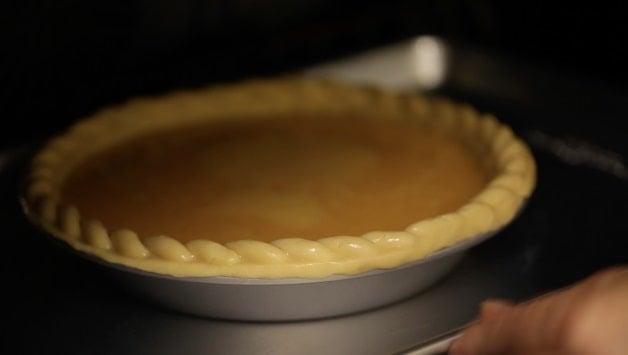 The really hot oven helps the pie crust to set quickly, then it will continue baking to cook the pie filling through. It's done when a knife inserted comes out clean. Remove from the oven and allow to cool.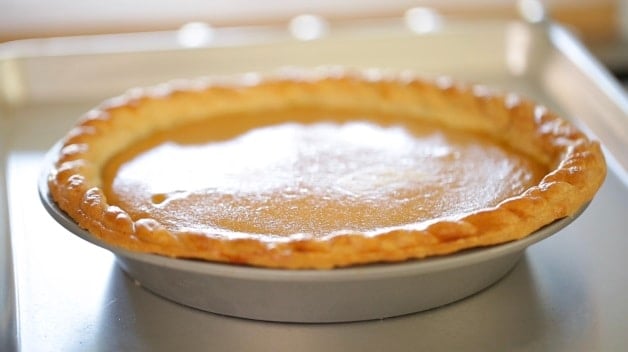 What Topping Goes on Pumpkin Pie?
You can top a pumpkin pie with homemade whipped cream, pecans, or crumb topping but personally, I think a homemade marshmallow topping is one of the best toppings for pumpkin pie. For another great Thanksgiving pie recipe with marshmallow topping, you can check out my S'More Pie Recipe.
Make-Ahead Tip:
You can make this pie the day before and then refrigerate it overnight. Then, before serving make the marshmallow topping!
Step 3: Make the Marshmallow Topping
In an electric mixer, you'll add the egg whites, corn syrup, vanilla extra, and cream of tartar. Cream of tartar works to stabilize the marshmallow and prevent your egg whites from falling. If you don't have the cream of tartar you can substitute it for ½ teaspoon of fresh lemon juice.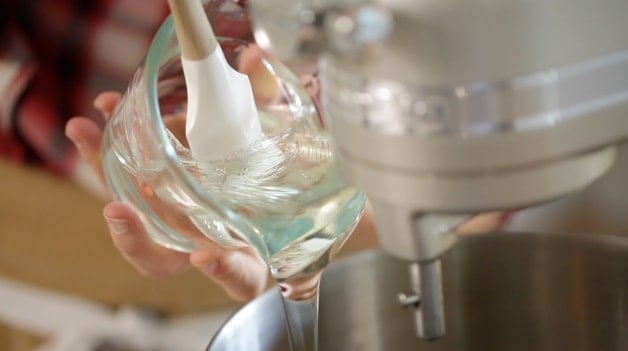 Whip the mixture until it begins to show soft peaks, then add the sugar slowly, while whipping until stiff peaks form.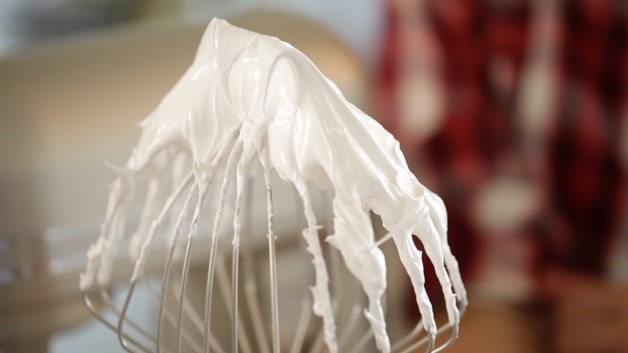 Transfer your marshmallow topping to a pastry bag, fitted with a round tip and begin piping about a half-inch from the crust to expose a little of the pumpkin filling. I think it's prettiest to see a little pumpkin peeking through and so your guests know what's inside the pie.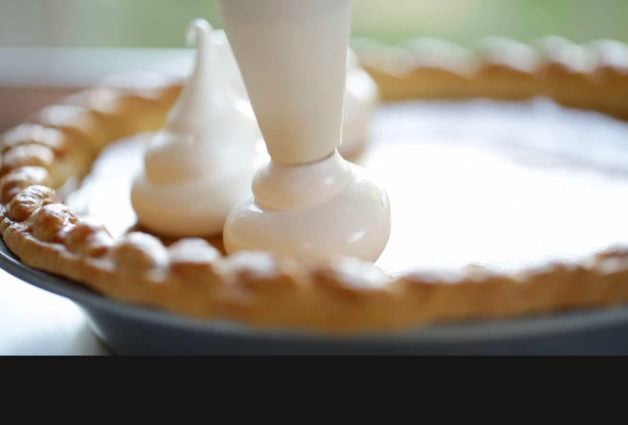 When it comes time to serve, place the pie under the broiler until the peaks begin to brown. Do not walk away or you will burn your marshmallow topping, marshmallow burns very quickly if not watched carefully! You can rotate the pie to assure the topping is being browned on all sides.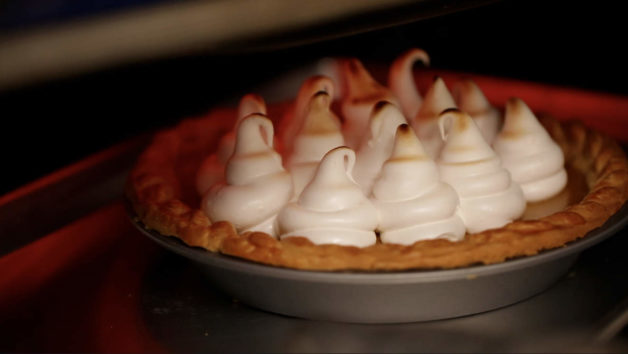 Place on a cake stand and present it to the table! This pie always gets lots of ohs and ahs and your guests see that you've made your own marshmallow topping from scratch! However, if you are really pressed for time you can also use store-bought marshmallows and pop those on top as well.
If You Enjoyed This Recipe,
Please Leave a Rating And a Review Below!
This helps others find and enjoy the recipe too!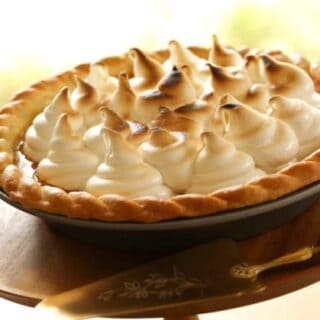 Pumpkin Pie with Marshmallow Topping
Total Time:
2 hours
45 minutes
This Pumpkin Pie Recipe with Marshmallow topping is a fun twist on a Thanksgiving dessert with a real WOW factor!
Ingredients
For Crust:
1 ¼ cups (150g) flour
3 tablespoon (31 g) powdered sugar
½ teaspoon (2.5 ml) salt
½ cup (120 g) butter, chilled and diced into cubes
1 egg yolk and egg white separated
2 tablespoon (30 ml) ice water
Filling:
15 ounce can (422 g) pure pumpkin puree
1 ¼ teaspoon (6.25ml) pumpkin pie spice
½ teaspoon (2.5 ml) salt
2 eggs
14 ounce can (396 g) sweetened condensed milk
Marshmallow Topping:
2 egg whites
1 cup (240 ml) of light corn syrup
pinch of salt
½ teaspoon (2.5 ml) vanilla
¼ teaspoon (1.25 ml) cream of tartar
2 tablespoon (25 g) sugar
Instructions
In the bowl of a food process combine flour, powdered sugar and salt, pulse to combine. Then slowly add butter pulsing until a coarse meal forms.
In a small bowl whisk together the egg yolk and ice water and then slowly add this mixture to the food processor pulsing until dough ball forms. (reserve egg white)
Turn dough out onto a floured surface, flatten into a disk and wrap in plastic wrap. Chill in the refrigerator for at least 1 hour.
Preheat heat oven to 450F (232C)
Once the dough is chilled, roll out to ⅛" thickness and fit into a 9 " pie tin. Trim edges of dough around rim and then fold up to create a double crust.
Press crust together to form an even level around the rim. Then use the Pastry Wheel Decorator to run over the pie crust to form a decorative edge. Then place the pie shell in the freezer to set up while you prep the filling.
In a large bowl combine the pumpkin puree, pumpkin pie spice, and salt. Whisk until smooth. Then add the eggs and sweetened condensed milk.
Remove pie from freezer and place on a baking sheet. Pour filling into shell. Lightly brush pie crust with the egg white to seal crust and ultimately form a golden, shiny crust.
Bake at 450F (232C) for 15 mins. Then reduce temperature to 350F and bake for another 35-40 mins until pie is set. Place a pie shield, or strip of aluminum foil, around the crust to prevent over-browning.
Allow pie to cool completely and then make the marshmallow topping.
Place 2 egg whites, corn syrup, salt, vanilla, and cream of tartar in a bowl and whip on high until stiff peaks form and mixture is glossy. Slowly add sugar.
Transfer marshmallow to a pastry bag fitted with a round tip. Pipe out decorative mounds or swirls in the center of the pie.
If you are not serving right away, the pie can be refrigerated, uncovered, until ready to serve. Then proceed with the last step of broiling.
Place pie under the broiler for 1-2 mins until marshmallow topping turns golden brown.
BE CAREFUL! Marshmallow burns quickly so please keep an eye on it while broiling, do not walk away! Enjoy! xx
Notes
You can make this pie the day before and then refrigerate overnight. Then, before serving make the marshmallow topping!
Nutrition Information:
Yield:

8
Serving Size:

1
Amount Per Serving:
Calories:

324
Total Fat:

10g
Saturated Fat:

5g
Trans Fat:

0g
Unsaturated Fat:

4g
Cholesterol:

92mg
Sodium:

187mg
Carbohydrates:

51g
Fiber:

2g
Sugar:

45g
Protein:

10g