This Chocolate Pumpkin Cheesecake is a beautiful fall dessert recipe that is so easy to make and so delicious too. This is a perfect dessert to impress your guests on Halloween or Thanksgiving!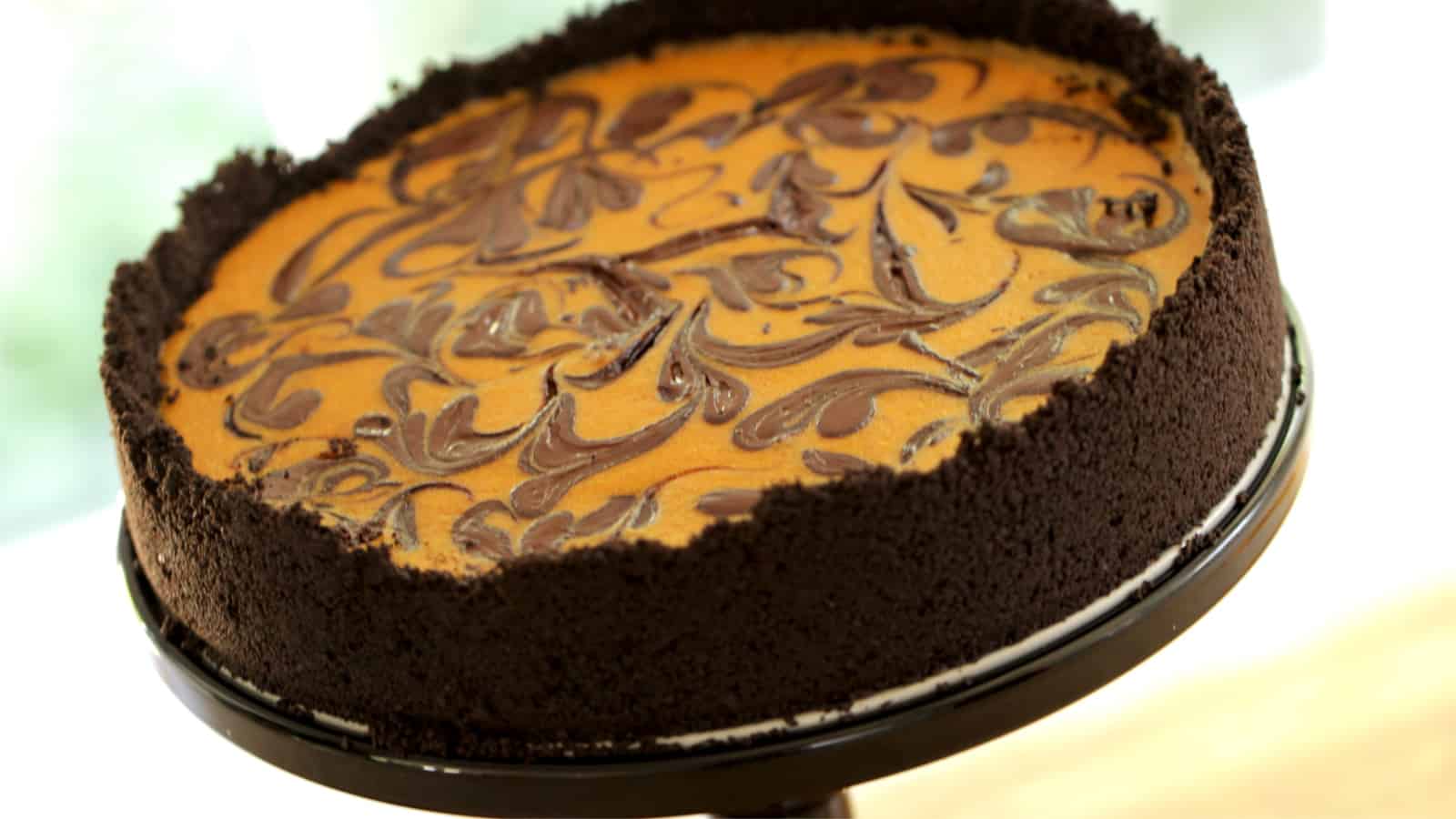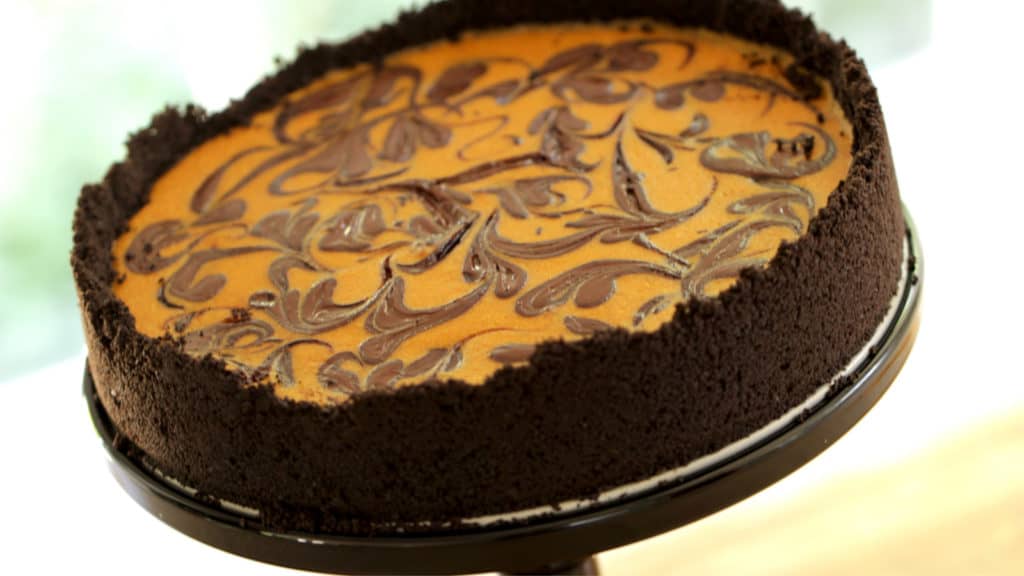 The combination of pumpkin and chocolate is such a classic flavor combination and the chocolate cookie crust with its jagged edges gives it a fun spooky appeal for Halloween.
I'm a firm believer in a cheesecake for all seasons! In spring I love to make my Creme Brulee Cheesecake, Christmastime try my Raspberry Creme Fraiche Cheesecake and when summer rolls around, there's nothing as easy as a No-Bake Cheesecake with fresh berries on top.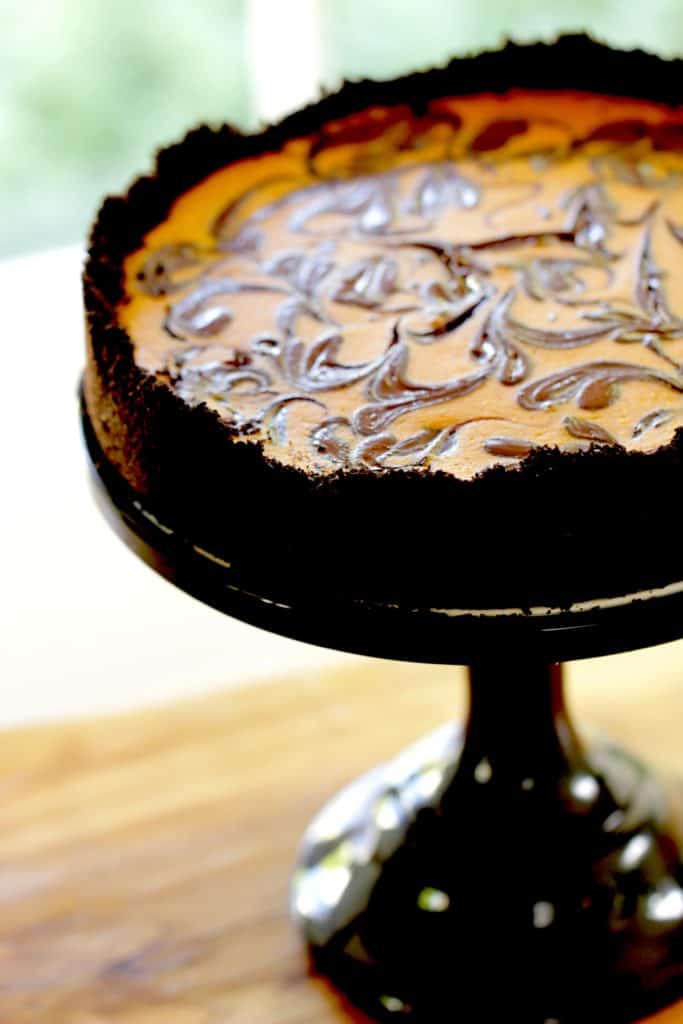 Every year when Halloween rolls around, I just can't get on the food-coloring, finger cookie bandwagon. Call me a kill-joy, but there's just something so unappetizing about eating a witches' fingers?! For me, I prefer desserts made with simple ingredients that look and taste delicious but have more of an eerie vibe about them.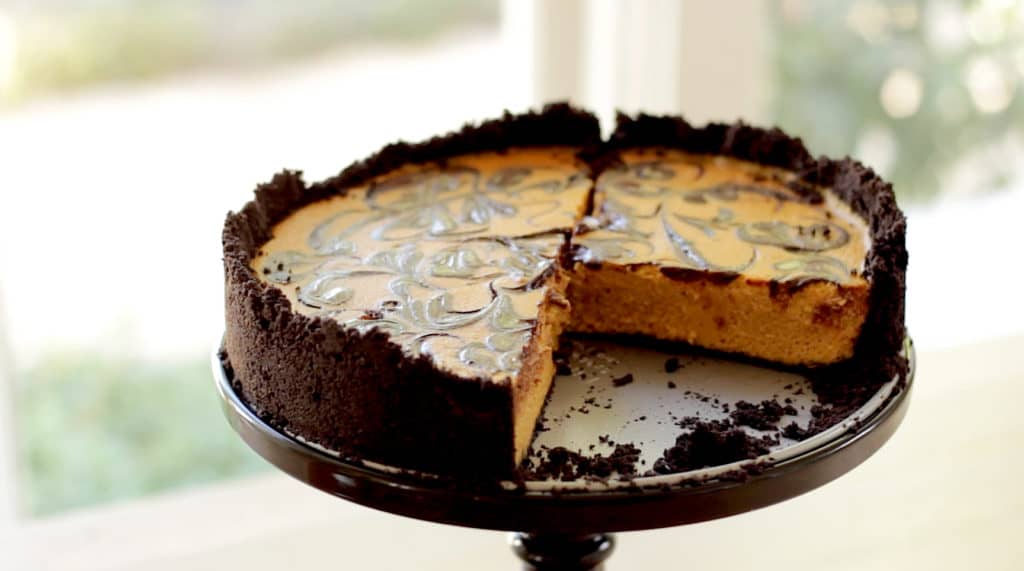 If you're so inclined you can also trade up the swirl for a cobweb design, but a haphazard swirl will give you the same feeling, with a lot less skill involved. My kind of recipe.
Watch How to Make My Chocolate Pumpkin Cheesecake Below!
SUBSCRIBE TO MY YOUTUBE CHANNEL FOR MORE RECIPE VIDEOS! (IT'S FREE!)
Here's How to Make A Pumpkin Cheesecake with Chocolate Swirls
Step 1: Make the Crust
I find the best chocolate crusts are made from using Famous Chocolate Wafers (this link goes to Amazon where I am an affiliate partner). You can usually find them in the grocery store on those ice cream end caps next to the sprinkles and ice cream cones, but sometimes they can be harder to find offseason. I guess because not too many people are making ice cream cakes. So I just stock up online.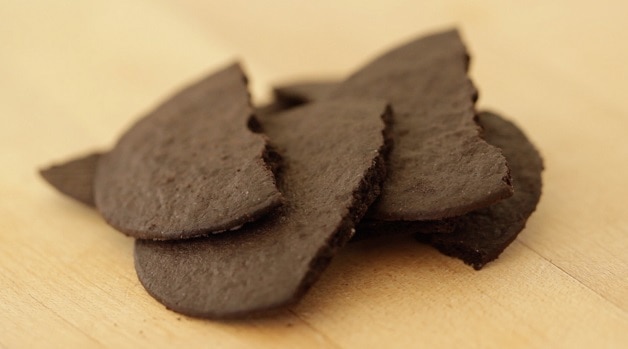 For this recipe, I use the chocolate wafer cookies, but you can also use those chocolate sandwich cookies and scrape out the filling. Drop the cookies in a food processor and give them a whirl, or place them in a freezer bag and give them a whack until they are finely crumbled. Place the crumbs in a bowl and add the melted butter and combine with a fork so the crumbs don't clump.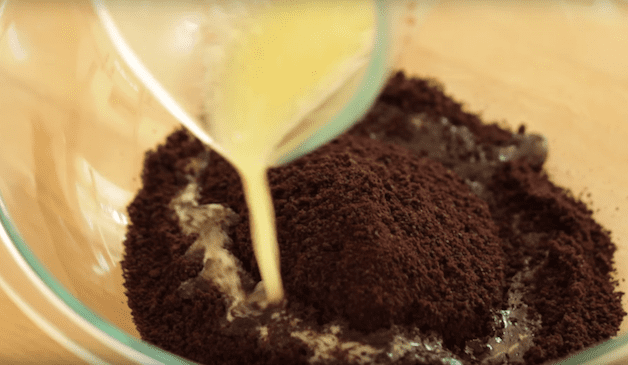 Add the crumb mixture to a cheesecake pan and give it a shake to even them out. Press the crumbs down until they are firmly "glued" to the bottom of the pan. Then, I use my fist and "fist bump" the crumbs up the side to create the walls of the crust.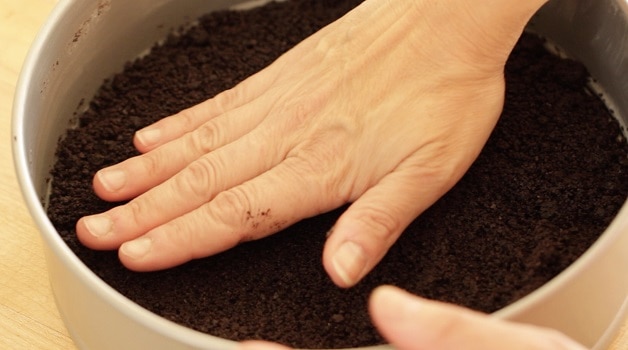 It doesn't matter if the edges aren't perfect. The jagged edges will add an eerie effect to the presentation! Then, place the pan into a 325F (162C) degree oven for about 10-12 minutes. When the crust is done, remove from the oven and set aside to cool.
Step 2: Make the Pumpkin Cheesecake Filling
To a large bowl, you'll add the whipped cream cheese, eggs, and egg yolks. Then, add the sugar, pumpkin, salt, and pumpkin pie spice.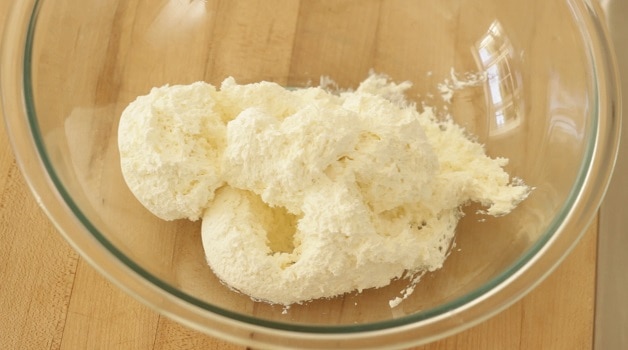 If you live outside the U.S. and can't find Pumpkin Pie Spice, you can actually easily make it at home! Try my recipe for Homemade Pumpkin Pie Spice. I bet you even have all the spices you need already sitting in your cabinet too!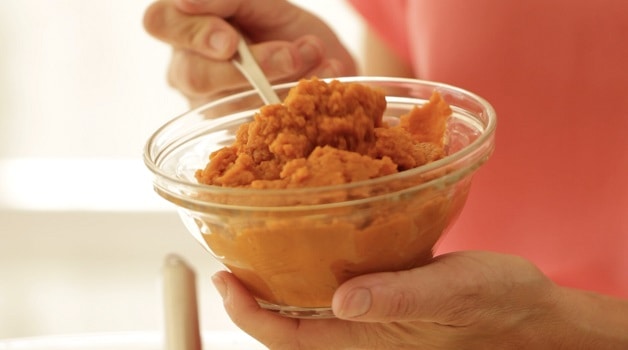 Why do you use a water bath when baking?
A water bath does two things in an oven: evenly cooks the food and keeps the food moist.
Be very careful when using a water bath with any custard dish, like a cheesecake or crème brûlée. If any water gets into the cheesecake batter, it will not set.
How to Avoid a Water Bath for Cheesecakes
I add just a little bit of flour to my cheesecakes because it helps it set the cheesecake, and it prevents me from having to make a water bath! And clean up the mess from one!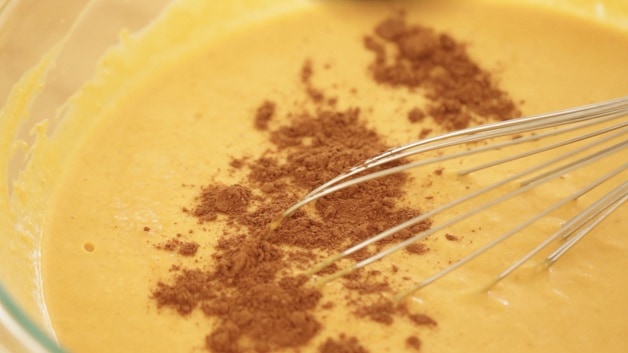 Can you make a cheesecake ahead of time?
Yes! This is the best part of any cheesecake recipe. In fact, cheesecakes must be made ahead of time because they need time to set up and chill in the refrigerator. I think cheesecakes are best when made a full 24-hours in advance of serving.
After the cheesecake filling is ready, pour the filling into the crust.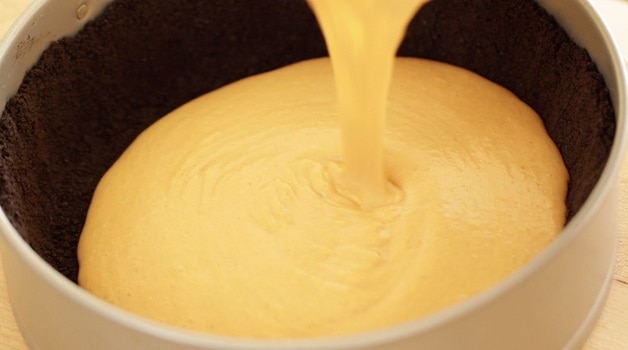 Step 3: Make the Cheesecake Swirls
Here is the fun part! Spoon small dollops of the melted chocolate around the perimeter of the pan.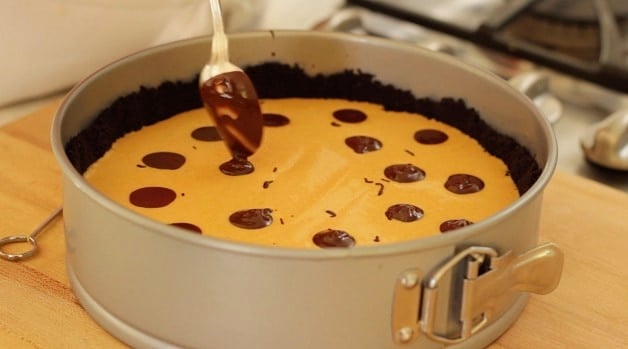 Then, run a long toothpick or skewer through the chocolate dollops.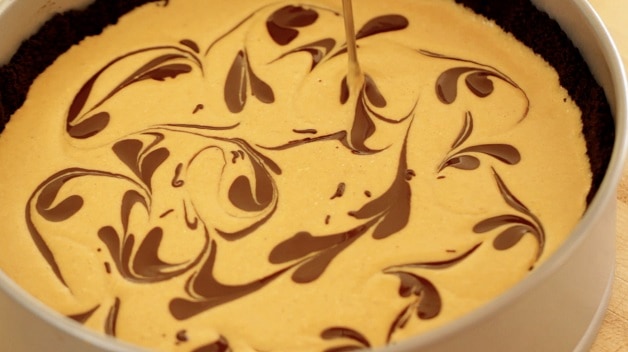 You can do as many or as few swirls as you like. The more you swirl, the more cob-webby the design will become.
Then, place the cheesecake in a 325F (162C) degree oven for about an hour.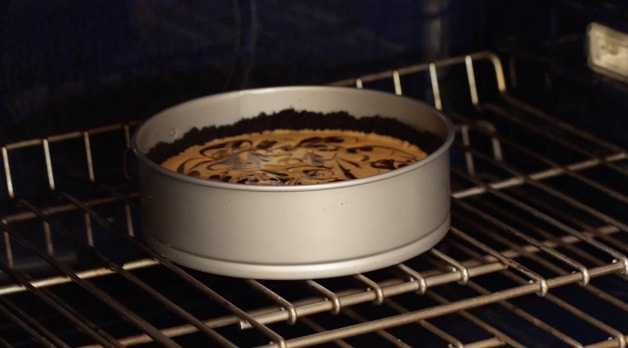 I set my timer for 50 minutes, then check the cheesecake at this stage. At that point, if the cheesecake is super jiggly, bake for another 10 minutes. But if it is only slightly jiggly, it will finish setting in the fridge. It's better to have a slightly under-cooked cheesecake than an over-baked cheesecake.
How do you make a cheesecake not crack?
Your cheesecake can crack because of two reasons: it's over-cooked or over-mixed. Over-mixing causes more air bubbles to enter into the mixture, which creates air pockets in the batter. Then, as the cheesecake sets, the air pockets release and create cracks in the cheesecake.
It's better to pull the cheesecake out of the oven when it's slightly jiggly to avoid over-baking.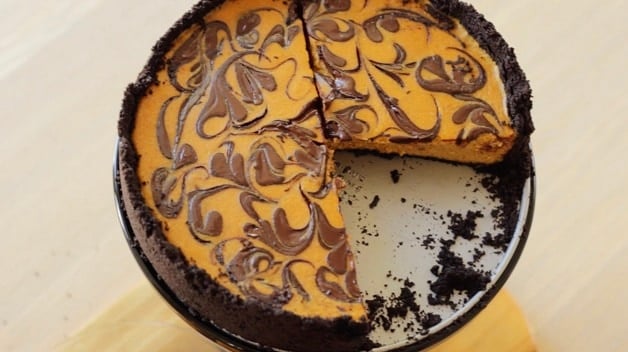 When the cheesecake is finished, remove from the oven and allow to cool for about 30-40 minutes. Place in the fridge, uncovered, for anywhere from 4 hours to overnight.
Tip: I don't cover my cheesecake because condensation will form and drip on to the cheesecake, therefore discoloring the pumpkin.
When the cheesecake has set, remove from the springform pan and carefully place it on to a cake stand for a dramatic presentation!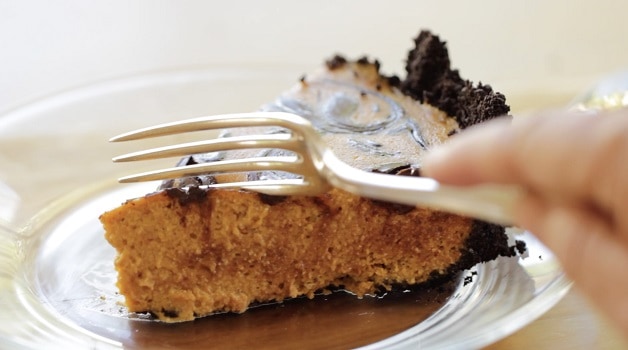 MORE FALL TREATS TO TRY!
PLEASE LET ME KNOW IF YOU MAKE THIS RECIPE
BY LEAVING A RATING AND REVIEW BELOW!
This helps others find and enjoy the recipe too!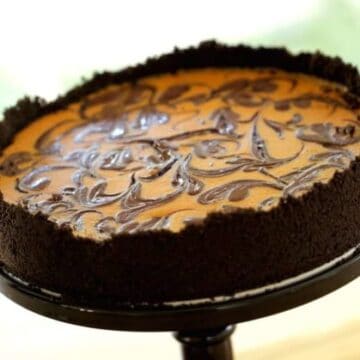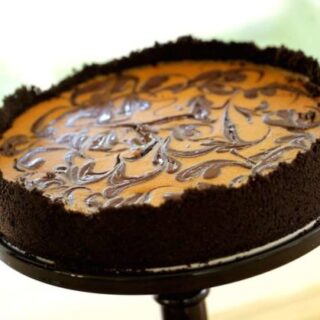 Chocolate Pumpkin Cheesecake
Pumpkin Cheesecake with Chocolate Swirl. A Halloween dessert Idea that is as beautiful as it is delicious. Includes Recipe Video too.
Ingredients
For the Crust:
1 (9 0z) package of famous chocolate wafers or other dark chocolate cookie
5 tablespoon (75 ml) melted butter
For Filling:
2 (8 oz) containers (460g) of whipped cream cheese
2 whole eggs
3 egg yolks
¾ cup (150 g) of sugar
1 (15 oz) can (420g) of pure pumpkin puree
¼ teaspoon (1.25 ml) salt
1 teaspoon (5 ml) pumpkin pie spice
1 teaspoon (5 ml)vanilla extract
¼ cup (30 g) of flour
2 oz (56 g) melted bittersweet chocolate
Instructions
Preheat oven to 325F/162 C.
Process cookies in a food processor until fine or better yet place in a zip lock plastic bag, seal and crush with a rolling pin until finely ground (then you won't have to clean the food processor!). Combine with the melted butter, until a lose meal develops.
Grease a 9" (23 cm) spring form pan. Place the crumbs into the center of the pan, working your way up the sides at least 2 inches. Use the side of a measuring cup to help adhere crust to the sides.
Bake at 325 F/ 162 C for 10-12 mins and then set aside and allow to cool.
Beat together the cream cheese, eggs, and egg yolks until smooth. Add the sugar , beat until combined, then the pumpkin. Then add the salt, pumpkin pie spice, and vanilla, beat to combine, and lastly add the flour.
Pour the filling out into a slightly cooled crust. And then spoon the melted chocolate on top creating 2 rings of small circles (about the size of a grape) then run a skewer through the chocolate creating a swirled design.
Bake at 325 F/ 162 C for at least 1 hour. At the 50 mins mark, check it. At this point it should giggle slightly but not too wildly. Just don't over bake or you will get cracks.
Allow to cool for at least 30-40 mins and then place in the fridge for at least 4 hours, or overnight is even better.
Keep refrigerated until ready to serve. Then release from the spring form pan, place on a cake stand and Enjoy!
Recommended Products
As an Amazon Associate and member of other affiliate programs, I earn from qualifying purchases.
Nutrition Information:
Yield:

8
Serving Size:

1
Amount Per Serving:
Calories:

253
Total Fat:

18g
Saturated Fat:

10g
Trans Fat:

0g
Unsaturated Fat:

7g
Cholesterol:

141mg
Sodium:

155mg
Carbohydrates:

18g
Fiber:

3g
Sugar:

7g
Protein:

5g